Do you want to stay up to date on all the latest form-related statistics?
If you're looking to grow your small business, and use online forms to drive traffic, generate leads, and convert site visitors into paying customers, it's important to know the most important online form statistics and facts so you can get the results you want.
That said, combing the internet looking for the most accurate and recent form statistics is a waste of time, no matter how helpful those stats may be. That's why we've done the work for you!
In this article, we've compiled a list of 101 amazing online form stats and facts so you can stay on top of the latest trends and make sure your small business is successful.
Since we've collected such a large number of online form statistics, here's a quick table of contents to help guide you:
Now, let's check out these awesome online form statistics and facts!
Lead Generation – Stats and Facts
Attracting people from various channels (such as search engines, social media, and advertisements) and driving them to your website to see what you have to offer is one of the most effective ways to turn site visitors into subscribers and paying customers.
You can use any number of WordPress lead generation plugins to boost your lead generation efforts. In the meantime, here's a list of some stats and facts that demonstrate the importance of lead generation.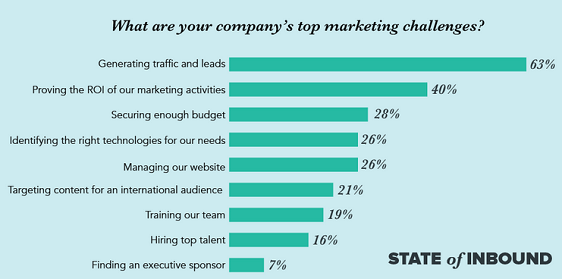 1. 63% of businesses say that generating traffic and leads is their biggest marketing challenge. (Hubspot)
2. 50% of marketers say inbound marketing strategies, such as onsite forms, are their primary source of leads.
3. Companies automating lead management see a 10% increase in revenue after 6-9 months.
4. 74% of companies use web forms for lead generation, with 49.7% stating their online forms are their highest converting lead generation tool.
5. Only 25% of leads are ready to advance to sales.
6. Outbound leads cost upwards of 39% more than inbound leads and aren't nearly as effective.
7. 79% of top-performing businesses have been using marketing automation to generate leads for three or more years. (Pardot)
8. 80% of marketers use automation software to generate more leads; 77% of them convert more of those leads. (VentureBeat, APSIS)
9. 53% of content marketers use interactive content in their lead generation efforts. (Content Marketing Institute)
10. 85% of marketers claim lead generation is their most important content marketing goal.
11. Lead generation is among business' top three objectives when it comes to content marketing (along with sales and lead nurturing).
12. 93% of people's online experiences begin with a search engine. (imFORZA)
13. 70% of the links people click on are organic, while 70-80% of people ignore paid ads while using a search engine.
14. Search beats social media by 300% when it comes to driving traffic to content sites.
15. 68% of B2B marketers cite events generate the most leads. (Marketing Charts)
16. 50% of people are saying that case studies are the accelerant for moving people through their sales funnel (which are great content upgrades to offer subscribers).
17. Nurtured leads increase sales opportunities versus neglected leads. (Strategic IC)
18. 3% of your target audience is actively buying, 56% aren't ready, and 40% are getting ready to begin.
19. 68% of B2B professionals want to increase their quality of leads, followed by 55% wanting to increase lead volume. (B2B Technology Marketing Company)
20. Lack of resources is the biggest obstacle for 61% of businesses wanting to generate more leads.
21. 58% are going to increase their lead generation budget.
22. One out of 4 marketers have no idea how to gauge the success of their lead generation efforts.
23. 97% of B2B businesses believe that Email is the most important form field for gathering quality leads, followed by Name (92%), and Company (79%).
24. Webinars are the most popular gated content on registration forms, followed by white papers and ebooks, free trials, and one-on-one product demos.
25. Despite mobile traffic accounting for nearly half of all internet activity, 45% of businesses are unclear about their mobile marketing efforts.
26. 95% of people say that accessing current customer data is the biggest barrier to marketing success. (SnappApp)
27. Using a CRM system is said to be beneficial for determining lead quality according to 84% of companies.
Email Marketing – Statistics and Facts
Email is one of the best ways to reach out to interested site visitors. You can keep them updated on newly published content, special deals, and promotions you're running, and new product launches all through email. And you can even automate the process to make things easier on you and your team.
And the best part is, WPForms makes collecting email addresses for your email marketing efforts simple and easy. Just create a simple contact form (or any other type of form for that matter) and add an email signup checkbox for site visitors to select so you can send campaigns to them, drive traffic to your site, and re-engage people after they've left your site.
Now let's look at some of the best email marketing stats and facts as they relate to your business as a whole and your use of online forms to capture lead data and market to your target audience.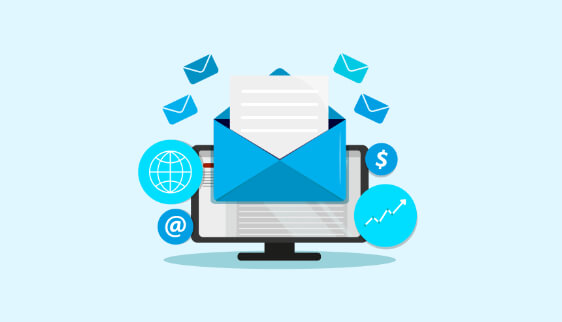 1. At the end 2019 there were 5.5 billion worldwide email users. (Statista)
2. 93% of US online consumers are subscribers, receiving at least one permission-based email a day from businesses. (ExactTarget)
3. 58% of online shoppers' first online activity of the day is checking email, followed by a search engine or portal site (20%) and Facebook (11%).
4. 77% of people prefer email over social media or other channels for receiving promotional material from businesses they're interested in.
5. 66% of those people state they've made a purchase as a result of the marketing message they received.
6. 44% of people look to their email for a deal first, followed by company websites (43%), search engines (6%), and Facebook (4%).
7. 79% of the people you send email to will receive it. (ReturnPath)
8. Lead nurturing emails get 4-10 times the response rate compared to traditional email blasts. (Hubspot)
9. Lead nurturing emails result in an 8% CTR, whereas general emails have a 3% CTR.
10. 96% of people that visit your site aren't ready to buy. (Marketo)
11. 54% of email marketers say increasing engagement is their number one priority. (Ascend2)
12. 51% of businesses state that improving contact data quality is their biggest barrier to email marketing success.
13. Email marketers claim email list segmentation, individualized email messaging, and behavior triggered emails are the most effective strategies for success.
14. That said, 37% of marketers claim that a lack of user data makes segmentation challenging. (Cision)
15. Another 33% of people say they aren't even sure how to implement audience targeting and segmentation strategies.
16. 59% of B2B marketers believe email is their most effective channel for generating leads and revenue.
17. 42% of organizations believe email is their most effective lead generation channel. (Strategic IC)
18. Only 44% of businesses use a lead scoring system.
19. 30% of processed leads have wrong phone numbers, 28% have wrong emails, and 27% have wrong names and do your business no good, despite the time and money you've already invested. (ConvertrMedia)
20. 45% of form data is submitted on a mobile device, enforcing the idea that the user experience of your online forms is key to higher conversions and collecting accurate data.
21. Email personalization generates 26% more email opens. (Riportus)
22. Email continues to generate the highest ROI over all other marketing strategies. (GetResponse)
23. Emails with video clips can boost CTR by as much as 300%. (MTA)
24. 73% of Millennials prefer to communicate with businesses via email. (Procurious)
25. 80% of business professionals believe email marketing can help with customer retention. (Emarsys)
We've got some email marketing statistics for you to check out if you want to see more.
Form Conversions – Stats and Facts
The most common type of lead generation tool among small business owners is a web form. They are easy to add to your website, can capture any information you need from site visitors, and are customizable to match your brand. Plus, they offer site visitors an easy way to subscribe or buy from your company.
Here's a list of helpful online form conversion statistics and facts designed to show you the importance form conversions have on the success of your business, and how design and functionality can affect your overall conversion rates.
1. The average web form length in 2019 was 5 form fields, which usually result in the highest conversion rates. (Hubspot)
2. The mean conversion rate for online forms sits at approximately 21.5% (though this number varies depending on industry).
3. Running A/B tests, analyzing form data, and checking the user experience all correlate with higher form conversions.
4. Multi-step forms in WordPress can lead to 300% more conversions. (Venture Harbour)
5. Only 40% of marketers claim to use multi-step forms, and 17% that do claim they are the reason for their satisfaction when it comes to lead generation.
6. 50% of marketers who use lead magnets to encourage signups report higher conversion rates.
7. eBooks are the most popular lead magnet amongst subscribers, with 27.7% of marketers using them.
8. Other popular lead magnets include webinars (24.9%) and free tools (21.3%).
9. The five main elements of a form that will be completed include: engaging, ease, peace of mind, ability, motivation. (Venture Harbour)
10. Increasing your value proposition and adding trust signals can boost conversions by as much as 60% or more.
11. Using a quiz-like form to capture information has the potential to triple conversions.
12. The best performing CTA button text includes: "Click Here," "Go," "Download," and "Register." (Quicksprout)
13. Left aligned labels increase readability and boost form conversions.
14. Labels on top of form fields lead to higher form completions.
15. Removing as little as one form field can boost form conversions by as much as 26%.
16. The most persuasive words in the English language include: you, easy, guarantee, save, new, proven, results, and free, and can help skyrocket form conversions if used right. (The Daily Egg)
17. Nearly 70% of consumers will look to online product reviews before making a buying decision. (Consumerist)
18. Adding to that, you can improve conversion rates by 4.6% if you add 50 or more reviews per product that you offer, whether in an eCommerce store or on your online order form. (Econsultancy)
19. Desktops have the highest form conversions rate at 17.5%, followed by tablets (16.9%) and mobile phones (12.7%). (Formisimo)
20. Chrome has the highest conversion rate at 17.8%, with Firefox at 17.3%, Internet Explorer at 15.9%, and Safari at 14.3%.
21. The peak time for form conversions is 9pm, signaling people prefer to finish completing forms (especially order forms) from the comfort of their own home.
22. Instilling a sense of urgency can boost a person's desire to complete a form.
23. Regardless of device type, site visitors will fill out online forms more often when they appear above-the-fold. (Nielsen Norman Group)
Form Abandonment – Statistics and Facts
Form abandonment is something all small business owners struggle with at one point or another.
Luckily, arming yourself with the essential statistics and facts like the ones we've rounded up can help you discover reasons why your forms may not be performing as well as you want and make improvements that can reduce order form abandonment and increase conversions and online sales starting right now.
And if you're using WPForms Pro, you already have 2 awesome tools to help you fight abandonment: our Form Abandonment addon, and our Save and Resume addon.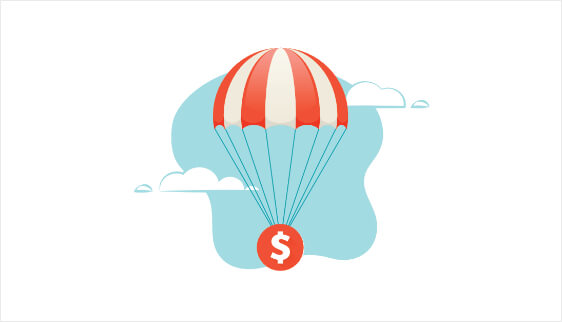 1. 81% of people have abandoned a form after beginning to fill it out. (The Manifest)
2. 29% of people cite security reasons as one of the main concerns when it comes to completing online forms, followed by form length (27%).
3. More than 67% of site visitors will abandon your form forever if they encounter any complications; only 20% will follow up with the company in some way.
4. 30% of people will return to complete a form if there's something in it for them such as a free tool.
5. 19% of people will return to complete a form if the company reaches out to them through email or business phone to re-engage them.
6. Only 44% of businesses send an email receipt to customers, email verification (38%), or promotional emails (22%).
7. 3% of people prefer to fill out forms on mobile devices as compared to 84% that prefer a desktop or laptop.
8. 13% of people will never fill out an online form because they want to fill out physical copies.
9. 60% of job seekers will abandon your online job application form because of the length or complexity. (SHRM)
10. On the other hand, 50% of employers claim the length of their job application forms are effective at weeding out applicants that don't want to finish.
11. 76.9% of shoppers abandon checkout forms. (SaleCycle)
12. The travel industry has the highest form abandonment rate at 81%, followed by nonprofits (77.9%), finance (75.7%), and retail (75.8%).
13. Limiting the number of form fields to 3 can slash form abandonment rates. (Quicksprout)
14. Forms with dropdown form fields have the highest form abandonment rates.
15. Asking for a phone number reduces form conversion rates by as much as 5%, followed by street address (4%), a person's age (3%), and city and state (2%).
16. 37% of people will abandon a form asking for their phone number, unless the field is optional, which nearly doubles completions.
17. Your form's submit text makes a difference: 3% more people will abandon if you use the word "Submit."
18. 2-column forms are confusing and can lead to form abandonment.
19. You're likely to have a higher form abandonment rate when your form's CAPTCHA is turned on. (Moz)
20. The top three reasons for abandonment include unexpected costs (shipping, taxes, fees), required account creation, complicated checkout process. (Baymard Institute)
21. Better checkout design can reduce form abandonment by as much as 35%, which translates into nearly $260 billion in recovered orders.
22. 35.6% of people trust the Norton Secured trust badge, making it the most recognized and trusted.
23. In a study of 1.5 million site visitors, only 49% of them actually added details to an online form after viewing it. (Formisimo)
24. Of those 49% that started filling out the form, only 16.5% completed it.
25. 23% of people will not fill out your checkout form if you require them to create a user account.
26. 12% of people will abandon a form during an online checkout if there are no trust badges.
Alright, I'm Ready to Improve My Forms! What's Next?
Now that you can see just how important online forms are, it's time to put that knowledge into action.
WPForms Pro is the best way to do that because:
It's the easiest form builder available for WordPress, and you can create all of your forms without using any code
Your forms will be safe and secure, which is critical when collecting payment or customer data
Our Form Abandonment addon lets you capture leads even when forms are not submitted
The Save and Resume addon lets visitors save partial form entries easily to reduce your abandonment further
WPForms is fully mobile responsive, so your visitors will be able to use your forms on their phone or tablet
When you compare SurveyMonkey vs Google Forms vs WPForms, WPForms is the only form builder that directly integrates with WordPress.
Create Your WordPress Form Now
Next, Learn More About Contact Forms
And there you have it! 101 online form statistics and facts to help your small business rise above any challenge and succeed this year, whether your focus is on lead generation, email marketing, boosting form conversions, or preventing form abandonment.
If you're a small business without an online form solution, be sure to check out these reasons why you need a contact form on your site and how WPForms is customizable enough to meet your every form need.
So, what are you waiting for? Get started with the most powerful WordPress forms plugin today. It's the perfect alternative to Typeform if you need awesome features and great support.
And don't forget, if you like this article, then please follow us on Facebook and Twitter.