Looking for website security tips to keep your web forms safe?
You're not alone. If you're an online business owner or running a website, it's super important to keep it safe and secure — for yourself and your customers.
So in this post, we've rounded up the best WordPress security tips and tricks for your online forms.
Why Is WordPress Security Important?
If you're serious about your business, it's so important to take the security of your WordPress site serious. In fact, you want to make WordPress security a top priority.
That's because even though WordPress is a very stable, reliable, and secure software, it's important to take your own steps to make your website as safe as possible.
WordPress security is incredibly important for a lot of reasons, and here are some of the big ones:
Security vulnerabilities can cause you to lose the trust of your customers, leads, and money
Hackers are very smart, and if they access your website they could steal user info and passwords, plus install malware and infect your visitors
Google warns users if a website they're on could be dangerous and steal info or contain malware, causing a huge traffic loss
You could end up having to pay a 'ransom' to someone just to regain access to your website data
It's the website owner's personal responsibility to keep up with the security of their website
Now that you know why WordPress security is important, let's find our why securing your WordPress forms are so important.
Why Is Securing WordPress Forms Important?
Securing your WordPress forms should be taken seriously if you're a website owner for several reasons. If your forms aren't secure, you risk losing leads, money, and trust from your customers and leads.
There are so many reasons for securing your WordPress forms. For example, one is keeping spammers who are trying to hack your site out of your forms.
These spammers are trying to hack your forms in order to:
Find weak spots on your site to hijack your form and send spam messages to your subscribers
Break into your site to scatter spam in other places like comments, posts, pages, and more
Some nasty consequences of this include:
You could get in trouble with Google
Your website will look unprofessional if there are spam comments and links all over it
Users will unsubscribe once they see they are getting spam emails
Your site's design could look wrong and it won't work right, including WordPress themes and plugins
Your SEO rankings will drop, causing traffic to decrease
Form security is a huge concern for businesses, which is why we always say you MUST avoid WPForms Pro nulled.
Now that you know why WordPress security on your forms is so important, let's jump into our list of these great WordPress security tips and tricks for your online forms.
WordPress Security Tips & Tricks for Forms
Here's a great list of WordPress security tips to check out to make sure your website is staying safe. Use this WordPress security checklist as a way to make your site even safer.
1. Enable reCAPTCHA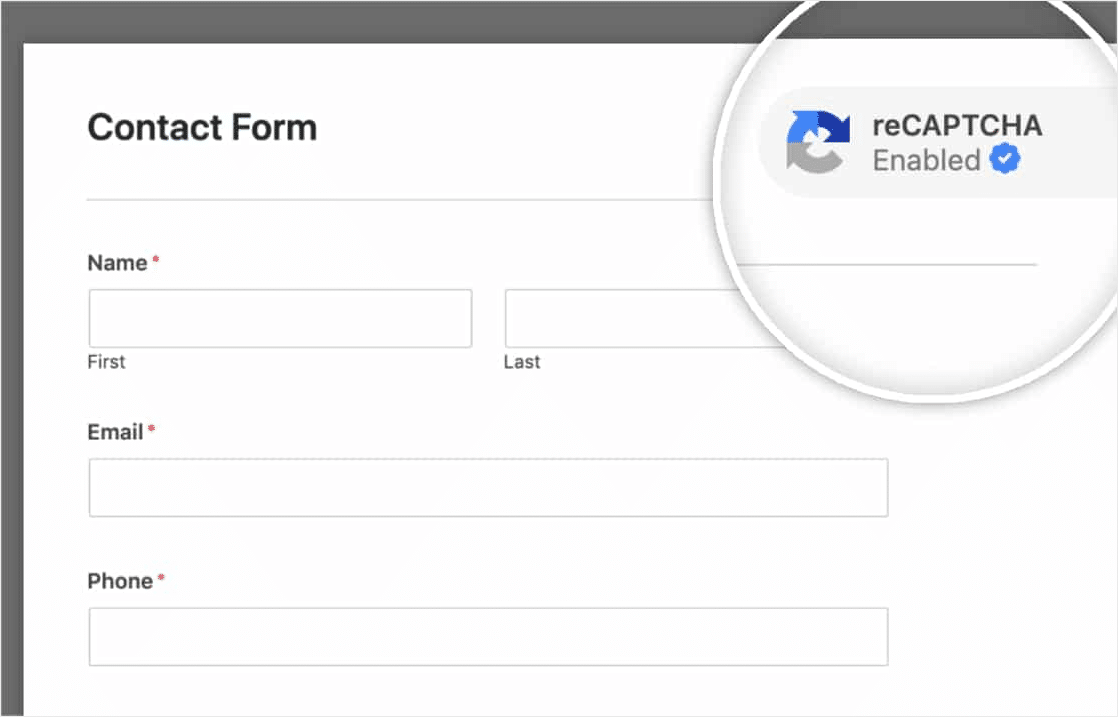 One of the quickest and easiest WordPress security tips for online forms is to enable reCATPCHA on them. Spam form submissions can be annoying, and reduce the quality of your email list and email marketing efforts.
WPForms has some great reCAPTCHA and captcha features you can turn on including:
reCAPTCHA V2 (I am not a robot Checkbox)
reCAPTCHA v3 (No Checkbox)
Anti-spam protection
For an in-depth tutorial on how to set up the different types of CAPTCHA, check out our ultimate guide on how to stop contact form spam.
2. Install an SSL Certificate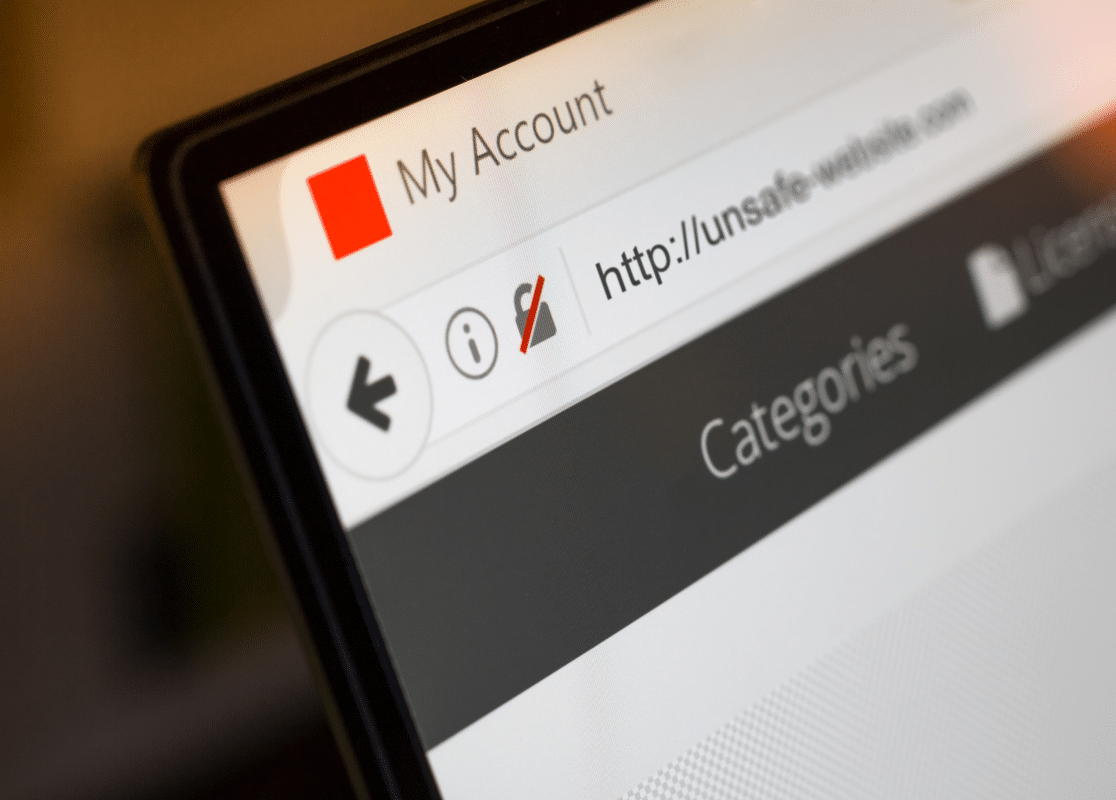 Not all WordPress websites need an SSL certificate, but if you're going to be accepting payments (with Stripe, for example) or if you're collecting login details (with a membership website, for instance) then you'll definitely want to install an SSL certificate on your site.
This is important because Google shows all non-SSL websites as "Not Secure", and this could scare away customers from filling out your forms.
Check out how to get a free SSL certificate on our sibling website.
3. Secure Your File Upload Forms

A great WordPress security tip for your forms is to make your file upload forms extra secure.
If you're using a file upload form for something like a maintenance request form, a job application form, or a request a quote form, people are going to be uploading files to your site.
However, hackers could try and inject something malicious into your site through the file upload form. The good news is, in WPForms you can customize your forms to reduce these security risks by:
Adding a CAPTCHA or the anti-spam checkbox to your file upload form
Restricting the type of file extensions you'll allow
Limiting the size of the files people can upload
Taking extra precautions on your file upload forms is a great answer to how to secure WordPress website from hackers.
4. Use a Double Optin
If you're asking people to sign up for your newsletter (and of course you are, because you're building your business online and your email list!) then using a double optin is a smart idea. Not only do the leads on double optins come in higher quality, they are more active and engaged. Which means a better list that you can make more sales to.
Double optin simply sends a confirmation email to anyone subscribing to your email list, asking them to confirm they want to be on the list by clicking on a link inside the email. The user gets verified and added to your list after they click on that link.
This is great because it won't add anyone who used a fake email address, or an email with a typo.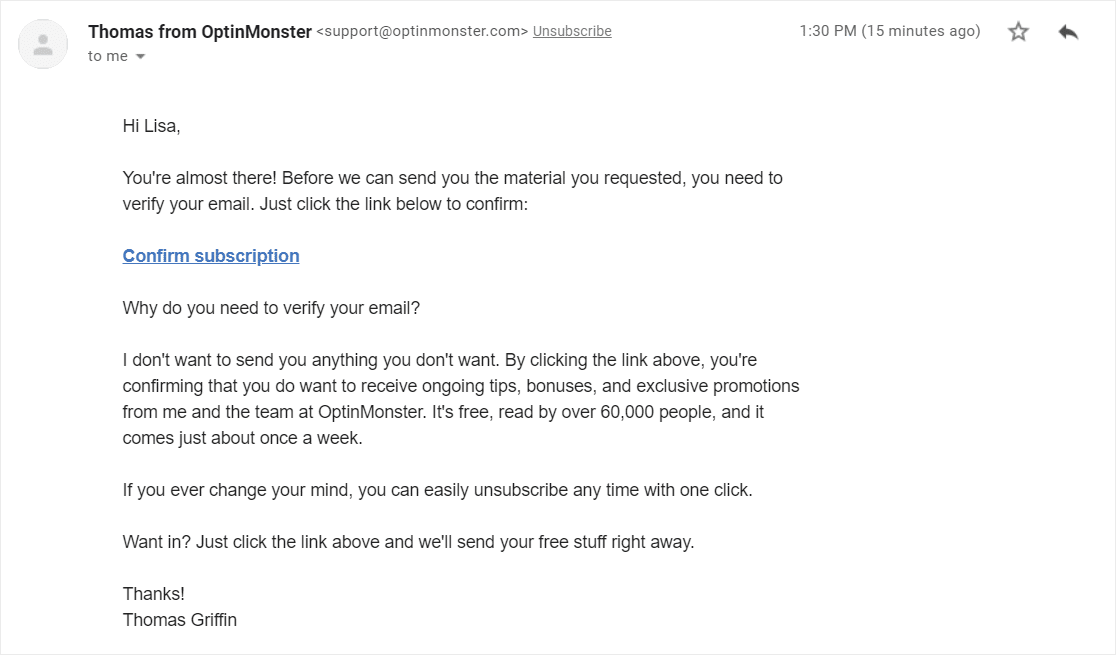 In most scarnario double optin functionality is set by your email service provider. That's because some email service providers don't have double optin functionality available.
That said, all of the email marketing services that integrate with WPForms let you use double optin:
To set up double optin on your email list, refer to your email service provider's support section. If you're using OptinMonster, there's even a feature that lets you turn double optin off or on automatically depending on the campaign.
And if your email service provider isn't on this list, you can use our Zapier addon to create custom Sendy subscribe forms, and more.
5. Use Smart Tags
Another great WordPress security tip is to use Smart Tags to keep your site safer by recording extra data about your form users.
Every user has a unique IP Address that identifies them, and you can capture which one is being used to fill out your forms. So whenever you receive your form email notification, you'll see what the user's IP Address is.
That way, if you're getting spam form submissions, you can block that address from accessing your site entirely.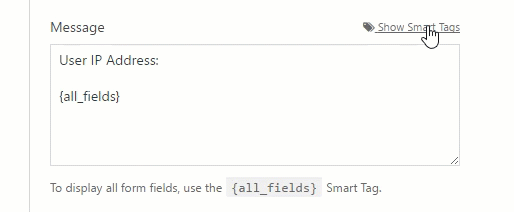 To learn how to set this up, check out our documentation on how to use Smart Tags in WPForms.
To block a specific IP address from accessing your site, reach out to your WordPress hosting company or look into WordPress security plugins that let you blacklist specific IP addresses.
6. Discover Visitor Locations
If you've been getting a lot of suspicious activity and think it might be from the same spammer or group of spammers, you can turn on location services for your forms.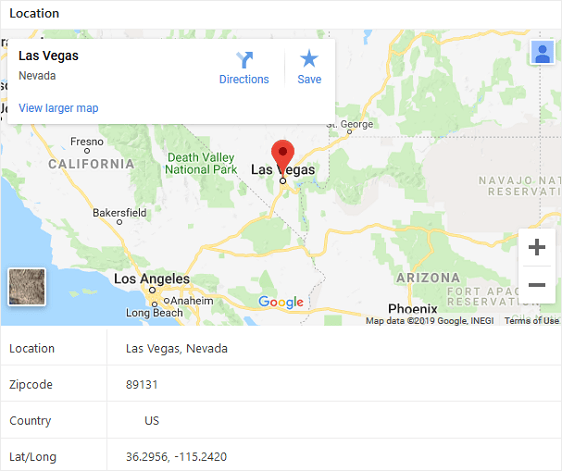 This allows you to see where your visitors were located when they submitted their form entry.
Check out our post on how to track user locations in a WordPress form submission for a step-by-step tutorial.
7. Use a Good Hosting Company
Making sure you're using a solid hosting company for your website is key when it comes to WordPress security. Hosting is going to be one of your biggest expenses when starting a blog or website, but for good reasons.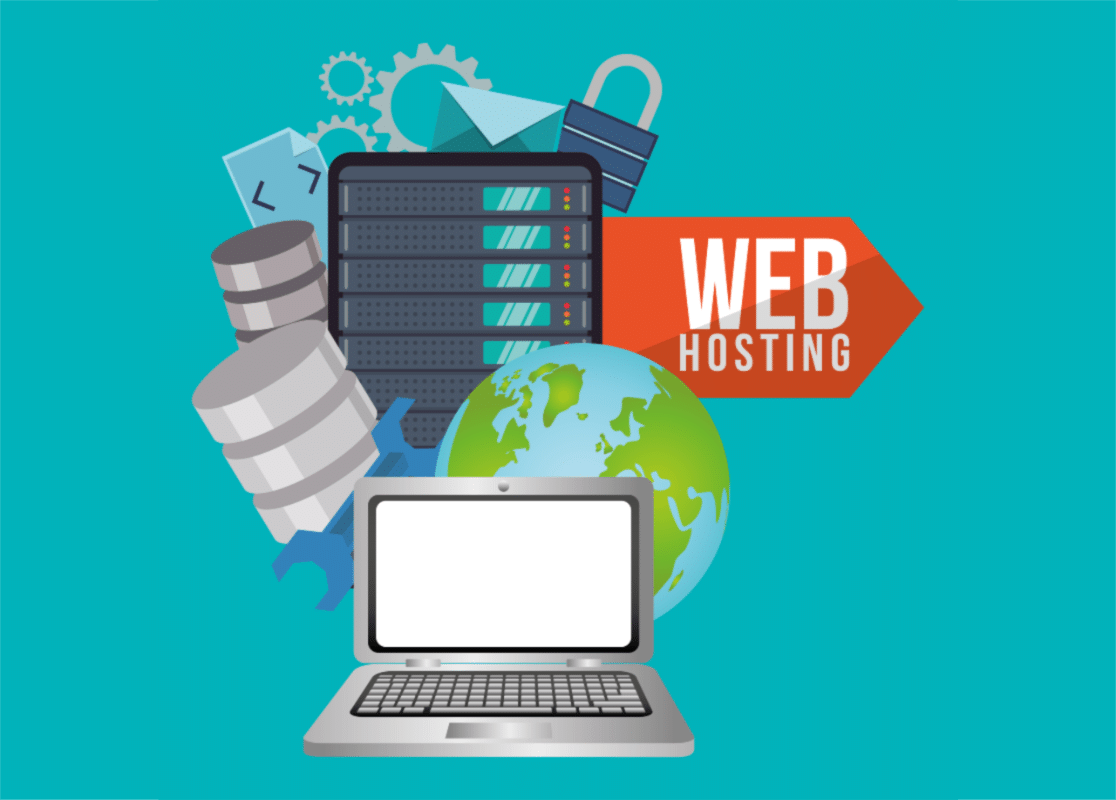 Good hosting companies do a great job of helping keep your websites secure. Here are just some of the things they help with:
Taking extra measures to protect their servers against common online threats
Planning accident plans and disaster recovery programs to protect your site data if there's a huge accident
Monitoring their network for any suspicious activity continuously
Having tools in place to prevent large scale DDOS attacks
Keeping their web server software (+hardware) completely up to date in an effort to prevent hackers from exploiting any known security vulnerability in previous versions
And it all happens in the background while you sleep (or work on your site, whatever you're up to at the moment!).
You may also want to consider a managed hosting company instead of unmanaged one which share servers with others, if you're wanting to keep WordPress sites extra secure. Check out the difference between managed and shared hosting companies.
Our favorite hosts that we recommend include:
Having a secure WordPress host that's well-known and reliable is a great foundation to having a safe and secure WordPress website.
8. Use a Solid Theme
Sometimes a poorly developed theme can have vulnerability issues that leaves your WordPress site and forms open to security problems. So, a good WordPress security tip and trick is to use a good WordPress theme.
Here's a list of just some of the theme posts we've put together to help you find a great and secure theme:
Once you pick your theme, don't forget to keep it up to date to make sure it's secure as it can be.
9. Keep WordPress Updated
Head to your WordPress dashboard and make sure you've got the latest version of WordPress. This helps fight any possible issues that may have been found in older software versions that have now been fixed.

10. Properly Configure Your SMTP Server
Email deliverability is a huge issue in the WordPress community. That's why it's such an important WordPress security tip to get your SMTP server configured properly.
The best way to do this is with WP Mail SMTP. There are a lot of different mailers available to use with SMTP as well including:
Making sure you're getting all the emails that come from your contact forms isn't just a security issue, it's also important to your business's bottom line. You don't want to miss any customers reaching out or form notifications.
11. Use an Editor Account to Post On Your Site
A great WordPress security tip is to create an account on WordPress that is just for posting content. That way, you can avoid giving too many permissions to someone who is posting, or even giving yourself control over things you wouldn't necessarily want to change when you are just editing or posting content.
WPForms lets you do this easily with the Access Controls feature. You can actually set each account/role to have granular controls, so you can pick and choose what each one can and can't do.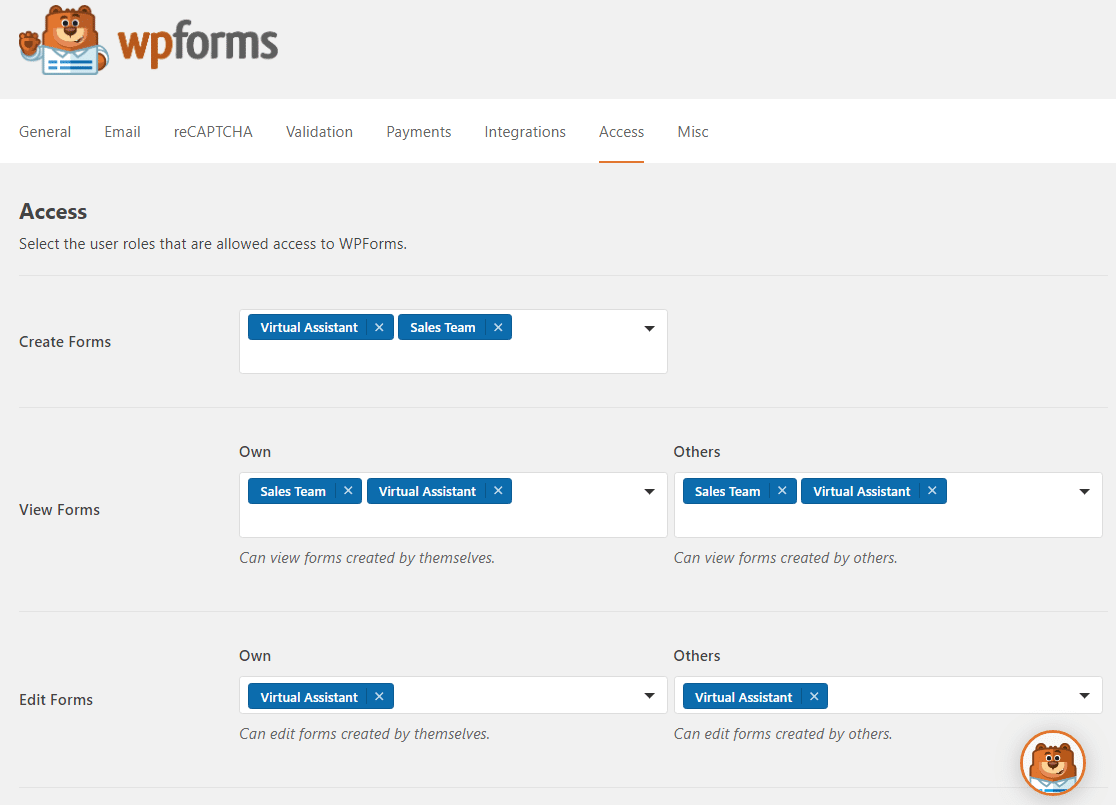 12. Lock Your Forms
Try using the WPForms Form Locker addon to keep your forms extra secure.
Some of the security features you might find helpful include the ability to:
Password protect your forms
Lock your forms at a certain date/time
Limit form submissions for each person
Require a username and password to gain access
And more
The WPForms Form Locker addon is a great tool to use to help prevent unwanted form submissions, so it definitely is a fantastic WordPress security tip for you to check out to keep your forms extra safe.
Next, Grow Your Small Business With These Marketing Tips
And there it is. You now know some fantastic WordPress security tips and tips for your online forms. Hopefully, you learned a few new ways to keep your contact forms safe — and your customers are going to love you for it.
You might also want to check out our post on the best small business marketing ideas out there.
So what are you waiting for? Get started with the most powerful WordPress forms plugin today.
And if you like this article, then please follow us on Facebook and Twitter for more updates from our blog.