Wondering how to create an NPS survey form in WordPress? Unlike a traditional satisfaction survey, an NPS survey helps you understand your customers and make your business more successful.
In this article, we'll show you how to create an NPS survey form in WordPress using the popular Surveys & Polls addon in WPForms.
Here's a table of contents to help you quickly navigate this informative guide:
How to Create an NPS Survey Form in WordPress
Net Promoter Score survey forms are incredibly easy to make using WPForms and the Surveys & Polls Addon.
Here, we'll walk you through the setup and show you when to send an your survey.
Step 1: Create a Survey in WordPress
Here's how to create a Net Promoter Score form in WordPress. For this example, we are going to set up an NPS Survey Enhanced Form.
The first thing you'll need to do is install and activate the WPForms plugin. For more details, see this step by step guide on how to install a plugin in WordPress.
Next, go to WPForms » Addons.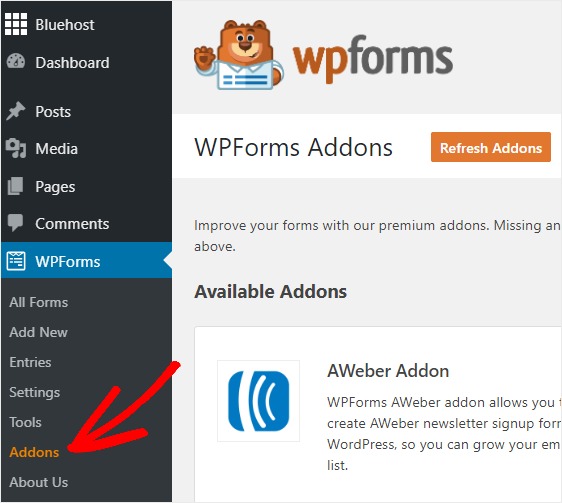 Now, select the Surveys & Polls Addon and click Activate.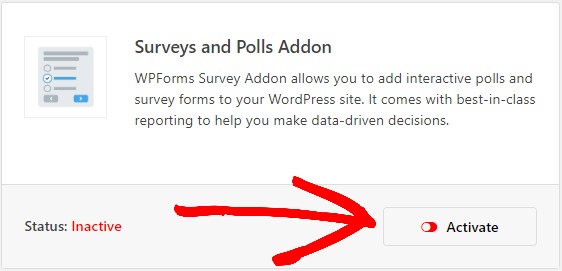 Once your WPForms Surveys & Polls Addon is active, go to to WPForms » Add New to create a new form.
On the setup screen, name your form and scroll down to select the NPS Survey Enhanced Form.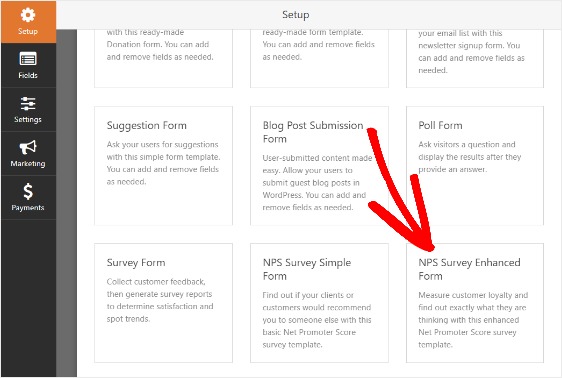 WPForms will then create a survey form and do most of the work for you.
You'll see these different form fields already on your survey form:
Net Promoter Score
Paragraph text boxes asking for more details
A Multiple Choice box asking for a testimonial
Email
Here, you can add additional fields by dragging them from the left hand panel to the right hand panel. Or, delete form fields you don't want.
To make changes to your form fields, simply click on the field and make your changes on the right hand panel. You can also click on a form field and drag it to rearrange the order on your form.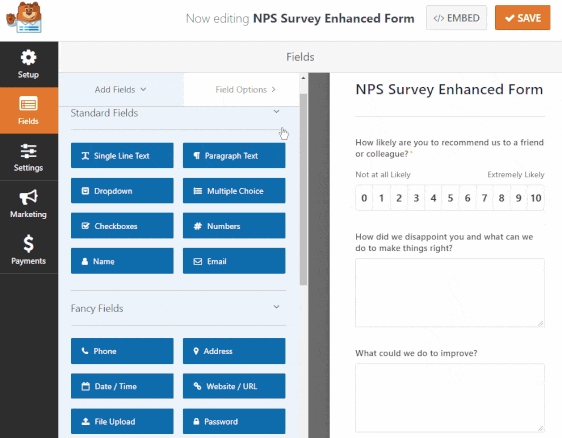 Step 2: Set Up Survey Form Conditional Logic
This is one of the neatest things about the Net Promoter Score form field in WPForms. It's been designed to work with conditional logic so you can get even more information from your site visitors when they fill out your form, regardless of their answers.
Here's what's already pre-built with conditional logic in this NPS feedback form:
If someone answers your NPS field as a promoter (8+), this will display a text box asking What do you like most about us?
Say someone answers your NPS field as a passive (7-8), this will display a text box asking What could we do to improve?
If someone answers your NPS field as a detractor (0-6), this will display a text box asking How did we disappoint you and what can we do to make things right?
And if you want to edit the conditional logic on your form, click on a paragraph field you'd like to edit and select Conditionals.
Then, customize the conditional logic to meet your needs.
Step 3: Configure Your Form Notifications
Notifications are a great way for you or a team member to find out if your survey has been completed by a site visitor.
To edit form notifications, select Settings » Notifications.
And unless you disable form notifications, any time a form on your site is processed, the admin email for your website will receive a notification.
However, you can also send a notification to someone on your team by adding their email to the Send to Email Address field.
In addition, if you use smart tags, you can even send a form notification to your site visitor to let them know their form has been received. This is helpful if you collect email addresses on your form.
For help with this step, check out our documentation on how to set up form notifications in WordPress.
Step 4: Configure Your Form Confirmations
Confirmations are a great way to let site visitors know immediately that their survey form has been submitted.
To edit form notifications, select Settings » Confirmation.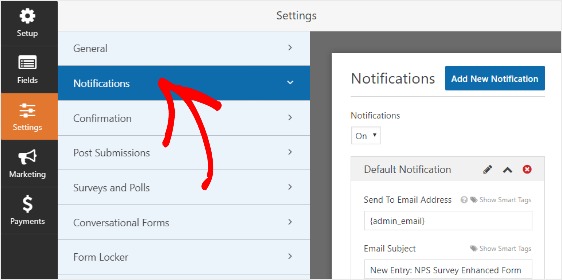 WPForms lets you choose from three types of confirmations:
Message. This confirmation displays a simple message once a site visitor submits their form letting them know their form has been accepted.
Show Page. This confirmation type will take site visitors to a specific web page on your web page. For help with this step, check out our tutorial on redirecting site visitors to a thank you page, as well as our guide to creating effective thank you pages.
Go to URL (Redirect). This last confirmation type will send site visitors to a different website.
For step by step instructions, check out this documentation on setting up form confirmations.
Step 5: Add Your NPS Survey to Your WordPress Site
After you've created your Net Promoter Score survey form, you'll need to add it to your site.
WPForms lets you add your forms to your site in several places, including your blog posts, pages, and sidebar widget areas.
Let's take a look at the post/page embed option.
Start by creating a new post or page in WordPress, or editing an existing one.
Then, click inside the first block (the blank area below your page title) and click on the Add WPForms icon.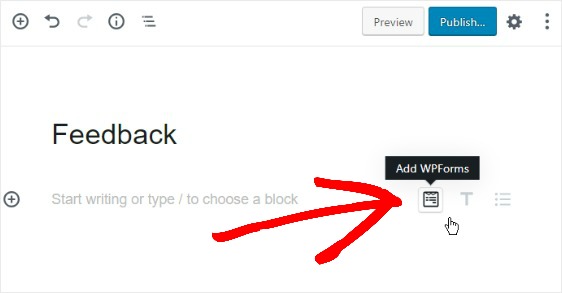 The handy WPForms widget will appear inside of your block. Click on the WPForms dropdown that appears and pick your form.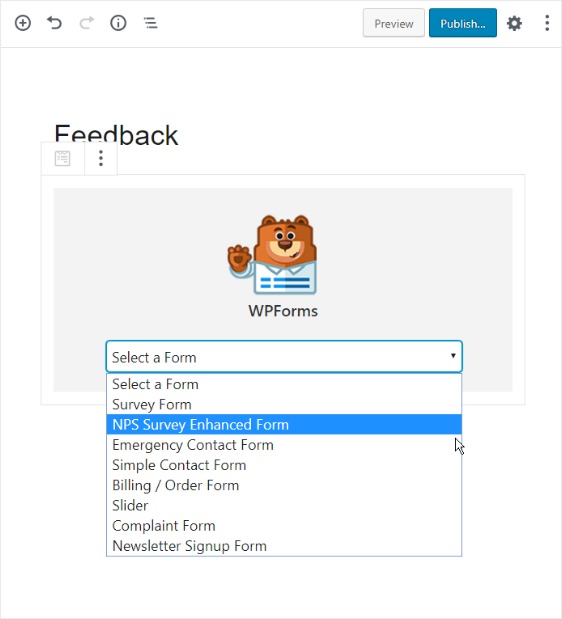 Now, publish your page or post so your survey form appears on your site.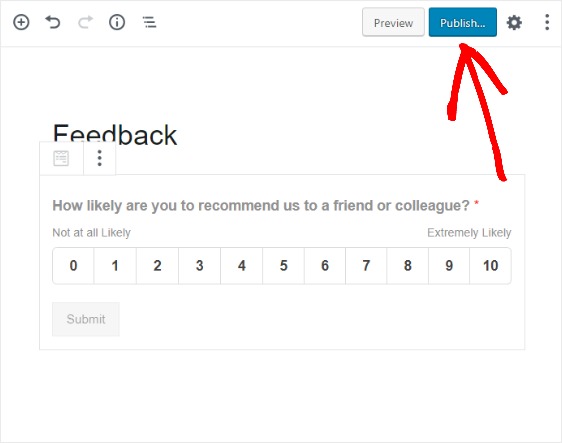 Your form is now on your site!
Step 6: View Your NPS Calculation
As people fill out your Net Promoter Score survey form, WPForms will calculate your NPS.
To view these results, go to WPForms » All Forms. From there, hover over the form name to display the extra menu items, and click on Survey Results.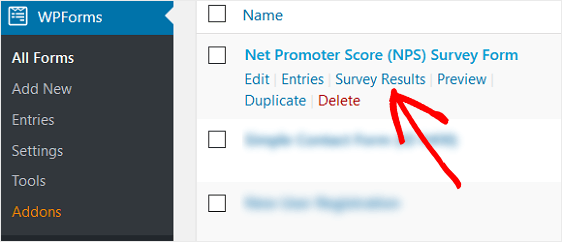 Once you're on the Survey Results page, you'll be able to see your Net Promoter Score calculations.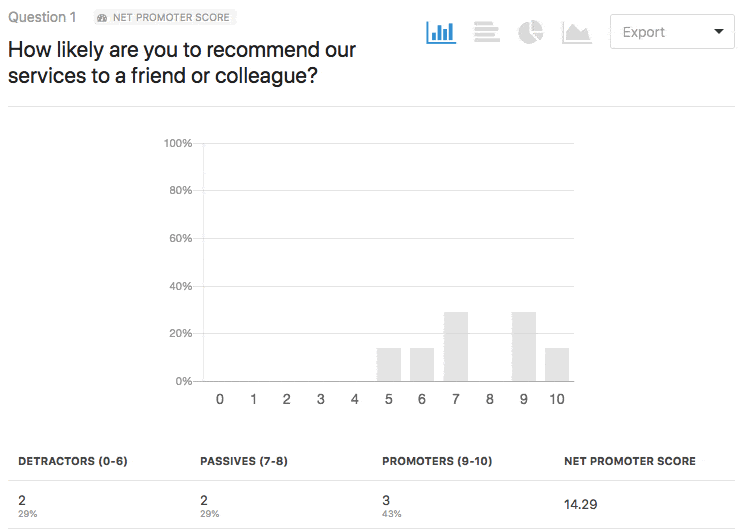 You'll see the number of detractors, passives, and promoters that have filled out your NPS survey form. You'll also see your final Net Promoter Score.
FAQ
Below are some of the most frequently asked questions we get about NPS Surveys.
What Is a Net Promoter Score Survey?
A Net Promoter Score survey, or NPS survey, measures customers' feelings about your brand.
It's a calculation that helps you determine how your site visitors, customers, or even employees feel about your company at some point during the customer journey.
It's likely you've filled one out yourself. They are super common to see as a tool to collect customers' feedback.

How Do You Read an NPS Score?
Just as important as how to create an NPS survey form in WordPress, you need to be able to read them. This is super important to know before writing a summary of survey results.
To read an NPS score, you find your company's NPS, and then simply subtract your lowest scores from your highest scores.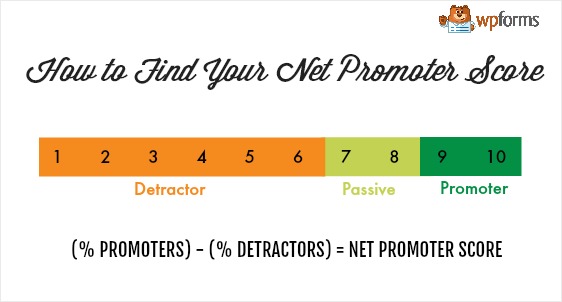 Finding your company's NPS is super easy to do. All you need is to ask 1 simple question: How likely are you to recommend our company to a friend or colleague?
From there, your survey takers will answer that NPS Survey question using a scale of 0-10. Zero means they are unlikely to recommend your company, and 10 means they are highly likely to recommend your product or service.
In fact, people taking your survey can be grouped into three categories based on their answers:
Promoters: Anyone answering with a 9 or 10 are considered loyal people who will continue to buy from you and recommend your company to others.
Passives: Anyone answering with a 7 or 8 are satisfied with your company but not entirely sure they'll recommend you to others. In fact, they might even be vulnerable to your closest competition and take their business elsewhere.
Detractors: Anyone answering with a 0-6 is unhappy and will not be recommending your company to others. Their negative views may harm your brand's reputation and even your bottom line.
What Is a Good NPS Score?
Generally, the higher the NPS, the more loyalty your company has.
As people take your survey, a net promoter score calculation is determined. In other words, the percentage of detractors that have taken your survey is subtracted from the percentage of promoters to yield a score that ranges from -100 to 100.

Let's check out some NPS Score examples next.
Net Promoter Score Benchmarks
Different industries have different averages of Net Promoter Scores.
But those industries with a low NPS should definitely be trying to get that score up. That's because the customer's experience plays a huge role in the success of a business.
Just take a look at how effective a good customer experience actually is: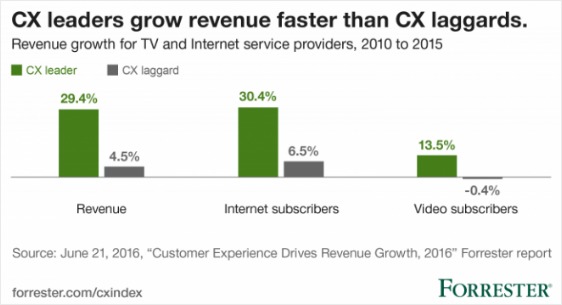 Leaders in customer experience consistently do better with revenue and website visitors.
You may recognize some well-loved brands when you look at NPS leaders by industry.
NPS Survey Best Practices
Wondering how to conduct an NPS Survey? Here are some important rules to get the most out of your forms:
Use images to help increase survey response rates
Add a comment box
Make additional comments optional
Keep is short and sweet
A survey with 5 fields usually results in the highest conversion rates
Accept that you may need to change things
Treat your survey as an NPS survey tool to improve your business, not as a marketing tool
Read all the responses in the comments and take action on what you can
Respond to people to strengthen relationships and drive action
NPS Survey Question Variations
There's a standard single question to ask on an NPS Survey.
"How likely are you to recommend our company to a friend or colleague?"
You can choose to only ask one question. Or, you can ask a few follow-up questions.
With WPForms, you can easily create both types of survey forms. A Simple Form or a Enhanced Form.
1, NPS Survey Simple Form:

2. NPS Survey Enhanced Form: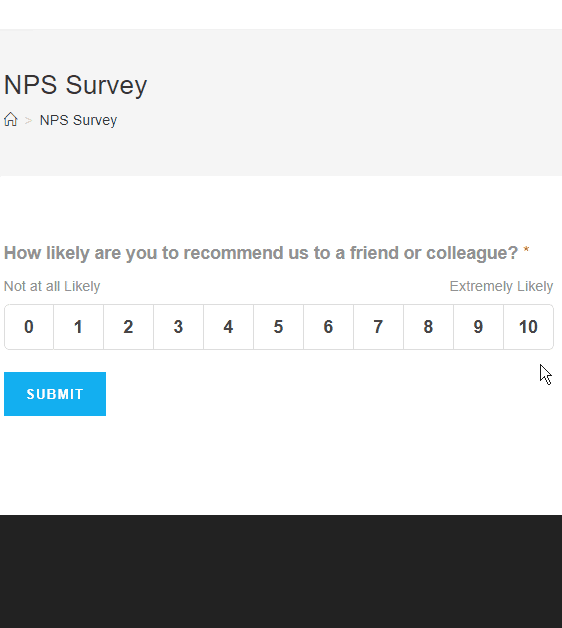 The Enhanced Form gets you more data using conditional logic. And they have a great response rate. About 44% of people taking a survey will leave a comment.
Once you know which form you'd like to use to make, you need to create it.
Alternatively, you can make a traditional survey form and add a Net Promoter Score field to your form:
 3. Survey Form: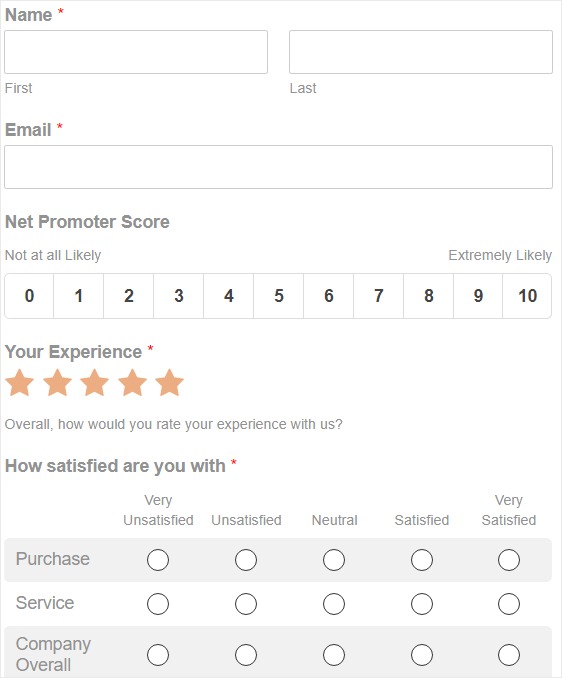 Now you know the different types of  Form Templates available with WPForms.
Final Thoughts on How to Create an NPS Survey Form in WordPress
And there you have it! You now know how to create a NPS Survey form in WordPress.
If you want to learn how to get more form conversions, check out our roundup of research based tips to improve contact form conversions. And if you want to take it a step further, and work on driving more traffic to your website, check out how to boost your SEO rankings.
So, what are you waiting for? Get started with the most powerful WordPress forms plugin today.
And don't forget, if you like this article, then please follow us on Facebook and Twitter.