Do you want to learn how to limit the number of WPForms form entries submitted on your website? Sometimes capping the number of form entries submitted is easier than manually monitoring how many people have clicked submit.
In this article, we'll show you how to limit the number of WordPress form entries on your website using WPForms' Form Locker addon.
Here's a table of contents if you want to jump ahead:
Why Limit Form Submissions?
As we've mentioned before, in out post about enabling the WordPress form scheduling, your website's forms are usually available all the time so site visitors can get in touch with you whenever they need. That said, sometimes you might feel the need to limit the number of forms that people submit on your website like when:
You're hosting an event that has a maximum number of people that can attend, so you want to limit the number of event registration forms that people can submit on your site.
You have an opening at your place of employment and you want to limit the number of job application forms so you don't have to review too many.
You're using WPForms' Form Templates Pack addon to create a contest or sweepstakes on your website and you only want a certain number of people participating.
No matter the reason for wanting to stop form submissions after a certain number of them have been processed, read on to find out how WPForms makes doing this a cinch.
Now that you know why you may want to limit WordPress entries, let's check out exactly how to do it with WPForms.
How to Limit the Number of WPForms Form Entries
Follow these step by step instructions to limit your WPForms form entries.
Step 1: Create a New WordPress Form
The first thing you'll need to do is install and activate the WPForms plugin. For more details, see this step by step guide on how to install a plugin in WordPress.
Next, you'll need to install and activate the Form Locker addon.
To do this, go to WPForms » Addon and find the one labeled Form Locker addon.
Click Install Addon and then Activate.

Now you'll need to create a new form.
You can enable the entry limit feature on any WordPress form you create using WPForms. That's because we strive to make form creation as easy as possible, while still offering our customer a ton of cool features for creating one-of-a-kind forms.
For our example, we'll create a simple contest entry form using the Form Templates pack addon mentioned above. For help with this addon, that has over 100 different templates for you to choose from, check out this documentation on installing and using this flexible addon.
Once the Form Templates Pack addon is installed and activated, choose the Contest Entry Form template and let WPForms create a form for you.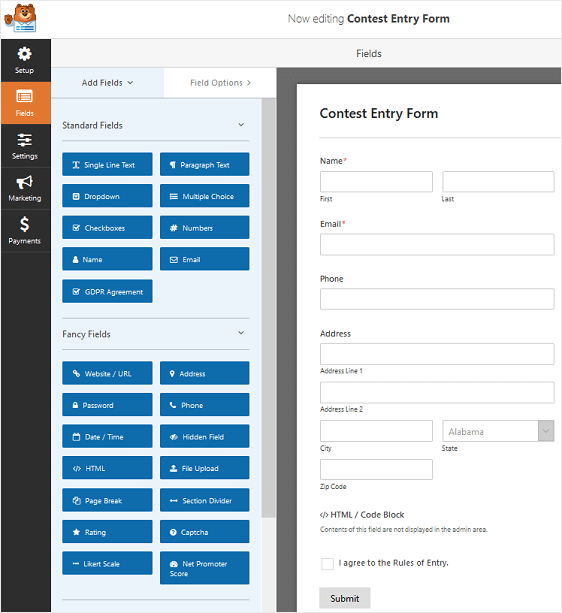 You can add additional fields to your form by dragging them from the left hand panel to the right hand panel.
Then, click on the field to make any changes. You can also click on a form field and drag it to rearrange the order on your WordPress form.
When your form looks the way you want it to, click Save.
Step 2: Enable Entry Limits
Once your form is customized and saved, go to Settings » Form Locker in the Form Editor. This will bring up the different settings you can configure for the Form Locker addon.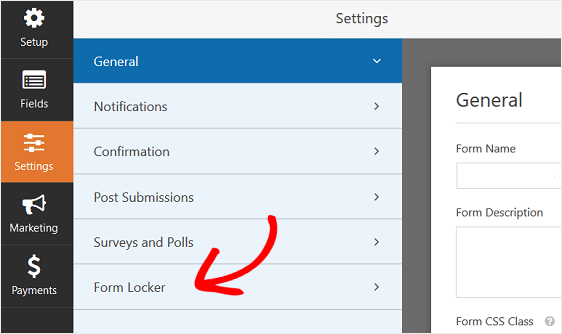 Click on the Enable limit on total form entries checkbox under the Entry Limit section to enable form submission limits.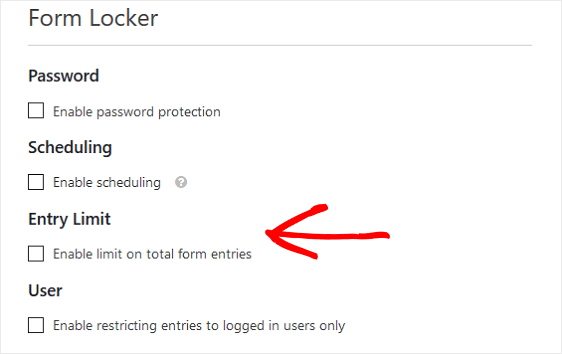 When you do this, you'll see a few settings to configure: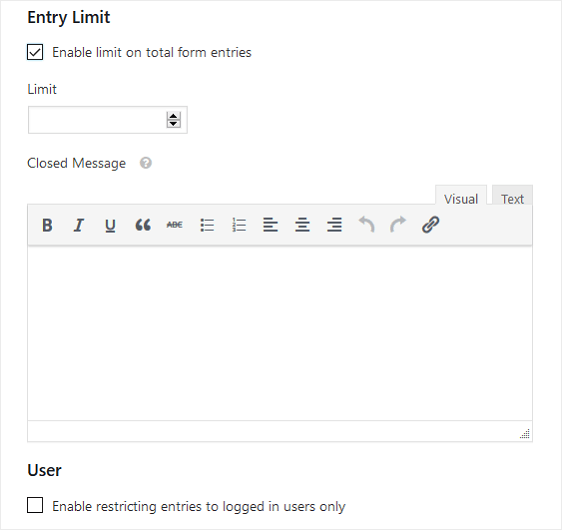 Limit: the maximum number of form entries you'll allow for your form.
Closed Message: the message that will display to site visitors trying to submit your form after the entry limit has been reached.
Here's an example of what our contest entry form looks like when we've limited the number of form entries to 100: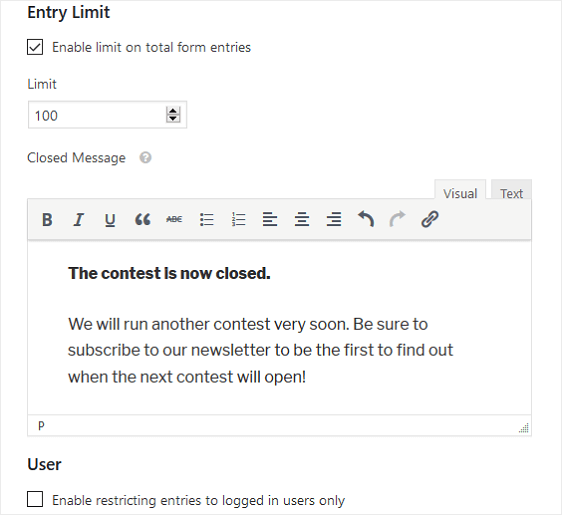 Click Save.
If you'd like to learn more about the ways you can limit form entries, check out this guide to setting an automatic closing date on a form.
WPForms integrates with the following email services providers:
For help with adding a newsletter checkbox to your contest entry form, or any other form for that matter, check out this tutorial on how to add a Mailchimp subscribe checkbox to your WordPress forms.
Step 3: Prevent Multiple Form Entries
If you want to prevent the same user from submitting more than one form entry, you can require unique values for certain form fields.
For instance, you can require unique answers for the following field types:
Single Line Text
Name
Email
Website / URL
Password
Phone
To enable this feature, go to your contest entry form and click on the field you want to require unique answers on. Then, scroll down to Advanced Options and click the checkbox labeled Require unique answer.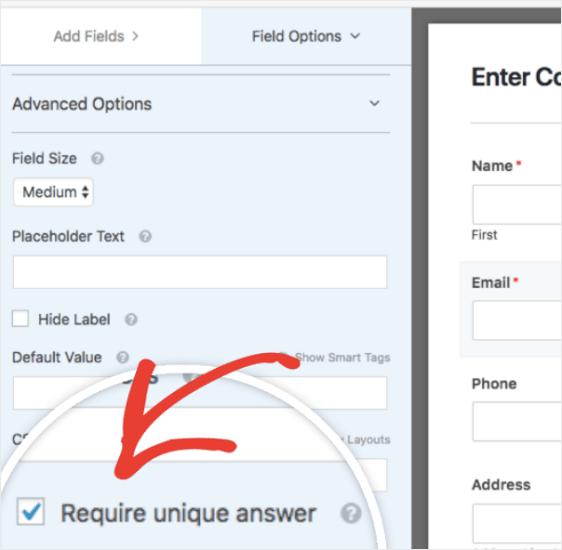 Now, any time someone tries to submit a form on your site that has already been submitted, they'll see the message "The value must be unique."

Final Thoughts on WPForms Entries Limits
And there you have it! You now know how to limit the number of WordPress form entries on your website so you don't get too many form submissions.
Selling business cards on your site? Check out our post on how to create a business card order form for help.
So, what are you waiting for? Get started with the most powerful WordPress forms plugin today.
And don't forget, if you like this article, then please follow us on Facebook and Twitter.