Do you want to learn how to limit form entries in WPForms?
Capping or limiting form entries can be extremely useful. For example, if you're running an online contest, you can limit the number of entries so that only a specific amount of people can register.
So in this article, we'll show you how to limit the number of entries on any WordPress form using WPForms.
How to Limit the Number of WPForms Form Entries
Follow these easy step-by-step instructions to limit your WPForms form entries.
Step 1: Install the WPForms Plugin
The first thing you'll need to do is install and activate the WPForms plugin. If you're new to WordPress, here's a detailed guide on how to install a plugin in WordPress.
To limit the form entries in WPForms, you need to activate WPForms Pro or a  higher package on your WordPress site.

We took this screenshot during a sale. Click here to see if the discount's still available!
Next, you'll need to install and activate the Form Locker addon.
Step 2: Install and Activate the Form Locker Addon
To activate the addon, head over to your WordPress dashboard and click on WPForms » Addons.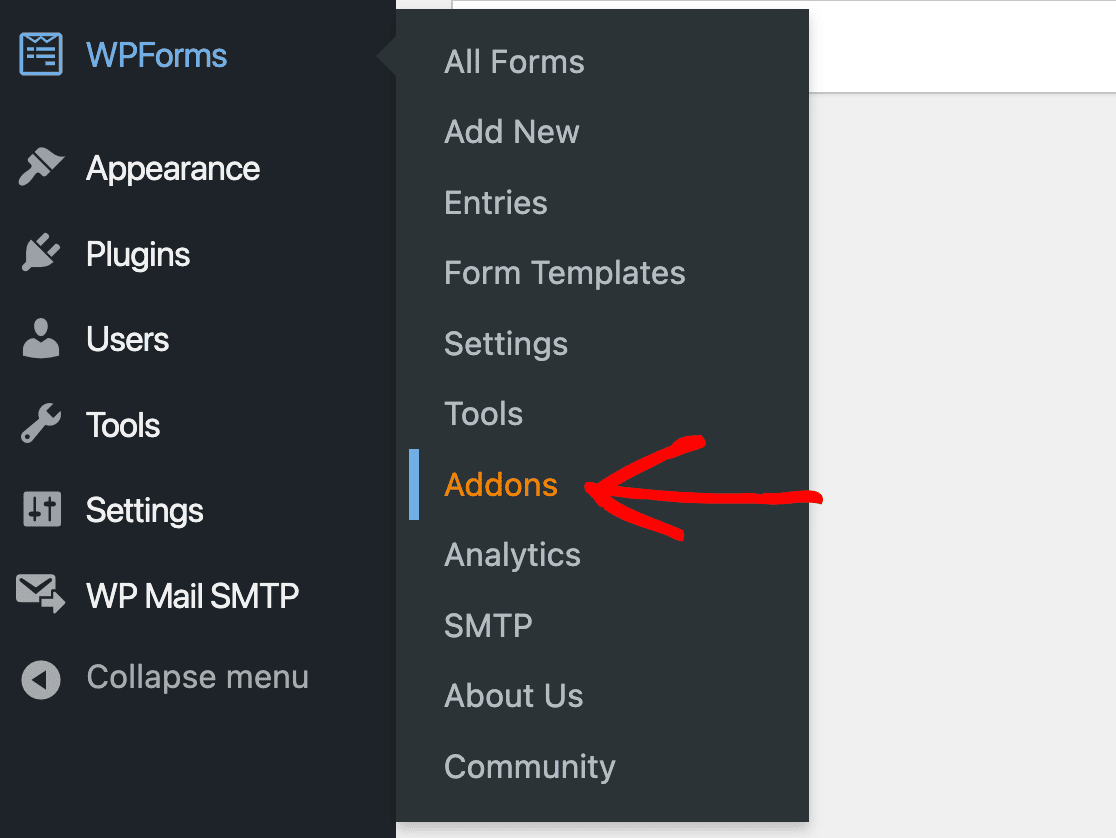 In the search bar, type Form Locker and press the Install Addon button.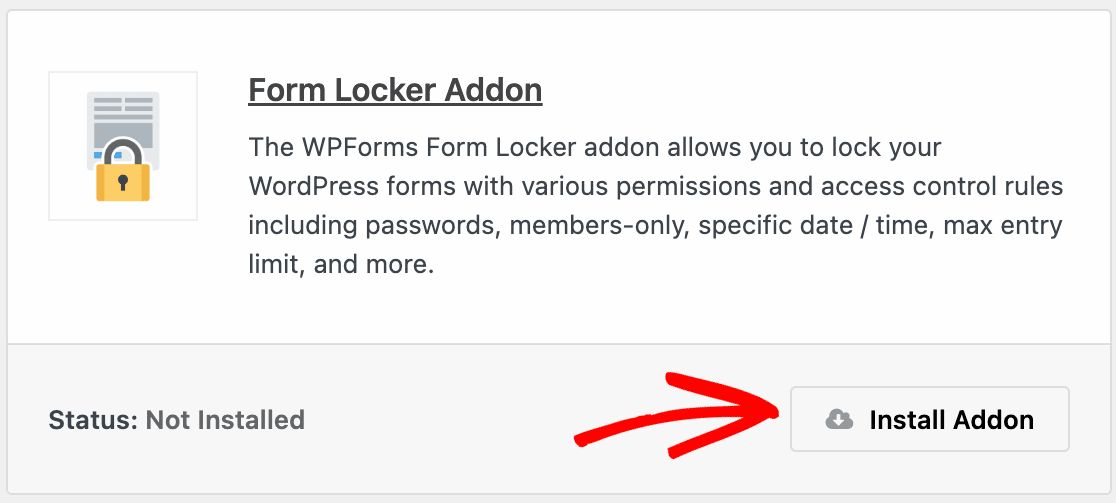 Once you've installed Form Locker successfully, you'll need to create a new form with WPForms.
Step 3: Create a New WordPress Form
To create a new form, click WPForms » Add New in your WordPress dashboard.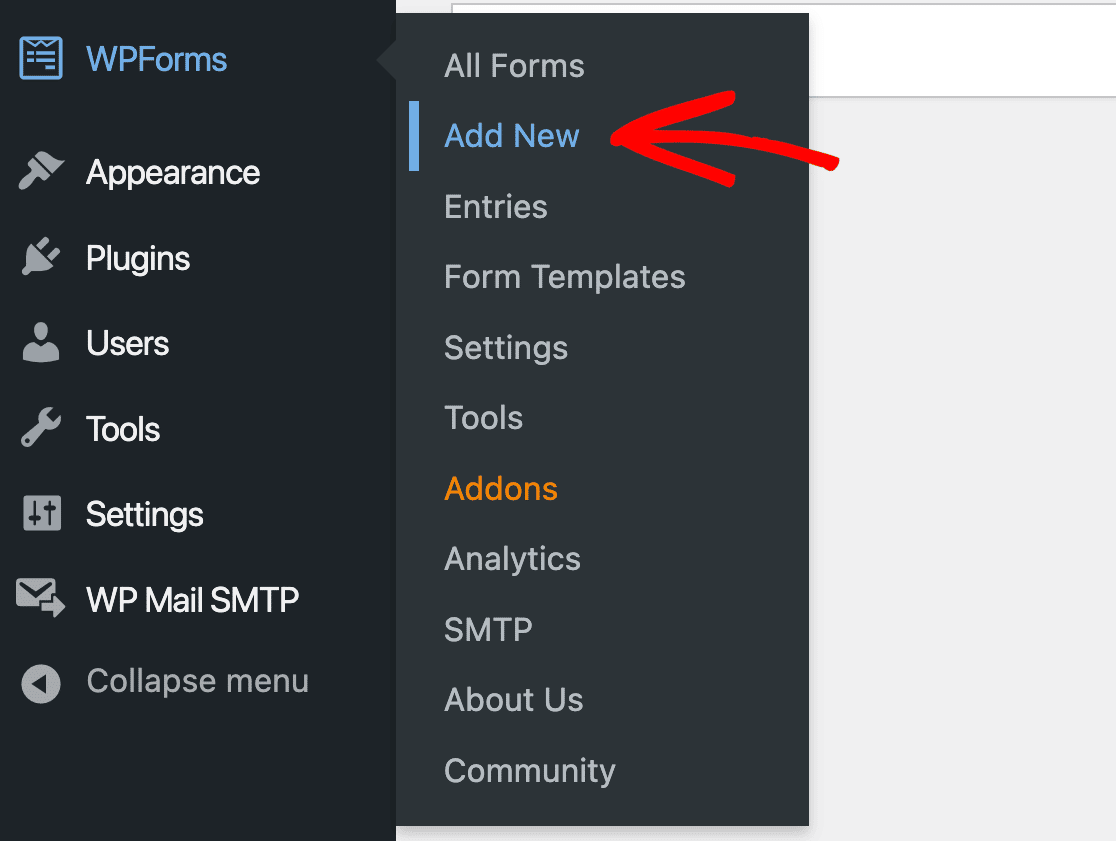 Clicking this will redirect you to the form setup screen of WPForms. Here you can add a name to your form and select the form template you want to use.
WPForms comes with 1,200+ WordPress form templates, including:
Entry upload form template
Contest registration form template
Competition registration form template
Raffle entry form template
For our tutorial, we'll choose the Contest Entry Form template.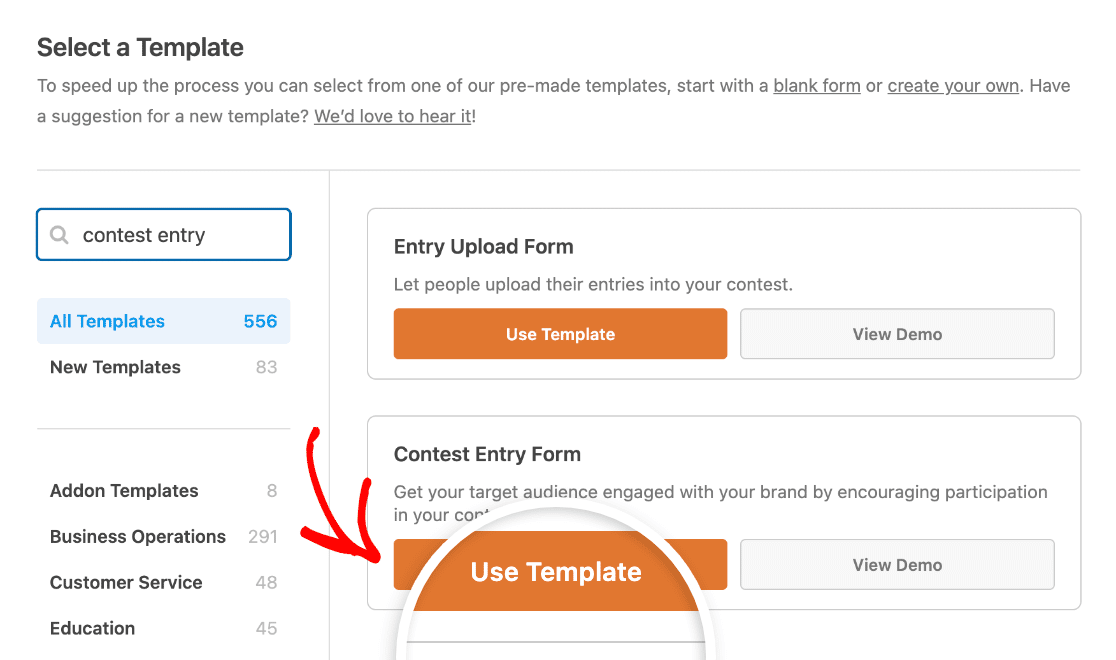 Here's our form: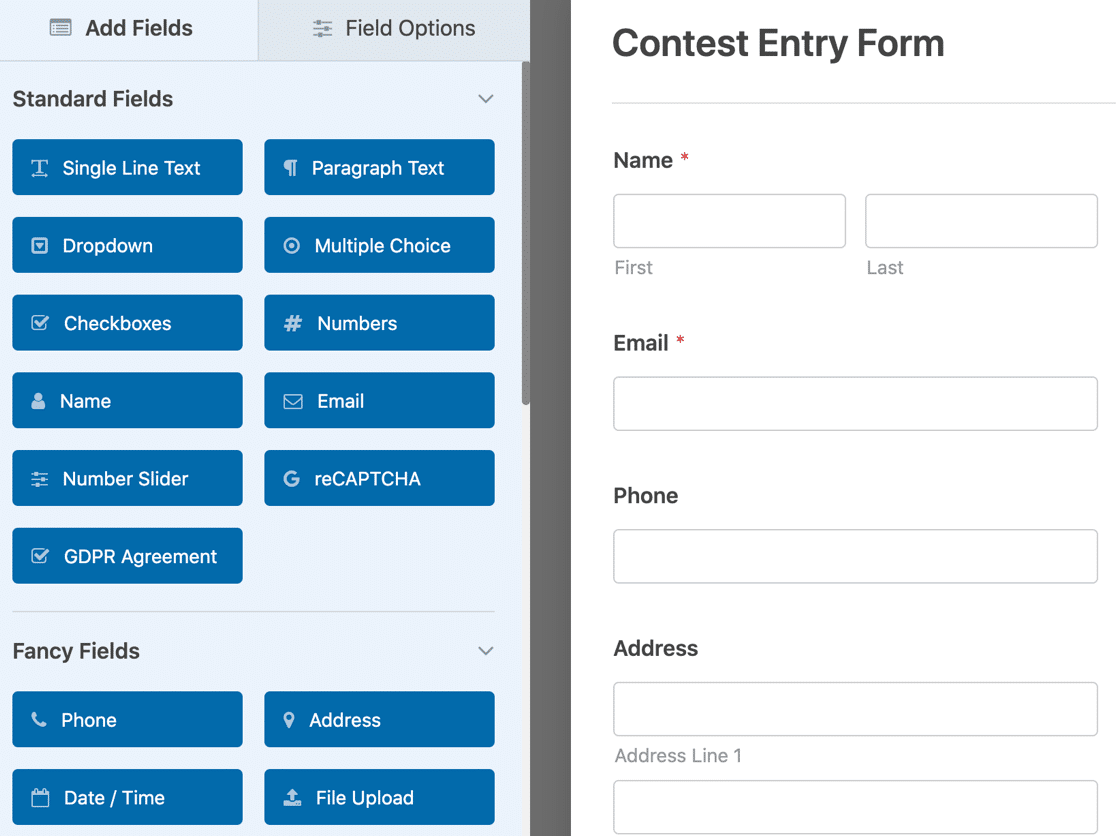 You can add additional fields to your form by dragging them from the left-hand panel to the right-hand panel.
Then, click on the field to make any changes. You can also click on a form field and drag it to rearrange the order on your WordPress form.
When your form looks the way you want it to, click Save.
Step 4: Limit the Total Number of Entries
Once your form is customized and saved, go to Settings » Form Locker in the Form Editor.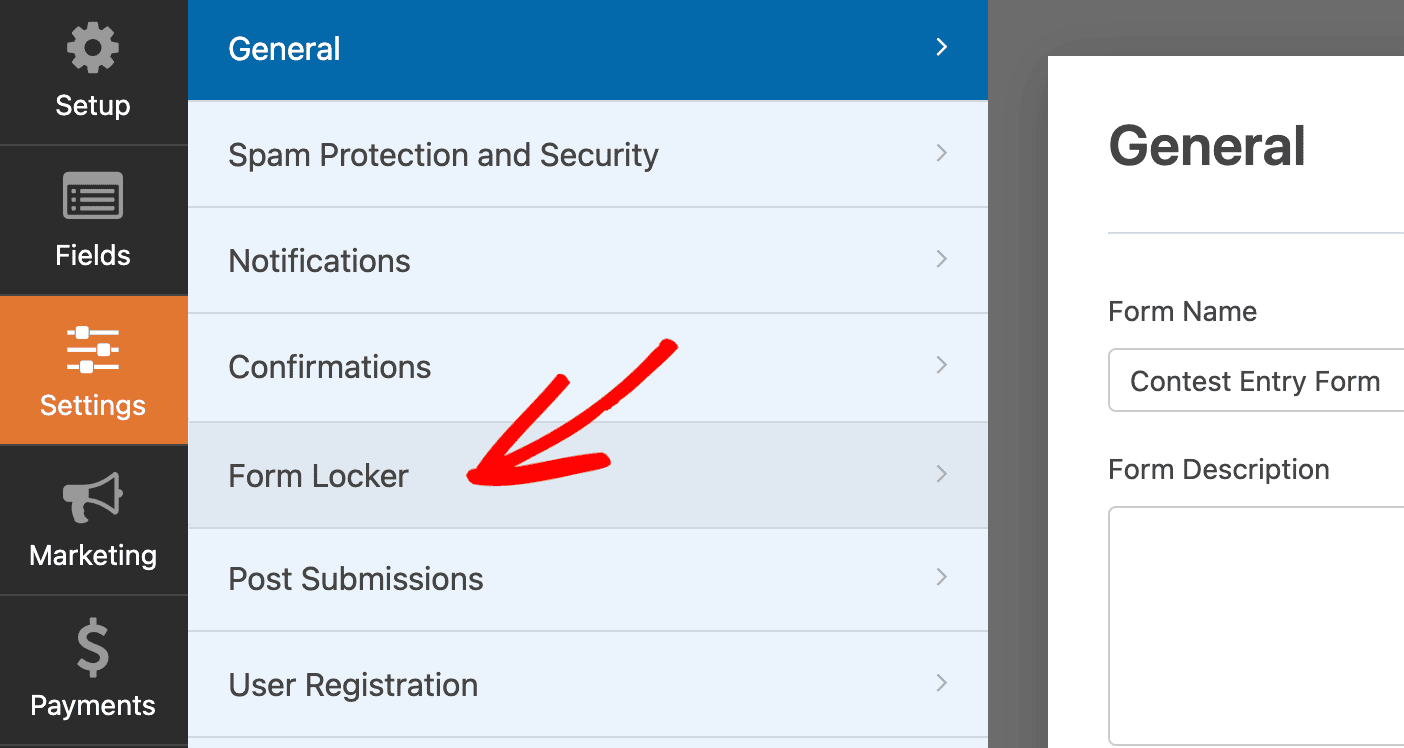 This will bring up the different settings you can configure for the Form Locker addon.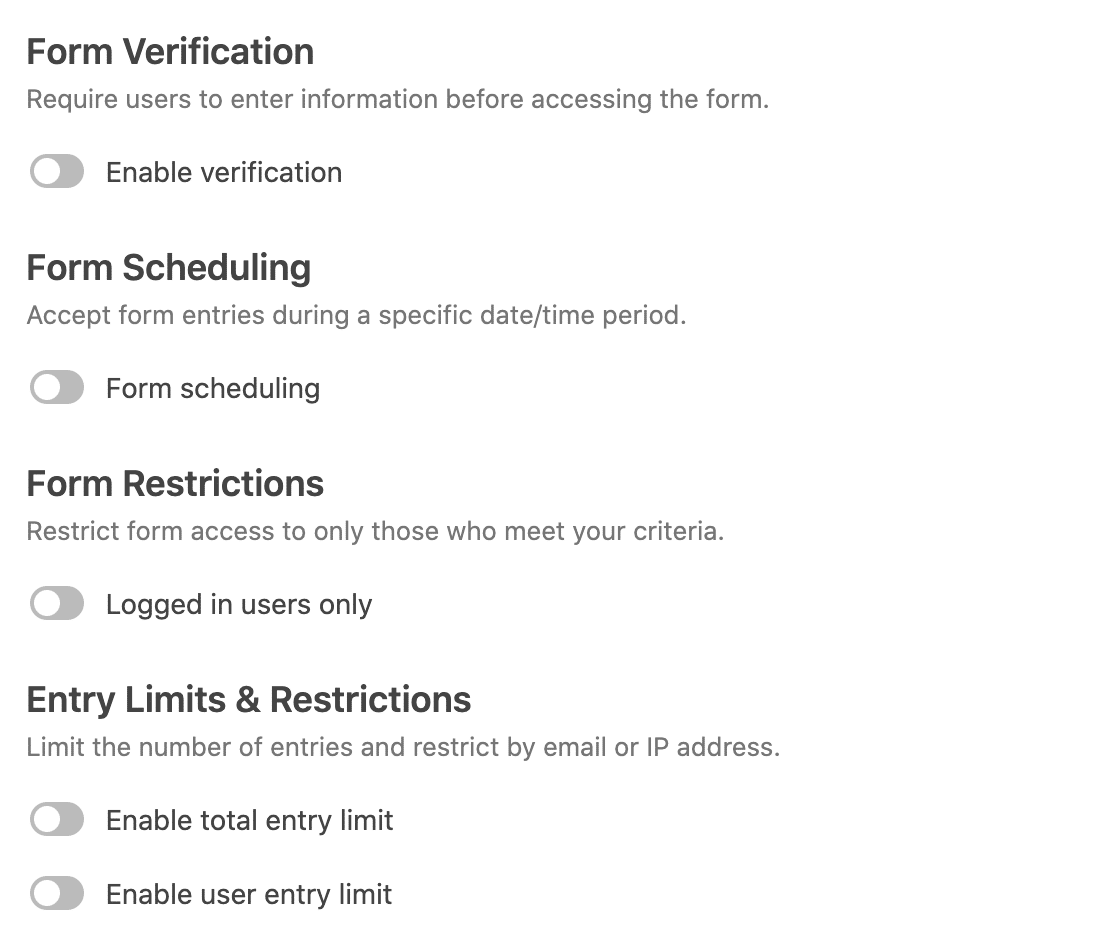 Here's a quick overview of what these options mean:
Form Verification: As the user for a password, their email address, or their age
Form Scheduling: Open and close submissions on specific dates
Form Restrictions: Allows only logged-in users to access the form.
Entry Limits & Restrictions: Limit the number of form entries by user, or set a cap for the maximum entries you'll accept.
Under the Entry Limits & Restrictions feature, go ahead and turn on the Enable total entry limit option.

When you do this, you'll see a few settings to configure: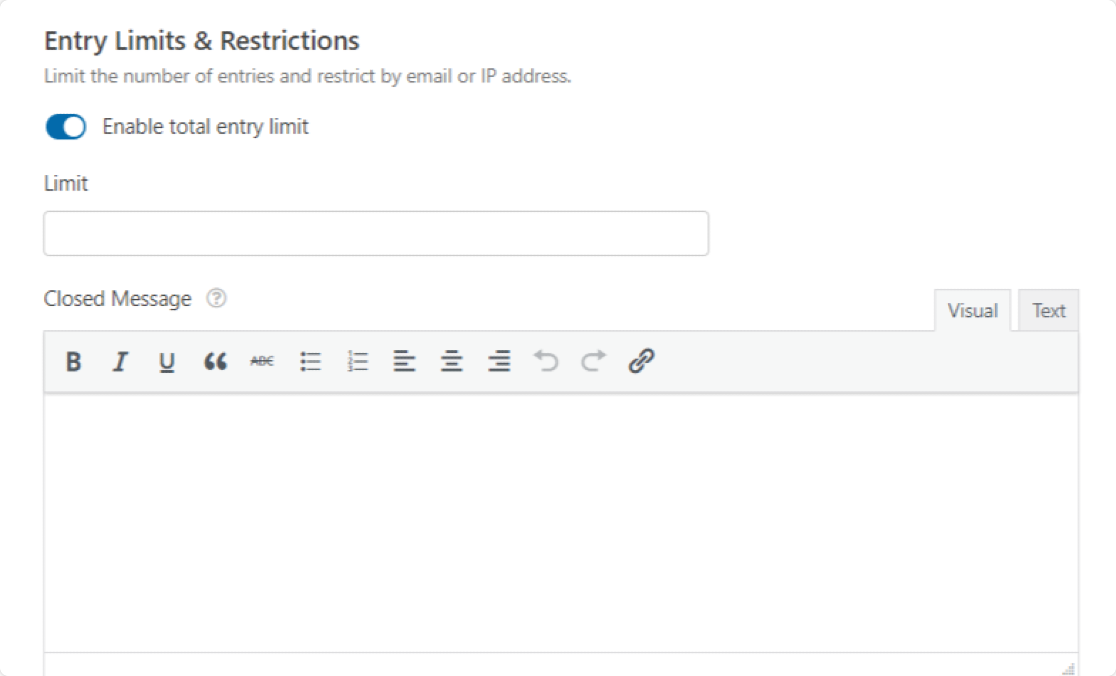 Limit: the maximum number of form entries you'll allow for your form.
Closed Message: the message will display to site visitors trying to submit your form after the entry limit has been reached.
Here's an example of what our contest entry form looks like when we've limited the number of form entries to 100: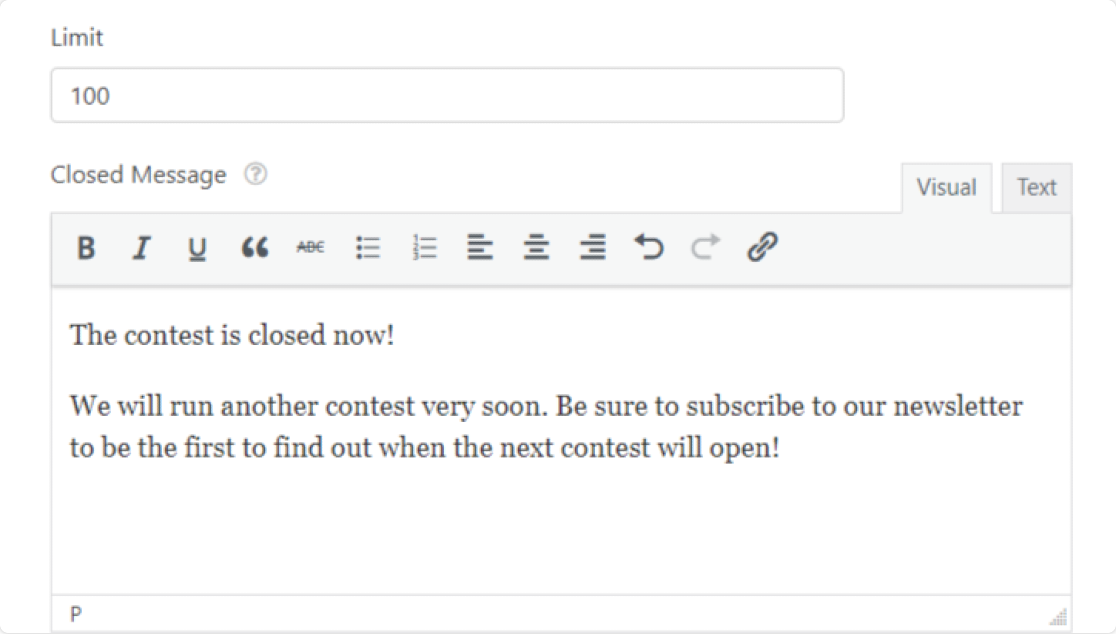 This is how you can limit the total number of entries for a form on your website.
Next, we'll see how you can limit the form submissions by email and IP address of a single user.
Step 5: Limit Form Entries by User IP or Email Address
To limit the form entries by user IP or email address, toggle on the Enable user entry limit option.

This will open more setting options to configure: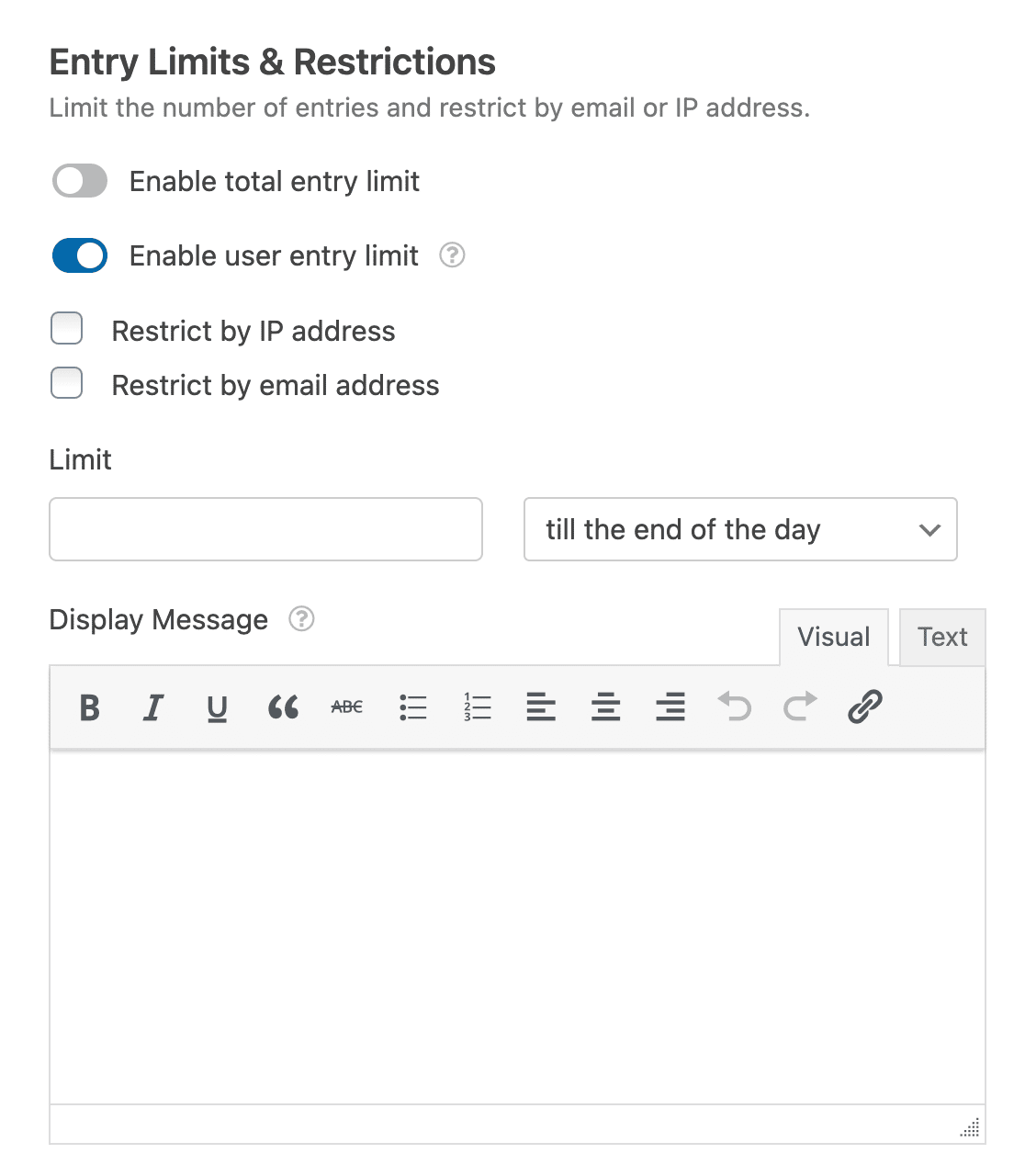 You'll see options to restrict form entries by IP address and email address. Check the options you want to use to limit entries.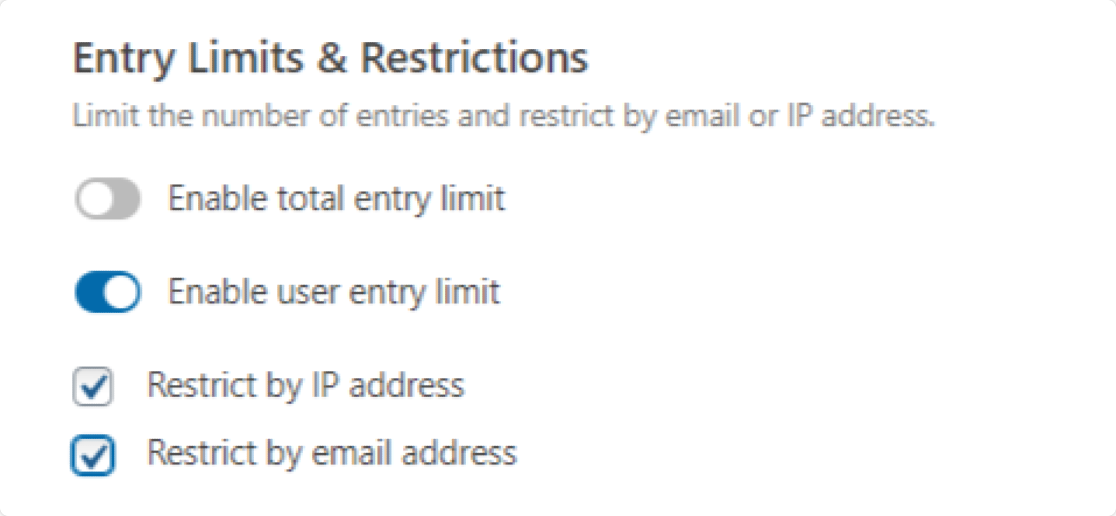 Selecting the option Restrict by email address will require you to specify which field in your form contains the user's email.
Go ahead and select the name of the email field from the dropdown.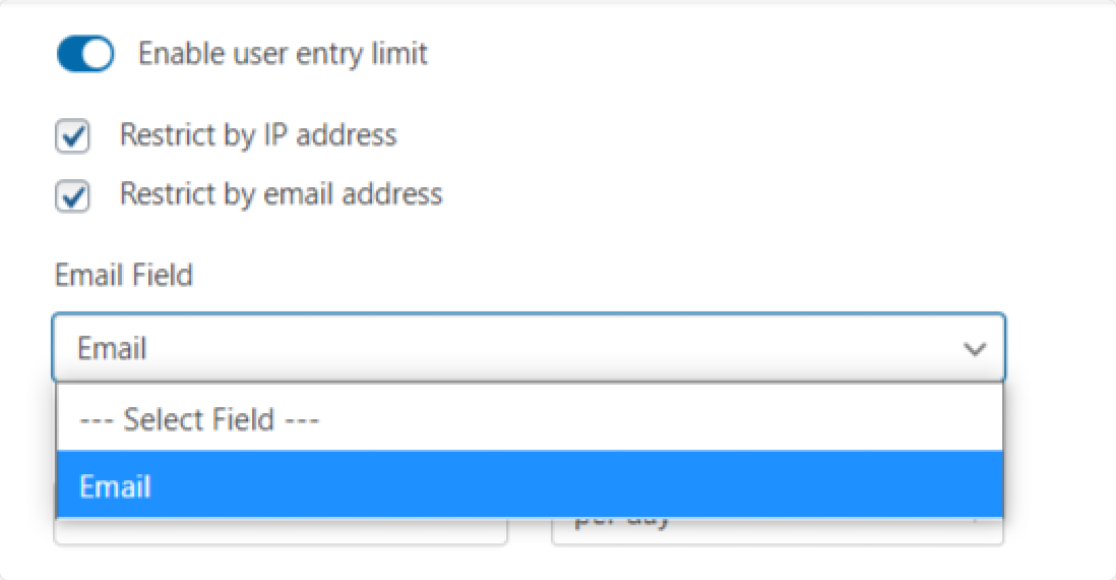 Next, in the Limit field, you can define the maximum number of form entries you'll allow for your form.
Then, from the dropdown, you can select whether your limit is applicable till the end of the day, till the end of the week, till the end of the month, till the end of the year, per 24 hours, per 7 days, per ~30 days, or per ~365 days.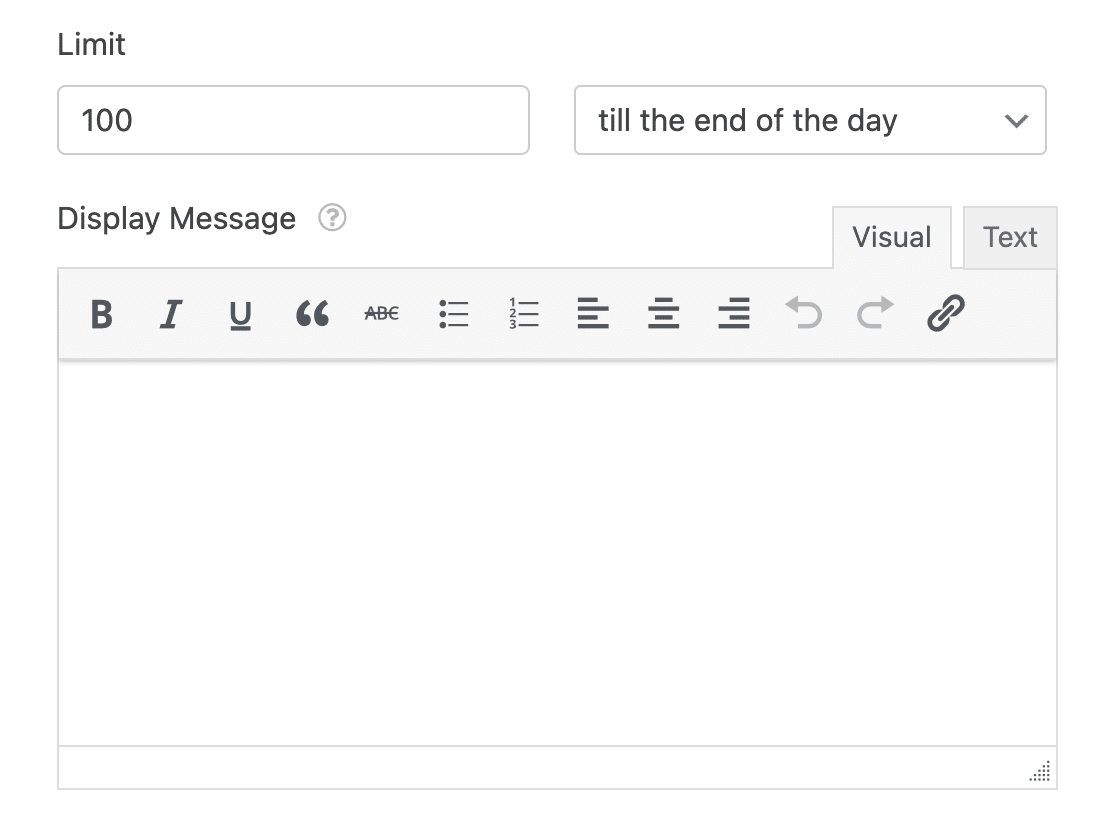 Finally, enter the message you want to display to users who reach the entry limit. You can showcase a customized message and even insert a link to redirect your visitors to other pages of your website.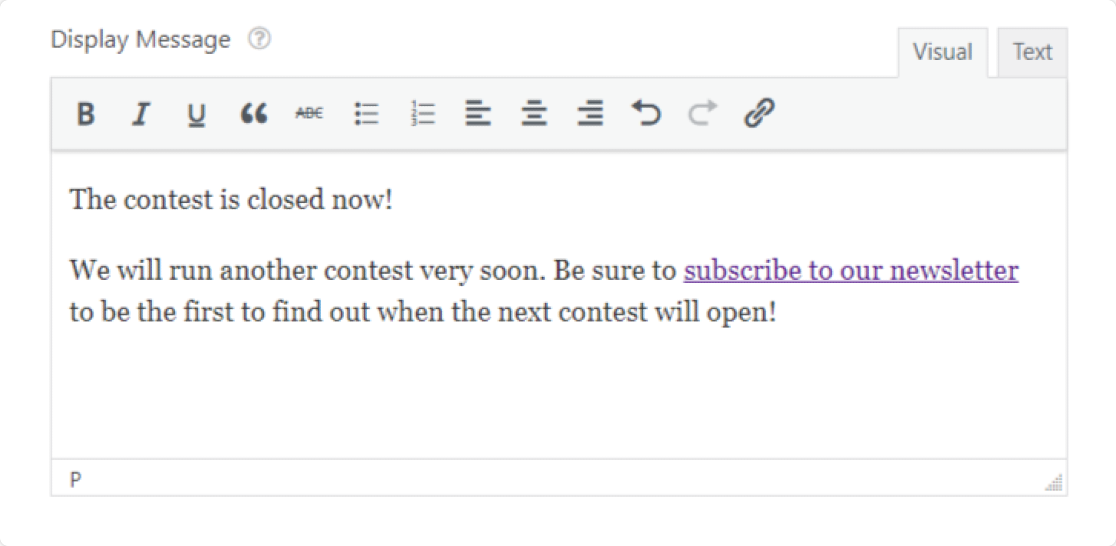 Once you're done with the entry limit settings of the Form Locker addon, click Save.
Step 6: Limit Form Entries by Requiring Unique Answers
If you want to prevent the same user from submitting more than one form entry, you can require unique values for certain form fields.
For instance, you can require unique answers for the following field types:
Single line text
Name
Email
Website / URL
Password
Phone
To enable this feature, go to your contest entry form and click on the field you want to require unique answers on. Then, scroll down to Advanced Options and click the checkbox labeled Require unique answer.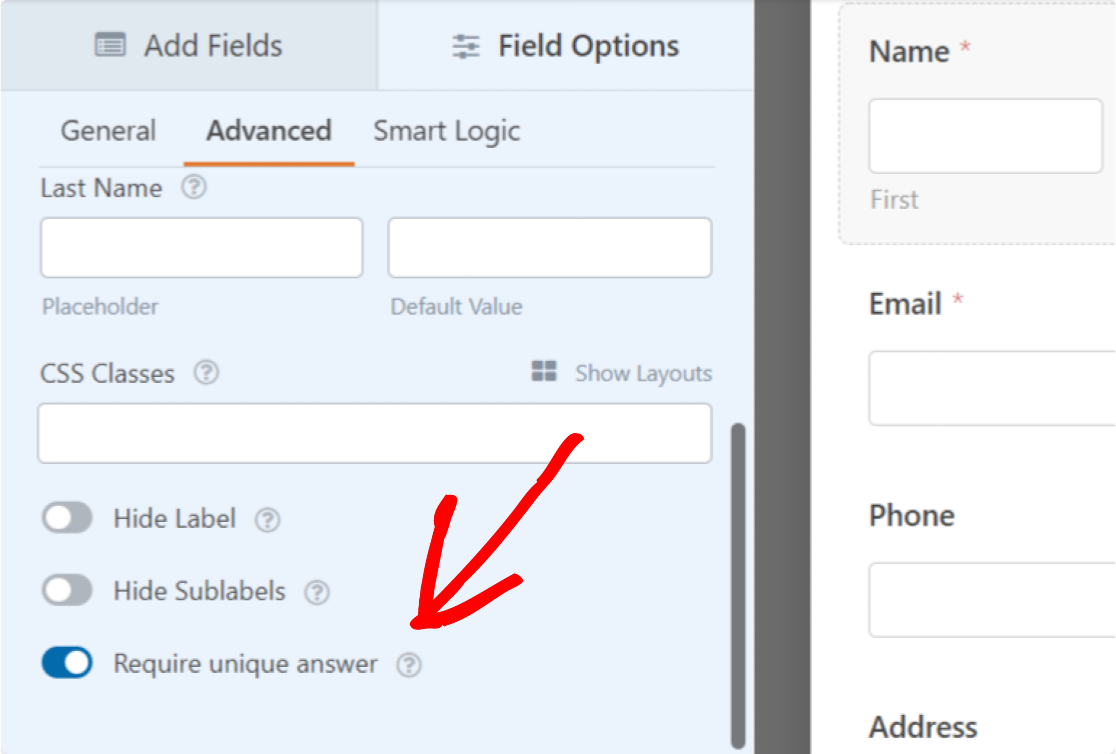 Now, any time someone tries to submit a form on your site that has already been submitted, they'll see the message "The value must be unique."

And there you have it! Now you know the easy way to limit the number of form submissions on your WordPress website.
Why Limit Form Submissions?
There can be many instances where you might want to limit your form submissions or prevent multiple form entries. For example:
You're hosting an event with a limited number of people who can attend, so you want to restrict the number of times your event registration form can be submitted.
You have an employee feedback form, and you want to make sure each employee can only submit it once.
Hopefully this post has shown you how easy it is to do!
Next, Save Entries From WPForms to Google Sheets
We hope this guide helped you learn how to limit your form entries by IP address, email, and unique answers.
Next, you might be interested in learning how to save your form entries to Google Sheets without writing a single line of code. And if you're using our free version, make sure to turn on Lite Connect so you can store entries and unlock them once you upgrade to WPForms Pro.
So, what are you waiting for? Get started with the most powerful WordPress forms plugin today. WPForms offers tons of pre-built beautiful form templates and exciting features to create powerful online forms.
And don't forget, if you like this article, then please follow us on Facebook and Twitter.