Do you want to connect WPForms to Google Sheets?
Saving form entries in a spreadsheet allows you to sort and manipulate your data with great flexibility. If you prefer doing all of your business using spreadsheets, it's a good idea to send entries from important forms to one of your Google Sheets.
The good news, WPForms makes it really easy to automate sending form data to your spreadsheets.
In this article, we'll show you how to save form entries from WordPress forms to Google Sheets.
Send Form Entries to Google Sheets Now
Why Connect WordPress Forms to Google Sheets?
A few benefits of connecting WordPress forms to Google Sheets are:
Manageable and easy sorting: Google Sheets provides easy options to manage and sort your form data.
Easy team collaboration: Your team members can easily monitor form entries. You don't need to provide login credentials to your WordPress dashboard.
Quick data analysis: Generate personalized reports based on the data your visitors submit and make informed decisions quickly and easily. For example, if you're creating a poll, you can easily interpret the user inputs by connecting them with Google Sheets.
Save entries automatically: You don't need to manually enter the form entries. Simply connect your form with Google Sheets, and all entries will be saved from forms to Google Sheets automatically.
How to Save Entries From WPForms to Google Sheets
Follow these steps to connect your WordPress forms to a Google spreadsheet.
Let's get started!
Step 1: Install WPForms
To start with, make sure you have a WPForms Pro license because this comes with the Google Sheets addon that we'll need to create this integration.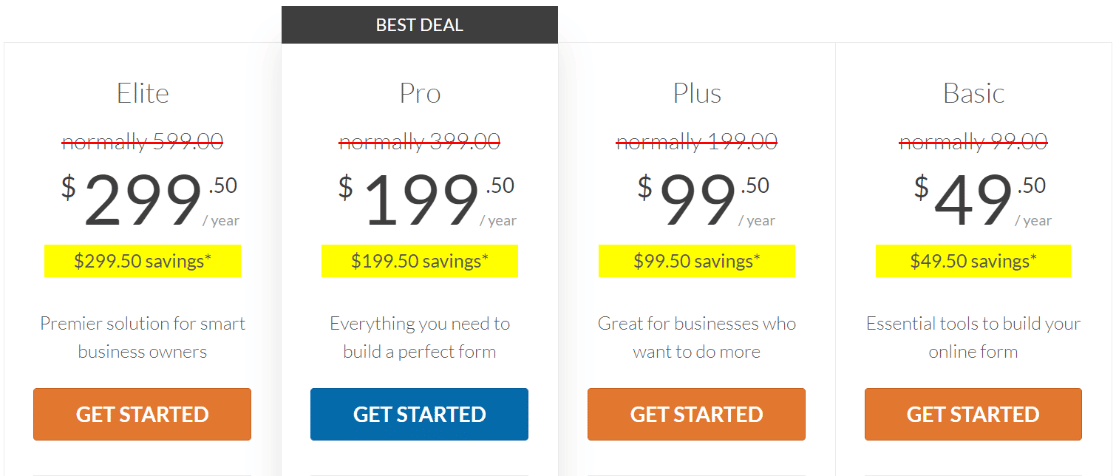 After getting WPForms Pro, go ahead and install the WPForms plugin on your site. If you've installed WordPress plugins before, this will be a breeze!
Step 2: Activate WPForms Pro and the Google Sheets Addon
With WPForms Pro now ready on your site, open your WordPress dashboard and go to WPForms » Addons.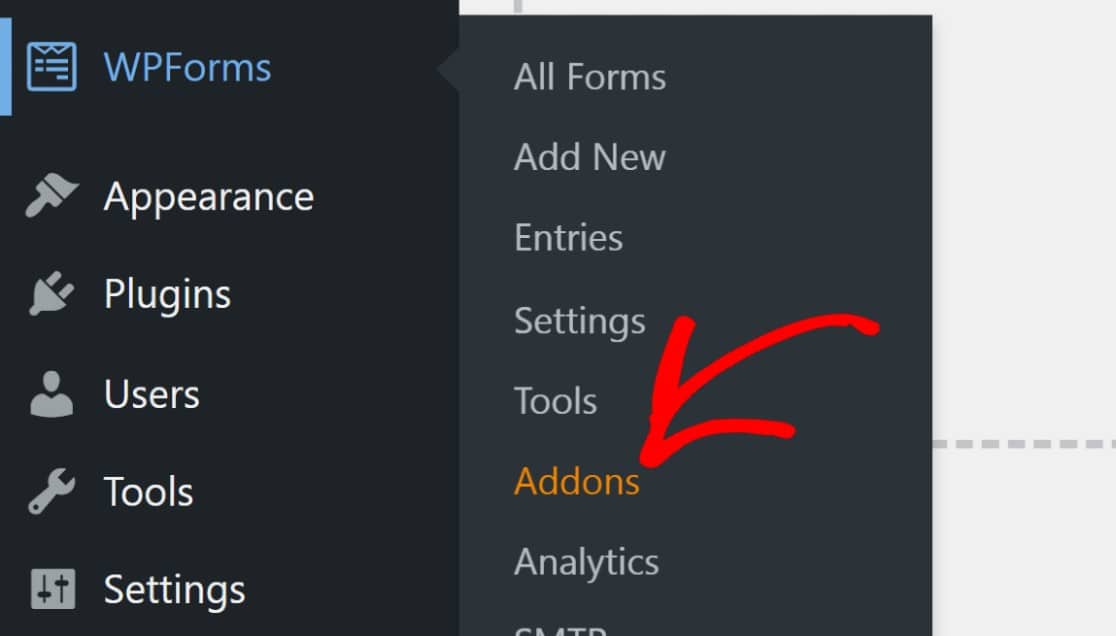 On this addons page, look for the Google Sheets addon and press Install Addon under it.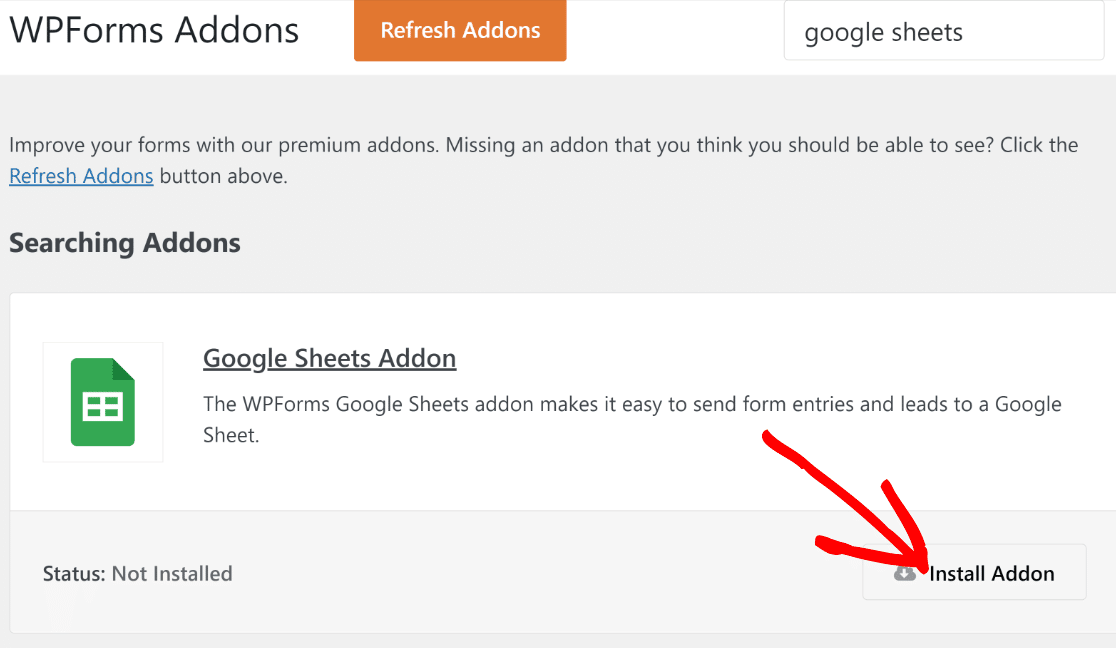 The status will read Active once the addon has finished installing.

Great! The Google Sheets addon is now ready. It's time to connect your Google account with WPForms, as we show in the next step.
Step 3: Connect Google Account With WPForms
After activating the Google Sheets addon, go to WPForms » Settings. On the Settings page that opens, click on Integrations on the navigation bar.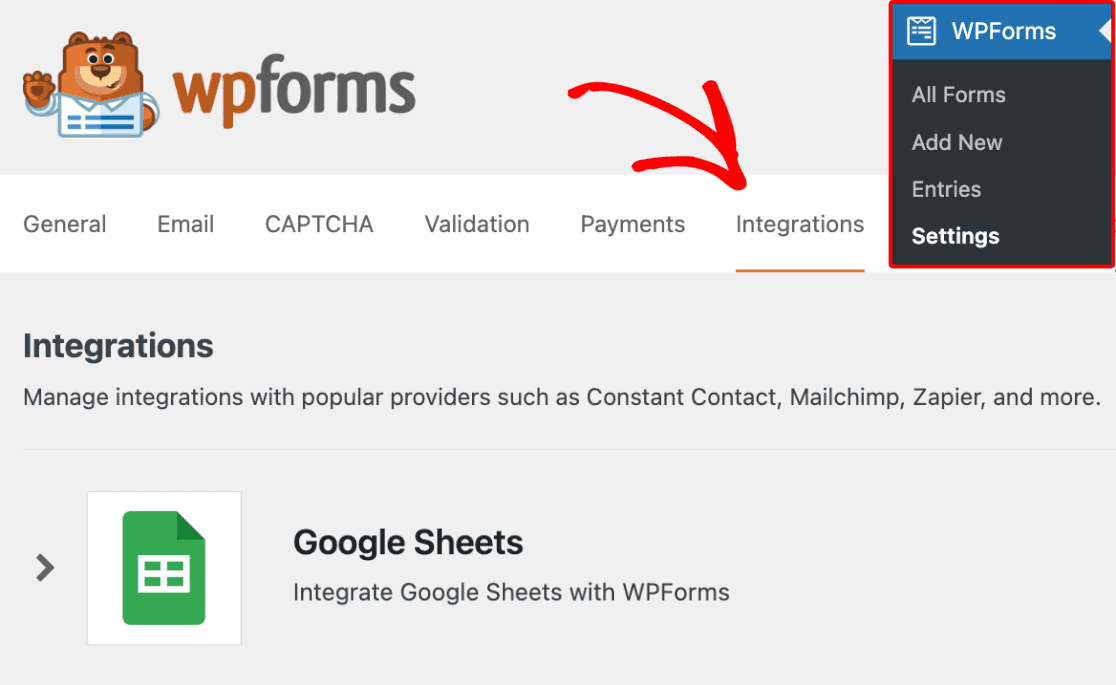 Scroll down to find the Google Sheets addon and click on Add New Account.

Choose your Google account and log in to continue.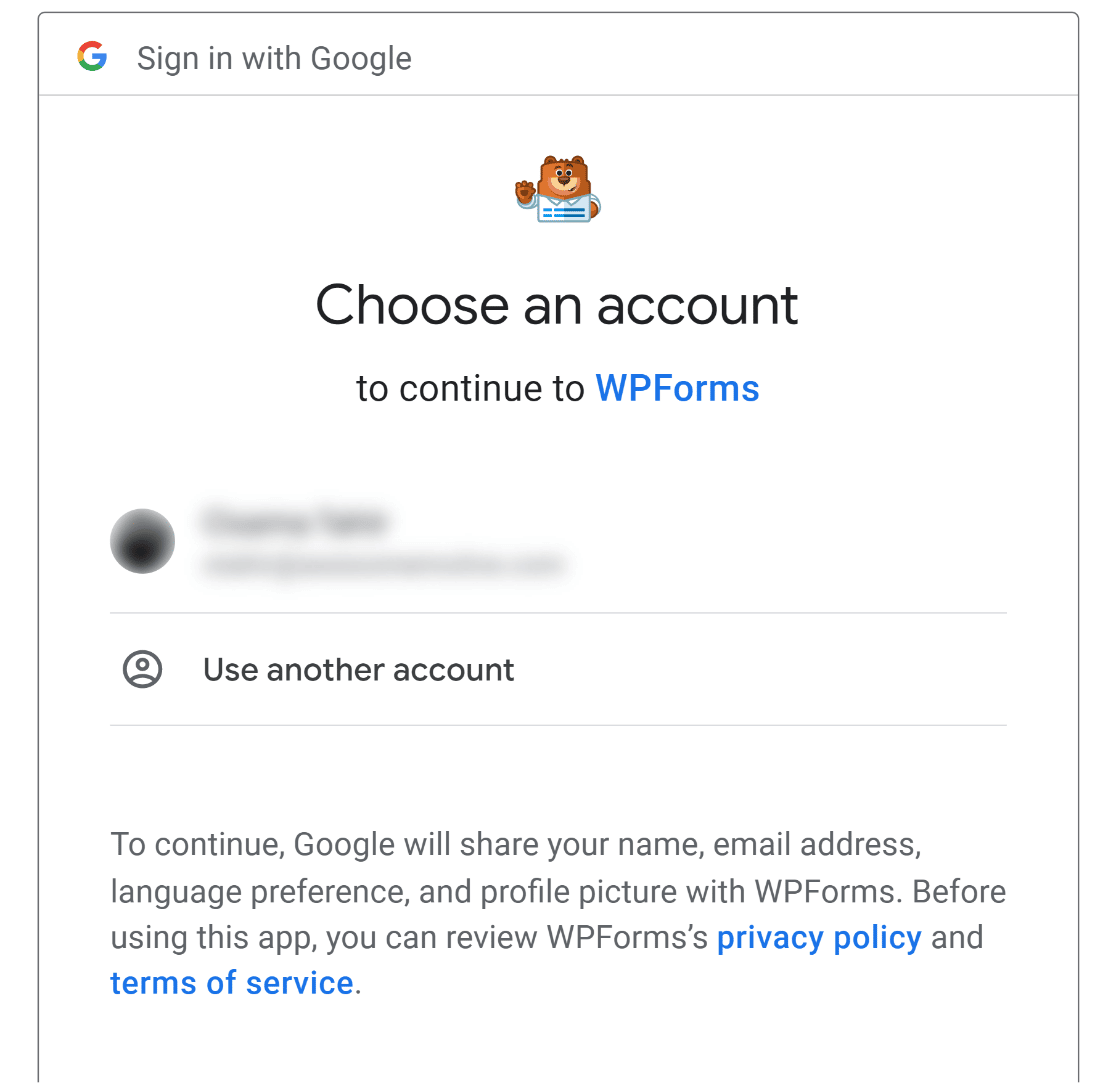 Allow WPForms to access your Google account, and you'll then be redirected to the Integrations page. Note that the Google Sheets integration will read Connected now.

Now that your account is connected, you can begin creating new forms that automatically send form data from WordPress to Google Sheets.
Step 3: Create a WordPress Form
Creating new forms with WPForms is a walk in the park.
From your WordPress admin area, navigate to WPForms » Add New.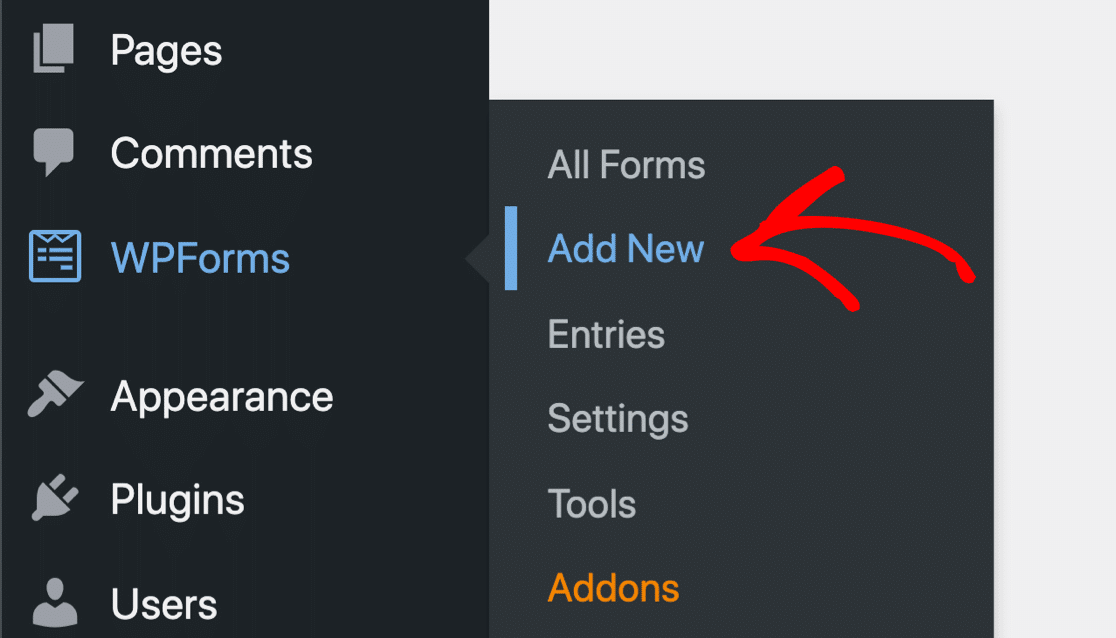 You should see the form builder interface open. Here, start by naming your form, and then select a template out of 500+ form template options.
For this tutorial, we'll use the Simple Contact Form template.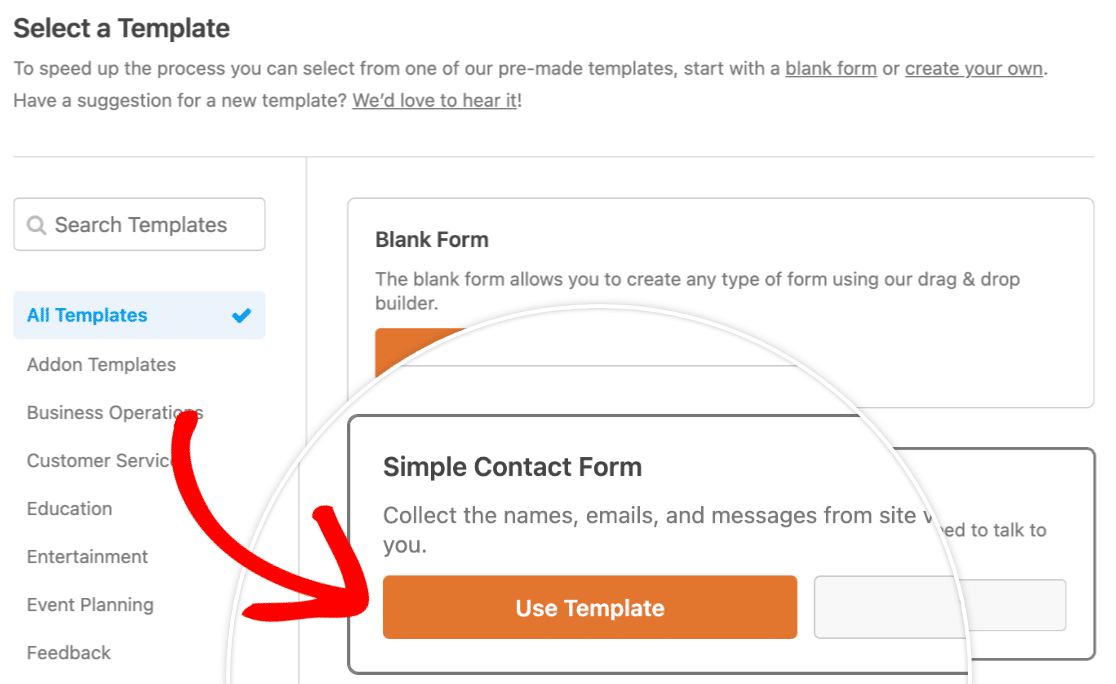 Here's what the template looks like when it's loaded: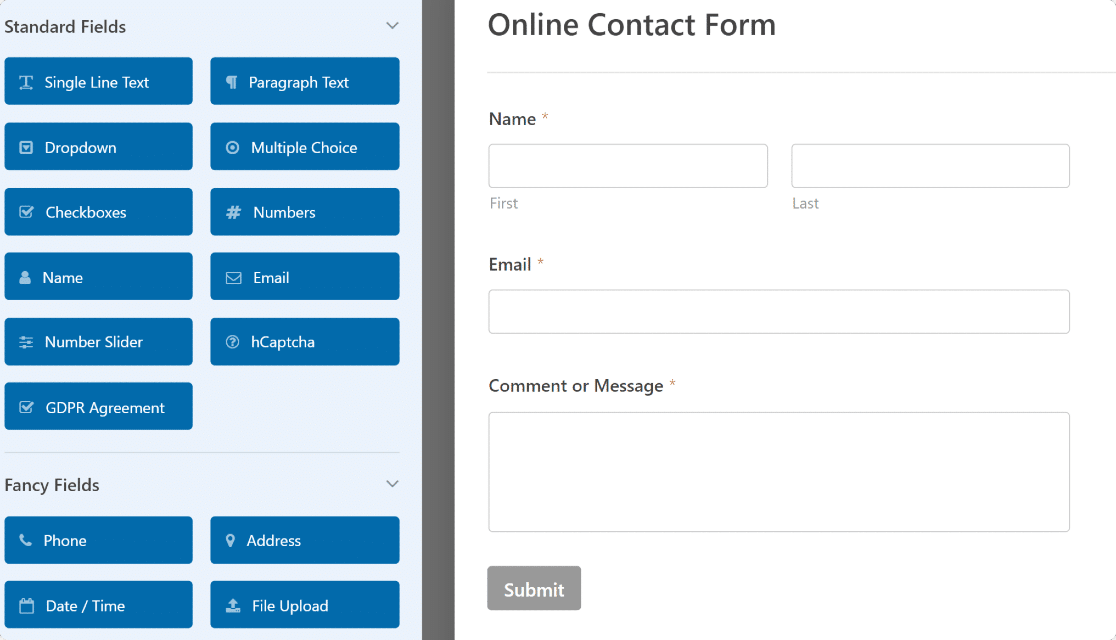 If you want, you can add more fields to your form by dragging them from the left-hand side to the right-hand side of the form builder.
Once you're done with the form customizations, proceed to the next step.
Step 4: Configure Google Sheets Addon Settings
Now, click on Settings on the form builder sidebar and select Google Sheets from the list.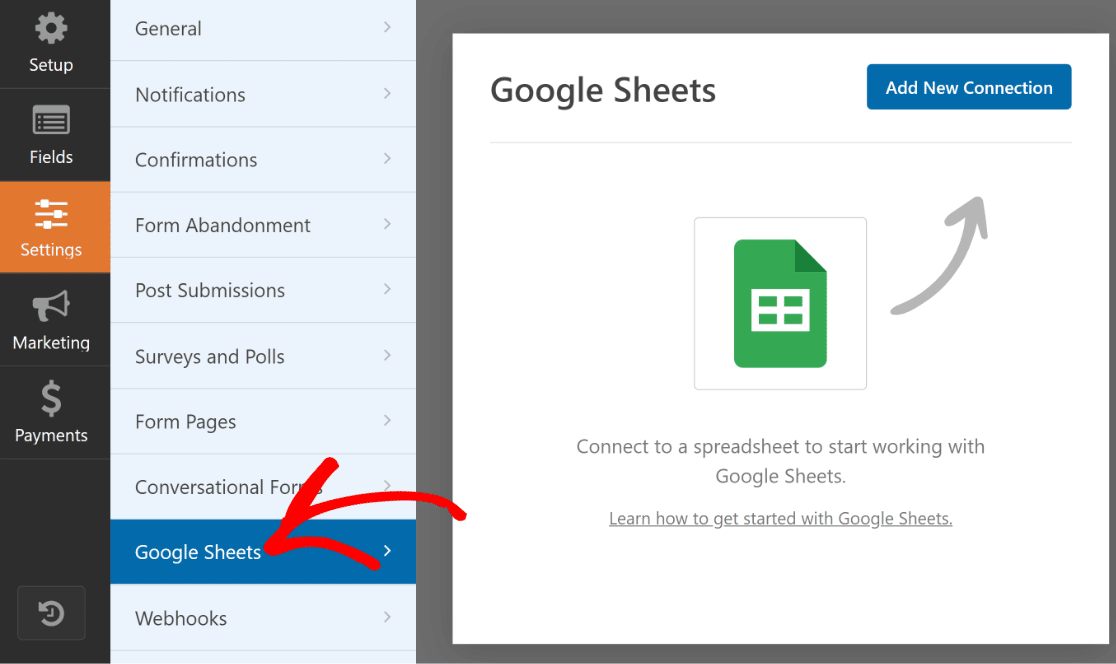 On the top-right, press the blue Add New Connection button.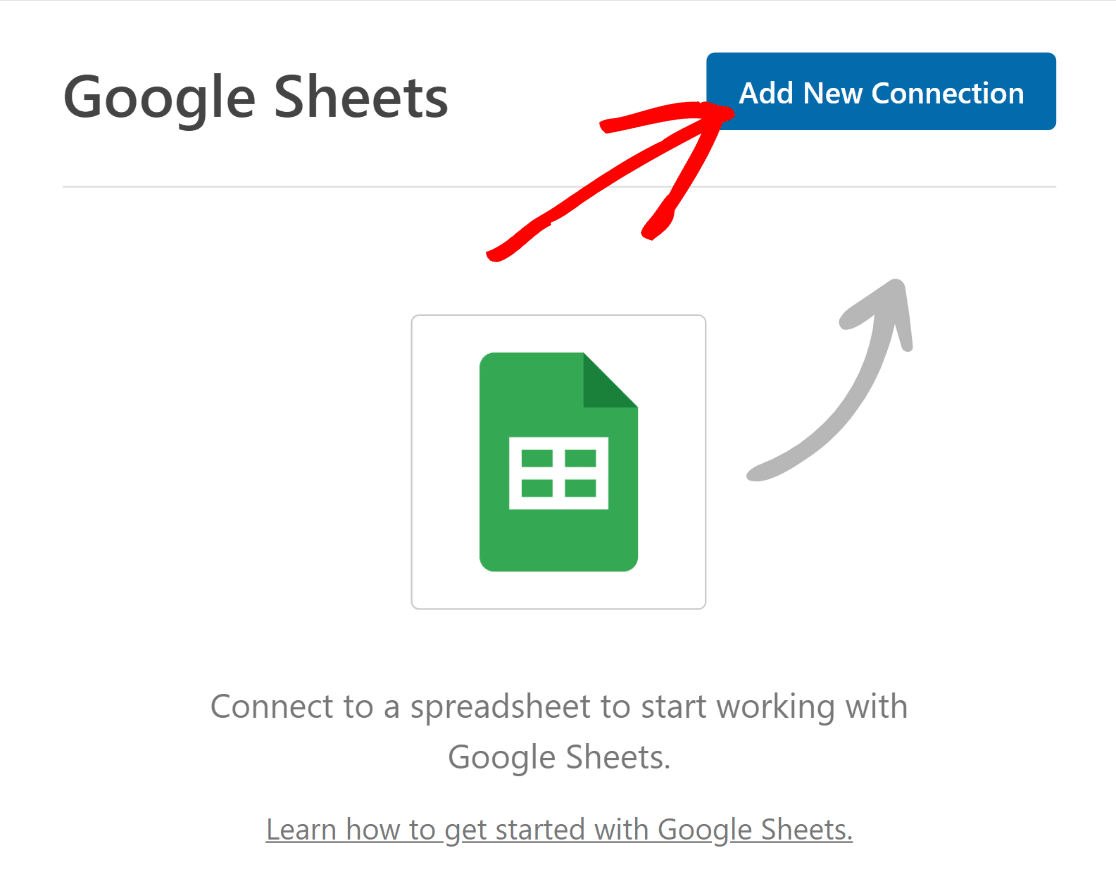 Enter a nickname for your connection and press OK.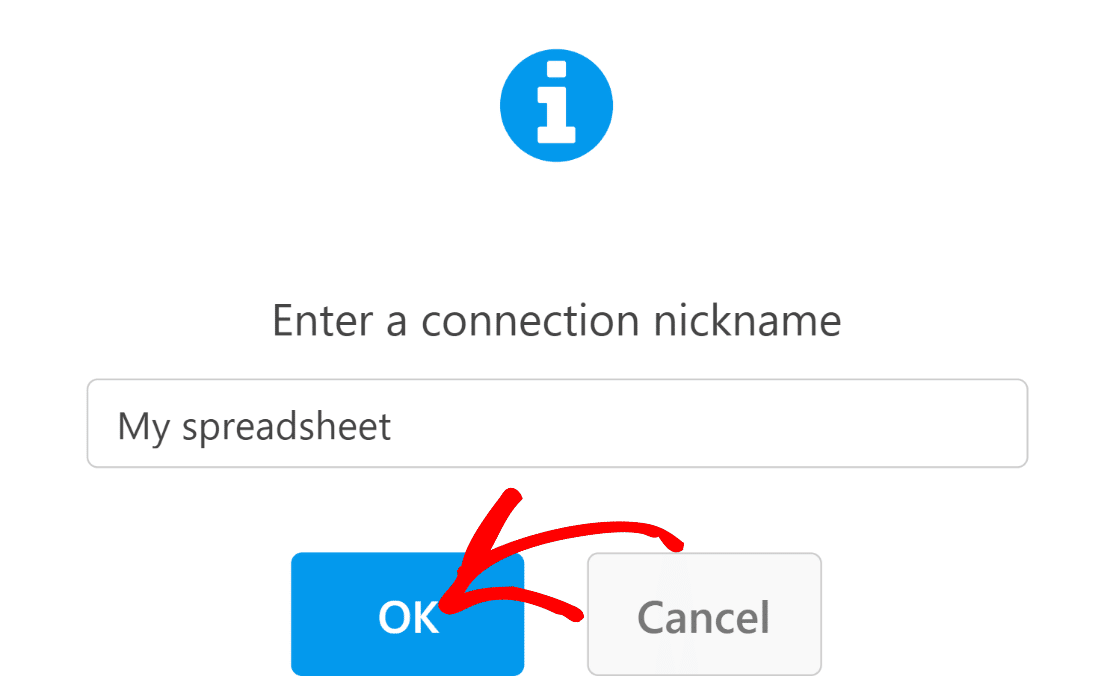 WPForms will now show you menu options for selecting a spreadsheet from your connected Google account.
We already created a spreadsheet called WPForms Contact Form Data which is set up to include 3 columns: Name, Email, and Comment – these columns correspond to our form fields.
So we'll select this spreadsheet from the form builder settings.
Just click on the Spreadsheets dropdown and choose the spreadsheet you need. Similarly, use the Sheets dropdown to pick a sheet to add form data to.

Scroll down further to see the Field Mapping settings. Use these settings to define which columns should correspond to which field values.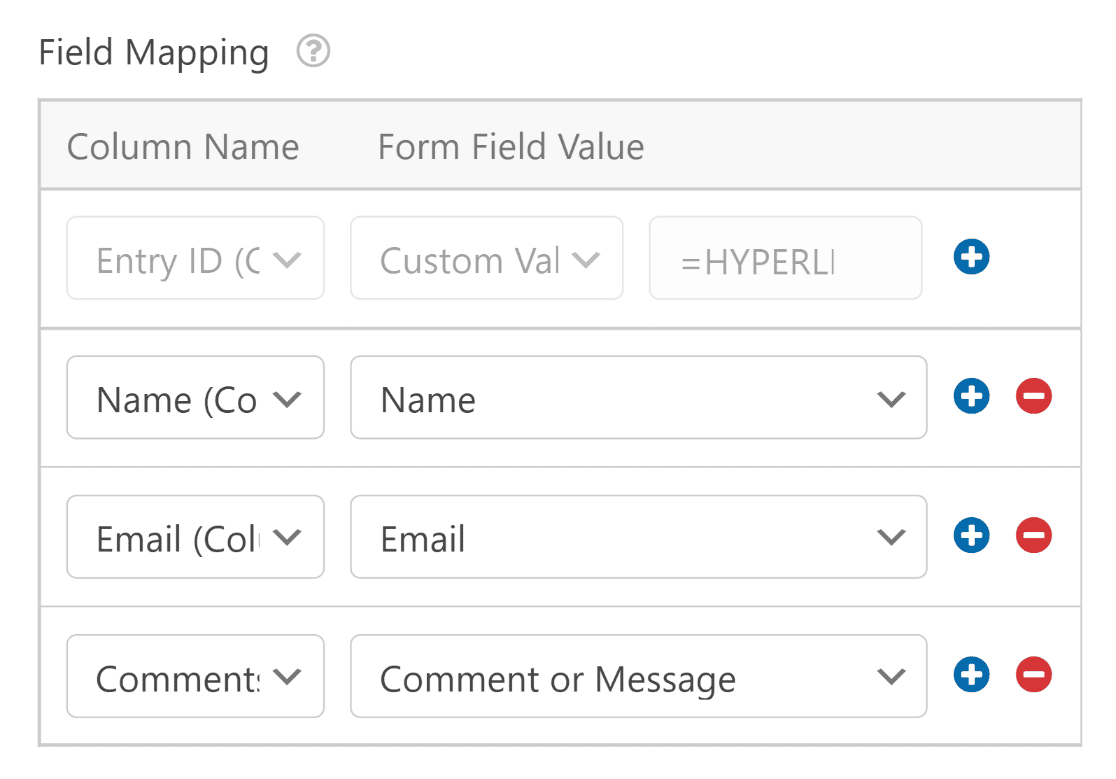 You can also use map columns to custom values. This is great if you want to pull additional hidden data or meta data from each entry like the date, IP address, and other details, or simply append a piece of text.

By default, WPForms reserves Column A for Entry ID. This is fixed and cannot be changed. We recommend starting naming columns in your spreadsheet from Column B and leaving Column A empty for the Entry ID.
Alternatively, you can also create a new Google sheet from these settings if you don't want to select an existing spreadsheet.
To do that, simply click on the Spreadsheets dropdown. This time, select the Create a New Spreadsheet option, and then fill in the other fields to name your new spreadsheet and the sheet where you want to send the form data.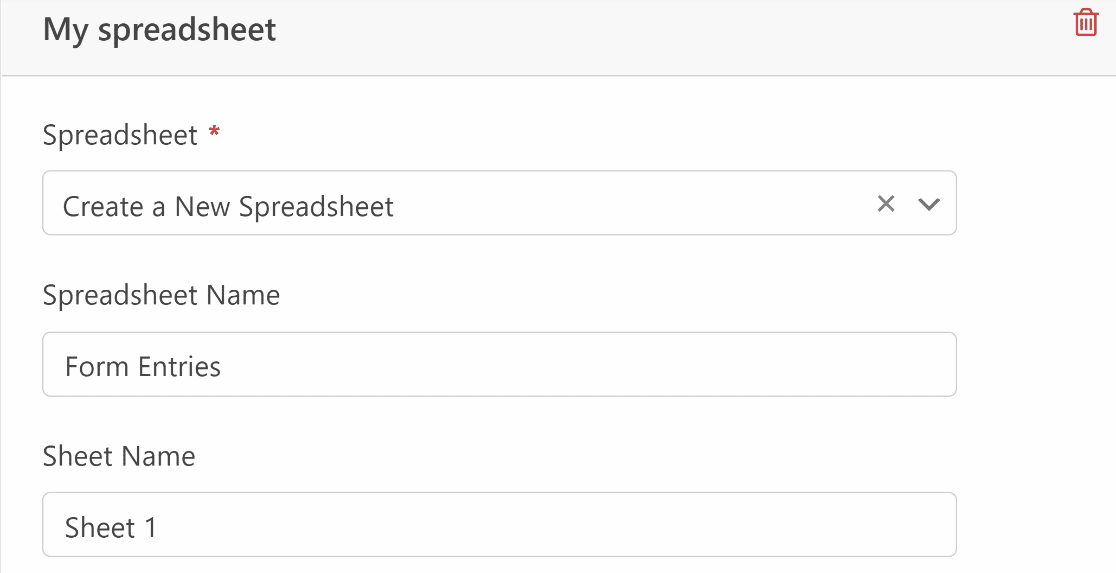 You can then use the Field Mapping settings as before to organize your spreadsheet columns corresponding to field values.
When you're done, press the Save button on the top of the bottom builder.
Step 5: Publish the Form
Your form is almost ready to accept entries and automatically send these to your spreadsheet in real-time.
We just need to embed the form on a page now.
To do that, click on the Embed button next to Save.

You'll see a new modal window open, giving you a choice between embedding on an existing page or creating a fresh new page for the form. We'll embed the form in a new page in this example by clicking on Create New Page.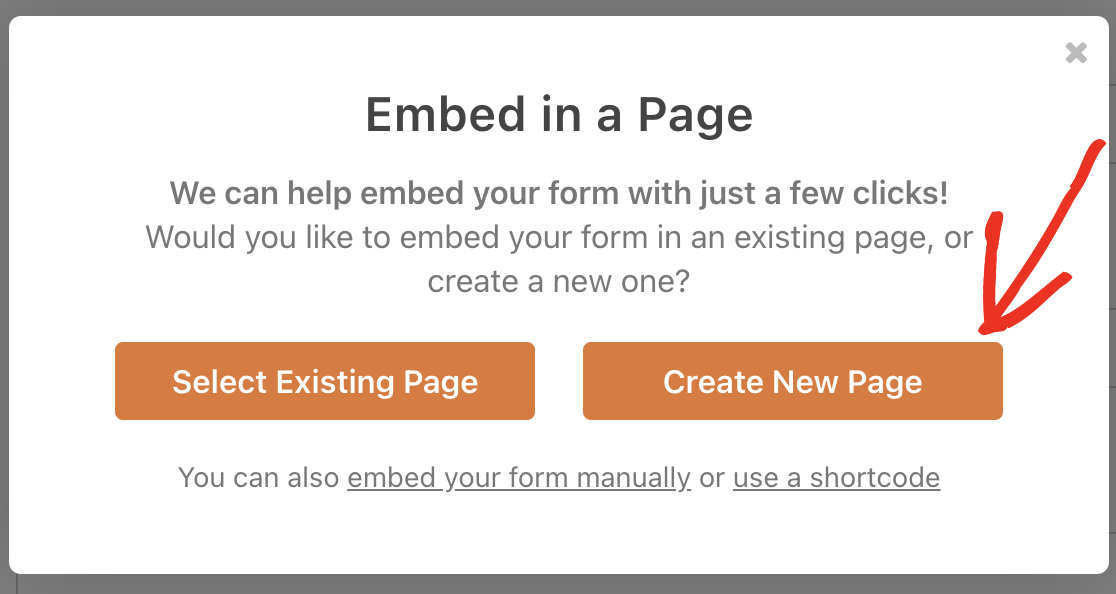 WPForms will prompt you to name your new page. Enter a name and press Let's Go.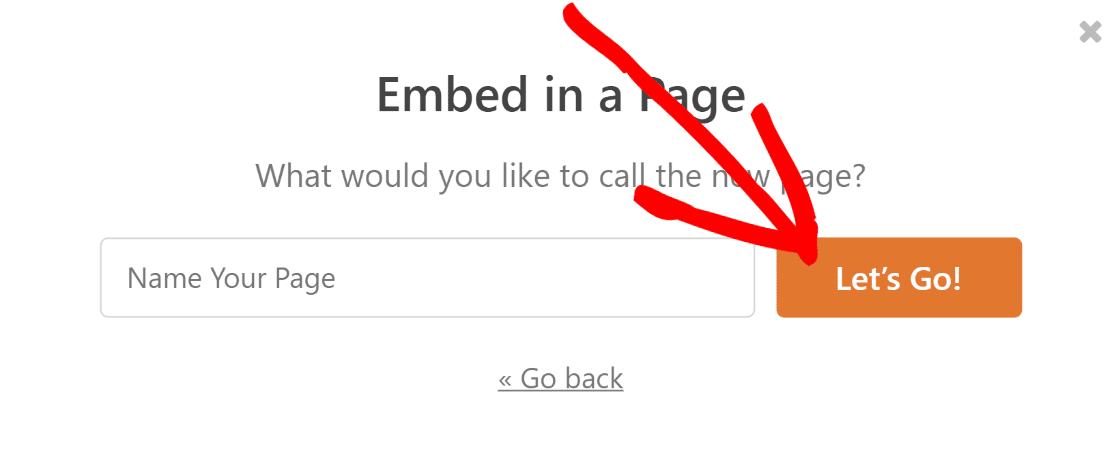 WPForms will take you to your WordPress page editor screen, where you'll find the form block already embedded.
If you want to add any content to this page or make any other changes, this is a good time to do so. When you're happy with everything, you can press Publish to take your form live.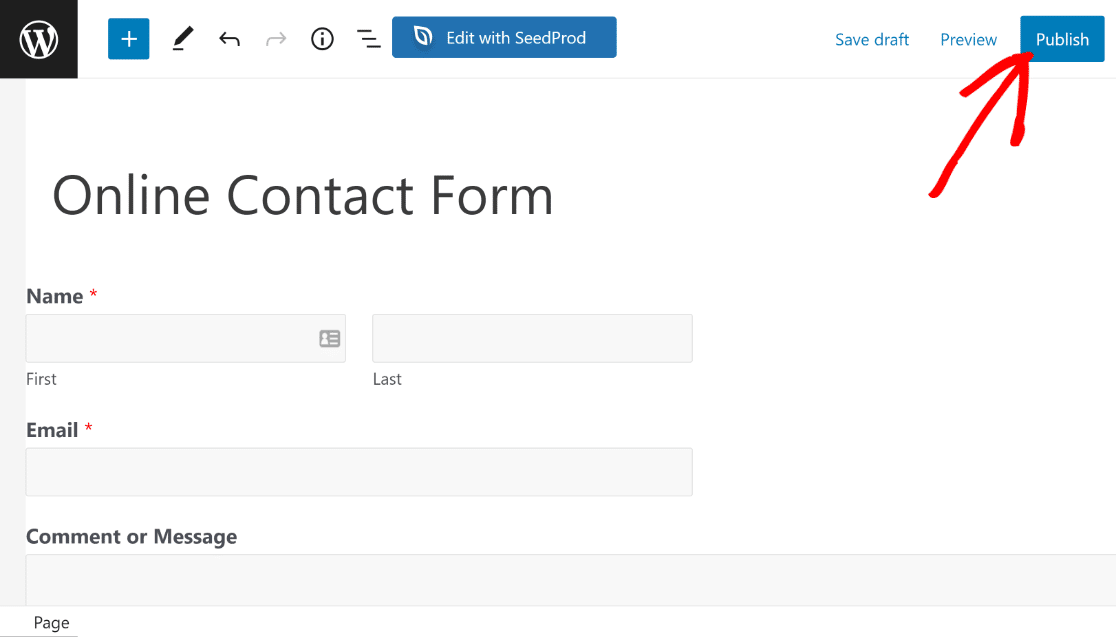 You can try submitting a test entry (you can also do this from the Preview before publishing your form) to check if the data is sending properly to your selected spreadsheet.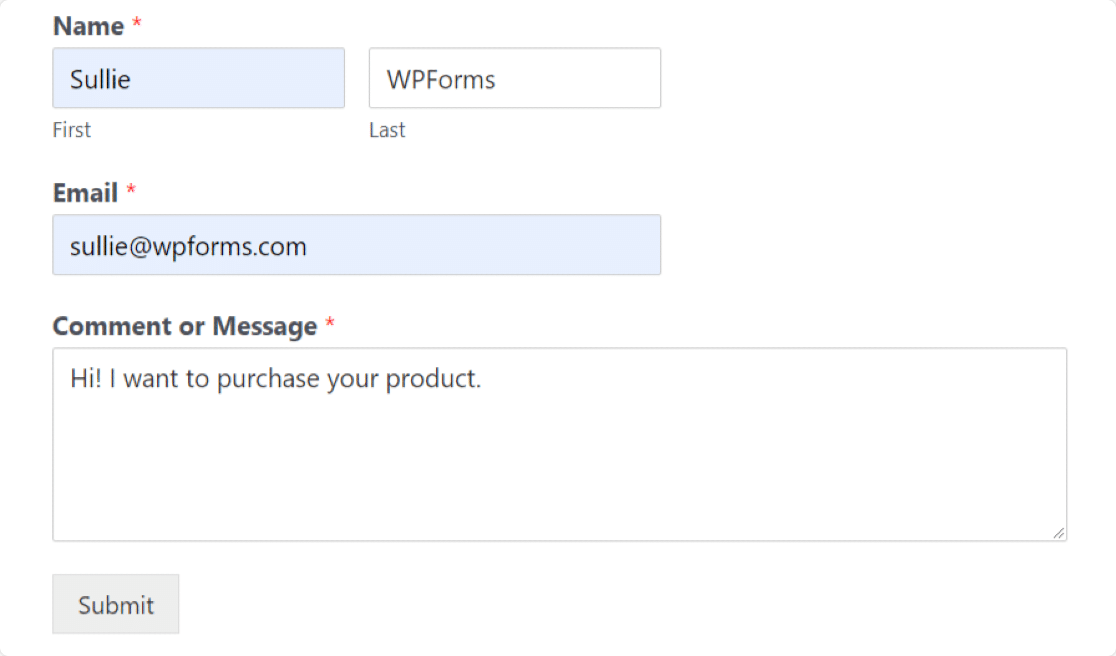 As you press Submit, wait a few seconds for the entry to appear in your spreadsheet.

And that's it! You've just connected your WordPress form with Google Sheets.
All entries will be added to the specified spreadsheet in Google Sheets in real-time!
Next, Export WordPress Form Entries to CSV
Did you know you can export your form entries in multiple formats? Check out this step-by-step tutorial to learn how to export WordPress form entries to CSV.
And here are our guides to using the WPForms' Google Sheets integration to set up a donation tracker in Google Sheets and how to track email opens in Google Sheets. If you'd like to learn some more ways to use Google Workspace apps with WordPress, our guide to the best Google Workspace plugins will have you covered.
Also, do you want to encourage form submissions on your site? Check out how to create a popup feedback form in WordPress.
What are you waiting for? Get started with the most powerful WordPress forms plugin today. WPForms offers tons of pre-built beautiful form templates and exciting features to create powerful online forms.
If you like this article, then please follow us on Facebook and Twitter for more free WordPress tutorials.