Do you want to connect WPForms to Google Sheets?
Connecting your WordPress forms to Google Sheets gives you and your team more flexible options to easily sort all form data and entries.
In this article, we'll show you how to save form entries from WPForms to Google Sheets.
Create Your WordPress Form Today
But first!
Why Connect WordPress Forms to Google Sheets?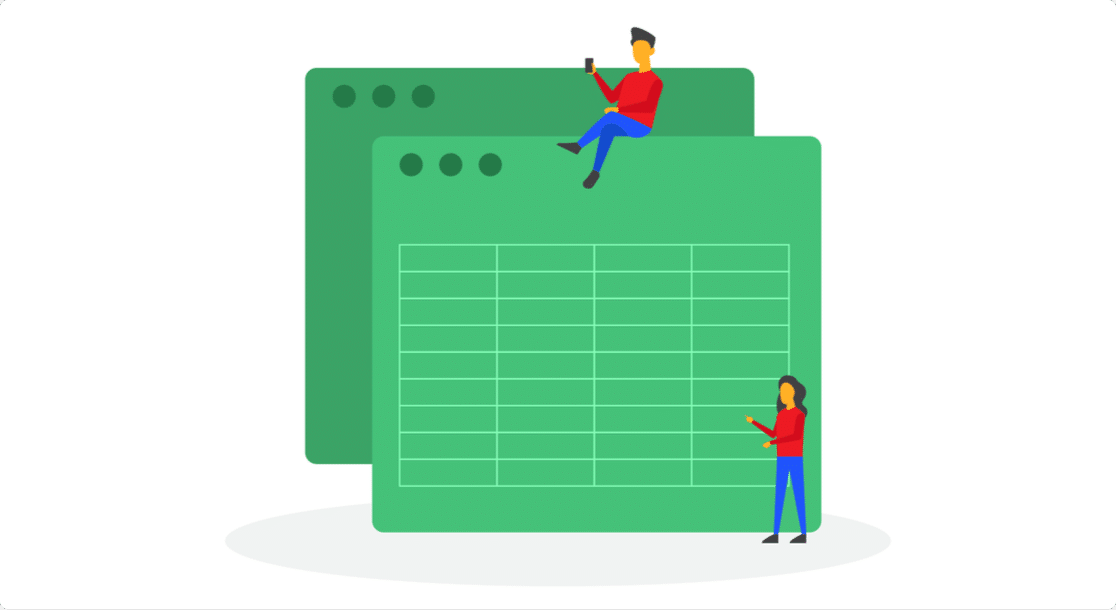 A few benefits of connecting WordPress forms to Google Sheets are:
Manageable and easy sorting: Google Sheets provides easy options to manage and sort your form data.
Easy team collaboration: Your team members can easily monitor form entries. You don't need to provide login credentials to your WordPress dashboard.
Quick data analysis: Generate personalized reports based on the data your visitors submit and make informed decisions quickly and easily. For example, if you're creating a poll, you can easily interpret the user inputs by connecting them with Google Sheets.
Save entries automatically: You don't need to enter the form entries by hand. Simply connect your form with Google Sheets, and all the entries will be saved automatically.
How Do I Link My WordPress Forms to Google Sheets?
You can easily connect your WordPress forms to Google Sheets with WPForms. It's the most beginner-friendly contact form plugin for WordPress used by over 5 million websites.
The Pro version of WPForms provides direct integration with Uncanny Automator. This plugin works as a connector between WordPress plugins and other 3rd party apps.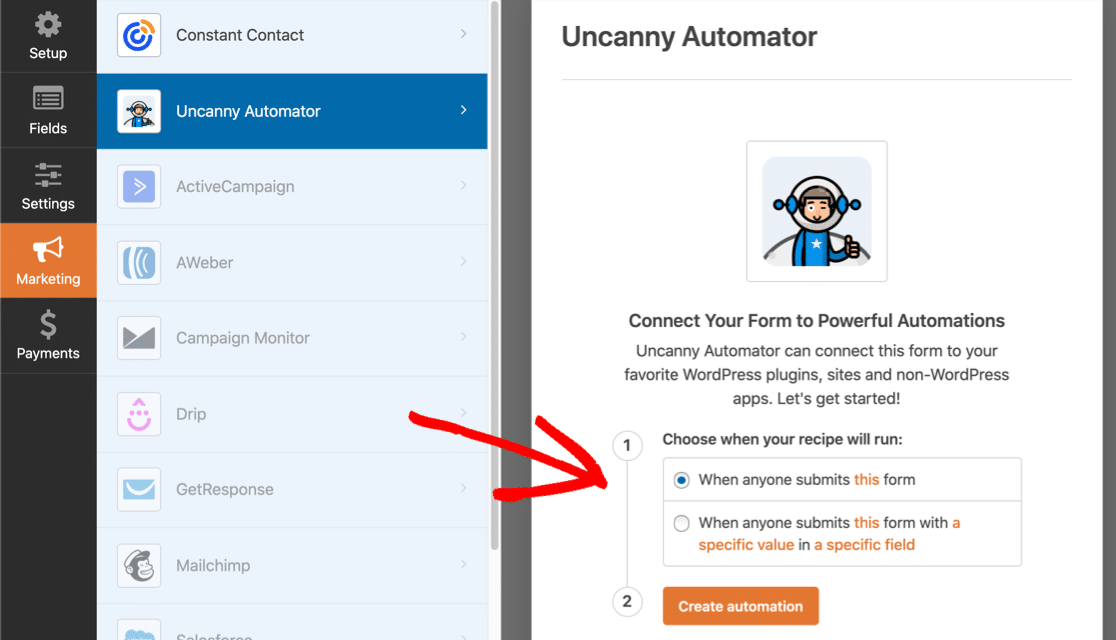 And with the direct integration, you can access and automate the Uncanny Automator directly from the WPForms dashboard. No more need to install and activate the plugin separately.
Now let's see how you can connect your WordPress form to Google Sheets using WPForms.
Click here if you use Microsoft Excel and need to see how WPForms lets you export your form entries to Excel.
How Do I Integrate WPForms in Google Sheets?
Follow these steps to connect your WordPress forms to a Google spreadsheet.
Let's get started!
Step 1: Create a WordPress Form Using WPForms
To add your form entries to Google Sheets, the first thing you need to do is to install and activate the WPForms plugin. Here's a step-by-step guide on how to install a WordPress plugin.
After the installation, you'll need to create a simple WordPress form.
WPForms includes 400+ ready-made form templates. So rather than starting from scratch, you can choose any template and get started in a few clicks.
To create your form, go to WPForms » Add New, name your form, and select the Simple Contact Form template.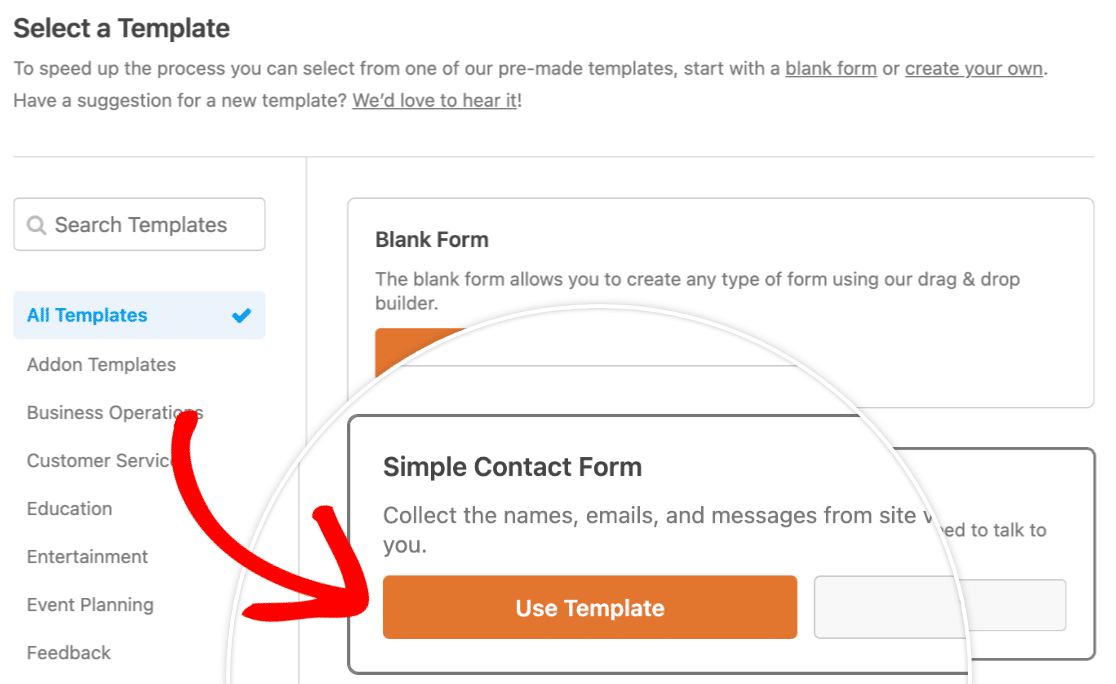 Here's our simple contact form: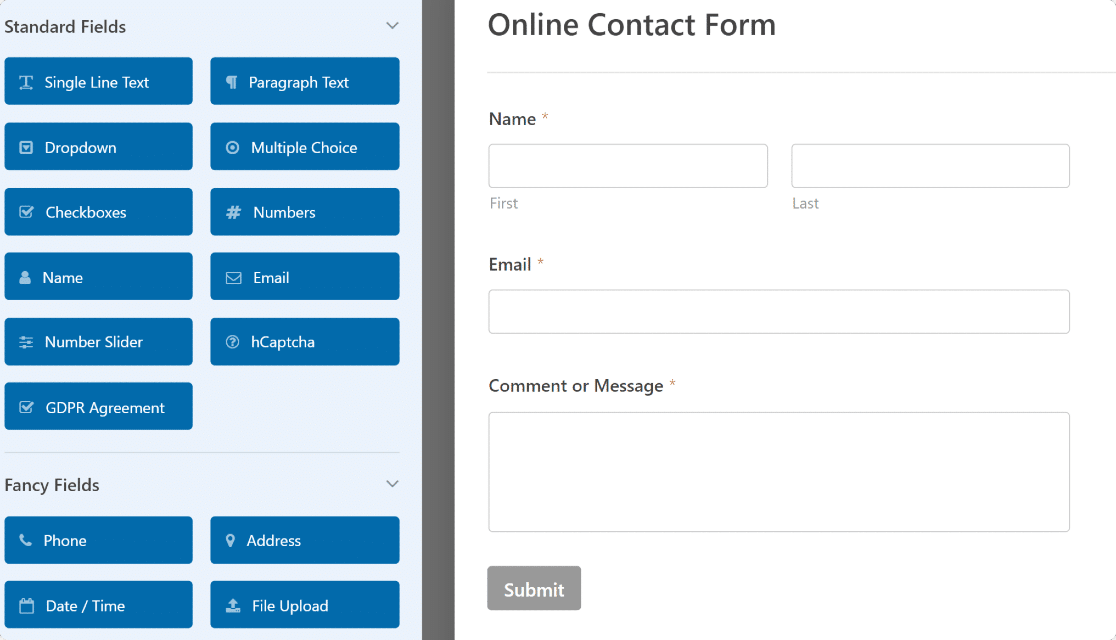 If you want, you can add more fields to your form by dragging them from the left-hand side to the right-hand side of the form builder.
Once you're done with the form customizations, proceed to the next step.
Step 2: Create and Set Up Your Google Sheet
Now you need to create a spreadsheet in Google Sheets.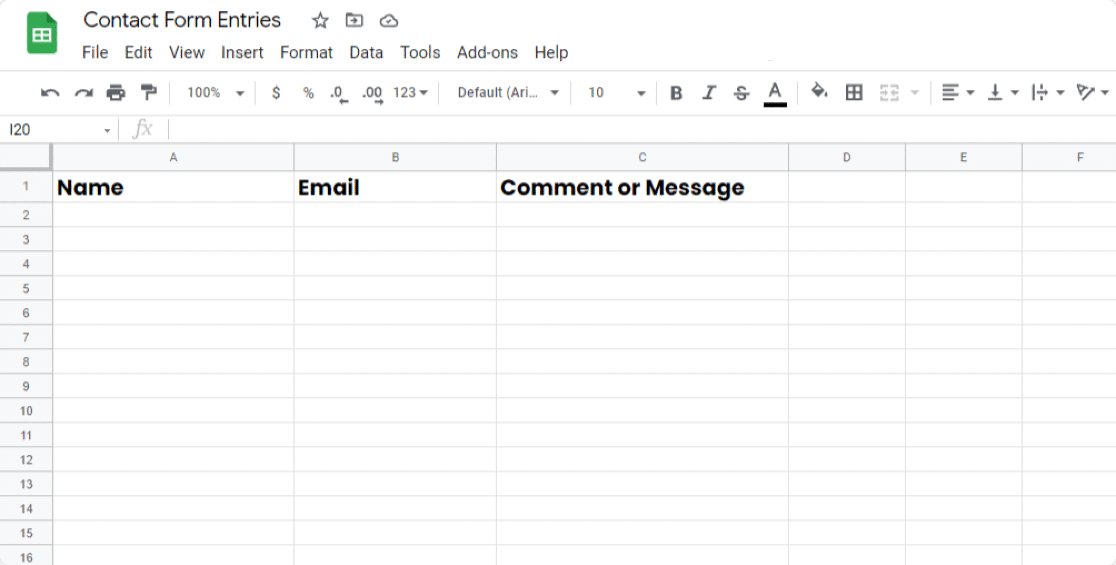 Set up your spreadsheet to match the fields in your WordPress form. As you can see in the example above, our form has 3 fields: Name, Email, and Comment or Message. So, our spreadsheet is set up the same way.
Now that you've got your form and a spreadsheet ready, it's time to set up the Uncanny Automator plugin to connect WPForms with Google Sheets.
Step 3: Activate the Uncanny Automator Plugin
To activate the Uncanny Automator plugin, in the form editor, go to Marketing » Uncanny Automator.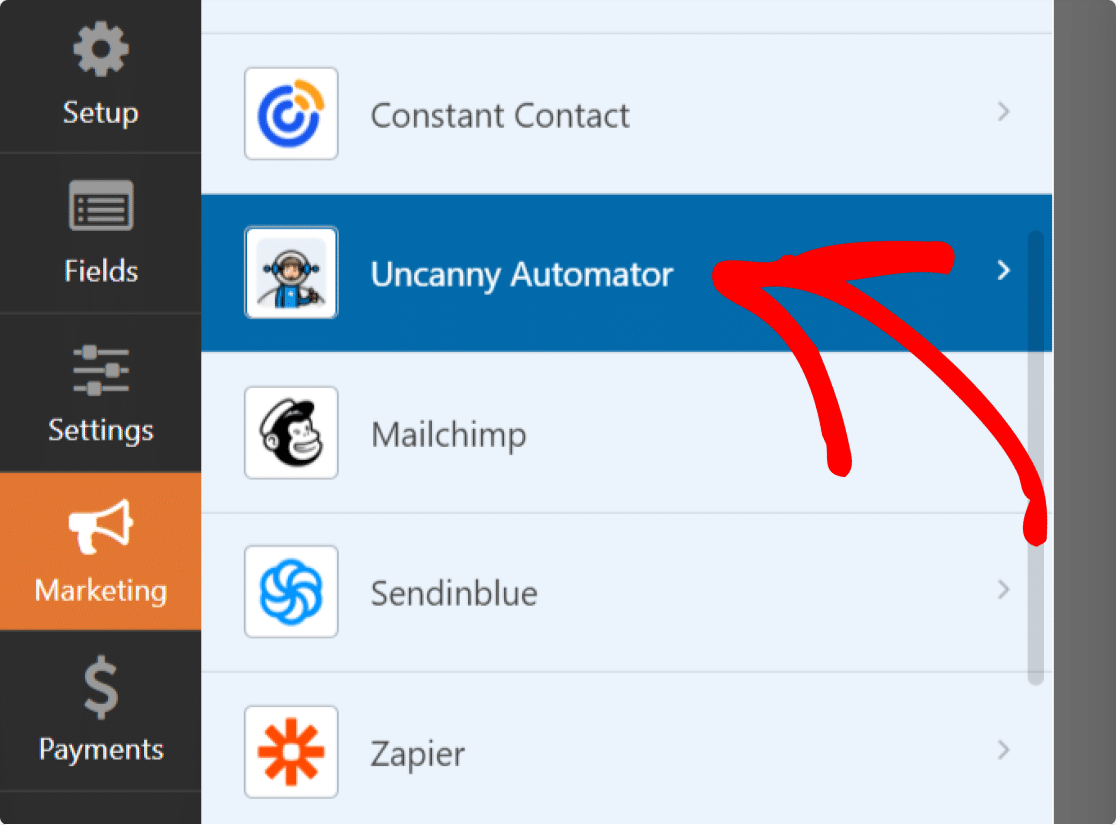 Next, click Install Now.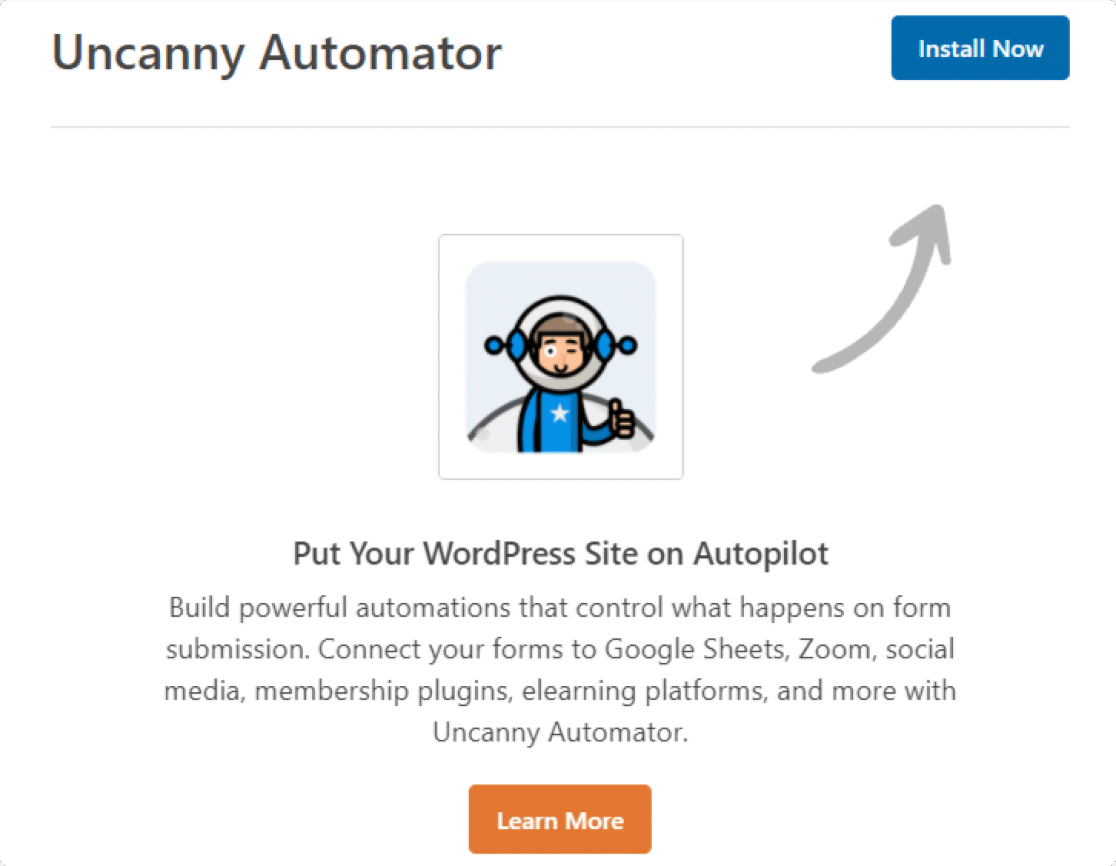 Once you have installed the plugin successfully, a popup box will be displayed with a confirmation message.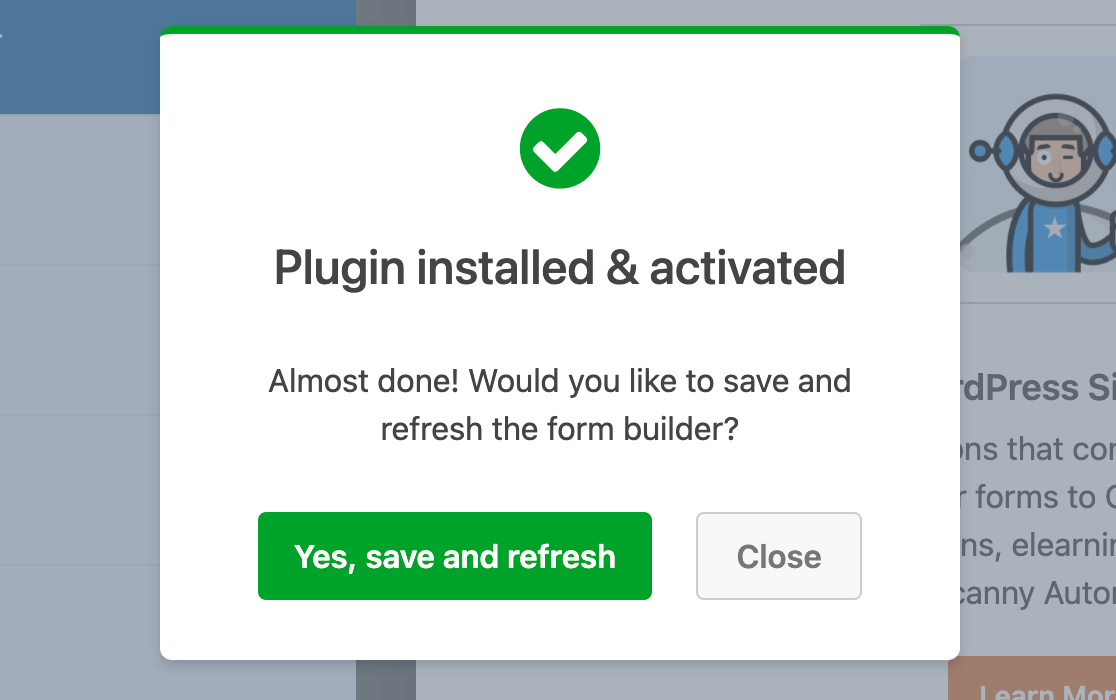 Click on the green Yes, save and refresh button.
Step 4: Connect Uncanny Automator to Your Google Account
After installing and activating Uncanny Automator, you need to connect it to your Google Account.
To do that, first, go to Automator » Settings in your WordPress dashboard.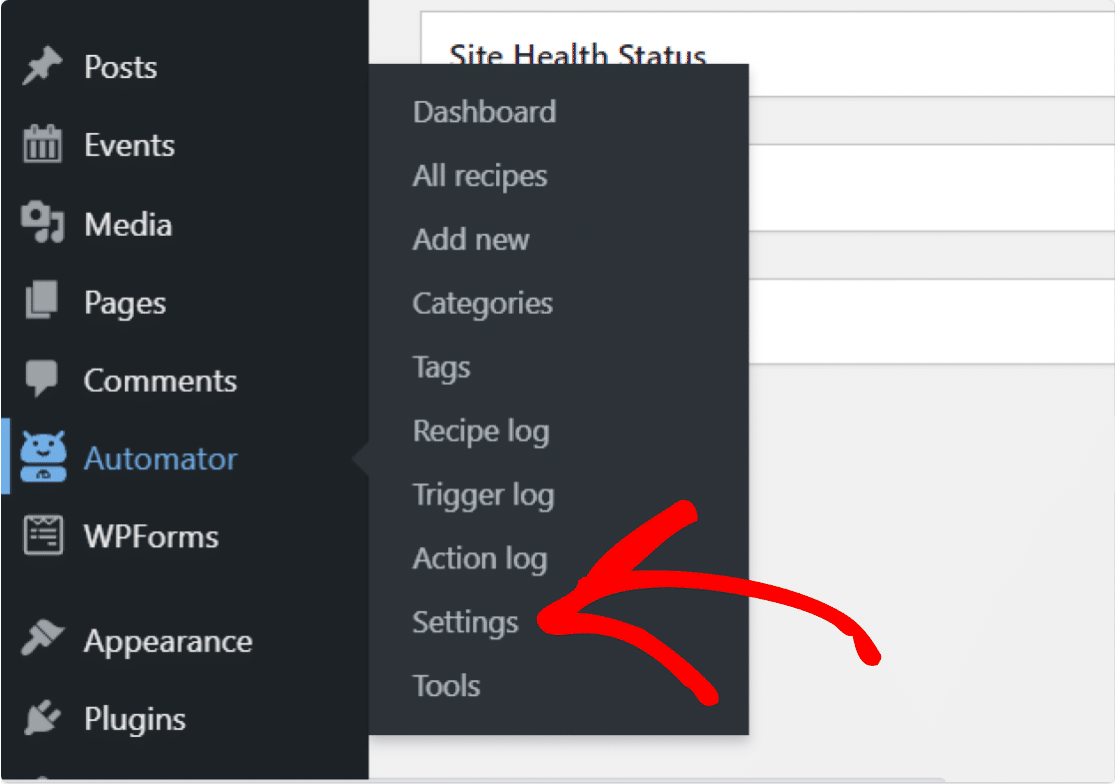 This will open the Uncanny Automator's settings page.
Select the Google option across the tab options at the top and click on the Connect an account button.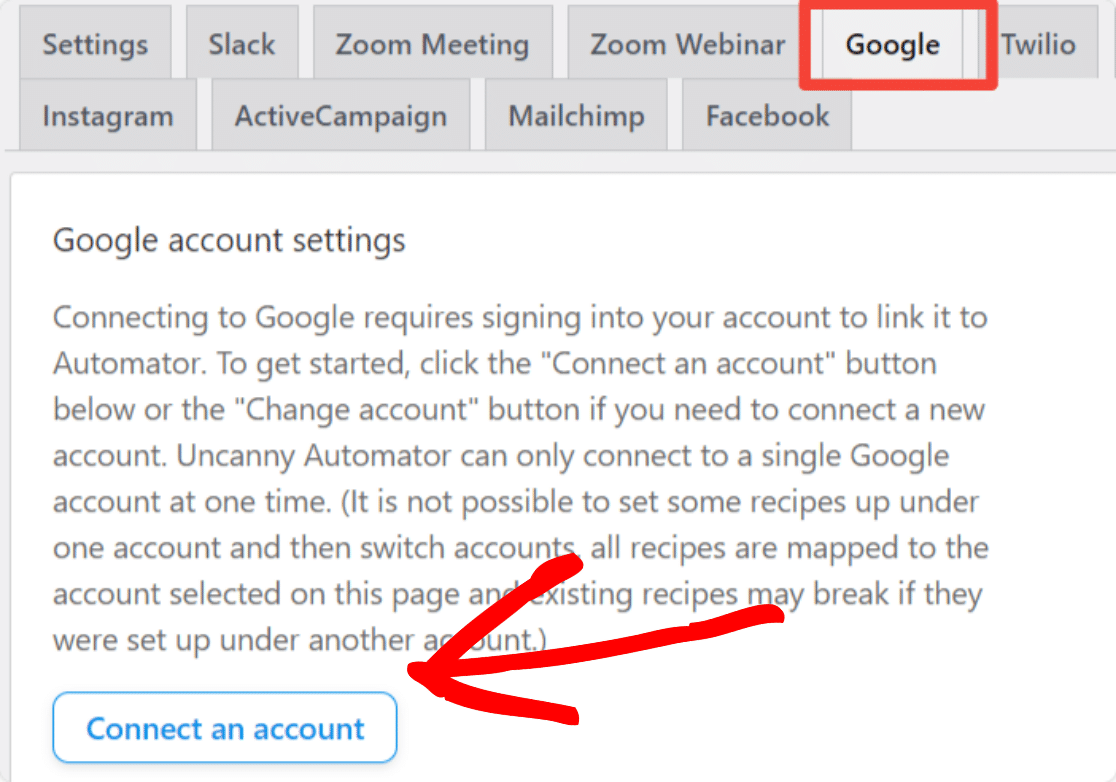 Now you simply need to follow the standard Google authorization process.
First, choose the Google account you want to use. Next, click Continue to grant Uncanny Automator the permission it needs.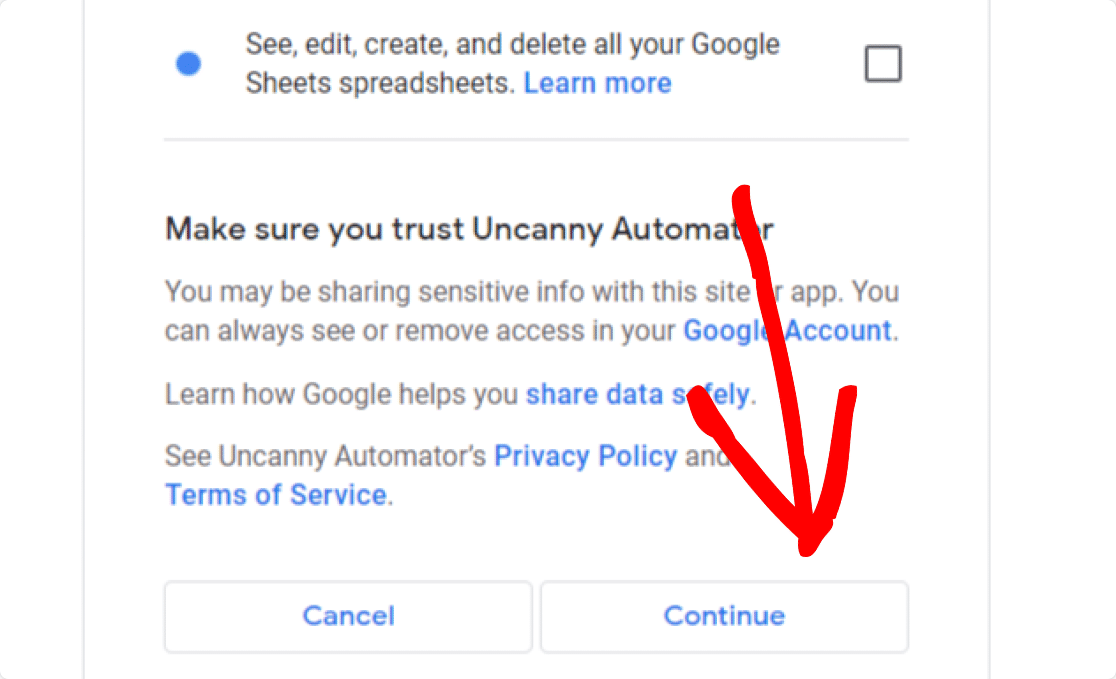 When you're done, you'll be taken back to the WordPress dashboard and see a success message that looks like this: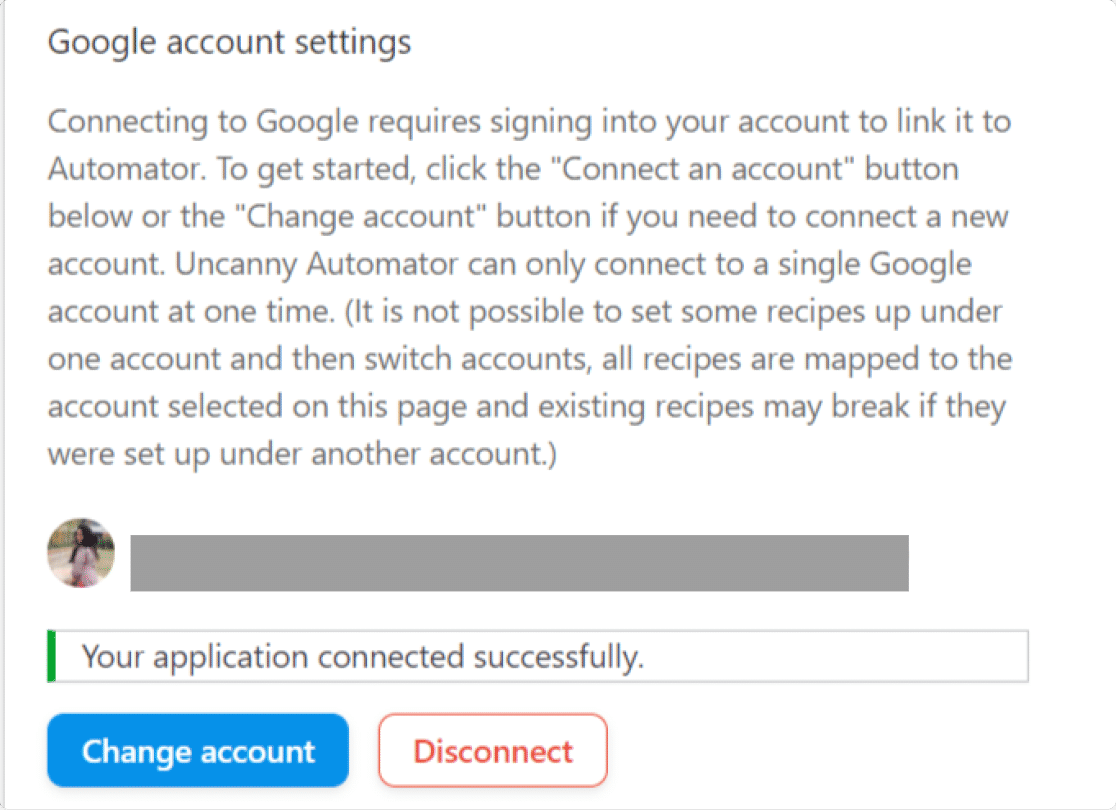 Perfect! Your Google account successfully connected to Uncanny Automator.
Step 5: Connect WPForms to Google Sheets
Now you need to connect WPForms to Google Sheets using Uncanny Automator. To do that, you first need to create a new recipe.
1. Create a Recipe
To create a new recipe, in your WordPress dashboard, go to Automator » Add new.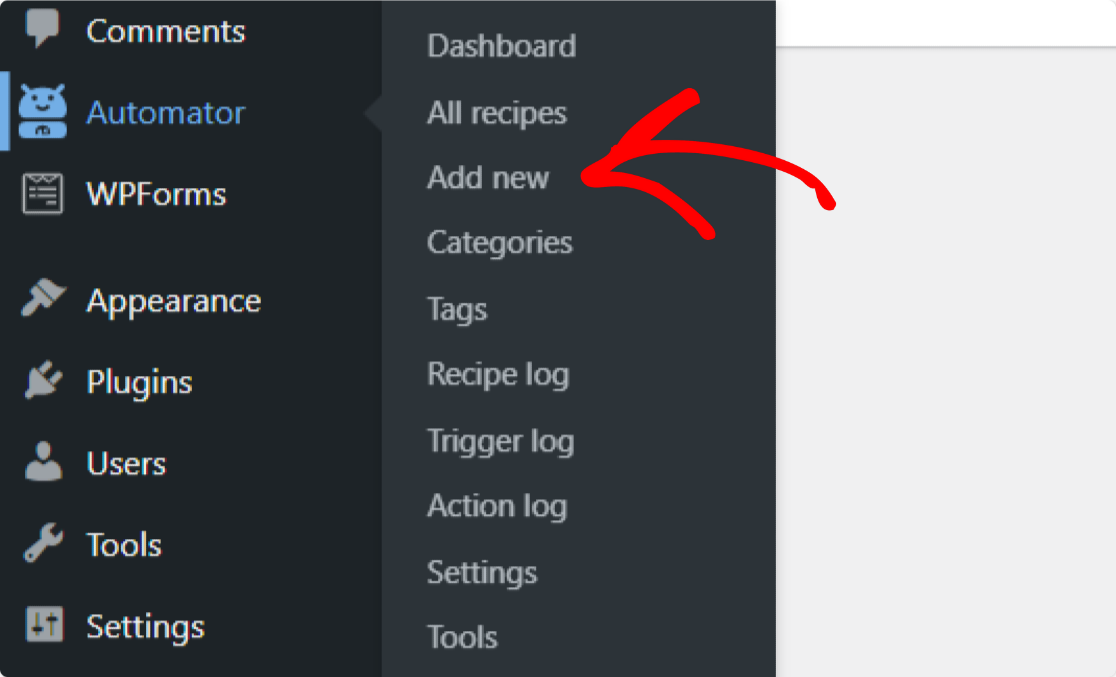 You'll then be prompted to choose a recipe type. There are 2 options:
Logged-in users – Choose this if only logged-in users fill out your WordPress forms.
Everyone – Choose this if logged-out visitors and logged-in WordPress users will be filling out your forms.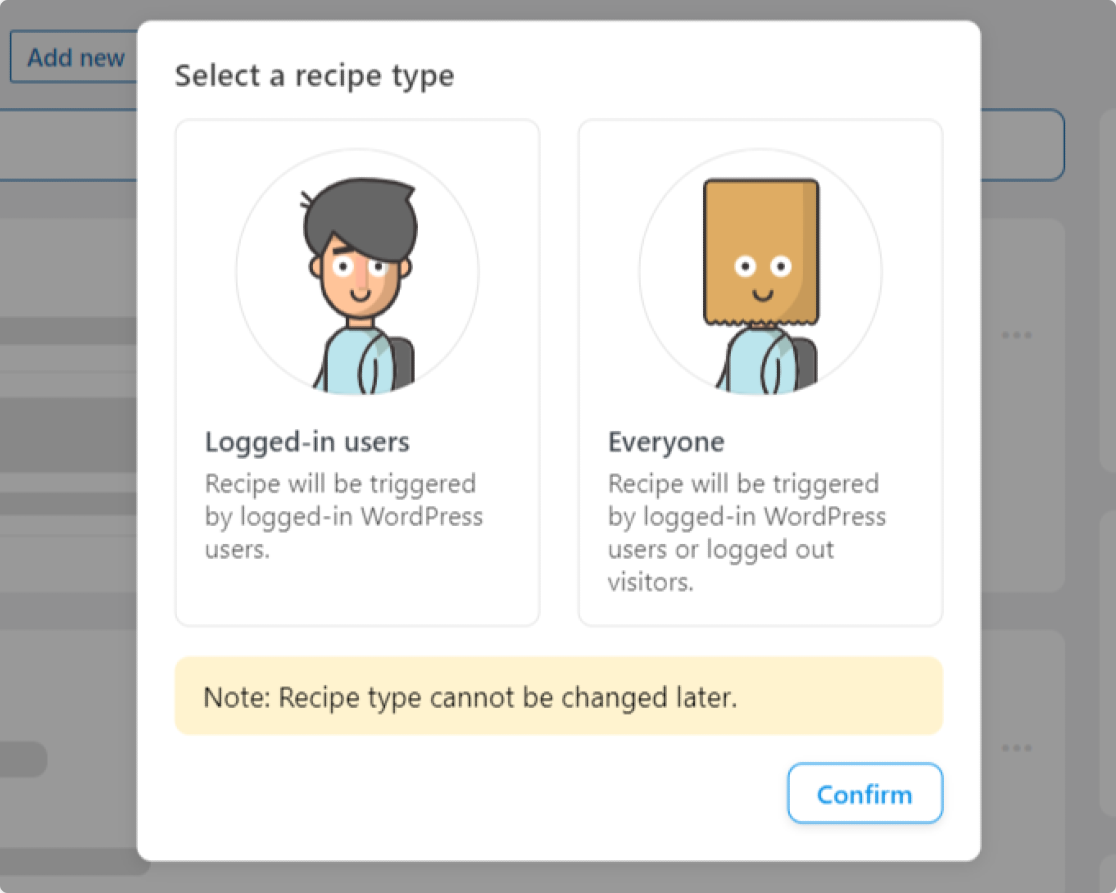 In most cases, you should choose Everyone because anonymous website visitors will be the ones filling out your contact forms, registration forms, newsletter forms, etc.
So, select Everyone and then click the Confirm button.
On this page, you can also name your recipe to help you remember it easier.
2. Choose Your Trigger
Next, you need to choose the trigger for your recipe. Select WPForms from the list of integrations.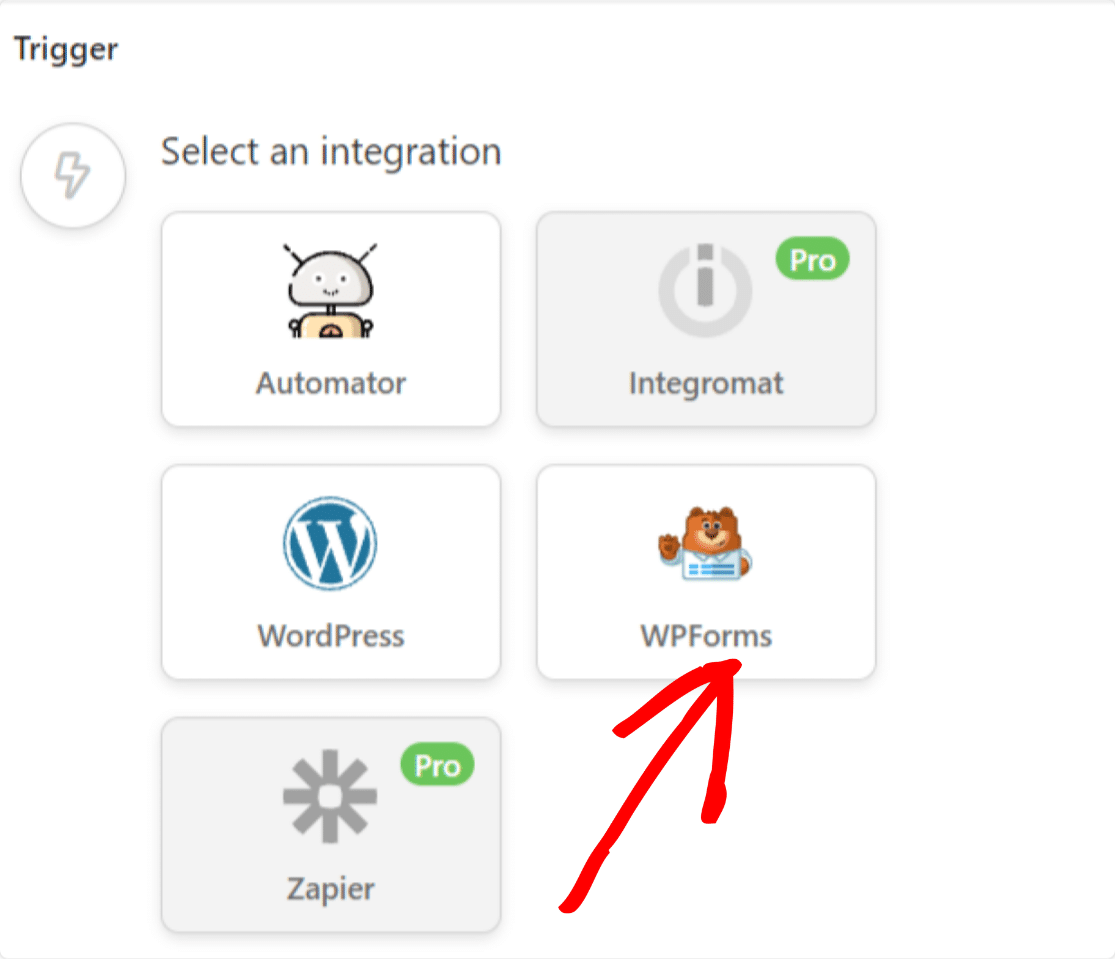 Now you'll see 2 options to choose from:
A form is submitted – Add all WPForms' submissions to a specific spreadsheet in Google Sheets.
A form is submitted with a specific value in a specific field – Only add submissions if they meet the criteria (conditional logic).
For this tutorial, we'll select A form is submitted to add all form submissions to a Google Sheet spreadsheet.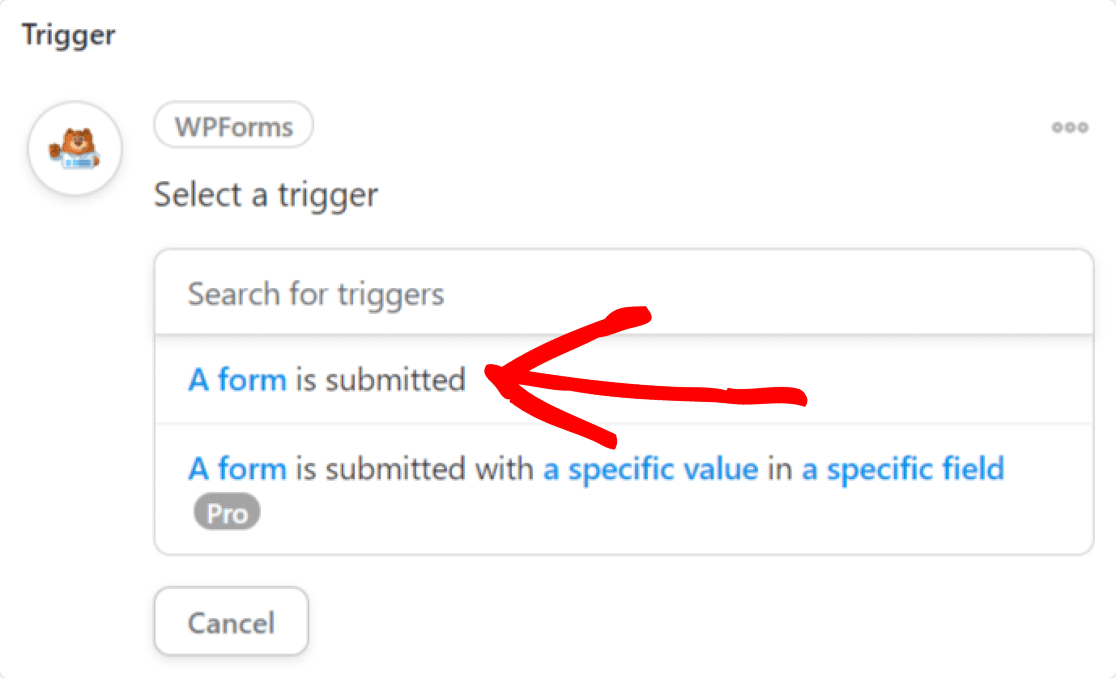 The next step is to select the specific form on your website that you want to connect with Google Sheets.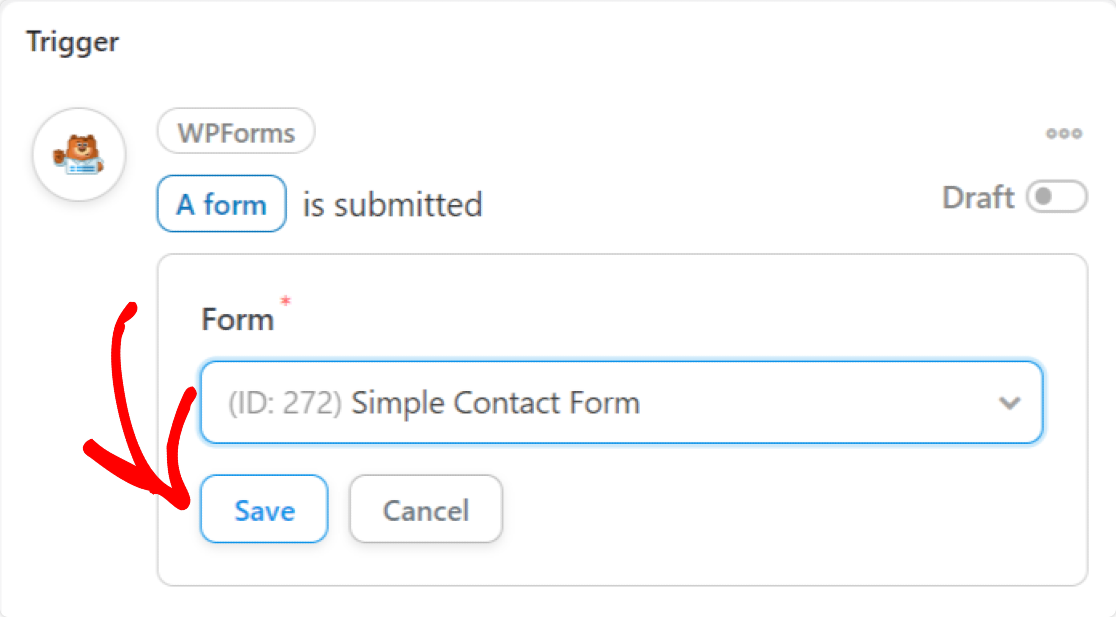 When you've selected the form you want to use, click Save.
3. Configure Your Action
After selecting the trigger, scroll down the page a bit and click the Add action button.

Next, Uncanny Automator will show you a list of available integrations.
Choose Google Sheets.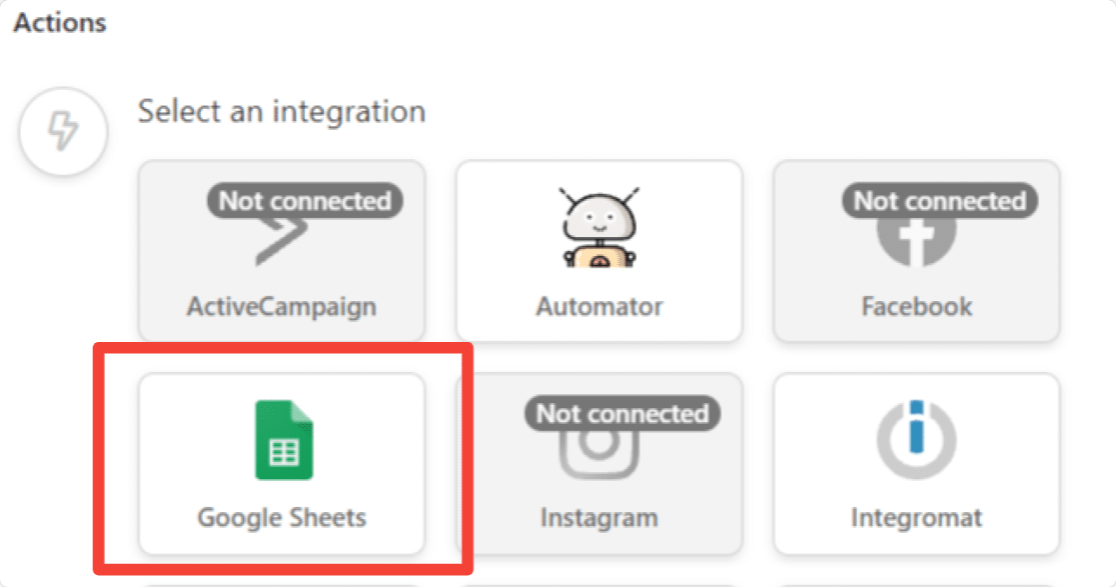 Now select Create a row in Google Sheet: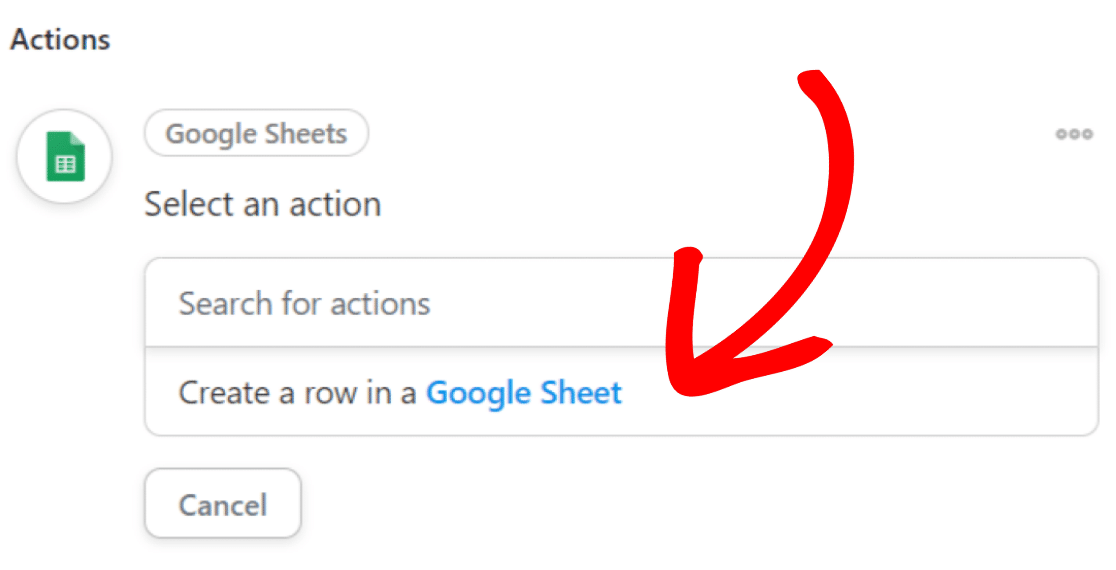 Next, choose the spreadsheet you created for your form entries from the dropdown menu. Or, type the name of your spreadsheet in the search bar to find it.
Once you've selected your spreadsheet and worksheet, click the Get Columns button.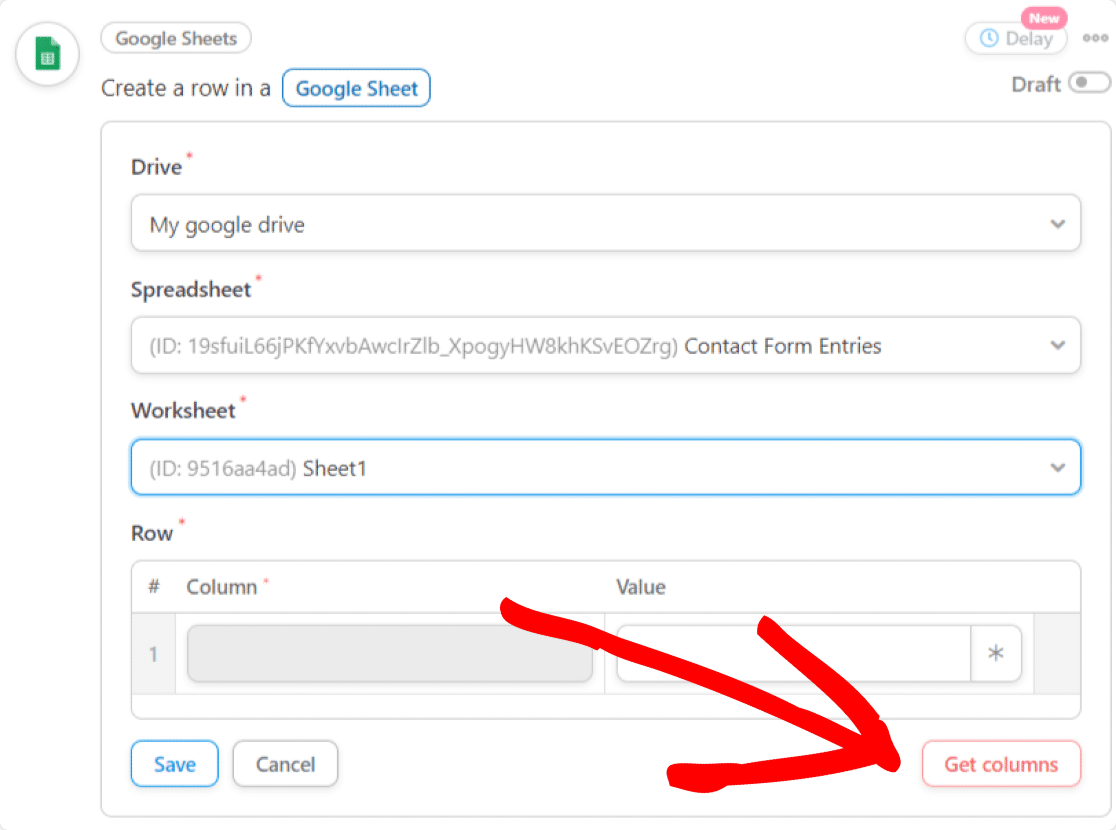 Now the columns from your actual spreadsheet will appear. To map the fields from your form to the columns in the spreadsheet, you can insert dynamic tokens.
Next to your columns, insert the corresponding WPForms fields from the dropdown menu.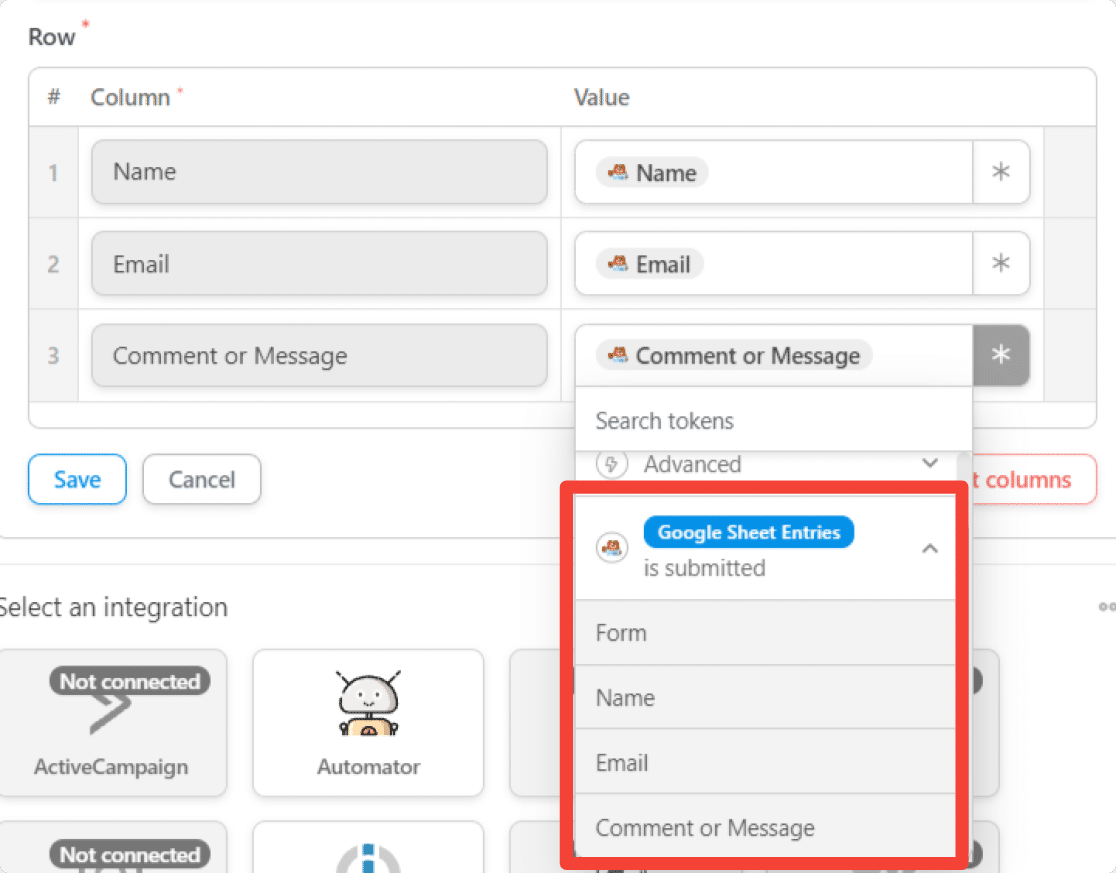 You can also add Common tokens like the current date and time, recipe name, and more.
After you're done, it should look something like this: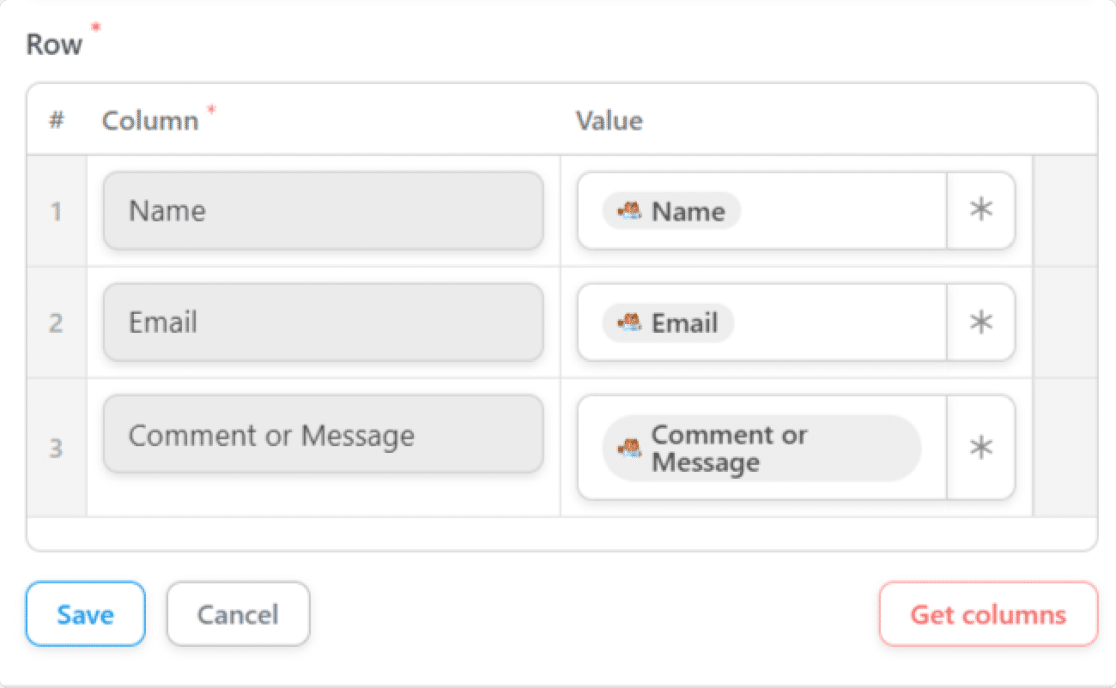 Click Save.
4. Publish Your Recipe
Now it's time to publish your recipe so you can start automating your form entries!
To make your automation live, simply click the toggle in the sidebar: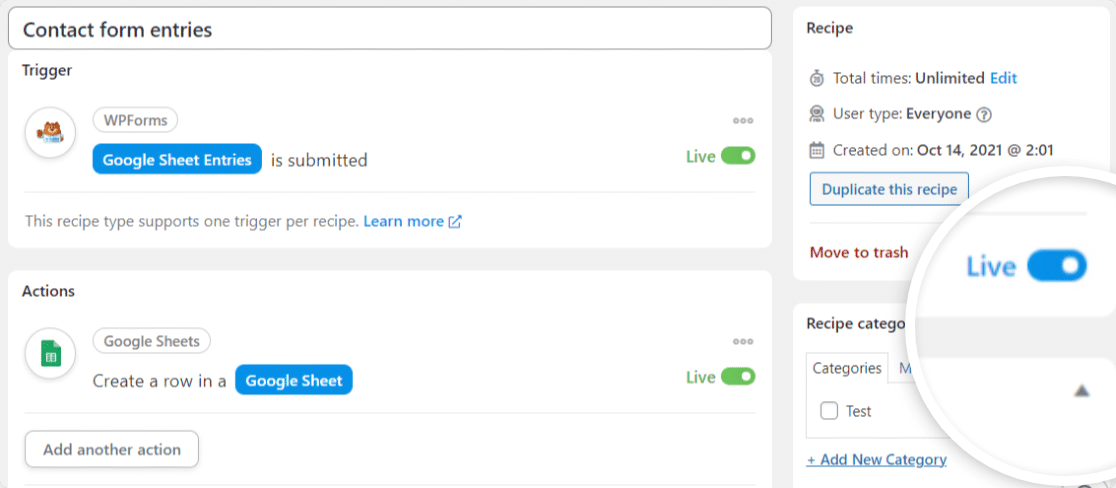 That's it!
Now you can test your form.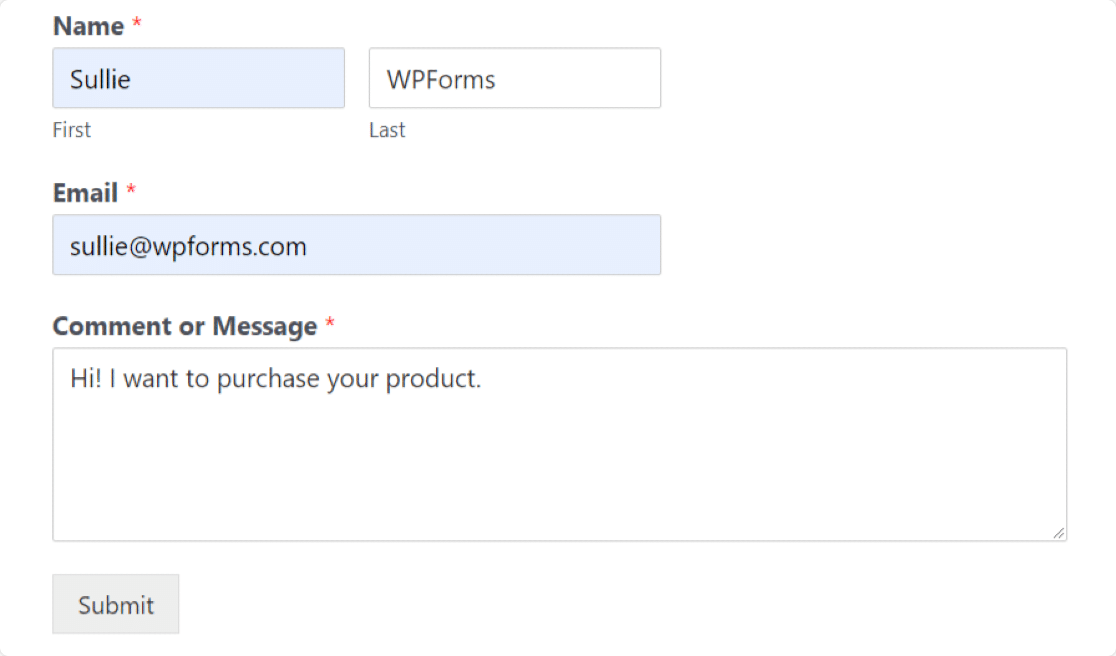 As soon as you submit your test form, you should see the form entry added to Google Sheets instantly.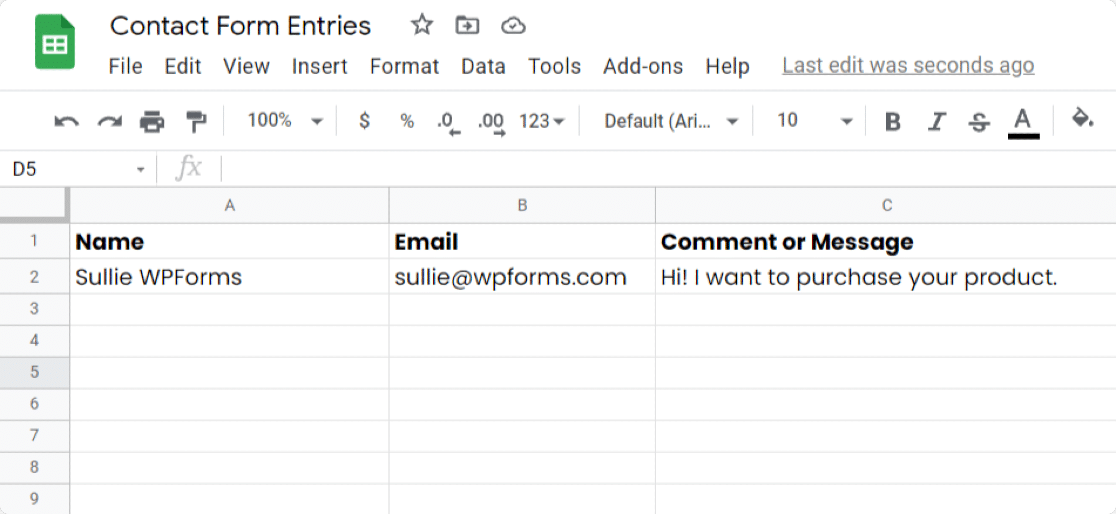 Congrats! You've just connected your WordPress form with Google Sheets. All the future entries will be added to the specified spreadsheet in Google Sheets.
Next, Export WordPress Form Entries to CSV
Did you know you can export your form entries in multiple formats? Check out this step-by-step tutorial to learn how to export WordPress form entries to CSV.
Also, did you know that you can let users preview a form entry before submitting it? WPForms makes this really easy!
Do you want to encourage form submissions on your site? Check out how to create a popup feedback form in WordPress.
What are you waiting for? Get started with the most powerful WordPress forms plugin today. WPForms offers tons of pre-built beautiful form templates and exciting features to create powerful online forms.
If you like this article, then please follow us on Facebook and Twitter for more free WordPress tutorials.