How to Create a Poll or Survey Form in WordPress
by Courtney Robertson on Nov 7, 2016
Do you need a way to poll your audience for feedback?  We've made it easy to get survey results right from your own website.  In this tutorial, we'll show you how to create a survey form in WordPress.
How to Create a Survey Form
The first thing you need to do is install and activate the WPForms plugin. Here's a step by step guide on how to install a WordPress plugin.
Also, you'll need to have a form created. See our tutorial on How to Create a Simple Contact Form as an example to get started.
Then you'll need to add your survey form fields. There are plenty of options depending on the questions you want to ask. You can use multiple choice, dropdown, checkbox, or text fields.
In our example, we used multiple choice fields in a blank form template.
If you want to collect anonymous data, you can eliminate user names and emails by hovering over the field and clicking the red X in the corner.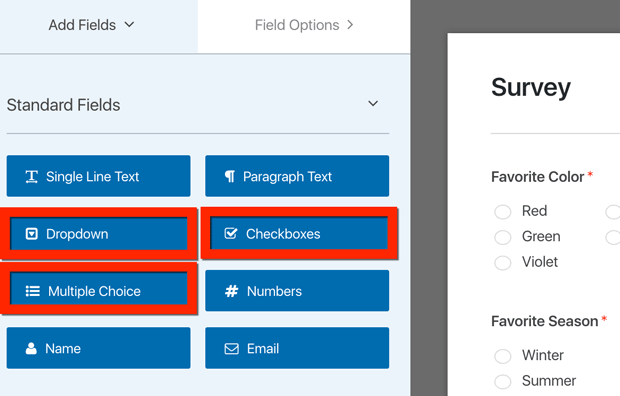 After adding your fields, you can customize what options a user can vote on by clicking on the field and then adding choices in field options.
You can also set fields as required, so that users can't submit the form without answering all the questions.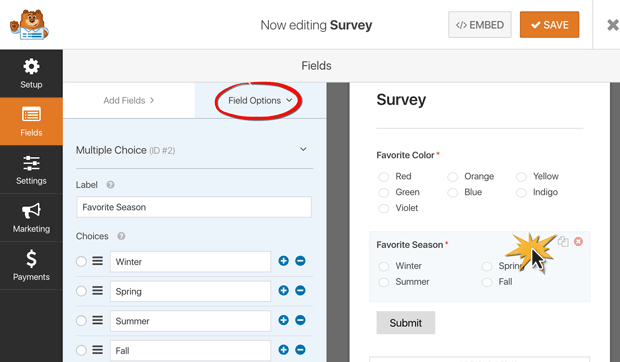 When you're done creating all your form fields, click the save button at the top right. Then you can click the X next to it to go back to your WordPress dashboard.
Publishing Your Survey in WordPress
Now you're ready to publish your survey form on your site!
To add a form to a WordPress post or page, you first have to create or edit a post/page.
On the post editor, you will see the Add Form button just above the text editor. Clicking on the button will bring up a popup. Select the form you created from the drop down menu and then click on Insert Form button.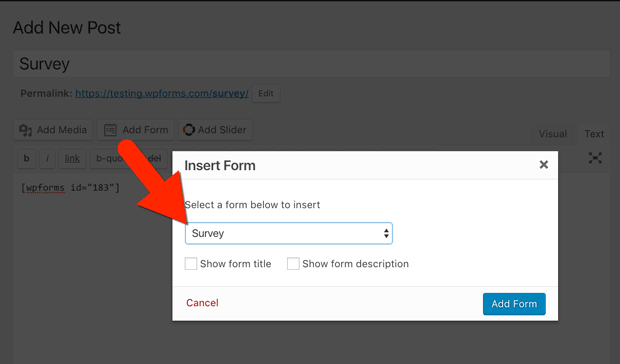 Here's a look at our published form: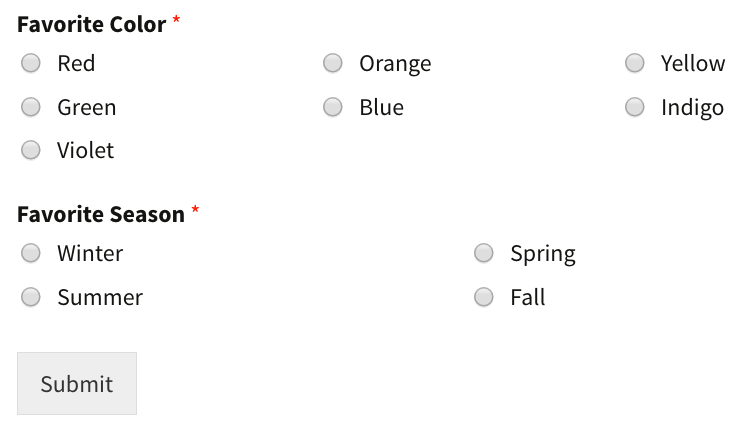 How to Get More Survey Responses
You can get better and more survey responses when you keep these tips in mind:
Keep it short.
Tell them how long the survey should take to complete.
Tell users why you want this information and how it will be used.
Show users a progress bar.
Avoid open-ended questions. Stick to multiple choice, dropdown, or checkbox type questions.
Style your questions to maximize screen space.
Share a link to your survey in your online spaces like Facebook Groups or Business Pages, Twitter, or your email newsletter.
Now you're all set! You've created a survey form in WordPress and are ready to poll your audience.
Want to integrate this survey with your email marketing service, and build your email list at the same time? Check out how to expand your capability with addons for MailChimp, AWeber, Campaign Monitor, and  GetResponse.
What are you waiting for? Get started with the most powerful WordPress forms plugin today.
If you like this article, then please follow us on Facebook and Twitter for more free WordPress tutorials.