Want to capture customer info with a survey form and learn how to create a survey online with a plugin? It's easiest to do by adding a survey to a website.
Using a WordPress survey plugin like WPForms to uncover answers to specific questions you have for your site visitors is an easy way to make data-driven decisions that can help you grow your business online.
In this article, we'll show you how to create a survey online in WordPress using the WPForms plugin's user-friendly survey maker.
Click Here to Start Making Your Survey Form Now
Here's a table of contents to help you navigate this post:
Why Create a Survey Online in WordPress With a Plugin?
When you create a survey online, you can gather important information directly from your target audience. This way you can fix things in your business they don't like and offer more of what they do like. And using a plugin is a perfect alternative to Google Forms.
In addition, you might consider conducting a survey on your website to:
Gather Feedback. Surveys let people give their opinions, as well as voice their concerns, in an anonymous and safe way. This way you get honest and valuable feedback from those that directly affect your business.
Start a Discussion. If your questionnaire asks the right questions, you'll be able to start meaningful discussions about important topics related to your business, industry, and more. For example, with customer satisfaction surveys and employee satisfaction surveys.
Stay Objective. Rather than base your business decisions on what your "gut" tells you, use a survey to get objective market research from site visitors to make improvements. You can also prioritize issues using survey responses.
Start a Comparison. By routinely conducting surveys, and asking site visitors the same questions over periods of time, you'll be able to measure how their opinions, attitudes, and needs change and compare demographics. This can help your business evolve.
As you can see, there are some great reasons to collect responses from website visitors through surveys. Surveys are inexpensive to run, are flexible when it comes to the types of questions you ask and are more dependable thanks to anonymity.
Not to mention, when you use WPForms, and the Surveys and Polls addon, they are super easy to set up and run on your website.
So, let's take a look at how to create a survey in WordPress.
How to Create a Survey Online in WordPress
Asking yourself how do I create a survey form in WordPress? Look no further, we've got you covered with this video guide.
Prefer to read? No problem. Let's start using the WPForms survey creator.
Step 1: Create a New Form in WordPress
The first thing you'll need to do to create a survey online is install and activate the  WPForms plugin. The free version of the plugin doesn't have surveys, so you'll need a WPForms Pro or above license to access to the free survey form builder and complete this tutorial. For more details, follow this step-by-step guide on how to install a plugin in WordPress.
Next, you'll need to install and activate the Surveys and Polls addon so you can start using the plugin as your survey software.
To do this, go to WPForms » Addon and find the one labeled Surveys and Polls Addon.
Click Install Addon and then Activate.

Now you'll need to create a new form.
You can use any of the WPForms form templates and add different survey question types to them if you want to change up your survey design. In fact, you can check out our helpful tutorial on how to add a Likert Scale to any WordPress form if you want to measure your site visitors' experiences or opinions on something like a simple contact form with multiple choice questions.
However for our example, we'll create a survey specific WordPress form. Multiple choice questions are available on this form type as well. Don't worry, these look great as mobile surveys on mobile devices as well as on desktops!
To start, go to WPForms » Add New, name your form, and choose the Survey Form template.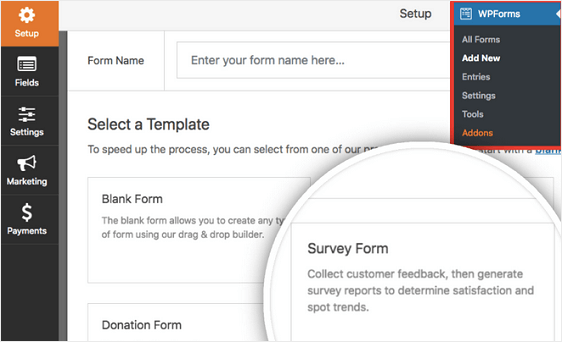 WPForms will then create a survey for you.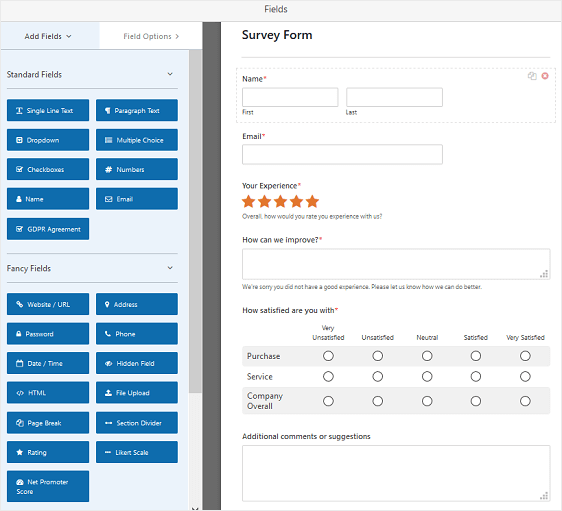 You'll notice your form has the following form fields:
Name
Email
Likert Scale (sometimes known as a matrix question)
Paragraph Text (For written answers)
This gives you a good framework to work with and can be customized depending on the types of questions you'd like to ask site visitors.
Step 2: Customize the Survey Form Rating Field
You can add additional form fields to your form by dragging them from the left hand panel to the right hand panel.
Then, click on the field to make changes. You can also click on a form field and drag it to rearrange the order on your form.
But for now, let's take a look at how you can customize your  form's Rating Field.
To start, change the label of the field, add a description telling survey respondents what they're rating, and choose the scale, which can be between 2 and 10.

If you click on Advanced Options, you can change the rating icon in the following ways:
Type. You can use a star, heart, thumb, or smiley face icon.
Size. You can choose the rating icon to be small, medium, or large.
Color. Use the color picker to change the icon color.
Want to use a cool question skip trick using skip logic? If you are interested in getting more feedback from site visitors based on their rating answers, you can enable smart conditional logic. For help with this step, check out our tutorial on how to use conditional logic for ratings.
Next, we'll take a look at to customize the Likert Scale form field.
Step 3: Customize the Survey Form Likert Scale
Customizing the Likert Scale on your form is done the same way you customize the rating field. All you have to do is click on it.
From there, you can change the following:
The label so site visitors know what you are measuring
Row options, which are the survey questions you're asking site visitors about
Column options, which are the responses site visitors have to choose from
The description, if you want to add additional information for site visitors to reference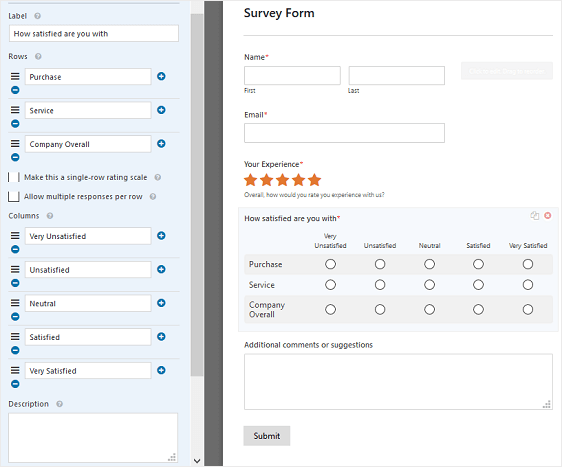 For more details, check out this helpful documentation on customizing the Likert Scale field.
We've also put together a handy sample list of different question types for Likert Scales.
If you want to take it a step further and calculate how your site visitors feel about your company using a Net Promoter Score (NPS), rather than a traditional survey using a Likert Scale, be sure to check out this helpful guide on how to create a Net Promoter Score (NPS) survey in WordPress.
When you're all done making changes to your WordPress survey, click Save.
Step 4: Enable Survey Reporting
In order to receive the real-time results as survey respondents fill out your form on your web page, you need to enable survey reporting.
To do this, go to Settings » Surveys and Polls. Then, click on the Enable Survey Reporting checkbox. This will enable survey reporting sitewide.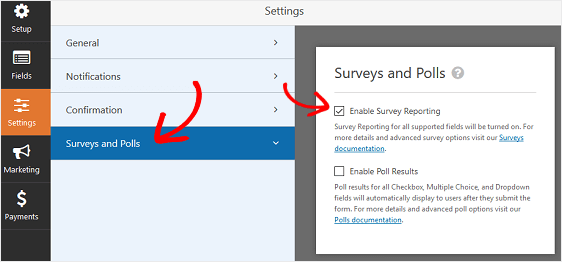 In other words, WPForms will collect data in survey results for the following form fields on all your site's forms:
Single Line Text
Paragraph Text
Dropdown
Checkboxes
Multiple Choice
Rating
Net Promoter Score
If you used the Survey Form template (also known as questionnaire templates), this data collection option will be enabled by default. However, if you use another form template, and want to collect survey results, you'll need to manually check the box.
If you don't want to collect survey results for every form on your website, unclick the Enable Survey Reporting checkbox under Settings » Surveys and Polls.
Next, return to the Form Editor, click on the field you want to enable reporting for, and under the Advanced Options section, check the Enable Survey Reporting box.
Now only survey results for that particular form field will be collected.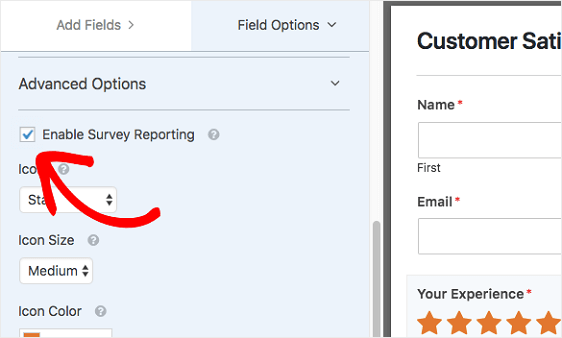 Do this for each form field you want to collect results for.
Step 5: Configure Your Form Settings
There are 3 settings to configure on your form:
General. Here you can change the form name, customize the submit button, check that the anti-spam feature is enabled, and disable storing entry information and user details, like IP addresses and user agents, to further comply with GDPR.
Notifications. To receive an email that someone has completed your WordPress survey, you'll need to set up form notifications in WordPress. If you use smart tags, you can also send a notification to site visitors when they complete your survey, letting them know you received it.
Confirmations. Once site visitors complete your form, you can show them a message right after, take site visitors to another page on your website like a Thank You page with your social media links, or redirect visitors to another website altogether. For help with this step, check out our helpful tutorial on how to set up form confirmations.
If you'd like, you can also add images to your surveys.
Step 6: Add Your Form to Your Website
Once you're done configuring your form to your liking, you want to add it to your site.
WPForms lets you add your forms to multiple places on your website including your pages, blog posts, and sidebar widgets.
Let's take a look at the most common placement option: page/post embedding.
To begin adding your embedded survey, create a new page or post in WordPress. After that, click inside the first block (the blank area below your page title) and click on the Add WPForms icon.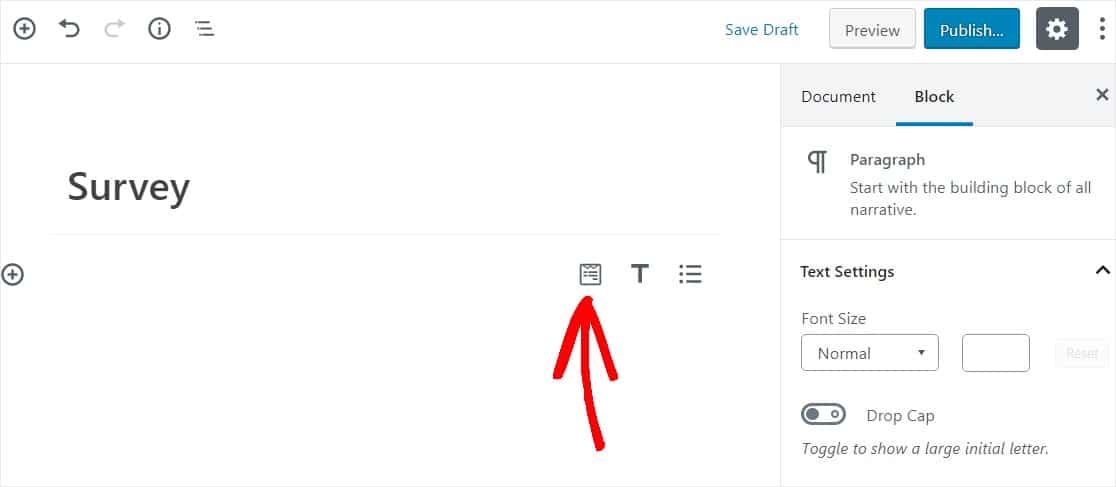 The handy WPForms widget will appear inside of your block. Click on the WPForms dropdown and pick which one of the forms you've already created that you want to embed into your page. Select your form.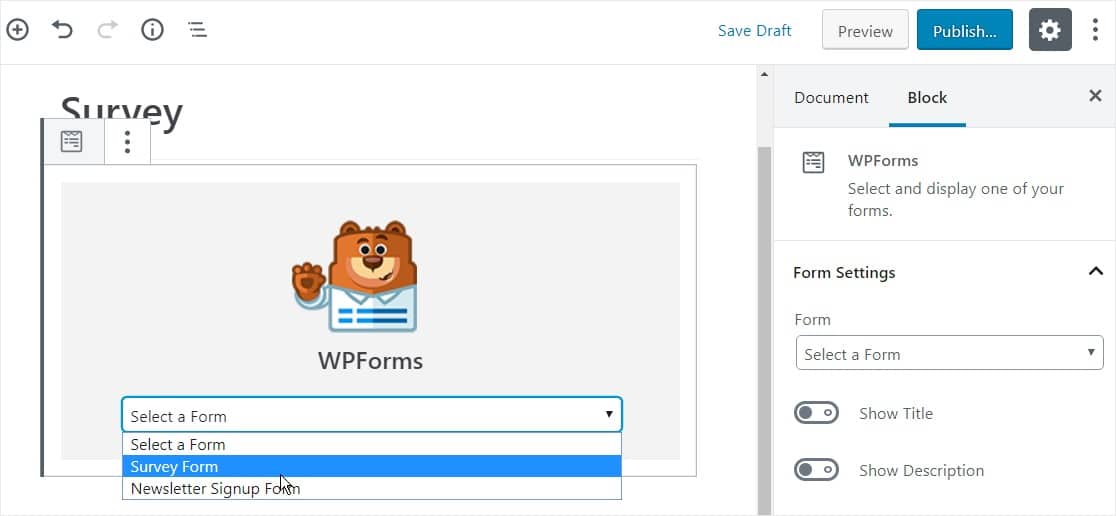 Then, publish your post or page so your form will appear on your website.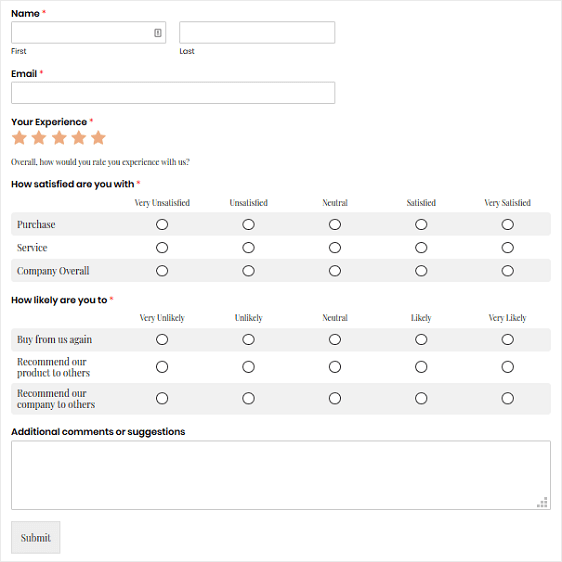 You did it! You now know how to create a survey online. Let's check out how to view your survey results next.
Step 7: Generate Survey Reports
Once people start filling out your form, you can see any data that's collected.
To generate a survey report, go to WPForms » All Forms and hover over your form to display the options. Then, click on Survey Results.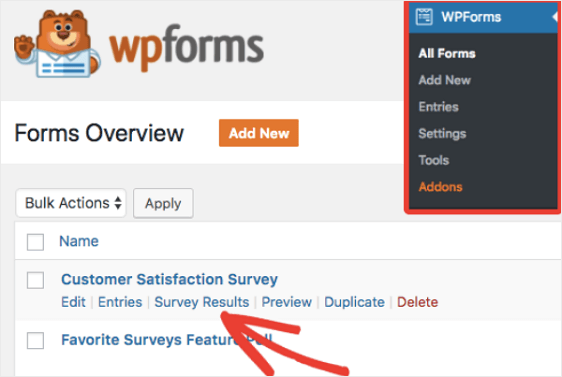 You'll see survey results for each form field that has survey reporting enabled on it.
For example, here's how your rating survey results might look:

And, here's a Likert Scale survey report: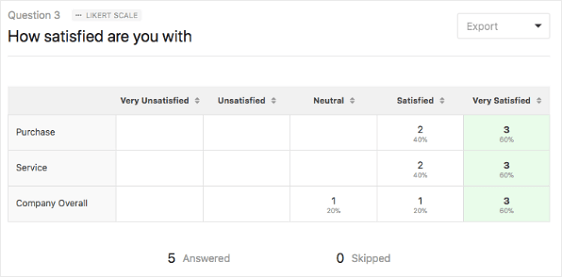 If you want to write up the results for your website, we have some tips on how to export data then write a survey summary that'll make it easy.
And don't forget, with WPForms' awesome functionality, you can also connect your forms to your small business CRM software like Salesforce, Zoho, and more, too.
Click Here to Start Making Your Survey Form Now
Frequently Asked Questions
Here are a few other questions we get asked often, so we decided to post the answers here.
What Is a Survey Form?
A survey form is a, simply put, a questionnaire that gathers information from people. Feedback survey forms are more commonly used with the intention of finding impactful results based on data.
What Is the Best Free Survey Maker?
We've researched a lot of tools and believe WPForms is the best. WPForms Pro comes with a free survey template. Here are some other lists we've put together that might help you find the best survey maker tool for your small business:
In Conclusion
And there you have it! You now know how to create a survey online in WordPress with a plugin so you can gather feedback from site visitors and use your survey form to improve your customer satisfaction (and business).
Now that you know how easy online survey creation is and you're ready to build your survey or questionnaire, check out how to increase your survey response rates so you can get the most out of your online survey and the WPForms survey tool.
Also, consider checking out our tutorial on creating a survey popup form for even higher conversions.
So, what are you waiting for? Get started with the most user-friendly WordPress forms plugin and start using the online survey tools today. WPForms Pro comes with a free online survey maker and a 14-day money-back guarantee.
And don't forget, if you like this article, then please follow us on Facebook and Twitter.