Do you want to use a survey form to gather information about your customers?
Marketers routinely use surveys to learn what makes their customers tick and make better marketing decisions for their brands.
Thankfully, now designing surveys is easier than you may realize.
In this article, we'll show you how to create a survey form in WordPress.
Create a WordPress Survey Form Now
What Is an Online Survey Form?
An online survey form consists of a series of questions that you can ask your target audience through your website, email, or social media. The best online survey form builders allow you to easily analyze survey results with visual reports.
They also store responses in a database, so you can go back at any time to view reports and create visual survey reports summarizing the responses of your customers.
Some of the most common types of surveys are:
Employee engagement
Event feedback
Product surveys
Surveys play an important role across a wide range of industries whenever detailed data is needed regarding a certain demographic.
Healthcare and market research are two common fields where surveys are frequently used to understand consumer behaviors.
But they're not limited to just these two areas by any means.
How to Build a Survey Form in WordPress
Asking yourself how to make a survey form in WordPress? We have a video guide for this tutorial:
Or if you'd like written instructions, here's a quick overview of the steps to make a survey form on your site.
Step 1: Install WPForms
WPForms is the best form builder plugin for WordPress. It comes with an easy drag-and-drop interface that lets you easily create any online form, including survey forms and Strawpolls, on your website.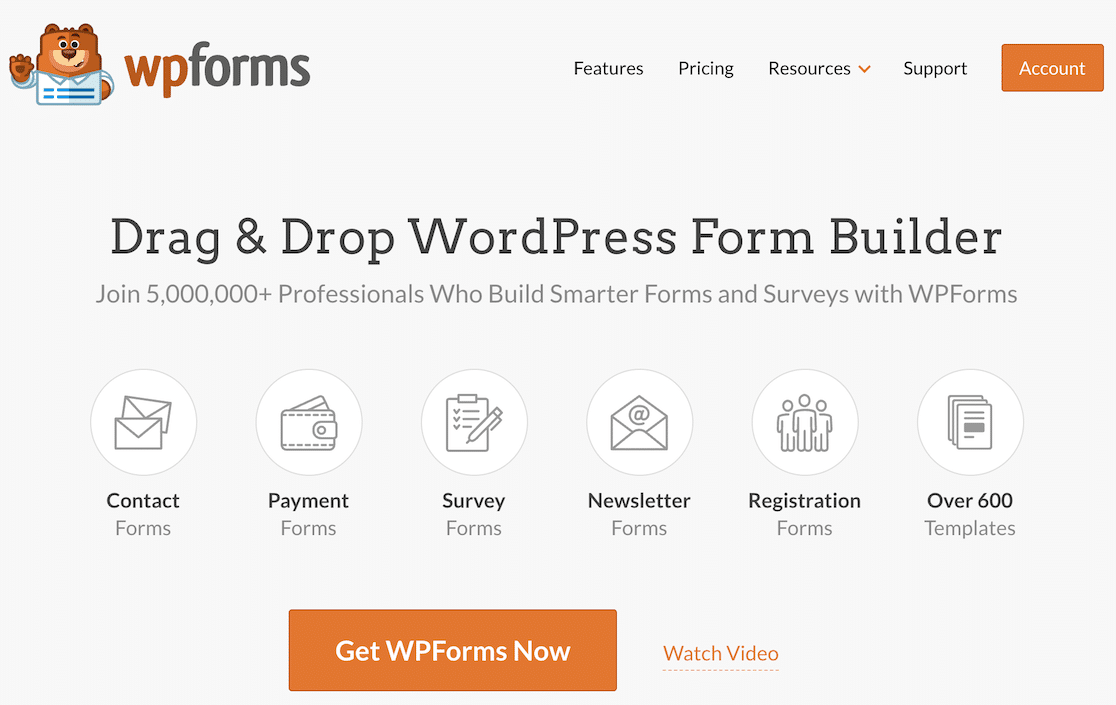 WPForms has many advanced capabilities other than making forms. It also supports integrations with many 3rd party apps for setting up different kinds of automations.
To start building survey forms, you'll first need to install and activate the WPForms plugin. The free version of the plugin doesn't offer survey features, so you'll need WPForms Pro to access the Surveys and Polls addon.
If you face any difficulty in the plugin installation process, you can check out this step-by-step guide on how to install a plugin in WordPress.
Next, you'll need to install and activate the Surveys and Polls addon so you can unlock the survey features and start using WPForms as your survey software.
To do this, go to WPForms » Addons and find the one labeled Surveys and Polls Addon.
Click Install Addon and then Activate.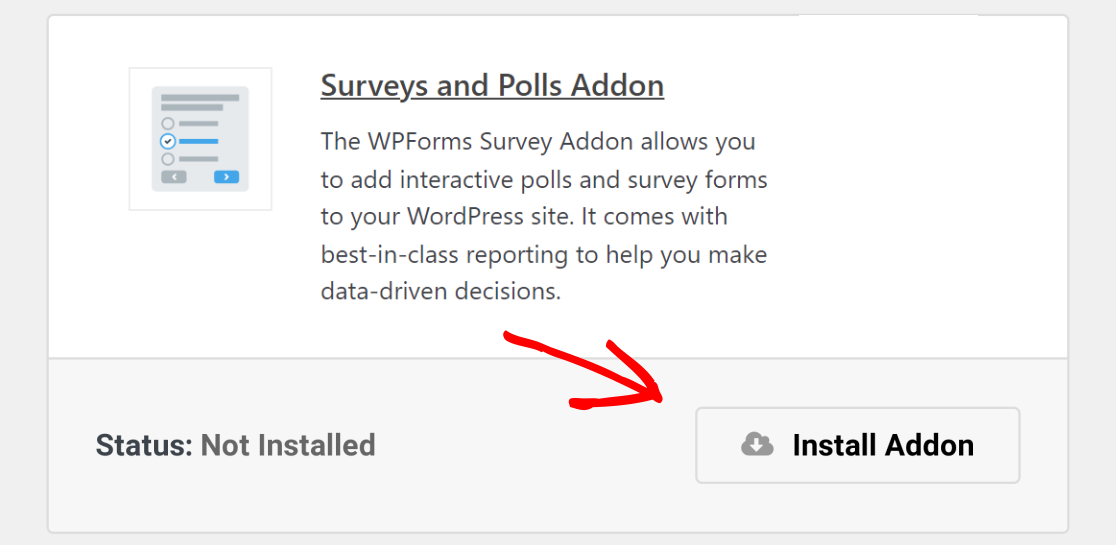 Now you'll need to create a new form.
WPForms comes with  1000+ pre-built beautiful form templates that you can use to create any form for your needs. And our list of survey templates is only growing each month!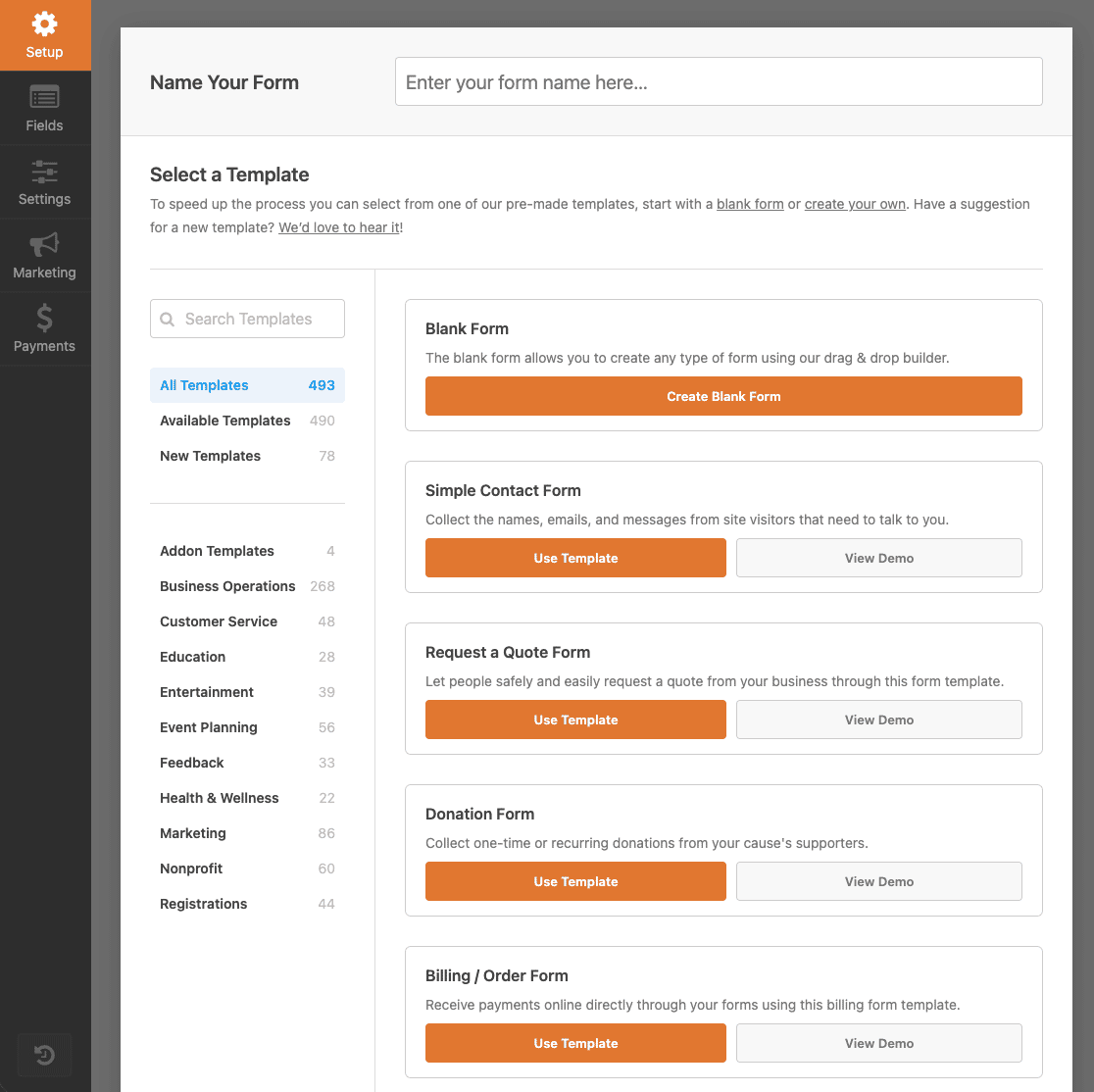 You can customize any survey form template and add different survey question types if you want to change your survey design.
For example, you can create a customer satisfaction survey and add matrix questions and other rating scale questions to measure your site visitors' experiences or opinions about your services. To learn more, check out our helpful tutorial on how to add a Likert Scale to any WordPress form.
We'll create a survey-specific WordPress form for our tutorial and use a pre-built survey form template.
All WPForms' forms are completely responsive and mobile-friendly. These survey forms look great on mobile devices as well as on desktops.
To start, go to WPForms » Add New, name your form, and choose a template. Click on Use Template to load it in the form builder. For our example, we'll use the Survey Form template.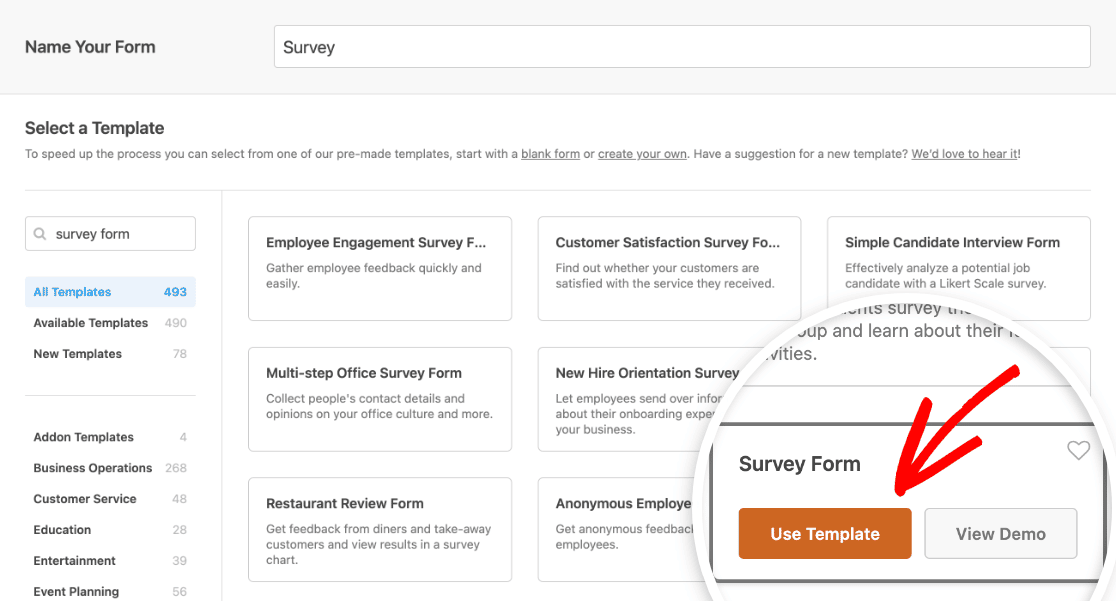 Then you'll be redirected to the WPForms form builder dashboard. Here, you'll see your feedback survey form preview on the right and the additional form field options on the left.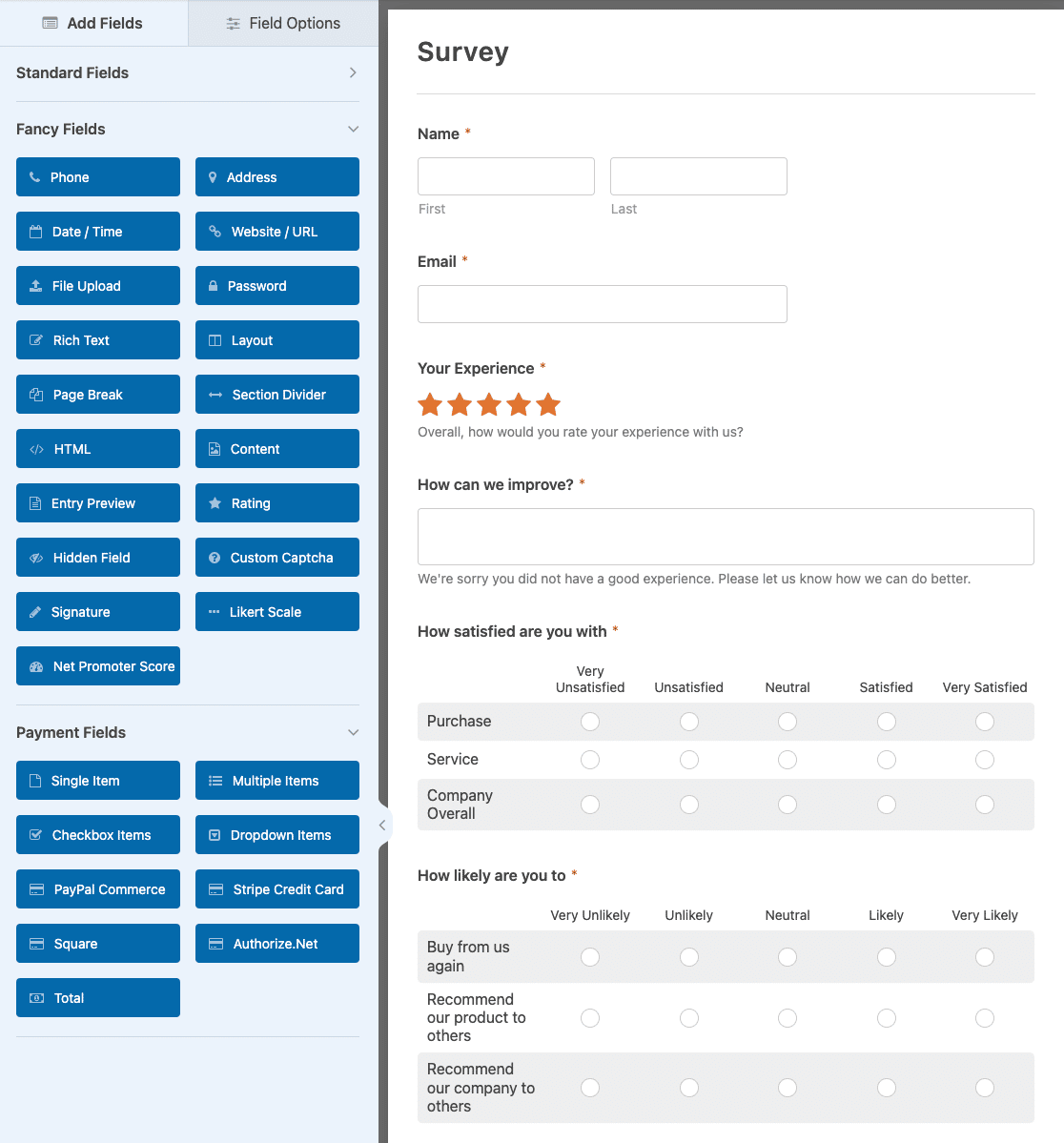 The survey form template of WPForms comes with the following form fields:
Name
Email
Likert Scale (sometimes known as a matrix question)
Paragraph Text (For written answers)
This gives you an excellent framework to work with and can be customized depending on the types of questions you'd like to ask site visitors.
Step 2: Customize the Survey Form Rating Field
You can add additional form fields to your form by dragging them from the left-hand panel to the right-hand panel.
Then, click on the field to make changes. You can also click on a form field and drag it to rearrange the order of the questions in your survey form.
But for now, let's take a look at how you can customize your form's Rating Field.
To start, change the field label, add a description telling survey respondents what they're rating, and choose the Scale, which can be between 2 and 10. You can also make this field Required so that respondents have to choose a rating before submitting the survey.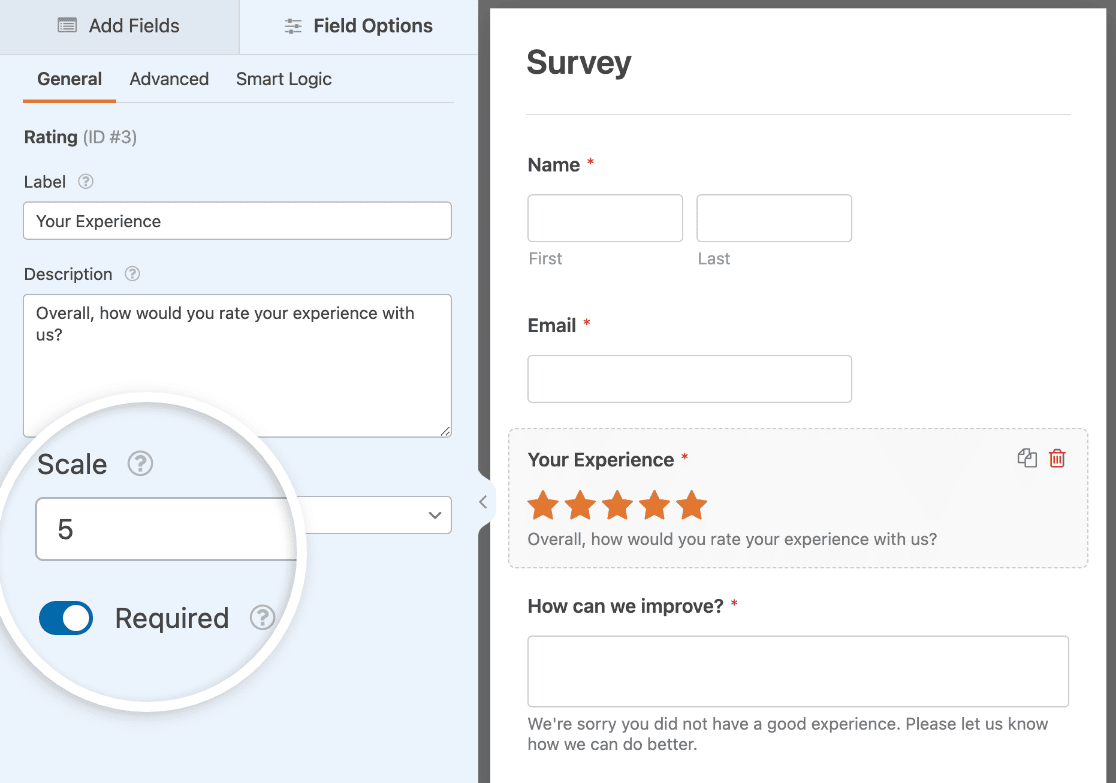 If you click on Advanced, you can change the rating icon in the following ways:
Type: You can use a star, heart, thumb, or smiley face icon.
Size: You can choose the rating icon to be small, medium, or large.
Color: Use the color picker to change the icon color.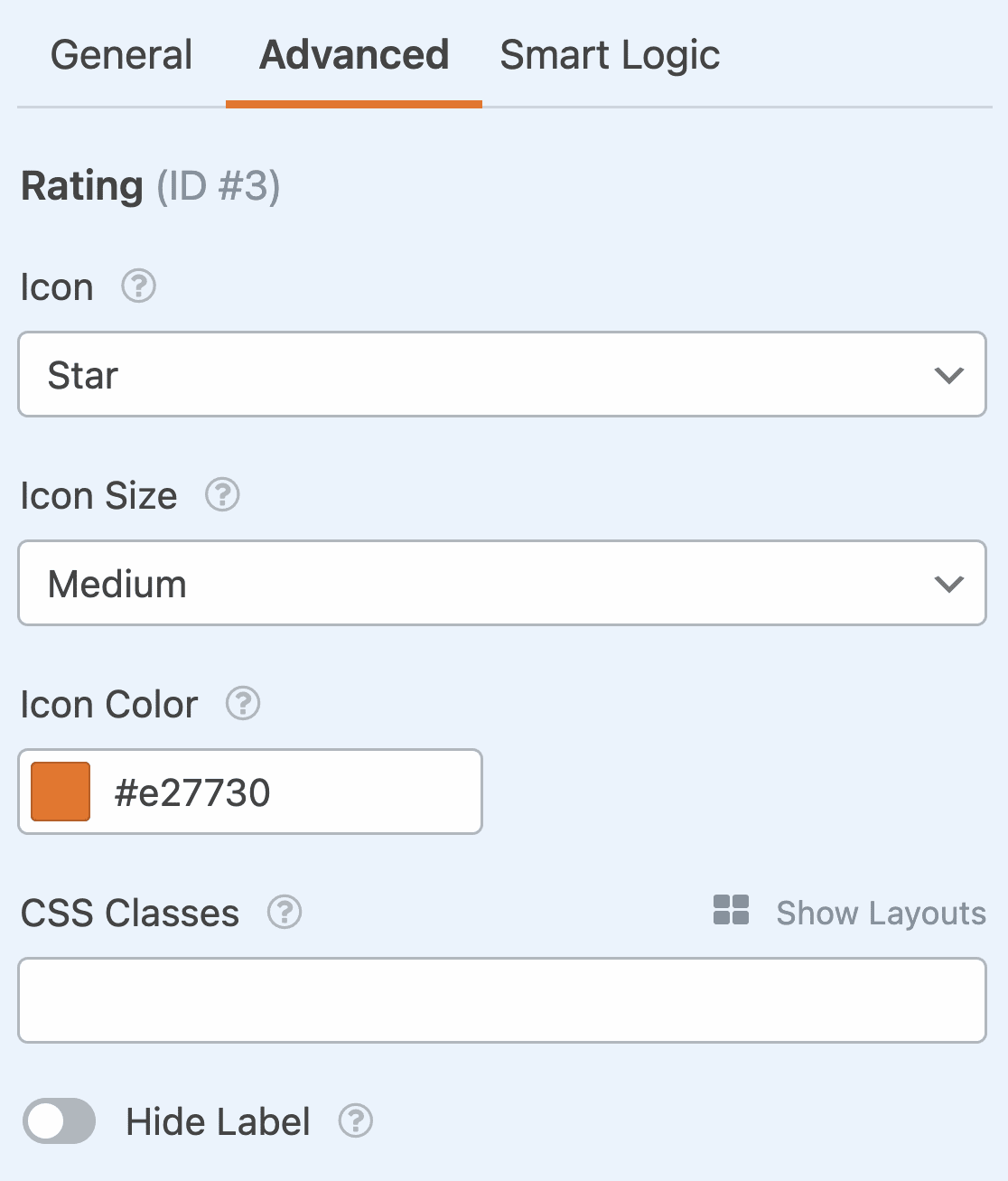 Would you like to collect more information from respondents who give a low rating? In the Survey Form template, a text field asking "How can we improve?" will appear if a user gives a 1 or 2 star rating.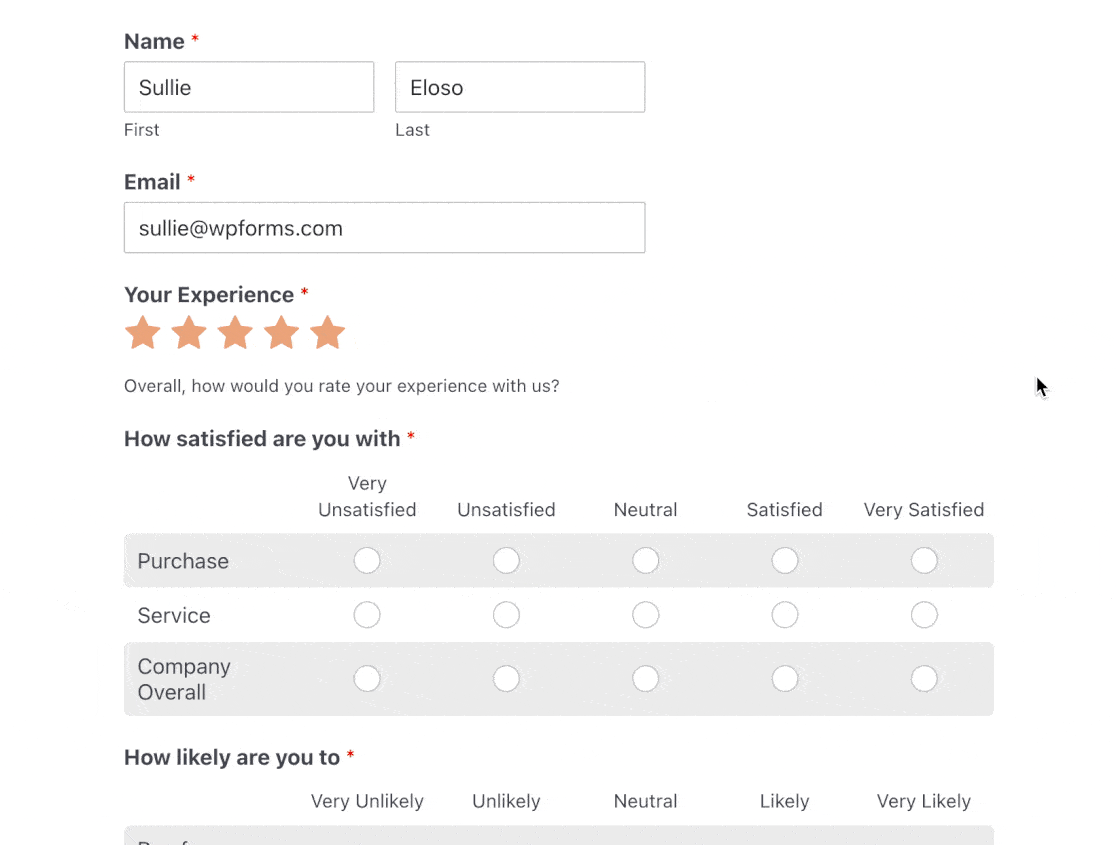 You can hide or show fields like this using conditional logic. For help with this, check out our tutorial on how to use conditional logic for ratings.
Next, we'll customize the Likert Scale form field, which is one of the most widely used scales for measuring customer experience feedback.
Step 3: Customize the Survey Form Likert Scale
Customizing the Likert Scale on your form is done the same way you customize the Rating field. All you have to do is click on it.
From there, you can change the following:
The Label, so site visitors know what you are measuring.
Rows options, which are the survey questions you're asking site visitors about.
Columns options, which are the responses' options your site visitors have to choose from.
The Description, if you want to add additional information for site visitors to reference.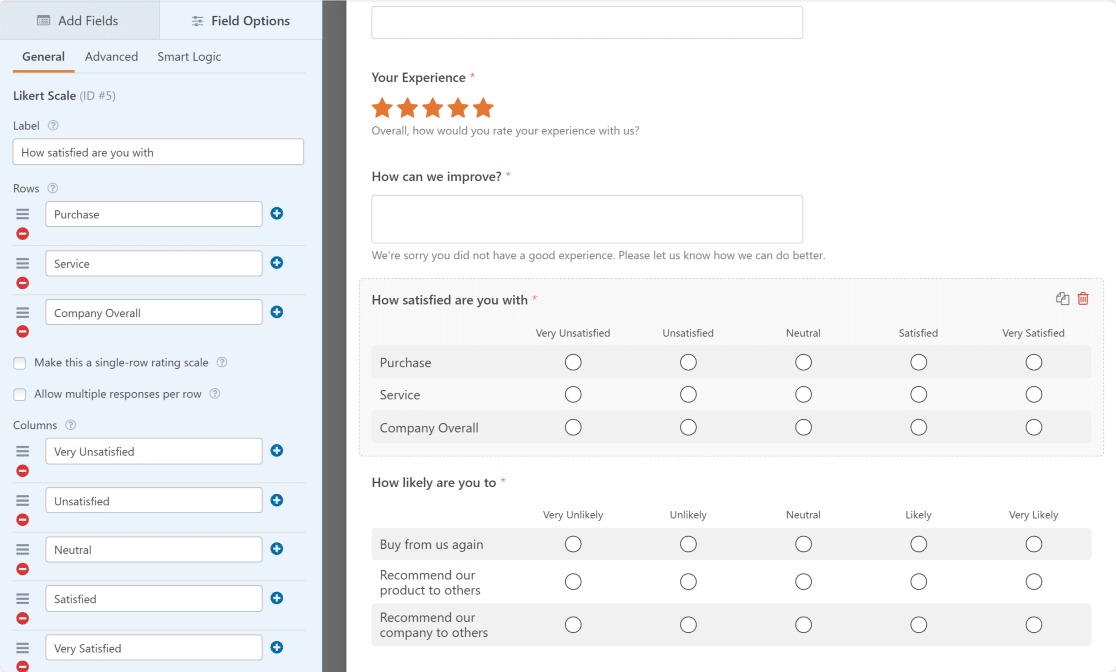 We've put together a handy sample list of different question types for Likert Scales.
If you want to take it a step further, you can create a Net Promoter Score (NPS) survey to calculate how your site visitors feel about your company.
When you're done with making all the changes to your WordPress survey form, click Save.
Step 4: Enable Survey Reporting
In order to receive real-time results as survey respondents fill out your form on your web page, you need to enable survey reporting.
To do this, go to Settings » Surveys and Polls. Then, click on the Enable Survey Reporting toggle. This will enable survey reporting for all compatible fields in your form.

In other words, WPForms will collect data in survey results for the following form fields:
Single Line text
Paragraph text
Dropdown
Checkboxes
Multiple Choice
Rating
Net Promoter Score
Using the Survey Form template (or other questionnaire templates) will enable this data collection option by default. However, if you use another form template and want to collect survey results, you'll need to turn this option on manually.
Step 5: Configure Your Survey Form Settings
There are 4 types of settings to configure on your form:

If you'd like, you can also add images to your surveys.
It helps to make your survey form anonymous to boost response rates even further.
Step 6: Add Survey Form to Your Website
Once you complete all the form customizations, click on the Save button in the top right corner of the page to settle everything. Also, if you want to peek at how your form will look on the live page, you can preview your form by clicking on the Preview button.

Now let's add your survey form to your site.
WPForms lets you embed surveys in your website without requiring any code. You can add the survey form to your pages, blog posts, and sidebar widgets.
With WPForms, you can add your form to a page using two methods:
Add WPForms to a page using the Embed wizard
Add WPForms to a Page using the block editor.
Let's add your form to a page using the Embed wizard feature of WPForms.
To add your survey form, click on the Embed button at the top of your page.

Clicking this will open a popup window with 2 options. Click Create New Page.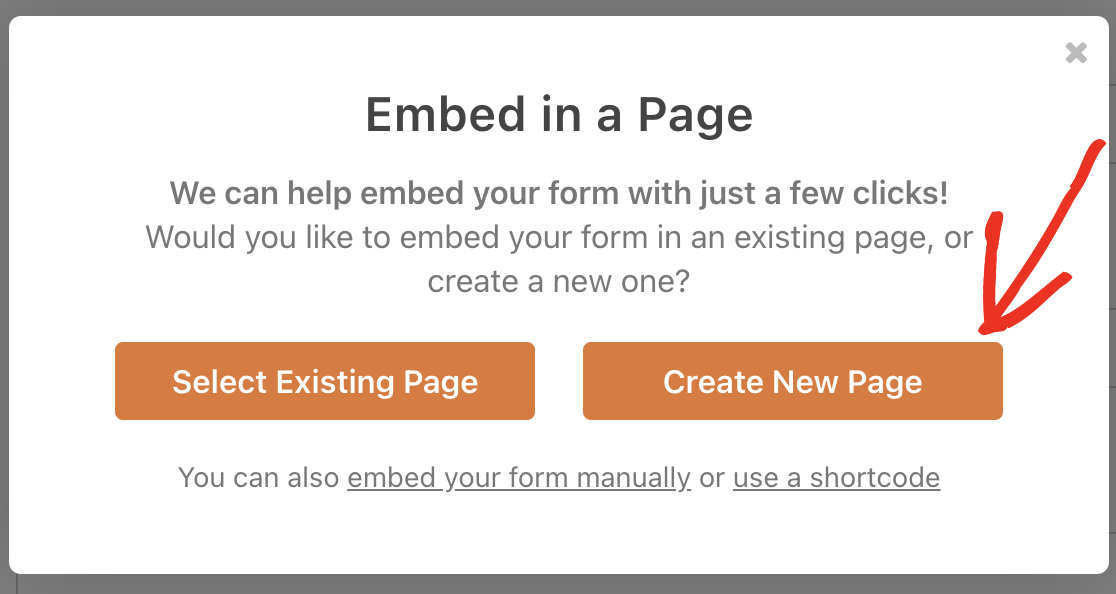 Add a name for your page and click the Let's Go button to create it.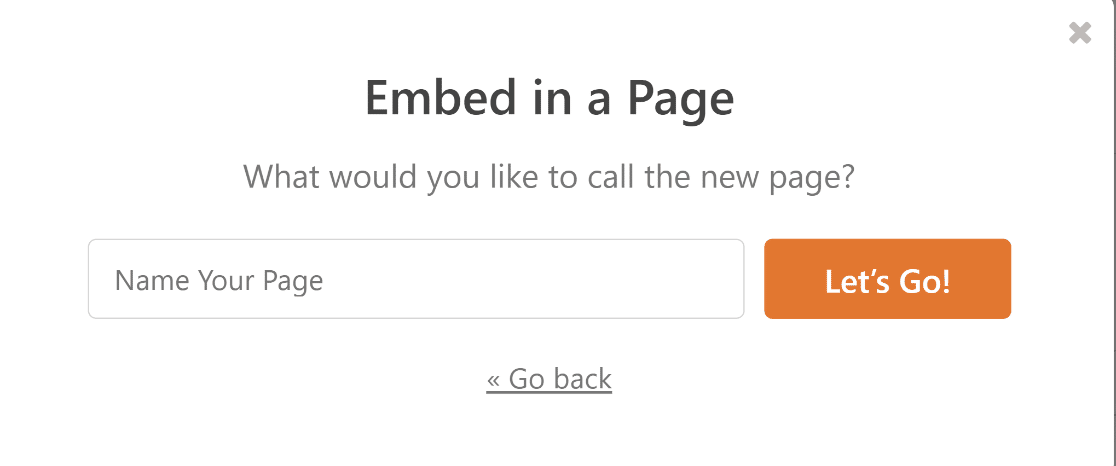 Now you'll be redirected to your page. When you're ready to post your survey, all you need to do is click the Publish button and publish your form.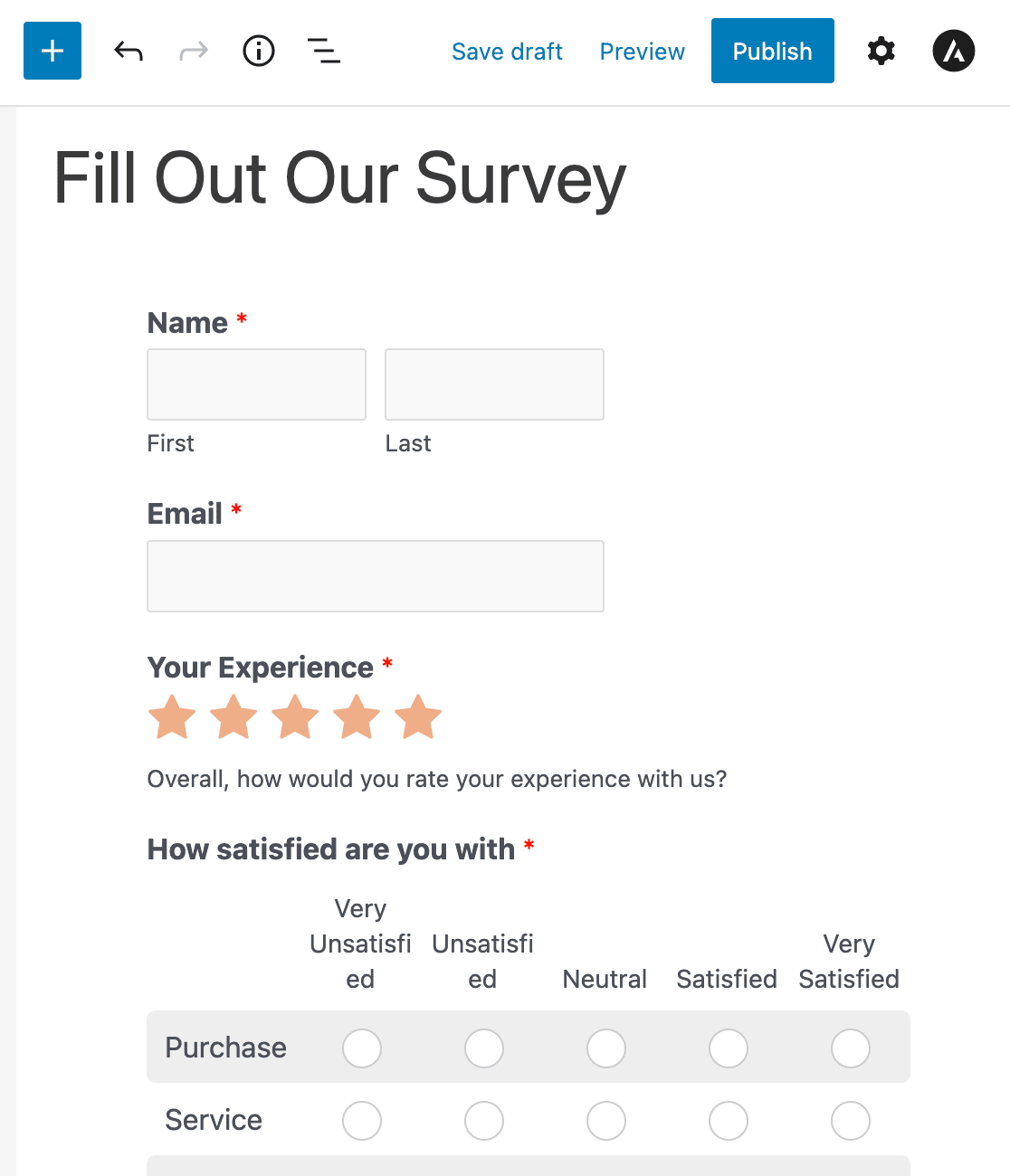 Fantastic job! Now you know how to create a survey online. Let's check out how to view your survey results next.
Step 7: Generate Survey Reports
Once people start filling out your feedback forms, you can see any data that's collected.
To generate a survey report, go to WPForms » All Forms and hover over your form to display the options. Then, click on Survey Results.

The Surveys and Polls addon creates beautiful survey reports and displays real-time insights with the best visualizations for each form field.
For example, here's how your rating survey results might look: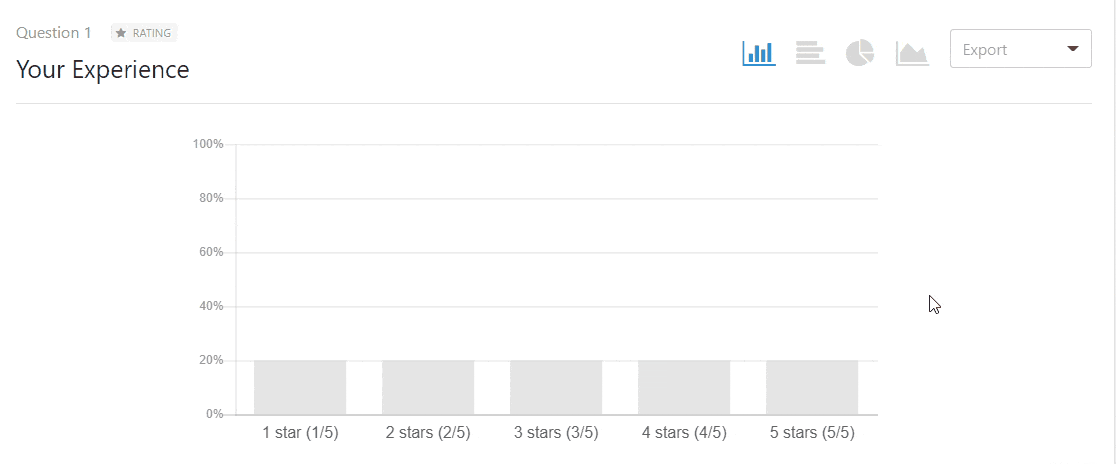 And, here's a Likert Scale survey report: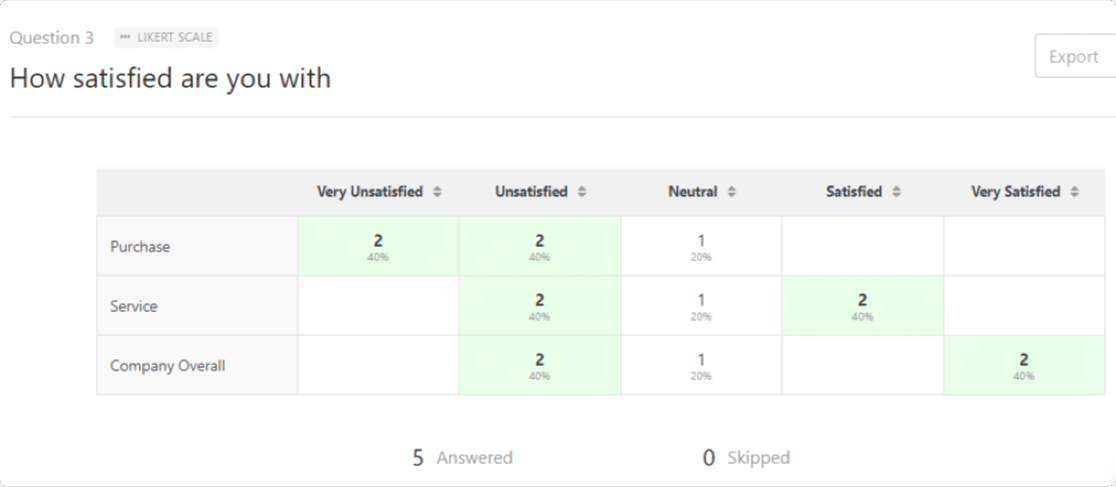 And also, you can export the entire survey report or individual charts as PDF or JPG with a single click.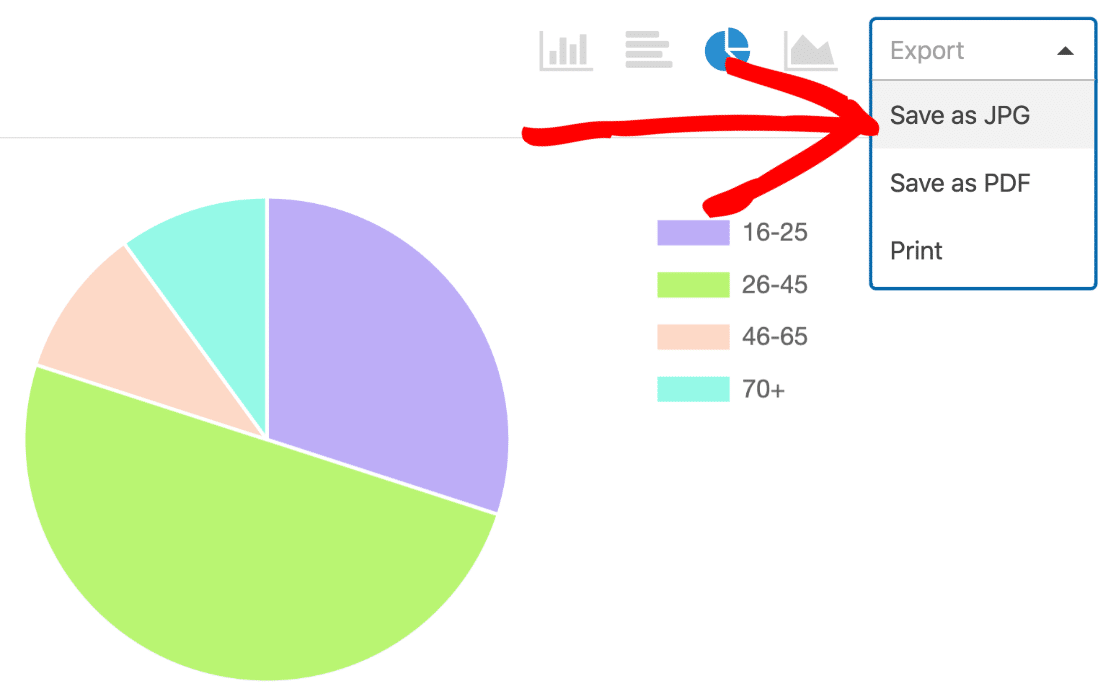 If you want to write up the results for your website, we have some tips on exporting data and then writing a survey report that'll make it easy.
And don't forget, with WPForms' awesome functionality, you can also connect your forms to your small business CRM software like Salesforce, Zoho, and more too.
FAQs on Creating Simple Surveys
Do you want more hints and tips on creating a simple survey? We've got some answers below.
How Can I Create an Effective Survey Form?
To create an effective survey form, be sure to lay out your fields in a way that encourages the user to complete the survey. Check out our tips on form layout best practices to learn how to use different layouts to minimise fatigue and survey abandonment.
You should also ensure you get a balanced mix of respondents. We've got an article on the best demographic questions to ask that'll help with that.
How Do I Create a Survey on Facebook?
The easiest way to create a survey on Facebook is to publish a survey form on your website first, then link to that form from Facebook.
We recommend this method because you get much more control over the data you collect.
With WPForms, it's also easy to export your survey data to Google Sheets. This allows you to save the entries to a spreadsheet in real time, and you can then share access to the spreadsheet so other people can see the survey responses.
Can I Create a Survey With a Google Form?
Yes, it's possible to create a survey using Google Forms. However, we recommend using WPForms to collect responses, then exporting your form data to a Google Sheet automatically.
This allows you to combine the power of WPForms Pro and its surveys and polls tools with the convenience of Google Sheets for analysis.
Next, Get More Survey Responses
Now that you know how easy online survey creation is and you're ready to build your survey or questionnaire, check out how to increase your survey response rates so you can get the most out of your online survey and the WPForms survey tool.
Also, consider checking out our tutorial on creating a survey popup form for even higher conversions.
Create a WordPress Survey Form Now
So, what are you waiting for? Get started with the most user-friendly WordPress forms plugin at affordable pricing, and start using the online survey tools today. WPForms Pro comes with a free online survey maker and a 14-day money-back guarantee.
And don't forget, if you like this article, then please follow us on Facebook and Twitter.