Want to learn how to add matrix questions to your surveys and polls?
Asking your site visitors to rank your performance is a great way to group similar questions and visualize visitor feedback.
In this article, we'll explain how to create a matrix question in a WordPress form.
Click Here to Create a Survey Form Now
Here's a table of contents so you can quickly skip to the right section:
What Is a Matrix Question?
A matrix question is a survey question with multiple rows. All of the rows in the question have the same answer choices.
For example, you can ask your visitors to rate different aspects of the customer service you provide on a scale from 'Very Satisfied' to 'Very Dissatisfied'.
Matrix questions are useful for many types of surveys.
Use them when you want to:
Gather feedback at the end of an event, like a training course or a conference
Understand how customers feel about the products or services you sell
Group similar questions to make a form more compact.
It's easy to create a survey form in WordPress and collect feedback from any page or post on your site.
How to Create a Matrix Question
Let's go ahead and create a matrix question so you can gather some feedback from your visitors.
Step 1: Create a New WordPress Form
Start by installing and activating the WPForms plugin. If you need help with this step, see our guide on how to install a plugin in WordPress.
Next, install the Surveys and Polls addon in WPForms. In the WordPress dashboard, click WPForms » Addons and find the Surveys and Polls Addon.
Click Install Addon, then click the Activate button.

You'll need to create a form in WPForms before moving on to Step 2. If you need help, read this tutorial on how to create a form in WordPress.
Step 2: Add a Matrix Question
In WPForms, matrix questions are called Likert Scale questions.
A Likert Scale is a type of matrix question that assigns a weight to each answer choice. If you want to know more about Likert Scales, read our tutorial on how to add a Likert Scale to your WordPress forms.
To get started adding matrix questions to your form, head to WPForms » All Forms. Edit the new form you created in Step 1.
Expand the Fancy Fields dropdown, then drag the Likert Scale field from the left-hand panel to the right-hand panel.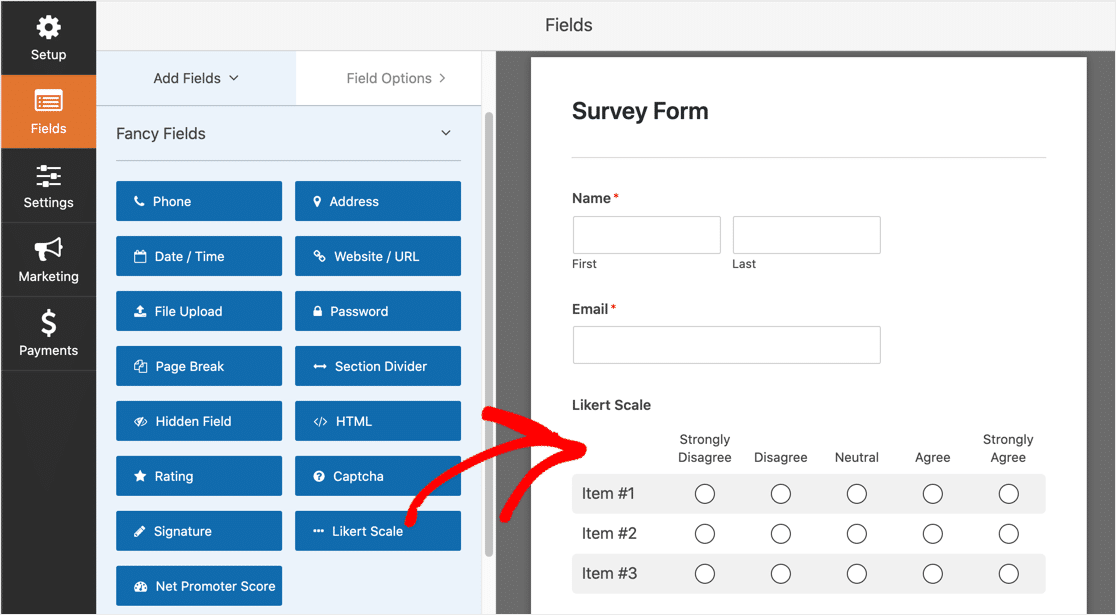 Next, click on the new Likert Scale field to customize it.
Step 3: Customize Your Matrix Question
The first thing you'll want to do is edit the Label. We've labeled our field 'How would you rate our service?'.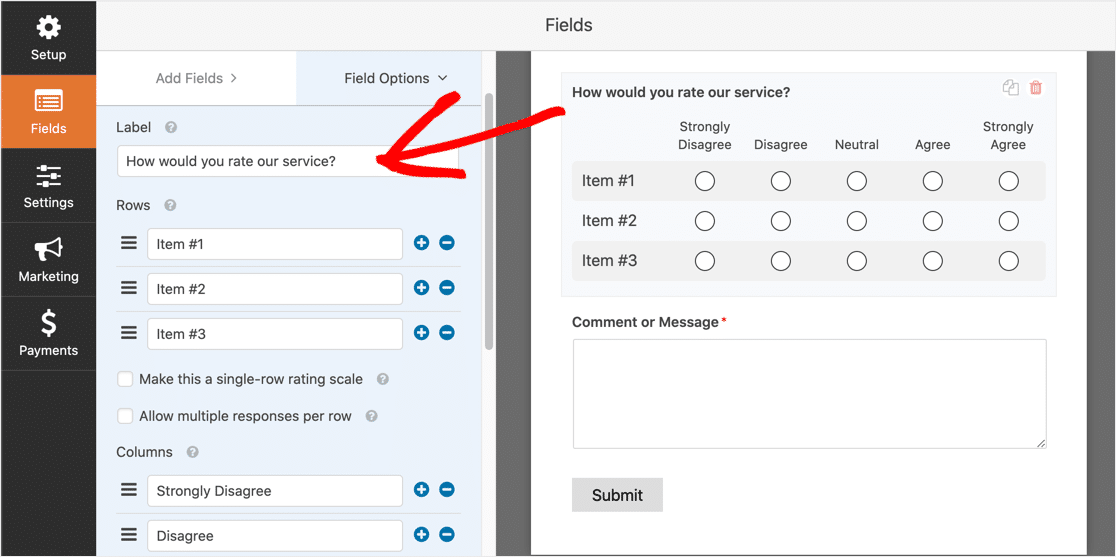 Next, customize the text in each row. You can use the plus and minus icons to add or remove rows.

If you type short text in each row, your survey will be easier to read.
Now we can customize the name of each answer choice.
Scroll down to Columns in the left-hand pane and type in the answer choices you want your visitors to choose from.

If you're gathering feedback on something, 5 choices are usually enough. If you add more answers, it might be difficult to draw a solid conclusion from the answers. If you want to know more about this, check out these questionnaire examples.
Don't forget! You'll also want to tick the Required field if you want everyone who submits the form to answer the question.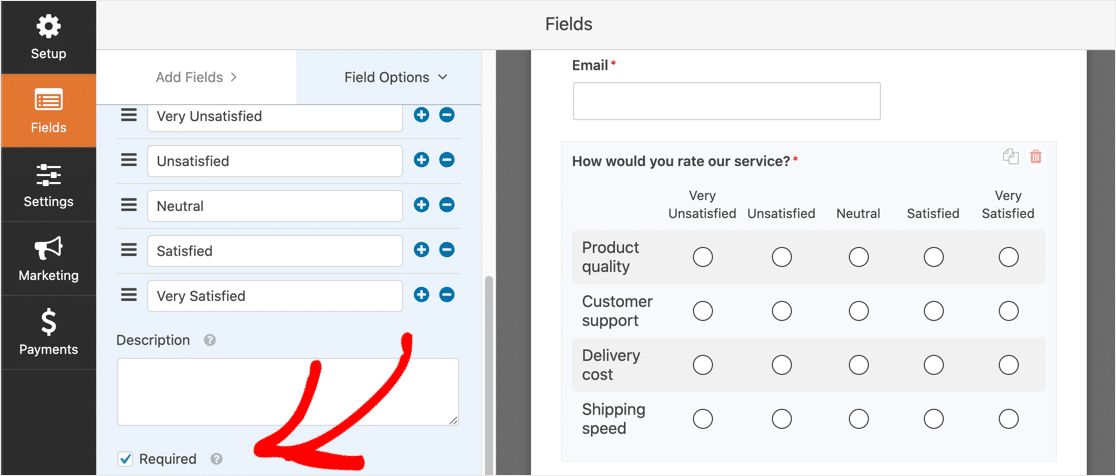 It's a good idea to have an odd number of answer choices in your matrix questions. That way, a visitor can still answer the question if they don't have a strong opinion.
Be sure to click Save when you're done.
Here are a few other customizations you can try:
Change the size of the field
Change the style of the matrix question
Add smart conditional logic to matrix questions so that you can show or hide parts of your form based on the answers
Allow a user to select multiple answer choices in the same row.

That's it! All we need to do now is add the survey to your website.
Step 4: Add Your Survey Form to Your Website
You can add a survey to a post or page on your website, or in the sidebar.
In this example, we'll create a new page.
Type a title for your page, then click the plus icon to add a new block.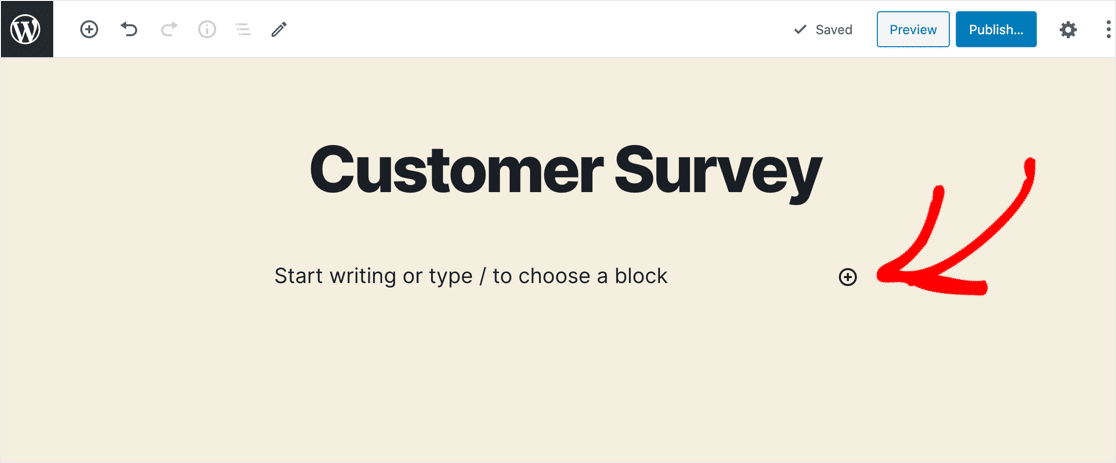 Search for WPForms, then click the WPForms widget to add it to your page.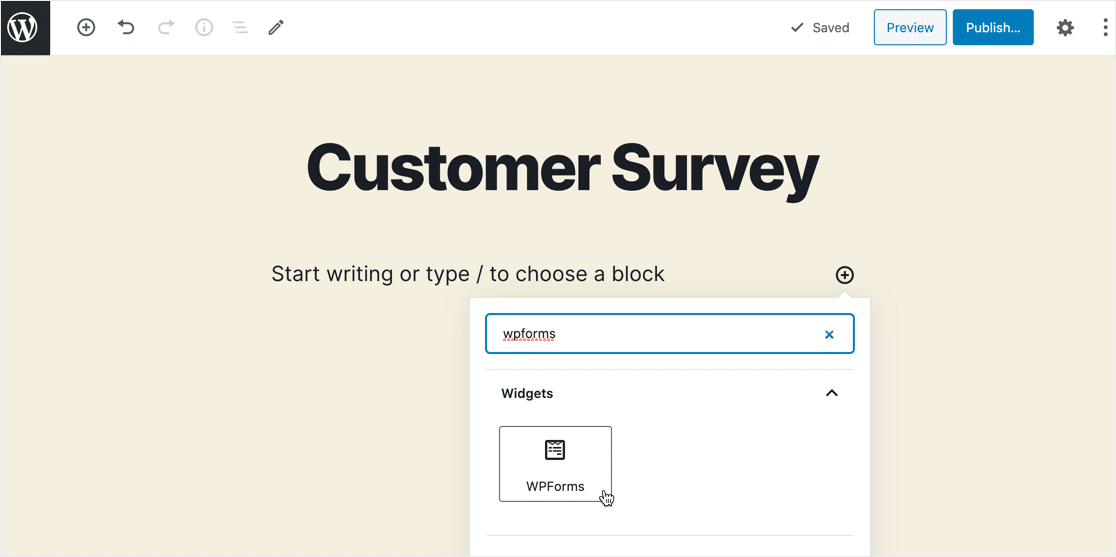 Select the survey form that you created from the dropdown list.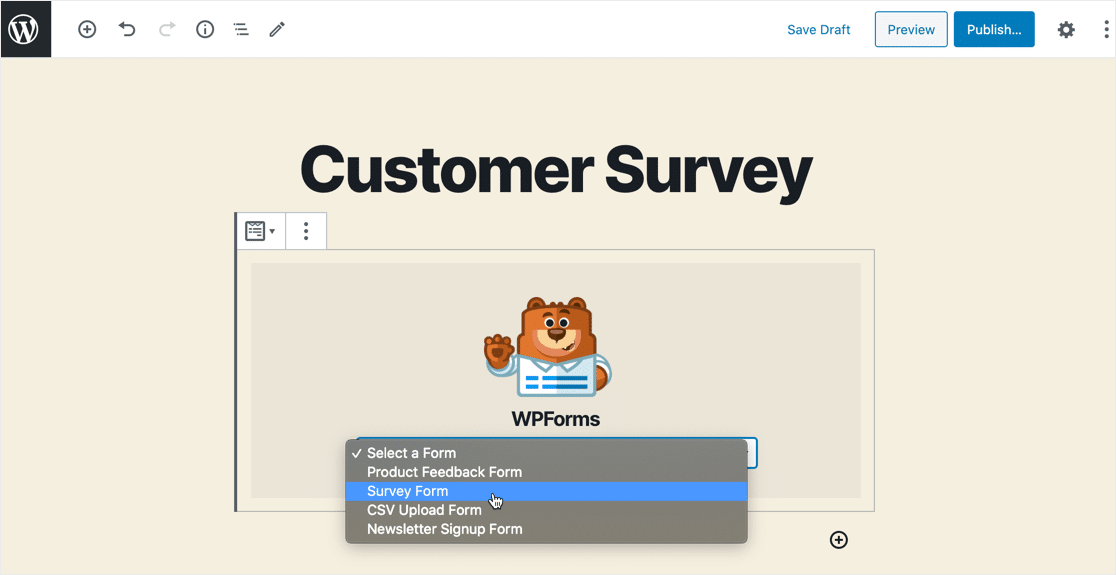 Finally, click the blue Publish or Update button to publish your survey.
That's it! Your survey is live on your website.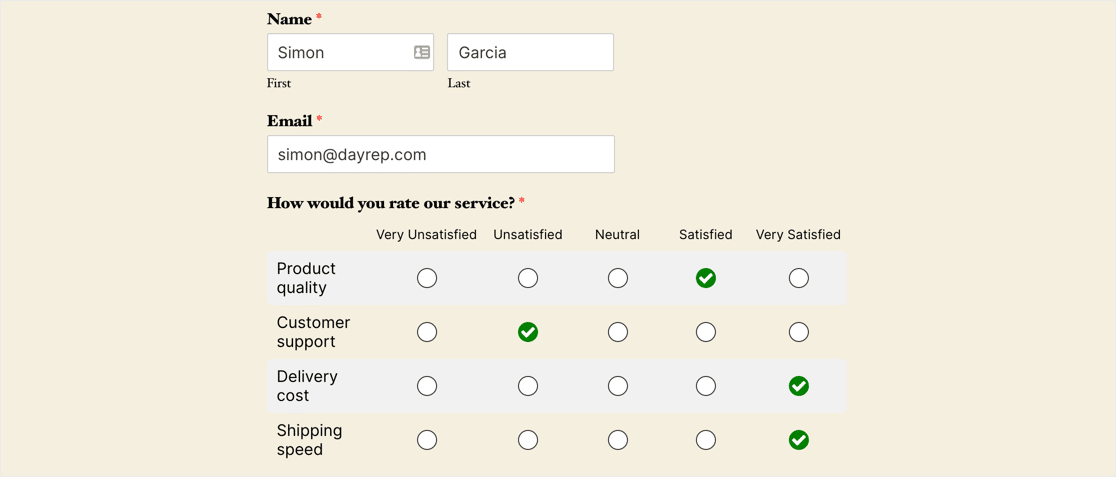 Do you want to put your survey into a popup window instead? Check out our guide to using a popup survey WordPress plugin and learn how.
Step 5: View the Answers to Your Matrix Question
You can view all of the responses to your survey in the WordPress dashboard under WPForms » Entries.
Choose your survey form from the dropdown list at the top to see the answers in a table.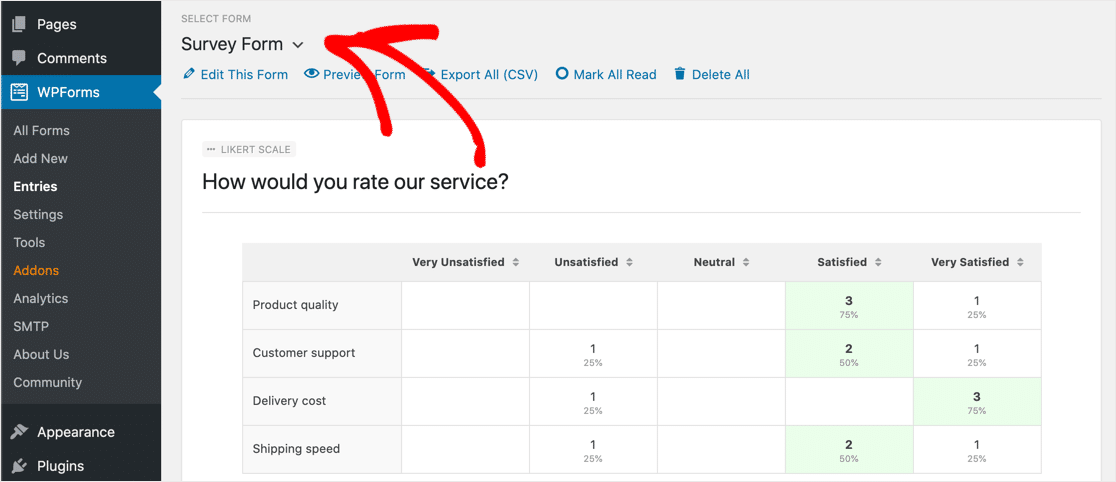 You can also scroll down to see each individual response. Click View to read a response in more detail.

Click Here to Create a Survey Form Now
Final Thoughts on Matrix Questions
You're all set! Now you can add matrix questions to your WordPress forms and gather feedback from your visitors, employees, or customers.
If you're looking for ways to boost engagement, read how to create a 'spin to win' optin campaign.
Get started today! Get the most powerful WordPress forms plugin and get feedback from any page on your website.
If you liked this article, don't forget to follow us on Facebook and Twitter for more free tips and tutorials.