Are you looking for different types of surveys to use on your website to boost growth?
Using different types of surveys on your WordPress site can be a simple and effective way to get more leads, grow your business online, and increase your website income.
Our list below gives details on the best types of surveys you can use on your website to grow your business.
What Is the Best Survey Method?
Before you look at the different types of surveys out there, you might be asking yourself what is the best survey method to use?
Well, depending on your goals and current business issues, the best survey method for your small business is going to differ.
Facing a lot of turnover with your employees? You'll want to try a job satisfaction survey. Want to expand your product offerings and need more ideas? A poll would be a great survey method.
The best type of survey for your business is always going to depend on your needs. So let's go ahead and take a look at all the different kinds of surveys so that you can make the best choice for your website.
If you want to write a report summarizing your survey results, we've got some handy tips for that to help you prepare beautiful summaries.
Types of Surveys to Grow Your Business
Gone are the days of the ineffective snail mail survey. Today, businesses use online surveys to grow. So what are the different types of survey methods?
There are a lot of ways to collect data for your website. Depending on your business needs, you may want to try some of these popular types of surveys:
1. Job Satisfaction Survey
A job satisfaction survey is a great way to see if your employees are happy with their working environment.
You can let your team know in a meeting you're sending these out, and hopefully get lots of people completing them (especially if you let people know they are anonymous).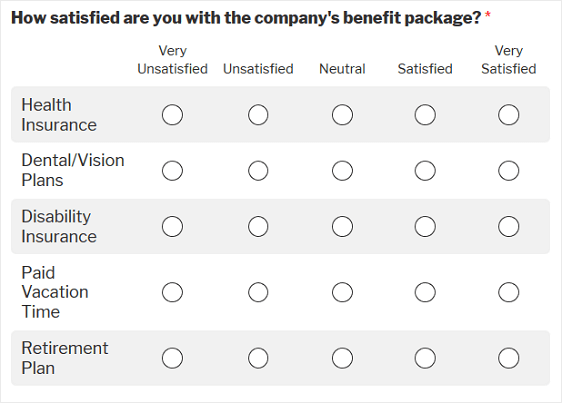 Once you have an idea of how happy people are with their jobs, you can use their feedback to improve the atmosphere. Take a look at what scored low on the employee satisfaction survey and work on improving those things first.
2. Brand Awareness Survey
Does it feel like you're spending a ton of time and money on your marketing efforts but you can't really tell if they're working? A great survey type to try on your website is a brand awareness survey.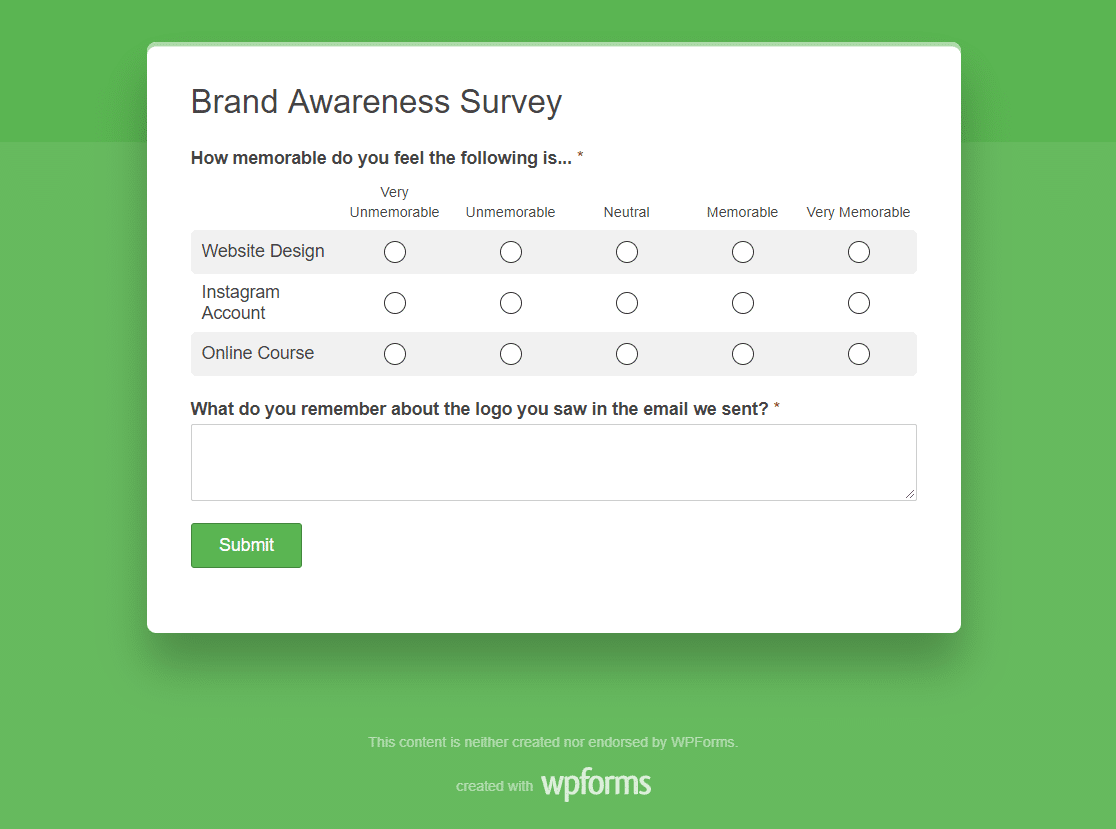 By conducting a brand awareness survey, you can find unknown associations people have with your brand. This can sometimes lead to new business opportunities for you!
You can also take the opportunity to ask about your logo and other branding pieces like your website's look.
3. Matrix Question Survey
A matrix question survey is a type of survey that can help gather information with closed-ended questions. It uses columns and rows like this:

Also, you can ask your visitors to rate different aspects of the customer service you provide on a scale from 'Very Satisfied' to 'Very Dissatisfied'.
Check out these examples of great customer surveys to get some inspiration.
4. Poll Style Survey
Poll style surveys with closed-ended questions have great response rates. That's because they are quick to fill out and don't require much time commitment.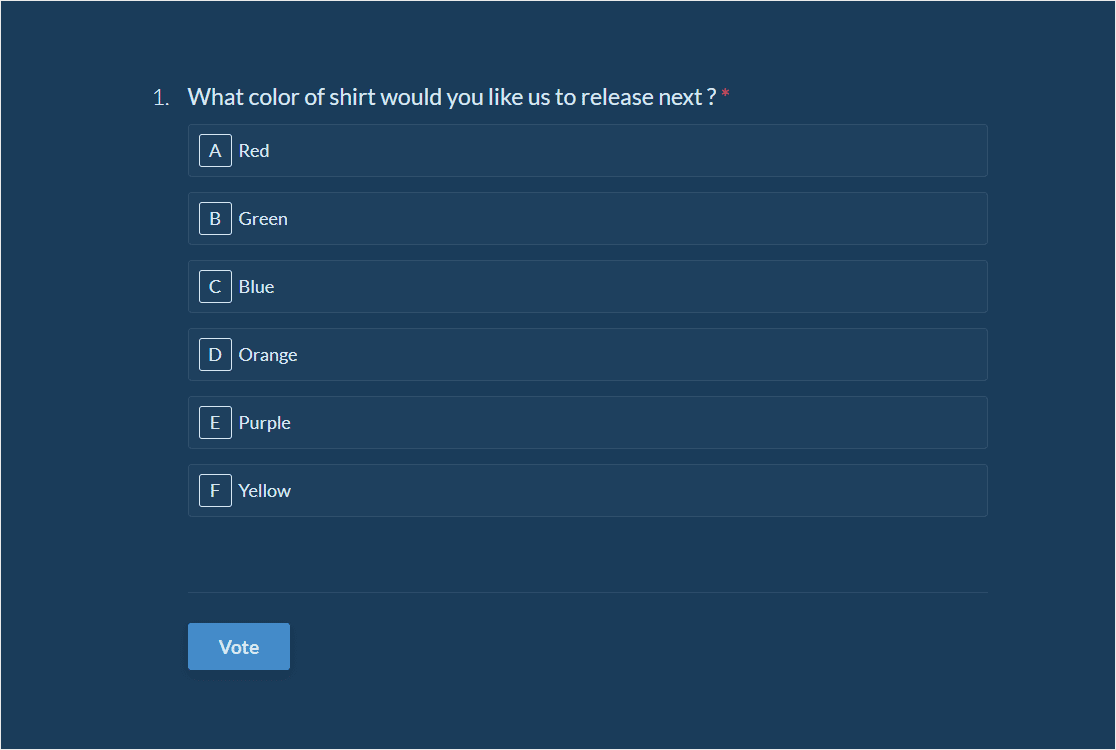 You can even conduct a poll survey without asking for an email address, so users can complete the survey in just a click.
5. Questionnaire Survey
A questionnaire survey type should give clear instructions, be brief, and be specific.
An administered questionnaire can be done with a survey plugin like WPForms to gather a variety of different feedback from your customers and website visitors.
6. Customer Satisfaction Survey
One of the most popular online surveys you'll come across when looking at survey types is the customer satisfaction survey. That's because customers are crazy important to the success of any business.
Check out the survey example below made using conversational forms.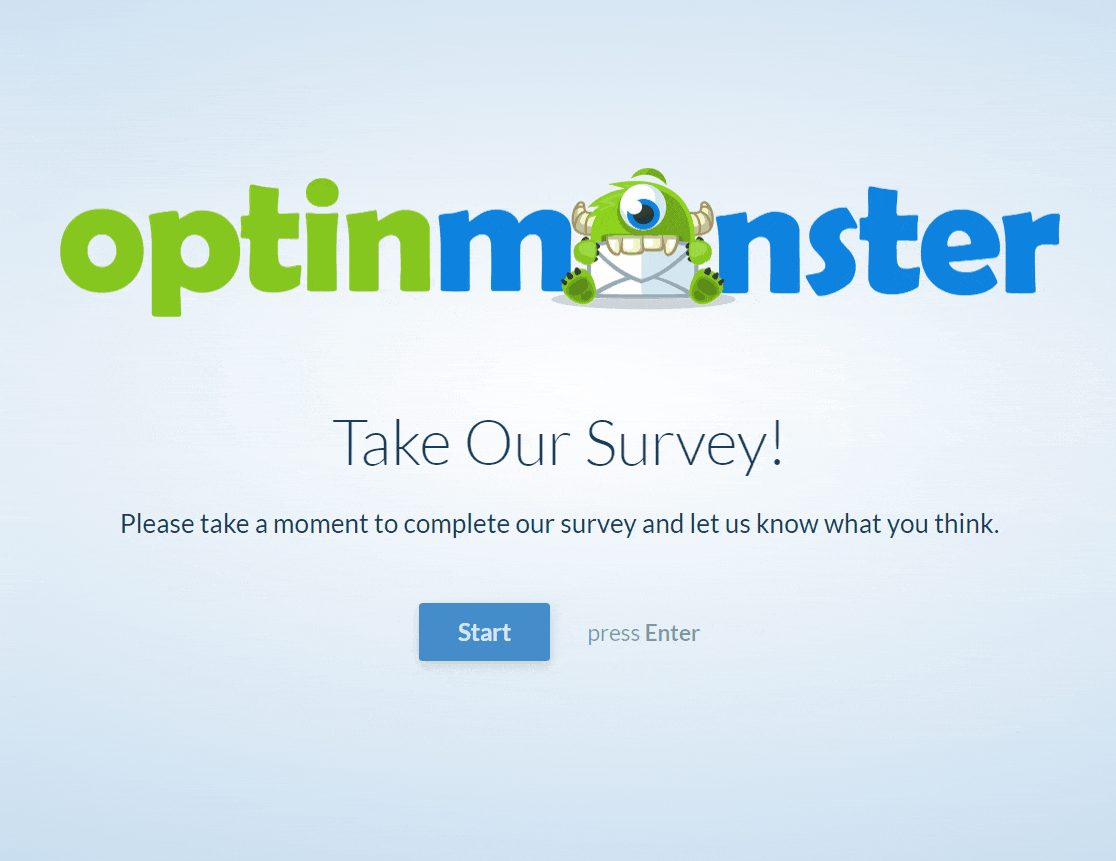 Or you can create a popup customer satisfaction survey with UserFeedback.
A customer satisfaction survey helps you understand your customers needs and wants, so that you can provide them with those things. And, hopefully this helps grow your business.
7. Exit Interview Survey
You may sometimes lose employees, it's just a part of being a business owner. But many times, you can use the experience as a learning opportunity by conducting an exit interview survey.
Turnover can cost you quite a bit of money in your small business. So an exit interview survey can help you get ideas for improvements to keep employees around. And you might be surprised what you learn about what's going on inside your business by asking people who are leaving.
Check out these examples of exit survey questions to get some inspiration.
8. Lead Generation Survey
A lead generation survey can be an incredibly powerful type of survey. It gathers contact info to add to your email marketing list plus help with your lead generation efforts.
At the same time, you can qualify and segment your leads by finding out which service they are interested in, and sending them to a different list based on their survey responses.
9. Net Promoter Score (NPS) Survey

NPS surveys are a very useful type of survey you should definitely be using for your business. Using a score of 0 to 10, you can measure the willingness of customers to recommend your products or services to other people.
And, we suggest you set them up with conditional logic. So a paragraph text box will show up  asking for more details or for a testimonial based on the rating they give.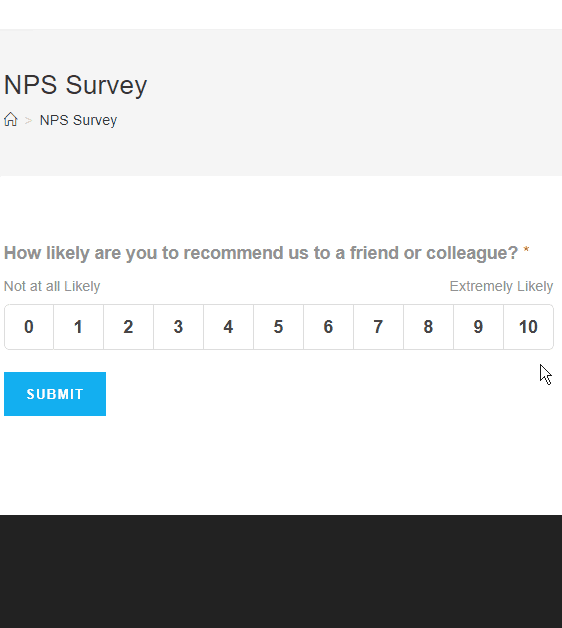 10. Market Research Survey
If you really want to dig into what consumers think about your products and services, a market research survey is a great choice.
You can get an idea about if your products and services are reasonably priced. Or, see how aware people actually are about your brand. Overall, you'll discover strength and weaknesses on your products, so that way you can develop a course of action to make things better,
11. Likert Scale Survey
A really fantastic version of the matrix type of survey is a Likert scale survey.
A Likert scale is a rating scale used to measure people's experiences or opinions. It gives users a balanced scale of choices on either side of a neutral option. That way, you can find out the degree of someone's opinion on a specific question. This is helpful with data visualization, too.

12. Open-Ended Survey
Why not add paragraph text to your survey to keep things open-ended? Just remember, open-ended questions can be time consuming to read through and collect data on.
However, these types of surveys can still be a great way to gather specific details on your product or service from your audience.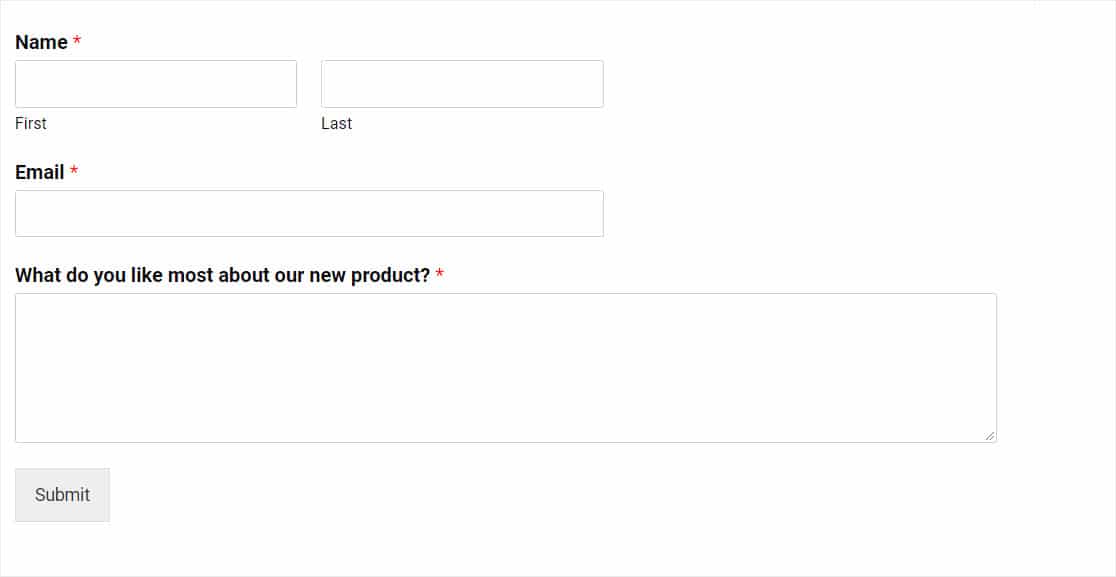 13. Cancellation Survey
Keeping customers is just as important as finding new ones.
So it's a smart business practice to create a customer cancellation survey in WordPress. This is the type of survey that's like an exit interview, but instead of employees you're asking customers why they're cancelling a service with you.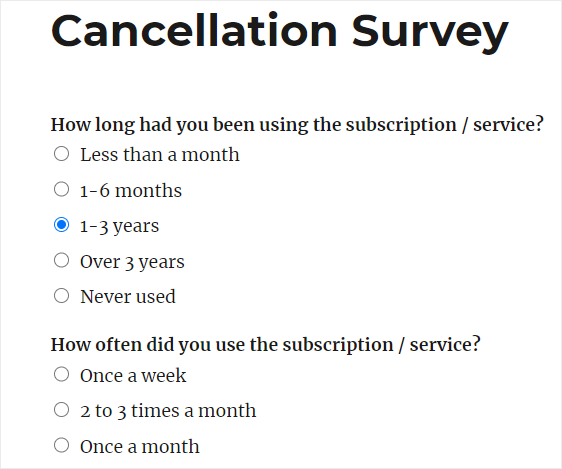 14. Anonymous Survey
If you're looking for public opinion on your survey questions, sometimes it's best to keep it anonymous!
It's the anonymity factor that really helps boost people's interest in taking these kinds of surveys. This increases engagement from people because they can contribute to the survey without having to give anything up except for their time.
It's super important to create this type of survey so that you can try and gather and look into reasons why your services or products aren't working out for people.
Using The WPForms Surveys and Polls Addon
You can use the gathered data from your survey questions to get a great idea of what your target audience likes and dislikes about your business, so you can make needed changes.
The easiest way to do this on WordPress is with the WPForms Pro plugin. And WPForms Pro has tons of features you can use to create professional surveys for your website, including the Survey and Polls addon.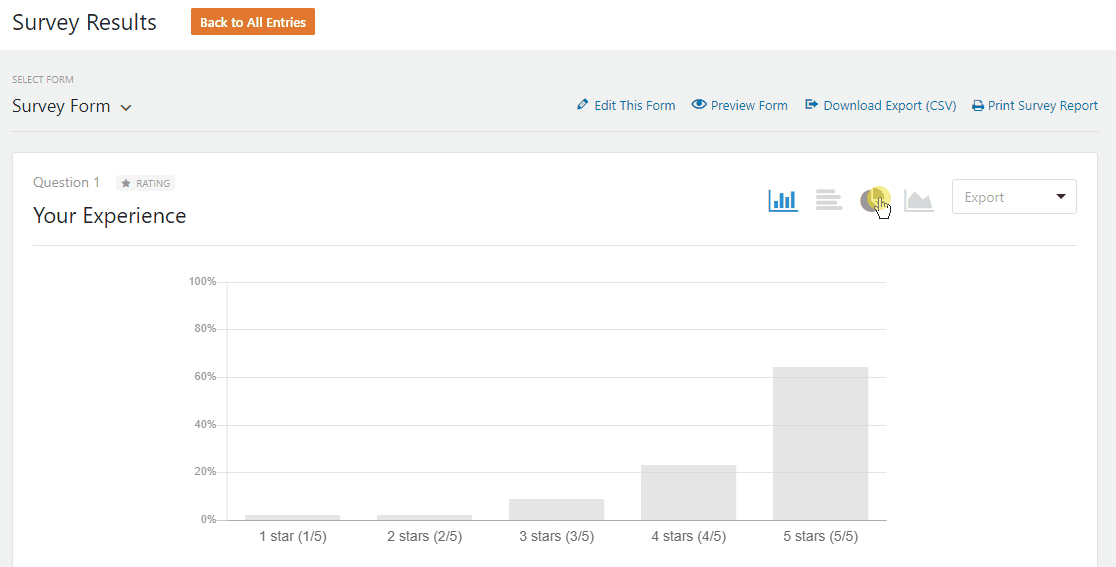 The survey reporting feature is stunning and makes it simple to see your data on an easy-to-use reporting dashboard. The addon lets you create engaging surveys that your website visitors and customers will love to fill out.
Features:
Easy to Use — WPForms is the easiest to use survey form building plugin on the market. It makes adding all kinds of types of surveys quick and simple with a drag and drop builder.
Survey Templates — Includes free survey templates with or without conditional logic to make simple or advanced types of survey forms.
Customizable — The robust features of WPForms lets you add multiple fields to your forms for different functions. Easily include survey fields like text fields, dropdown fields, checkbox lists, radio buttons, star ratings, and more.
Many Uses — Everyone needs a contact form on their website. Good news, WPForms lets you make simple or advanced forms for all kinds of things on different types of surveys.
Email Notifications — You can send an email to the person completing the poll or survey form to confirm that their entry has been received, or even to yourself or business partners with Email Form Notifications.
Beautiful Reports — The survey reporting dashboard is gorgeous. It offers different chart types including lines, pie chart, and bar graphs, all easily accessible from your WordPress dashboard.
Conditional Logic — The smart Conditional Logic feature lets you hide or show questions based on previous answers, keeping your survey clutter-free and modern.
Create Your WordPress Survey Form Now
Final Thoughts
That's it! Hopefully, this list helped show you the different types of surveys you can use to grow your business. One thing to keep in mind is that each of these forms can be designed to show one question at a time, which can be great for user experience.
And ince you're conducting surveys on your website, be sure to peek at this list of the top complaints customers have about online surveys so you avoid any potential pitfalls.
We've also got a great post on the best VoIP for small business so you can get everyone on your team their own business phone.
So what are you waiting for? Get started with the world's best form and survey builder today. WPForms Pro includes free survey form templates and offers a 14-day money-back guarantee.
And don't forget to follow us on Twitter and Facebook for more updates from our blog.