Adding an NPS survey to your website? Net Promoter Score surveys are a fantastic way to use customer ratings to see how if your business is meeting their expectations.
In this post, we've listed some great NPS Survey question examples and templates.
Create Your NPS Survey Form Now
What Is a Net Promoter Score Survey?
NPS stands for Net Promoter Score. A Net Promoter Score is a score of 0 to 10 that measures the willingness of customers to recommend a company's products or services to other people.
The main question for these types of surveys is usually a form of this single question:
"How likely are you to recommend our company to a friend or colleague?"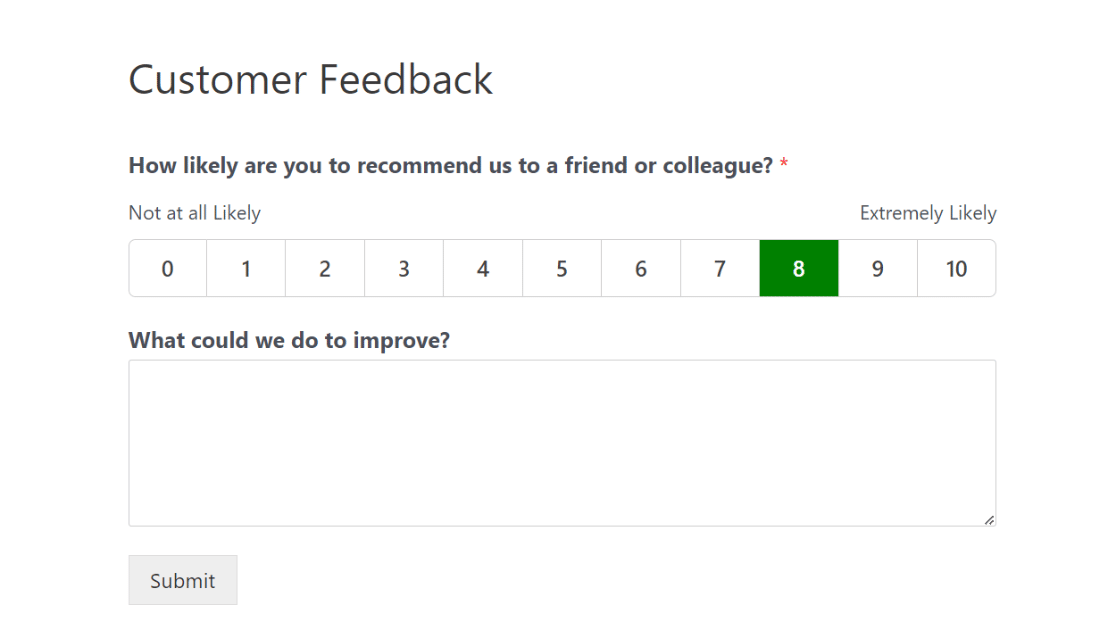 Take a look at our article on how to calculate a Net Promoter Score for more information on the formula used to calculate overall scores.
NPS Survey Question Examples
Here are some NPS Survey question examples to use with your form.
1. What is the primary reason for your score?
Asking this question should give you a direct answer. Its simplicity helps to not overwhelm the user.
If you don't have much time to put an NPS survey together, this question is the most important.
2. What can we do to make things right?
This is a great question if someone gives you a less-than-great rating. You can use conditional logic to display it if the score is below a certain number.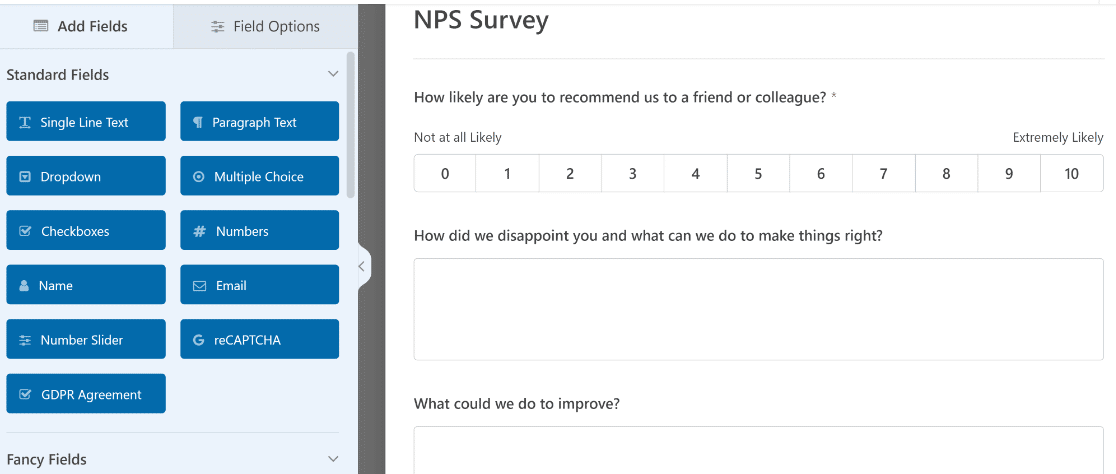 It's super important to take action when you're given a negative rating. It shows that you care about you customers' success.
Even if your product isn't perfect, you can gain a lot of respect and fans from showing you're humble, always listening, and working to improve.
3. What could we do to improve your experience?
This more open-ended question may get a lower survey response rate, but the responses you get might have a lot of helpful details.
We recommend using a paragraph field for this, as shown in this example: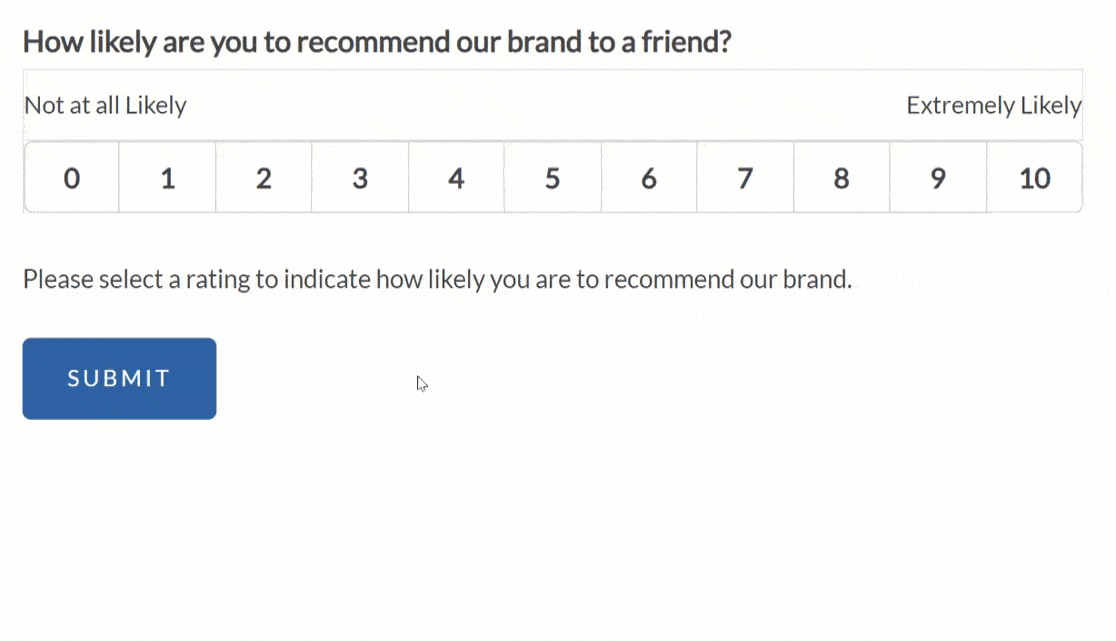 4. Which features do you use the most?
You may offer a product with multiple features. If so, this is a great question to ask. It can help you figure out which features and updates to prioritize.
This question can be asked to everyone.
5. What do you like the most about our company?
This question is incredibly useful. When you know what is working best with your company, you can make sure you're doing even more of that.
6. What do you like the least about our company?
Just like the last suggestion, when you know what isn't working with your company, you can improve it.
This question can help you spot potential patterns of something negative impacting your business that you may have not been aware of until seeing your survey results.
7. Was anything missing from your experience?
You may feel uncomfortable asking this. And you may get some responses that are really direct. But constructive criticism from your customer is not only really important, it's also insanely valuable.
Once you see a pattern and learn what may be missing from your customer experience, it's that much easier to fix it.
8. What could we do to make you say 'WOW'?
This is a great question to ask to get some shocking answers. Some people might say things that they think are impossible. This will get you some really great business ideas that may surprise you.
And this question has a fun little psychological secret — it makes it about the customer instead of the business!
9. What did we do well?
This open-ended question is a variation of some of the other questions. But, it's a great one to use for positive scores.
As you can see, NPS surveys open up a lot of possibilities and different open questions. But the really important field is the NPS field itself.
Once you have those numerical scores, WPForms performs the NPS calculation for you:

And it will also output your results in different charts: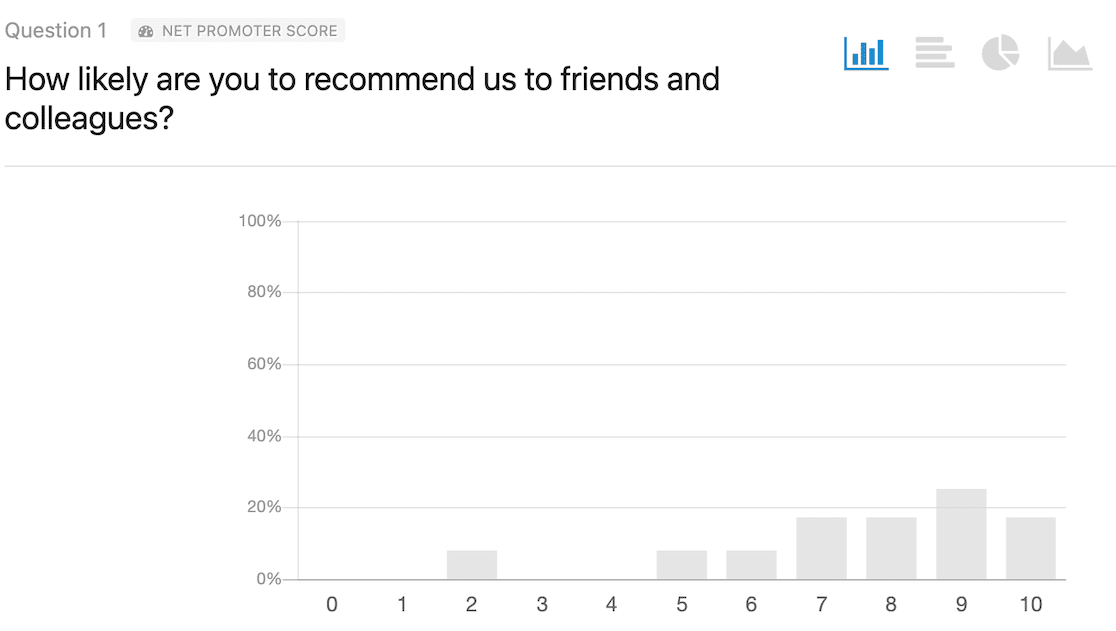 Where Can I Find NPS Survey Templates?
We recommend checking out our feedback form templates to see the NPS field in use on a real form.
If you're ready to start making your survey, you'll want to get the Survey and Polls addon from WPForms Pro right away.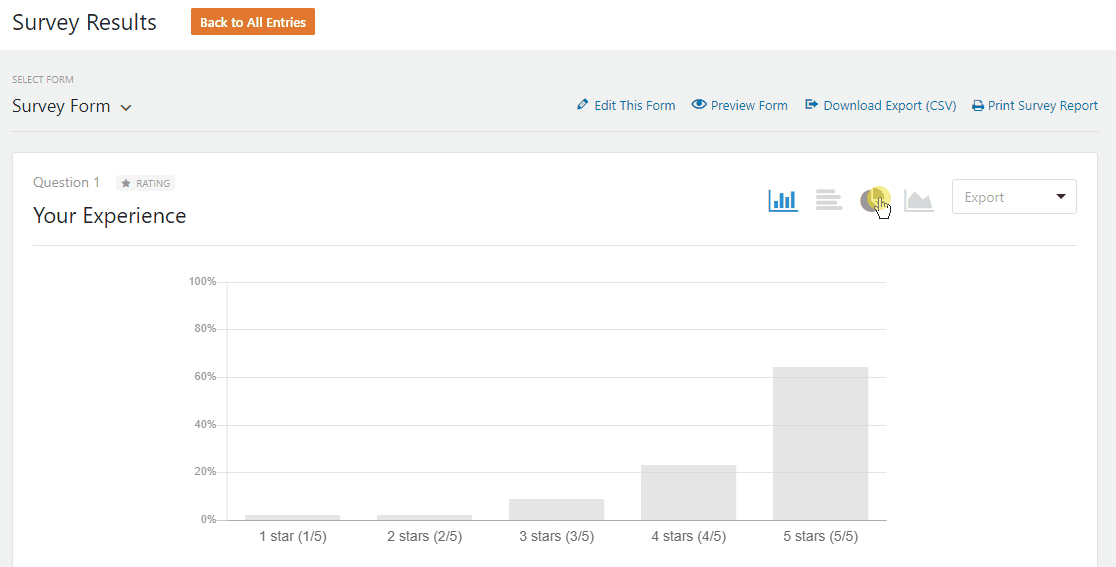 Not only is WPForms the best WordPress form plugin in the world, it's also the best survey plugin to create an NPS survey to see how your customers feel.
It lets you create engaging surveys that your website visitors and customers will love to fill out.
The survey reporting feature is stunning and makes it easy to see your data on an easy-to-use reporting dashboard.
Features:
NPS Survey Templates — Includes free NPS Survey templates with or without conditional logic to make simple or advanced NPS Surveys.
Easy to Use — WPForms is the easiest to use form building plugin on the market, and makes adding surveys quick and simple with a drag and drop builder.
Customizable — The robust features of WPForms lets you add multiple fields to your forms for different functions. Easily include survey fields like text fields, dropdown fields, checkbox lists, radio buttons, star ratings, and more.
Multiple Functions — Everyone needs a contact form on their website, and WPForms lets you make simple and advanced forms for things like recurring payment forms, donation forms, order forms, and more.
Conditional Logic — The smart Conditional Logic feature lets you hide or show questions based on previous answers, keeping your survey clutter-free and modern.
Email Notifications — You can send an email to the person completing the poll or survey form to confirm that their entry has been received, or even to yourself or business partners with Email Form Notifications.
Create Your NPS Survey Form Now
FAQ – Net Promoter Score Surveys
Since forms and surveys are our specialist subject, we get a lot of questions about the best ways to create survey questions!
Is NPS a good metric?
The answer may vary depending on your business. It's normally a great tool for all businesses, including small business websites. It helps you get a high-level feel for the customer journey from their point of view.
The best way to use these surveys is to use conditional logic to create different questions beneath the score. That way, you can ask someone who rates your company as 1 a different follow-up question than somebody who rated your company 10 (their answers are going to be very different, but equally valuable).
What is the key question to ask on an NPS survey?
Net Promoter Score surveys, or NPS surveys, typically measure customer satisfaction. Therefore, the most important question to ask is, on a scale of 1-10, how likely the customer is to recommend your business to their friends and family.
What is a good NPS score?
If your NPS score is 50 or above, that's excellent. Anything from 20-49 is considered good. 0-19 is poor, and anything below 0 is considered very poor.
How often should I send an NPS survey?
To track your customer loyalty trends over time, you should send your NPS survey at regular intervals, such as quarterly or monthly. Avoid sending them out too close together so that you have time in between to make adjustments based on feedback.
How can I increase participation in my NPS survey?
The most important thing is to keep it brief. If your survey doesn't take too much of someone's time, they're more likely to take it. You can even say that it's a 30-second or 1-minute survey. Offering a chance to win something can also incentivize customers to participate.
How many people should I survey?
If your survey is fairly simple, try to get at least 100 people per survey period.
Next, Write a Survey Report
And there you have it! You now know some great NPS Survey question examples and templates.
Read our guide on writing a summary of survey results to get some tips on how to interpret and present your findings.
So what are you waiting for? Get started with the most powerful WordPress forms plugin today. WPForms Pro includes several free NPS Survey form templates for you to use and offers a 14-day money-back guarantee.
And if you like this article, please follow us on Facebook and Twitter for more updates from our blog.