Looking for customer survey examples to help inspire you? It can be difficult to get your customers to complete your survey. Luckily, there are ways you can make it more enticing and worth their while.
In fact, half the battle is in knowing how to frame your survey to participants.
In this post, we'll look at the best customer survey examples you can use today.
How Long Should a Customer Survey Be?
Survey length depends on the types of questions you ask. For example, if your survey is only 3 questions, but they're all open-ended questions with written responses, that will take longer for the respondent to complete than 3 multiple choice questions.
For a quick customer survey, aim for 3-5 minutes.
Customer Survey Examples You Can Use Today
Now let's look at real-life examples of customer surveys and how you can market them for success. As a note, the first two examples are types of surveys you can use, while the others are ways to use them.
1. Net Promoter Score (NPS) Surveys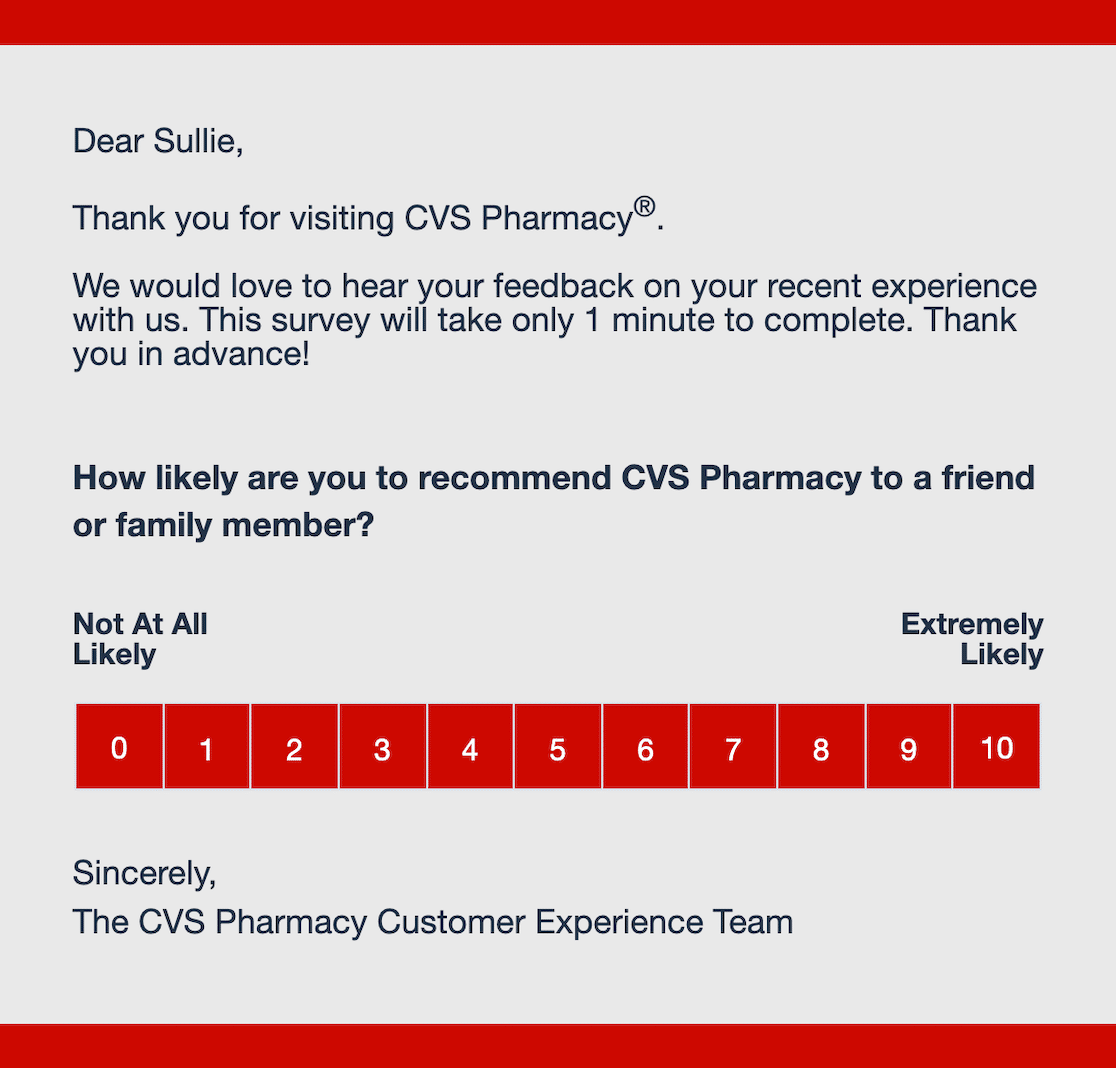 Net Promoter Score surveys measure how likely a customer is to recommend your business to others. They're quick and easy, making them a popular choice for followup emails.
The above example from CVS Pharmacy is embedded in an email to customers who have recently made a purchase. All they have to do is click the number that best corresponds to how likely they are to recommend CVS.
Why Customers Will Respond
There's only one question, so it just takes a few seconds to respond.
How Your Business Benefits
You get your NPS, or Net Promoter Score, letting you know how likely your customers are to recommend you.
You can calculate the score yourself, but to make it even easier, use the surveys and polls addon from WPForms to calculate the score for you. No math needed!
Check out our article on Net Promoter Scores to learn more about the benefits of using this survey. We've got some tips for creating NPS survey questions, as well.
Templates to Try
2. Likert Scale Surveys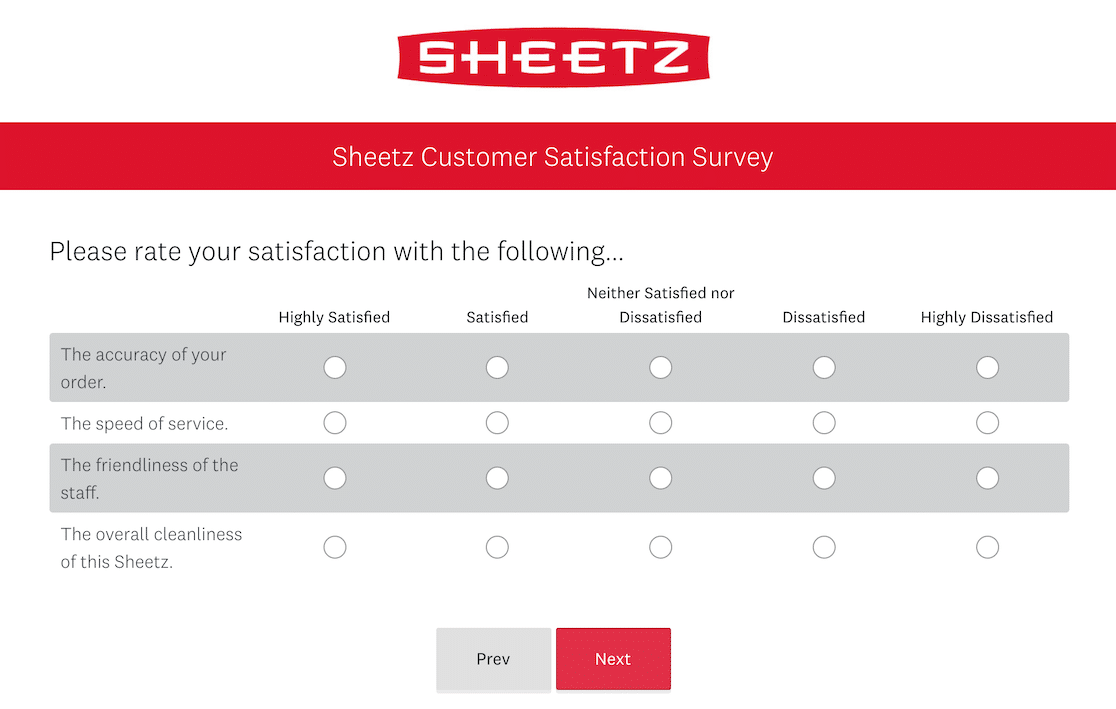 Maybe you didn't know what it was called, but you've definitely seen a Likert Scale survey before. This type of survey asks respondents to answer based on the degree to which they agree with a statement or according to their level of satisfaction.
As you can see in the above example from Sheetz, these types of questions are typically grouped together. That isn't always the case, however. It's also possible to create Likert Scale surveys that ask only one question at a time.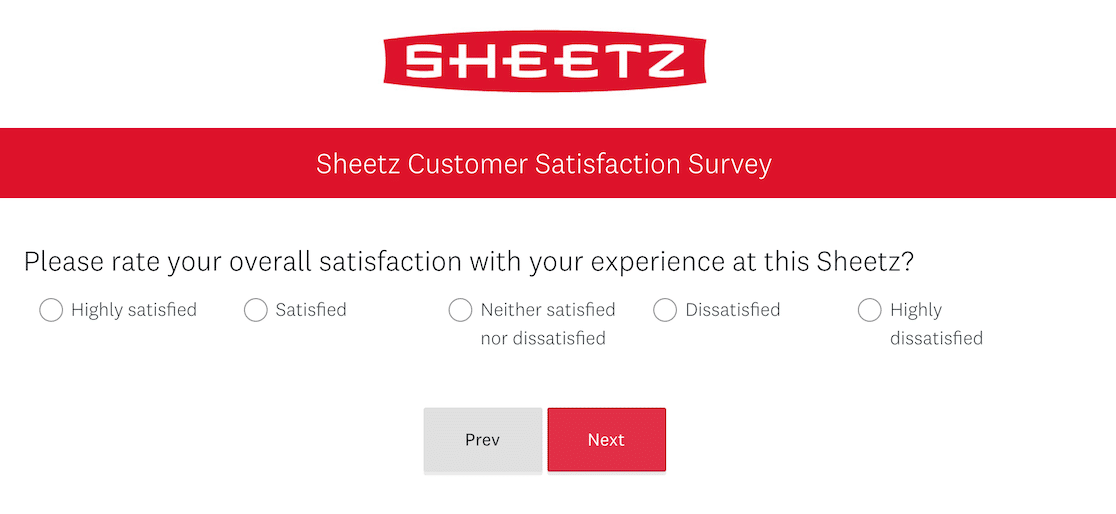 Why Customers Will Respond
It's a simple format. There's enough nuance to their response to be useful, but it doesn't feel like they're sacrificing a lot of time to add that extra insight.
How Your Business Benefits
You get a more nuanced response than you would with a simple agree/disagree question or even an NPS survey. This format is common, so it's one that people understand quickly and know it won't take them long to respond. That familiarity increases response rates.
We've also got some tips for adding a Likert Scale to WordPress.
Template to Try
3. The Promise of Brevity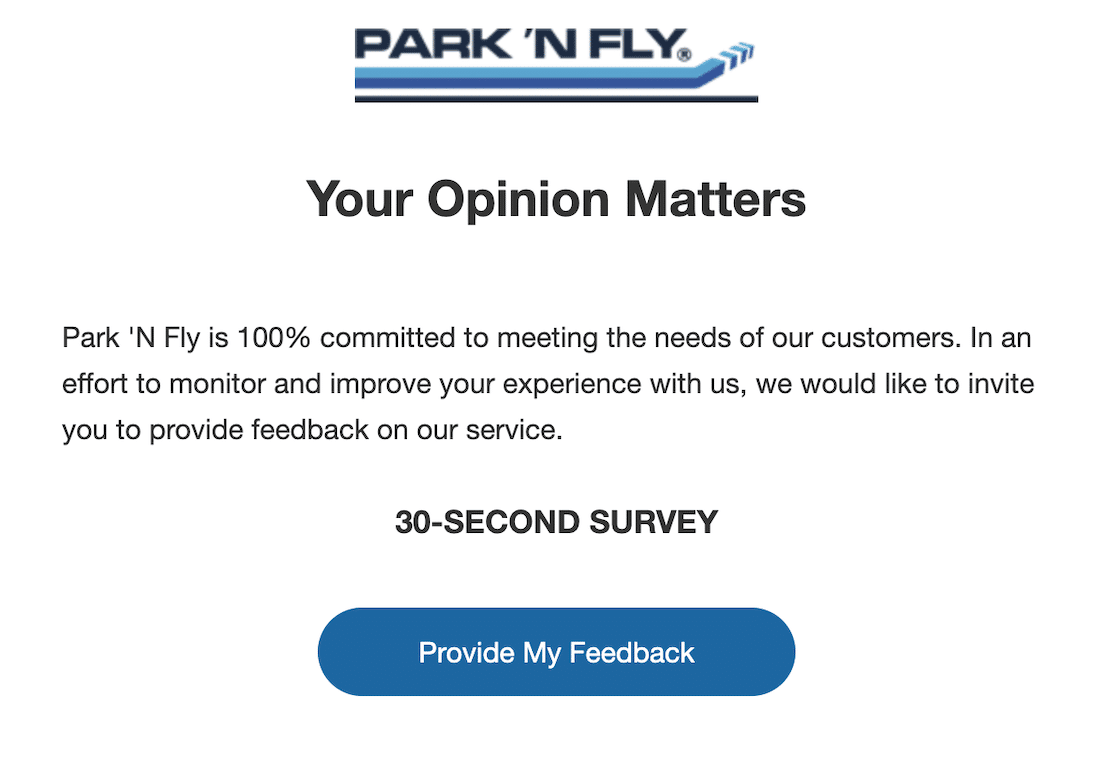 We've all heard the statistics about our rapidly-decreasing attention spans. Unfortunately, this applies to the amount of time customers are willing to spend on your surveys, as well. When you can promise brevity, it's always a good thing.
Regardless of the kind of survey you use, a promise of brevity is appealing to respondents because they know exactly how long it should take them to provide customer feedback. In the above example from Park 'N Fly, that's 30 seconds.
Why Customers Will Respond
It only takes 30 seconds. It's short enough not to interfere with their time too much, but it also gives them a sense of having helped in some way. When brevity is a promise, consider using NPS and multiple choice questions.
How Your Business Benefits
You get more survey responses, which allows you to make informed decisions to benefit your customers.
Template to Try
4. "You Could Win…"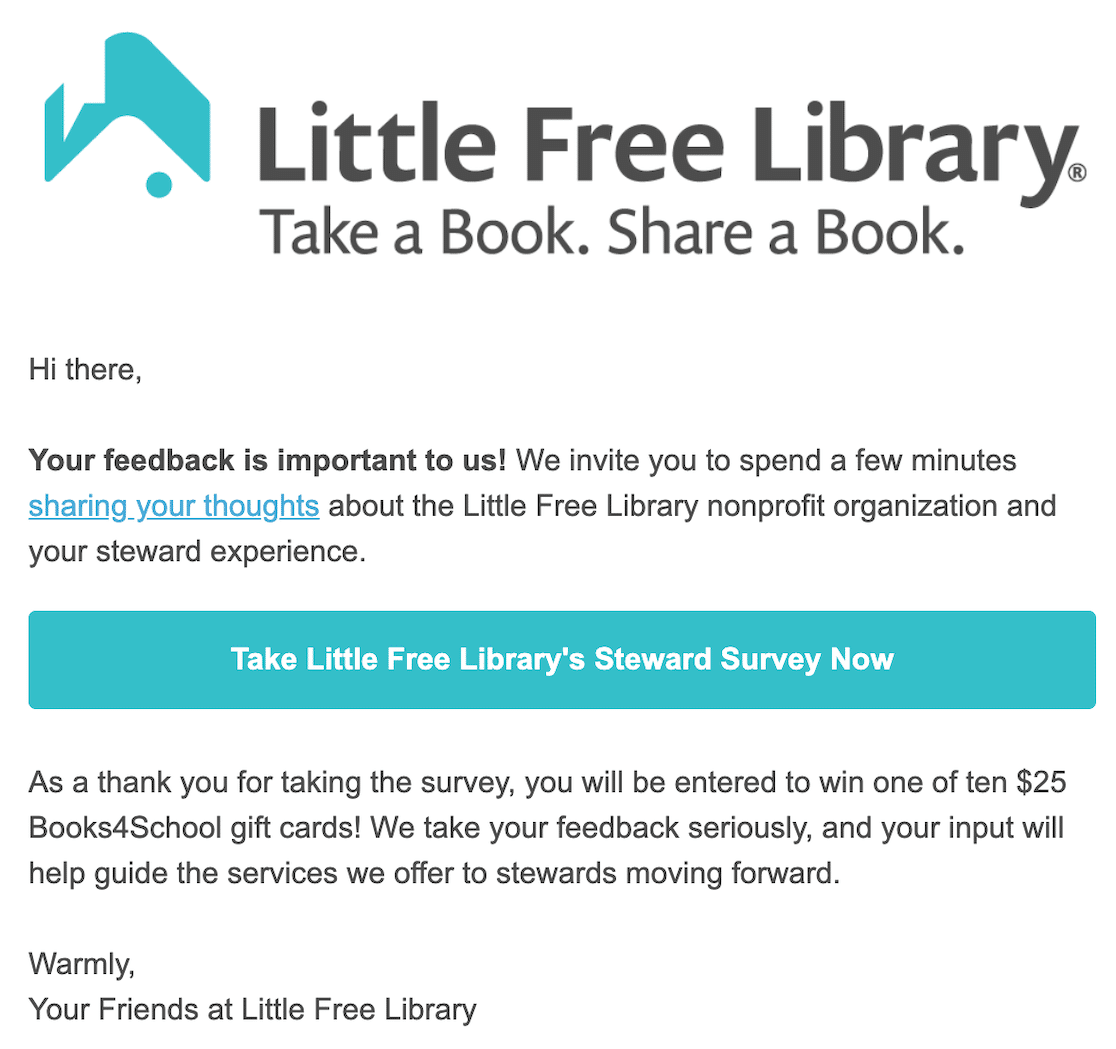 Another way you can entice people to take your survey is with the chance of winning something. Don't underestimate the power of an incentive!
In the above example from Little Free Library, participants are told that if they spend a few minutes taking the survey, they'll be entered to win a $25 gift card.
Want to sweeten the pot? Not everyone has Walmart's budget, but the possibility of winning a $1000 gift card is worth it to many shoppers to spend a few minutes on a survey.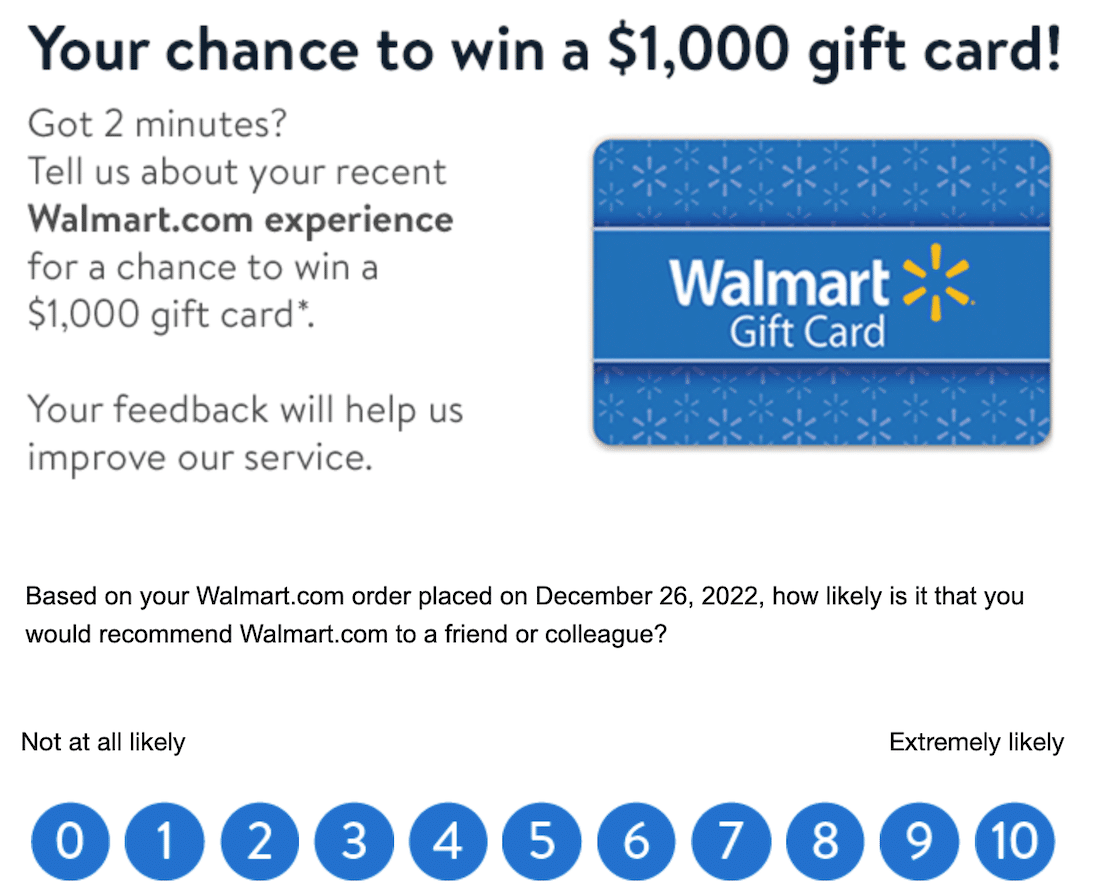 Why Customers Will Respond
Customers will respond because they want to win something. If all they have to do is answer a few questions, even better.
How Your Business Benefits
Incentivizing survey responses with the possibility of reward will definitely increase the number of survey responses you get. That gives you more data to work with towards changes and improvements.
But there's another big plus here, too. Whether you're a small mom-and-pop business or a big box company, giving away gift cards brings business back to you.
Chances are good that the people who win those gift cards will spend more than the card's value. That's true whether you're giving away $25 or $1000.
Template to Try
5. Earn Rewards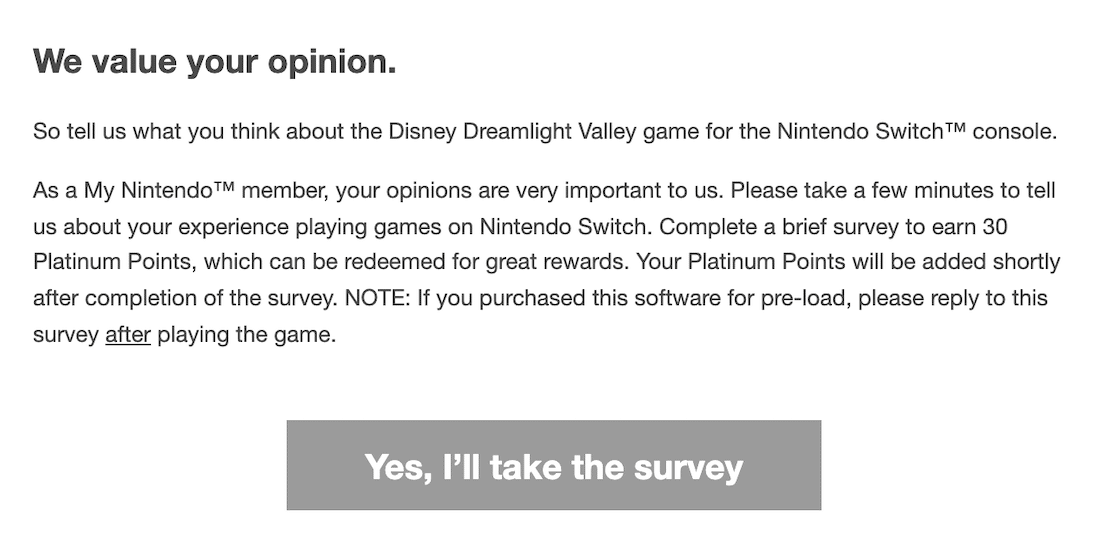 Earning rewards is very similar to offering gift cards or other incentives. The biggest difference is that when you raffle off a gift card, there's only a chance of winning. When rewards are offered, the promise is more concrete.
In the above example from Nintendo, users are offered Platinum Points for responding to the survey. While this isn't real-world currency, the respondent can use it toward rewards on their Nintendo Switch, so it holds immediate value.
Another way you can use this technique to get survey results is by offering discounts.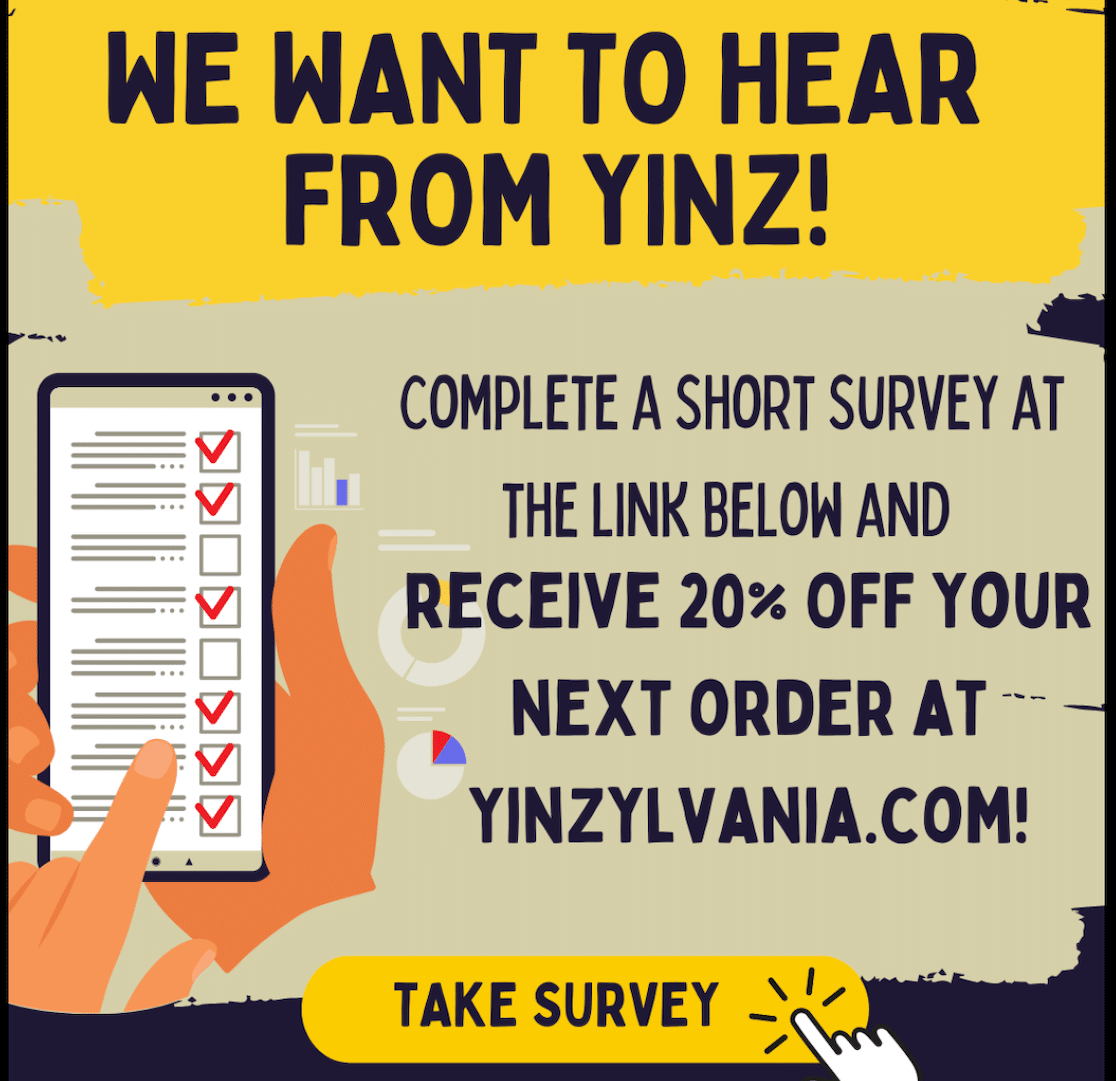 In this example from Yinzylvania, they offer 20% off of your next order for taking the survey. They also use an attractive, eye-catching graphic to get your attention, which is another technique that can help boost response rates.
Why Customers Will Respond
There's a guaranteed incentive. It's really that simple. When the incentive is worth their time and gives them something in exchange, they'll take the survey.
How Your Business Benefits
Like the chance-to-win technique, guaranteeing an incentive doesn't just increase your response rate. It also greatly increases the odds that the respondent will be doing business with you again soon.
Maybe they weren't planning to shop before, but now that they have free rewards to use, they're willing to open their wallets a bit more.
Templates to Try
6. "Your Thoughts Matter to Us"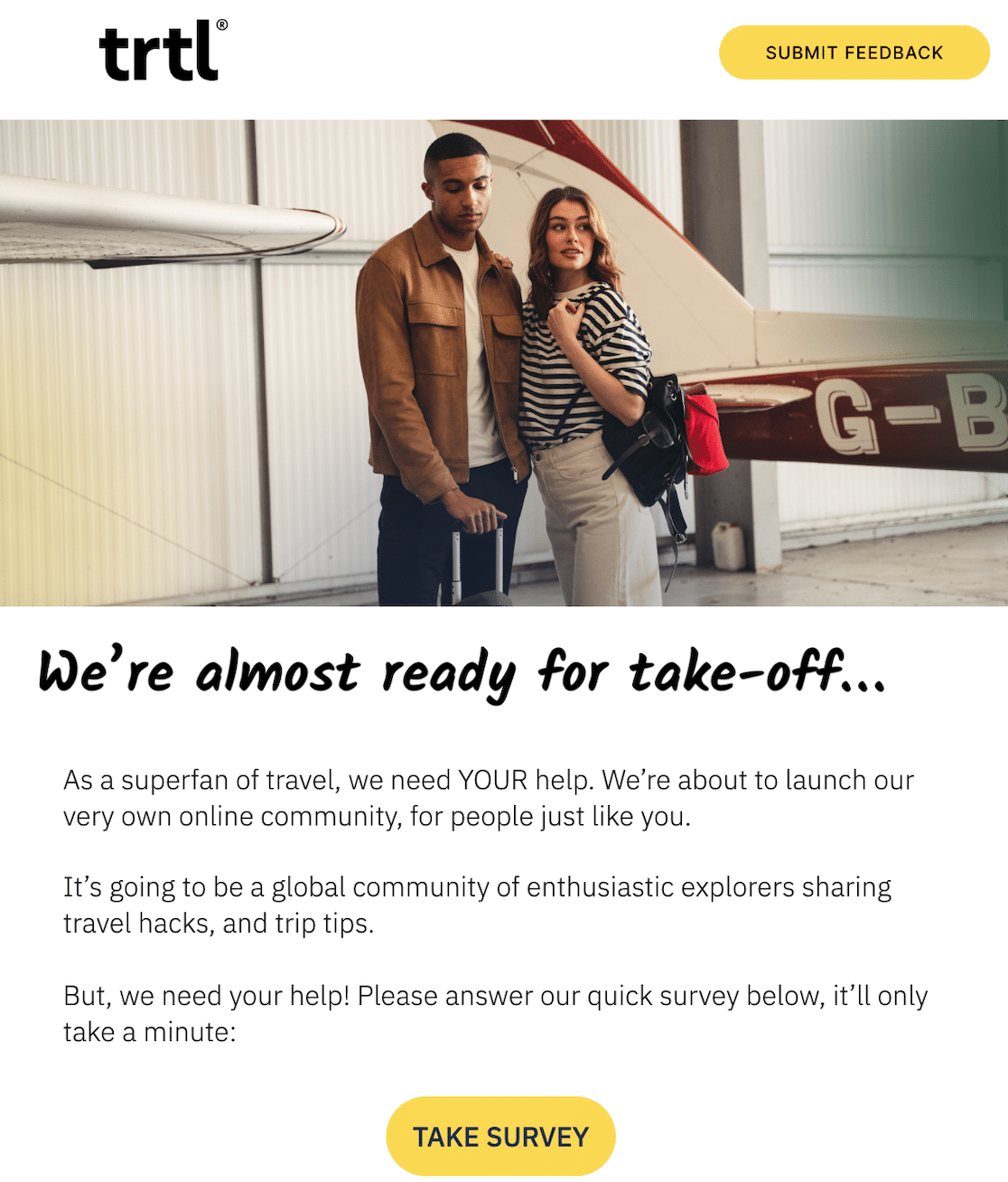 Asking users for their suggestions and letting them know how you plan to use those responses is another good way to increase response rates.
In the above example from travel brand Trtl, the company asks customers for their input and what they want to see in a new online community. Customers like to know that their thoughts and opinions matter, especially when they know how you'll use their responses.
Roku is another example of this.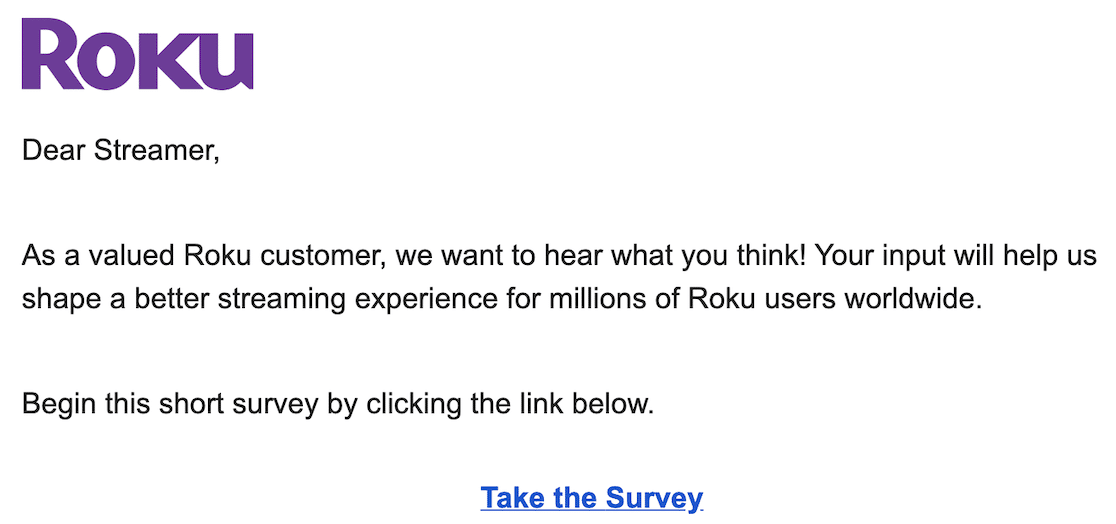 It may not be as visually appealing as the Trtl example, but it does its job. It lets users know that Roku values their opinions and would like to use their responses to create a better customer experience. It's simple and to the point.
Why Customers Will Respond
They know why they're being asked to respond and how you plan to use their responses. When faced with the question, "what's in it for me?" they know that the answer is the opportunity to better a product or service they love.
How Your Business Benefits
When respondents know they're making a meaningful contribution with their words and that you will use their feedback for improvements, it makes it easier to spend a little bit longer on a survey.
Template to Try
7. A Free Gift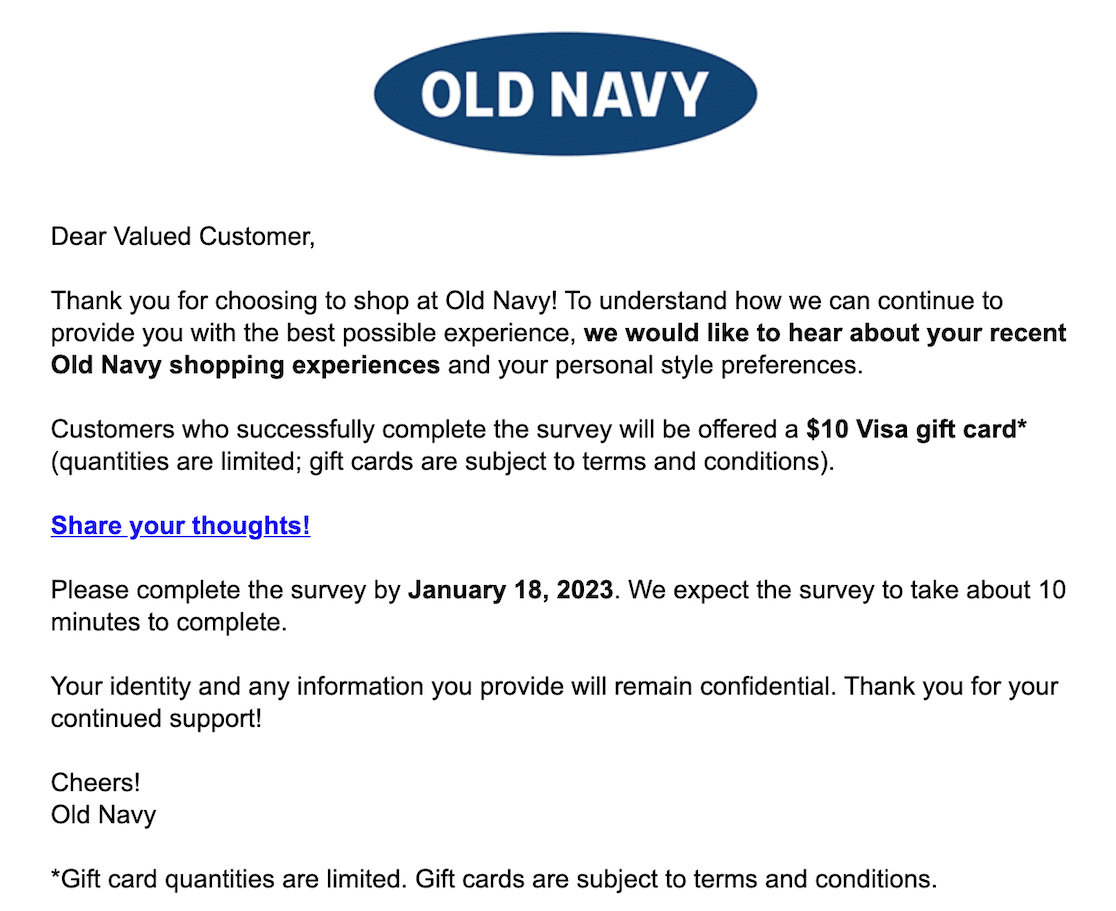 Offering a free gift is another twist on this technique we've seen before. In the above example, Old Navy asks customers to share their thoughts in exchange for a $10 Visa gift card.
This isn't quite like the chance to win because you aren't entered into a raffle. It's also not quite like earning a reward. It's a gift… if you can get it.
Saying that the quantity is limited is vague. There could be 100 cards or no cards. But it assumes some degree of FOMO (fear of missing out) and tells you that if you act fast enough, your odds are much better.
(Bonus tip: if you want to use the power of FOMO on your site, check out this list of the best countdown timer plugins for WordPress.)
Why Customers Will Respond
Customers will respond because they believe there's a decent chance they can get an easy $10. Not wanting to miss out, they have more incentive to act quickly in order to avoid the limited quantity running out.
How Your Business Will Benefit
Fear of missing out is a powerful thing. It increases response rates. Giving away gift cards is a generous thing to do, so this also has the potential to increase your positive public image.
Template to Try
8. Ask About a Specific Experience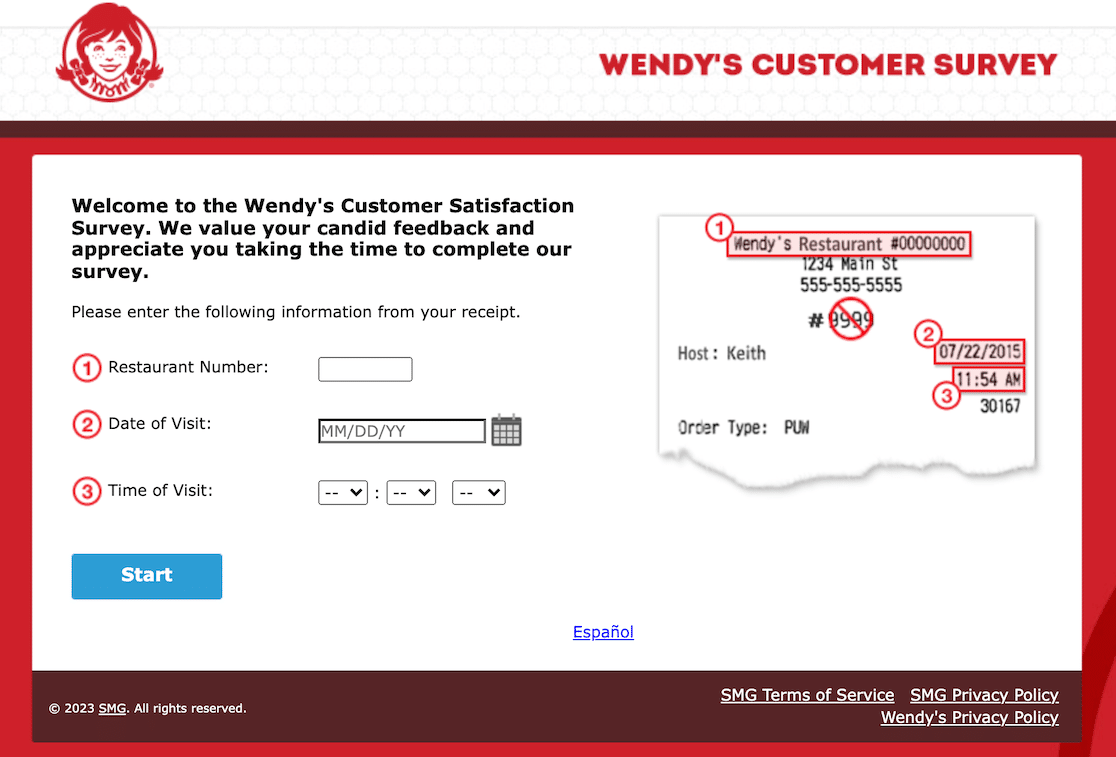 We've all seen comments and reviews left by people who fabricated everything. Whether it's a personal issue, a misunderstanding, or anything in between, the most helpful comments and reviews come from bonafide customers.
The above example from Wendy's asks the customer to enter information from their receipt in order to prove a purchase.
If you try this type of marketing, you might consider matching it with some kind of incentive. Without it, you are more likely to get a great many responses from people who have grievances to air.
Why Customers Will Respond
They know their feedback about a specific location, good or bad, will be heard.
How Your Business Benefits
Feedback is targeted to be location-specific. Whether there are issues to address or praise to be given, you can manage it efficiently among branches or franchises.
Template to Try
9. Popups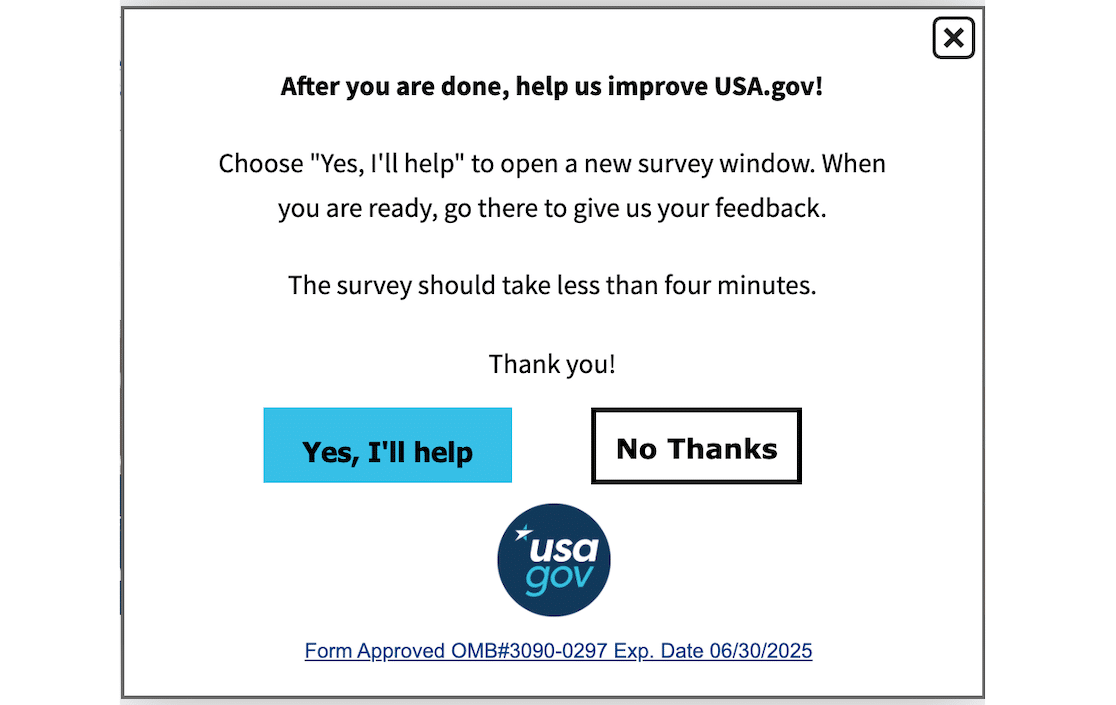 Popups, when done well, are a good way to get a reader's attention. In this instance, on USA.gov's website, a popup asks readers if they will take a survey to provide feedback.
It's clear that the feedback survey is to improve the website, so users know the purpose.
This popup uses elements from a few of the other survey examples we've looked at here, but it repackages them.
Why Customers Will Respond
The popup catches their attention. The blue button is what they see first, and it says, "Yes, I'll help." People want to feel good and like they've helped, so that will give them some pause.
How It Benefits Your Business
The popup gets your survey in front of additional respondents who might not have seen it otherwise. It's a good way to push for additional responses.
Template to Try
Next, Learn About What Not To Do in Your Surveys
Now that we've given you some customer survey examples you can use immediately, make sure you understand what makes customers abandon your survey, too. Check out these top complaints about online surveys and make sure you're in the clear!
Wondering how surveys help business growth? Check out the types of surveys that can help grow your business.
Create Your WordPress Form Now
Ready to build your form? Get started today with the easiest WordPress form builder plugin. WPForms Pro includes lots of free templates and offers a 14-day money-back guarantee.
If this article helped you out, please follow us on Facebook and Twitter for more free WordPress tutorials and guides.