Do you want to add live chat to your website? The best live chat software for websites can help your service teams improve the customer experience, shorten wait times, and even help with lead generation.
To help you decide which solution is best for you, we tested some of the top live chat software for WordPress sites. In this guide, we'll share our findings as well as which of the platforms we tested are our favorites for customer interaction.
TL;DR: Which Live Chat Plugin Is Best?
For small businesses, we recommend LiveChat, Brevo (formerly Sendinblue), and Intercom.
They're at the top of our live chat software list since they are affordable, offer a fantastic user experience, and integrate with other software.
Best WordPress Live Chat Plugins Reviewed
We've done the research for you and tested the top-performing tools that small business owners like to use. In this post, we compile our findings to help you make the best decision for your business.
Here are our top picks, their features, and their costs.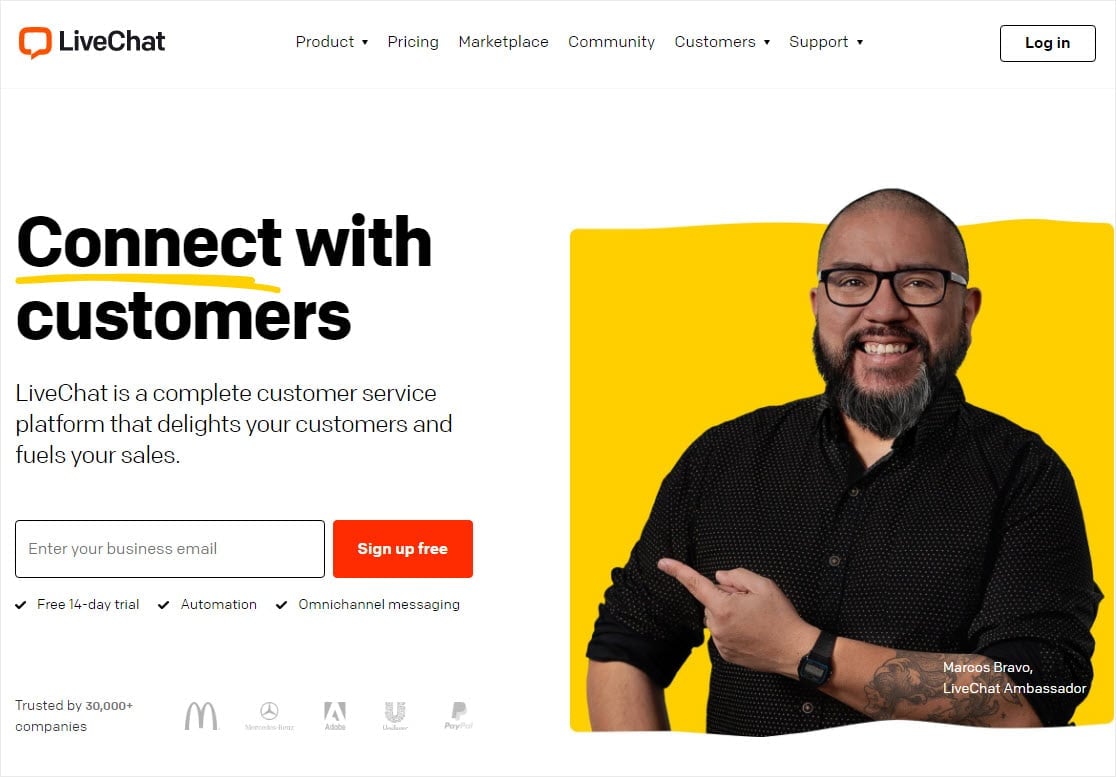 When it comes to top live chat plugins, LiveChat is the industry leader, hands down. It's used by more than 36,000 companies around the world, including companies like PayPal, Adobe, Unilever, and LG.
There are a lot of things to love about LiveChat. For example, we loved that it can connect to customers on a variety of platforms, such as Apple's iMessage, Facebook Messenger, and WhatsApp.
We also really like that the chat window can be customized almost entirely – from the position of the window to its appearance and visibility.
And with more than 200 integrations, your LiveChat account can become a real powerhouse of functionality.
But even more than that, the ability to make conversions from within the chat is, in our opinion, one of LiveChat's key features.
While your team members are chatting with customers, they can share sleek product cards to help the customer find what they're looking for. It's a powerful way to be proactive about solutions and do business at the same time.
While it's not uncommon for chat solutions to use AI and chatbots, we like the balance that LiveChat strikes. Your reps can help more people more efficiently when chatbots begin and direct the conversation.
You can use LiveChat for your WooCommerce store, WordPress website, or pretty much any other popular website platform online.
Additional Features:
Connect through popular messaging apps as well as more standard methods
Beautifully designed live chat support apps to add a chatbox to your site
Mobile-responsive so you and your agents can chat with customers on your laptops, tablets, and mobile devices
Canned responses allow support reps to address common queries faster
Ability to add evaluation surveys before and after the live chat session
Integrates with tons of other tools including email marketing services and other marketing automation software
Lightning-fast loading time for a fantastic user experience
Integrations with apps that help you collaborate by using screen sharing
Create your own Knowledge Base to add to chat widgets
Cost:
LiveChat premium plan starts at $20 per month/per logged-in agent (billed annually). It also offers a 14-day free trial.
Get started with LiveChat now.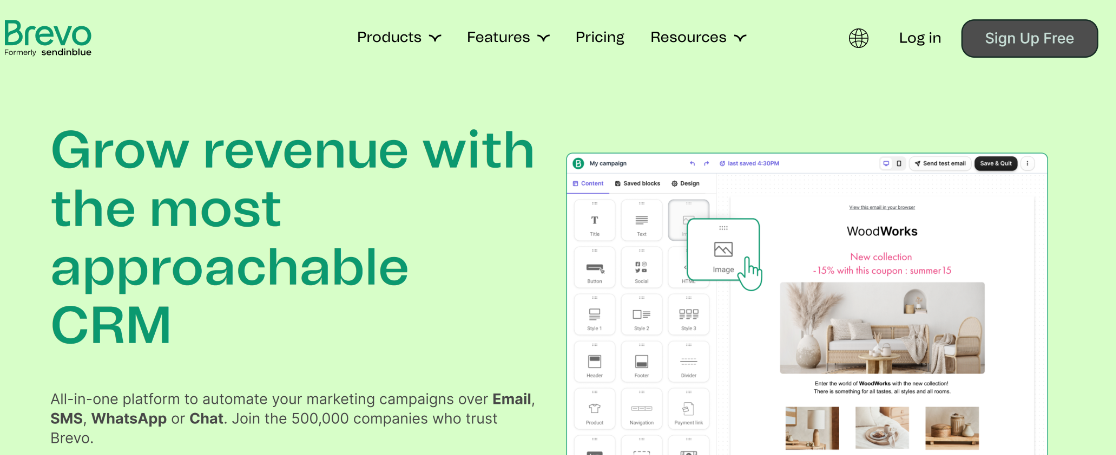 With more than 500,000 users across the world, Brevo is a powerful and beginner-friendly digital marketing platform that includes live chat functionality.
We liked that you can assign visitors to groups, either manually or through IF/THEN statement triggers that auto-assign them. This is a nice, user-friendly way to automate your chat.
Note, however, that you can't assign a conversation to an agent unless that agent is online and present at that exact moment. If you assign a conversation to an agent who isn't online, they won't receive a notification at all.
Note that Brevo's Conversations functionality is now a separate addon and not part of the marketing suite as it used to be with Sendinblue. There is a free version that has a decent amount of features included. For access to even more features, upgrade to the Pro version.
Overall, Brevo is a powerful live chat tool if you're looking for an all-in-one marketing solution for your business
Additional Features:
Built-in email marketing integration
Social media retargeting for Facebook ads
Complete marketing automation with email marketing, CRM, SMS, landing pages, and more
Easy to use
Workflow organization
Mailer option so you can set up Brevo with WP Mail SMTP for reliable transactional email deliverability
Cost:
The Brevo chat feature pricing is $15 per month/per user. There is a limited free version and a 30-day free trial of the paid version.
Start using Brevo today.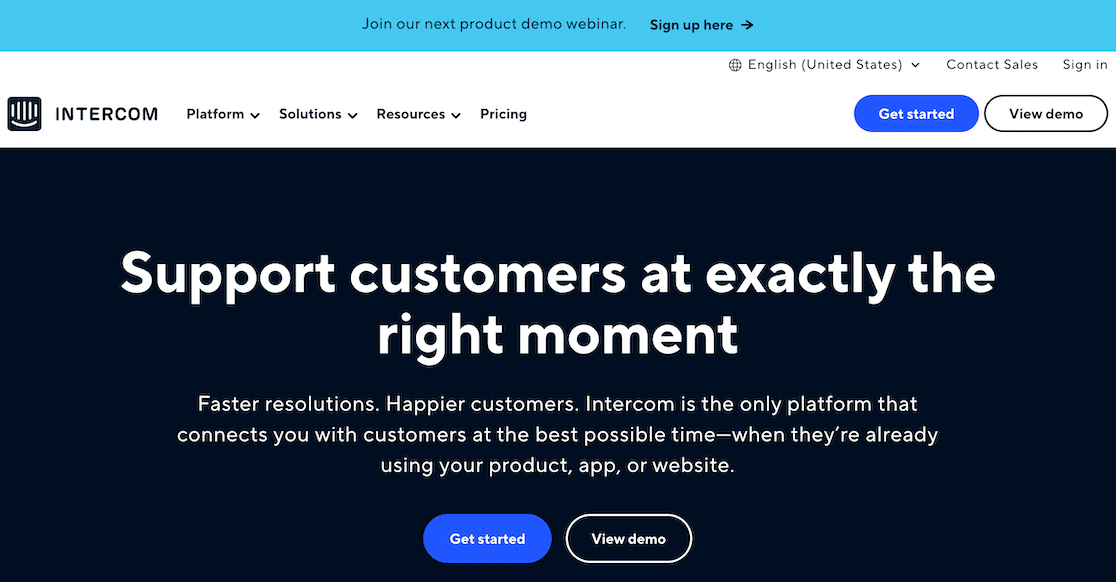 Intercom is known as the Engagement OS, and it's easy to see why. More than 25,000 businesses around the world use this all-in-one customer communication platform.
The live chat feature is unique in that it's a complete message center and knowledge base with tabbed sections. In those tabs, customers can chat or browse help articles organized by topic.
They can go back to their chat history to retrieve product suggestions, links, or other information from previous chats. They can even read company news and keep up with new messenger features.
Overall, Intercom stands for enabling a fantastic customer engagement and customer experience. The platform is clean and easy to use, and Intercom can work with you to customize your messenger. We loved the different ways to create a really eye-catching chat that stands out.
Additional Features:
Live chat widgets
Automation for flows
AI-powered chatbots
Many integrations with services like Slack, Google Analytics, and more
Cost:
Intercom calculates the price based on the seats your agents need, such as support and marketing.
Get started with Intercom today.

HubSpot is a popular platform for marketing, sales, and customer service. It provides a number of free tools, including live chat and contact forms.
Something to note about the free live chat, however, is that you can't remove the HubSpot branding. This might not be a big deal as you start out, but as your business grows, you probably don't want that. To remove it, you'll have to upgrade.
We found that the conversational bot features are limited, not just in the free version but with the Starter plan too. To access more advanced conversational bot features, you'll have to upgrade to at least the Professional plan.
HubSpot also has a free WordPress plugin that allows you to connect your website to your HubSpot dashboard. We found it easy to install, so you can use many of the HubSpot features, including live chat, on your WordPress site.
Additional Features:
Create custom welcome messages
Chat routing to the right department
Conversations are automatically stored in the inbox and on the contact's timeline
Personalize conversations by pulling customer information from your HubSpot Contact Database
Cost:
HubSpot for WordPress plugin is free. HubSpot's paid plans are available starting at $45/month.
Get started with HubSpot for WordPress today.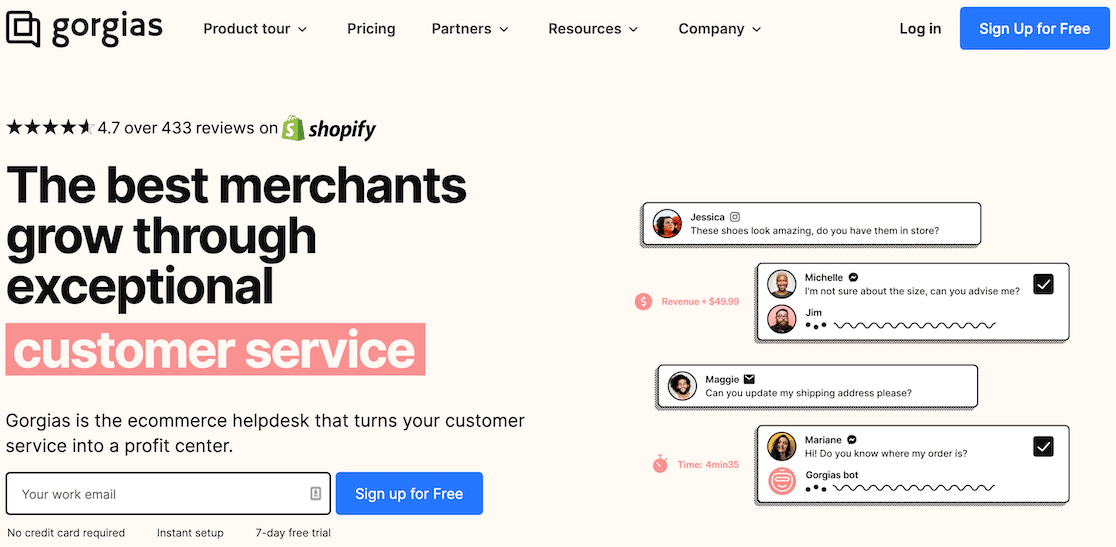 More than 10,000 eCommerce brands use Gorgias, an integrated help desk that includes a live chat and ticketing system. It lets you see all of your customer communication in a single dashboard.
Something we love about Gorgias is the ability to connect it to your social media. This allows you to respond to social media comments and offer discounts and deals to entice potential customers.
In our experience, the chat widget was light and didn't slow down site speeds. Slow site speeds drive people away regardless of how interested they are, so this is great to see in this live chat solution.
We also found that the paid automation addon is definitely worth having for the additional features and analytics.
Additional Features:
Instantly access order details from Shopify, BigCommerce, and Magento
Manage eCommerce orders without leaving Gorgias
Ticket templates
AI priority detection
Automated ticket workflows
Macros and saved replies
Cost:
Gorgias pricing starts at $50 per month (billed annually).
Get started with Gorgias today.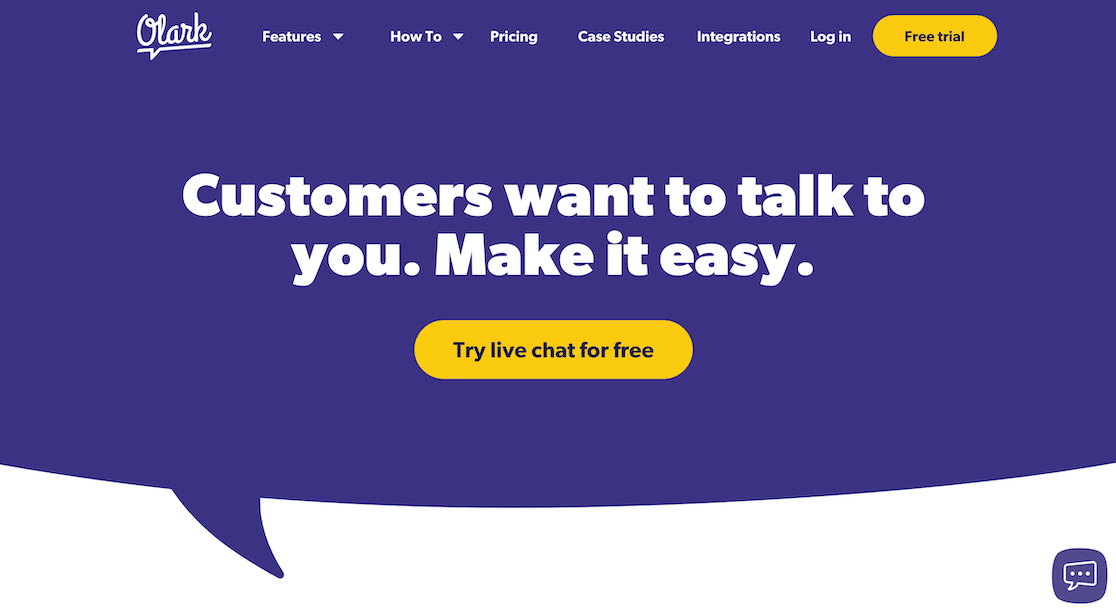 Olark is a popular chat solution that offers great features like searchable transcripts, custom chatbox forms, and AI chatbots.
If you use analytics to make decisions, you'll like Olark's reporting features. We found that the analytics you can access are useful without being overwhelming.
Olark also has a powerful feature we loved called CoPilot, which can attract, capture, and qualify leads in your CRM.
CoPilot can reduce wait time and free up agents by responding to FAQs, automating admin tasks, or routing chats. It can also complete tasks like tagging or emailing chat transcripts or updating CRM records.
Additional Features:
Can be used as a live chat plugin or with a simple code snippet install
Integrates with Zendesk, HubSpot, Salesforce, Google Analytics, Slack, and more
Chat with customers from anywhere by using 3rd party mobile apps
Proactive chats let you monitor live visitors on your site and reach out to them first
Real-time reporting on chat volume, which agents are handling the most chats, and how your website visitors are rating their experience
Cost:
Olark pricing starts at $29 per month, per agent (billed annually). It offers a free trial.
Get started with Olark today.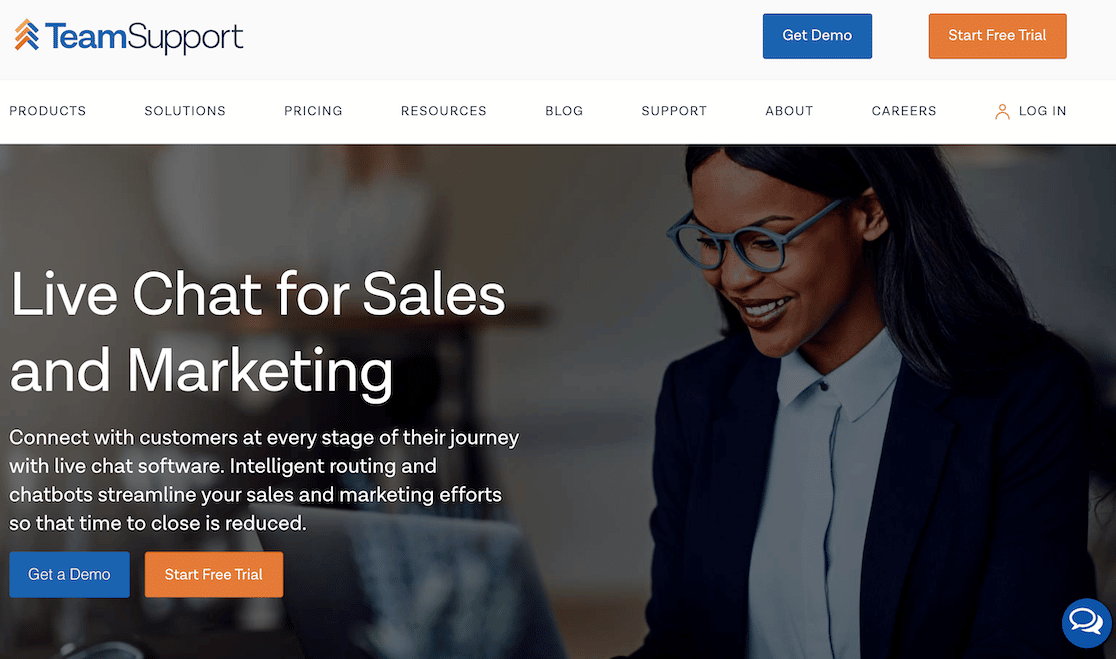 In 2021, TeamSupport, a leading customer support software company, acquired SnapEngage, which specialized in chat software. The result is a powerful platform with a lot to offer.
It's got a lot of features that we liked in other tools on this list, such as chat analytics and multi-channel conversation management, which lets you communicate with your customers on social media as well as your website.
There are also addons available for advanced security, premier support, and HIPAA compliance with the Enterprise plan.
Be aware that if you want to use chatbots, you will need to use the more feature-rich Enterprise plan. They aren't currently standard with the Essentials plan.
Additional Features: 
Sneak peeks where you can see a preview of what the visitor is typing before they send it so you can respond faster
Ability to adjust how tickets are routed
Custom workflows to streamline ticketing
Easily add canned replies to common questions
Real-time translation for over 100 languages
Cost:
TeamSupport pricing starts at $29 per month, per agent.
Get started with TeamSupport.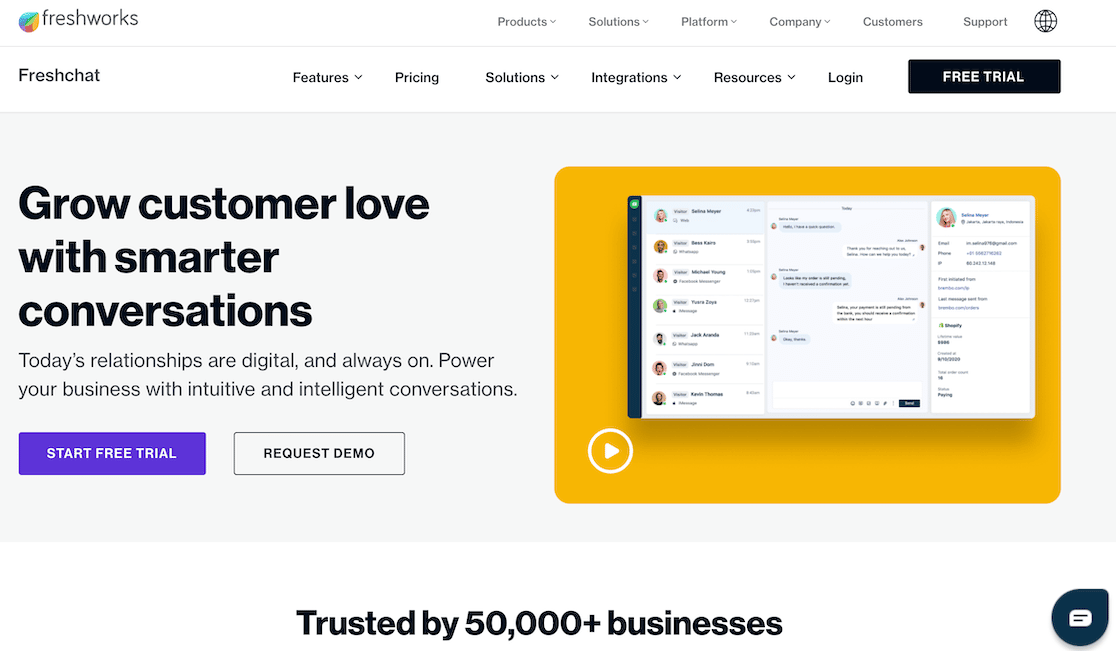 Another popular live chat software for your website is Freshchat by Freshworks. It's a messenger and conversational marketing app that boosts conversion rates.
We found that Freshchat strikes a good balance of AI and human touch. You can use their bot templates to automate some of your responses and agent handover, or you can use your own. It's a neat feature to be able to use Freshchat's API to connect your own bot to the team inbox and messenger.
Features:
Choose between real-time chats with support agents or AI-powered bots for automated conversations
Customer timeline views to see the history of visitors with live profiles
Lets your support team and sales teams connect chats to tickets via Zendesk or Slack
Offers desktop notifications
Embed chat widgets on your WordPress site with their live chat website plugin
Cost:
Freshchat offers a limited free version. After that, pricing starts at $15 per month, per agent (billed annually).
It offers a limited free plan and a 21-day free trial.
Get started with Freshchat today.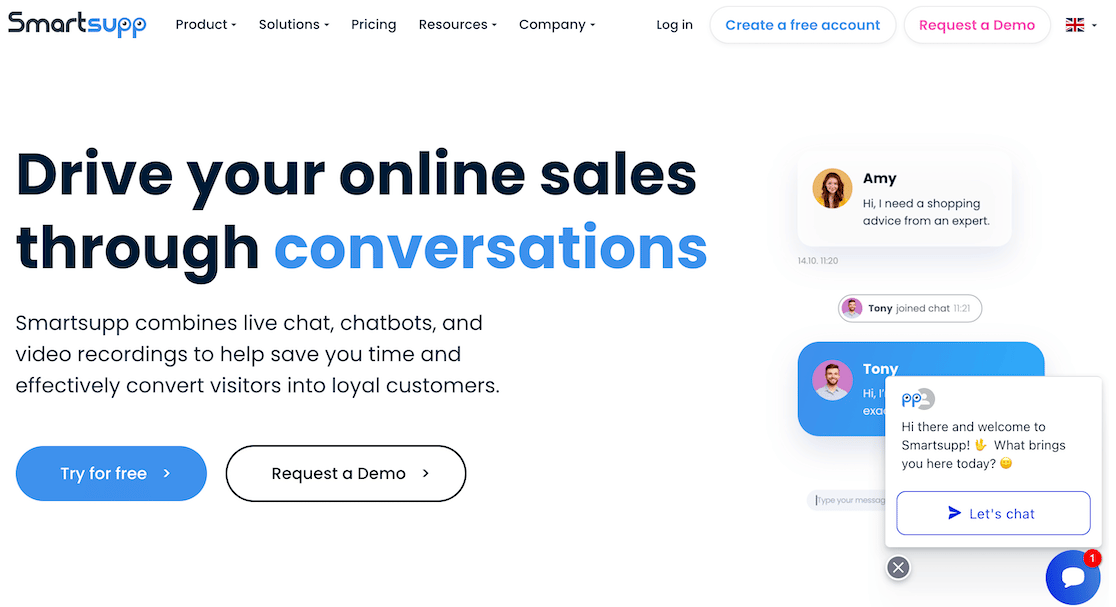 Smartsupp is a simple and straightforward solution that may be best for those looking for an affordable live chat service.
A unique feature we found with Smartsupp is its visitor tracking. Video recordings show how visitors move through your website, helping you understand their path, as well as if and where they're getting stuck. Another feature we liked was the multi-lingual chatbot.
Access Smartsupp using one-click integration with WordPress or apps available for all major operating systems. iOS and Android apps make it easy to chat with customers on-the-go.
Additional Features:
Works with WordPress, Shopify, Magento, OpenCart, Webnode, and more
Chat is customizable to match your company's colors
Add personal photos of your chat agents
Cost:
Smartsupp pricing starts at $19.50 per month, per agent (billed annually).
There's a free live chat software option for 1 agent and a 14-day free trial for the paid version.
Get started with Smartsupp today.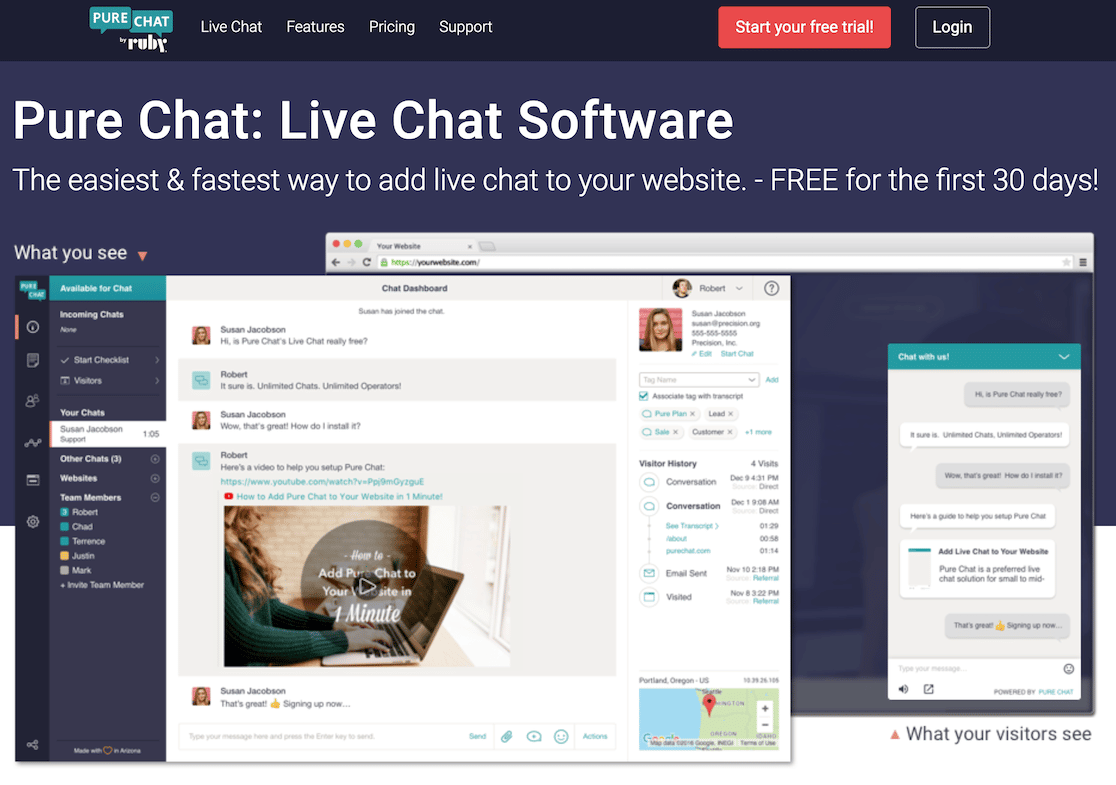 Pure Chat is one of the pricier options we looked at for this list, and there's quite a gap in functionality between the Growth and PRO plans.
We liked the real-time visitor analytics and contact history. They put all the information you need right at your fingertips so you can grow your business and make more money online.
With a solid offering of integrations and the ability to customize your chat widget to suit your business site, it's a powerful tool that gets you results and still manages to be simple to use.
Additional Features:
Mobile apps so that you can stay connected with your customers
Works great with WordPress via a live chat website plugin
Customers have the option to send you email messages when your team is offline
Pre-chat forms help you collect user information for a great user experience
Cost:
Pure Chat pricing starts at $39 per month (billed annually).
They offer a free trial for 30 days.
Get started with Pure Chat today.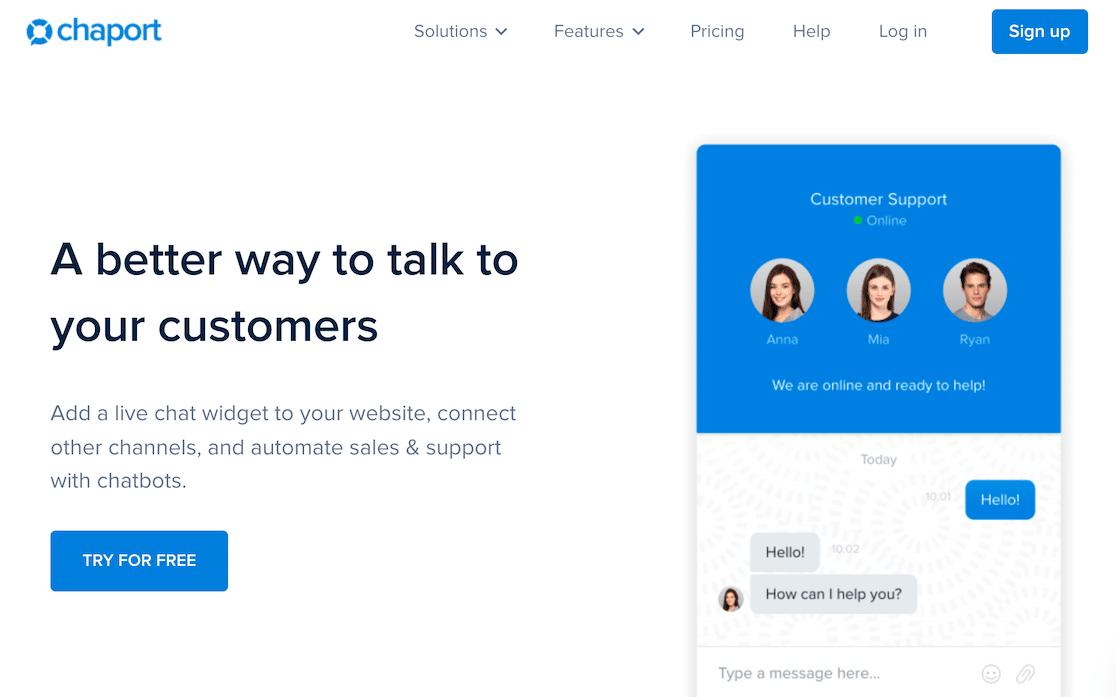 Chaport is one of the more affordable tools that we tested. The free account alone gives you 2 agents, unlimited chats and websites, and basic customization.
You can get more advanced features with the Pro and Unlimited plans, including advanced widget customization, more detailed and on-demand reports, chatbots, and detailed visitor information, behavior, and notes.
One of the features we like a lot is that SSL encryption and GDPR compliance are standard, even at the free level.
The Knowledge Base and FAQ bot make it easy to set up a knowledge base and allow your customers to get information in a self-serve manner, freeing up agents when it comes to common questions.
Additional Features:
Live chat support apps for mobile devices
Multi-language chat widgets
Integrations with tons of other services via Zapier
A range of manager and operator functionality tools
Cost:
Chaport pricing starts at $19 per month for up to 4 agents (billed annually). They offer a free version and a 14-day trial for their paid plans.
Get started with Chaport.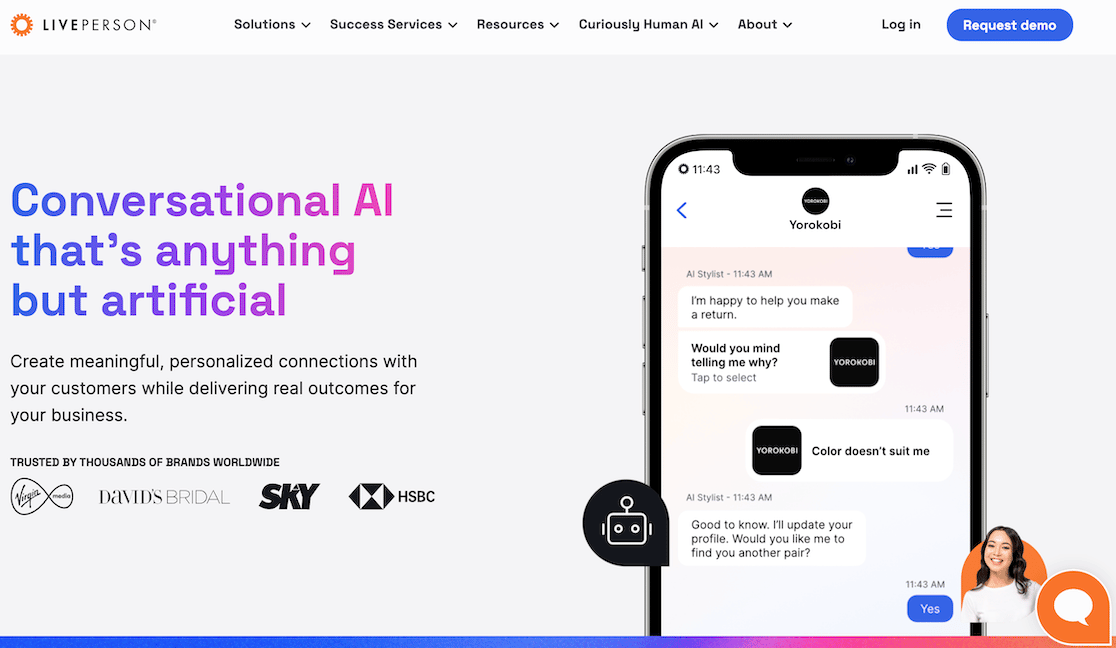 LivePerson stands out from other solutions in a few ways. More than just providing live chat solutions, they've developed "Curiously Human AI" to hold conversations through conversational AI.
We found LivePerson to be highly focused on customer intent, especially in terms of that conversational AI.
If you're looking for something that's industry-specific, you're in luck. When determining the right LivePerson solution for your business, you can sort them by industry and need. This is a nice feature that we didn't really see to the same extent anywhere else in this list.
Additional Features:
Robust and full of features
Engage with customers via multiple channels, including a website chat box, online chat for Messenger, WhatsApp, SMS, and more
Create automated conversation flows for easy chat conversations
Targeted toward medium to large business
WordPress compatible with a live chat website plugin
Cost:
LivePerson monthly pricing is on a case-by-case basis.
Get started with LivePerson today.
Best Live Chat Software: Comparison Table
Let's recap the platforms we discussed in this article and where they rank.
| | Price | Automation | Integrations | Customization |
| --- | --- | --- | --- | --- |
| LiveChat | $20+ per month | Yes | 200+ | Yes |
| Brevo | Free version; then $15+ per month | Yes | Integrates with other Brevo features, including email marketing | Yes |
| Intercom | Contact for pricing | Yes | 300+ | Yes |
| HubSpot | Free with HubSpot CRM ($45+ per month) | Yes | 1200+ apps | Yes |
| Gorgias | $50+ per month | Yes | 100+ | Yes |
| Olark | $29+ per month | Yes | 20+ | Yes |
| TeamSupport | $29+ per month | Yes | 20+ | Yes |
| Freshchat | Free version; then $15 per month | Yes | 15+ | Yes |
| Smartsupp | Free version; then $19.50 per month | Yes | 60+ | Yes |
| Pure Chat | $39+ per month | Limited | 4 (with more available via Zapier) | Yes |
| Chaport | Free version; then $19 per month | Yes | 10 (with more available via Zapier) | Yes |
| LivePerson | Contact for pricing | Yes | Advanced integrations only | Advanced customizations only |
Best Live Chat WordPress Plugins FAQs
Are Chatbots Better Than Human Support Reps?
Both chatbots and human support reps play an important role in providing quality support to customers. Smart use of chatbots can greatly assist human representatives in improving response time and customer satisfaction by helping address their queries quickly and more accurately. Having said that, chatbots can't replace human support reps, especially when dealing with more complicated queries from customers.
Should Small Businesses Use Live Chat Tools?
Small businesses can greatly benefit by using live chat tools to offer customer support. By engaging with your customers in real-time, you have a better chance of turning subscribers into paying customers. You can also follow up with your leads better by tracking conversations and generating strategic funnels for visitors based on your interaction with them.
Why Should You Use Live Chat Software?
According to consumers, live chat is the preferred customer service method over email and VoIP business phone. When live chat is available on your website, reports of positive user experiences skyrocket, and lead generation improves.
In other words, it's fantastic for customer satisfaction.
Here are some of the top reasons why consumers love live chat as their preferred communication channel and why they think it's so important for you to offer it on your website:
Receive immediate answers to questions
Ability to ask questions and multi-task
It's an efficient way to get customer support
Consumers don't like talking on the phone
Better information than through emails/phone calls
Can be done at work without disrupting coworkers by making a phone call
They're in control of the conversation
Next, Get the Best Email Marketing Solution for Your Business
With all the new customers you'll have with your new conversational marketing tool, you'll need a way to reach out to them. Check out our guide on the best email marketing services.
Create Your WordPress Form Now
Ready to build your form? Get started today with the easiest WordPress form builder plugin. WPForms Pro includes lots of free templates and offers a 14-day money-back guarantee.
If this article helped you out, please follow us on Facebook and Twitter for more free WordPress tutorials and guides.