Looking for the best live chat software or live chat website plugin for your website?
These kinds of platforms can explode your sales and increase customer satisfaction. In this guide, we've rounded up the best live chat software for WordPress sites.
| | Price | Automation | Integrations | Customization |
| --- | --- | --- | --- | --- |
| LiveChat | $16+ per month | Yes | 200+ | Yes |
| Sendinblue | $44+ per month | Yes | Integrates with other Sendinblue features, including email marketing | Yes |
| HubSpot | $50+ per month | Yes | 850+ | Yes |
| Gorgias | $50+ per month | Yes | 100+ | Yes |
| Olark | $15+ per month | Yes | 20+ | Yes |
| SnapEngage | $48 per month | Yes | 10 | Yes |
| Freshchat | $15 per month | Yes | 15+ | Yes |
| Smartsupp | $10+ | Yes | 60+ | Yes |
| Pure Chat | $79+ per month | No | 4 (with more available via Zapier) | Yes |
| Chaport | $9.80+ per month | Yes | 10 (with more available via Zapier) | Yes |
| LivePerson | Contact for pricing | Yes | Advanced integrations only | Advanced customizations only |
| Intercom | $87+ per month | Yes | 50+ | Yes |
Why Is Live Chat Important?
According to consumers, live chat is the preferred customer service method over email and VoIP business phone. When live chat is available on your website, reports of positive user experiences skyrocket, plus lead generation improves a ton.
Here are the top reasons why consumers love live chat and why they think it's so important for you to offer it on your website:
Receive immediate answers to questions
Ability to ask questions and multi-task
It's an efficient way to get customer support
Consumers don't like talking on the phone
Better information than through emails/phone calls
Can be done at work without disrupting coworkers by making a phone call
They're in control of the conversation
So as you can see, consumers love and really want the ability to use live chat. And it's important to note that live chat significantly impacts online sales and marketing.
So does live chat increase conversions and lead generation? Absolutely.
Most importantly, the best live chat tools let customers get instant answers from your brand without ever leaving your site. A positive live chat experience can easily increase sales by helping convince customers to make a purchase and do business with you again in the future.
And if you don't always have time to log on to live chat, don't worry. You could use a chatbot to help out. To learn how, check out this article on how to integrate ManyChat with WordPress.
How Do I Add Live Chat to My WordPress Site?
Asking yourself, "how do I set up live chat?" It's way simpler than you may think, especially with all the modern live chat software providers out there.
A live chat tool is incredibly easy to add to your website. In most cases, you can add it to your website using a live chat website plugin. For details on how that works, check out this great post on our sister site on how to install a WordPress plugin.
Plus, you can even integrate some WordPress chat plugins with Slack, which is a very convenient way of staying in touch with your customers.
So now that you know how easy it is to add these tools to your WordPress website, let's take a look at the greatest live chat software on the market.
Which Is The Best Live Chat Software?
So, which is the best online chat? There are tons of tools for online chat conversations, so it's easy to get overwhelmed with your choices. Here are our top picks, their features, and their cost.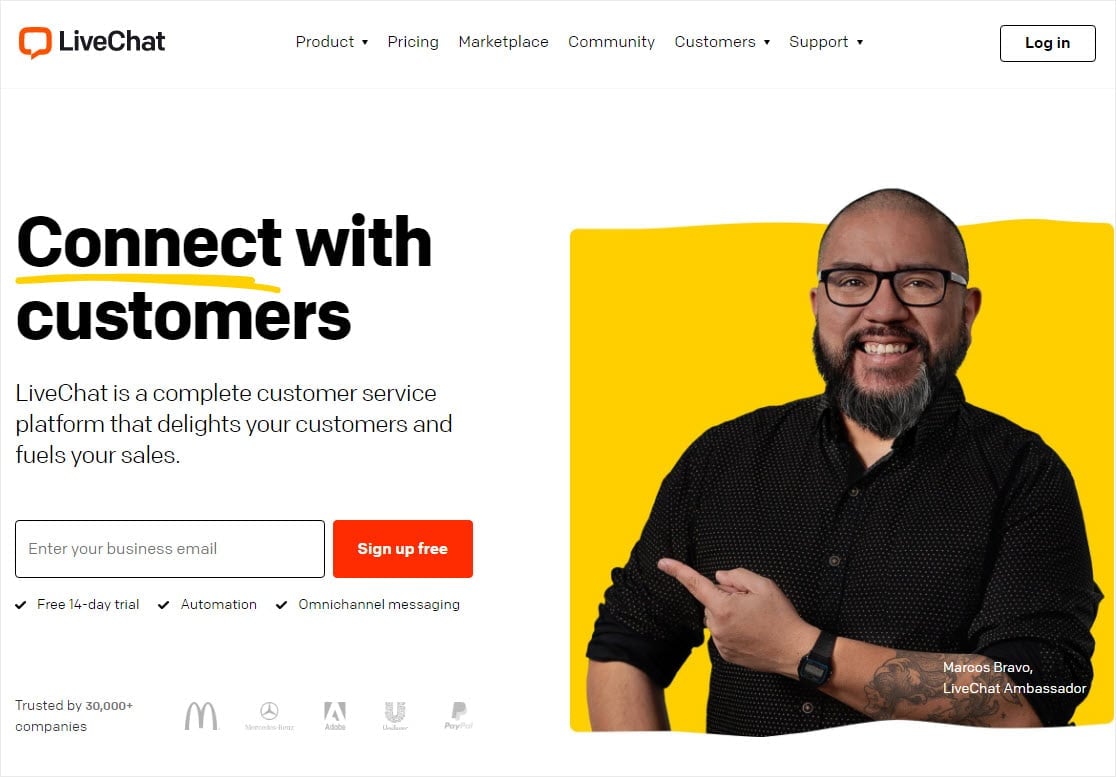 When it comes to live chat software, LiveChat is hands-down the industry leader.
Features:
Connect through Facebook Messenger
Beautifully designed live chat support apps to add a chatbox to your site
Mobile-responsive so you and your agents can chat with customers on your laptops, tablets, and mobile devices
Ability to add evaluation surveys before and after the live chat session
Integrates with tons of other tools including email marketing services and other marketing automation software
Lightning-fast loading time for a fantastic user experience
Integrations with apps that help you collaborate by using screen sharing
Create your own Knowledge Base to add to chat widgets
Cost:
LiveChat pricing starts at $16 per month/per logged-in agent (billed annually).
It offers a 14-day free trial.
Click here to get started with LiveChat now.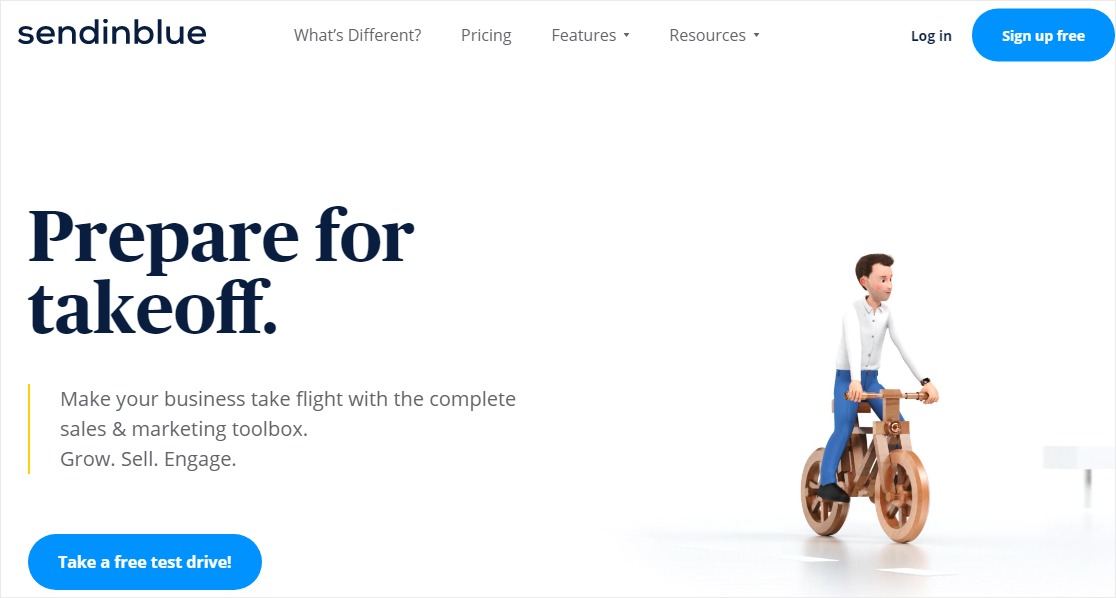 Sendinblue is a powerful yet beginner-friendly live chat service that's simple to install.
Features:
Built-in email marketing integration
Social media retargeting for Facebook ads
Complete marketing automation with email marketing, CRM, SMS, landing pages, and more
Incredibly easy to use
Workflow organization to keep your team on top of things
Mailer option so you can set up Sendinblue with WP Mail SMTP for reliable transactional email deliverability
Cost:
The Sendinblue chat feature pricing starts at around $44 per month/10 team members (billed annually).
Click here to start using Sendinblue today.

HubSpot for WordPress is a free plugin that includes live chat software, CRM, email marketing, landing pages, and other powerful marketing tools for your business.
Features:
Easy, free live chat software and chatbot builder, no coding required
Customize the chat widget to match your brand
Create custom welcome messages
Route chat conversations to the right department
Conversations are automatically stored in the inbox and on the contact's timeline
Personalize conversations by pulling information from your HubSpot Contact Database
850+ integrations available in the HubSpot ecosystem
Cost:
HubSpot for WordPress is free. Paid plans are available starting at $50/month.
Click here to start using HubSpot for WordPress today.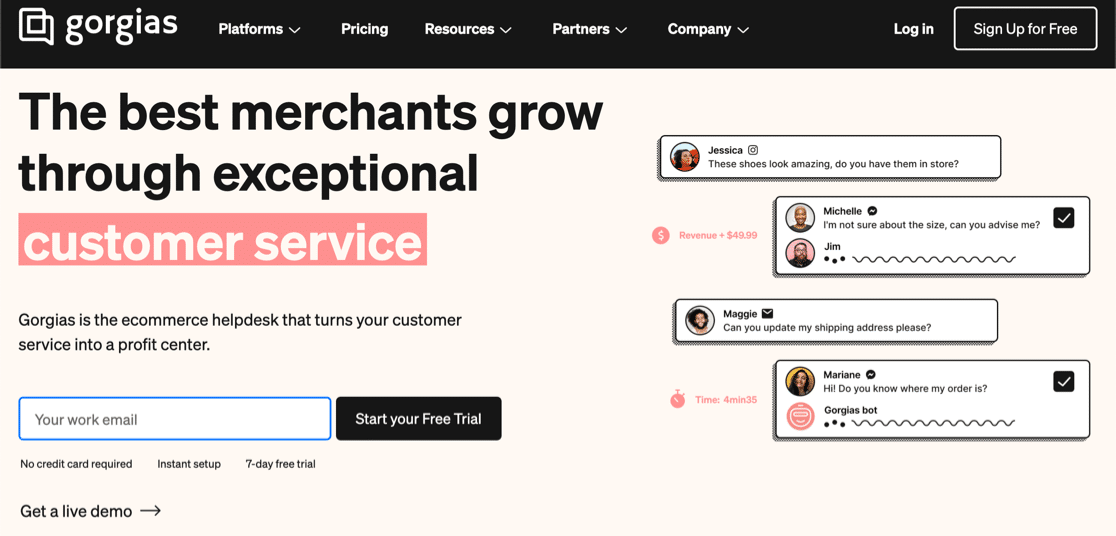 Gorgias is an integrated help desk for eCommerce brands that includes a live chat option as well as a ticketing system. It lets you see all of your customer communication in 1 dashboard.
Features:
Live chat and ticket dashboard
Instantly access order details from Shopify, BigCommerce, and Magento
Manage eCommerce orders without leaving Gorgias
SMS and social media integration
Ticket templates
AI priority detection
Automated ticket workflows
Macros and saved replies
Cost:
Gorgias pricing starts at $50 per month for unlimited agents and 350 tickets (billed annually).
It offers a 7-day free trial.
Olark is another one of the best live chat solutions for websites and it's also incredibly easy to use (and very popular).
Features:
Gives you a choice between using it as a live chat plugin or a simple code snippet install
Integrates into Zendesk, HubSpot, Salesforce, Google Analytics, Slack, and more for omnichannel communication and marketing
Chat with customers from anywhere by using 3rd party mobile apps to connect to mobile devices
Proactive chats let you monitor live visitors on your site and reach out to them before they even touch the live chat window
Real-time reporting on things like chat volume, which agents are handling the most chats, and how your website visitors are rating their experience
Cost:
Olark pricing starts at $15 per month/per agent (billed annually).
It offers a 14-day free trial.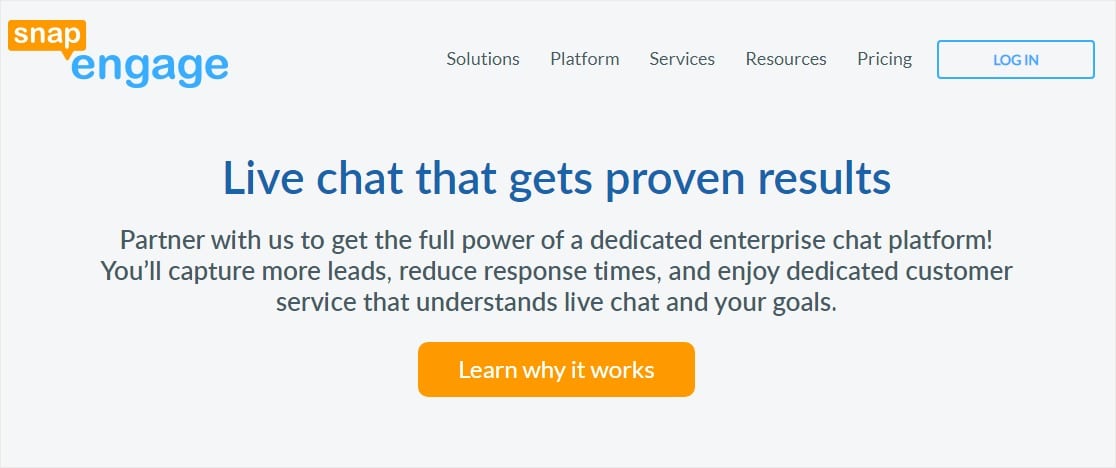 SnapEngage is one of the pricier live chat solutions on our list but offers some unique advanced features to justify that cost (including great customization), so it might work perfectly for you depending on your online business needs.
Features:
Call back requests that increase customer engagement
Automated chat invitations from the chat box
Customizable chat widgets for professional-looking site branding
SMS to Chat feature so agents can communicate via text
Help your customers across multiple channels like Twitter, SMS, Facebook, WeChat, and more
Cost:
SnapEngage pricing starts at $16 per month/per user (minimum 3 users, billed annually).
It also offers a 7-day free trial.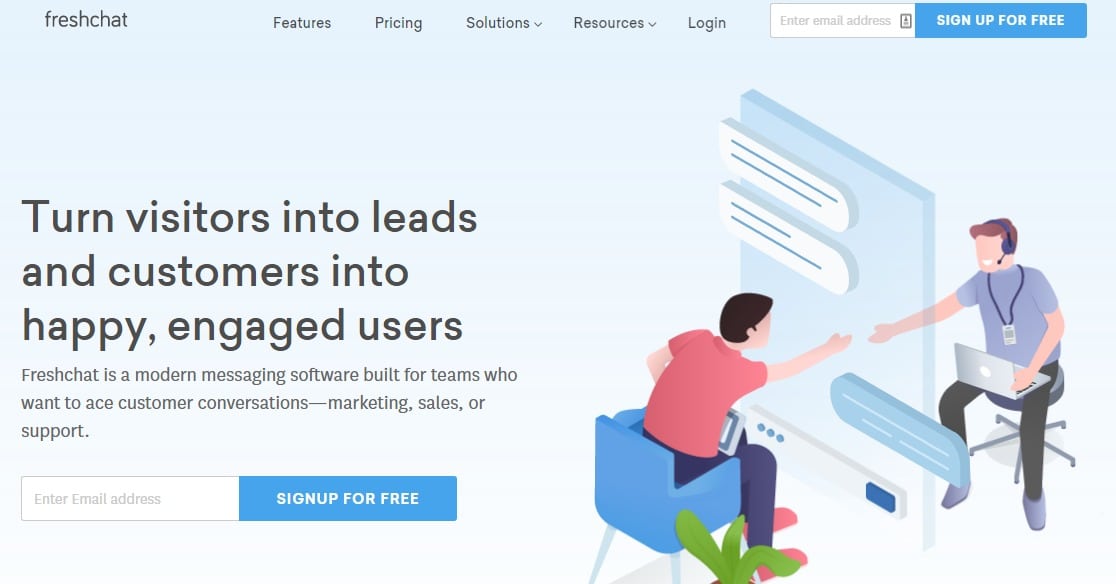 Another fantastic and popular choice in the world of live chat software for your website is Freshchat. It's a modern tool designed to function as a conversion-boosting messenger and conversational marketing app.
Features:
Choose between real-time chats with support agents or AI-powered bots for automated conversations
Customer timeline views to see the history of visitors with live profiles
Lets your support team and sales teams connect chats to tickets via Zendesk or Slack
Offers desktop notifications so your team can stay alert and productive while responding to customers quickly
Embed chat widgets on your WordPress site with their live chat website plugin
Cost:
Freshchat pricing starts at $15 per month/per agent (billed annually).
It offers a limited free plan and a 30-day free trial.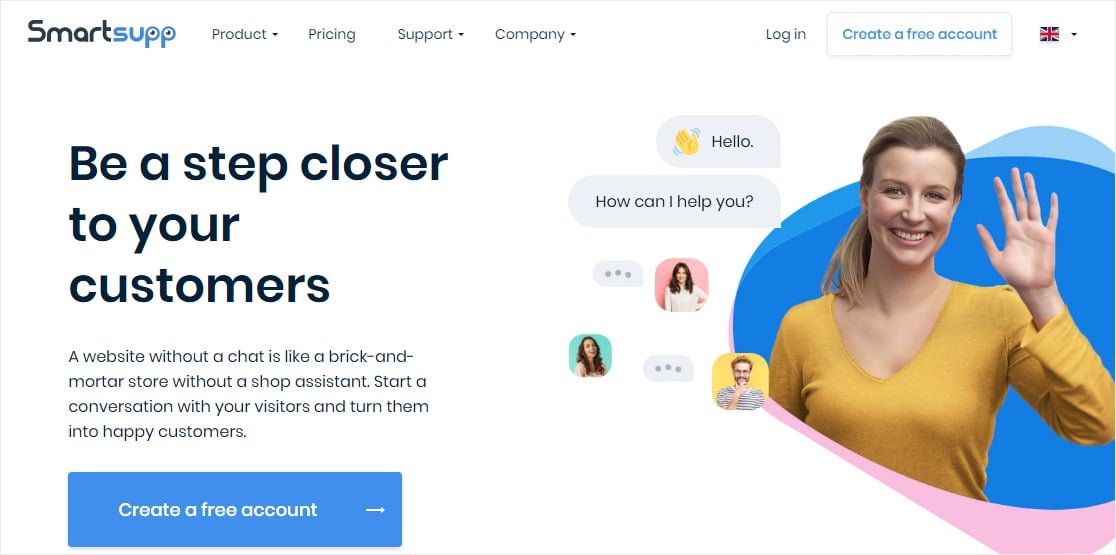 Smartsupp is a simple and straightforward solution that may be best for those looking for an affordable live chat service.
Features:
Track and record user sessions to pin-point what's stopping people from purchasing
Works with WordPress, Shopify, Magento, OpenCart, Webnode, and more
Customize the look of the chat to match your company colors
Add personal photos of your chat agents to show customers there are real humans messaging them from your business
The only live chat software offering video recordings of your site visitors
Cost:
Smartsupp pricing starts at $10 per month/per agent (billed annually).
It offers a free live chat software option for up to 3 support agents and a free trial.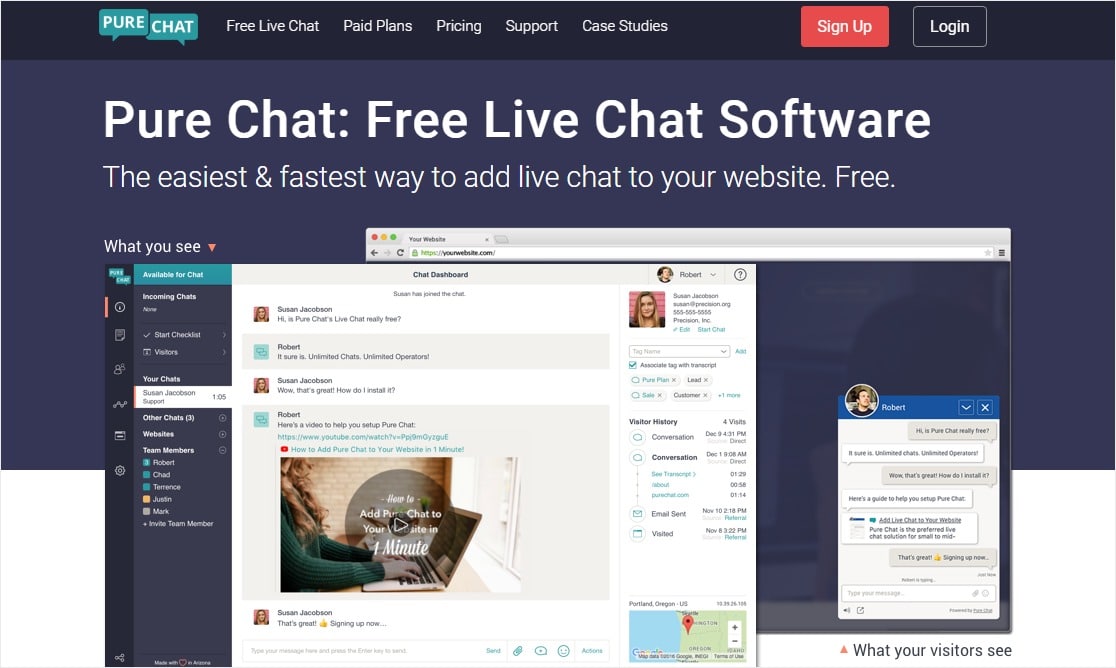 Pure Chat is another good alternative if you're looking for limited features on a free plan, or a paid plan with lots of features so you can grow with your chat platform as your business starts to make more money online.
Features:
Mobile apps so that you can stay connected with your customer on the go
Works great with WordPress with a live chat website plugin
Customers have the option to send you email messages when your team is offline
Pre-chat forms help you collect user information (like issues or email addresses) before the conversation begins for a great user experience
Cost:
Pure Chat pricing starts at $79 per month (billed annually).
They offer a robust free option as well with unlimited chat history.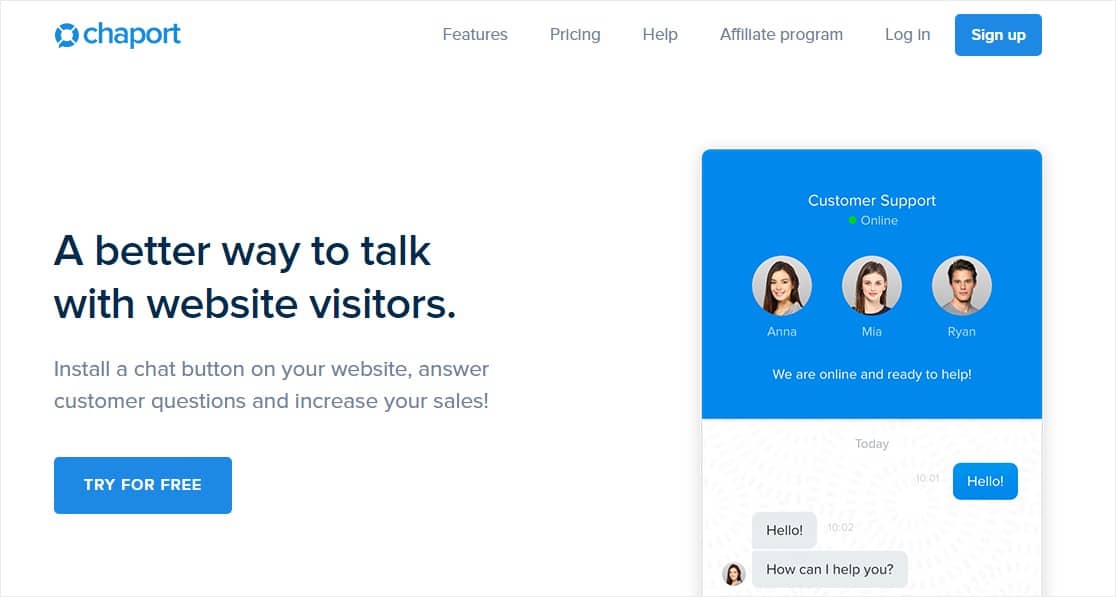 Chaport is easily the most affordable solution on this list of the best live chat software, so if saving money is your top priority, this one is definitely worth checking out.
Features:
Free version covers most basic requirements
Live chat support apps for mobile devices
Gorgeous multi-language chat widgets
Analytics and reporting
Integrations with tons of other services via Zapier
Cost:
Chaport pricing starts at $9.80 per month/per agent (billed annually).
They offer a free version for up to 5 agents, and a 14-day trial for their paid plans.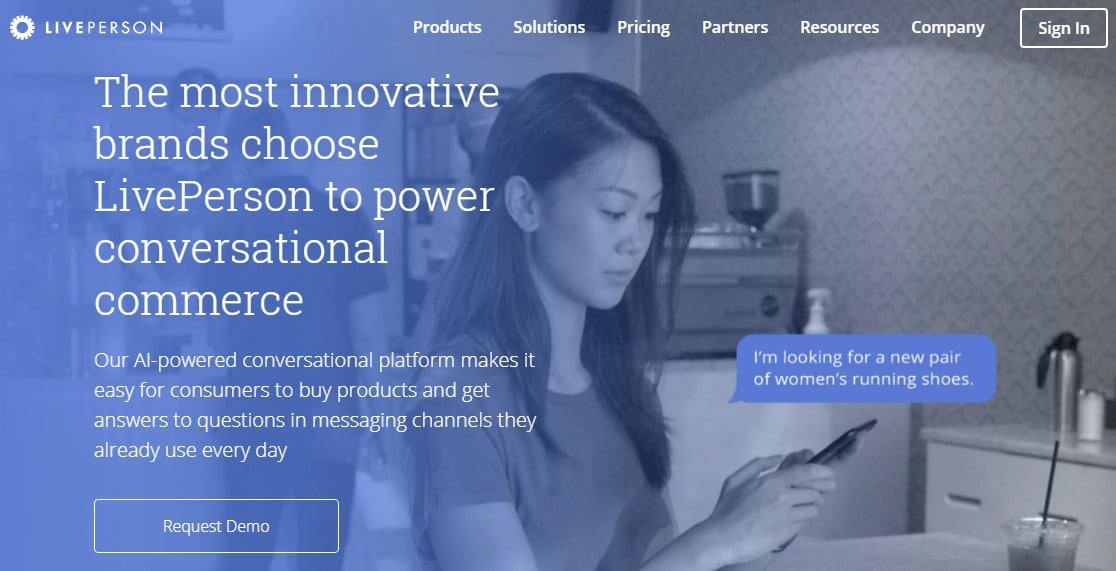 LivePerson is possibly the most well-known live chat software out there since it's been around for a while and is quite established in the market. It's a great pick for chat solutions for a business that's operating on an enterprise level and wants to improve customer experience.
Features:
Robust and full of features
Engage with customers via multiple channels including a website chat box, online chat for Messenger, WhatsApp, SMS, and more
Create automated conversation flows for easy chat conversations
Targeted toward medium to large business
WordPress compatible with a live chat website plugin
Cost:
LivePerson monthly pricing is negotiated on a case-by-case basis.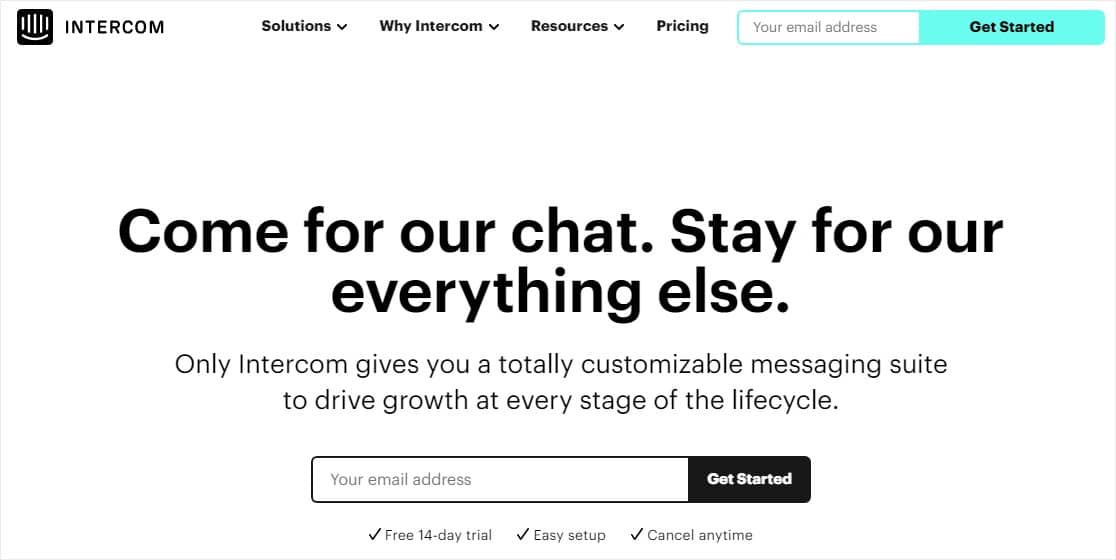 Intercom is a complete support software suite and live chat website plugin that includes live chat functionality. If you're looking for a live chat software as well as a total support software (and can afford the price tag), Intercom's many features are a good bet for your business.
Features:
Live chat widgets
Automation for flows
AI-powered Chatbots
Many integrations with services like Slack, Google Analytics, and more
Cost:
Intercom's pricing starts at $87 per month.
They offer a 14-day free live chat trial.
Best Live Chat Software: Winner
For small businesses, we recommend LiveChat, Sendinblue, and HubSpot.
They're at the top of our live chat software list since they are affordable, offer a fantastic user experience, and integrate with other software.
So there you have it! We hope this list of the best WordPress live chat software helped you find the solution that works best for you and your business.
Next, Get the Best Email Marketing Solution for Your Business
With all the new customers you'll have with your new conversational marketing tool, you'll need a way to reach out to them. Check out our guide on the best email marketing services.
Ready to build your form? Get started today with the easiest WordPress form builder plugin. WPForms Pro includes lots of free templates and offers a 14-day money-back guarantee.
If this article helped you out, please follow us on Facebook and Twitter for more free WordPress tutorials and guides.