Are you looking for the best marketing automation software for your business?
Using marketing automation software to handle repeated tasks for you is key to growing your website.
On the flip side, if you're manually supervising every aspect of your marketing, it can translate to valuable time spent on tasks that powerful software is fully capable of handling for you.
In this post, we'll share the best marketing automation software for small businesses so you can save yourself time and money with your online marketing efforts.
Best Marketing Automation Software
So, what really are the best marketing software for small businesses when it comes to automation?
Let's take a look: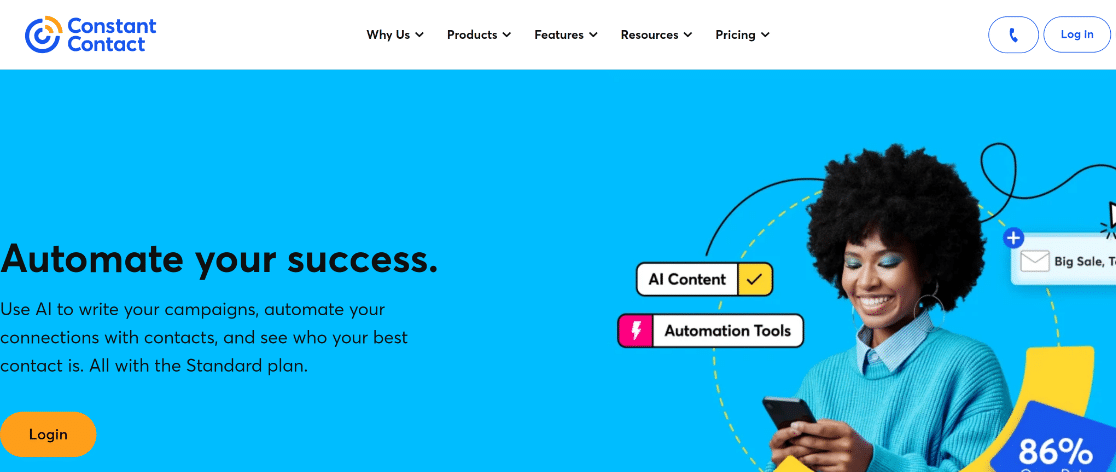 Constant Contact is one of our top favorite email marketing tools because of its beginner-friendly interface and powerful automation features.
We were immediately impressed by its interface, which is very neat and uncluttered. On the left, you have all the blocks you'll need to build out your email. And on the right, you have the live preview area of your email.
The email builder is designed for convenience. There are separate tabs for the blocks, design, and images, so you can easily change any aspect of your email while observing the effect of your edits in real-time.
The fact that it shows a preview of how your email subject line and pre-header would appear in a typical mailbox is a great touch too.

It also has a huge library of pre-built email templates. You can always find something decent that suits your campaign and get started immediately, making Constant Contact one of the easiest marketing tools to work with.
There are a lot of different types of emails you can send with this tool. For instance, you can send a single welcome email, targeted messages to specific people, or an automated email series that helps with lead nurturing based on conditionals.
Constant Contant is excellent for lead generation thanks to native integration with WPForms. If you're using signup forms built with WPForms on your WordPress site, you can send your leads to your Constant Contact email list automatically. It's an incredibly efficient way to maintain your email lists and generate new leads.
Segmentation is another area that's handled nicely by this tool. It can automatically generate segments of customers based on their behaviors, such as repeat customers and potential customers. Like most tools, you can also use various triggers like email opens and clicks to target your newsletters and other email campaigns.
You can also easily set up autoresponders and abandonment campaigns for WooCommerce and Shopify stores.
We're also huge fans of Constant Contact's A/B testing features. You can run subject line tests or content tests for each email campaign, which gives you a lot of freedom in terms of different variations you can check against a real audience.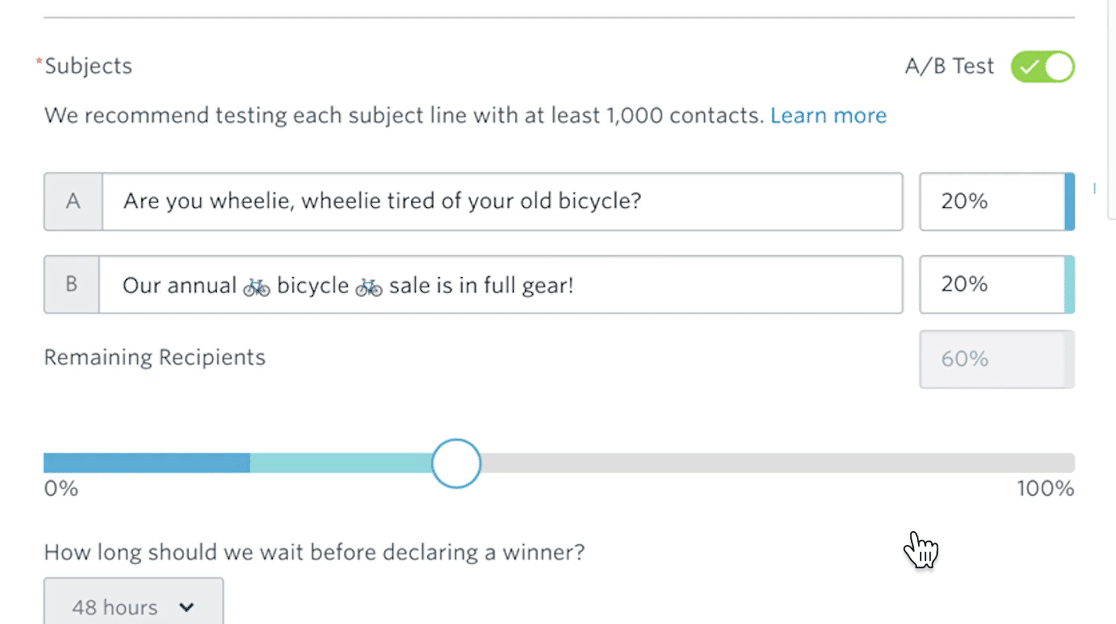 The best part is that Constant Contact generates a heatmap to display how visitors really interacted with different variations of your email. This is excellent for visually comparing the results of your A/B tests and making data-driven decisions about your next email designs.
Constant Contact also gives insightful analytics reports about your campaigns. It tracks open rates and clickthrough rates, allowing you to measure and compare your campaigns over time.
We also discovered a small but handy feature that instance, you can have Constant Contact automatically design an email template for you based on your website and logo color themes and styles.
And you'll also get lots of support with this lead generation tool because it's known for having incredible customer support, online training, and helpful webinars.
Cost: Starts at around $12/month for the Lite plan (which includes automated marketing) and they offer a free 60-day trial.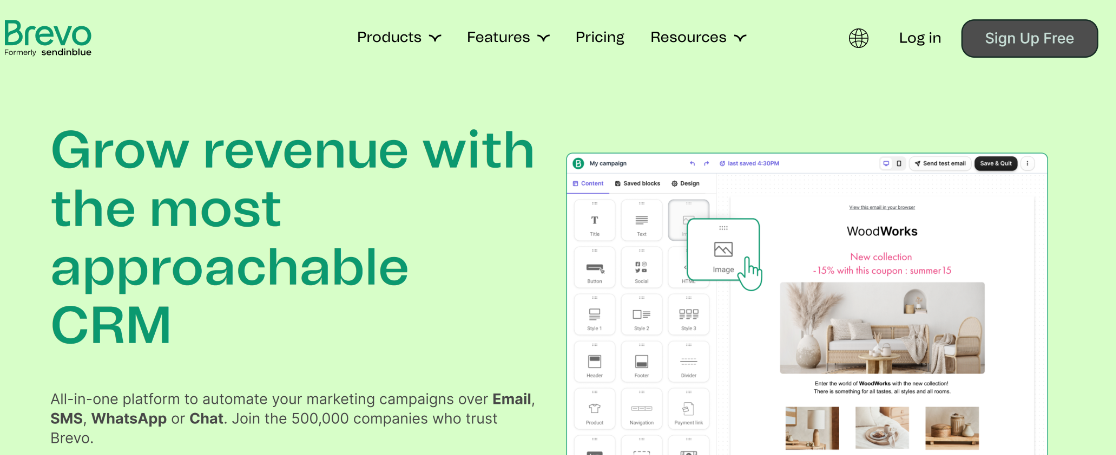 Brevo is a sales and marketing solution that helps you market to your customers through things like social media, live chat, email, and even text messages. It's a complete digital marketing suite that works with every channel.
You can use Brevo to segment your email list and automatically send personalized emails to your customers. It comes with an intuitive drag and drop editor that gives you tons of block elements to design your campaign.
You can easily create completely automated email campaigns and choose form a huge range of trigger events to set up complicated workflows if needed. Plus, you can set up Sendinblue with WP Mail SMTP for reliable transactional email deliverability.
Overall, Brevo offers one of the most comprehensive range of marketing features for small businesses.
Cost: Starts at around $25 per month for the Starter plan with unlimited contacts.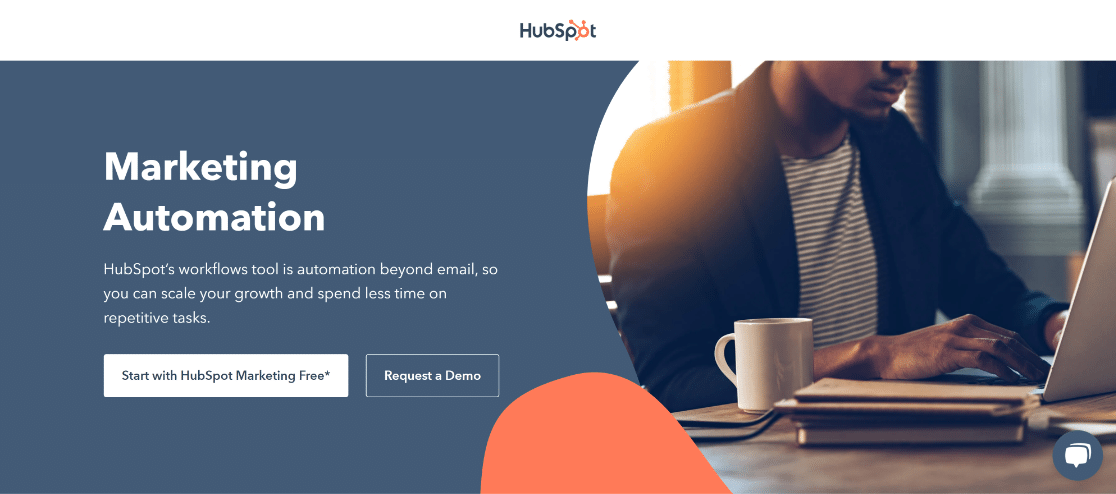 Hubspot is a very popular and highly reviewed CRM that has a standalone marketing automation service. It's got a visual board where you can make your own drip campaigns based on specific conditions.
Plus, you can automate many other tasks beyond just email marketing. You can score leads, rotate leads to sales, use workflows to set up webhooks, trigger internal notifications when contacts take important actions, and more.
This tool can be a little tricky for beginners but luckily they have HubSpot Academy to help you get the hang of it.
Cost: Plans start at $45 per month and they offer a free version of the basic Hubspot CRM.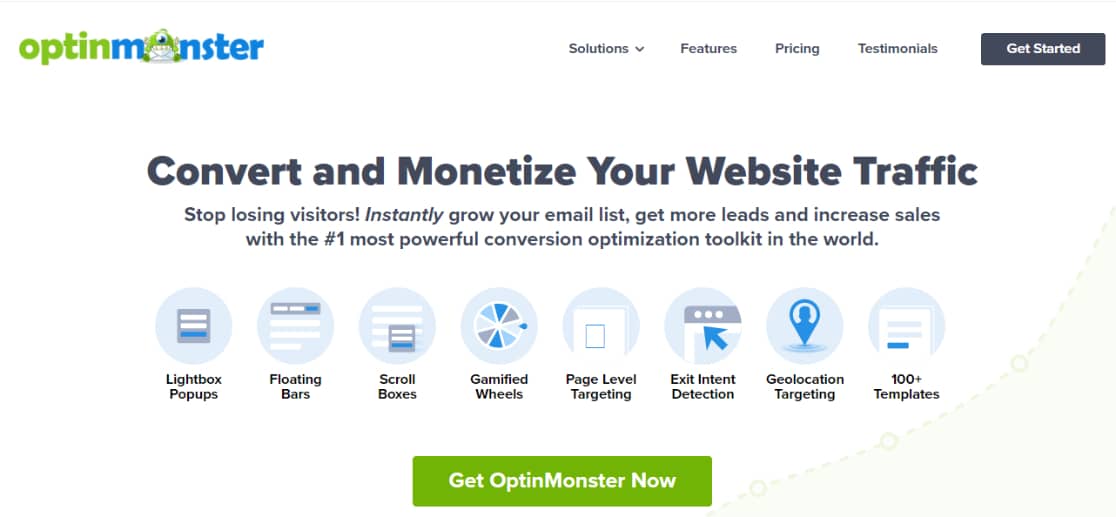 In order for your automated marketing plans to be a success, you need to have subscribers.
OptinMonster can help you make stunning lightboxes, landing pages, and popups that capture tons of leads. You can easily use the WPForms block to embed your custom newsletter signup forms and lead capture forms. And the awesome ChatBot feature lets you automate social media campaigns, too.
Plus, you can easily segment leads and customers with OptinMonster's behavior personalization feature to automatically funnel people right into your campaigns as you sit back and watch.
Cost: Plans start at $9 per month (billed annually).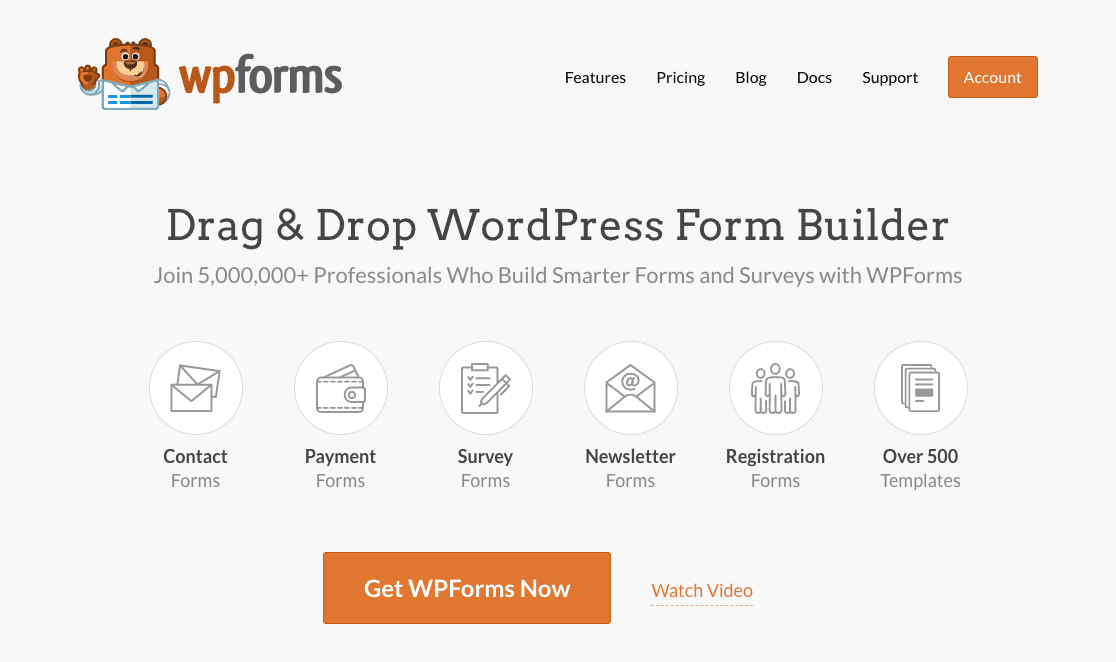 WPForms is the most beginner-friendly drag and drop form builder on the market. This single form builder can be used for a huge variety of marketing scenarios, from creating signup and lead forms on your WordPress site to creating advanced surveys.
All marketing begins with lead generation. And you need engaging and user-friendly forms to start your lead generation campaign and build an audience.
This is where WPForms comes in. You can instantly add a signup form on your WordPress site using one of the hundreds of form templates included in WPForms Pro. If classic, one-page forms aren't your cup of tea, you can use a more styling layout by taking advantage of the Lead Forms addon.
This addon turns any form into a multi-page form with options for customizing every component of that form with gorgeous styles.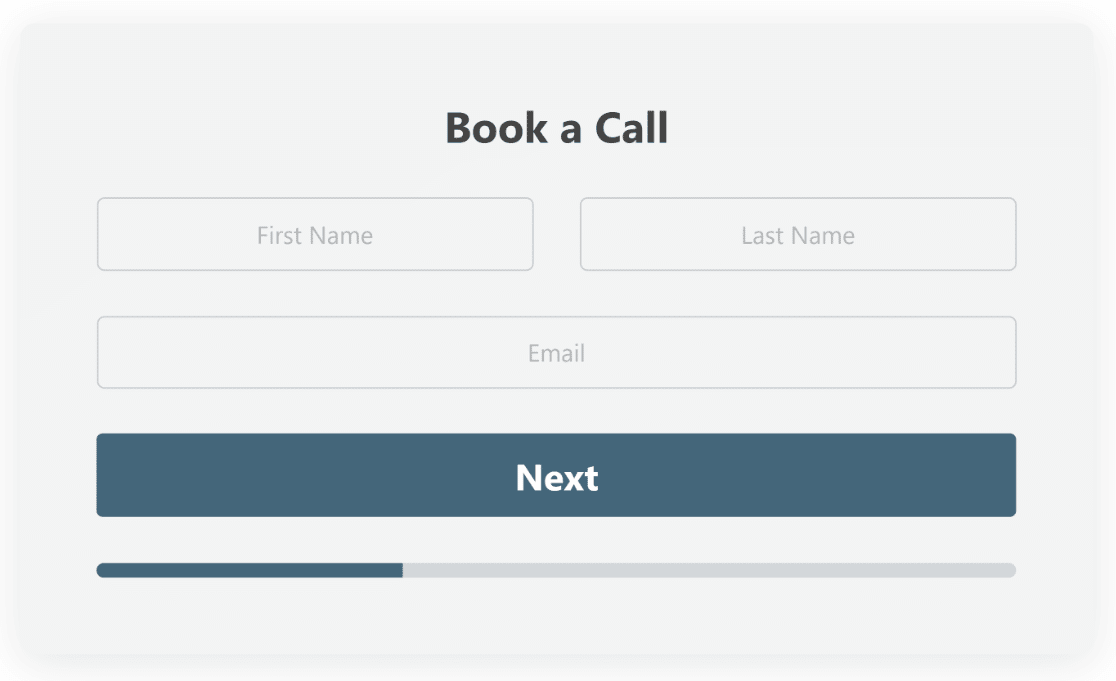 But once you start collecting your emails with stunning forms like that, you still need an efficient way to add them to the contact list of your email marketing software.
To help with that, WPForms includes powerful integrations with marketing tools, including Constant Contact, HubSpot, GetResponse, ActiveCampaign, Mailchimp, MailerLite, and more.
These integrations allow you to automatically send new signups to your preferred audience list in your marketing tool. That means you won't have to manually copy and paste your leads or update information about them because WPForms can automate all of that for you.
WPForms also includes a wide range of advanced features for power users. For instance, you can the track customer journey of each visitor that fills your form, revealing valuable insights about your traffic sources and user behavior.
Additionally, you can use WPForms to automate your marketing with workflows for payments, subscriptions, registrations, and more (with the Pro version).
Cost: Plans start at $39.50 per year.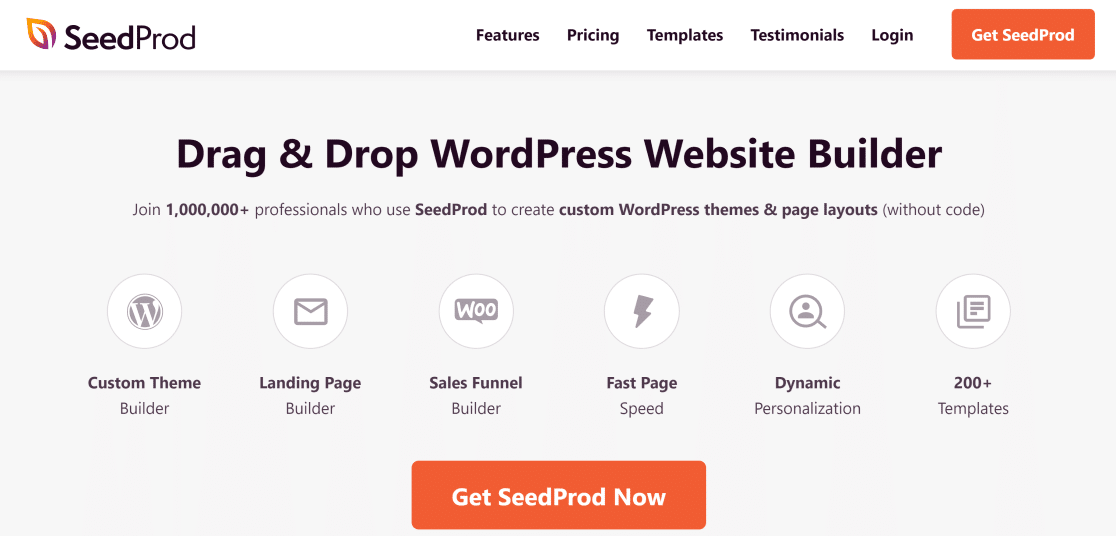 It's a good idea to keep your marketing strategies active all the time, even before you launch your site. And with SeedProd, you can automatically collect leads for your marketing funnels while building your website. That way, you won't lose any potential customers.
SeedProd lets you gather emails and continue to get traffic to your site even if it's under construction. So, in other words, you can put this marketing automation software to work for you while you focus on creating your website.
Cost: Starts at $39.50 per year for 1 website.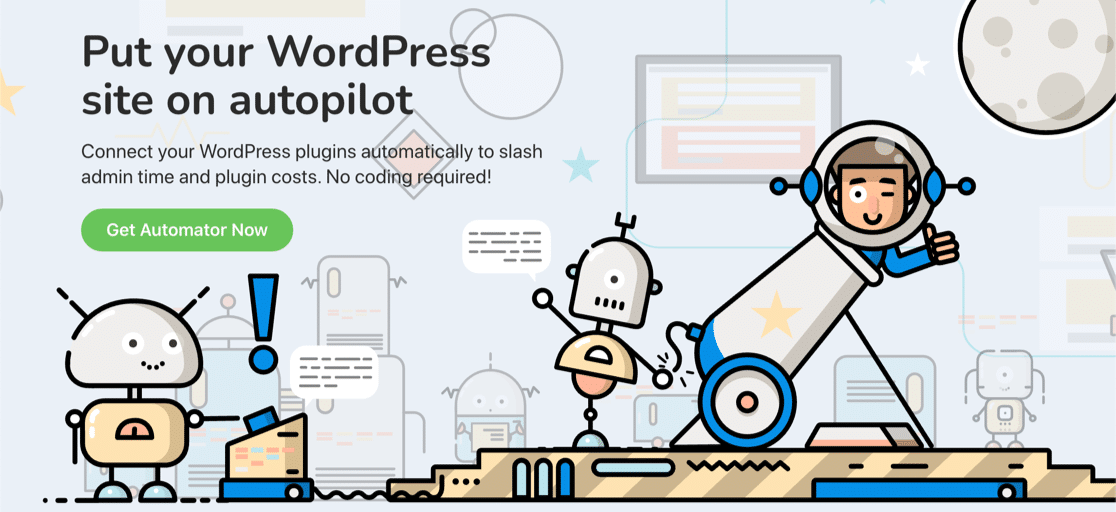 With Uncanny Automator, you can put your entire small business website on autopilot. This tool lets you connect all of your existing plugins and apps together to perform actions automatically.
You can easily create "recipes" based on user behavior and turn those behaviors into marketing workflows and sales opportunities. No coding required!
For example, when a user visits a series of pages, they get sent a sales email. Or, when a user buys a product, they get sent a follow-up email.
Cost: The pro plan starts at $149 per year for 1 site and they offer a free version.

This highly-rated marketing automation tool is different than the rest on this list because it's focused on eCommerce businesses. It offers excellent eCommerce integrations with a well-designed email editor. Plus, it offers some super useful blocks like product recommendations which is great for online stores.
Besides, one of Drip's many strengths is its email marketing automation. So, it can help you out with building emails, automation workflows, and targeted email campaigns. Drip allows unlimited email sends, so it's ideal for businesses with high sending volume requirements.
On top of that, the platform also has a robust analytics dashboard so you can see exactly how your marketing strategies are going.
Cost: Plans start at $39 per month and they offer a free 14-day trial.
AgileCRM is an all-in-one CRM platform with automation features for sales, marketing, and customer support.
AigleCRM offers a visual dashboard to help you with your email campaigns. Not only that, but the tool lets you build things like web popups, auto-responders, and personalized campaigns. And you can use them for web, mobile, and social media channels.
Plus, AgileCRM can help with your lead scoring efforts by tracking things like email opens, link clicks, web browsing activity, and custom tags. And with lead scoring, you'll know exactly which leads to focus on and when.
Cost: Plans start at $8.99 per month and they offer a free limited plan.

Freshsales is a CRM with automated marketing tools built right in. Their simple workflows let you set up triggers that send emails externally to customers or internally to other people within your business.
And, Freshsales can help you get set up with automating repetitive emails such as follow-ups and webinar invites.
Cost: Plans start at $15 per month and they offer a limited free version.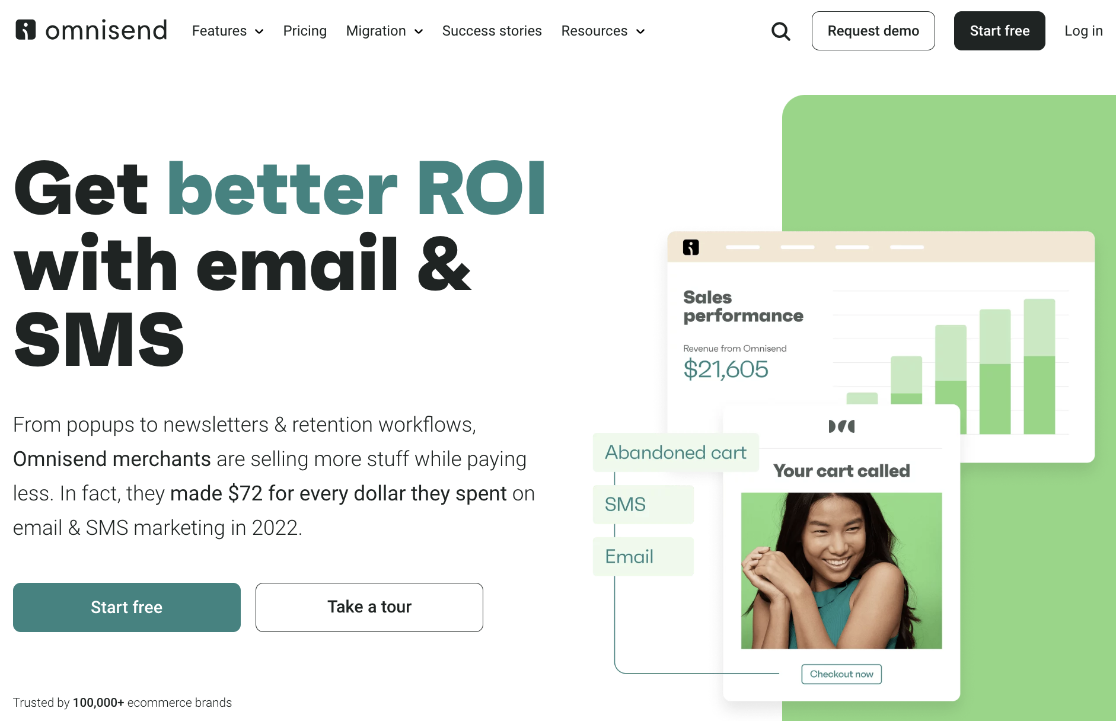 Omnisend is a marketing platform for eCommerce sites that includes several useful tools, such as email and SMS campaign builders.
You can set up automated workflows to send emails, texts, and push notifications to customers based on different triggers.
Omnisend also offers several pre-built workflows for onboarding new customers, recovering abandoned carts, and more.
Cost: Free plan with limits. Paid plans start at $16 per month.
Best Email Marketing Automation FAQs
Still wondering about email marketing tools? Take a look at some of the frequently asked questions and their answers below:
Can Email Marketing Be Automated?
Yes, many aspects of email marketing can be automated with email automation tools like Constant Contact, Brevo, and Drip. These email marketing service providers allow you to set up workflows and email series to automatically send emails to relevant audiences depending on specific conditions defined by you. So whether you're a blogger setting up a weekly email newsletter or promoting offers for your eCommerce store, you can automate as much as 80% of your routine email sending tasks with proper email marketing solutions.
What Is a Marketing Automation Software?
A Marketing automation software is a technology platform and service that automates repetitive online tasks. It's designed for marketers and organizations to more effectively market their brands over websites, email, and social media.
Companies using automated lead management tools see a 10% increase in revenue, so it's important to use marketing automation software, even as a small business.
What Is the Difference Between CRM and Marketing Automation?
The biggest difference between these types of software is which area of your business they focus on.
Simply put, CRM (Customer Relationship Management) services focus on sales while marketing automation software focuses on marketing.
But because CRM and marketing automation tools both handle leads and contacts, sometimes their features overlap. And since CRM programs have tons of functions, you're more likely to see a CRM offer marketing automation functionality than the other way around.
So if you're looking for tools to help you or your sales team with lead nurturing and relationship management, be sure to check out our post on the best CRMs for your small business.
Now, let's find out exactly how to choose the best marketing automation software for small business so you can pick the right one for you.
How Do I Choose a Marketing Automation Software?
Ready to start automating your online marketing but not sure which solution is best for your small business? These tips can help you narrow down your choices:
Ease of Use. It's vital to invest in a tool that's designed with usability in mind. That means new users should find it easy to access all the important options and settings within that tool, requiring minimal assistance.
Consider Cost. A marketing automation platform provides a ton of value, so it's not free. Make sure you check the pricing page for any setup or extra fees so there are no surprises.
Look at Feedback. Make sure to see what customer reviews say about their experience using the software and the support.
Test Drive Demos. Sign up for trial demos and get a feel for the software by actually using it. You may instantly find the one you want once you're inside the software.
Be Thorough. The more research you put into picking your software, the better off you'll be later on. You don't want to pick a platform that can't continue to meet your needs as your website grows.
Next, Check Out the Best Email Marketing Services
And that's it! We hope this list of the best marketing automation software for small businesses helped you. Looking for more tools?
See our list of the best email marketing services next. And if you're a content creator, you'll like our guide to making a custom WordPress form for SendFox.
Create Your WordPress Form Now
Ready to build your form? Get started today with the easiest WordPress form builder plugin. WPForms Pro includes lots of free templates and offers a 14-day money-back guarantee.
If this article helped you out, please follow us on Facebook and Twitter for more free WordPress tutorials and guides.