Do you want to use email automation to market your business? Email automation is much more effective than regular email newsletters, and also saves tons of time.
This article is a complete beginner's guide to email automation. We'll explain how to get started with 2 different types of automation, and we'll look at some important things to keep in mind as you build your first campaign.
Create Your WordPress Form Now
What Is Email Automation?
Email automation is a marketing technique that automatically sends emails to subscribers based on schedules, events, or behaviors.
Rather than blasting all of your subscribers with the same email, email automation lets you use workflows to send emails that are more personal and relevant.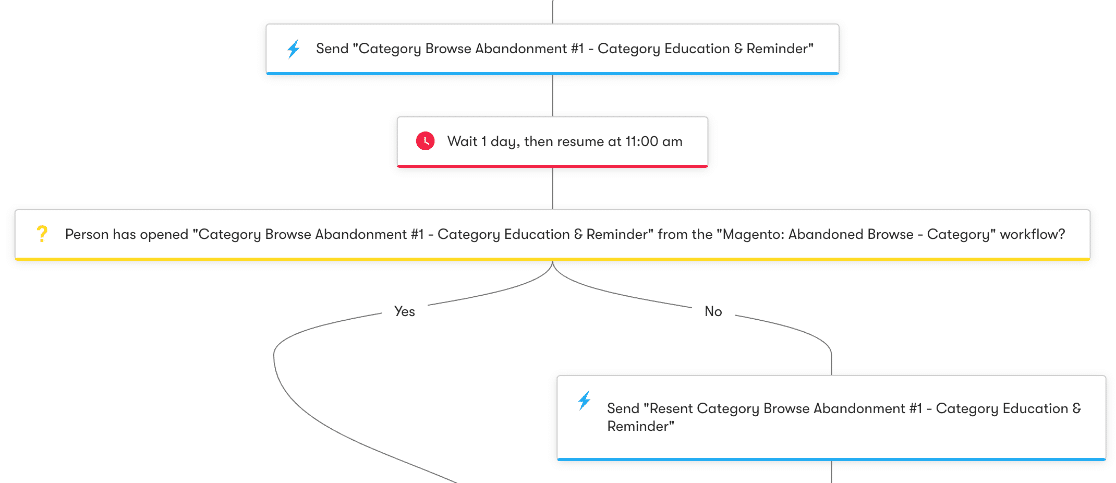 And it really works. Email automation results in 320% more revenue than non-automated email campaigns because:
Subscribers receive emails at controlled times, such as when they're ready to purchase, or when they've just signed up for a free trial.
Marketers can personalize the content based on the user's preferences, browsing activity, and actions.
The timing and the content make the emails more relevant, so open rates and conversion rates are higher than a normal email newsletter campaign.
Campaigns run automatically while you spend time on other tasks.
We're going to explain exactly how you can get started with email automation below. First, let's understand the 2 main types of automation.
Drip-Feed vs. Lead Nurturing: What's the Difference?
Research shows that 92% of adults use email, and 99% of us check our email daily.
Also, 58% of people check their email before they check social media, giving marketers an awesome opportunity to grab attention.
But to strike at the right time, you need the right type of campaign.
When you research email automation, you'll see drip-feed and lead nurturing mentioned often. These 2 techniques look similar, but there are some important differences in the way they work.
Here's a quick table that summarizes the basic differences between them:
| | Drip-feed | Lead nurturing |
| --- | --- | --- |
| Trigger | Time (usually a schedule you create) | Actions, special dates, or behavior (website views, birthdays, abandoned carts, etc.) |
| Messages | Typically 2 or more (can be hundreds) | Typically fewer emails, more targeted |
| Difficulty | Easy to create | Requires more planning & monitoring |
| Purpose | Keep customers engaged, show new features | Trigger conversions |
| Content | Mostly educational | Mostly promotional |
Normally, you'll want to use drip-feed campaigns to educate customers and move them down the sales funnel. The workflow for a drip campaign might look like this template from Active Campaign: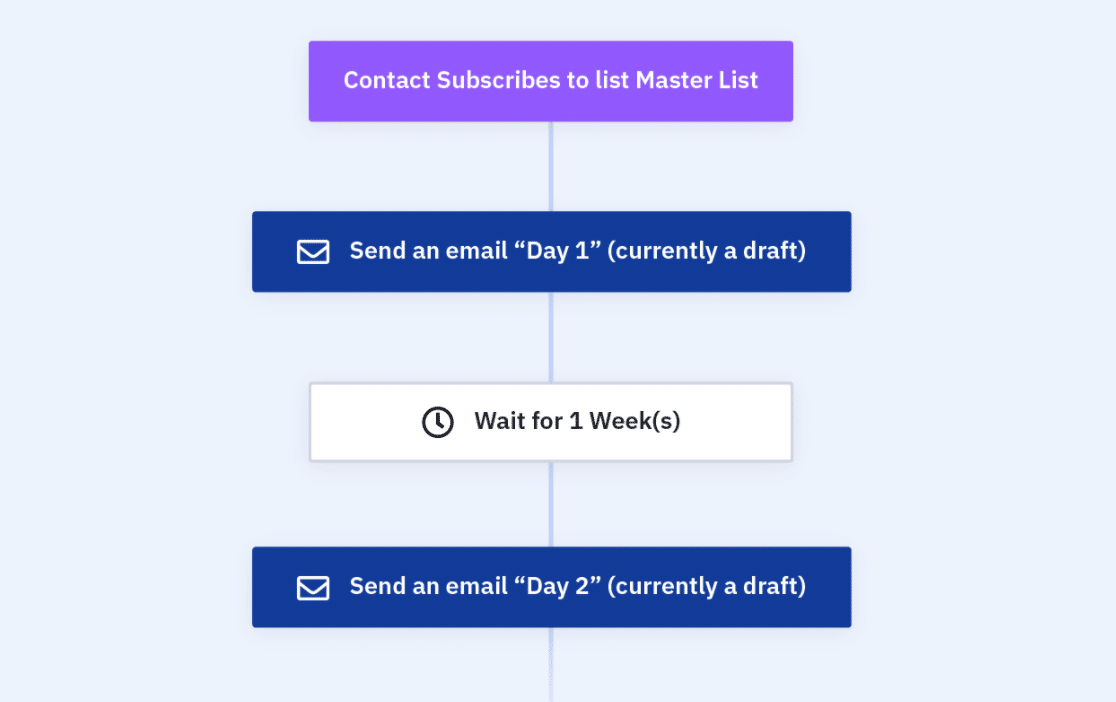 Now let's look at the difference with a lead nurturing campaign. Here's an example from Drip that sends a marketing message if the customer has browsed a category without purchasing: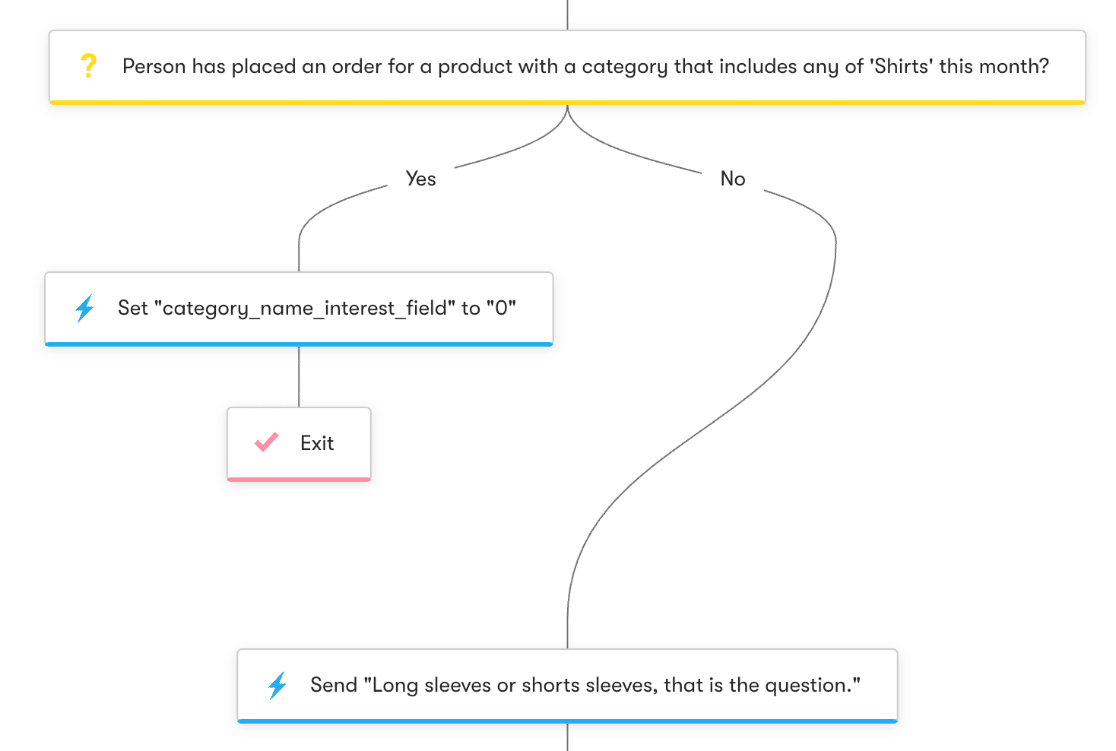 Notice how the drip-feed emails send on a schedule, and the user's behavior doesn't change the schedule at all. On the flipside, the lead nurturing email is triggered by something they did – or didn't do – so there are more branches in it.
You don't have to pick one or the other. For example:
You can use a drip-feed campaign to encourage someone to visit your eCommerce website more often.
If they visit specific categories several times, you could then start a lead nurturing campaign to capitalize on their interest in that category.
Now we know more about drip-feed and lead nurturing campaigns, let's look at ways that any beginner can put them to work.
How to Get Started with Email Automation
1. Choose Your Email Automation Tool
First up, you'll want to choose an email automation tool that you can use to set up your workflow. There's tons of choice in this field.
For example, WPForms integrates with email automation tools like:
So if you want to trigger email automation campaigns right from your WordPress site, one of these tools would likely be a great match.
Adding an ActiveCampaign connection in WPForms is super easy.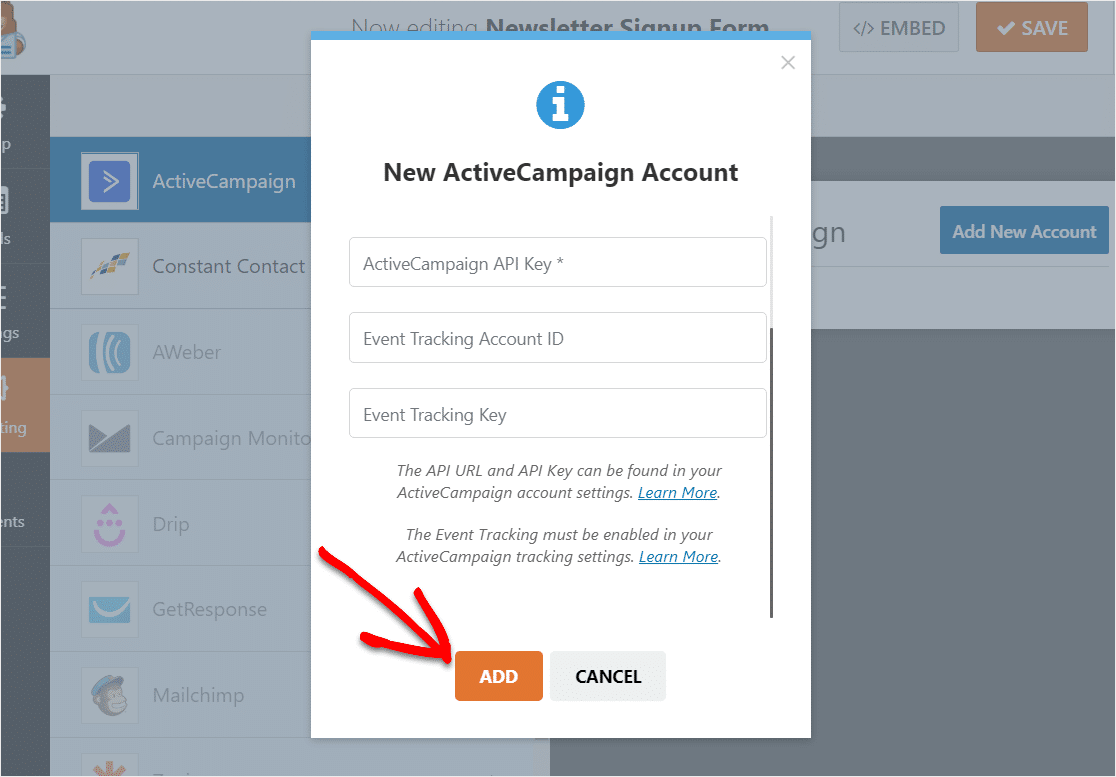 If you'd like to know more about features and pricing for different email automation platforms, check out this guide to the best email marketing tools.
2. Define Goals for Your Email Automation Campaign
In any marketing campaign, it's important to clearly define your goals before you start.
For example, you might want to use email automation to:
Build your email list when you start an online store
Increase sales by 10%
Educate your customers on important features
Encourage an existing customer to purchase again
With any goal, having a deadline can help to focus your campaign. For example, you might want to set a target of reaching your goal in Q4, or hitting a target for Black Friday weekend sales.
Time restraints help you work out exactly how many customers you'll need to target to reach your goal.
3. Segment Your Email Marketing List
Email marketing always works best when you segment your mailing list. That means you'll want to split your list into groups according to things like:
Location
Industry
Brands purchased
Lead magnets downloaded
Surveys answered
Reviews received
Email open rate
Existing customer or not
Segmentation is easier when you get the right information from your leads at the start. Using OptinMonster, you can set up email optin forms that ask additional questions, like the user's location. OptinMonster will then add the subscriber to the correct segment automatically.

For more info, you can read our full OptinMonster review. Also, check out this blog on ways to segment your email list to get more easy, super actionable tips.
4. Decide on Actions and Schedules
Remember how we talked about drip-feed vs. lead nurturing?
The type of campaign you run will affect your decision on the schedules and actions to drive it.
In a drip-feed campaign, you'll want to plan out a schedule for your email automation. Take a look at this example from Wordfence, a WordPress security plugin: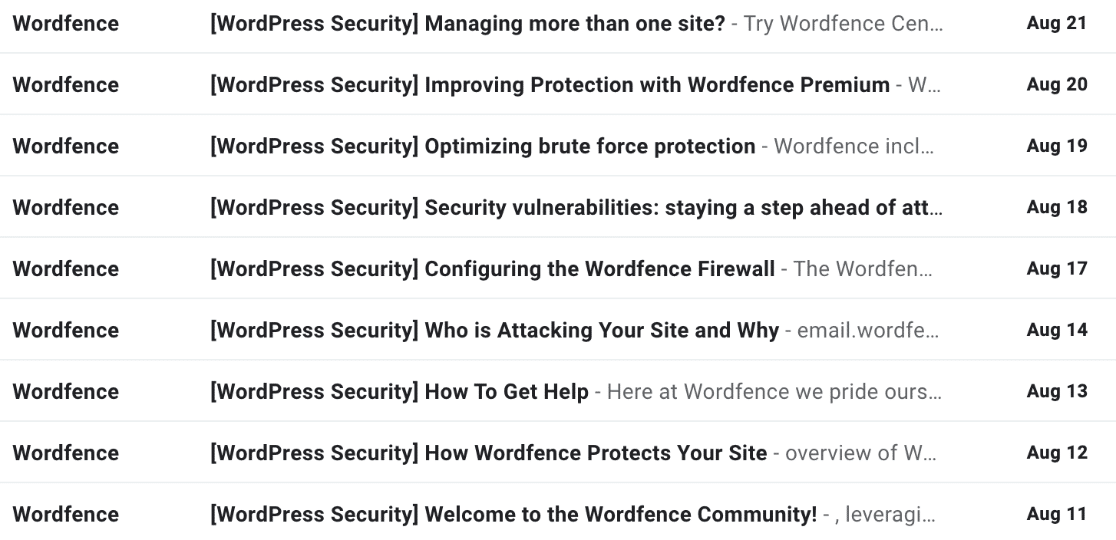 Did you notice that the first email is a welcome email? After that, Wordfence's drip-feed campaign sends out one email every 1-2 days to explain how to use the plugin. Towards the end of the campaign, the content moved more towards upselling.
In a lead nurturing email automation campaign, the timing isn't the main consideration. This type of campaign will be triggered by behavior, so the automation essentially only fires when the time is right.
With lead nurturing, you'll need to decide which actions are going to move your subscriber through the workflow according to your goals. You might want to use actions like:
Submitting your contact form
Signing up to your mailing list
Downloading a lead magnet
Opening (or not opening) an email
Clicking (or not clicking) a link
A birthday or free trial expiry
Abandoning a cart
Visiting a category on your website 3 or more times
These behaviors or dates can all act as triggers in your workflow.
Here's an example based on a specific date trigger – Labor Day. This company already segmented its list according to brand and then sent a super targeted message about that brand to promote the Labor Day sale.

You can also use triggers to move people between segments or unsubscribe them completely. For example, if someone ignores 5 emails without opening them, that might be a sign that they should be unsubscribed from your list.
Although this sounds counter-intuitive, sometimes it's best to unsubscribe people who aren't interested so you know you're only targeting the best leads.
5. Create a Workflow
Now it's time to bring everything together in your email automation software.
Most tools have a visual workflow builder. Here's the beginning of a lead nurturing workflow in Drip. This one is triggered when a new subscriber signs up, but the welcome email is only sent if they don't place an order right away.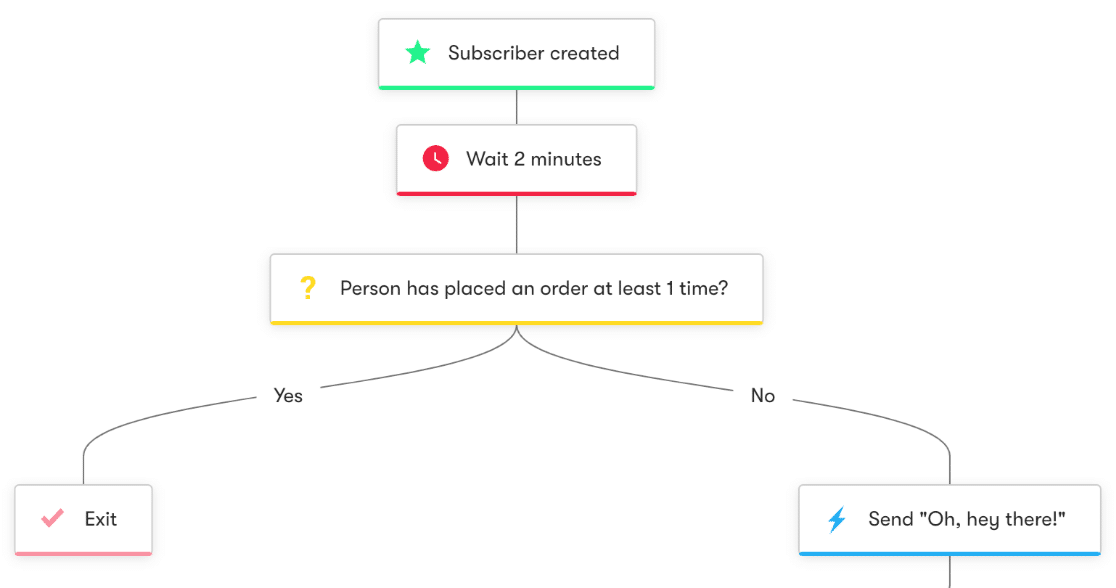 The workflow above is a really great way to send out a coupon to get that first conversion.
Here's another example from Drip. This time, the workflow is triggered by a form. You could set this up easily using the WPForms Drip addon.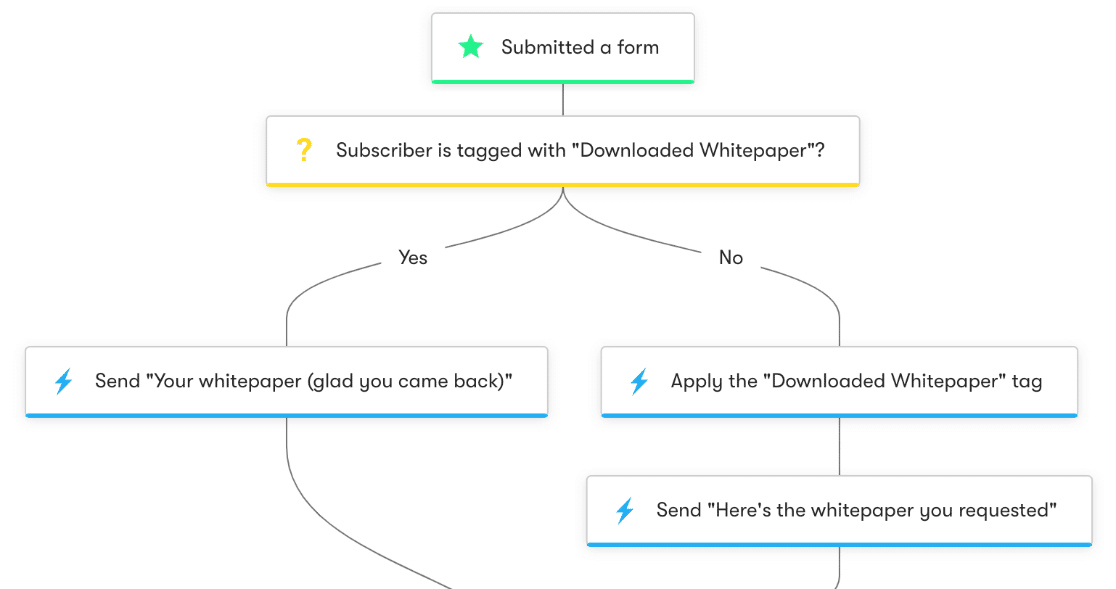 If you'd like some help deciding what kind of workflow to use, check out this guide to automated campaigns for eCommerce stores.
6. Write Quality Content for Your Emails
Now it's time to actually create the emails that will be sent out to your subscribers.
And just as you write great content for your website, you'll want to put in the effort to produce the very best quality email content that you can.
Email automation doesn't always require lots of design work. But the call-to-action is still important.
This example has a great subject line that encourages the reader to read more:

Did you notice how the email is personalized? By using someone's real name, it looks like a personal message, not a mailout. The subject line also makes the email sound urgent, which is a great way to get someone to open it.
For drip-feed campaigns, where the theme is educational, you might want to start by offering help getting started. Here's an example of that from SeedProd.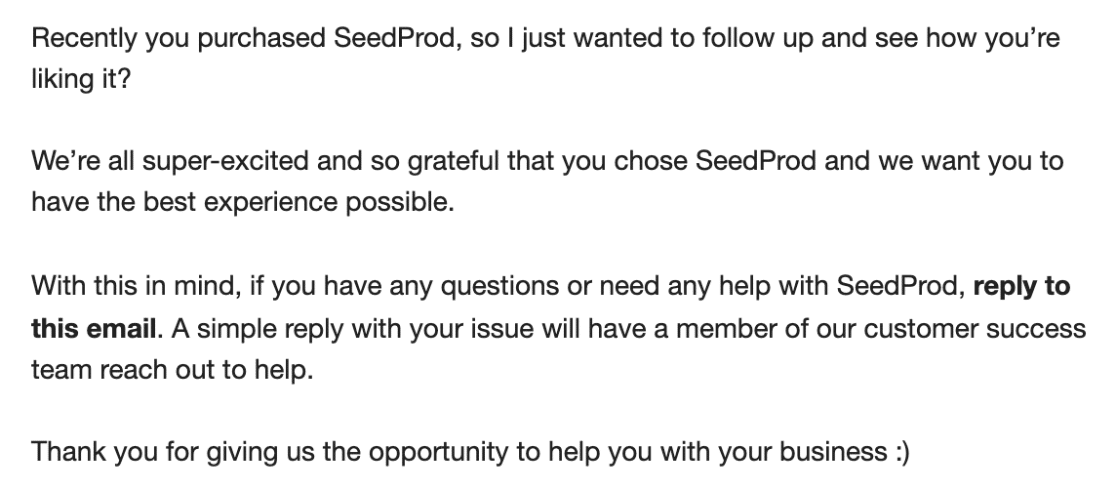 This email has no call-to-action, apart from asking for a reply. That's because it's part of an drip-fed educational sequence, so it's not trying to sell anything at this stage.
If you have information from past purchases, like the subscriber's location or purchase history, it's a good idea to include that. And be sure to include the opt-out links you need to stay compliant.
Once that's set up, you're ready to launch.
But wait – just one more thing!
7. A/B Test Your Campaign
If you've gotten this far, you've probably spent tons of time setting up your email automation. Now everything's set up, it's tempting to start it and step away.
But A/B testing, or split testing, is crucial.
A/B testing lets you run 2 versions of the same campaign with different settings. For example, you could try running half your emails with a free shipping coupon and half with a discount to see which one your customers like best.
You can also test things like:
Subject lines
Shorter or longer content
Plain text vs. HTML
Different schedules or triggers
Different landing pages
The colors or words on your calls-to-action
A/B testing can also help to overcome bottlenecks or places where people drop out of the funnel. That's why it's crucial to continually monitor the effectiveness of email campaigns so you can tweak and adjust over time.
Here's a split test that runs 3 variants of the same campaign. Each customer will be randomly assigned to one of these paths. Over time, you'll see which one is working best.
And that's it! Now you know everything you need to know about email automation. You're ready to make a WordPress form that will trigger your first campaign.
Create Your WordPress Form Now
Next, Grow Your Business With WPForms
We hope that this beginner's guide to email automation has given you tons of ideas on how to improve your marketing and supercharge your conversation rates.
Using WPForms, it's super easy to use the forms on your website as a trigger for your email automation workflows. That way, you can start an automatic email sequence each time you get a new lead or subscriber.
Check out the list of features in WPForms to see all of the available email marketing addons.
Also, if you'd like to email your WordPress users, we have a very easy guide for that.
Ready to build your form? Get started today with the easiest WordPress form builder plugin. WPForms Pro includes lots of free templates and offers a 14-day money-back guarantee.
It also lets you create surveys, contact forms, and collect payments through Square, PayPal, and Stripe.
If this article helped you out, please follow us on Facebook and Twitter for more free WordPress tutorials and guides.