Would you like to create a refer-a-friend form for your website? A refer-a-friend form is a great way to generate leads for a store, or widen your talent pool for a job opening.
In this article, we'll show you 2 easy ways to create a refer-a-friend form using a template. You can add your finished form to your WordPress site without writing any code.
Create Your WordPress Refer-a-Friend Form Now
Does Refer-a-Friend Work?
Yes. When someone refers a friend to you, it's a personal recommendation for your organization. So their referral will inspire more trust than a simple sales pitch.
That's why referrals have a high conversion rate compared to other forms of lead generation.
When running any kind of refer-a-friend program, it's important to:
Have a clear goal – Know what you want to achieve from your refer-a-friend campaign. Do you want more subscribers, more leads, more applicants for a job, or something else?
Offer an incentive – Give something back to the people who you refer you, like an entry for a big-ticket prize draw, or a financial reward. This will help drive your campaign to a wider audience and encourage multiple referrals from the same person.
Focus attention – Publish a clear, attractive refer-a-friend form to get as many referrals as possible. A distraction-free landing page is the perfect way to increase conversions on a form.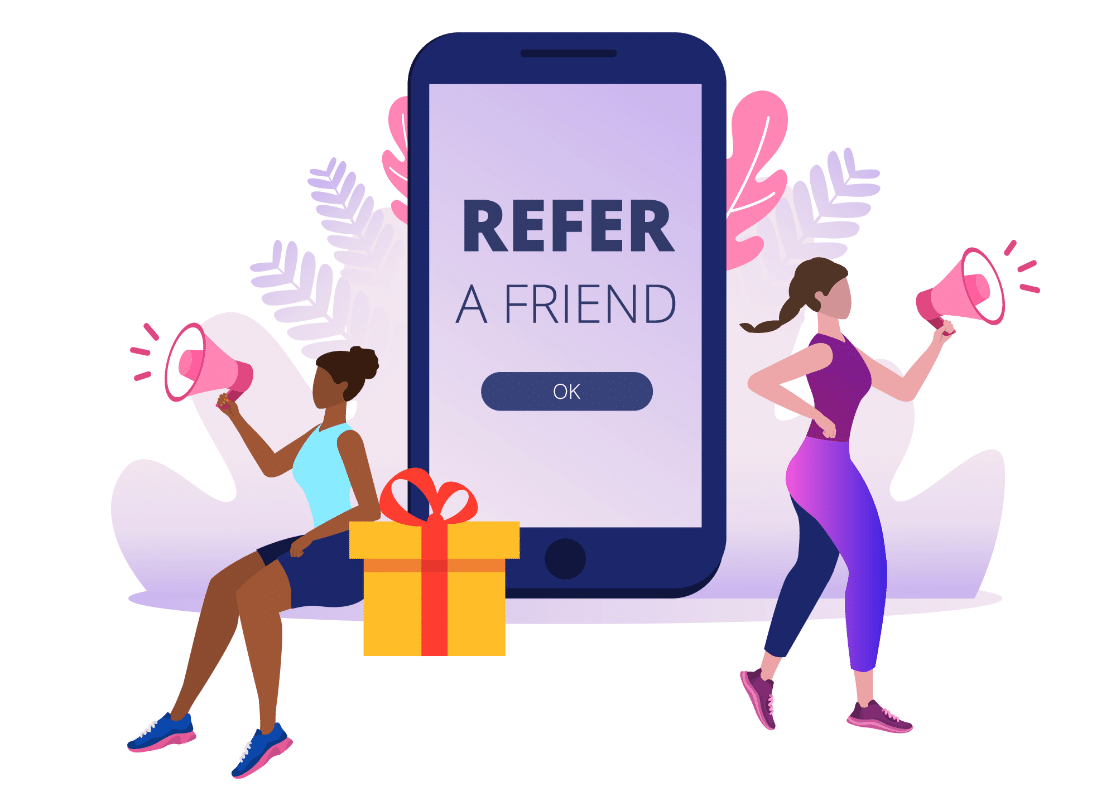 Now we understand the benefits of a refer-a-friend form, let's look at 2 easy ways to make one in WordPress.
Both of these methods use templates to speed things up.
How to Create a Refer-a-Friend Form
We're going to look at 2 different plugins that let you create a refer-a-friend form. Both of these plugins are super powerful, but easy for beginners to set up and use.
Let's make a refer-a-friend form with WPForms first.
Method 1: Create a Refer-a-Friend Form in WPForms
WPForms Pro is the best form builder plugin for WordPress. It lets you create any kind of form easily without writing any code.
The goal will be to drive traffic to a job application. So our refer-a-friend form will include an incentive to encourage existing employees to refer candidates.
WPForms comes with a free employee referral form template that will be perfect for the refer-a-friend campaign.
Let's start by getting the plugin set up.
Step 1: Install and Activate WPForms
To start, install and activate the WPForms plugin.
If you need a little help, here's a guide to installing a plugin in WordPress that will help you get set up.
Next, you'll want to head to WPForms » Addons.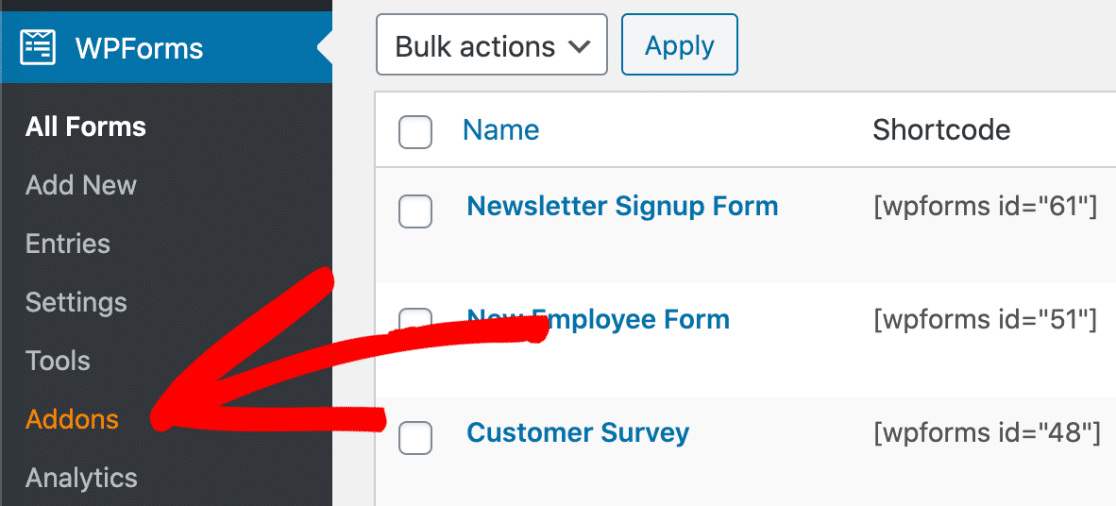 Install and activate the form templates pack now.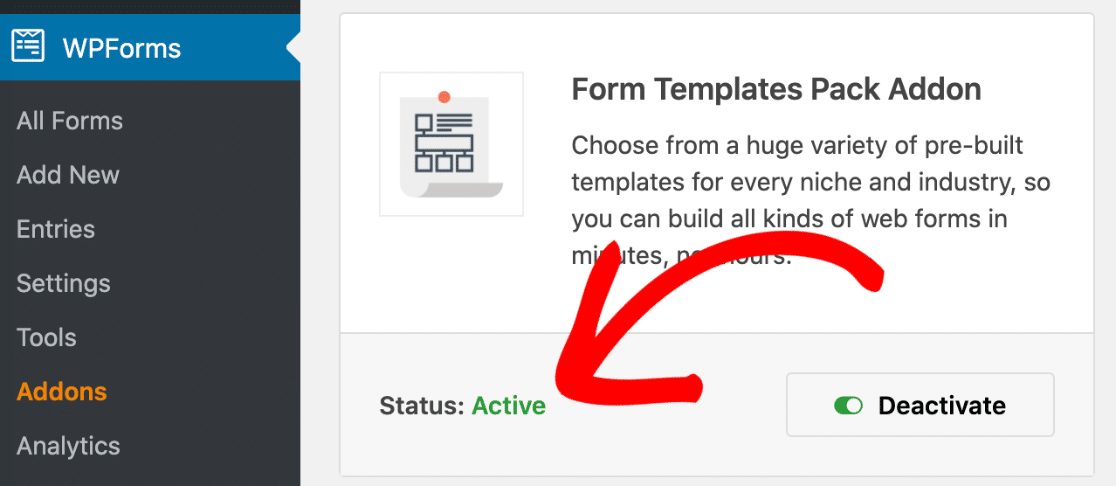 OK, that's everything we need to do to get set up. Let's open up the template in the form builder now.
Step 2: Customize Your Refer-a-Friend Form
Now it's time to start building the form.
Click WPForms » Add New in the WordPress sidebar.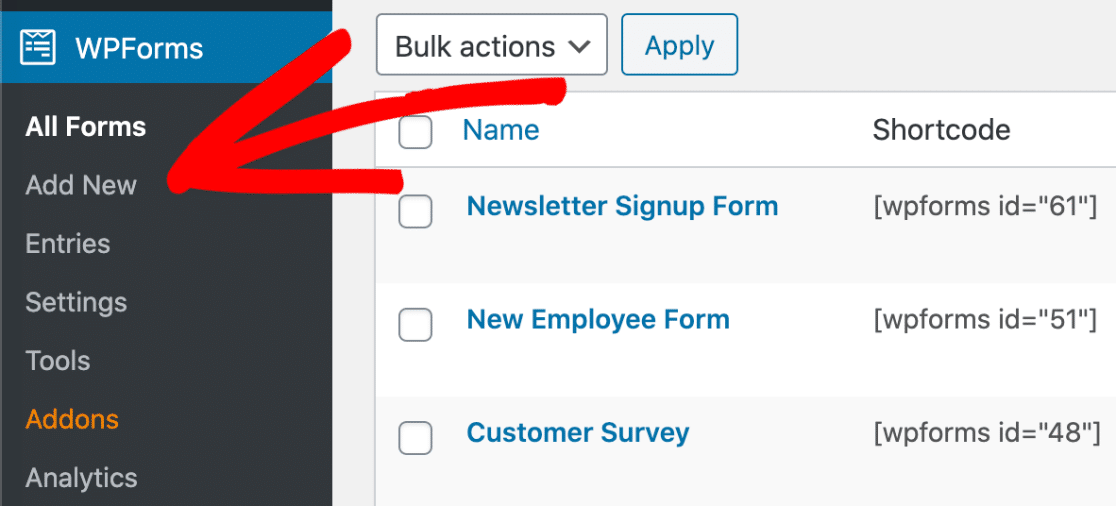 When the form builder opens, you'll see a box at the top for the form name. Go ahead and type in the name you want to use here.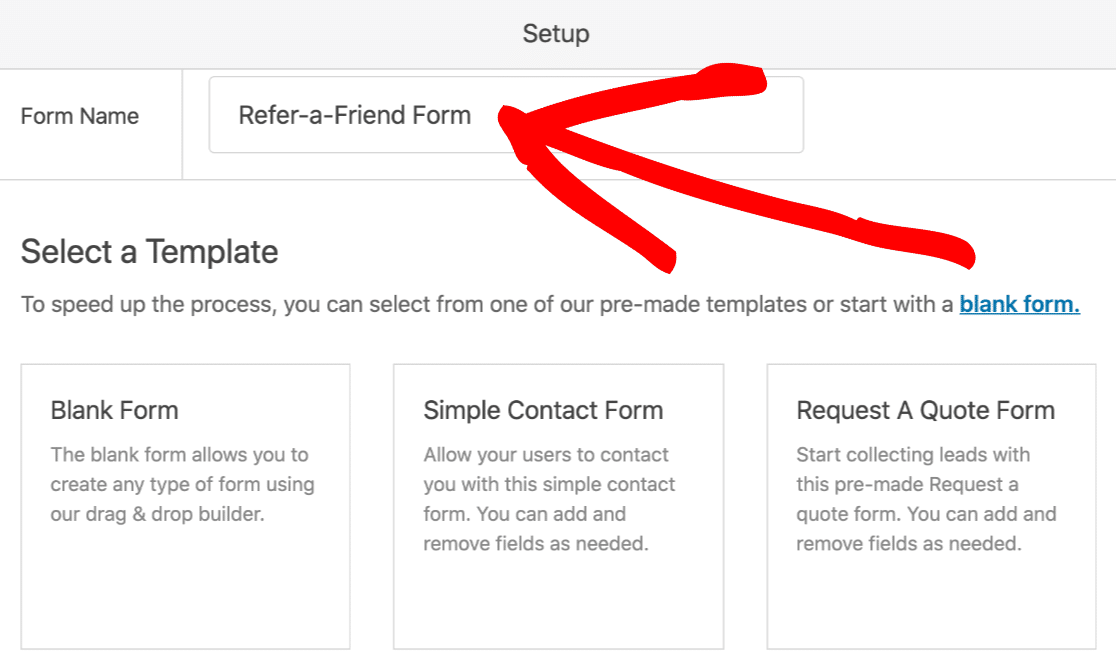 Next, scroll down to the Additional Templates section and search for Referral Form.
Go ahead and click the Employee Referral Form template to open it.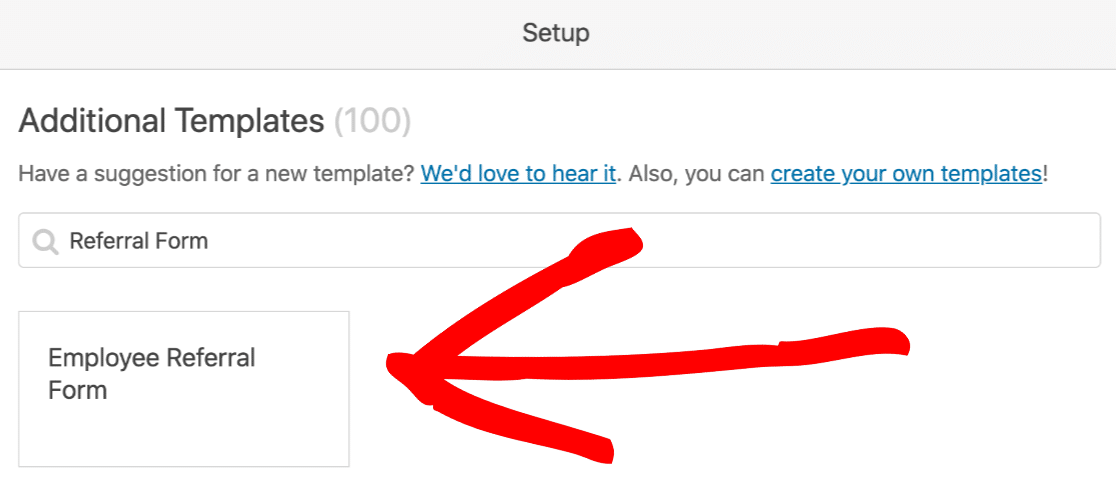 Great! Now the form template is open and we can change it to fit the refer-a-friend campaign.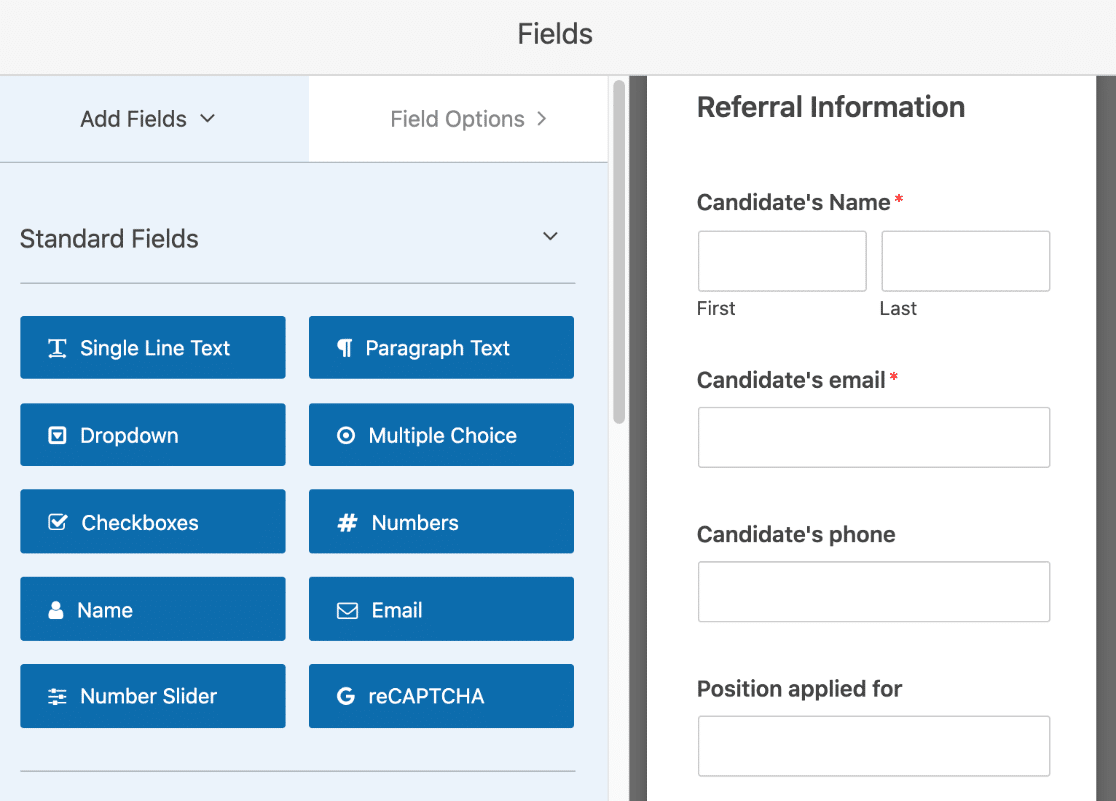 In the form builder, you can drag any fields from the left-hand side to the right-hand side to add them to the form.
Also, you can delete any fields you don't need by clicking hovering your mouse over the field and clicking the trash can icon.
As an example, we're going to remove the Phone field. In its place, we'll add a new Single Line Text field for the name of the employee's manager:

We also clicked the Required checkbox to make sure that the manager's name is filled in.
You'll also want to explain the incentive you're offering. We can do that easily by dragging an HTML field onto the form. Let's add some text to explain the referral bonus: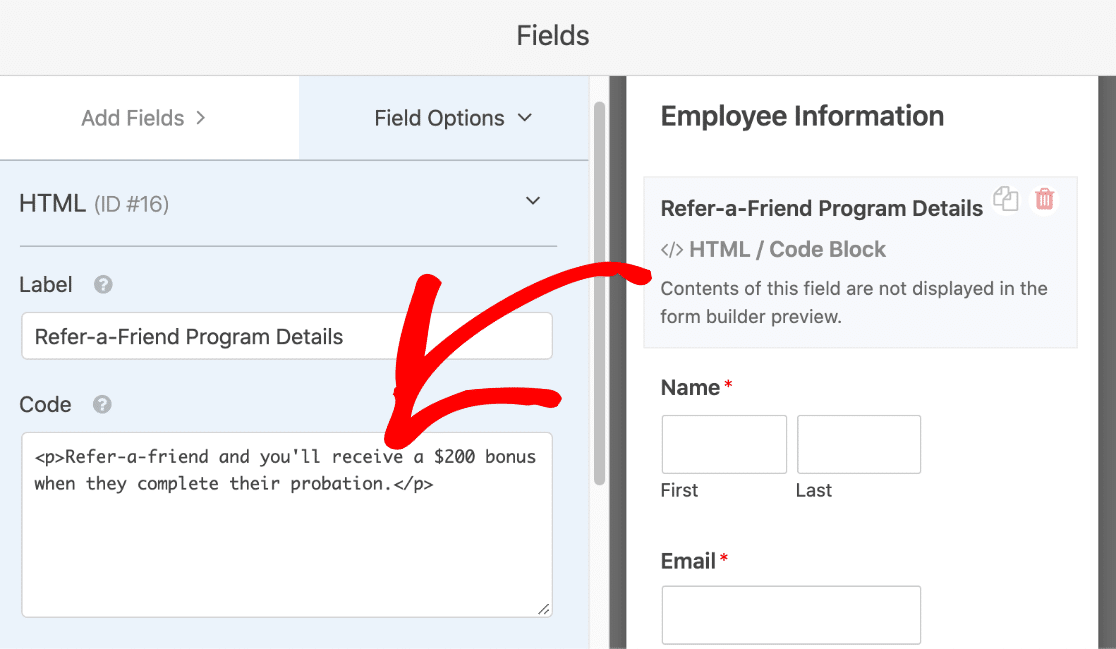 If you'd like to add an image to your form, you can do that using the HTML field as well.
The content of the HTML field isn't visible in the form builder, but it'll show up when the form is published.
So that's the basic form done. Now we just need to check a couple more things in the settings.
Stay in the form builder and click Settings on the left, and then Notifications.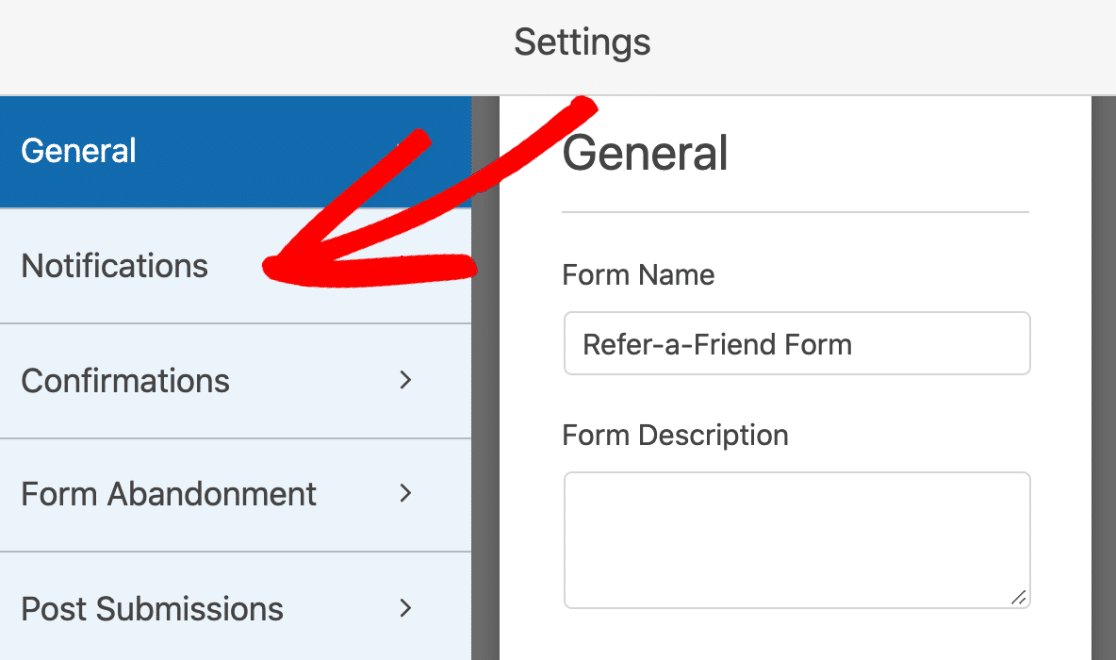 This screen shows the email template that will be used to send a notification when someone submits your form.
You can customize the email address that the notification will be sent to here: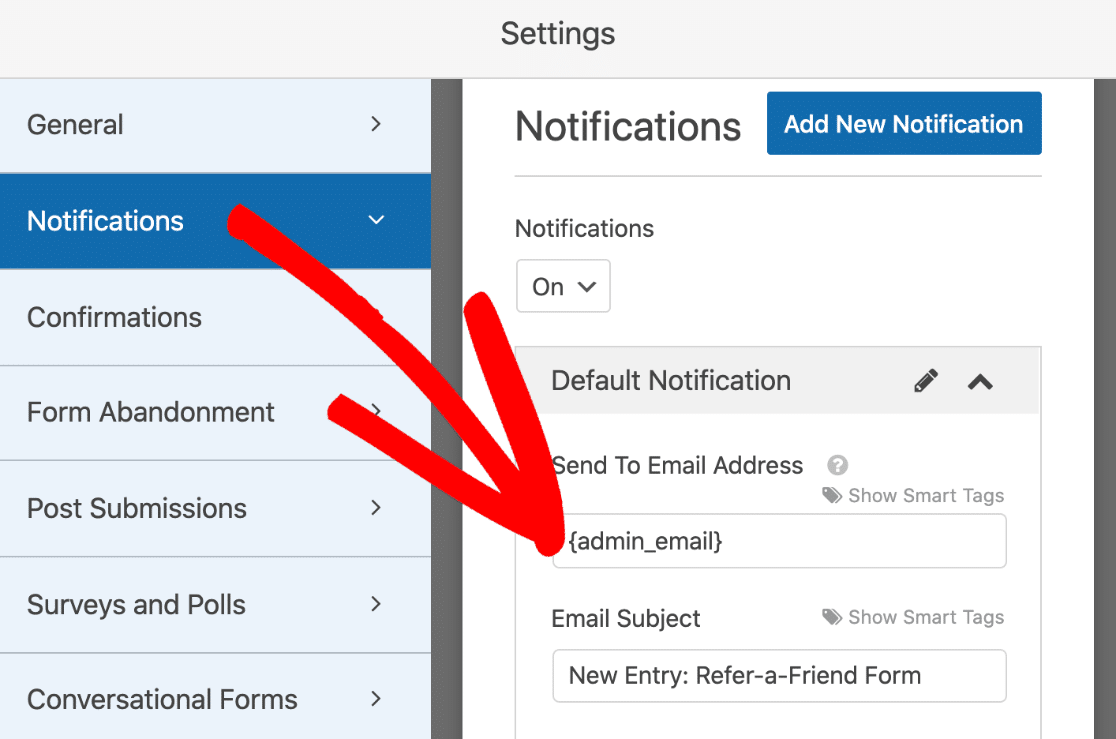 You can also change the email subject and text.
Next, let's check the form confirmations. Go ahead and click Confirmations on the left.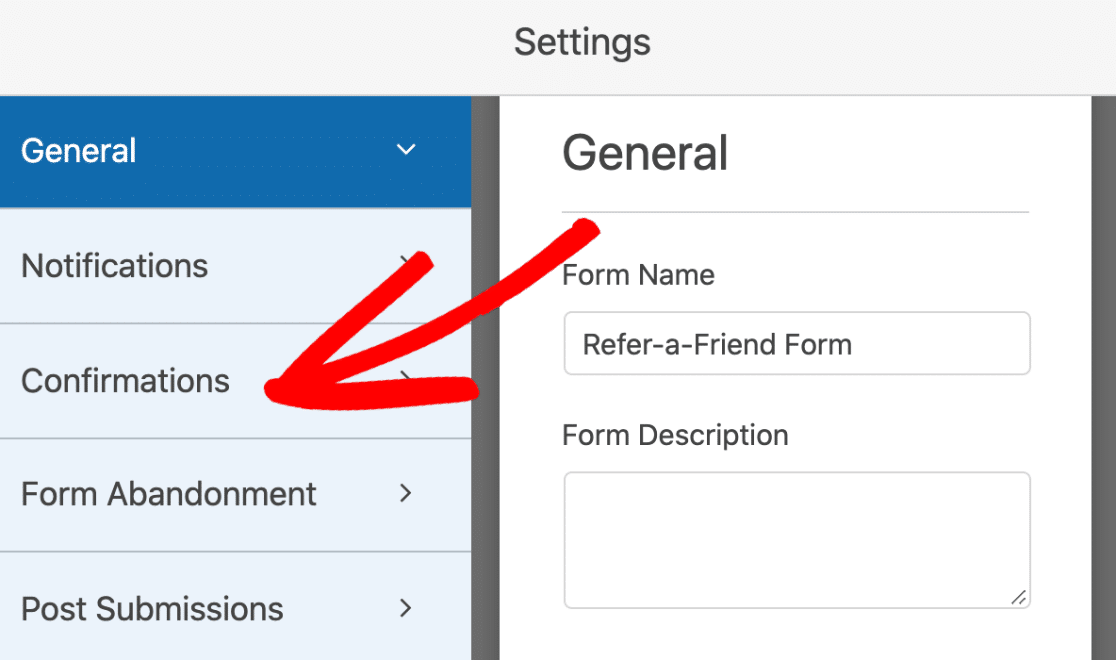 The message in on the right will show up after the form is submitted.
You can change the wording of this message if you want to.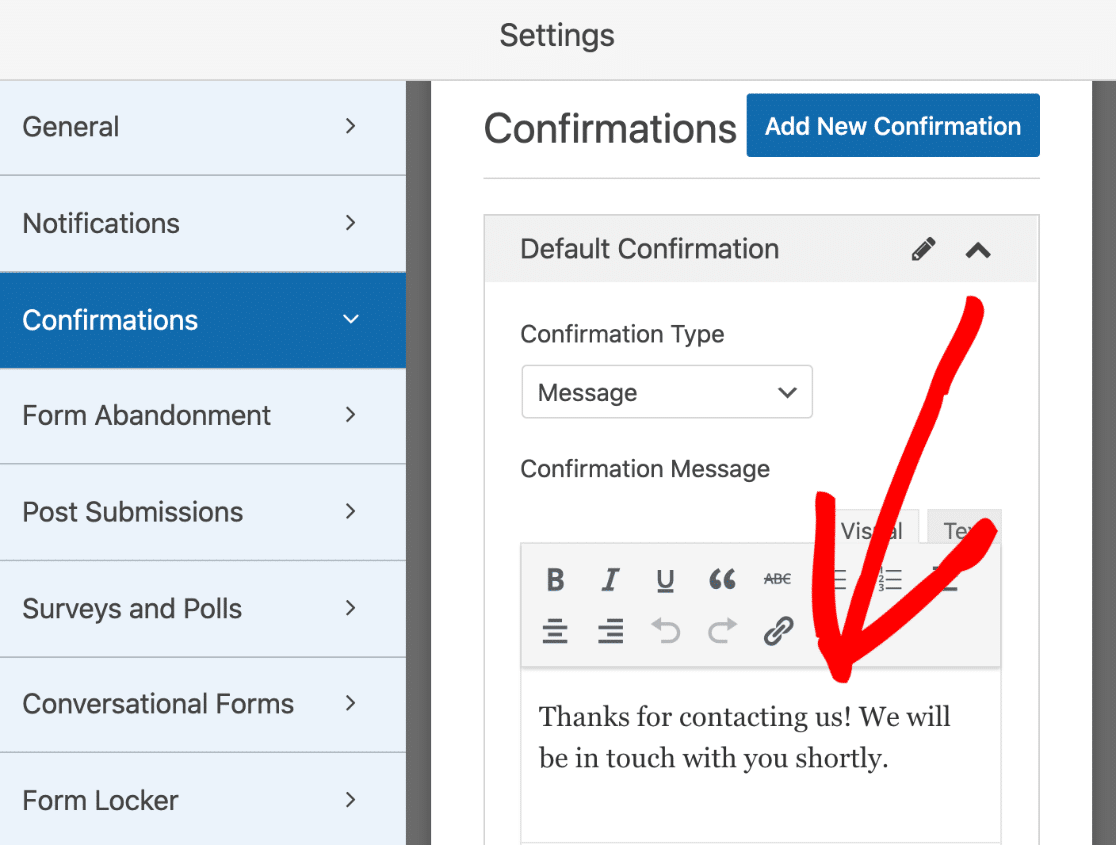 There are lots of other things you can change in the form settings if you'd like to. For now, we're done here.
It's time to move on and publish the form.
Step 3: Publish Your Refer-a-Friend Form on Your Site
Now your form is done, you'll want to add it to your website.
WPForms lets you add your form anywhere in WordPress, like:
We're going to show you how to add it to a page.
At the top of the form builder, click the Embed button.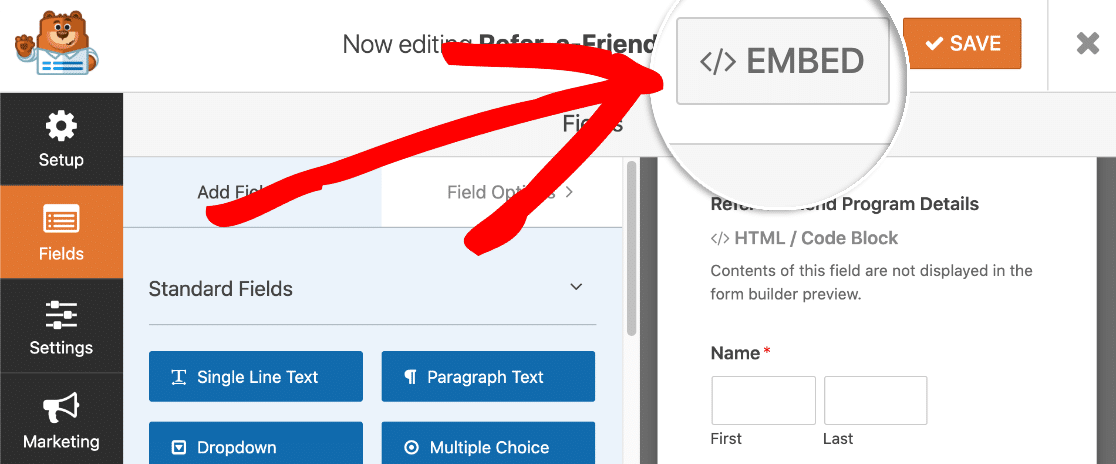 Now click Create New Page in the popup.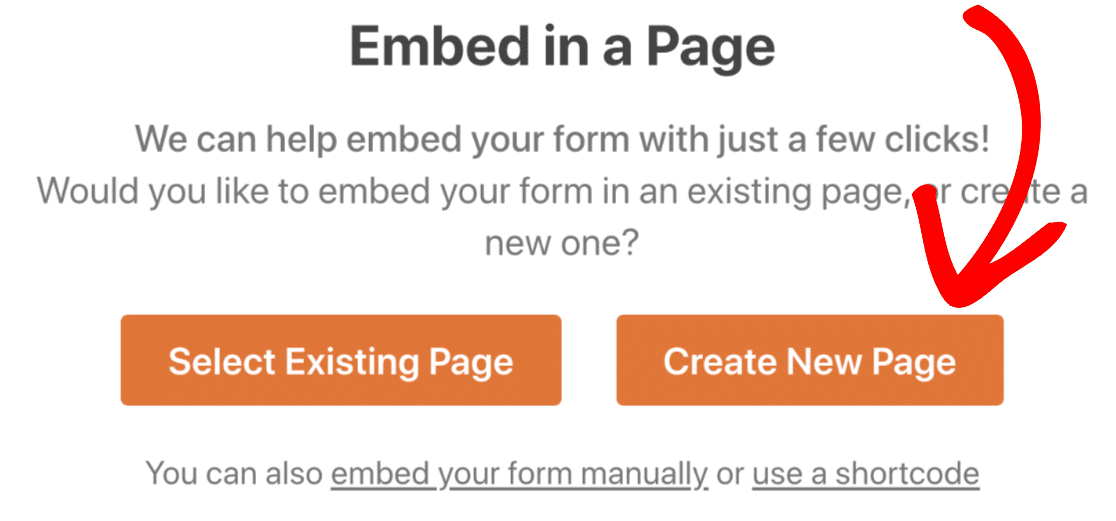 Go ahead and type in the name for a new page here and click Let's Go.

You'll see your new page in the WordPress editor with your form embedded in it. All you have to do now is click the blue Publish button at the top-right.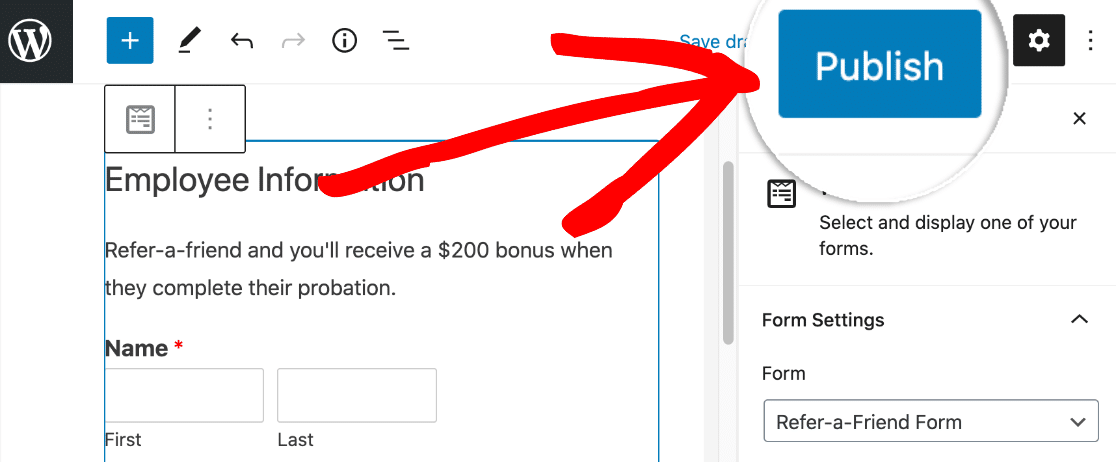 And that's it! You've created a refer-a-friend form and published it on your site.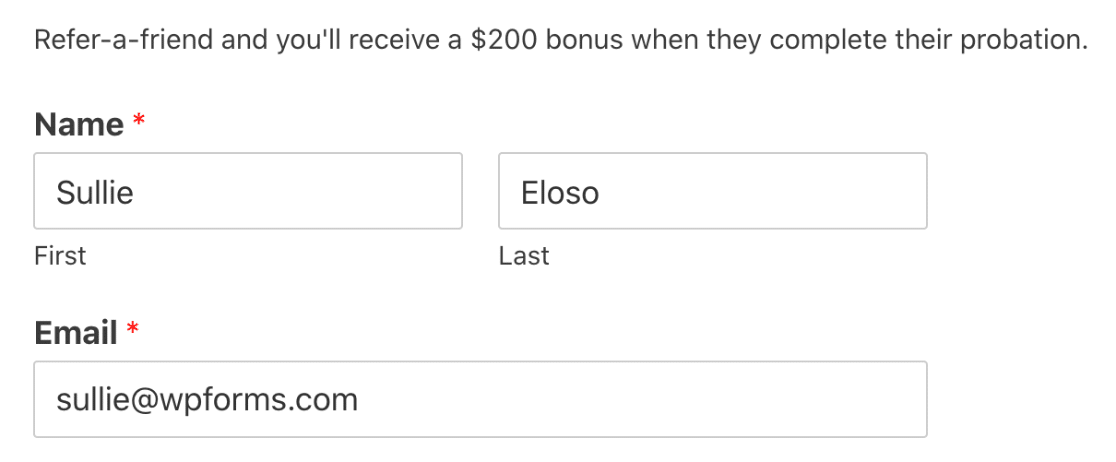 Now you can share the link to the page with your employees and ask them to recommend people for your job opening.
If you'd like to look at another way to create a refer-a-friend form, RafflePress is a great alternative. Let's take a quick look at how it works.
Method 2: Make a Refer-a-Friend Form in RafflePress
RefflePress is the best giveaway plugin for WordPress. It lets you easily create contests and refer-a-friend forms for your site.
RafflePress is perfect for getting more subscribers or leads when you start an online store.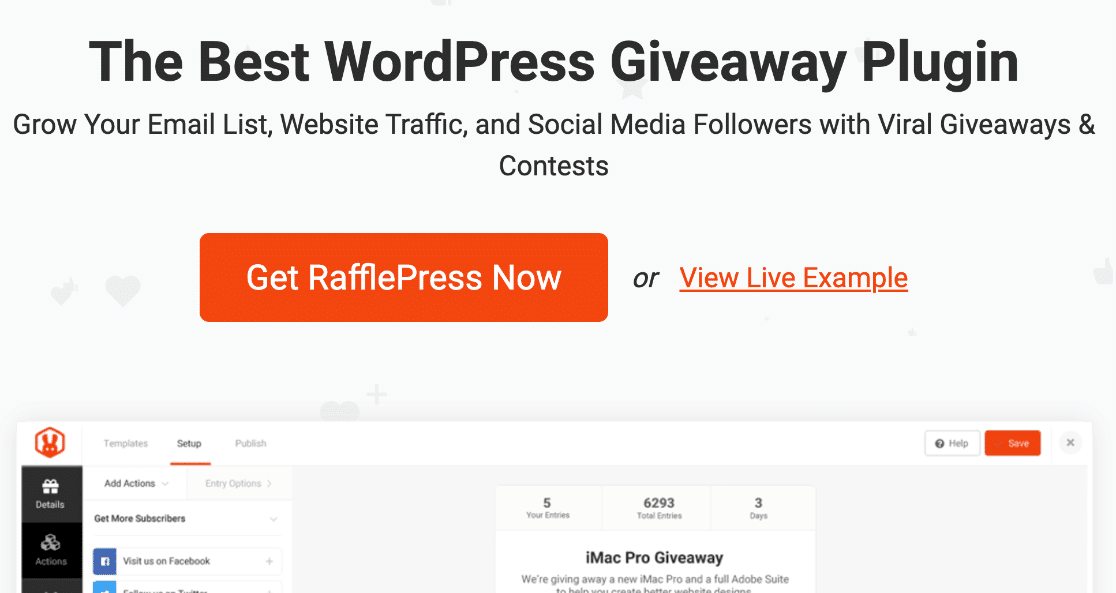 Even better, RafflePress comes with a refer-a-friend giveaway template, so you can get started right away.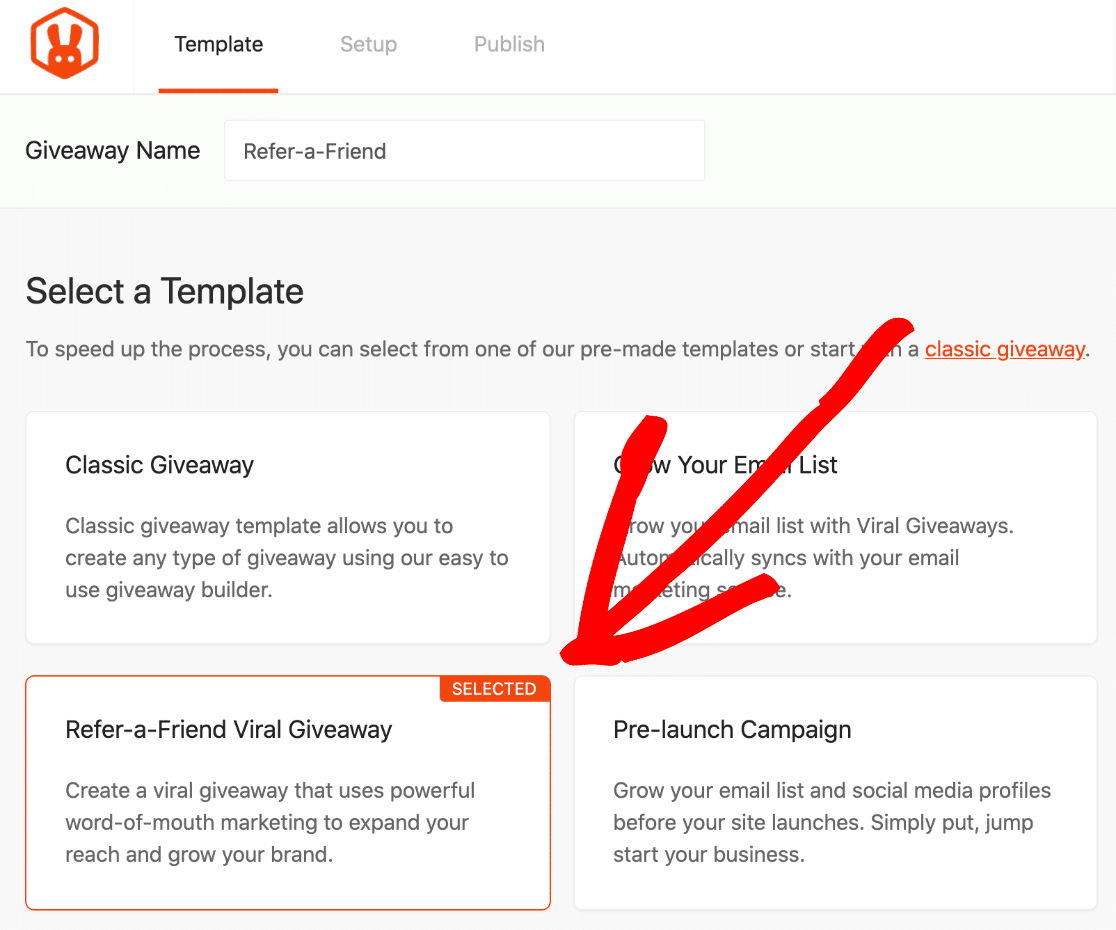 If you want the full lowdown, check out our detailed RafflePress review.
In RafflePress, you can easily add a refer-a-friend option to any campaign to encourage viral sharing.
In this example, we're giving away an iPad as an incentive. Each time a visitor refers someone to our store, they'll get 1 additional entry in the giveaway.
It's super easy to add the refer-a-friend option to any giveaway you create: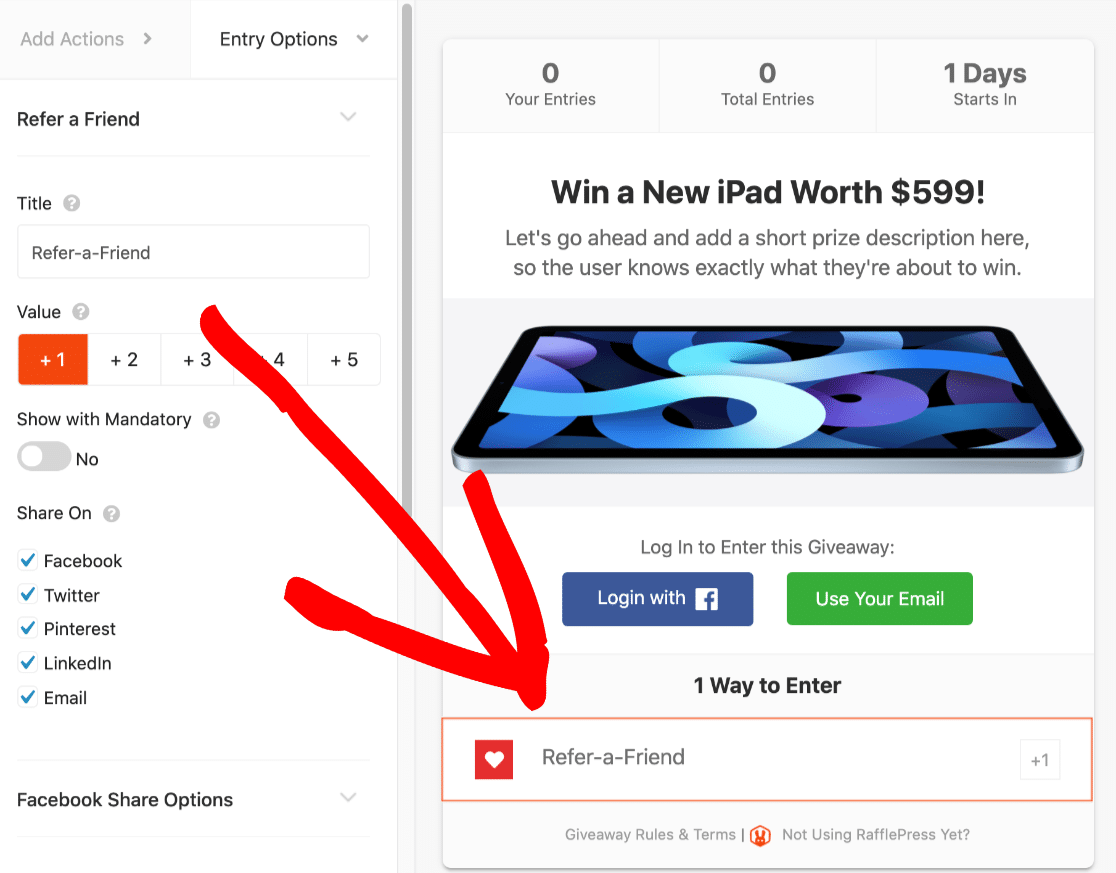 And RafflePress creates a unique refer-a-friend link for every entrant automatically: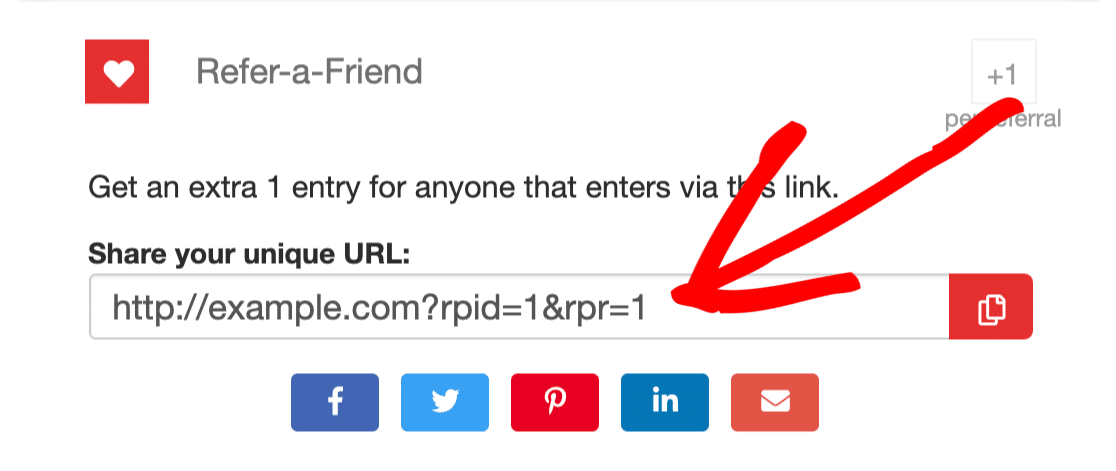 If you'd like to make your refer-a-friend form in RafflePress, check out this guide to creating a viral refer-a-friend giveaway and check out all the awesome tools you can use.
Create Your WordPress Refer-a-Friend Form Now
Next Step: Get More Leads With Email Marketing
If you want to get more leads, growing your email marketing list is a great way to communicate directly with customers and send targeted offers.
Check out this guide to the best WordPress lead generation plugins to grow your email list. You'll find even more ideas on lead generation in this guide to getting more leads on your WordPress site.
Ready to build your form? Get started today with the easiest WordPress form builder plugin. WPForms Pro includes a free referral template and offers a 14-day money-back guarantee.
If this article helped you out, please follow us on Facebook and Twitter for more free WordPress tutorials and guides.