Are you looking for an easy way to run giveaways in WordPress? Want to read a RafflePress review to learn if it's the best WordPress contest plugin for you?
RafflePress is one of the most popular WordPress giveaway plugins, and we're often asked if it's the best drag and drop giveaway builder on the market.
With this in mind, we've written a thorough RafflePress review, so you know what to expect.
What Is RafflePress?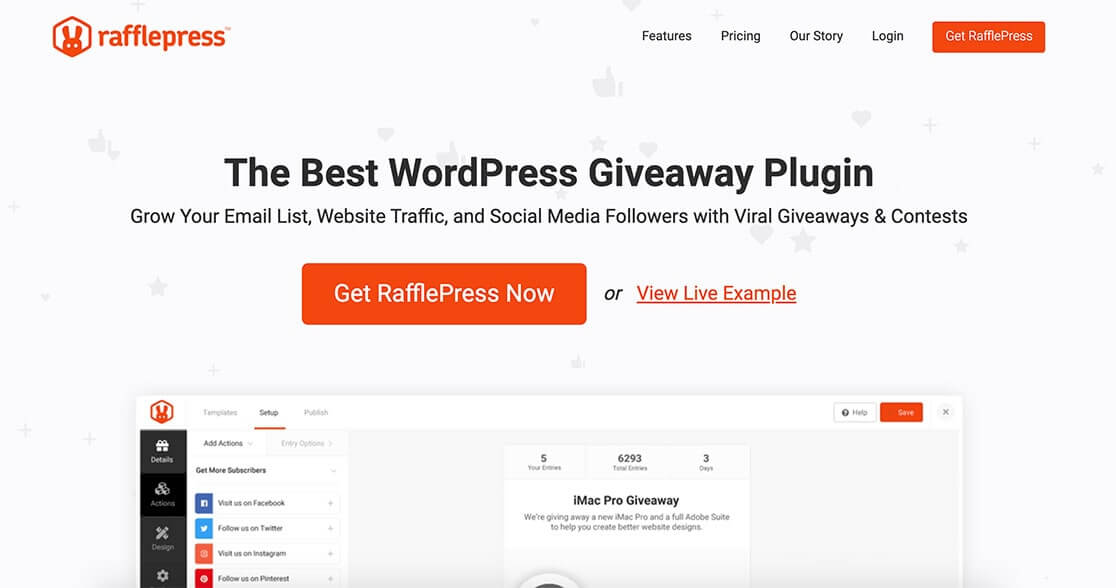 RafflePress is a WordPress plugin that allows you to run a successful giveaway on your website.
Aside from creating giveaways, RafflePress has tons of features to grow your email list, website traffic, social media followers, and more. This is what makes it a super-effective lead generation tool for small businesses.
Because RafflePress is so easy to use and works so well, we've listed some of the biggest reasons for using this plugin to create viral giveaways in WordPress.
RafflePress Review: The Best Giveaway Plugin?
Here are some of the most useful features we've found when using the RafflePress plugin. Click any link to jump ahead.
Now let's dive in and learn what these features do and how they can help.
1. Beginner-Friendly Giveaway Builder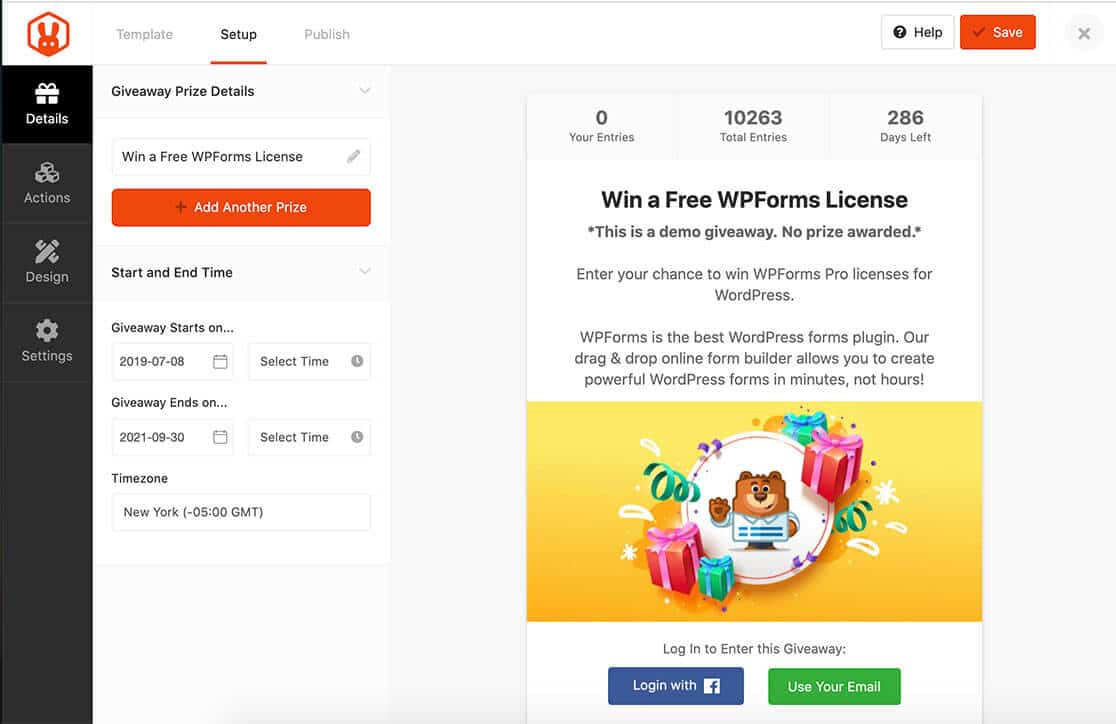 Of all the giveaway tools available, RafflePress is the simplest and easiest to use. Even if you're a complete beginner, you'll have no trouble creating contests with RafflePress.
The giveaway builder has a drag and drop visual builder. This makes it super-easy to add and remove giveaway entry options from the widget and see your changes in real-time.
Plus, the interface is distraction-free and clearly labeled, making it easy to find your way around.
You can check out this great comparison of Rafflecopter vs Gleam vs RafflePress to see how easy this plugin is to use compared to the alternatives. RafflePress comes out on top.
2. Goal-Based Giveaway Templates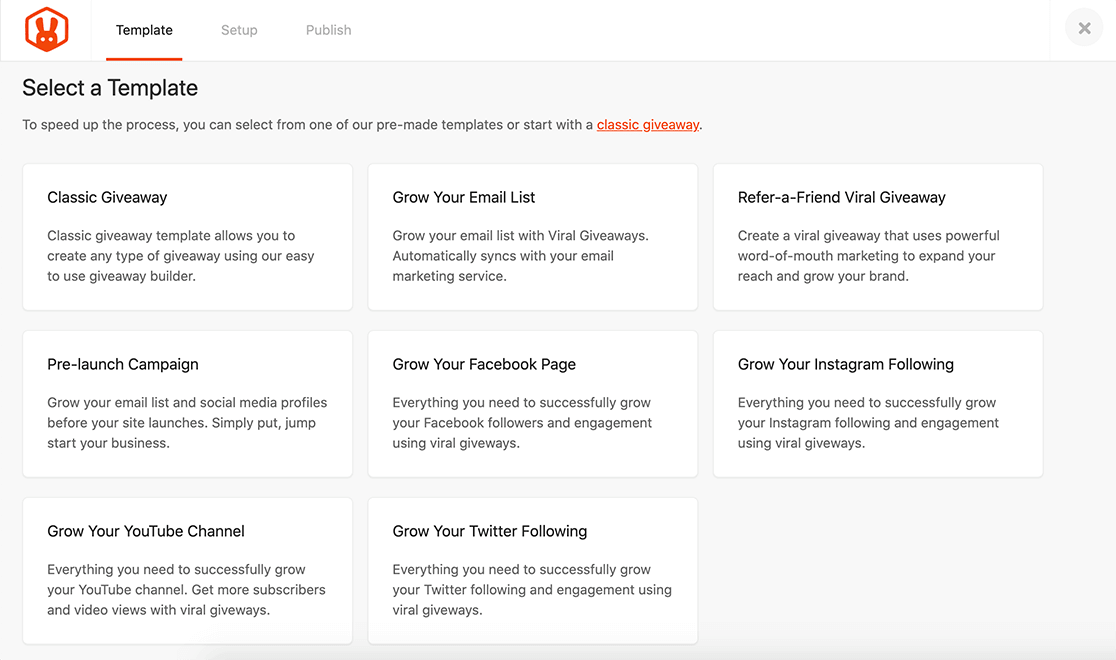 One of the reasons why it's so easy to create contests with RafflePress is because it offers ready-made giveaway templates. Whether you want to run a Facebook contest, an Instagram giveaway, or any other kind of engaging contest, RafflePress has got you covered!
So instead of building a giveaway from scratch, you can choose a template that matches your goal, and the plugin will make a widget for you. It will even add the right giveaway actions to achieve that goal.
The RafflePress Pro plan has goal-based templates you can use right after you install the plugin.
3. Grows Your Social Media Followers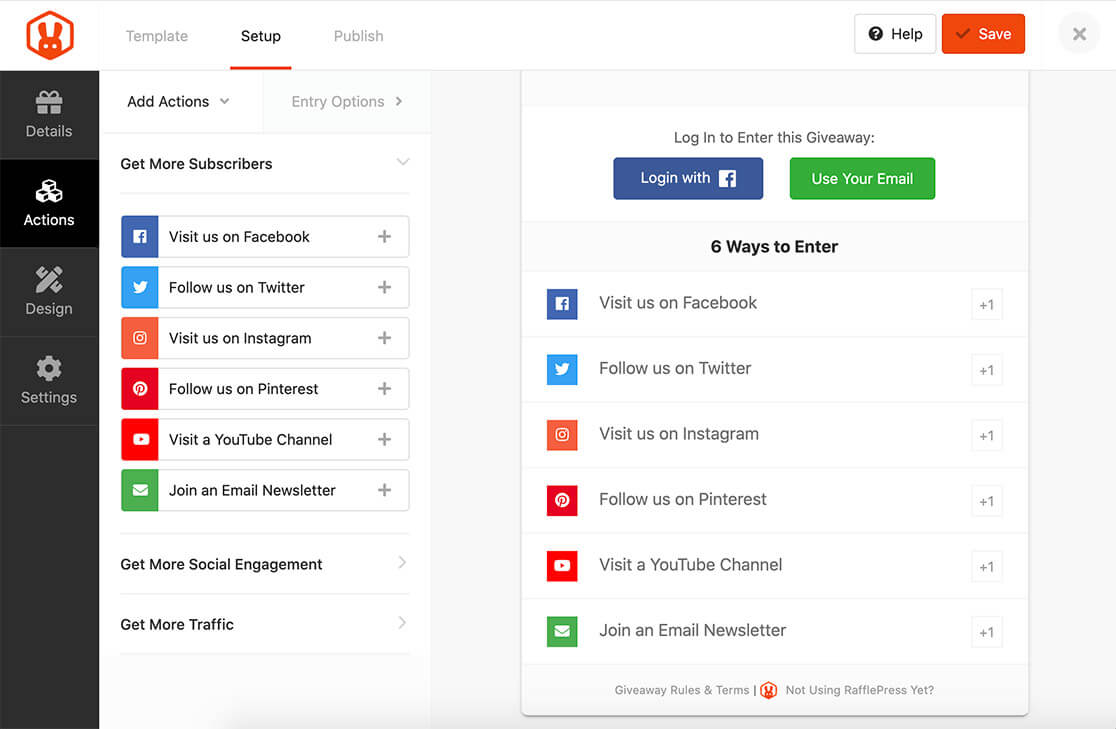 Getting more social followers can be tricky, but RafflePress makes it seem effortless. Whether you want to grow your followers on your:
Instagram profile
Facebook page
Twitter account
Pinterest profile
LinkedIn network
YouTube channel
RafflePress has a giveaway action to make it happen.
You can make the actions mandatory, so users have to perform them to unlock bonus entries. Plus, users can repeat many actions daily to increase their odds of winning your prize.
Want to give an action more importance than another? Just set the action value higher. The higher the value, the more entries that action provides.
4. Can Make Your Contest Go Viral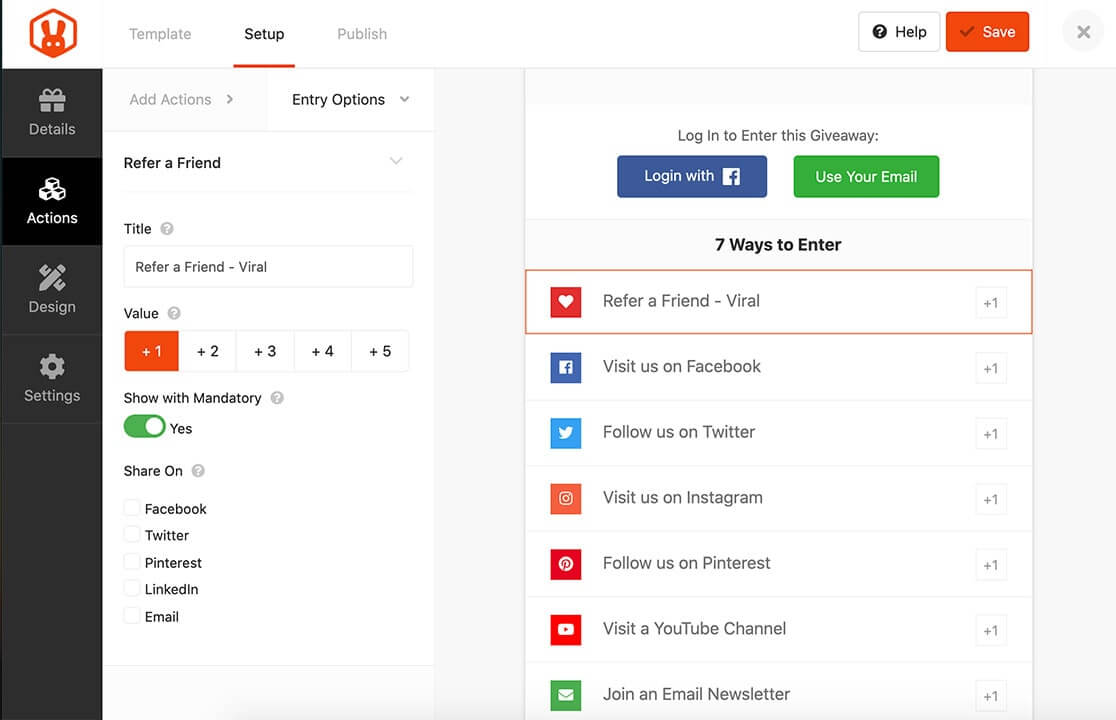 Word-of-mouth marketing is an excellent way to tell more people about your brand. That's why RafflePress includes refer-a-friend viral sharing actions to boost your contest's popularity and visibility.
Here's an idea of how it works:
Person A enters the giveaway and shares it with friend B via email. Friend B enters the giveaway and shares it on Twitter. This leads to people on Twitter entering your giveaway and sharing it on other platforms.
So you get the idea. The more people share your giveaway, the more people know about it and enter, leading to more leads and greater brand awareness.
5. Enter Giveaways With 1 Click

We mentioned earlier that RafflePress giveaways are easy to create, but they're also effortless for users to enter.
The 1-click entry actions mean users won't have to waste time filling out lengthy forms to take part. Instead, they can click your giveaway widget, enter, and be on their way, leaving a good impression in their wake.
Plus with built-in fraud protection and email verification, you can limit fraudulent and spam entries.
If your users aren't receiving the verification emails, it's easy to fix RafflePress not sending email.
6. Collects User Generated Content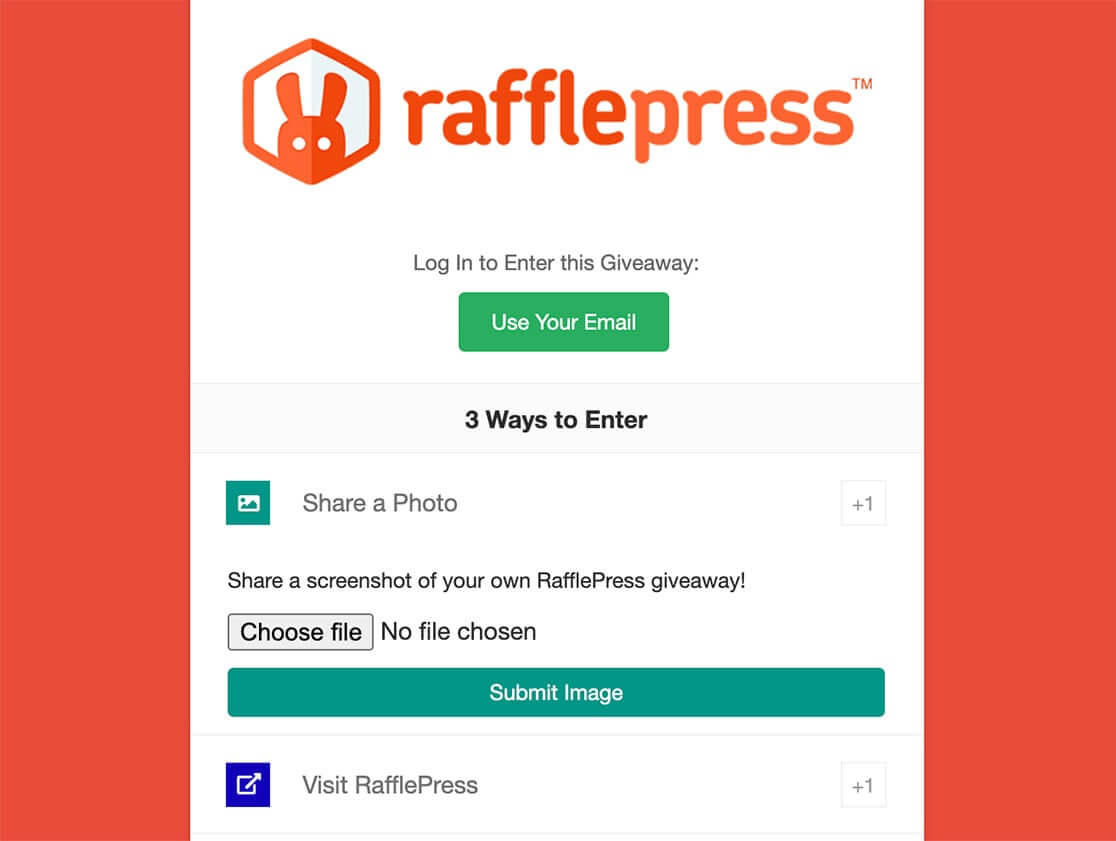 Another awesome thing you'll love about RafflePress is it's the perfect way to collect original content from your audience.
Many brands use user generated content (UGC) to show potential customers what other people think about their products. As a result, it can persuade them to take the plunge and make a purchase.
With RafflePress, you can easily run photo contests and allow users to upload images from within the giveaway widget. This provides you with tons of UGC you can use to promote your brand online.
Not to mention, running photo contests is one of the best ways to grow your Instagram following.
7. Built-in Giveaway Rules Generator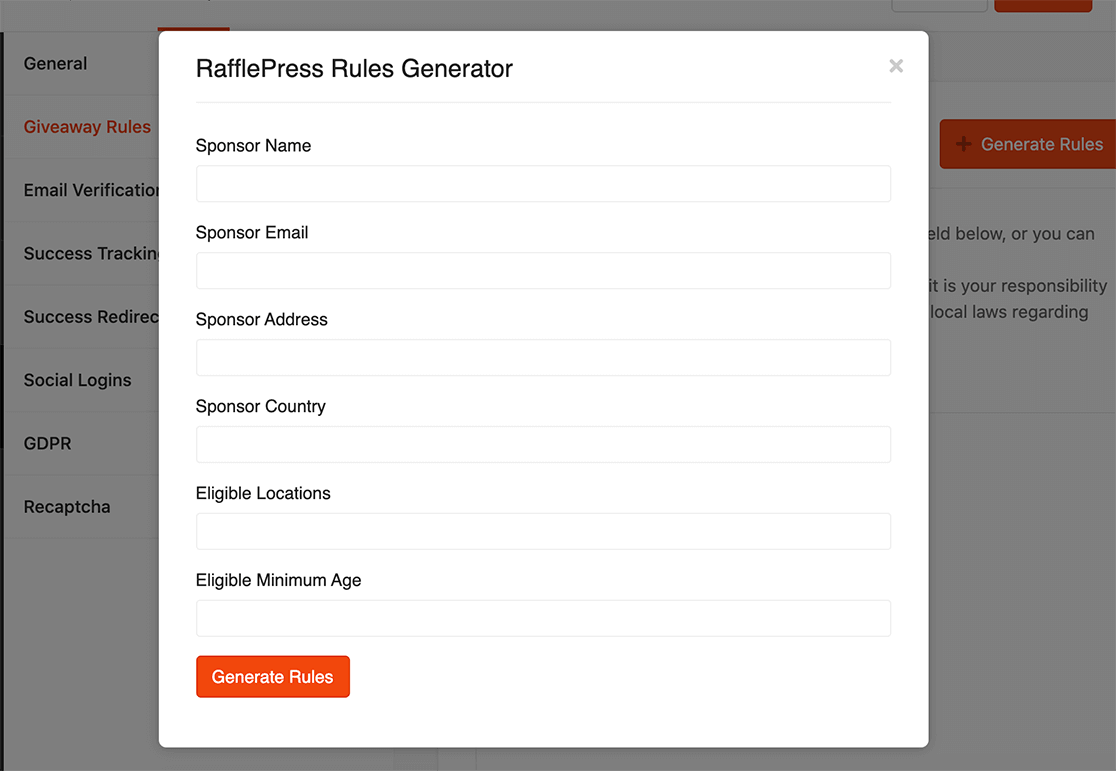 Having clear rules for your giveaway is the best way to ensure people enter correctly. For instance, you might want to limit contest entries from certain countries or ages.
Luckily, RafflePress includes a built-in giveaway rules generator to make entering your requirements crystal clear.
Just fill in the rules template with your details and create your guidelines automatically.
Once your contest is live, users can view the rules in your giveaway widget.
8. Has Flexible Design Options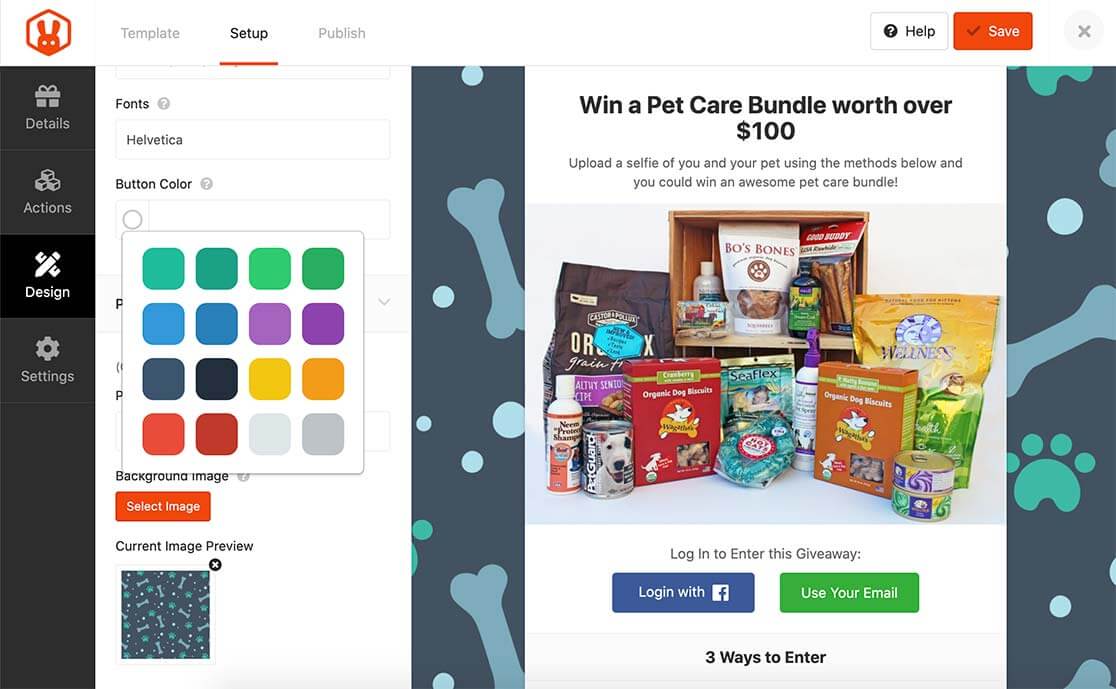 The last thing you want is for your contest to look like everyone else's.
Where many contest builders have limited design options, RafflePress lets you customize your widget's layout, fonts, button colors, and more.
You can upload images of your grand prize, add a detailed description, and even add multiple prizes. The result is a giveaway with everything you need to delight your audience and stand out from the crowd.
9. Create Giveaway Landing Pages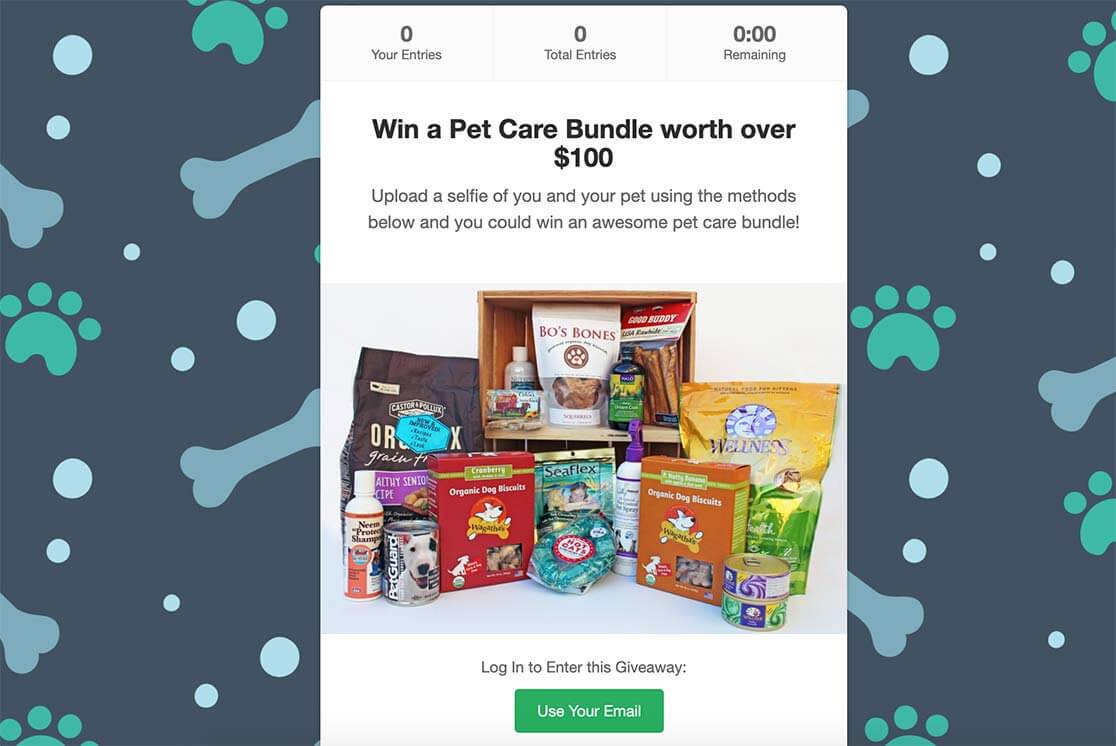 Want to create a distraction-free environment for your giveaway? Try RafflePress's built-in giveaway landing page.
The giveaway landing page feature shows your contest on a standalone web page on your WordPress site. Because it doesn't have any distractions like navigation menus and irrelevant content, users can focus on what you want them to: entering your giveaway.
This is an excellent way to drive more traffic to your website. Just share your landing page link on social media, email newsletters, and more to spread the word.
Plus, with contest landing pages, you can upload custom background images for a fully immersive experience.
10. Connects to Email Marketing Services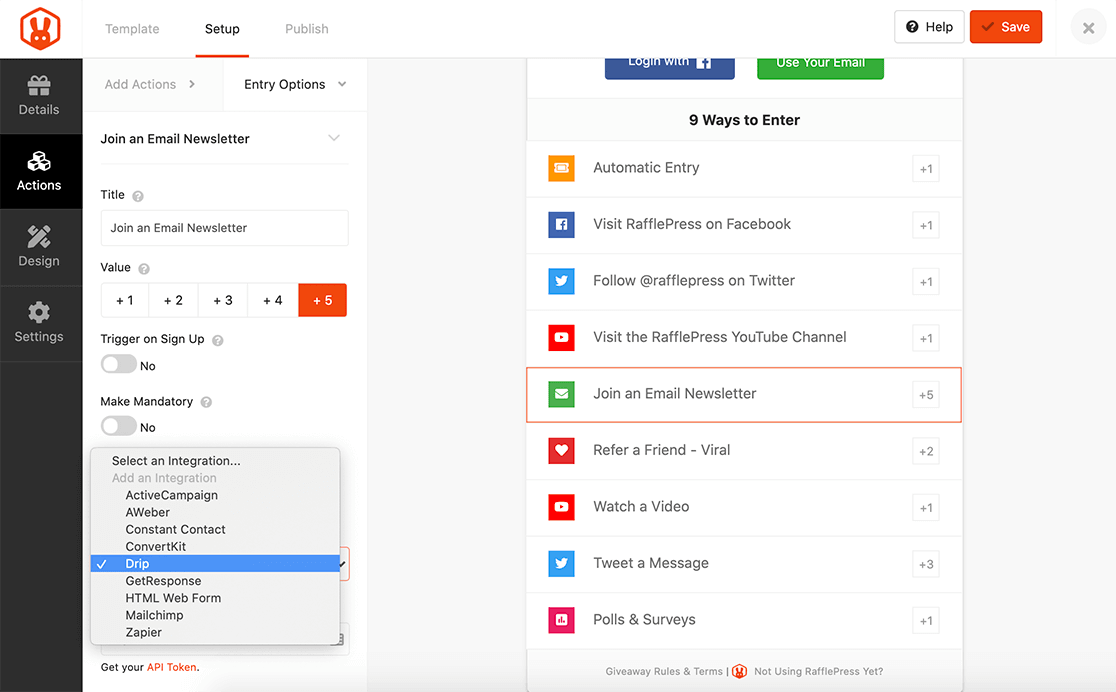 If you're running a giveaway to grow your email list, you'll want to connect to your favorite email provider.
RafflePress integrates with popular email marketing services and CRMs like:
ActiveCampaign
AWeber
Constant Contact
ConvertKit
Drip
Mailchimp
And more.
These integrations mean you can automate your lead generation and collect email addresses easily.
If you don't use any of the services that RafflePress connects with, you can always use the Zapier connection.
The Zapier integration lets you link your giveaways with thousands of web apps to make running your online business easier.
11. Track and Retarget Visitors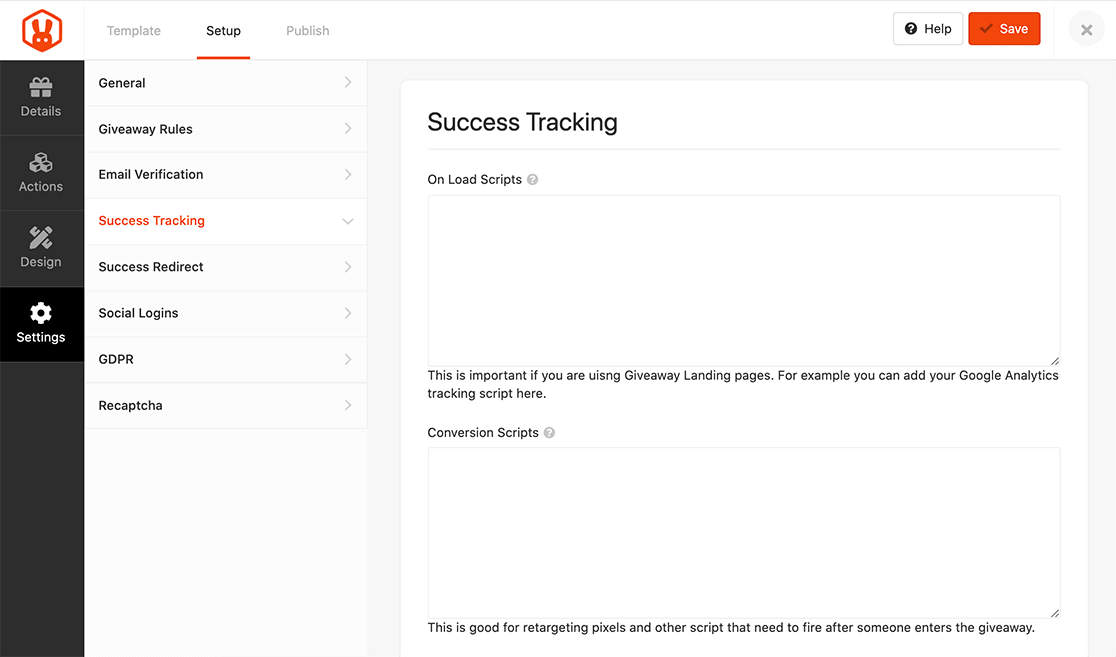 One feature many people might overlook is the ability to track and retarget visitors to your RafflePress giveaway.
You can track your contest performance by adding your Google Analytics tracking code. It's also possible to enter retargeting scripts, like your Facebook tracking pixel, to reach users with ads after they've left your site and bring them back.
12. Mobile-friendly Design
As more and more people browse the internet from mobile devices, it's important your giveaway looks great on all screen sizes for the best user experience.
You'll be happy to learn that RafflePress is 100% responsive, making your giveaway accessible from any device, wherever you are.
13. Manage Giveaway Entries in One Place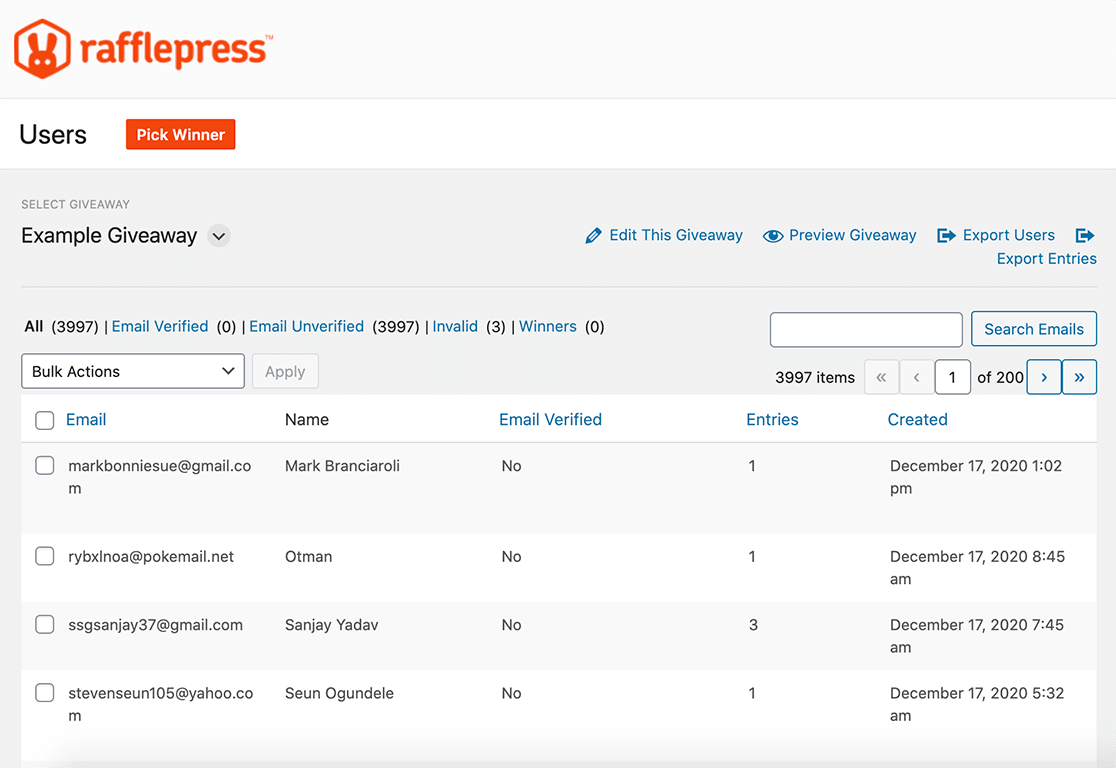 Another massive plus for RafflePress is you can see everyone who entered your giveaway right inside WordPress.
Instead of counting individual participants manually, you can see them inside the RafflePress entry management dashboard. At a glance, you'll know who entered, which actions they took, how many entries they earned, and if the entries qualify.
This means no more hopping between tabs and platforms, saving heaps of time.
14. Randomly Draw Contest Winners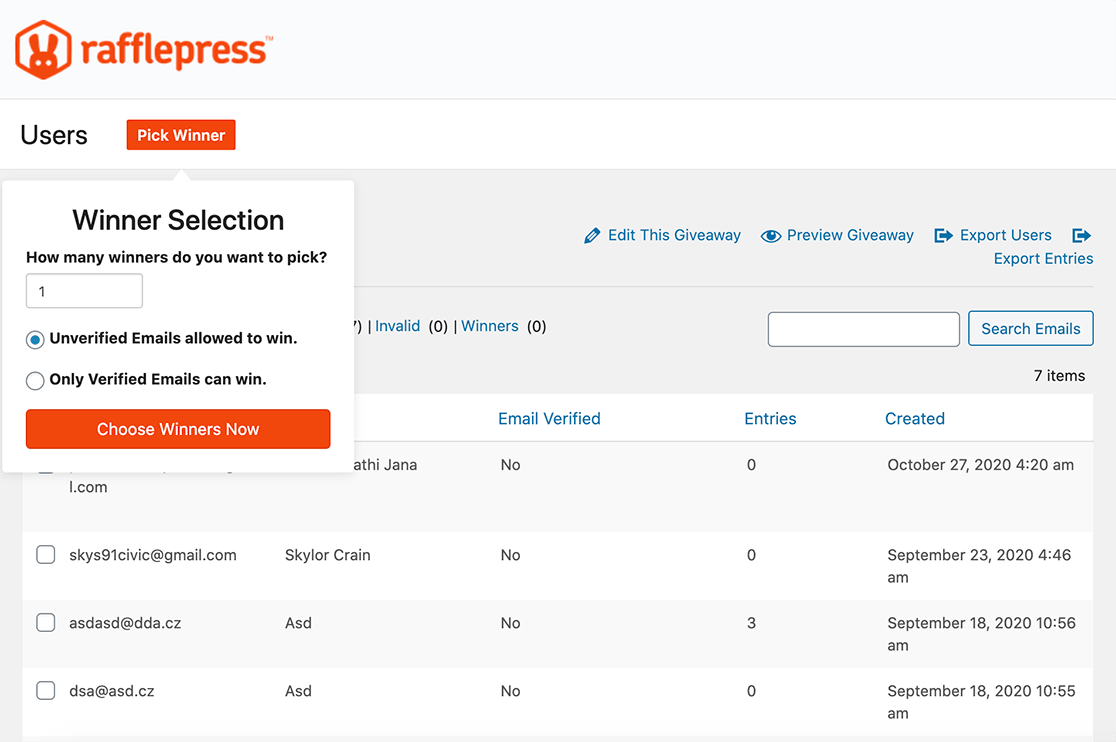 Much like managing entries, drawing a contest winner can take time and has many moving parts.
You won't have those issues with RafflePress.
The built-in random winner generator lets you pick a winner from qualifying entries automatically. You can even email the winner the good news from inside WordPress and announce the winner on your giveaway widget.
In our opinion, this is a game-changer and makes the entire process more streamlined.
How Much Does RafflePress Cost?
The great thing about RafflePress is there are plans suited to any budget and business size.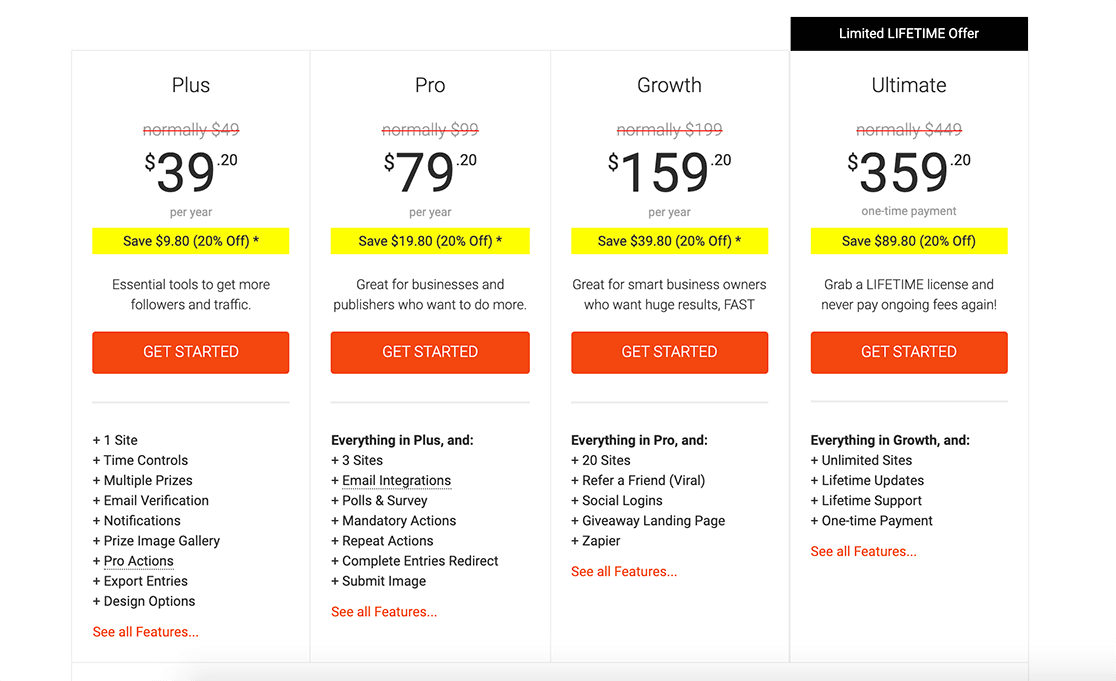 We recommend the RafflePress Growth plan, which costs $159.20/year.
RafflePress also has a free version. The free version is called RafflePress Lite and gives you access to everything needed to run a free giveaway in WordPress.
So if there isn't room in your budget for a giveaway plugin right now, you can always download the Lite version of RafflePress for free from the official WordPress repository.
But, you'll want to eventually upgrade to the paid versions of RafflePress to unlock all the best features for your WordPress website.
RafflePress = Best WordPress Giveaway Plugin
Our verdict is in.
Given its ease-of-use, lead generating features, and the ability to make your business go viral online, it's easy to see why RafflePress is the best WordPress giveaway plugin.
In our opinion, it's worth every penny!
They also offer a 14-day money-back guarantee, so can you try it out risk-free and ask for a refund if it doesn't work out, no questions asked.
Ready to take your WordPress giveaways to the next level?
Get started with RafflePress today!
Well, that's it. We hope you found our RafflePress review helpful. If you did, you might enjoy these resources:
And don't forget to please follow us on Twitter and Facebook to get updates from our blog.