Do you want to add a translate button to your WordPress website?
If you have website visitors who speak multiple languages, you definitely need to have a multi-language site. Luckily, it's incredibly easy to do.
In this post, we'll show you how to make your WordPress website multilingual in just a few steps.
What Is a Multilingual Website?
A multilingual (or multi-language) website is a site that offers translated content in more than one language. For instance, English, Spanish, Ukrainian, and Chinese.
The content and information (posts, site menu, etc) shown in different languages may be the same, but may also be customized for different audiences.
Here's a multi-language website example from Polaroid's site switching from English to French using Weglot for translations: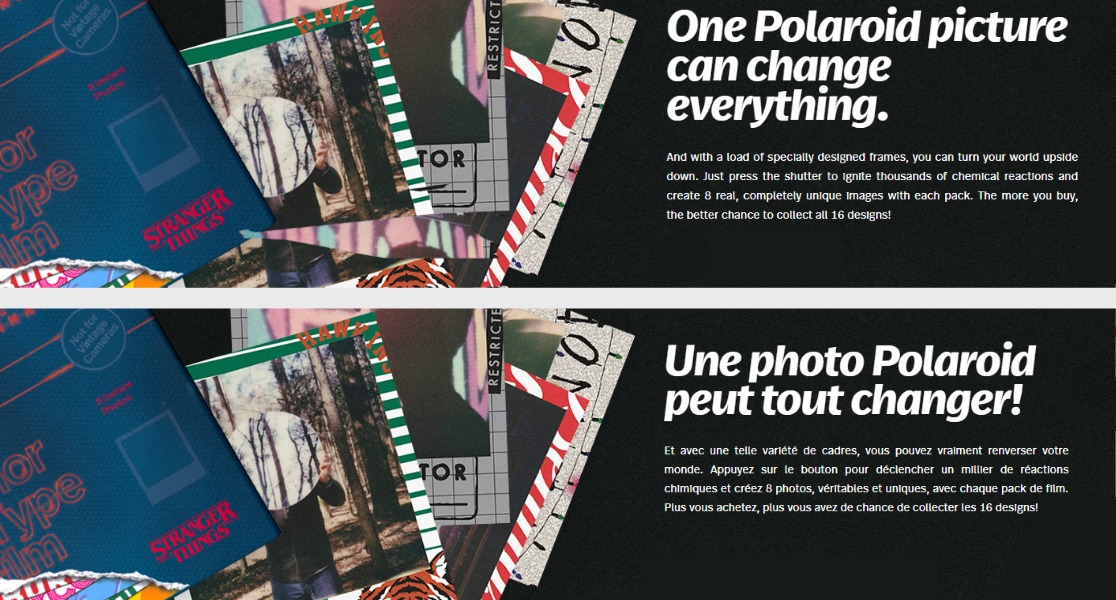 Your small business website might not be on the scale of a huge camera and electronic business, but there are still a lot of different reasons why you might consider having a multilingual website which we'll cover next.
Do I Need a Multilingual Website?
Asking yourself if you should offer multi-language on your site?
Depending on where you are located and your target audience, you can choose to add translated versions of your site. Here's some popular reasons people add multiple languages to their websites:
Boost Sales — You can increase your revenue when different audiences are able to use language switching, especially if it's an eCommerce site with more than one common language
Better SEO — Lots of search engines are starting to run searches in foreign languages, so your traffic could increase with a multilingual site
Overcome Cultural Barriers — When you grant access to someone's native language on your site, it shows you are cultural sensitive and lets the user feel more comfortable
Establish International Authority — If you're looking to get ahead of competitors, showing that you're a global brand can help
Gain Trust — Many people are much more likely to trust a website, a company, and its products when the content is displayed in their native language
Great User Experience — A multi-language website shows people you are thinking about your visitors and their experience on your site
Good ROI — Translation on your site is a cost effective marketing tool that can bring in new customers from all over the world's population and help with lead generation
Now, before you make your site multilingual, you need to make sure you have a WordPress.org website up and running. If you don't have one yet, we recommend using Bluehost as your hosting provider. We did a comparison and Bluehost was the winner when we compared the best WordPress hosting.
How Do I Make My WordPress Website Multilingual?
It's easy to translate a WordPress site to multiple languages. Here's how:
Step 1: Install + Active the Weglot Plugin
First, sign up for a Weglot account and download the plugin. For help, check out this post on how to install a WordPress plugin.
Weglot's multilingual tool lets you easily create a multilingual site (including forms) with minimal setup.
Step 2: Configure the Settings
Once the plugin is activated, you'll need to configure it's settings. To do this, head over to your WordPress dashboard and click on Weglot to open the main configuration screen.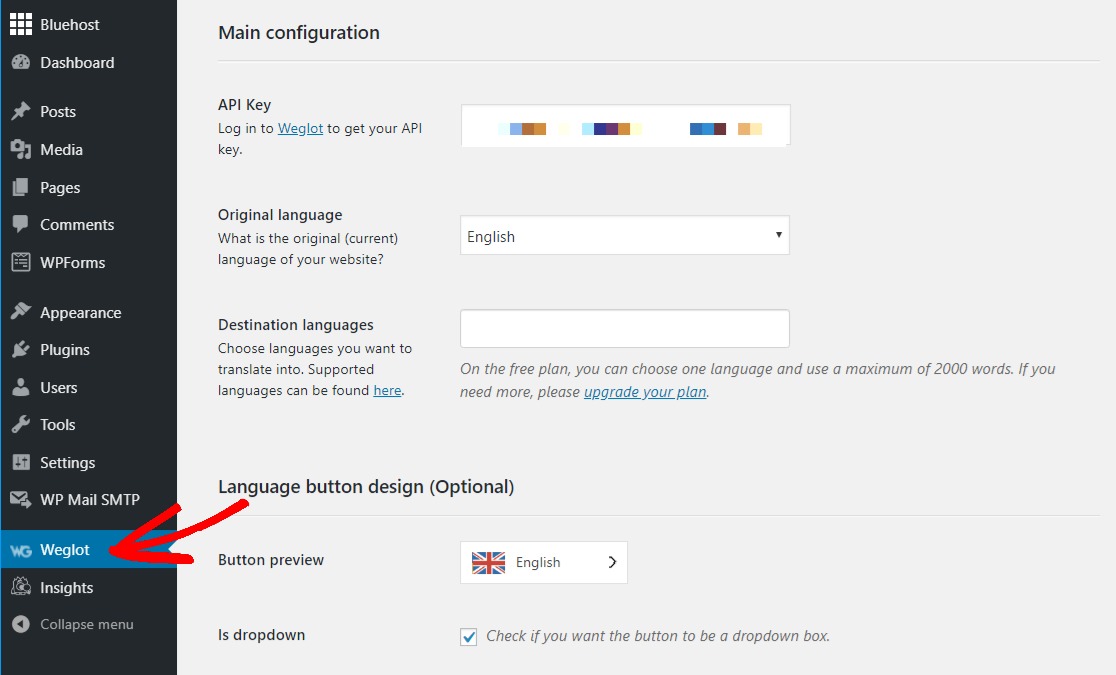 Next, log in to Weglot in another tab and find your API key. Come back to the other tab and paste your API Key into the API Key area in the settings page.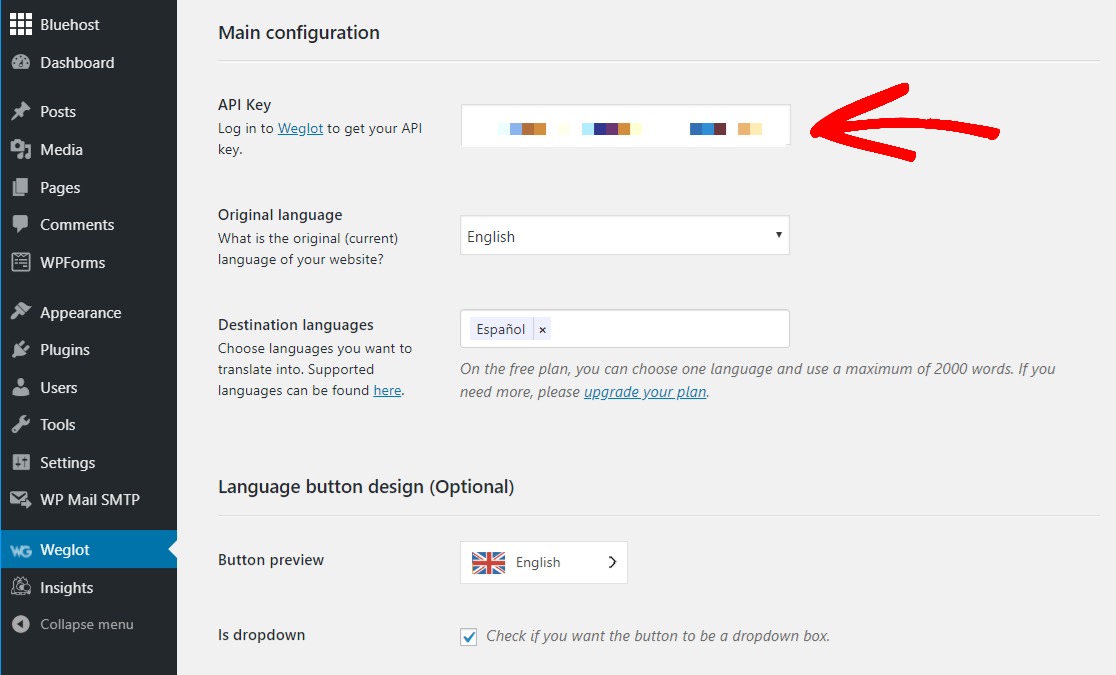 Now, click on the dropdown menu and select the original language of your website. That way, Weglot knows which language to translate from.
For this example, we're using English since that's the language the WPForm's blog is written in.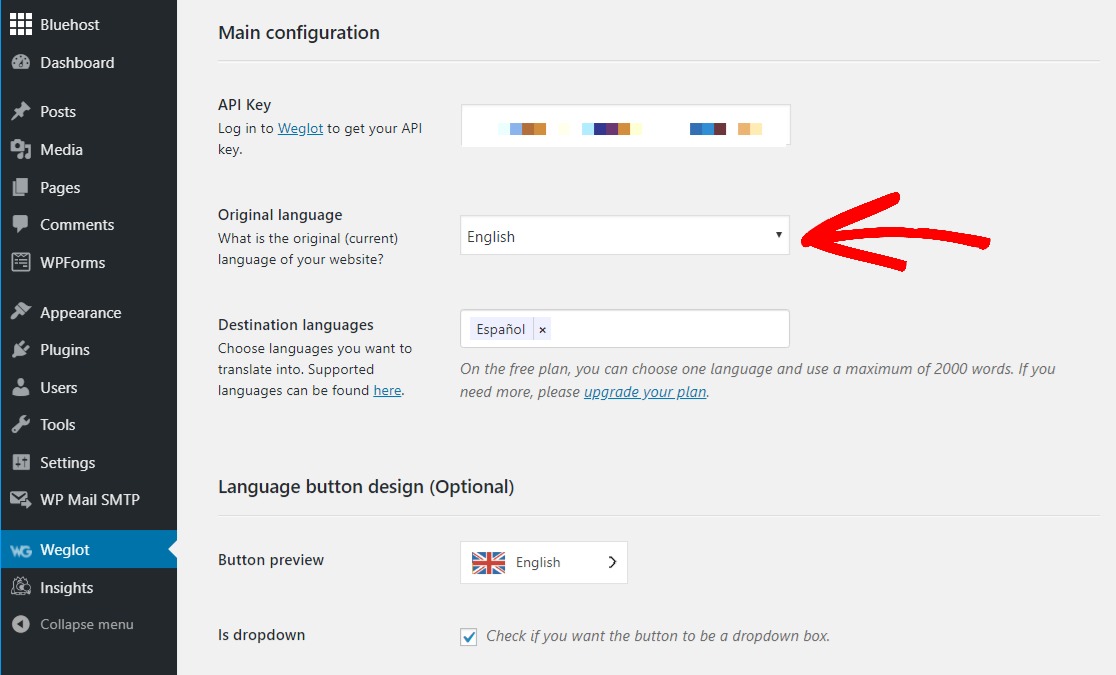 Next, add the destination language(s) you want your site to be translated into.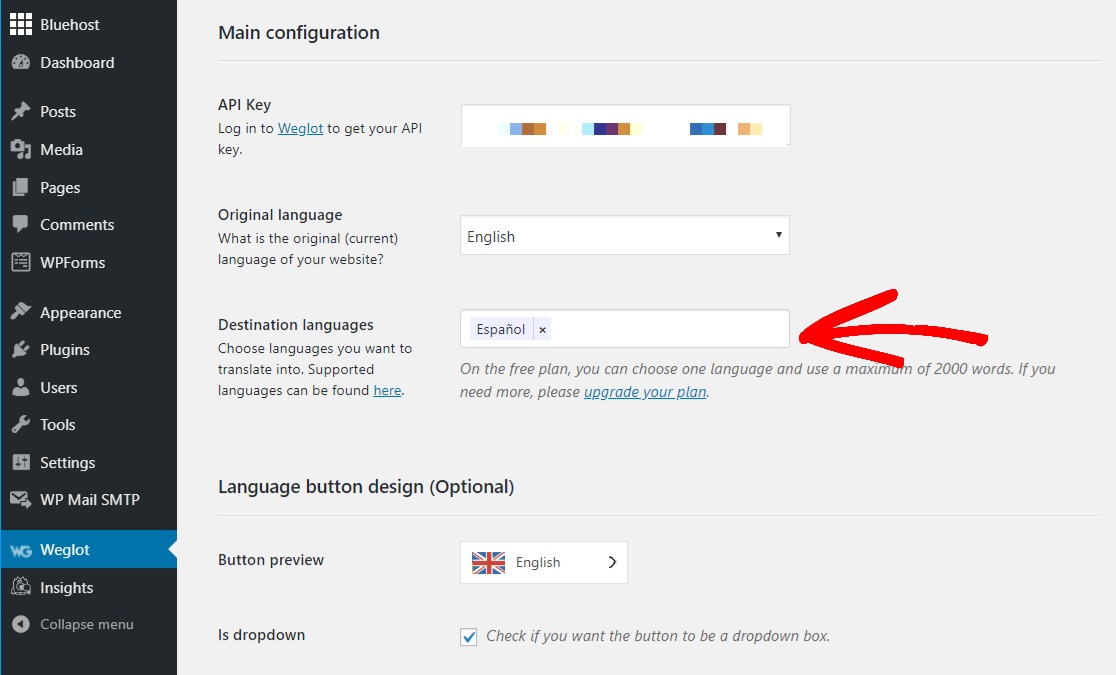 Now, you can adjust different advanced settings including your flag icon, AMP settings, and exclusions.
For now, let's scroll down to the bottom of the settings page and click on the blue Save Changes button.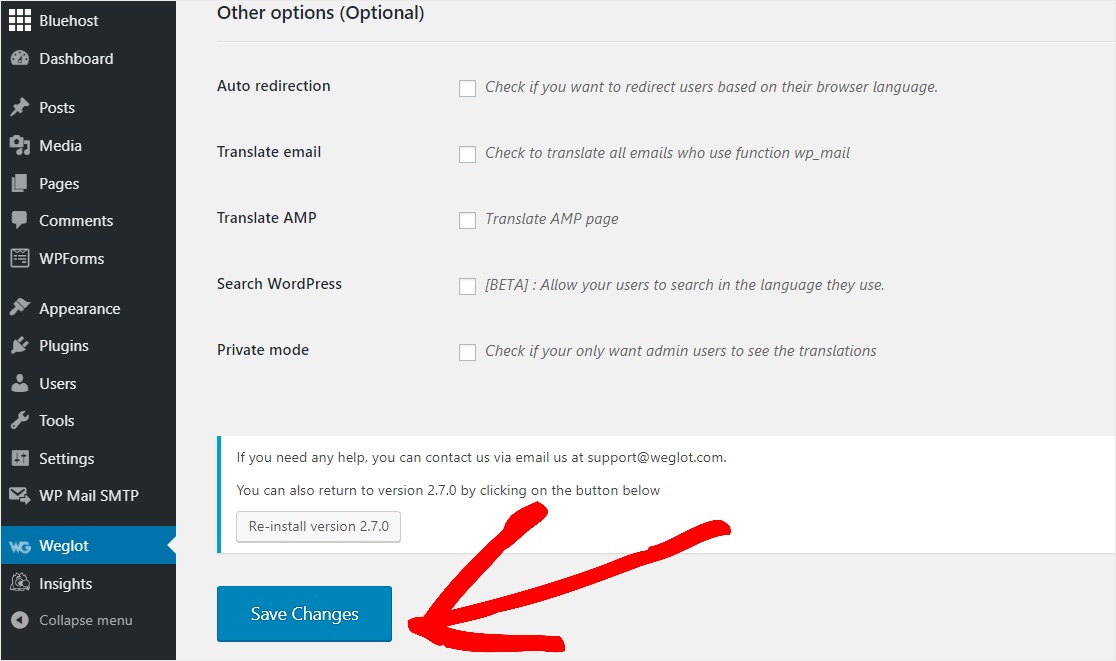 Your site is now multilingual! Your website visitors can now see the flag icon right on the frontend of your WordPress website.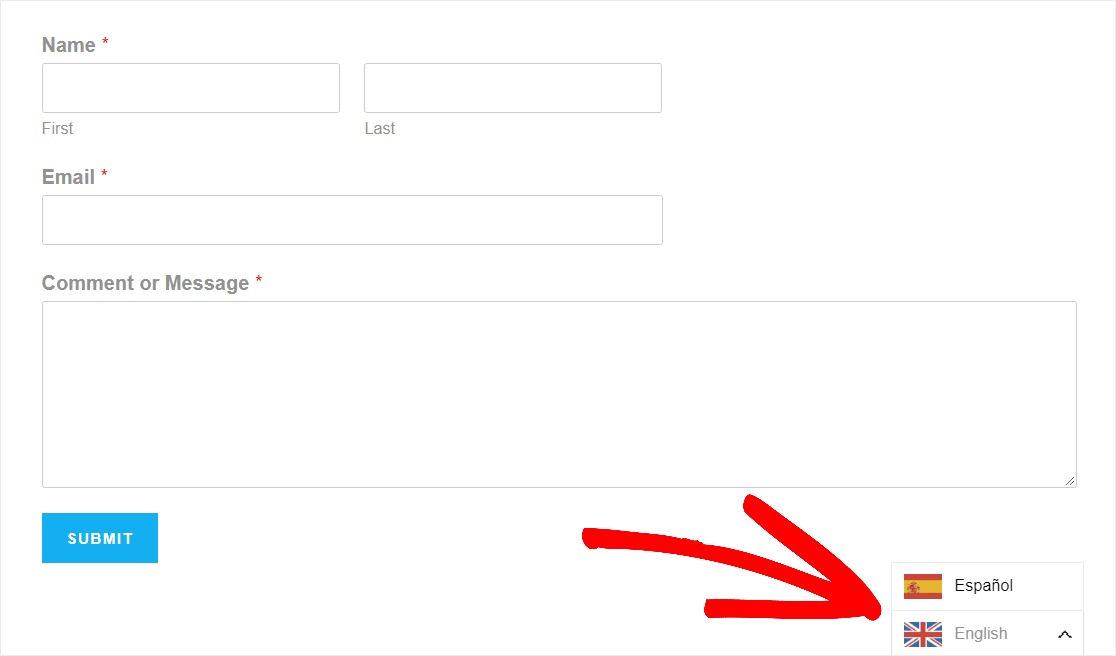 If you click on the other flag icons, you can watch your site be automatically translated. This way, you can see how it will look for visitors. And you'll know exactly what the user experience is like.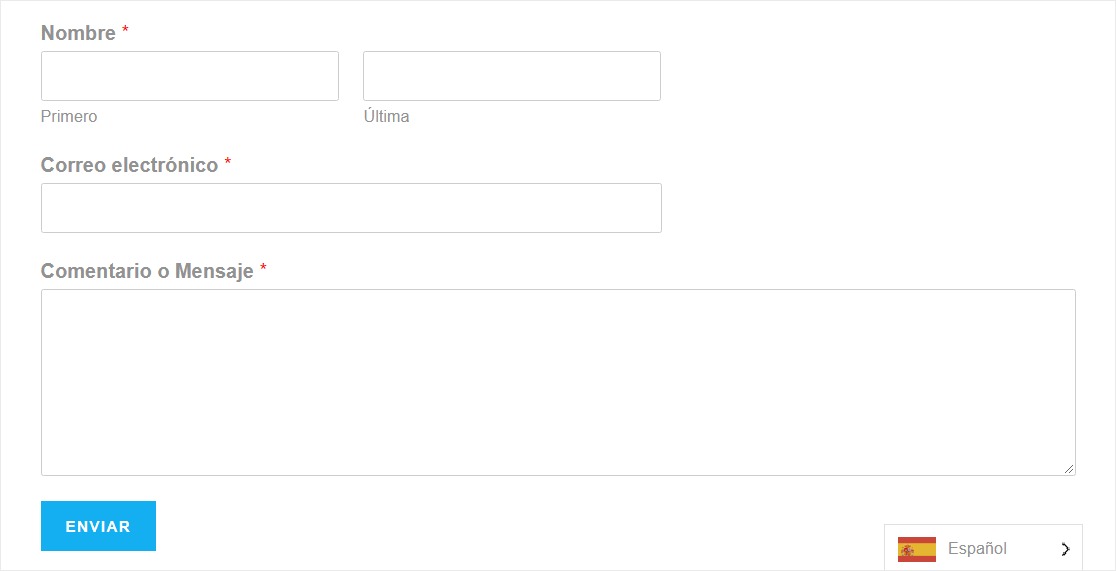 Step 3: Edit Your Translations
After you save your Weglot plugin's settings on your site, you may want to edit your translations.
Weglot automatically translate everything for you, but you can make your own tweaks.  To do so, click on the Edit my translations button in the top right of your Dashboard from the settings screen from the last step.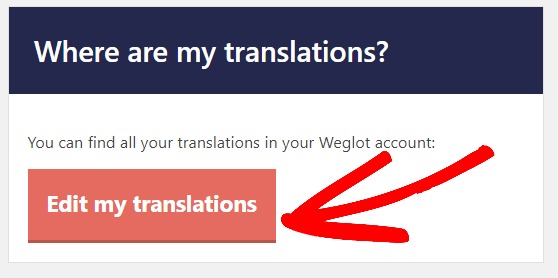 Clicking this will lead you to the translations page inside your Weglot account dashboard. You can also access that here.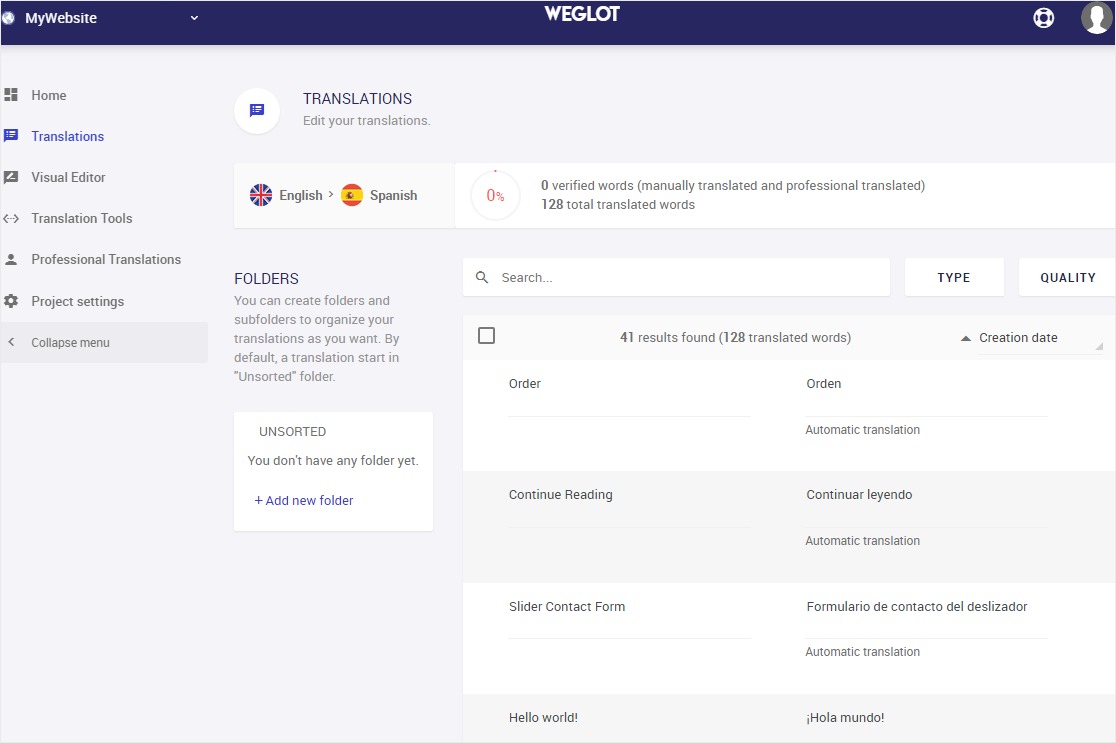 Weglot offers several different ways to add manual translations or to edit automatic translations. Check out this helpful tutorial for more details on their WordPress language switcher.
In Conclusion
There you have it! You now know how to easily make your WordPress website multilingual with Weglot, the world's best WordPress multilingual plugin.
Now that you can translate your site into different languages, you should try using one of the best WordPress popup plugins to turn all those new visitors into subscribers.
If you like this article, then please follow us on Facebook and Twitter for more free WordPress tutorials.