Are you looking for ChatGPT plugins for your WordPress site to improve your business efficiency?
ChatGPT is a fantastic tool for saving valuable time and costs and simplifying your routine workflows.
The great news is that you can now integrate ChatGPT with your WordPress site to complete different tasks without hassle.
In this post, we'll recommend some of the most useful ChatGPT WordPress plugins to leverage artificial intelligence on your site.
How Do I Use ChatGPT in WordPress?
You can connect ChatGPT with your WordPress website using plugins that support this integration. Once your site is connected to OpenAI, the plugin will send a prompt to ChatGPT and bring back a response that you can use in helpful ways on your site.
There are various WordPress plugins capable of adding AI to your website with ChatGPT and your OpenAI API key. We'll list down some of the best ones in the next section.
Best ChatGPT Plugins for WordPress
Use the links below to jump down to a specific section. We loved these AI plugins during our testing, and we think you'll like them too!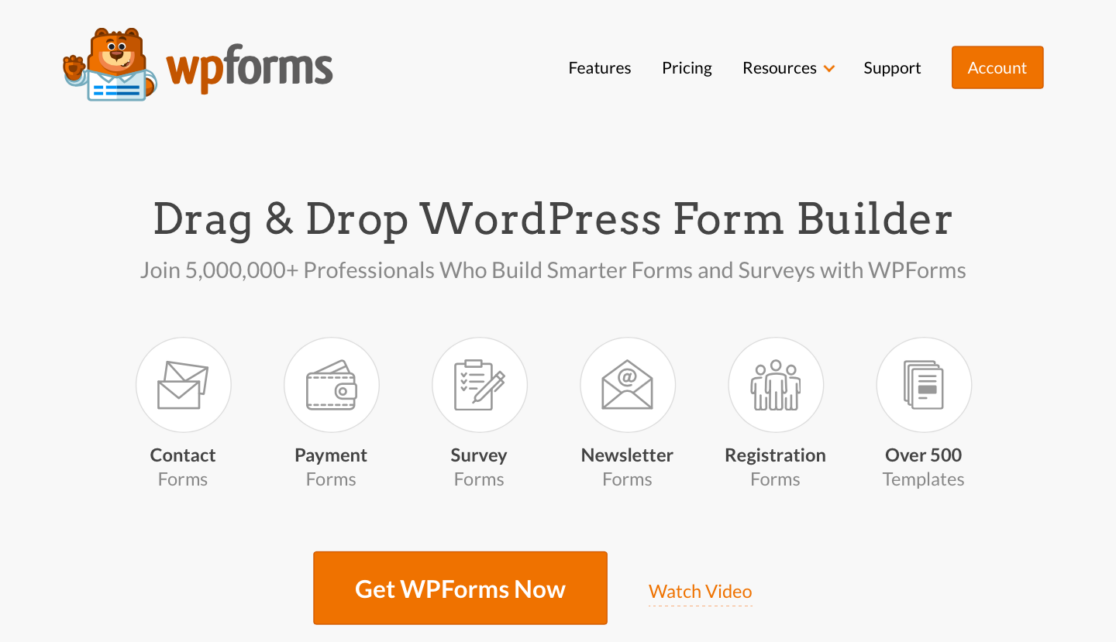 WPForms is a highly popular form builder for WordPress. It has a nearly perfect score of 4.9/5 on WP.org, thanks to its user-friendliness.
One of the many amazing features of WPForms is that you can integrate it with ChatGPT. This is a powerful integration that allows you to build even smarter forms.
For instance, you can create a form that uses ChatGPT to create an AI-generated blog post draft when the form is submitted.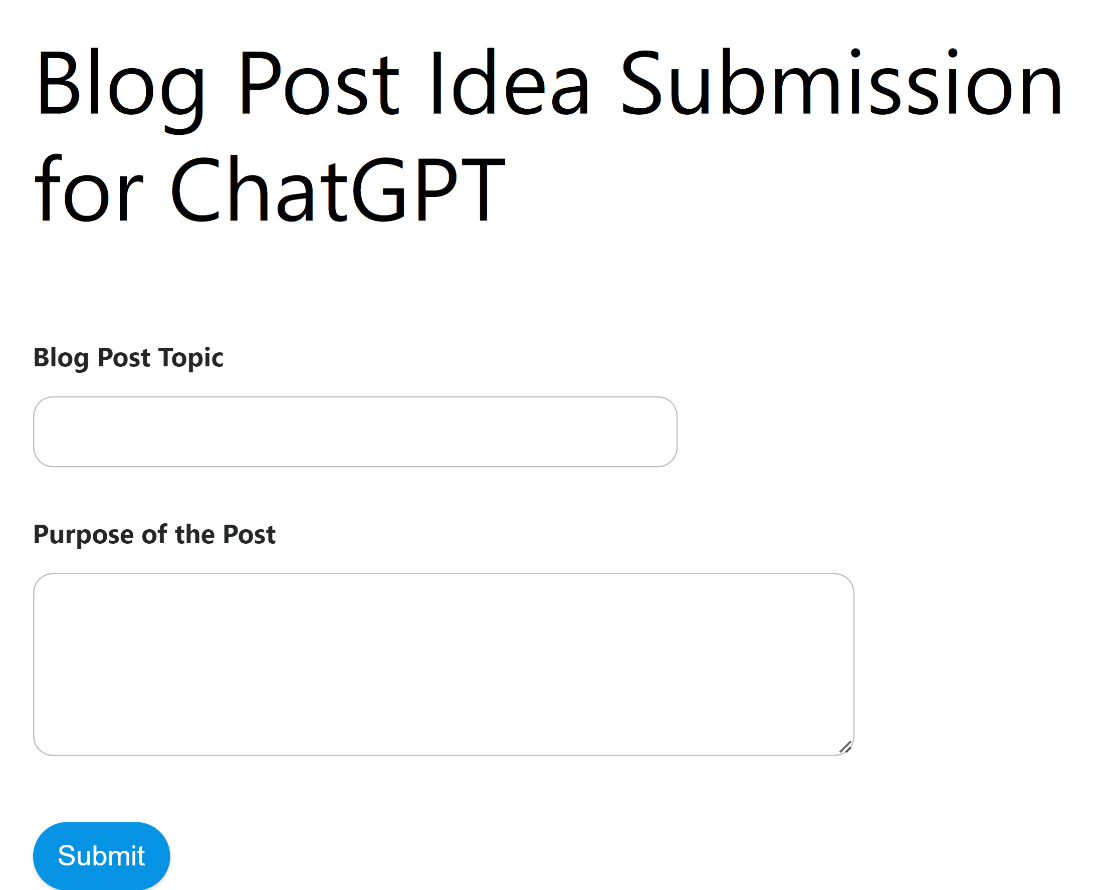 You can also use ChatGPT to automatically generate a post draft with an article outline. It's an excellent solution for writers because it speeds up the blog writing process when ChatGPT is taking care of developing high-quality post outlines for you.
You can even send AI-generated notifications to visitors when they submit a form. Unlike standard notifications that use the same template for everyone, ChatGPT can create smarter notifications for your forms.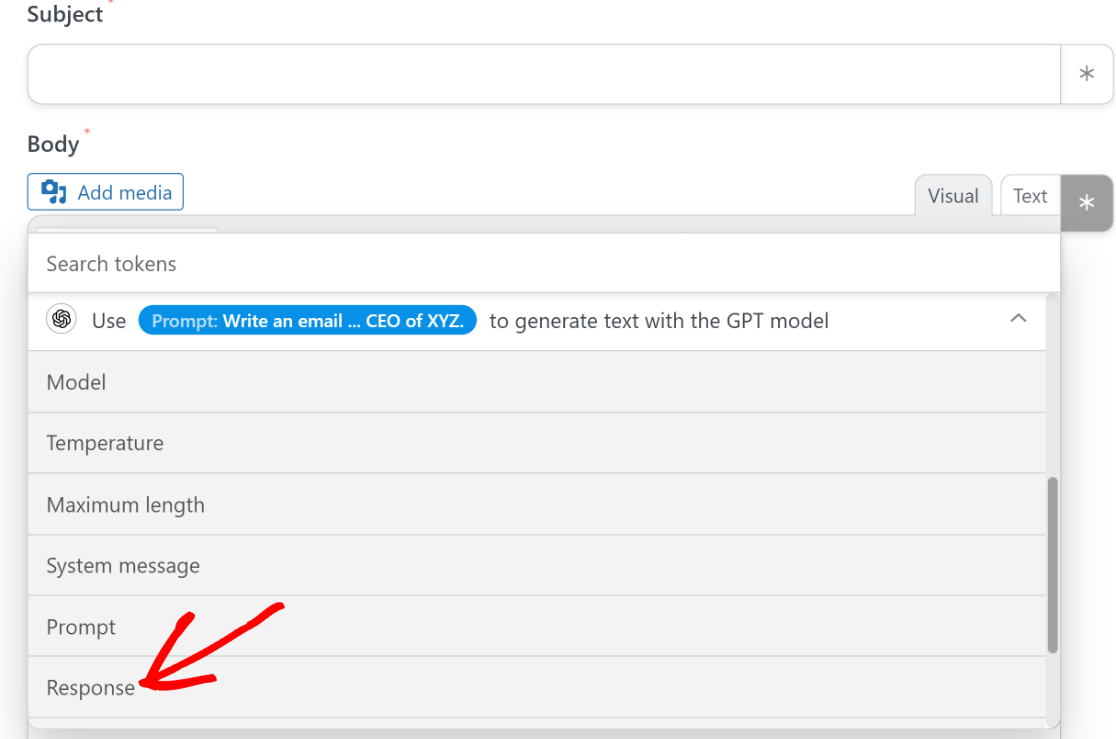 Here's the notification we created by taking a form submission and using it in a prompt: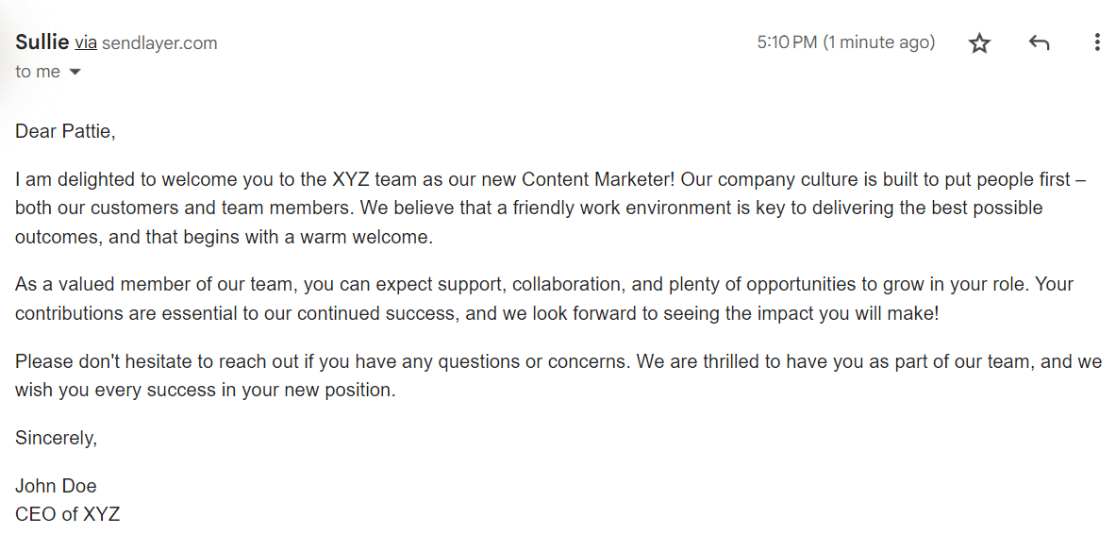 There are endless use cases for the WPForms-ChatGPT integration. You can even use it to create images from form entries.
In order to connect WPForms with ChatGPT, you'll need a WordPress plugin called Uncanny Automator, which lets you create this integration for free.
Apart from integrating with ChatGPT, WPForms has an extensive range of advanced features. If you're a Pro user, you'll get 1000+ WordPress form templates to help you build forms even faster. Plus, WPForms lets you customize the layout and styles of your forms without writing any code.
You can integrate WPForms natively with the top marketing and CRM platforms like Constant Contact, Brevo (formerly Sendinblue), HubSpot, and more.
Overall, WPForms is a super useful plugin if you want to take advantage of ChatGPT's powerful capabilities for your WordPress site.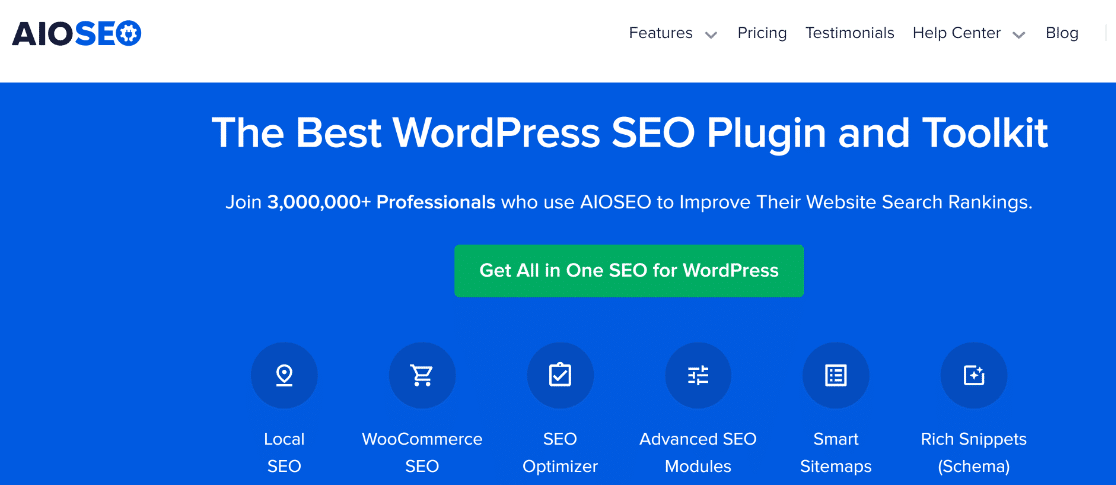 AIOSEO makes it stupid simple for beginners to improve search engine optimization (SEO) for their WordPress site.
While this plugin is full of top-quality features, we were particularly impressed by this plugin's AI-generated suggestions for post titles and descriptions.
The AI title generator tool in AIOSEO integrates with ChatGPT to generate title ideas for your post. The best part is that you don't have to leave your WordPress editor to get these suggestions.
Instead, it lets you generate suggestions within the post title field so you instantly add the headline you like.
We tested it out by generating 5 title ideas, and it worked well. If you don't like its suggestions, you can generate new one until you find something you like (as long as your API tokens don't run out).
The title suggestions we got were optimized based on the content, and they're also pretty catchy: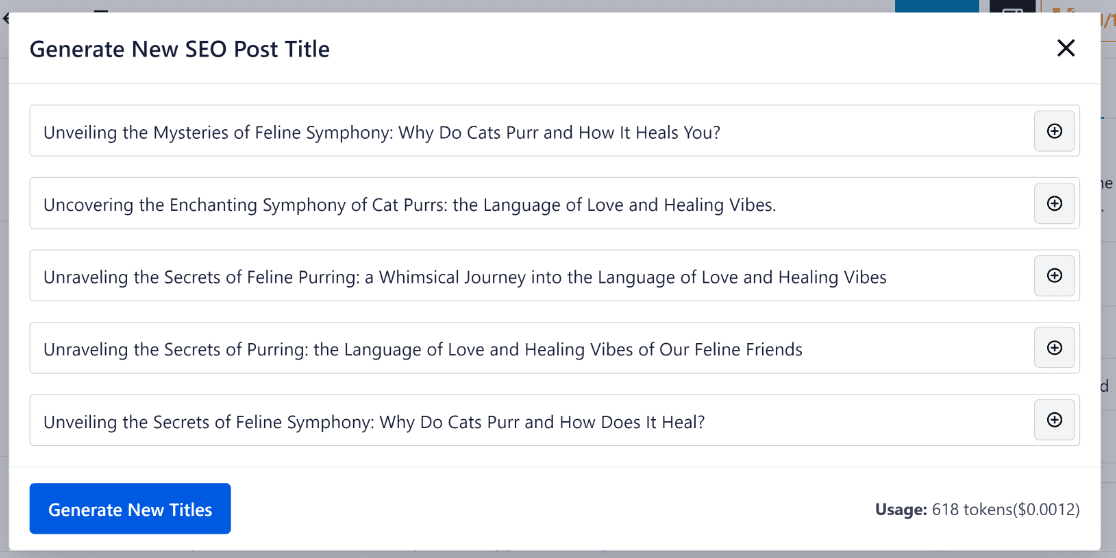 Just to note: we were also able to generate meta descriptions this way.
Writing a good title is usually a time-consuming process, even for expert copywriters. This ChatGPT integration can significantly improve the quality of your post headlines and meta descriptions.
For this reason, we strongly recommend using AIOSEO with its ChatGPT integration to work smarter when optimizing your posts. We even used it ourselves to generate the title of this post!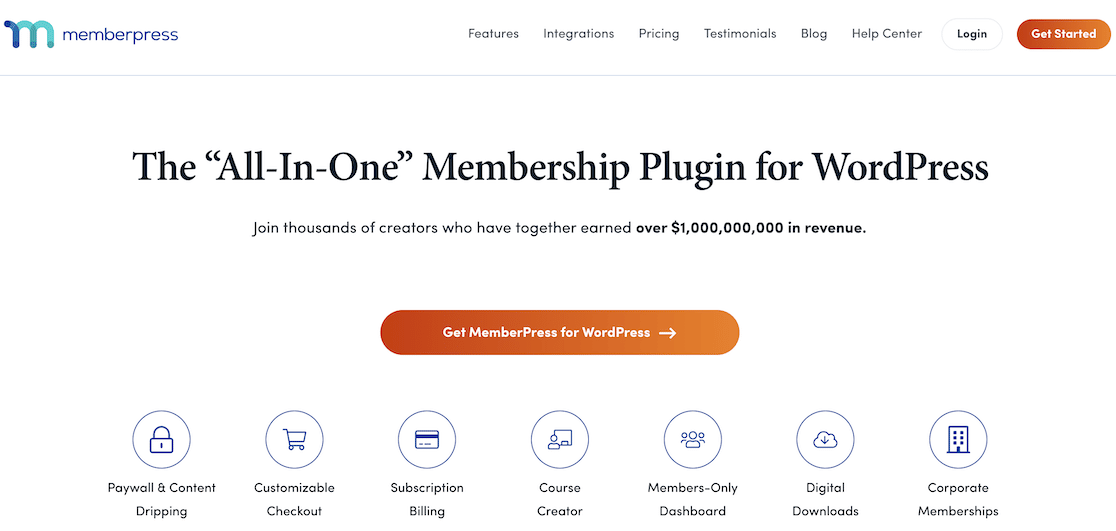 MemberPress is a super popular membership plugin for WordPress.
We love this plugin for its excellent versatility. It lets you create full-fledged membership sites with all the necessary features to manage them efficiently.
It gets even more interesting when you connect MemberPress with ChatGPT.
For instance, if you offer online courses, you can use the MemberPress Courses addon along with ChatGPT to generate course outlines quickly.
We created an automation that uses ChatGPT to create a course outline, which is then used to automatically create a new course post based on ChatGPT's response.
Here's the result of our automation, which created a complete course draft in our test WordPress site. All we had to do was send a course idea to ChatGPT using a form:

To follow the same process we tried, you'll need:
WPForms
MemberPress with the Courses addon activated
Uncanny Automator
ChatGPT integration set up in Uncanny Automator.
Once you've built a form to capture course ideas, you can create a recipe in Uncanny Automator that sends a prompt to ChatGPT based on the course idea submitted via the form. MemberPress Courses will then use ChatGPT's response to generate a draft of the course on your WordPress site.
This kind of automation is perfect for streamlining your course creation process.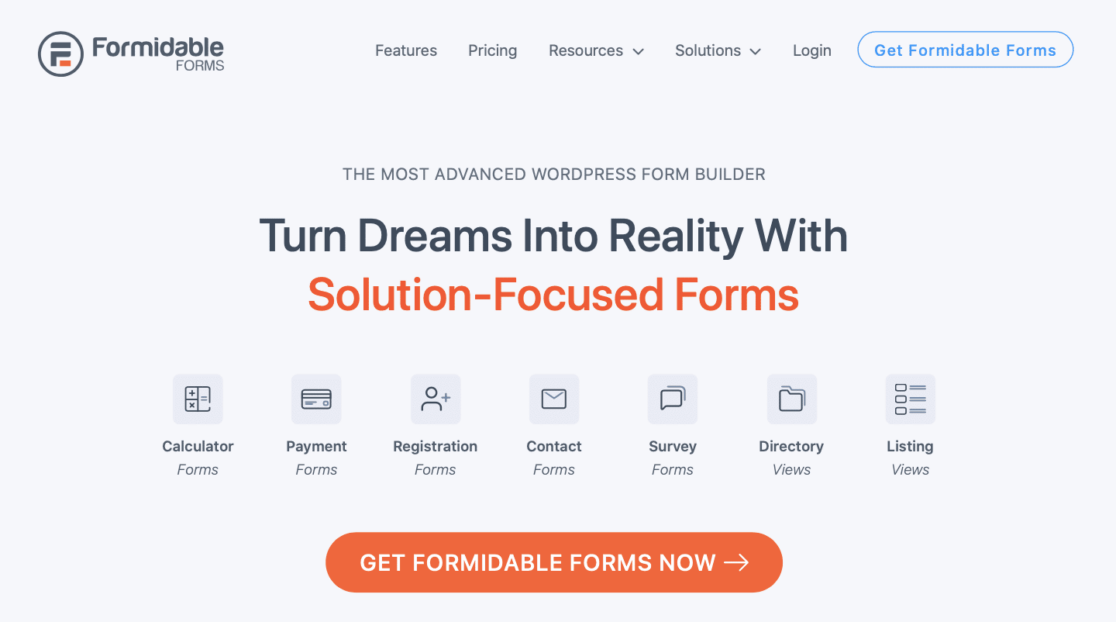 Formidable Forms is another high quality form plugin for WordPress. It includes tons of powerful features for building advanced forms on your site.
And if you're looking to incorporate ChatGPT within your forms, Formidable Forms has got you covered on that front too.
We liked testing Formidable Forms' AI field. It generates a ChatGPT response within your form based on user input: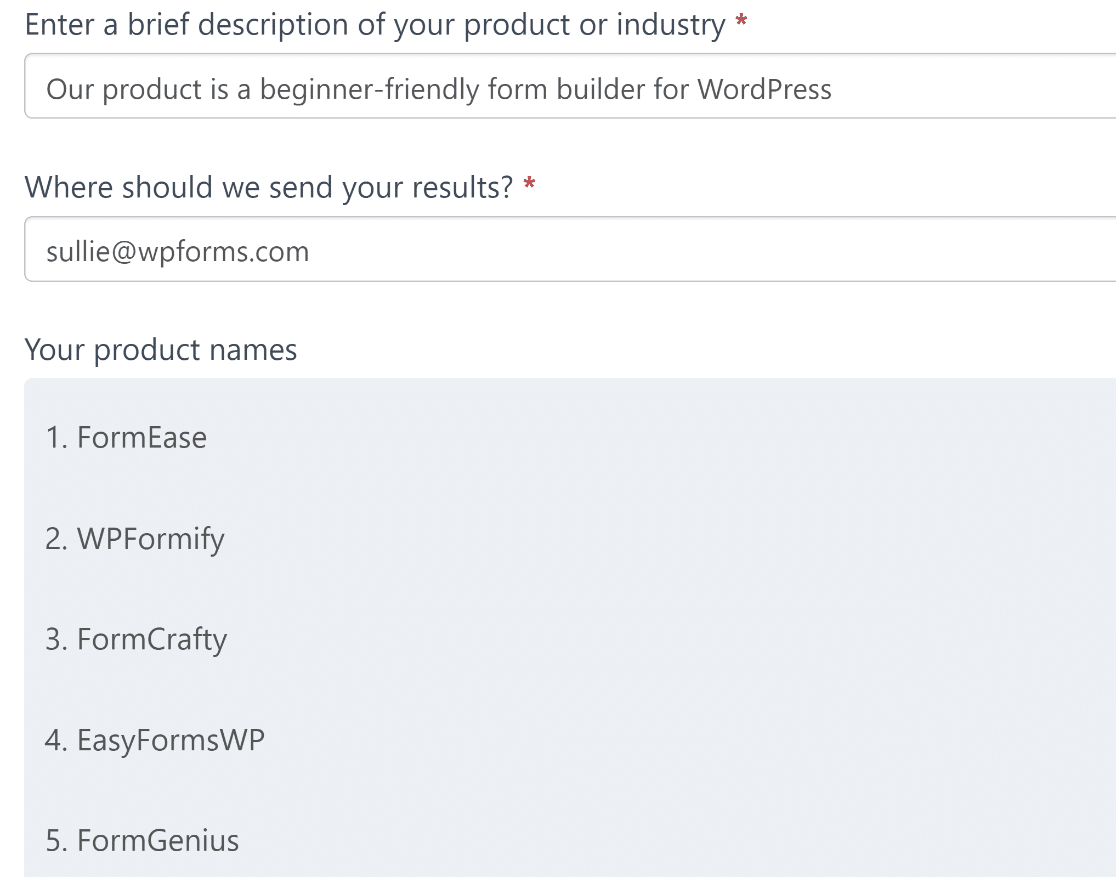 This could be helpful if you wanted to add an AI assistant within a form to help address your customers' questions. You can give more context in the field options to help it produce relevant answers that match the user's expectations.
However, ChatGPT doesn't have any specialized knowledge about your business. As a result, its utility as a customer support assistant is fairly limited.
Regardless, you can use Formidable Forms' AI field in countless ways to leverage ChatGPT's capabilities for your WordPress site.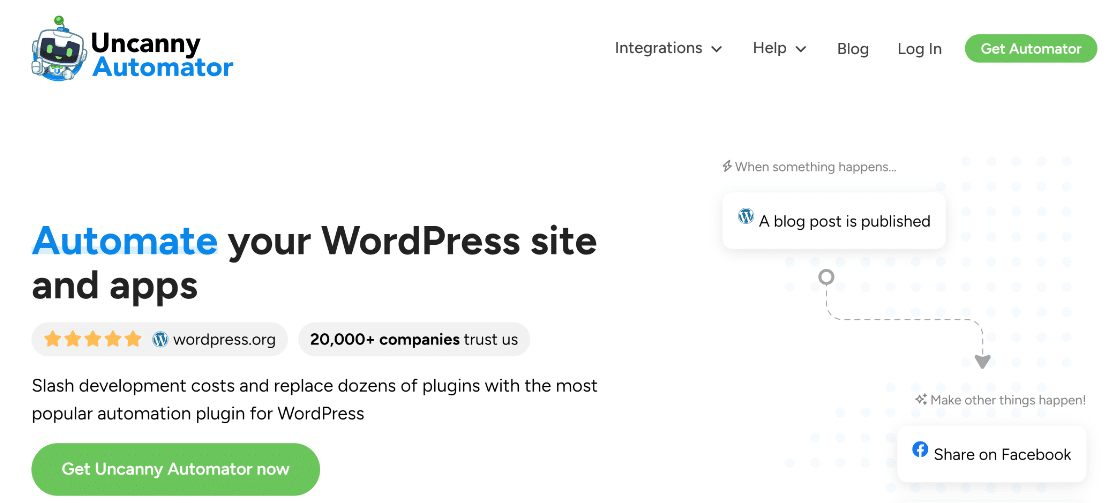 You may have noticed that we're big fans of Uncanny Automator and use it with many of our own sites.
This plugin brings two or more apps and plugins together, like WPForms, MemberPress, ChatGPT, and hundreds more, to help you automate WordPress tasks.
To connect a plugin with ChatGPT, you must create a "recipe" involving a trigger and an action event. The trigger is something that happens in a WordPress plugin, while ChatGPT handles the action part to automate something.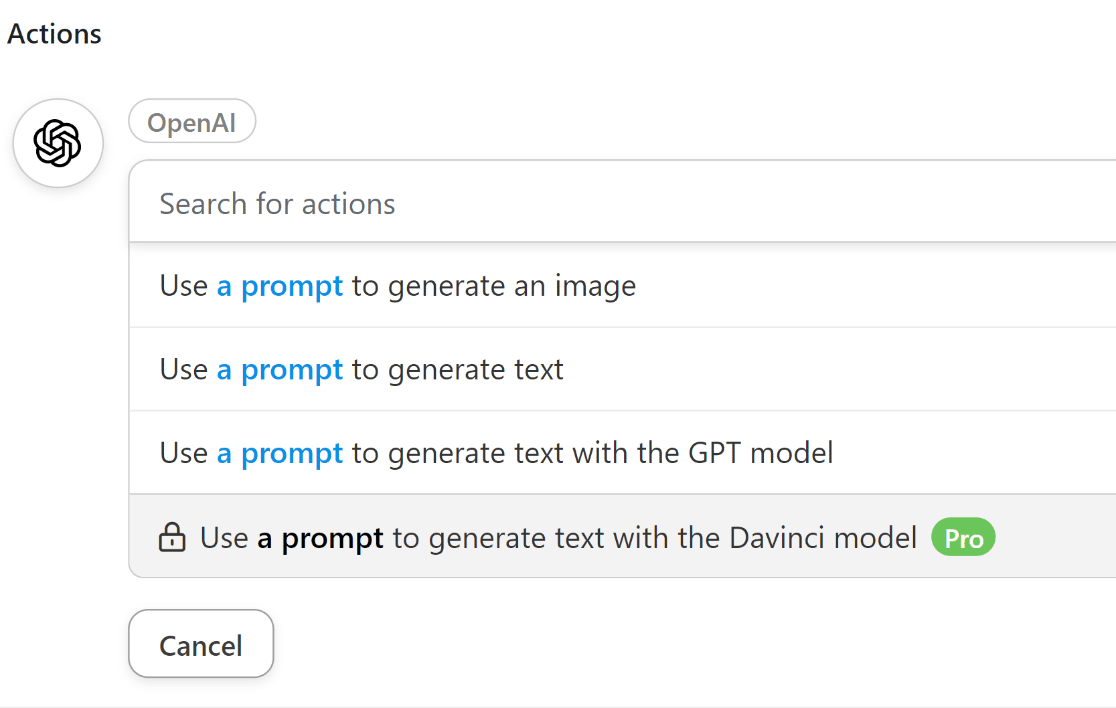 Hundreds of plugins and apps can be connected with ChatGPT in useful ways.
The best part is that most of the supported ChatGPT integrations are free with only minor limitations. While free users can access OpenAI's GPT-3 model, Pro users can also access Davinci model for more advanced content creation.

Thrive Ovation is a handy plugin that simplifies how you capture, manage, and display testimonials on your site.
While testing Thrive Ovation, we discovered a really powerful way to utilize it with ChatGPT to build social proof for your audience.
We set up an automation that uses ChatGPT to perform a sentiment analysis on each new testimonial submitted. The testimonials with a positive sentiment can then be automatically posted to your Facebook page.

You can use Uncanny Automator to connect Thrive Ovation with ChatGPT. Once the automation is set up, all of the steps take place without your supervision. There's no need to manually check the best testimonials on your site to post on your social media channels.
This is a really efficient way to build trust with your audience using ChatGPT's sentiment analysis capabilities.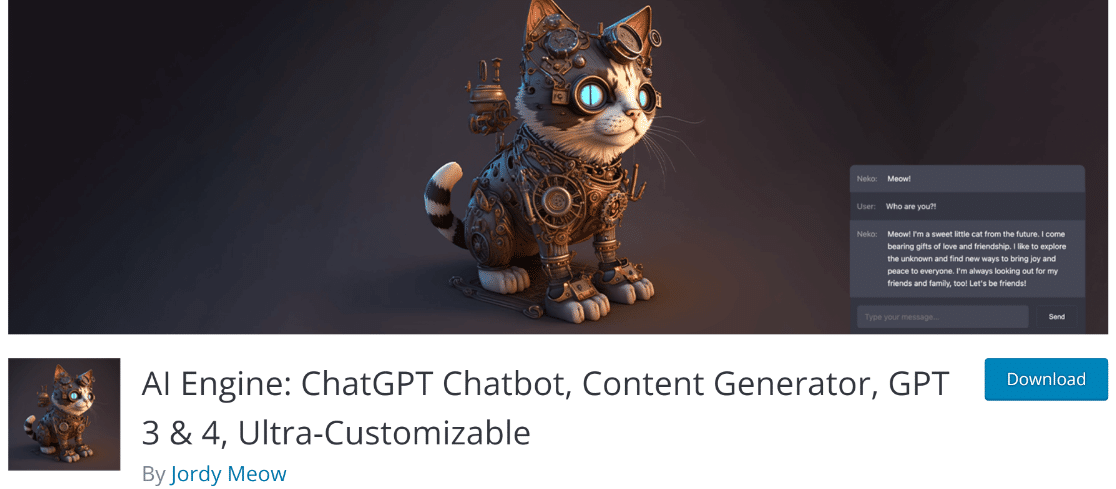 AI Engine is a versatile plugin that includes a range of ChatGPT-based AI tools for WordPress.
It allows you to use ChatGPT as a chatbot for users on your site. You can easily embed the AI chatbot on any page using a shortcode.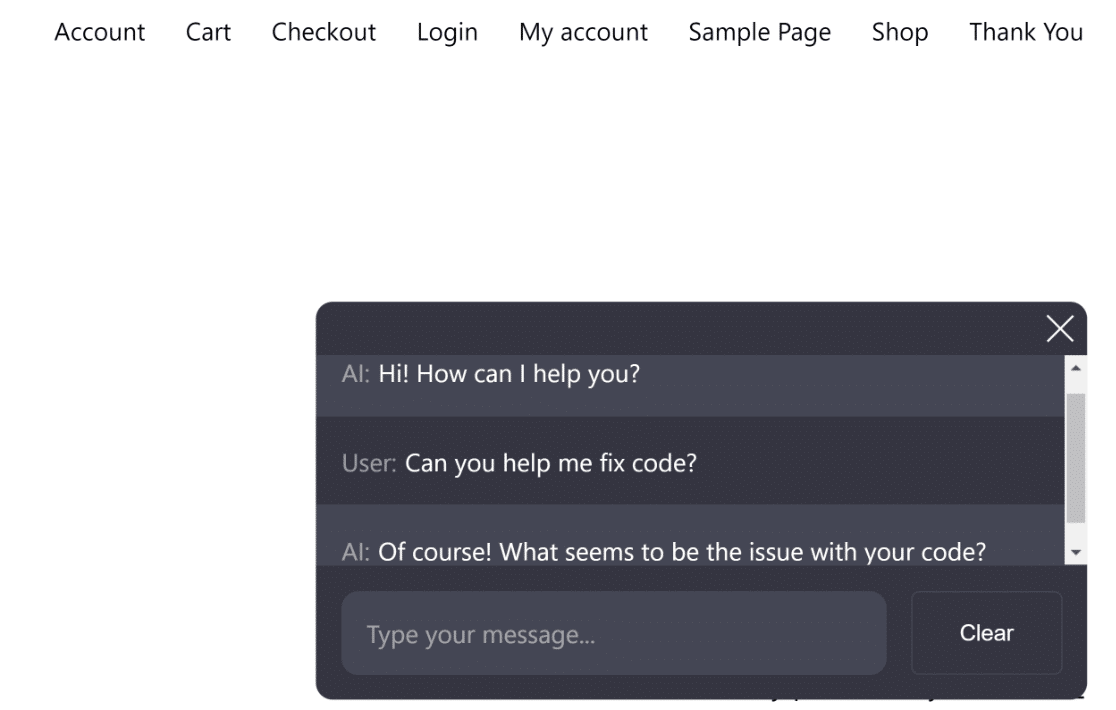 AI Engine also gives you an AI content generation tool for creating new posts on your site.
We like that this tool lets you control the structure of your post by specifying the number of sections and paragraphs per section. Based on your instructions, it can be used to generate high-quality content at scale, although you'll need to edit it and check it for accuracy.
This plugin also adds a title and excerpt generator within your block editor to help speed up your post writing. We were impressed to find that you can also use it to generate images in WordPress based on your given prompts. These capabilities can be very helpful for bloggers and content writers.
Overall, AI Engine can access ChatGPT's most useful capabilities without requiring you to leave your WordPress site.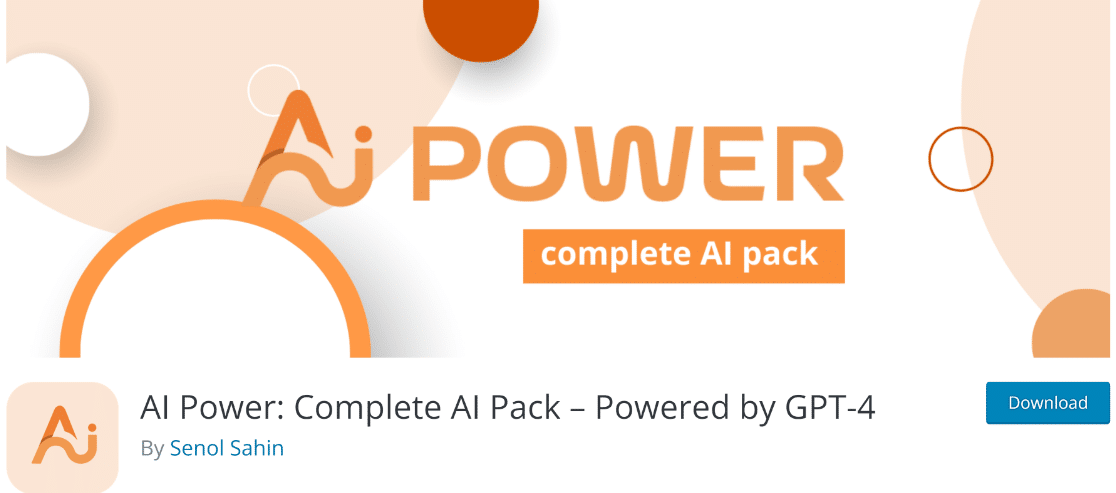 AI Power offers many features similar to AI Engine. It comes with a wide range of AI tools within a single plugin, including a content generator, image generator, and audio converter for transcripts.
Beyond that, AI Power also gives you various ChagGPT-based forms with ready-made templates. These are role-specific forms with two main components: input fields that ChatGPT can read and a response field that displays ChatGPT's answer.
For instance, you can generate a thoughtful Reddit discussion, obtain tips for refining your resume based on your qualifications, and lots more.
Experiment with AI Power and find some helpful uses for your website. If you find any useful prompts, let us know in the comments; we'd love to try them.
Next, Check Out These Intake Form Examples
If you're looking for intake form inspirations, you can check out our guide on intake form examples with pre-built templates available in WPForms.
Also, if you're wondering how WPForms compares with other top form builders in the market, see our comparison on Everest Forms vs WPForms.
Create Your WordPress Form Now
Ready to build your form? Get started today with the easiest WordPress form builder plugin. WPForms Pro includes lots of free templates and offers a 14-day money-back guarantee.
If this article helped you out, please follow us on Facebook and Twitter for more free WordPress tutorials and guides.