Looking for intake form examples to help you design the ideal form for your business or organization?
Intake forms play a crucial role in collecting essential information from clients, customers, or patients, which helps streamline processes, improve overall efficiency, and enhance communication within your organization.
In this guide, we'll explore 11 different intake form examples to help you design effective ones tailored to your needs.
Intake Form Overview
An intake form collects all the important information you need from a new client, patient, or volunteer. This form is commonly distributed at or before an initial meeting. Used in nearly every business and industry, intake forms are highly customizable and versatile, as you'll see.
The Importance of Intake Forms in Your Business Workflow
For many businesses, intake forms are essential building blocks that deliver multiple benefits for optimizing workflow processes, such as:
Streamlined Data Collection: Intake forms allow you to gather necessary information from patients, clients, and customers in a structured manner, reducing errors and saving time.
Improved Organization: By standardizing the information collected, intake forms help maintain consistency across your organization, making it easier to manage and track client details.
Enhanced Communication: Intake forms ensure that relevant information is shared with the appropriate team members, fostering better communication and collaboration within your organization.
Reduced Administrative Burden: Well-designed intake forms simplify data entry tasks, allowing your staff to focus on more valuable tasks and improving overall productivity.
Customization and Scalability: Intake forms can be tailored to your specific needs and easily updated as your business grows and evolves, allowing you to maintain an efficient and adaptable workflow.
As you work on creating your intake forms, take inspiration from the intake form examples below.
By incorporating the essential elements and tailoring your form to specific business needs, you can maximize the benefits of intake forms!
11 Intake Form Examples You Can Use Today
Explore these real-life intake form examples to begin your form-building process and better understand their practical applications.
1. Client Intake Form
Client intake forms help gather important project-related information that assists in managing client expectations and delivering successful outcomes.
The example below showcases a marketing agency's client intake form that requests important information, such as:
General Contact Information (Name, Email Address, Phone Number Fields)
Business Information (Company/Organization and Website URL Fields)
Service Required (Checkboxes List)
Project Information (Message Field)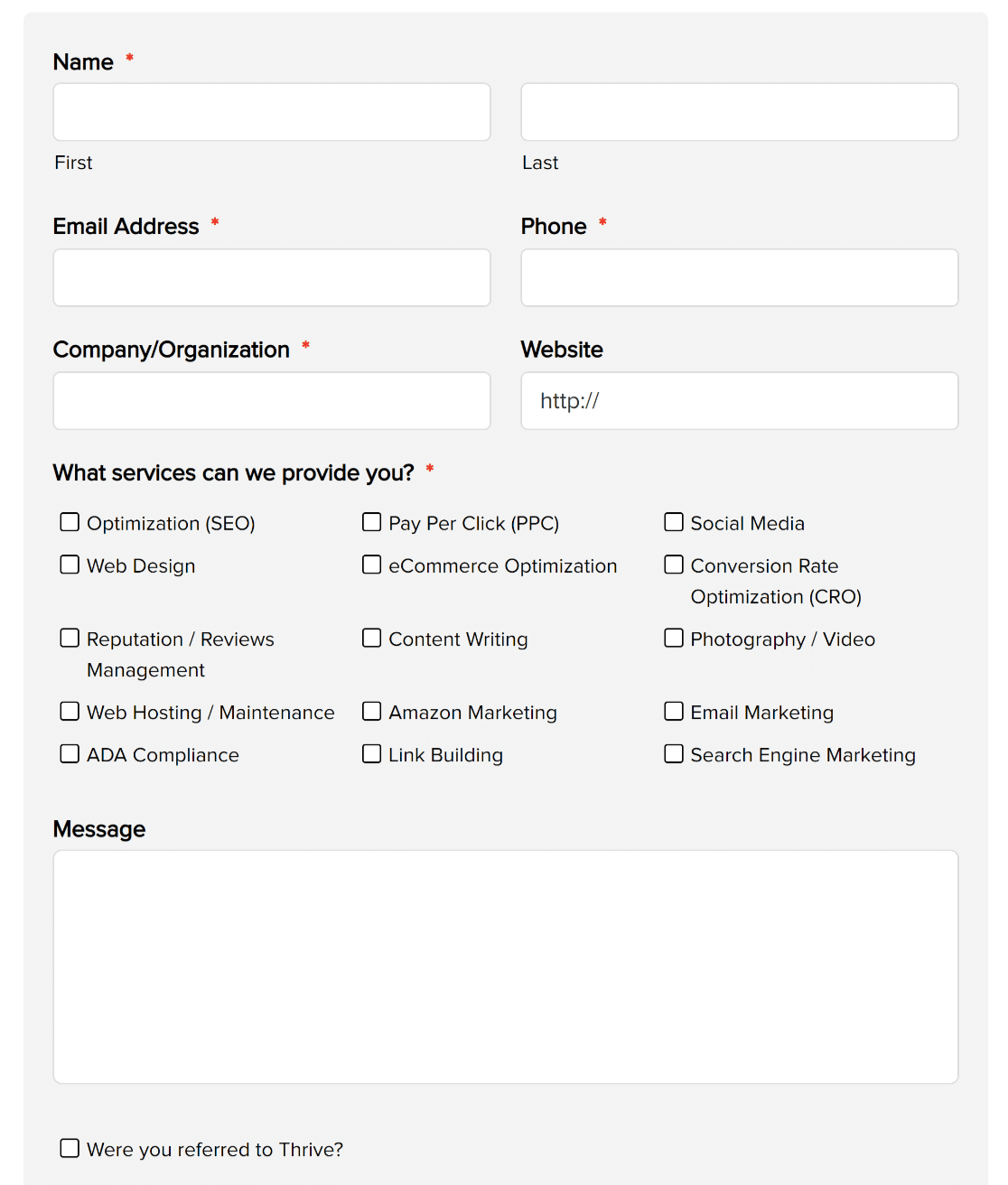 Why New Clients Will Respond
The form is tailored to digital marketing services, demonstrating Thrive's expertise in the industry, reassuring clients that their unique needs are met, and helping the agency prepare a small audit of the services requested.
How Your Business Benefits
By collecting project-related information up front, you can align your team efforts with the client's goals, streamlining the onboarding process and leading to better project results and higher client satisfaction.
Templates to Try
Note: With WPForms, you can easily modify the layout, design, and style of your form to match your website design. Don't forget to use the form builder to customize your forms to suit your unique services and client needs.
2. Recruiting Intake Form
These forms help gather essential information about job candidates that assists in streamlining the hiring process and comparing applications more efficiently.
The below example from DigitalOcean includes fields for the candidate's details, resume, cover letter, job history, education, and references.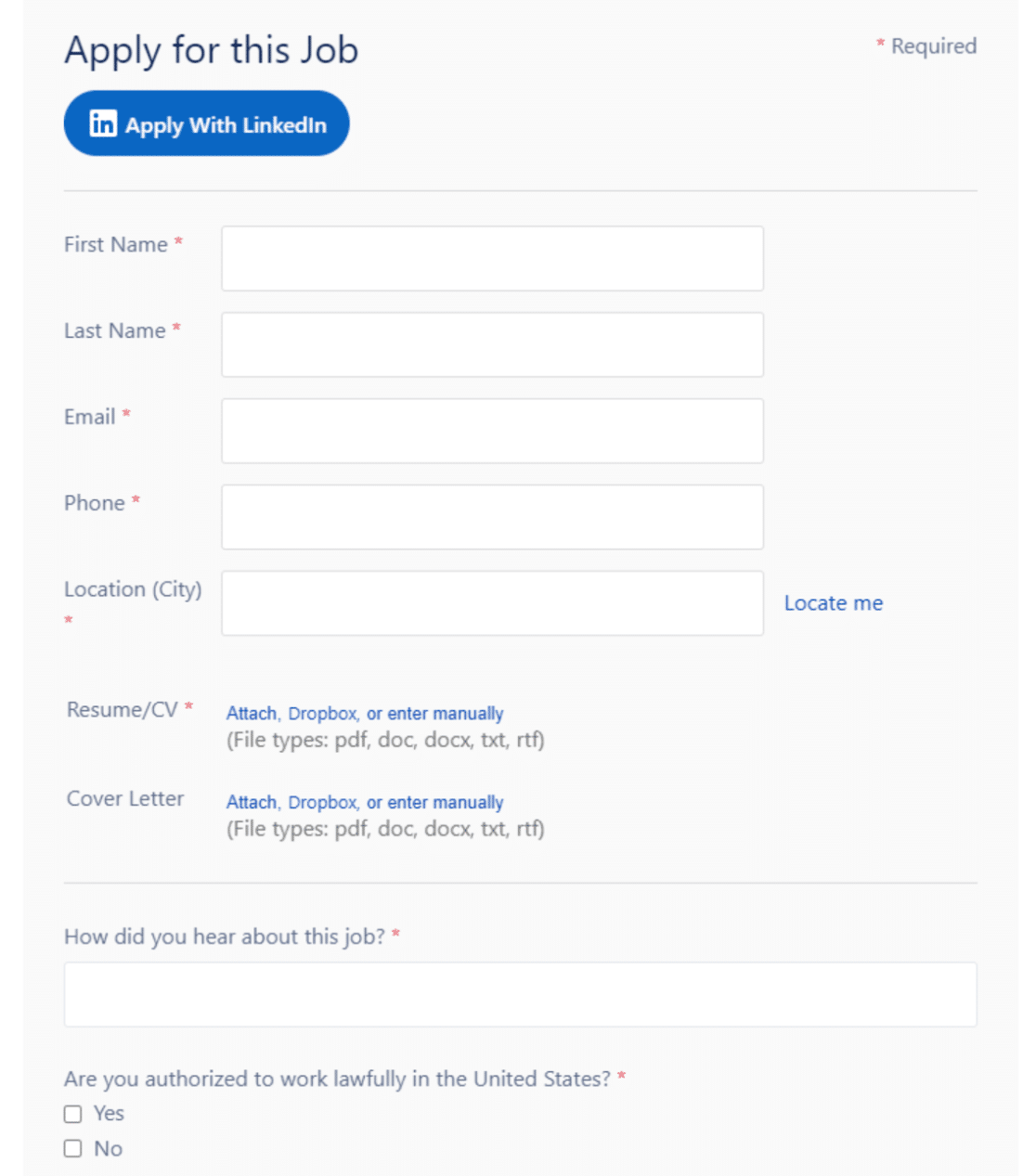 Why Candidates Will Respond
Candidates are likely to fill out the above recruiting intake form because it is designed to be quick and easy to complete and provides a streamlined way for candidates to submit their information for job opportunities.
How Your Company Benefits
By collecting basic information from candidates, businesses can quickly evaluate whether a candidate meets the minimum requirements for a job.
This saves time and resources that would have otherwise been spent reviewing irrelevant resumes.
Templates to Try
3. Patient Intake Form
A patient intake form gathers basic information about a patient's medical history. It is easy to read and fill out, making it less overwhelming for patients.
The below example from Patient Pop gathers basic information about a patient's medical history, insurance information, prescription policy, and more.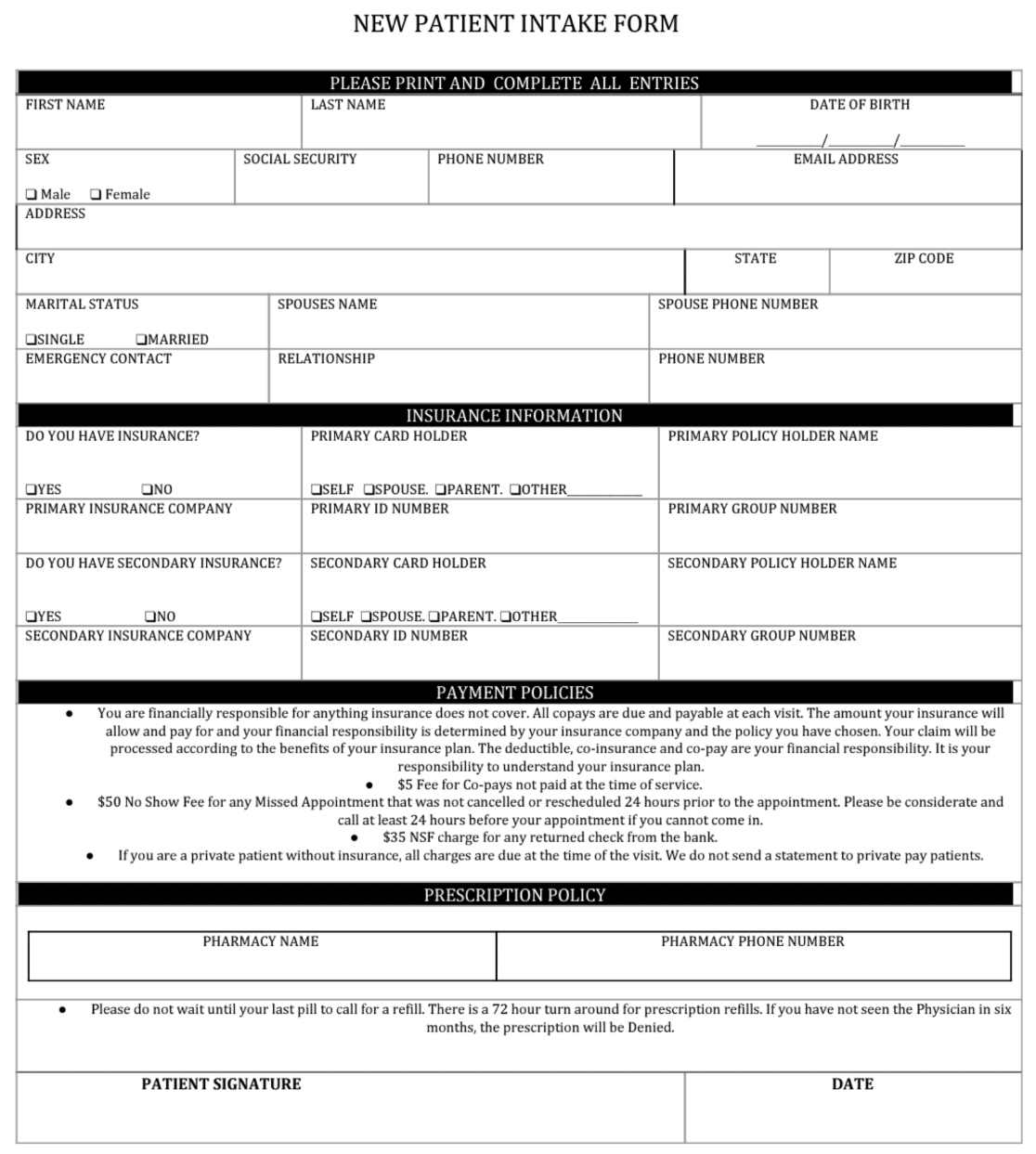 Why Patients Will Respond
If a general patient intake form has easy-to-understand questions and is well-organized, patients can quickly fill it out, ensuring that all the necessary information is captured correctly.
How Your Healthcare Facility Benefits
A well-designed patient intake form can help improve patient care and the efficiency of your healthcare facility. By streamlining the intake process, you can reduce wait times and improve the overall patient experience.
Templates to Try
4. Writing Center Intake Form
Writing center intake forms serve as a starting point for the tutoring session, helping the instructor get to know the student and their writing needs.
The below example from the University of Iowa Writing Center is a simple yet comprehensive intake form that covers all the necessary information.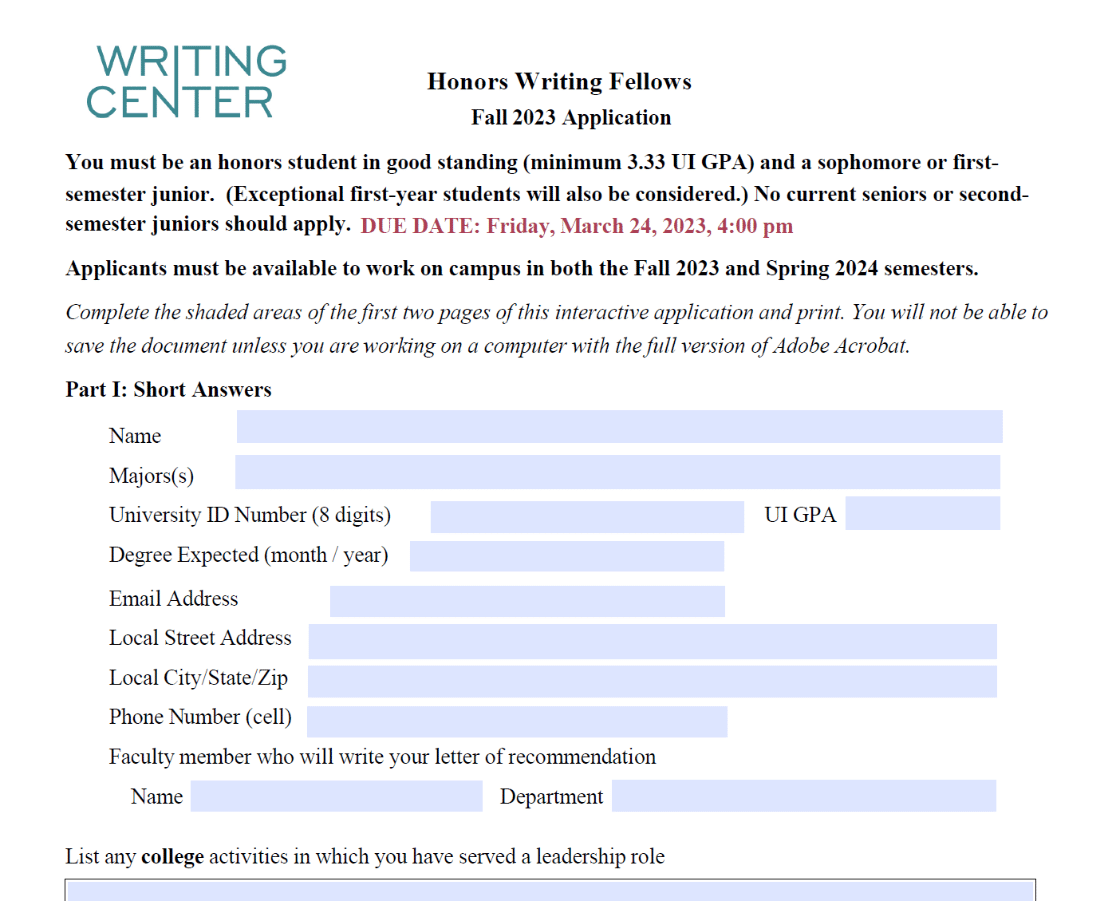 Why Will Students Respond
Overall, the standard writing center intake form from the University of Iowa Writing Center offers a user-friendly and efficient way for students to communicate their writing needs, leading to a more tailored and effective tutoring session.
How Your Writing Center Benefits
By using a standard writing center intake form, you have all the necessary information to tailor the tutoring session to the student's specific needs while also being able to track the effectiveness of your tutoring program.
Templates to Try
5. Animal Shelter Intake Form
Shelters and rescue groups rely on animal admission forms to gather data about the animals in their care and any special requirements they may have.
The following is an example of an animal shelter's intake form, ASPCA, which includes critical questions such as those listed below:
Animal Information (Name, Breed, Age, Gender Fields)
Temperament (Behavioral Characteristics and Personality Fields)
Contact Information (Name, Email Address, Phone Number Fields)
Medical Information (Vaccination History, Medications, and Health Conditions Fields)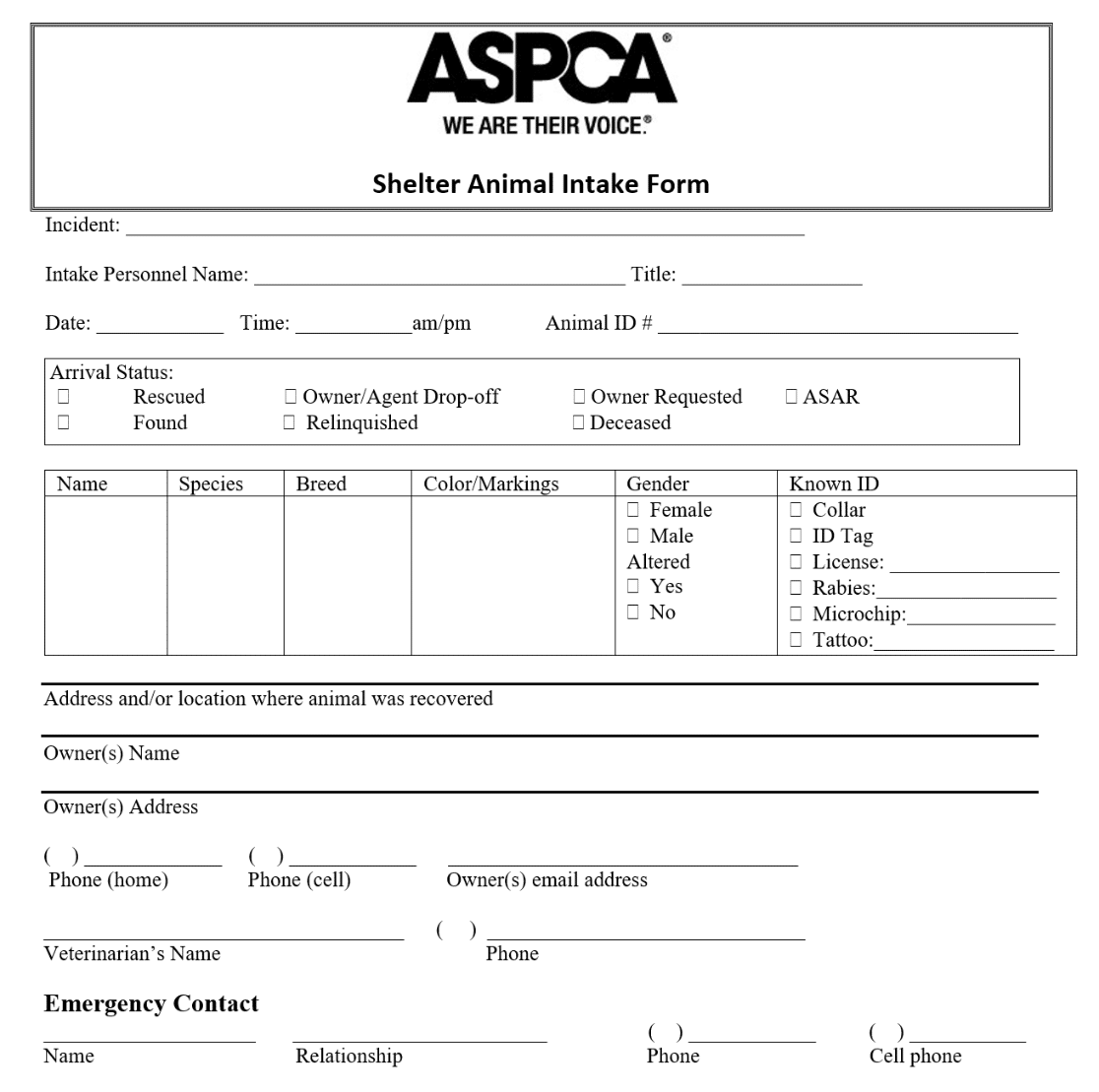 Why Animal Rescuers Will Respond
The form is tailored to animal welfare services, demonstrating the shelter's expertise and professionalism in caring for animals. It also ensures that all necessary information is collected for the animal's safety and well-being.
How Your Shelter Benefits
By collecting animal-related information up front, you're able to provide better care and placement for animals in your care, streamline the adoption process, and build trust with potential adopters.
Templates to Try
6. Veterinarian Patient Intake Form
In order to offer the best care possible, veterinarians use patient intake forms to collect vital information about pets and their owners.
This intake form from the Wildwood Veterinary Clinic covers all the bases by asking for pet information, medical information, owner information, and more.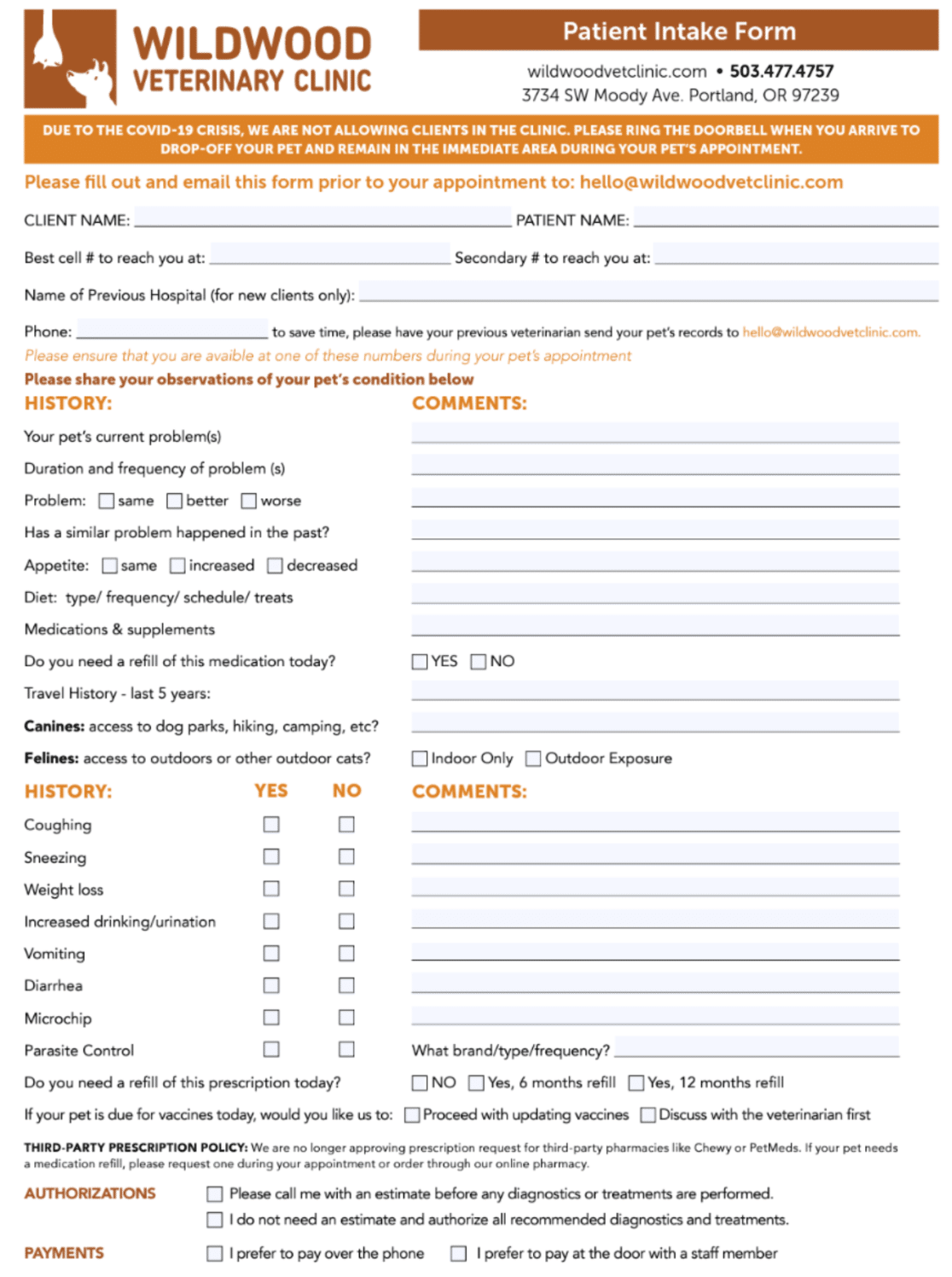 Why Pet Owners Will Respond
The thoroughness of the form gives pet owners the confidence that their animals are in good hands at the clinic. The form also helps the clinic understand the pet's medical history, leading to more personalized treatment.
How Your Veterinary Clinic Benefits
The intake form can help your staff prepare for appointments, allowing them to be more efficient and effective in providing care.
Utilizing a well-designed veterinary patient intake form can also enhance the reputation of your clinic and improve customer satisfaction.
Templates to Try
7. Massage Intake Form
A massage therapist's ability to give successful, individualized treatments depends on the information they glean from massage intake forms.
Below is an example of a massage intake form by Clinicsense that benefits both potential clients and massage therapists and requests important info, such as:
General Contact Information (Name, Email Address, Phone Number Fields)
Health Information (Medical Conditions, Injuries, Allergies, and Medications Fields)
Massage Preferences (Type of Massage, Pressure, and Focus Area Fields)
Consent to Treatment (Agreement and Signature Fields)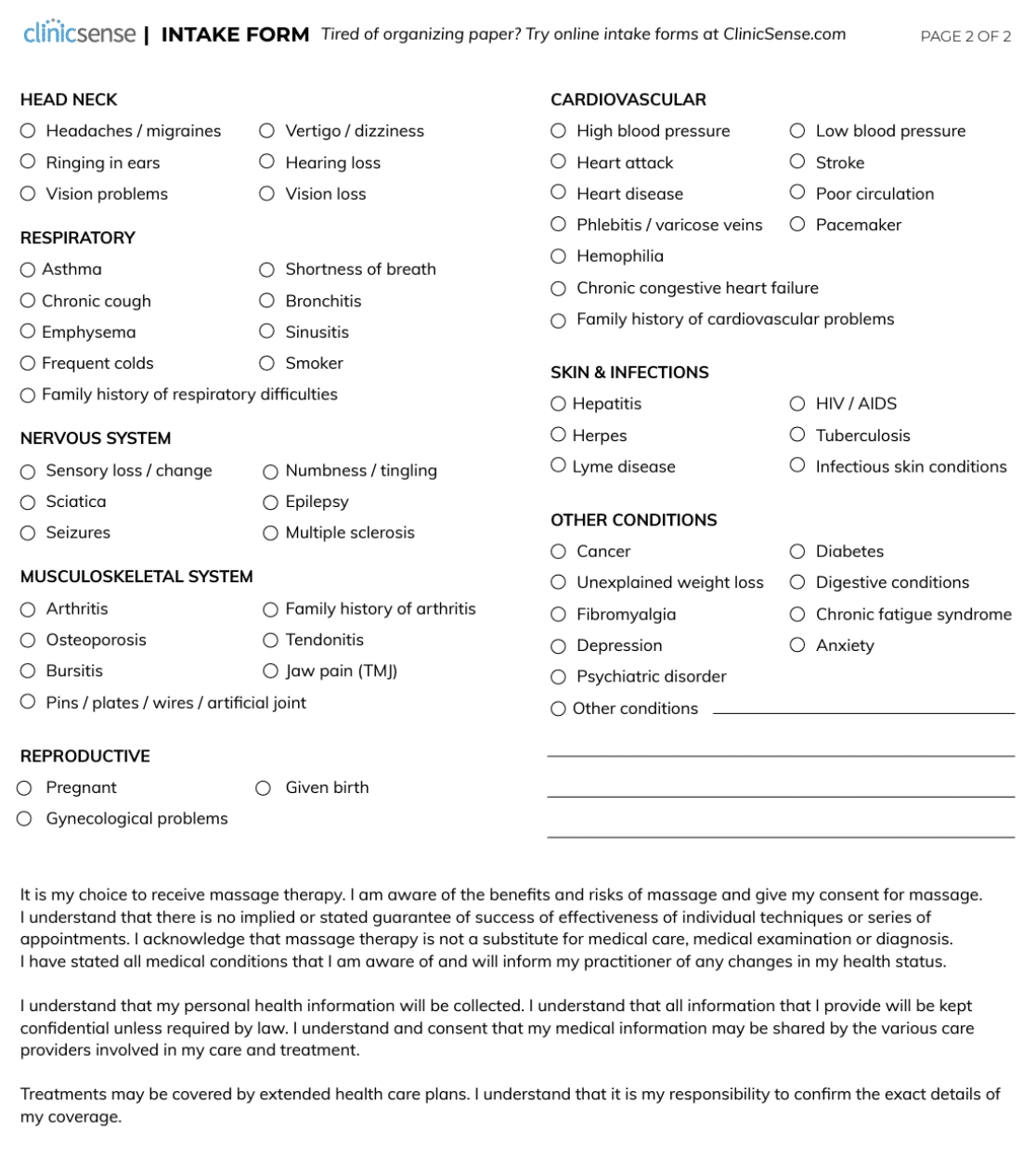 Why Massage Clients Will Respond
The form is comprehensive, allowing clients to disclose any medical conditions or injuries that may affect their massage experience.
It also provides clients the option to customize their massage preferences, creating a more personalized experience.
How Your Massage Clinic Benefits
By collecting relevant health information and massage preferences, massage therapists can create tailored treatment plans for their clients.
Additionally, the intake form allows therapists to obtain informed consent, reducing liability and ensuring a safe and effective massage session.
Templates to Try
8. Event Registration Intake Form
Intake forms for events help collect all the information you need from registrants in one centralized location, saving you time and stress.
The example below showcases an event registration intake form tailored for exhibitors that requests important information such as:
Company/Organization Name
Contact Information (Name, Email, Phone)
Booth Preferences (Size, Location, Special Requests)
Products/Services Offered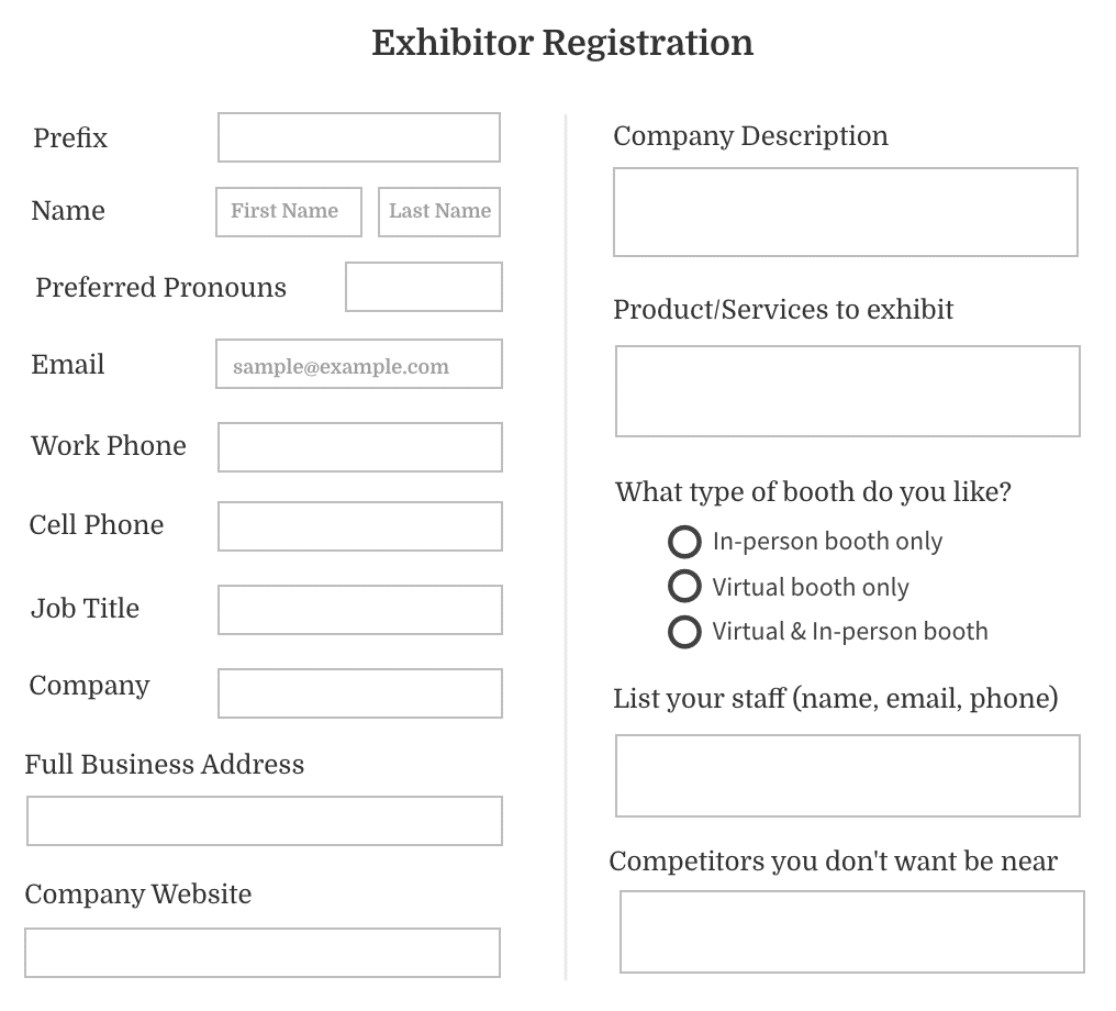 Why Exhibitors Will Respond
The form is tailored to exhibitors, demonstrating that the event organizers understand their needs and are committed to providing an excellent experience.
By providing options for booth preferences and special requests, exhibitors can tailor their booth setup to their unique needs.
How Your Business Benefits
By collecting information up front from exhibitors, you can ensure that you have all the necessary details to manage the event efficiently.
This can help with logistics, such as booth placement and setup, and help ensure that exhibitors have everything they need to have a successful event.
Templates to Try
9. Rental Application Intake Form
In order to properly vet prospective tenants, property management organizations and landlords rely heavily on rental application intake forms.
Here's an example of what a rental application intake form can look like that includes property preferences, tenancy duration, application details, and more.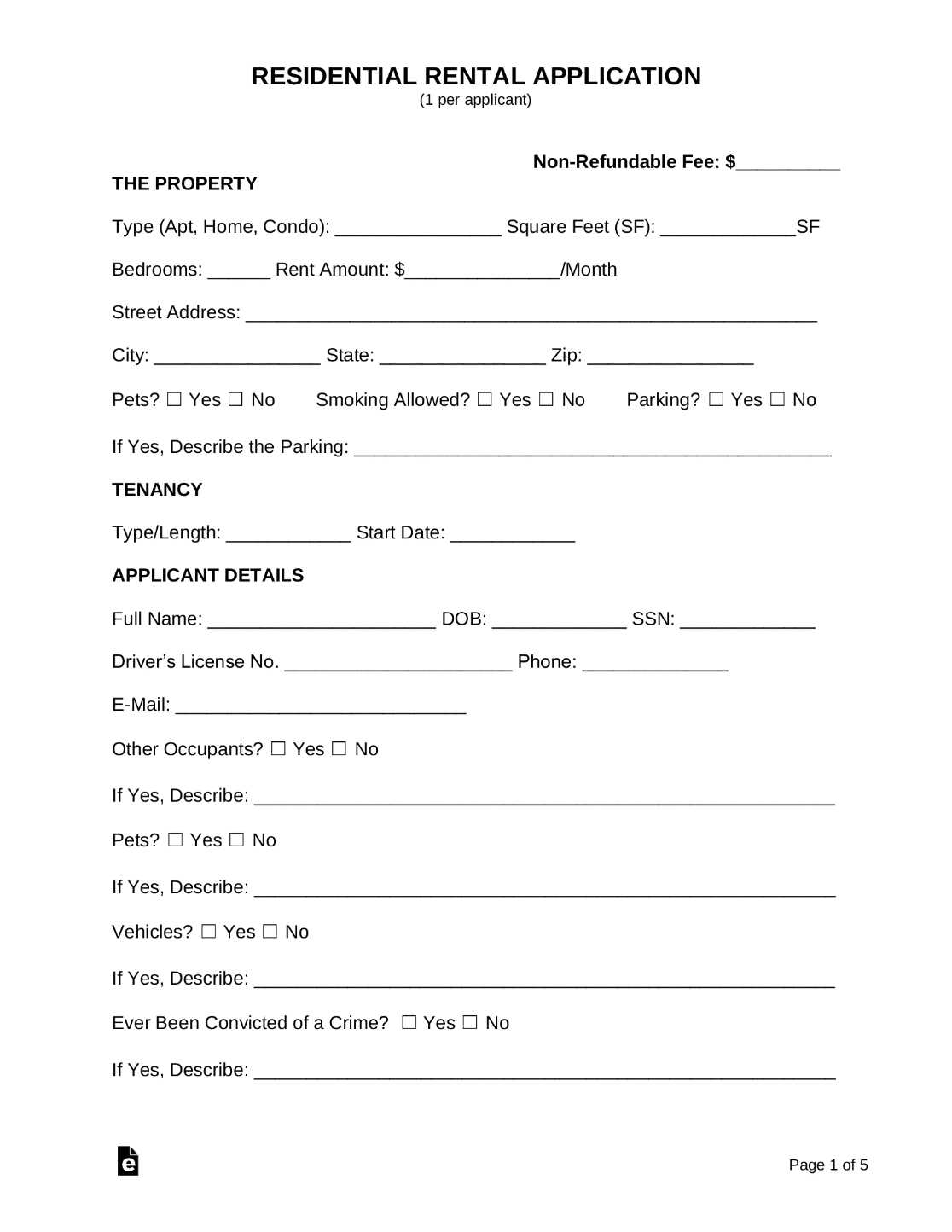 Why Prospective Tenants Will Respond
Prospective tenants will appreciate the transparency and clear expectations that a well-designed rental application intake form provides.
Outlining the necessary information required for consideration reduces confusion and uncertainty about what is required.
How Property Management Companies Benefit
By collecting the necessary information upfront, property management companies and landlords can accurately screen and select qualified tenants.
This can save time and money by minimizing the risk of selecting less qualified tenants and reducing the likelihood of evictions and related legal issues.
Templates to Try
10. Volunteer Recruitment Intake Form
Volunteers are the backbone of many non-profit organizations, and the right volunteer intake form can make all the difference in finding the best candidates.
Check out this volunteer intake form from the American Red Cross, which collects basic contact information, volunteer preferences, and areas of expertise.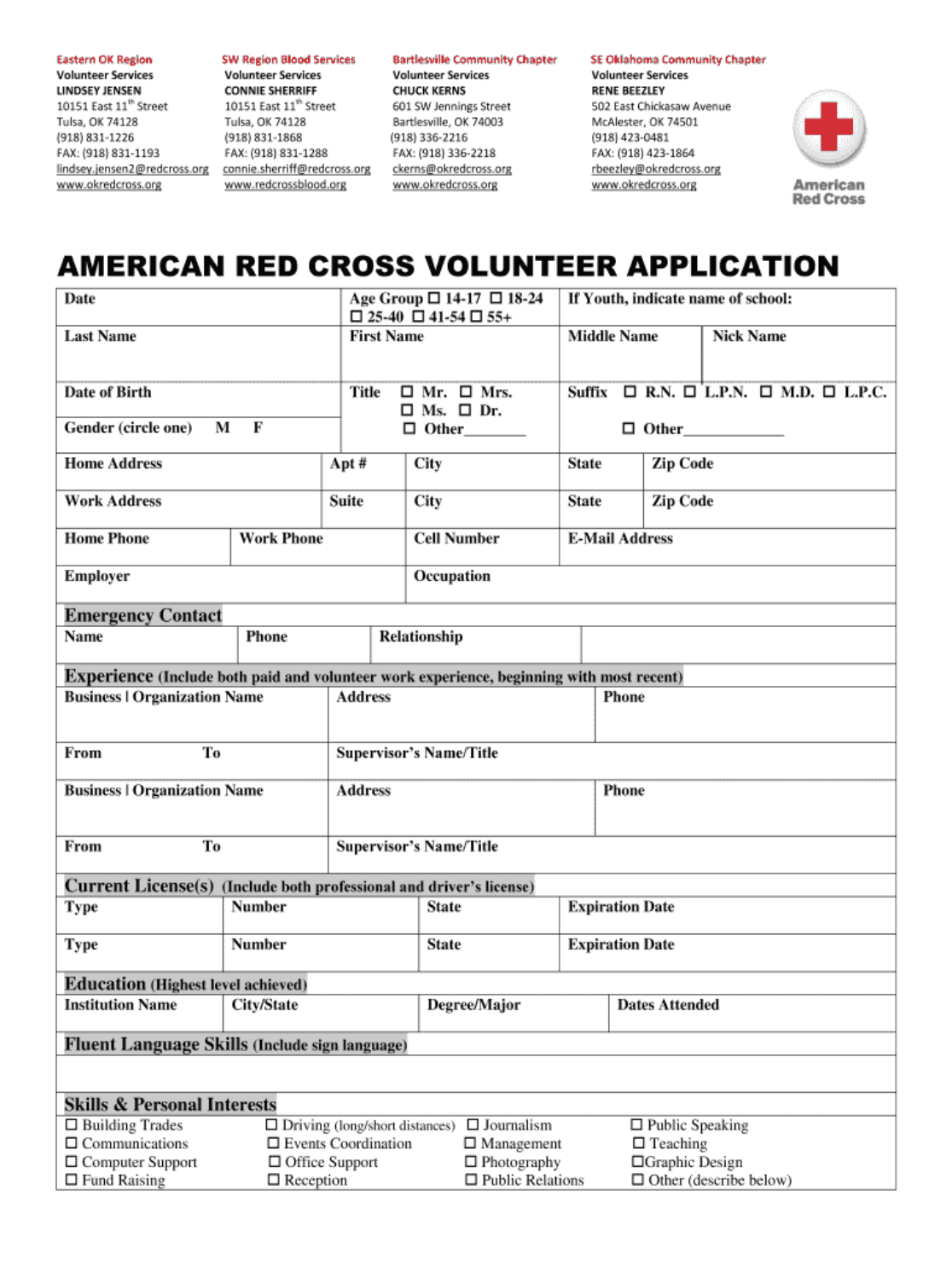 Why Volunteers Will Respond
The form is user-friendly and allows volunteers to express their interests and availability. Additionally, it demonstrates the American Red Cross's commitment to matching volunteers with roles that suit their skills and interests.
How Your Non-profit Organization Benefits
By using a volunteer recruitment intake form, you can find volunteers with skills and interests that align with your mission. This results in a better volunteer experience, improved retention, and increased impact for your organization.
Templates to Try
11. Donation Intake Form
Donation intake forms help collect vital information from donors, helping you keep track of donations, show appreciation, and connect with your supporters.
The example below showcases YRMC's donation intake form for COVID-19 that requests important information, such as:
Personal Information (Name, Email, Address, Phone)
Donation Information (Items Donated; Quantity, Value)
Acknowledgment Letter for Filing Taxes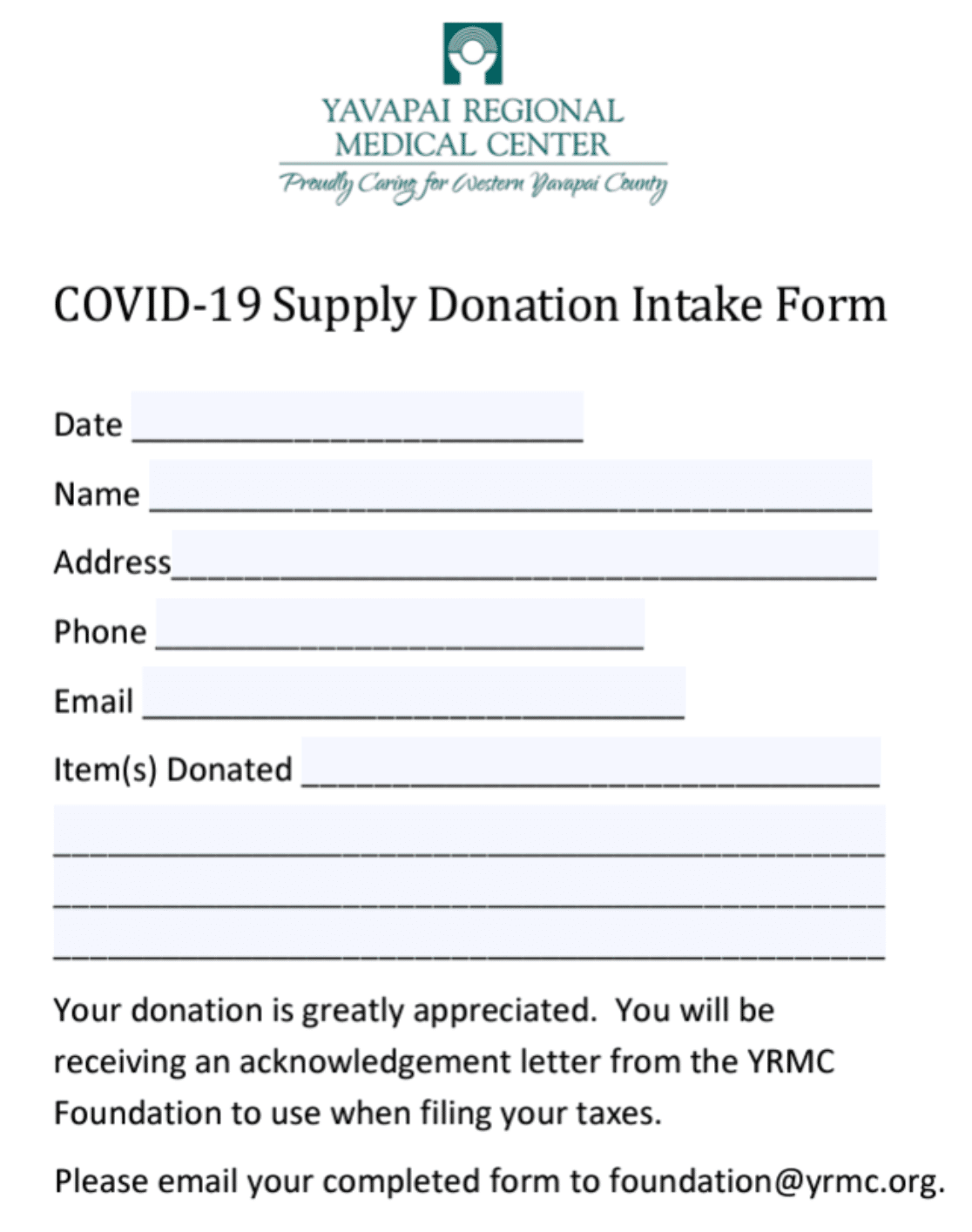 Why Donors Will Respond
The form is user-friendly and straightforward, demonstrating YRMC's commitment to transparency and accountability.
It allows donors to easily add their preferred donation items and amount while providing them with an acknowledgment letter.
How Your Charitable Organization Benefits
By collecting important donor information up front, you can tailor your communication and outreach efforts to specific donor segments.
This can lead to increased engagement and support as donors feel more connected to your organization and its mission.
Templates to Try
Next, Create Interactive Forms that Boost Engagement
Now that you've learned how to utilize intake forms for various business processes, it's time to take it up a notch and use WPForms to create interactive forms that boost engagement and enhance your user experience.
Create Your WordPress Form Now
Ready to build your form? Get started today with the easiest WordPress form builder plugin. WPForms Pro includes lots of free templates and offers a 14-day money-back guarantee.
If this article helped you out, please follow us on Facebook and Twitter for more free WordPress tutorials and guides.