How to Set Up a Volunteer Application Form in WordPress
by Shahzad Saeed on Feb 16, 2017
Are you looking to recruit volunteers for your non-profit? Volunteers are the lifeblood of your organization, and recruiting them on your website can give your organization a huge boost. In this tutorial, we'll show you how to set up a volunteer application form in WordPress.
How to Create a Volunteer Form
The first thing you need to do is to install and activate the WPForms plugin. Here's a step by step guide on how to install a WordPress plugin.
After the installation, you'll need to create a form. You can see our tutorial on creating a simple contact form as an example. In this tutorial, we're going to use the blank form template so we can choose each field.
Once the form is created, the next step is to add the necessary form fields. You can find plenty of field options below the Standard Fields and Fancy Fields menu.
Now you can add the most appropriate fields to your form based on what you need to know about volunteers.
In our example, we used the name, email, phone and address form fields.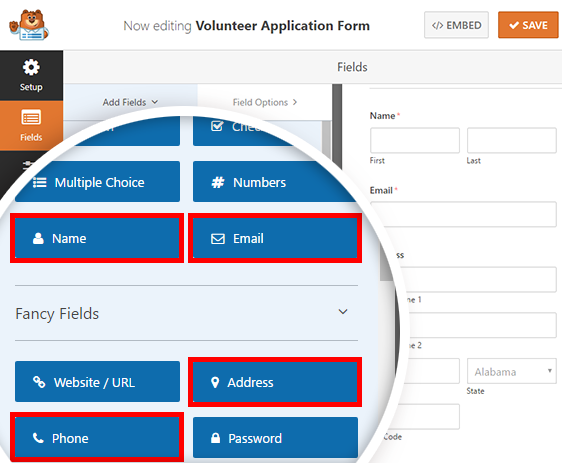 You may also want to ask your prospective volunteers about:
relevant skills
previous volunteer experience
how they heard about your organization
why they want to volunteer there
You can also customize the fields per your needs by clicking on the field.
For example, if you do not want to show Address Line 2 in the address field, you just need to click on the address field on the right side.
Then, in the left section, under the Field Options, click Advanced Options and click the checkbox near to the Address Line 2.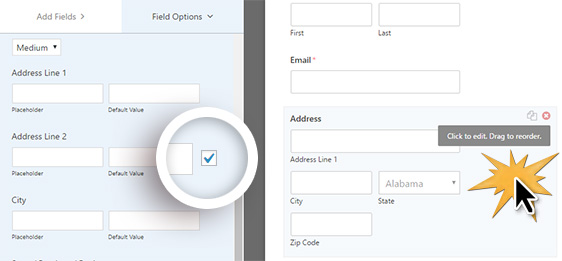 Make sure to set the compulsory fields as required, so users can't submit the form without filling those fields.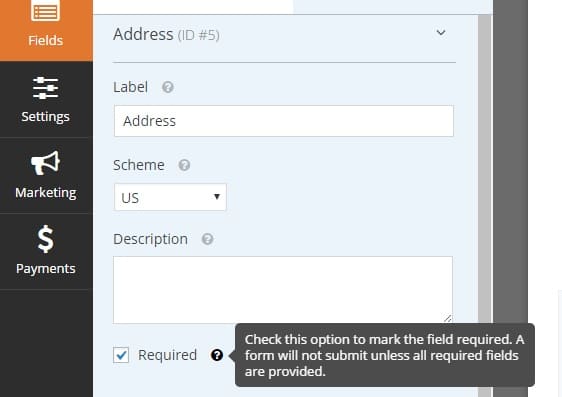 When you're done adding all your form fields, click the save button at the top right. Then, click X next to the save button to go back to your WordPress dashboard.

Publishing Your Volunteer Application
Now you're ready to publish your volunteer application form in WordPress!
You can create a new page or edit an existing page to add your new form to. On the post editor, click the Add Form button just above the text editor.

You'll now see the Insert Form popup box. Select the volunteer application form you just created from the drop-down menu. Then, click the Add Form button.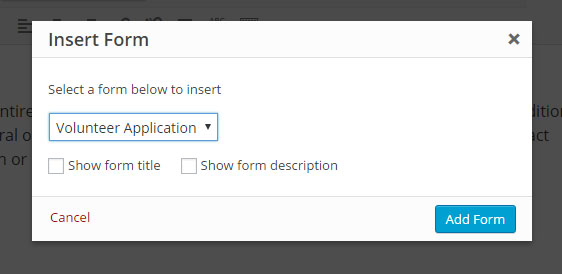 More Forms to Support Your Nonprofit
With WPForms, you can accomplish more things for your nonprofit organization than just creating a volunteer application form.
Let's take a look at a few possibilities:
Now you're all set! You've just created a volunteer form and are ready to start accepting volunteer applications.
What are you waiting for? Get started with the most powerful WordPress forms plugin today.
If you like this article, then please follow us on Facebook and Twitter for more free WordPress tutorials.