Are you looking for a great SEO plugin for your WordPress website?
Good Search Engine Optimization (SEO) is key to a strong digital marketing strategy.
Your chances of grabbing the top rank on search results are much higher if you're using the right SEO tools and plugins for your website.
This is why we put together this list of the must-have SEO plugins and tools for WordPress sites.
Best SEO Plugins for WordPress
Asking yourself which is the best SEO plugin for WordPress? Here's a list of the top SEO tools out there.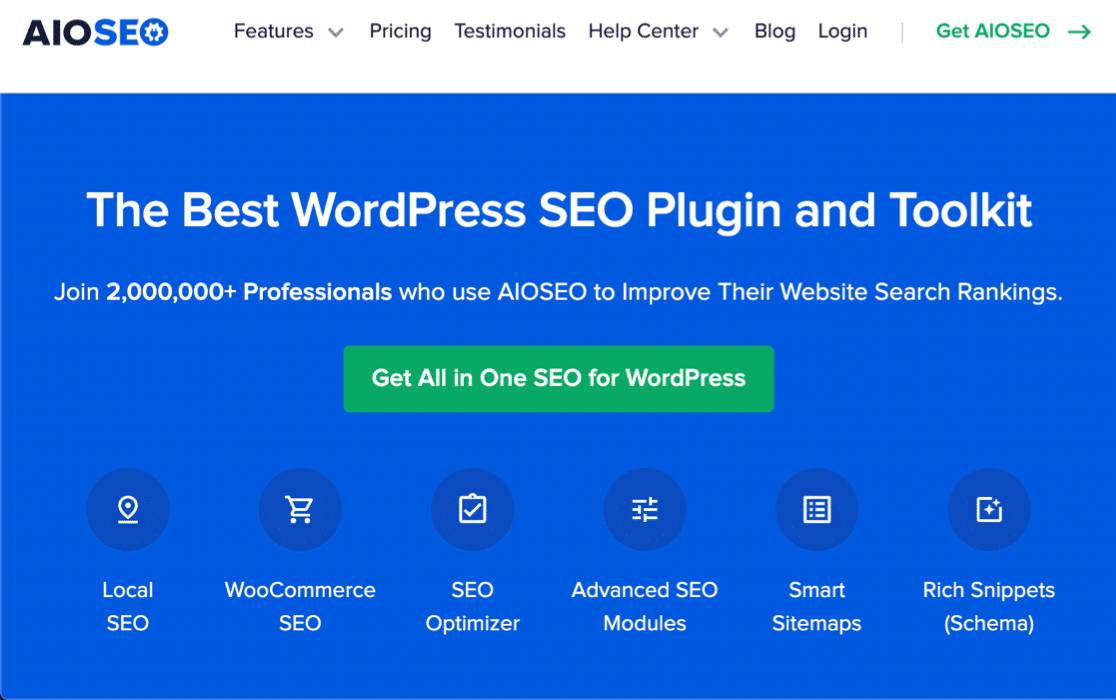 By many criteria, All in One SEO (AIOSEO) is the best SEO plugin for WordPress.
If you pick just one on this list for SEO, this would be the smart choice. AIOSEO is an extremely beginner-friendly plugin that comes with tons of features that enable you to take your organic search optimization to the next level.
At the heart of AIOSEO is its on-page SEO analysis tool. It runs many different checks to identify the main areas of optimization improvements and also highlights the 'good results' that you're already doing well with.
And when you're drafting a new post, AIOSEO provides valuable suggestions to ensure your post has all the important SEO elements in place to ensure high rankings.
It also doubles as the best WooCommerce SEO tools. You can easily add WooCommerce product schema using AIOSEO, which can help you grab featured snippets and attract more organic clicks to your product pages.
Overall, AIOSEO is extremely feature-rich and a must-have WordPress SEO plugin for sites aiming to boost organic traffic with high search visibility.
Features: 
Well-loved and used by millions to grow web traffic organically.
Offers a powerful free version.
User-roles to manage access to your SEO.
Automatically generate XML sitemaps to submit to search engines so they'll index your site and you show up in search results
Get rich snippets schema for more traffic.
Built-in social media integration.
Easy-to-use setup wizard to customize SEO for your small business website.
Edit your robots.txt files.
Powerful SEO Health Checker tool for on-page analysis.
Use dynamic values (current year, month, day, custom fields, author info, and more) in your SEO title and descriptions.
On-page analysis with an actionable checklist to improve the readability of your content.
Optimize your page and post SEO by adding meta-titles, keywords, and descriptions.
Discover related and additional keywords you can rank for with the SEMRush integration.
WooCommerce SEO tools for eCommerce sites helps you optimize your store for better rankings.
If you'd like to see more details, check out our full AIOSEO review.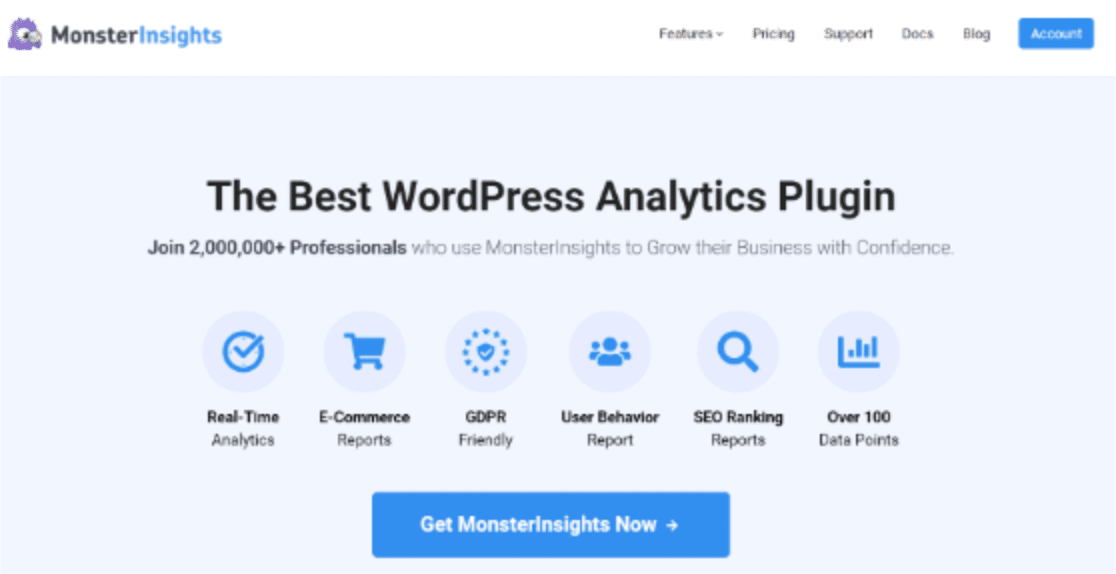 The MonsterInsights plugin is the best Google Analytics plugin for WordPress websites. And it's also a powerful SEO tool that you should be using on your site as part of your marketing strategy to see killer results.
The more you know about what's happening on your site, the more you'll learn how and where to apply your SEO efforts.
Features:
Displays easy-to-read analytics reports on your WordPress dashboard.
Connect to Google Search Console and track your site's top keywords.
Shows you where your users are coming from, your top content, where users go on your website, and a ton more.
See your eCommerce SEO performance by tracking which products are the most popular and how all products are performing.
Gives you reports on your mobile traffic with Google AMP.
Track the top outbound links from your website to see which ones people are clicking on.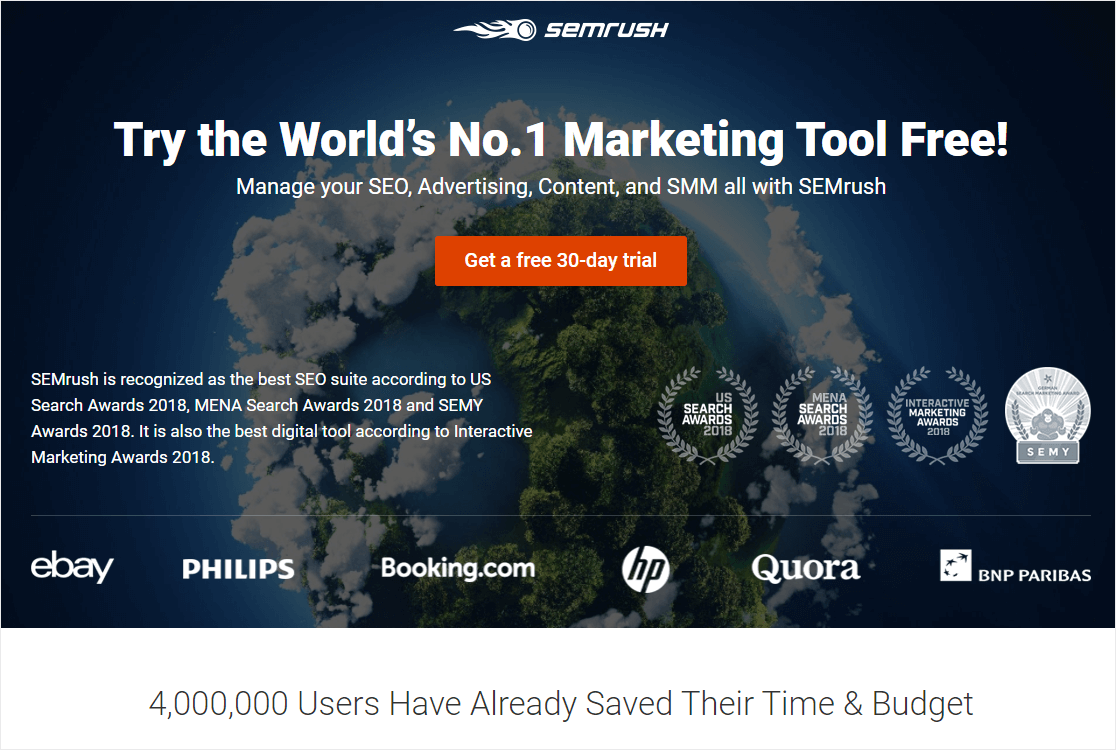 SEMRush helped us write this post. It's a very effective marketing tool and SEO plugin for WordPress.
It really is a strong SEO tool that's wildly popular with SEO professionals. And, it's packed full of useful features to help you move up in search engine rankings.
Features:
On-Page SEO Checker helps you quickly super-charge your content marketing by looking at details for different pages and posts.
Broken link checker scans your site for dead links.
Search your competitor's URLs to check for their highest-ranking keywords and work to outrank them.
Analyze keywords for search volume so you can plan your content ahead and know which keywords to add that will boost rankings.
Position Tracking helps you see (and track) where you and your competitors rank with specific keywords, so you can easily optimize those keywords.
Build an outline for your posts by running a keyword through SEMRush and getting content suggestions.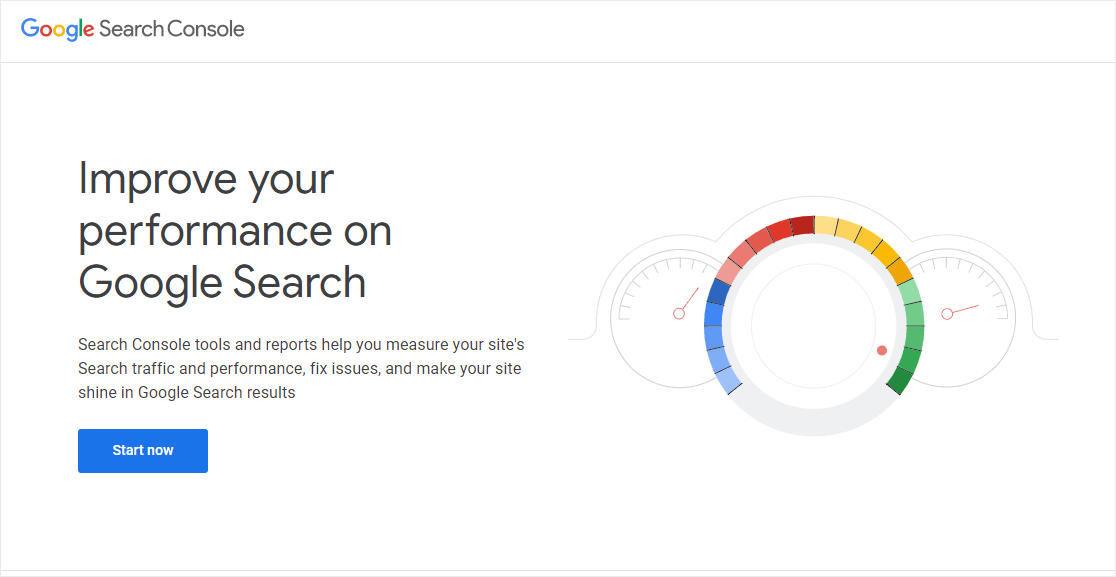 Google Search Console is useful for a lot of things. But what many don't realize is that it's an excellent SEO tool that gives useful insights into your WordPress site search result rankings.
You can use it to see how your content is doing and get a bunch of really amazing data about your website and your content across the web. Combining this tool with MonsterInsights can be a gamechanger for your WordPress SEO analytics capabilites.
Features:
Submit a sitemap and new content for indexing.
Helpful tools to come up with new blog post ideas.
It's insanely easy to connect your WordPress site with Google Search Console.
View your Search Console Report in your WordPress dashboard using MonsterInsights.
Alerts you when Google is unable to crawl and index pages on your WordPress site.
Instructions on how to fix common crawling errors.
Use it in combination with MonsterInsights to see your site's top Google search terms and average search results page position, plus clicks, impressions, and CTR.
Hide specific content from Google (by noindexing) to prevent duplicate content.
Find and fix malware and spam issues.
Learn which keywords your pages and posts are ranking for.
Check inbound links and find out which websites are sending you traffic.
Check your website to see how mobile-friendly it is.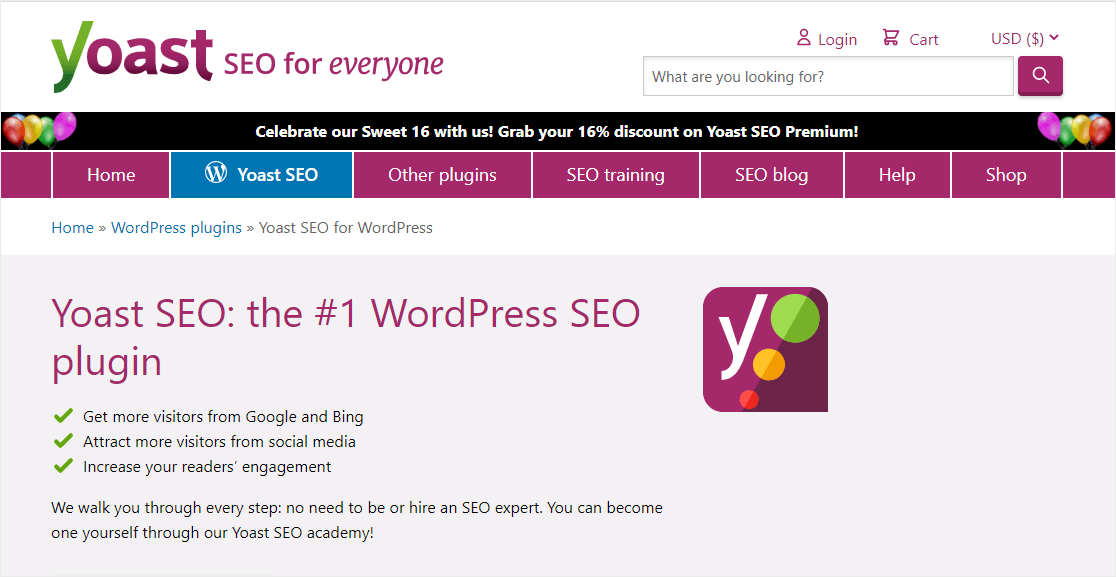 Yoast is another very popular SEO plugin for WordPress. It's been around a long time and has a huge list of features to optimize your website.
It helps find a balance between creating content for humans and for search engines.
Features:
Content and SEO analysis feature checks your pages and blog posts for readability and SEO improvements.
Redirection tool lets you perform 301 redirects so you can send people headed to one page right to another one of your choosing.
Internal link tracking.
Google Search Console integration.
Create canonical URLs to avoid duplicate content and Google penalties.
Lets you edit/add customized snippets of what people will see in Google when you pop up on the search engine results page.
Supports adding a focus keyword for your content (and multiple focus keywords if you'd like).
Automatically generates an XML sitemap for all of your content so it's extra easy for search engines to crawl your WordPress site.
Customize breadcrumbs on your site so it's easier to navigate and index.
Lets you add Open Graph metadata and social media images to your articles.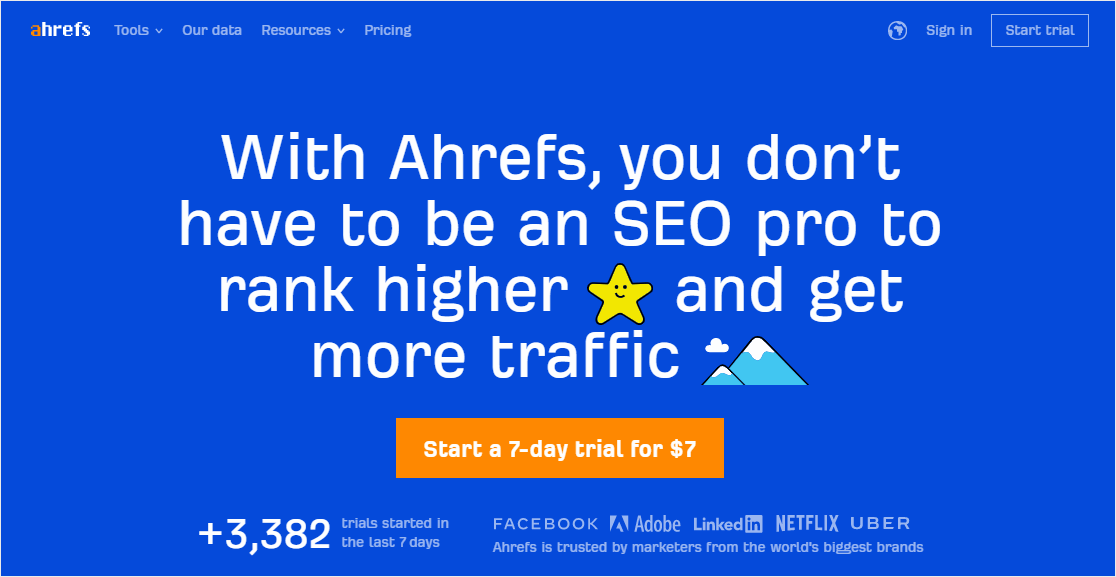 Ahrefs is one of the best WordPress SEO tools for WordPress that small business owners often use. It's a strong tool with a lot of different features.
Features:
Detailed organic search reports.
Backlink research so you can see where people are linking to your site from across the web.
Shows you your top keywords and where they're positioned on the SERP.
Lets you check out competing pages so you can optimize better.
Tons of options for content and keyword research.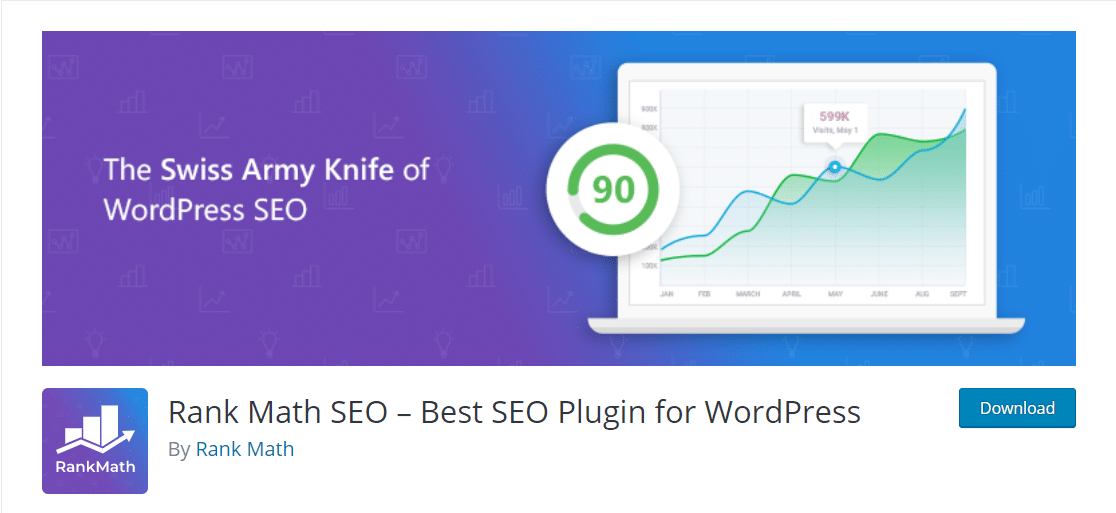 Rank Math is one of the SEO tools on this list that's really growing quickly.
It's a user-friendly WordPress SEO plugin that lets you optimize your website for search engines. Although, if you're using the more powerful AIOSEO or Yoast, this plugin might not be needed.
Features:
Easily add meta titles, descriptions, and Open Graph metadata to your content.
Generate an XML site map.
Integrates with Google Search Console.
User roles for control over who can do what.
Easy-to-use setup wizard.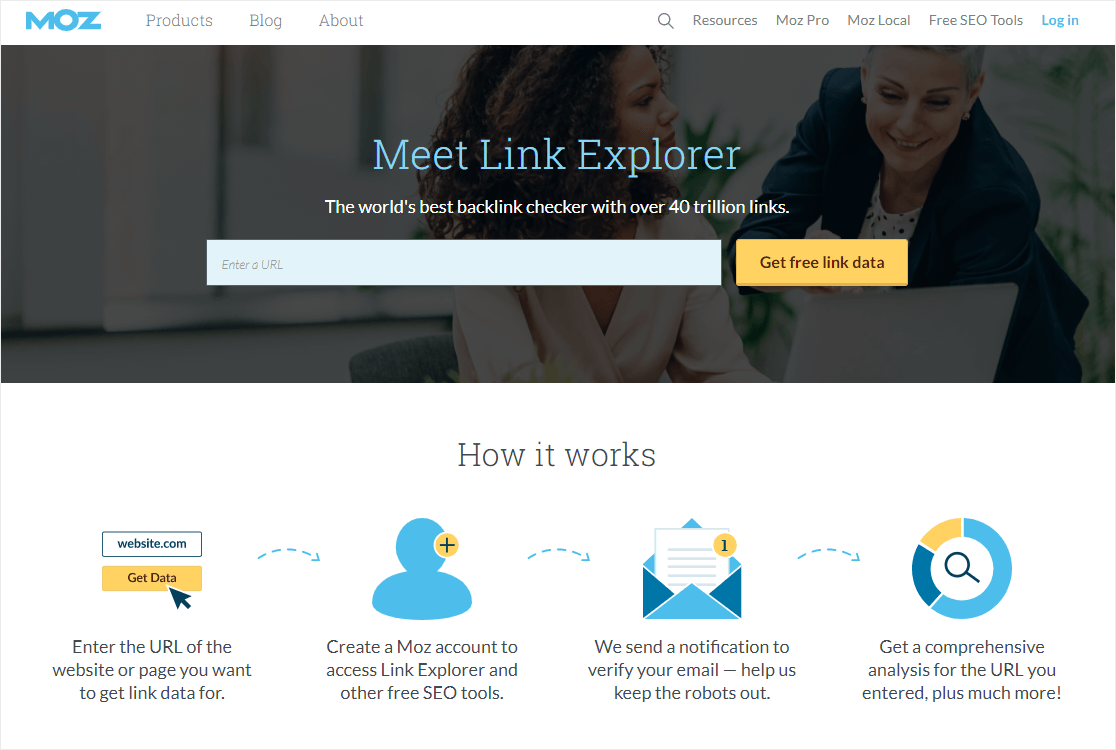 Link Explorer is a powerful and effective WordPress SEO tool that was created by the website Moz. To get all the features, you'll need to subscribe to Moz Pro.
Features:
Awesome link-building features.
SEO research and link analysis.
Uncover lost links + tools to help so you can make a plan to get them back.
Free version lets you search 10x/month.
Great graphs to help you see what's going on using data visualization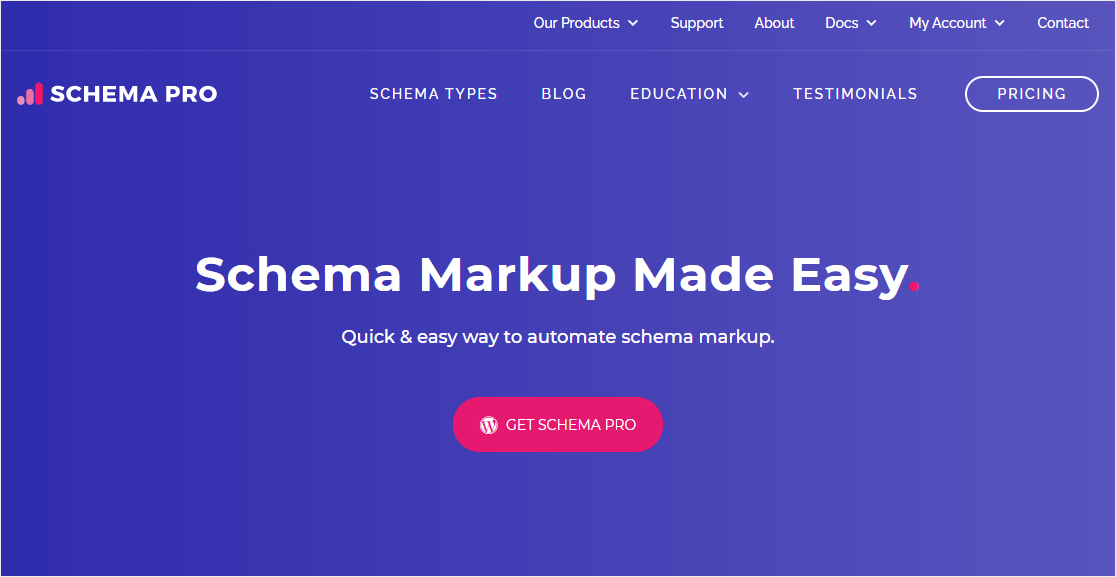 Schema Pro isn't needed for most small business website owners if you're using a top WordPress SEO plugin like AIOSEO. However, if you want advanced SEO functions or to add extra schema types, this is a good tool to check out.
Features:
You can use it with your existing WordPress SEO plugin by mapping data to Schema Pro fields.
Rich snippets for extended functionality on the search engine results page.
Display prices of products, star ratings from reviews, images, and videos.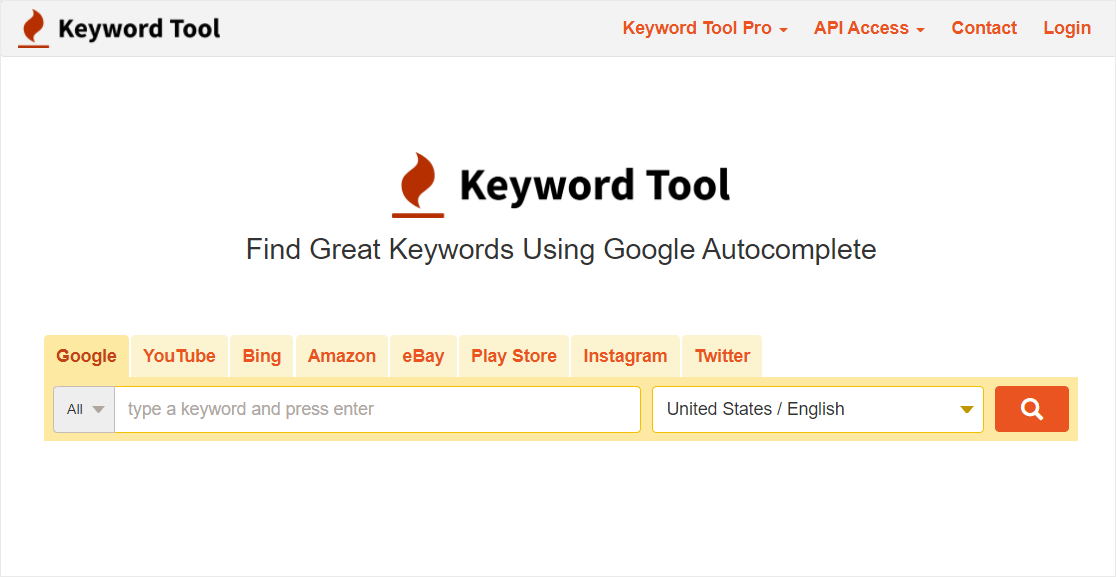 KeywordTool.io is a basic, free tool that's landed on our list of must-have SEO plugins for WordPress because it's simple and it works.
Features:
Type in a keyword and get content suggestions.
Uses Google's autocomplete tool to show you what people are really searching for.
Provides fresh and topical ideas since it's linked to Google's autocomplete, so you can provide content that's relevant.
Also gives you keyword suggestions from Bing, Amazon, YouTube, and others.
See search volume, CPC, and more with a paid plan.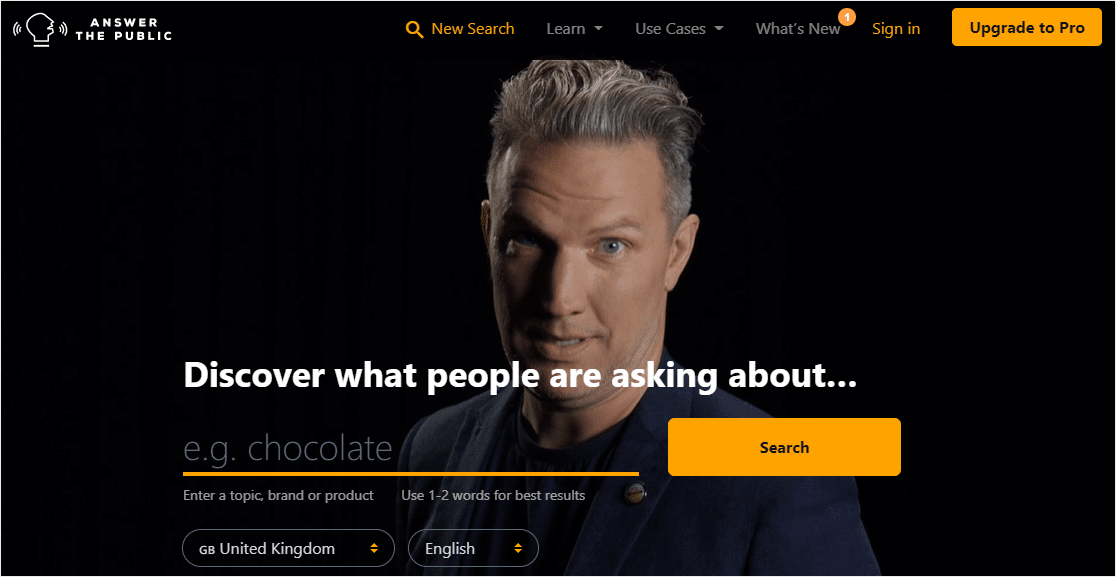 Answer the Public is a quirky website that you can use as an SEO tool to do keyword research. It's a free online SEO content optimizer that works great if you know how to use it right.
Features:
Shows you search queries people use for specific keywords.
Displays results from search engines such as Google, Yahoo, and Bing.
Which Is the Best SEO Plugin for WordPress?
Alright, folks – there it is. Our thorough list of the must-have SEO WordPress plugins and tools. We really hope this breakdown helped you pinpoint the right SEO plugins and tools for your website's needs.
But if you're still wondering what is the WordPress SEO plugin, here's our two cents:
Of all the SEO plugins on this list, we think All in One SEO (AIOSEO) is a must-have for any WordPress website. If you were to pick one, make it this one.
We feel strongly AIOSEO is the best WordPress SEO plugin because it lets you:
Replace many SEO plugins by being so powerful and feature-rich.
Extremely easy-to-use and trusted by millions of WordPress website owners.
Integrates beautifully with your WooCommerce shop so you can really skyrocket your online sales.
XML sitemaps, social media integration, and SEO Health Checker.
…and so much more.
Plus, you can get started with AIOSEO today and get ready to watch your SEO rankings skyrocket.
Good luck with your SEO, and feel free to let us know how it goes!
Looking to see how well your SEO is doing? Check out our post on how to install Google Analytics on a WordPress site.
If you like this article, then please follow us on Facebook and Twitter for more from the blog.