Are you looking for the best SEO plugins for WordPress to grow your organic traffic?
Good Search Engine Optimization (SEO) is key to ranking higher for important keywords, driving traffic, and making consistent sales without spending on paid ads.
However, it can be difficult to optimize your website effectively if you're untrained in SEO. This is where WordPress SEO plugins come in.
With the right SEO plugin, you don't need any outside help to rank high on Google and get more organic clicks.
In this post, we'll talk about some of our favorite WordPress SEO plugins that you can use to improve your on-page optimization in simple steps.
Here Are Our Top Picks for SEO Plugins
If you're short on time, you can compare the main features of our favorite SEO plugins by reviewing the table below:
For more details about why we love these plugins (and what we don't like about them), make sure to read the full post.
Best SEO Plugins for WordPress
There are tons of SEO tools and plugins out there, but not all of them are suited for small websites run by non-experts in the subject of SEO.
We've painstakingly tested some of the most popular ones to put together a list of the most user-friendly SEO plugins and tools for your WordPress website.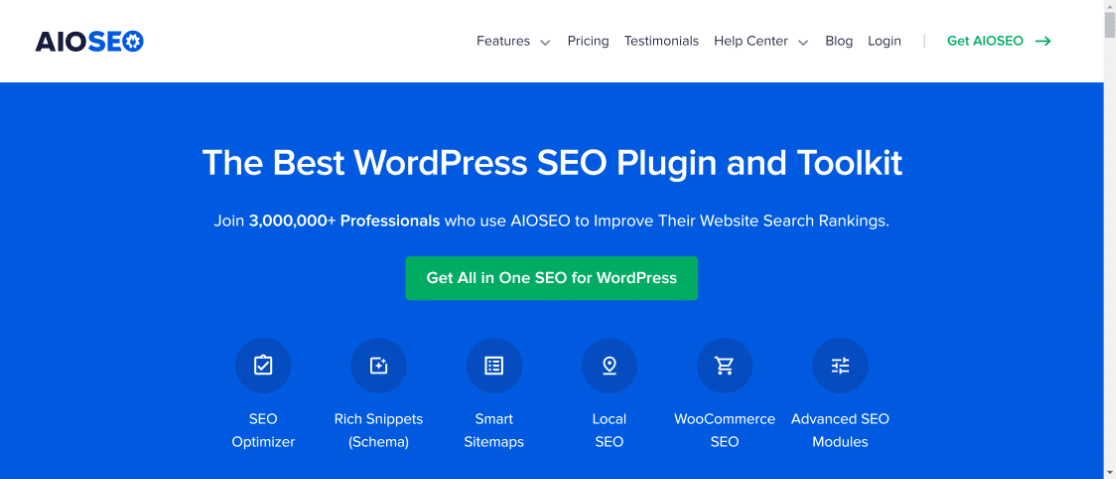 All in One SEO (AIOSEO) lives up to its name by being the most feature-packed WordPress SEO plugin for small business owners.
The plugin includes a powerful on-page analysis tool that generates a site score for your website. This gives you a precise idea of how well your site is currently optimized.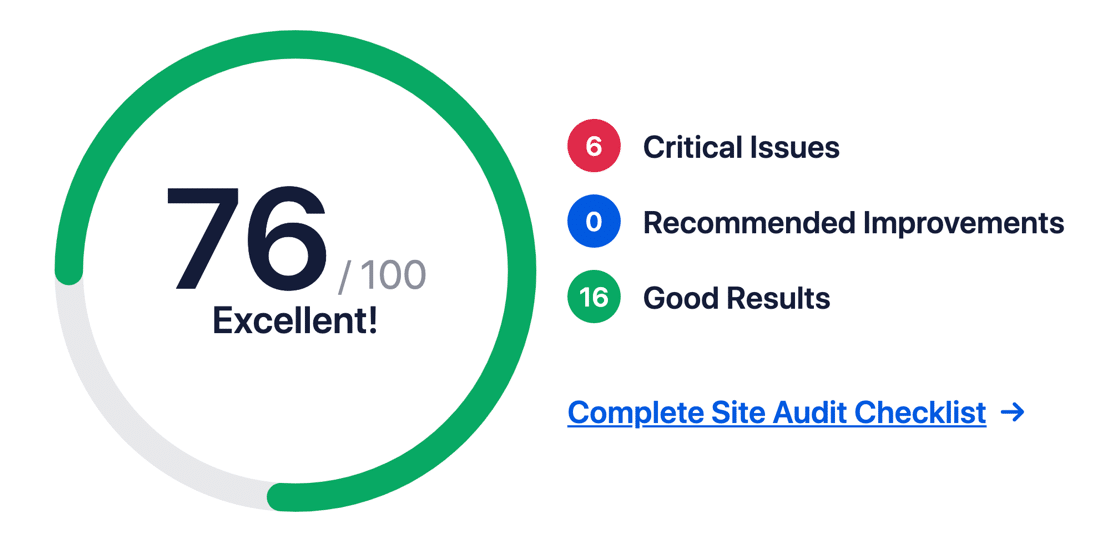 AIOSEO also displays an SEO audit checklist right within your WordPress site. The checklist includes all the good results on your site as well as recommendations for fixing issues.
This takes the guesswork out of SEO so you can immediately begin improving your optimization for better results.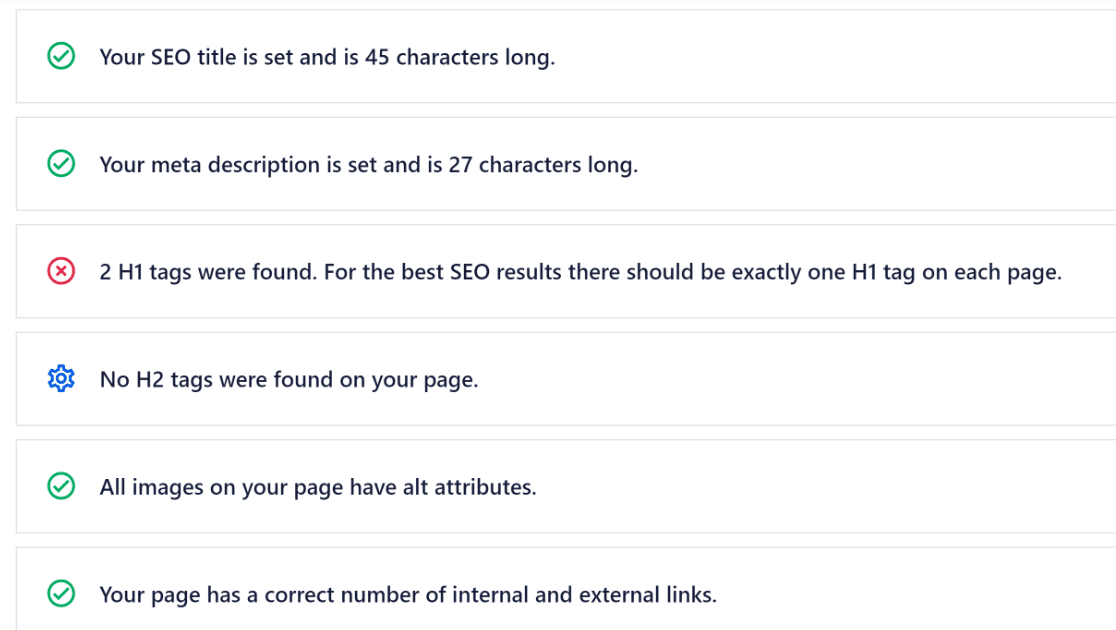 Apart from that, we like that AIOSEO also performs a content analysis and gives suggestions to help you write SEO-friendly content.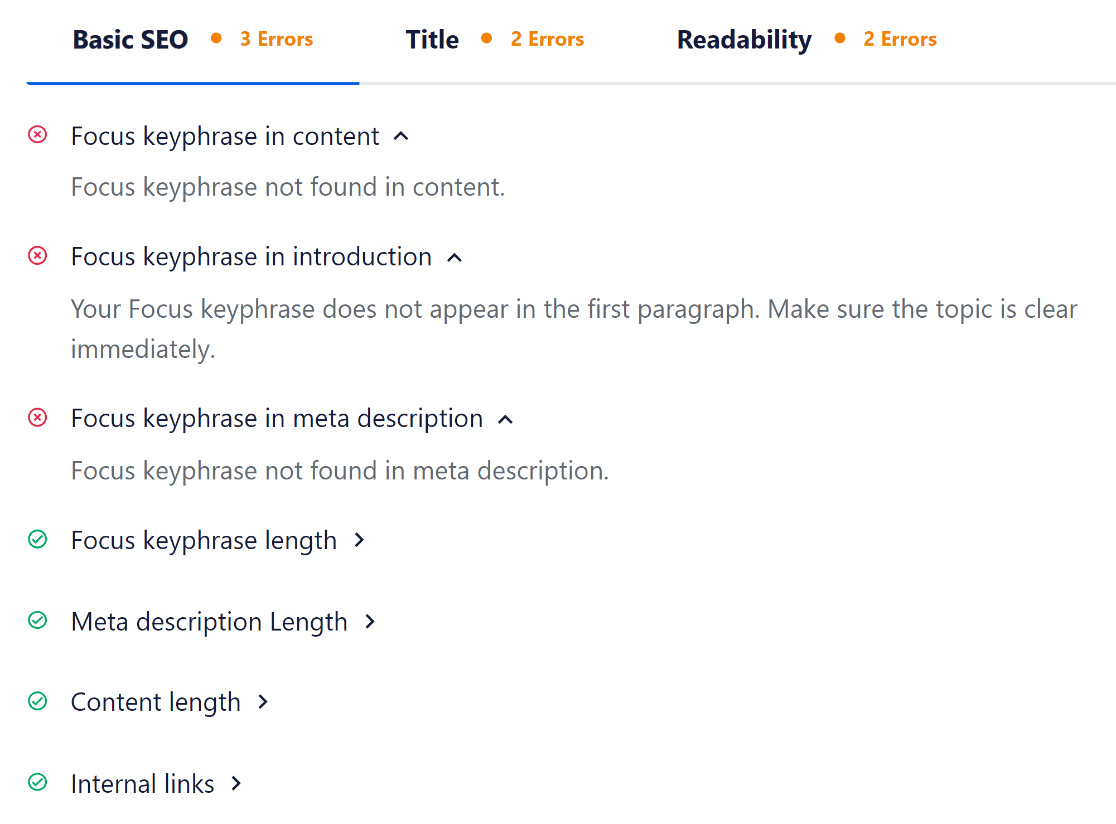 One of our favorite features is that AIOSEO even integrates with ChatGPT to give you optimized title suggestions right inside your WordPress editor.
All you need is to connect AIOSEO with your OpenAI account to get AI-generated titles and meta descriptions.
This fantastic feature helps you save time and get ideas for better titles using AI on your website that will likely draw more clicks to your posts.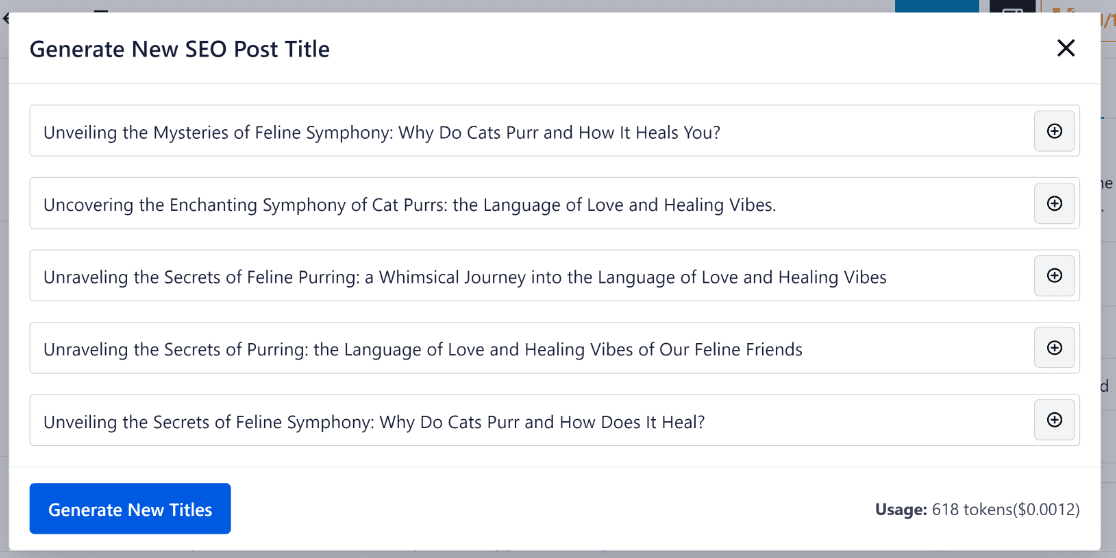 Another feature that we admire is the headline analyzer tool that's built right into the WordPress block editor. This tool measures the quality of your headline based on a variety of factors and generates a score.
It's incredibly helpful if you want to write headlines with the right word balance and sentiment to encourage more clicks.
AIOSEO also comes with a convenient schema generation tool that requires no coding knowledge at all. The tool supports a huge variety of schema markups, including FAQs products, books, courses, local businesses, and more.
In fact, we use AIOSEO to implement FAQ schema within all blog posts on our site – including this one.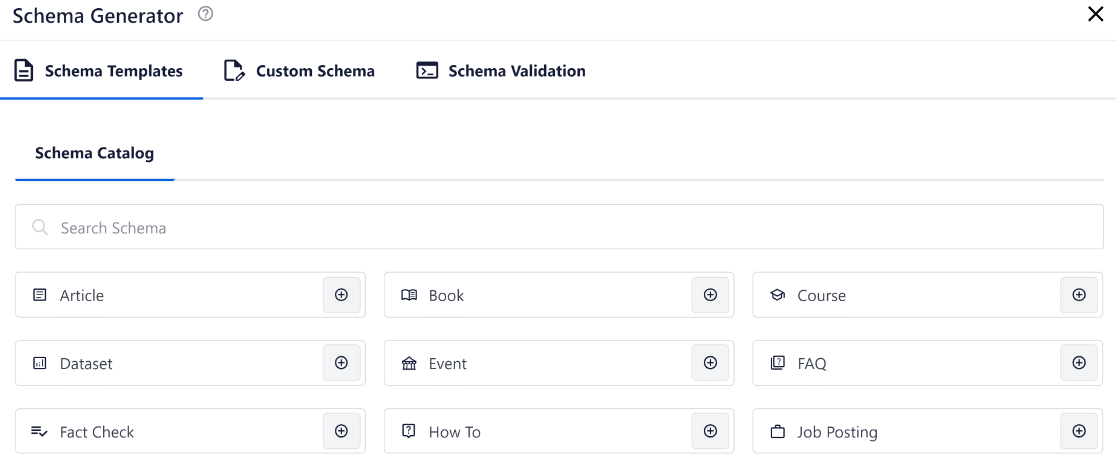 Another incredibly useful feature is the Link Assistant. This tool generates a comprehensive report of all incoming and outgoing links for your site.
We regularly use Link Assistant on WPForms.com to identify new linking opportunities and massively speed up our internal linking to grab top rankings for competitive keywords.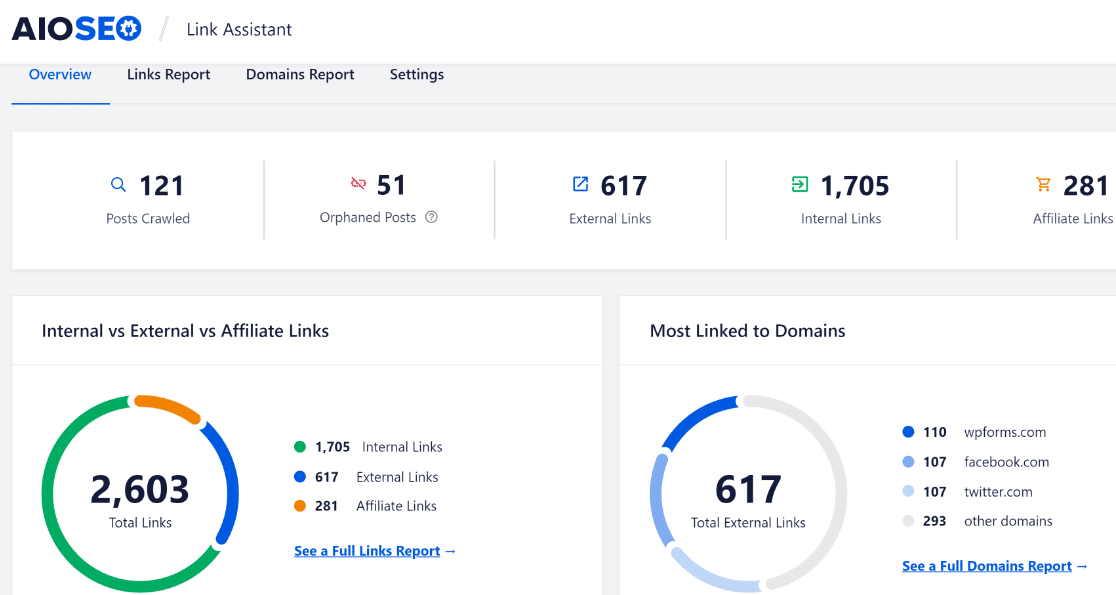 AIOSEO also comes with image SEO that autogenerates alt texts and titles for your images based on your given dynamic tags to define the alt text format.
Overall, AIOSEO is a must-have WordPress SEO plugin for small businesses aiming to inform their website's SEO strategy without hiring a professional consultant.
Features: 
Offers a powerful free version
WooCommerce SEO tools to help you optimize your online store for better rankings
On-page analysis with an actionable checklist to improve the readability of your content.
ChatGPT integration for autogenerating titles and meta descriptions
Track keywords in WordPress dashboard with the Google Search Console integration
Content rankings report to measure performance in Google and detect content decay
Automatically generate XML sitemaps to help search engines discover your pages
Redirection manager to set up different types of redirects (301, 307, etc.)
Local SEO settings to improve chances of your business appearing in relevant localized searches
If you'd like to see more details, check out our full AIOSEO review.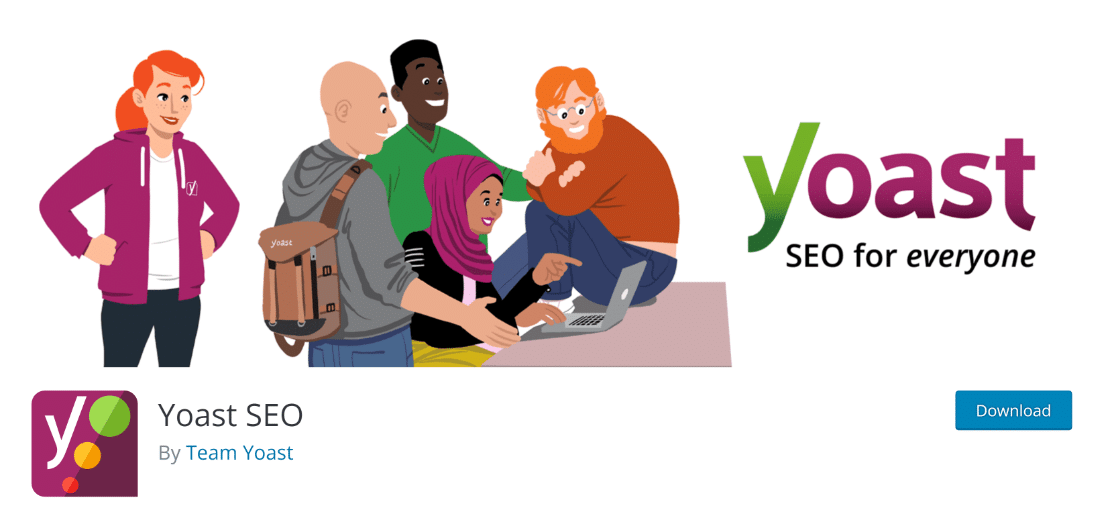 Yoast SEO is one of the most popular SEO plugins for WordPress. It has many of the same features as All in One SEO but has minor limitations of its own.
The main feature that Yoast SEO is loved for is its on-page optimization suggestions. These are very similar to AIOSEO and give you clear directions for writing well-optimized content and using keywords strategically throughout your content.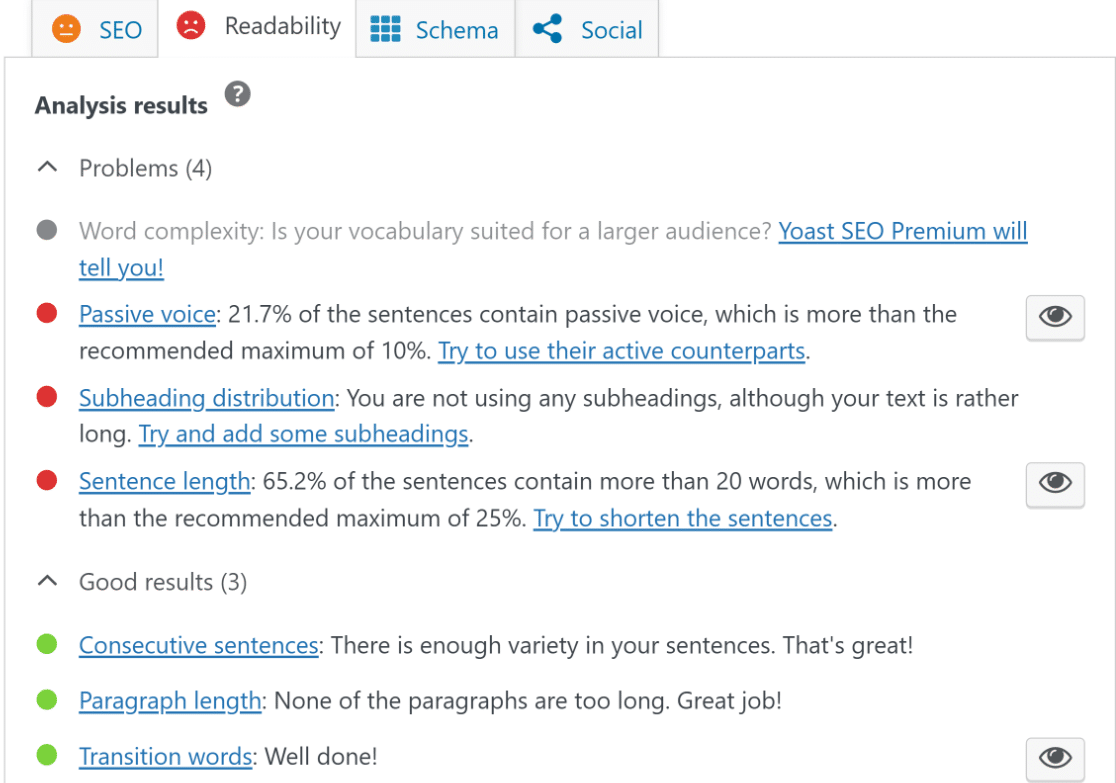 Yoast also comes with a useful feature for putting together your cornerstone articles. Your cornerstone content needs the most internal links to increase its chances of ranking high. And Yoast lets you do just that with its easy internal link counter for cornerstone pieces.
The best part is that Yoast informs you if any of your designated cornerstone articles have gone stale without being updated for 6 months.
It's an excellent feature for ensuring you're regularly updating your most important content pieces to maintain your keyword positions (and even improve).
While we've really enjoyed using Yoast in the past, there are some areas where AIOSEO has an edge.
For instance, AIOSEO integrates with ChatGPT to improve your meta title and descriptions. Yoast currently doesn't support a connection with ChatGPT to assist you with titles, which is one thing we'd like to see.
On top of that, Yoast doesn't show detailed internal linking reports. It shows you a textual link counter for each post and is also good at internal linking suggestions.
But unlike AIOSEO, Yoast lacks a comprehensive report to illustrate the breakdown of your links by type (internal, external, and affiliate).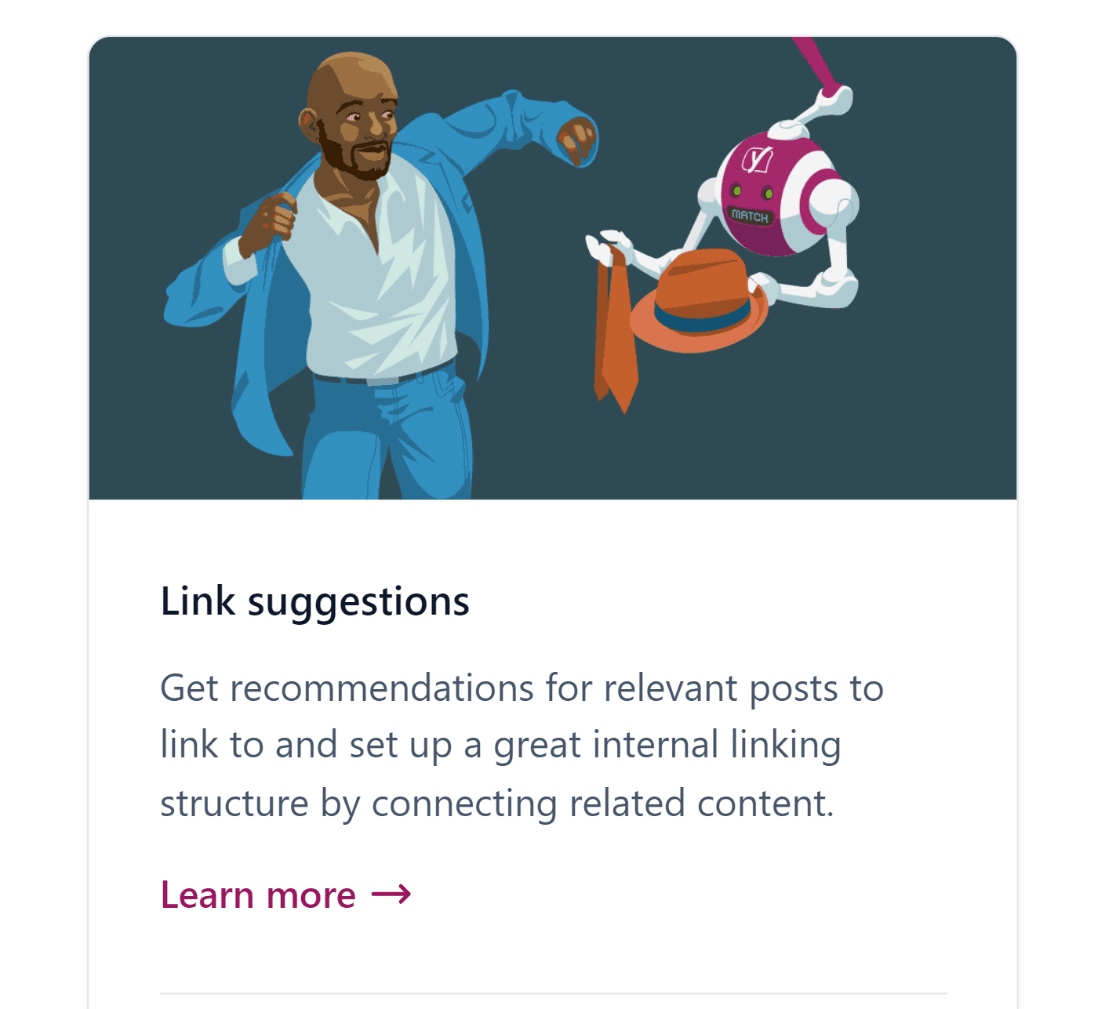 Yoast also can't pull data from Google Search Console to bring performance reports to your dashboard.
For these reasons, we switched to AIOSEO from Yoast SEO. Nonetheless, Yoast is still one of our top recommendations for its various useful features.
Features:
On-page SEO analysis helps you create SEO-friendly content
Internal link suggestions and link counter
Google snippet preview to help you picture how your post will appear on SERPs
Redirection tool lets you perform 301 redirects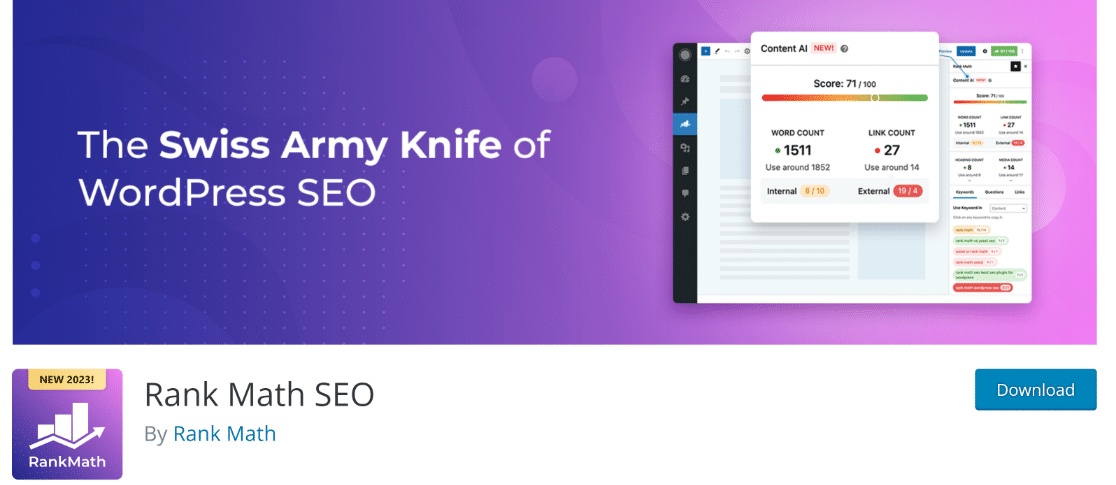 Rank Math is a powerful SEO plugin with exceptional tracking capabilities. One of the best features of Rank Math is that it integrates natively with your Google Analytics account to bring you traffic analytics within your WordPress dashboard.
Like AIOSEO, it also integrates with Google Search Console to observe your SEO performance.
These features are incredibly helpful, especially when combined with Rank Math's Keyword Tracking tool. Depending on your plan, you can add over 500 keywords to track directly in WordPress.
Apart from that, Rank Math gives you optimization suggestions as you write your content in the sidebar. For more advanced suggestions based on competitor research, Rank Math has its Content AI feature, which is also embedded in the sidebar.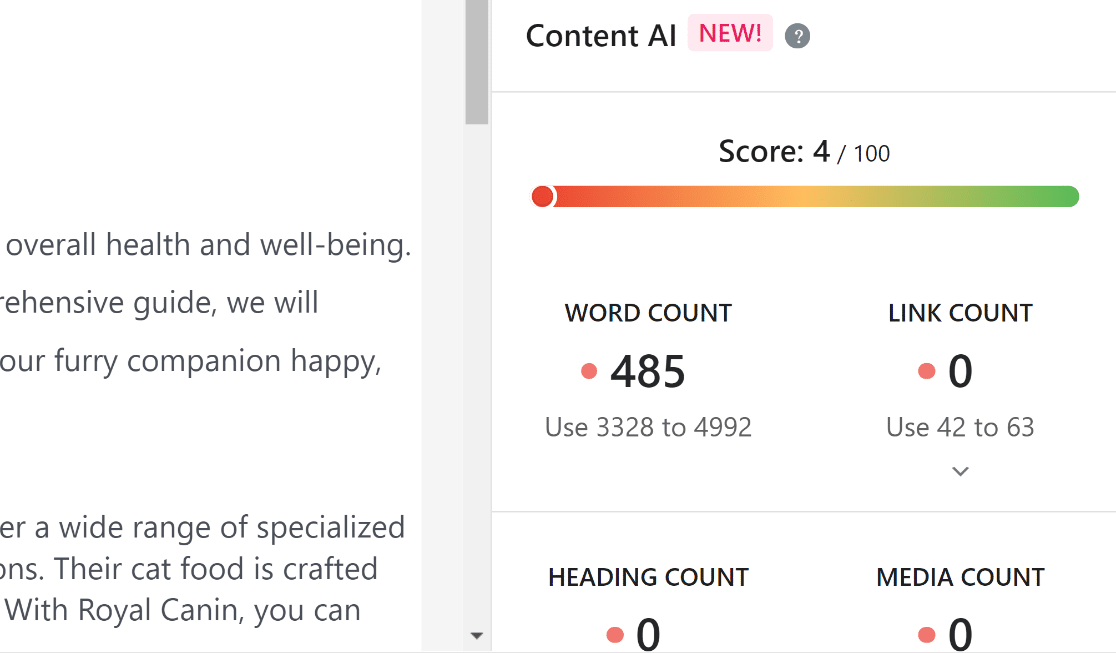 We really like Content AI because it suggests the number of words you should aim for based on your given keyword, the number of headings, the link ratio, and more.
It also suggests related terms you should include in your post and mentions the number of times each term should appear for the maximum chance of ranking high on Google.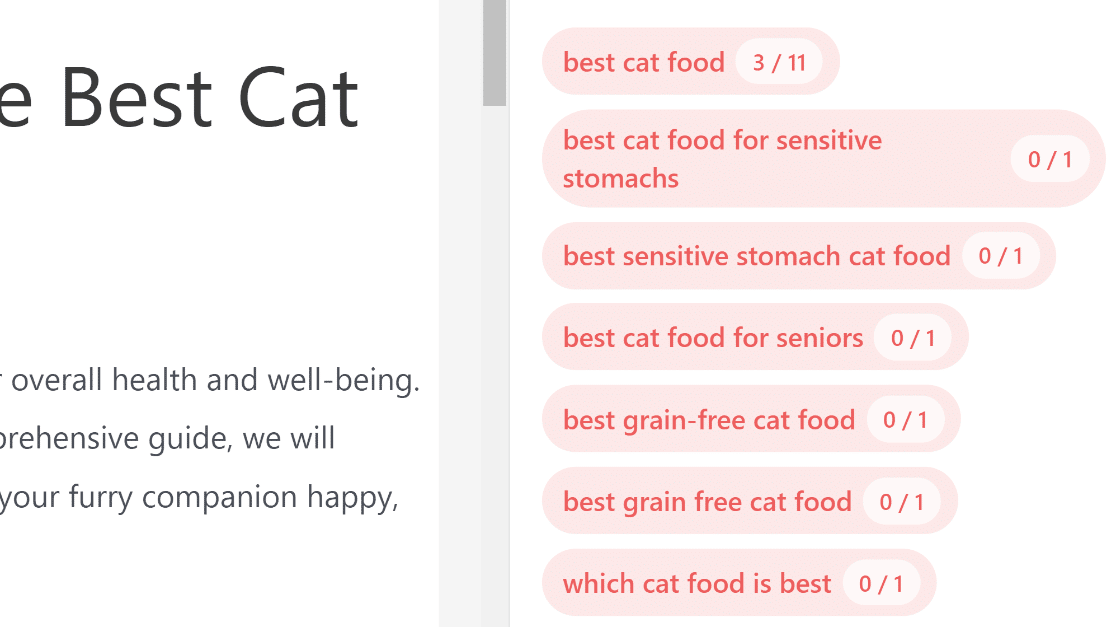 The only limitation in Rank Math currently is its basic internal linking and AI features. Where AIOSEO gives you a comprehensive report, breaking down your link composition at a glance, Rank Math only gives you internal linking suggestions while you're editing a post.
AIOSEO also integrates with ChatGPT, which can generate titles and meta descriptions for you. And we expect to see more AIOSEO features that use ChatGPT. Rank Math has yet to start offering AI integrations to the same level.
But overall, Rank Math is one of the most comprehensive WordPress SEO plugins with excellent AI features for SEO.
Features:
Easily add meta titles, descriptions, and Open Graph metadata to your content.
Generate an XML site map.
Integrates with Google Search Console.
User roles for control over who can do what.
Easy-to-use setup wizard.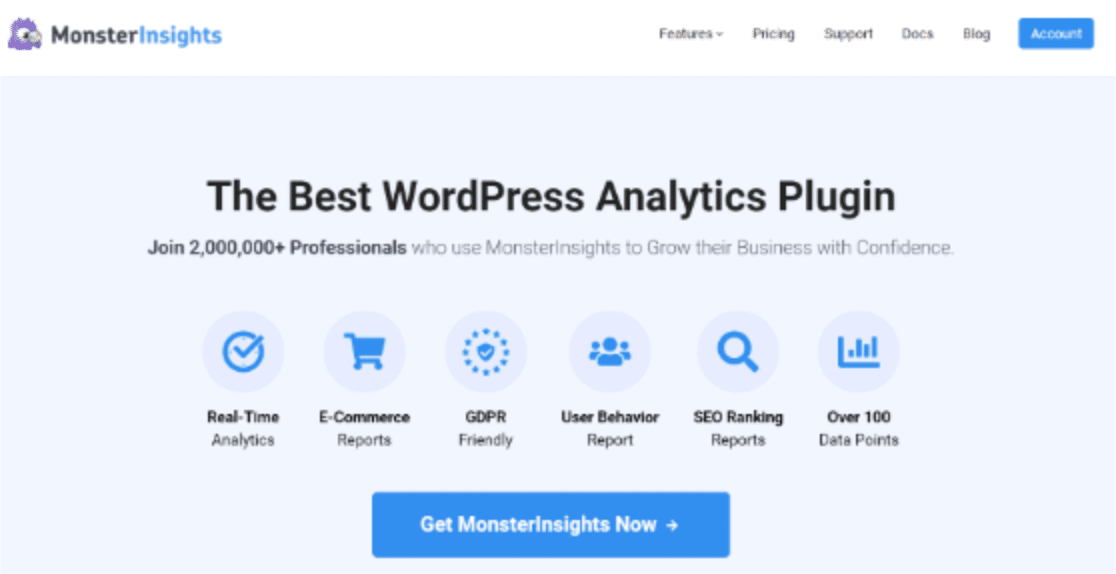 SEO is a data-driven process. You need to track your traffic in order to measure the results of your on-page optimizations.
This is where MonsterInsights comes in. MonsterInsights is an incredibly user-friendly plugin that brings the most useful parts of your Google Analytics reports to your WordPress dashboard.
Google Analytics is a fairly complicated tool to use. Even after years of practice as digital marketers, we still find it challenging to find the exact data we need.
But MonsterInsights takes the pain out of using Google Analytics. It greatly simplifies analytics reports, showing you only the most useful and actionable data, like which posts are the most popular among your users and how visitors are behaving once they're on a specific page.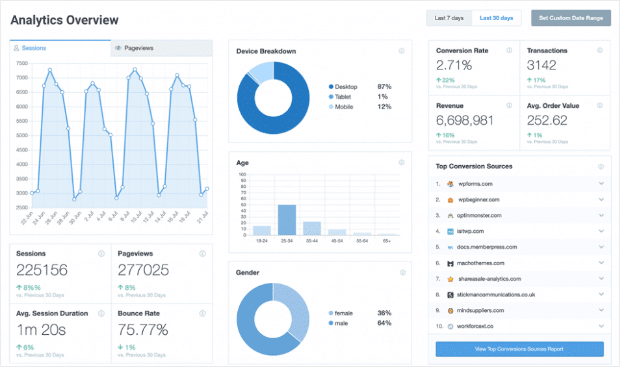 We particularly enjoy the convenience of site notes – a feature that allows us to add annotations to Google Analytics directly from our WordPress dashboard.
Using annotations, we're able to easily monitor changes in site traffic after launching a new campaign or making any noticeable change to our website.
Overall, MonsterInsights is the perfect tool for measuring your performance and making informed SEO decisions for your site.
Features:
Displays easy-to-read analytics reports in your WordPress dashboard.
Connect to Google Search Console and track your site's top keywords.
Monitor eCommerce SEO performance by tracking which products are the most popular and how all products are performing.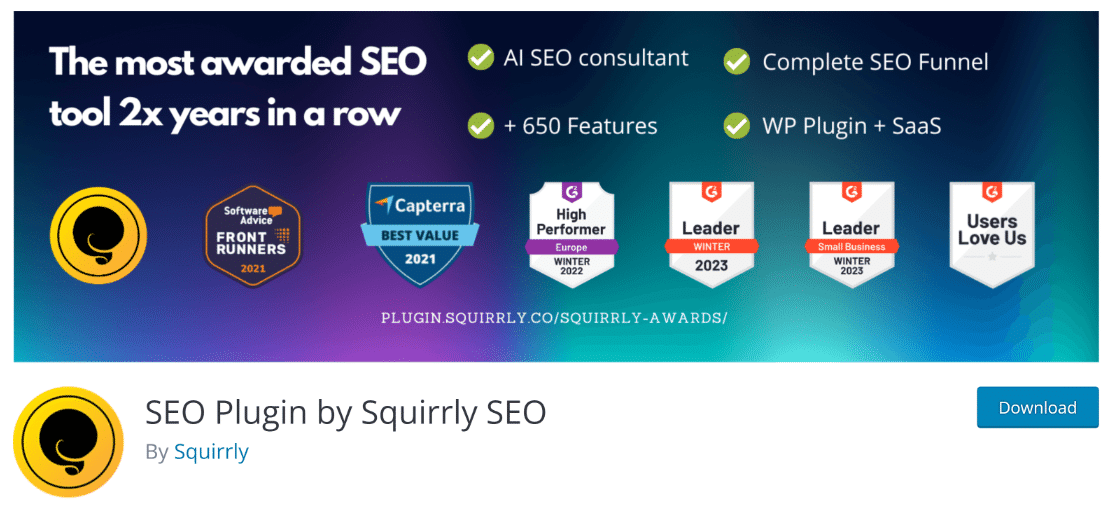 Squirrly SEO is a good tool for keyword research and bulk editing your SEO metadata. While it's not a full-fledged keyword research tool like SEMRush or Ahrefs, we like the convenience of performing keyword research right from our WordPress backend using Squirrly SEO.
Even though the keyword research volumes displayed by Squrrly are only rough estimates, it's still helpful for basic SEO research.
Squirrly SEO also shows your chances of ranking for a keyword based on competition. You can add keywords found by Squirrly to a "briefcase" and then select them when optimizing a post for a given keyword.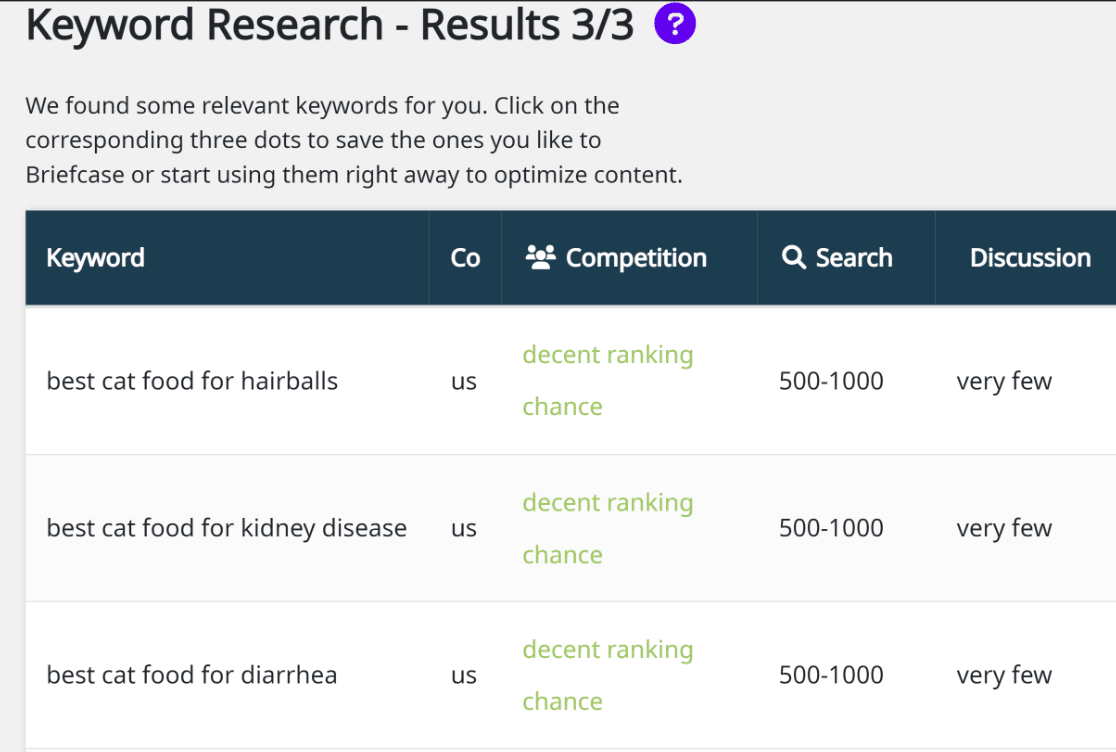 Squirrly will show you real-time content suggestions in your WordPress editor for your selected keywords. I
It's helpful to have these on-page optimization tips while you're editing your post, but Squirrly's suggestions don't add anything significant over AIOSEO or Yoast SEO plugin.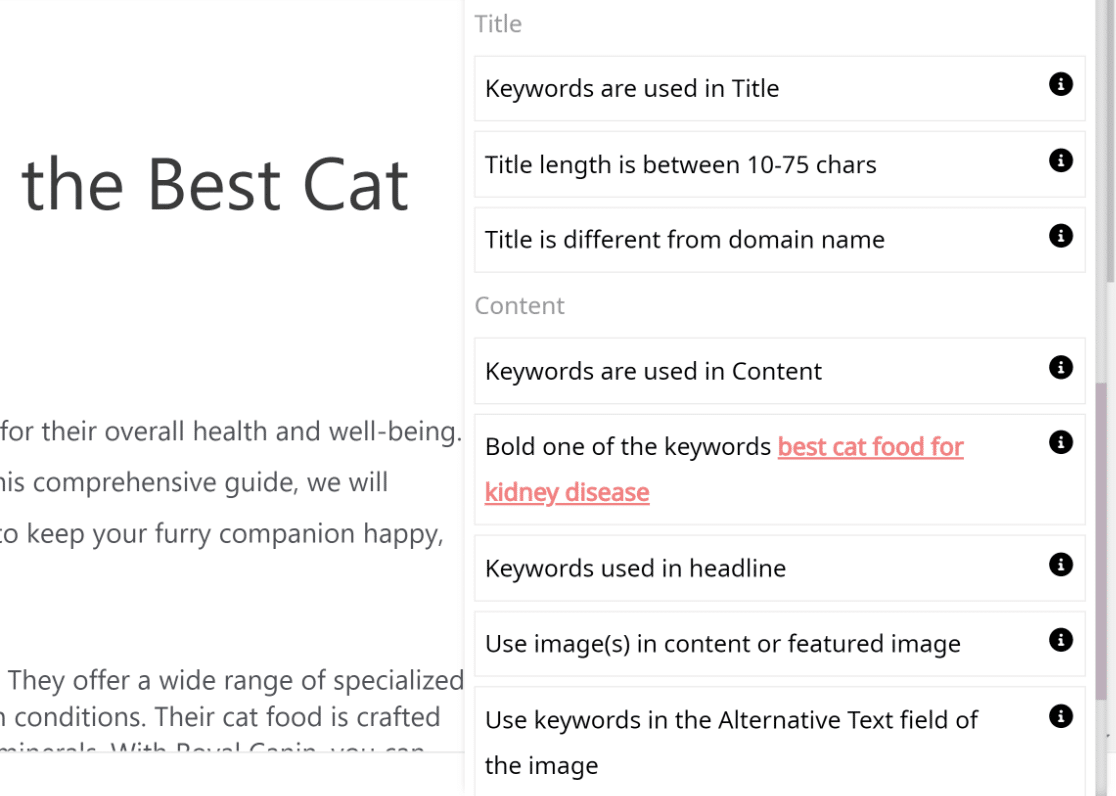 You can integrate Squirrly with Google Analytics and Search Console to track your traffic and keyword positions. However, AIOSEO offers much better visualization for your Search Console data.
Squirrly also gives you bulk editing capability, allowing you to change the meta tags of multiple posts quickly.
This is another feature that's handled better by AIOSEO because it lets you quickly edit your meta tags from Posts Overview in WordPress. In Squirrly, bulk editing is only possible from a separate screen, which is a bit inconvenient.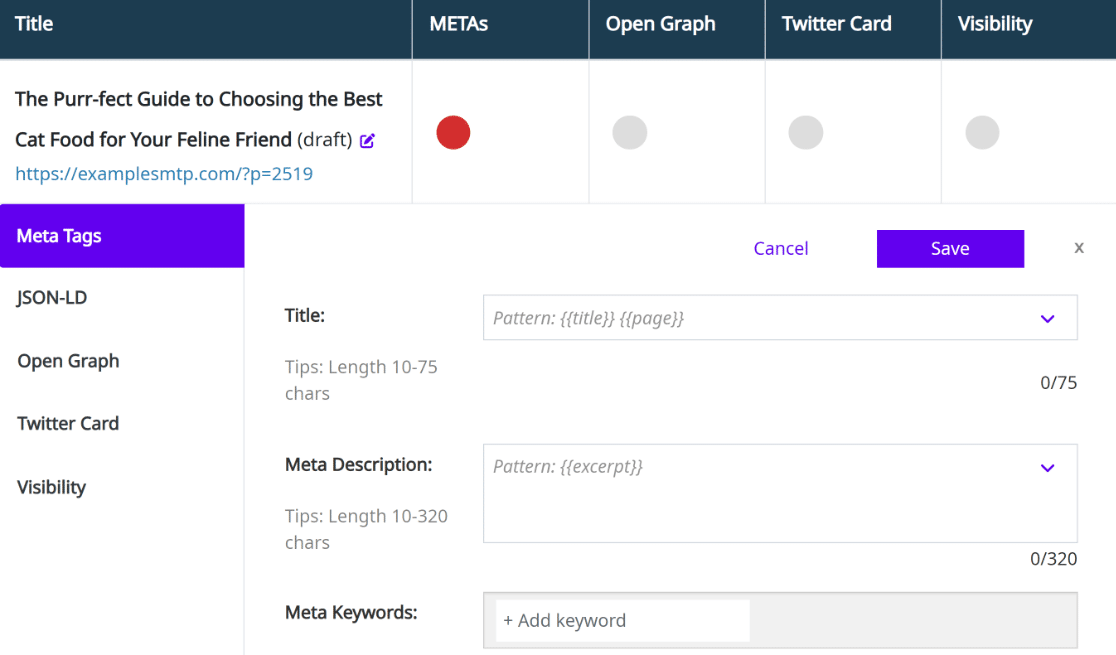 Overall, Squirrly SEO is a capable SEO tool with an outstanding variety of features. However, it's not the ideal plugin for beginners as some of its features can be confusing to use, and the user interface is a bit clunky.
Features:
Perform keyword research within your WordPress dashboard
Integrates with Google Analytics and Search Console
Track your keyword positions in WordPress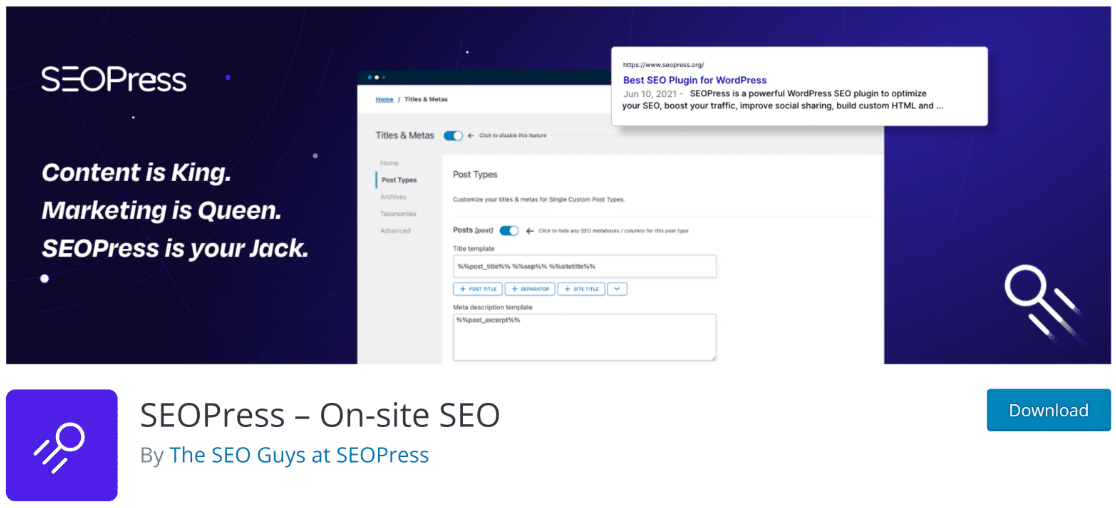 SEOPress is another widely known SEO plugin for WordPress. It includes many of the same features as the top WordPress SEO plugins like AIOSEO, but it also handles some features better than other competitors.
For instance, SEOPress has a good content analysis tool that helps you write an optimized post with all the right SEO elements in place.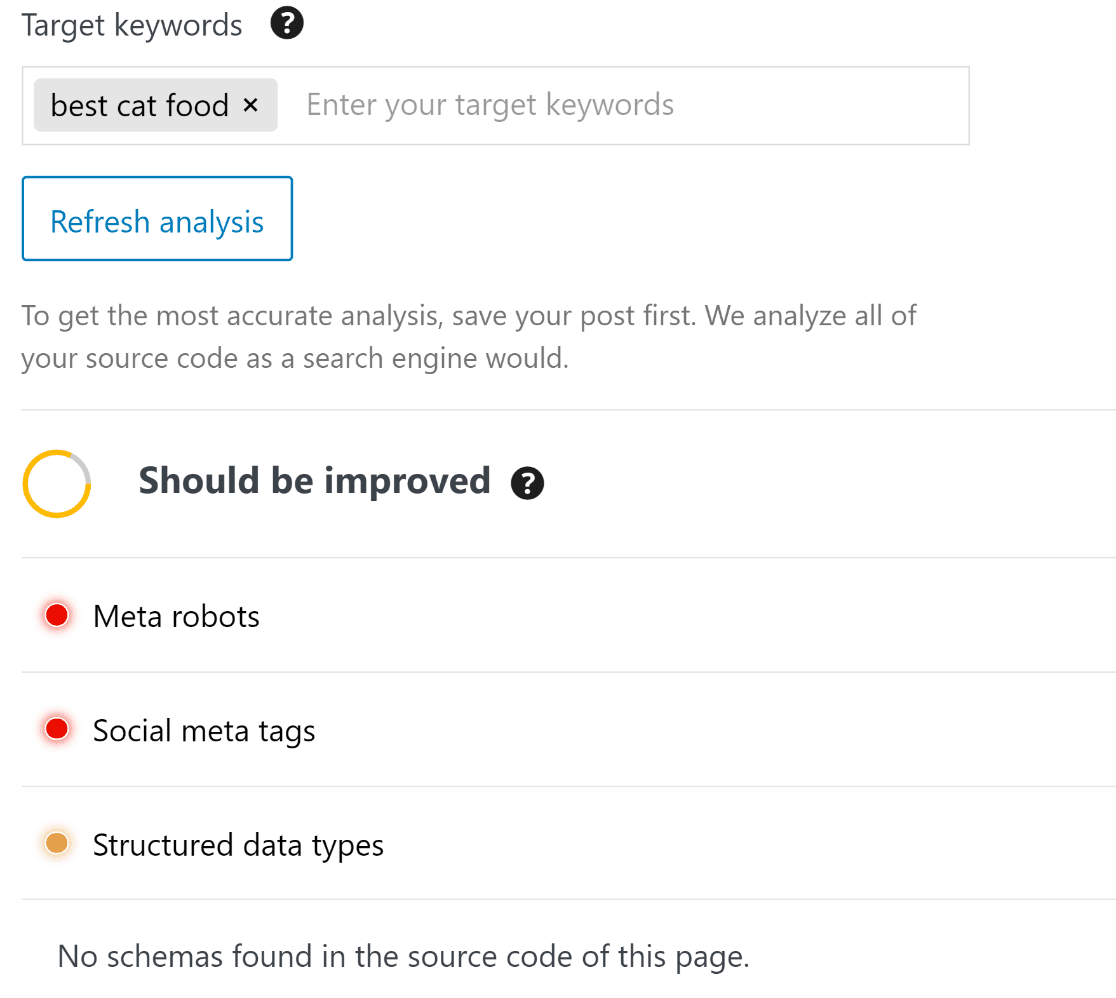 In fact, it's one of the few tools apart from AIOSEO that integrate with OpenAI to bring you title and meta description suggestions within WordPress.
Other than that, it has various basic SEO features, such as internal linking suggestions. The suggestions help you quickly insert relevant links while you're editing a post, but it lacks an in-depth link analysis tool like AIOSEO's Link Assistant.
SEOPress unlocks additional features in its pro version, such as integrations with Google Search Console and Analytics.
We like SEOPress for its simplicity and ease of use. This tool certainly gets the job done for new websites. But it's not as powerful as AIOSEO or Rank Math if you really want to challenge your competitors with a well-developed SEO strategy.
Features:
Integrates with ChatGPT for title and meta description suggestions
Easy to use
Connect with Google Search Console and Analytics to track your SEO performance and traffic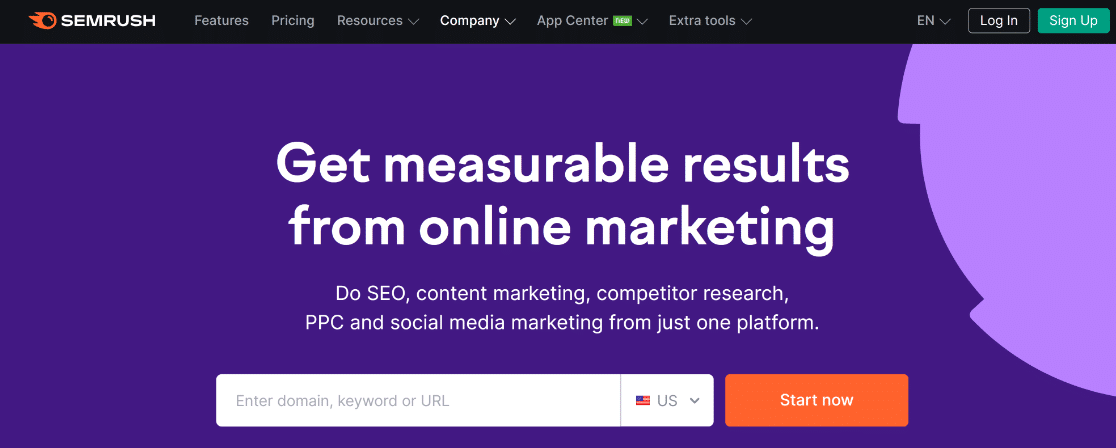 SEMRush is one of the most powerful all-inclusive SEO tools on the market. Unlike other plugins listed above, SEMRush isn't a WordPress plugin. However, it's a tool used by millions of WordPress sites for on-page as well as off-page optimization.
If you need ideas for keywords, SEMRush's keyword research tool is perfect for that job. You can type in a topic you want to write about, and SEMRush will show you all the keywords related to your topic.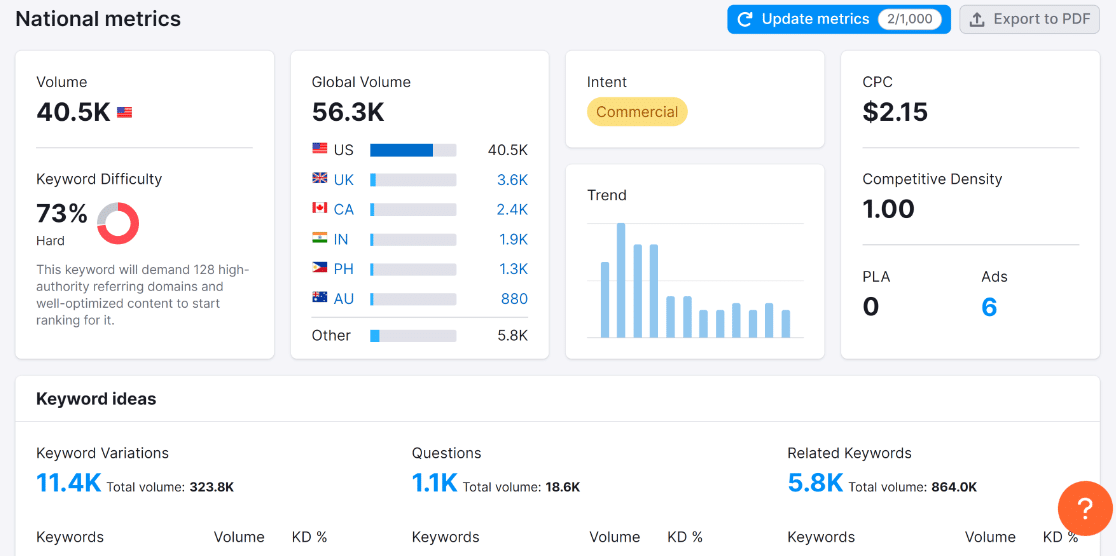 All the keywords have a volume and a difficulty score. We use this data on WPForms.com to discover keywords that are relevant to our site, having a decent amount of volume.
Other than that, SEMRush also has an excellent backlink analysis too to assist your off-page optimization strategies. Need to see where your competitors are acquiring their backlinks from? You can track backlinks of any domain you want to identify the same backlinking opportunities for your own site.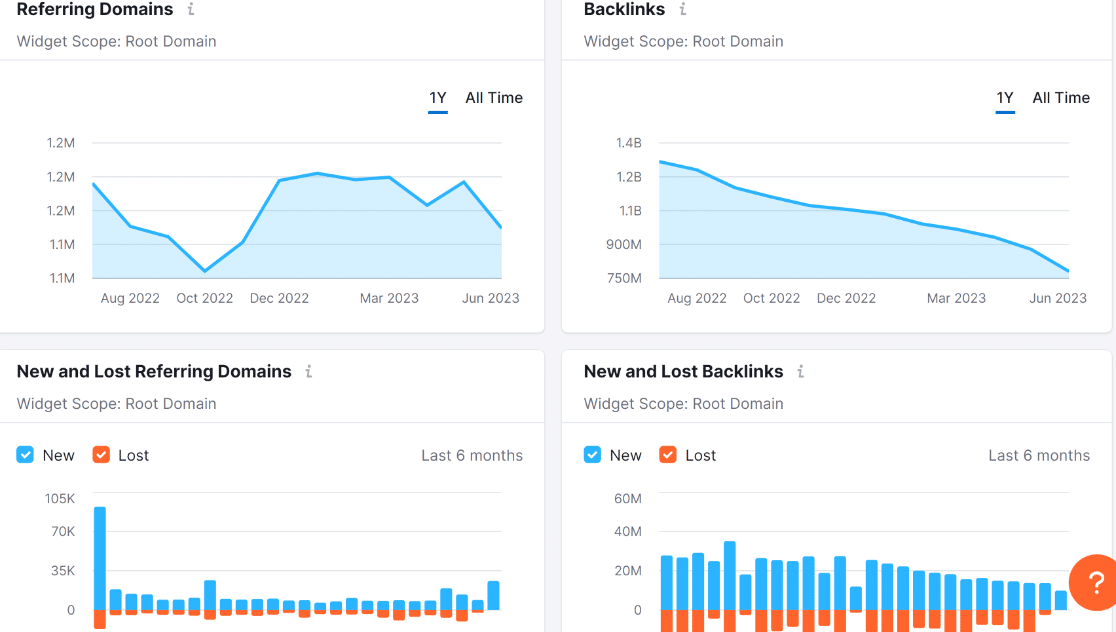 Apart from that, SEMRush includes a comprehensive suite of digital marketing tools. For instance, you can use the Writing Assistant to ensure your content includes important terms to help you rank on top.
You can also set up your social media calendar, track the social media profiles of your competitors versus your own, and do PPC keyword research as well.
That said, SEMRush is a fairly expensive tool. But if you're serious about your digital marketing efforts, a SEMRush subscription is a worthwhile investment.
Features:
On-Page SEO Checker helps you quickly super-charge your content marketing by looking at details for different pages and posts.
Broken link checker scans your site for dead links.
Search your competitor's URLs to check for their highest-ranking keywords and work to outrank them.
Analyze keywords for search volume so you can plan your content ahead and know which keywords to add that will boost rankings.
Position Tracking helps you see (and track) where you and your competitors rank with specific keywords, so you can easily optimize those keywords.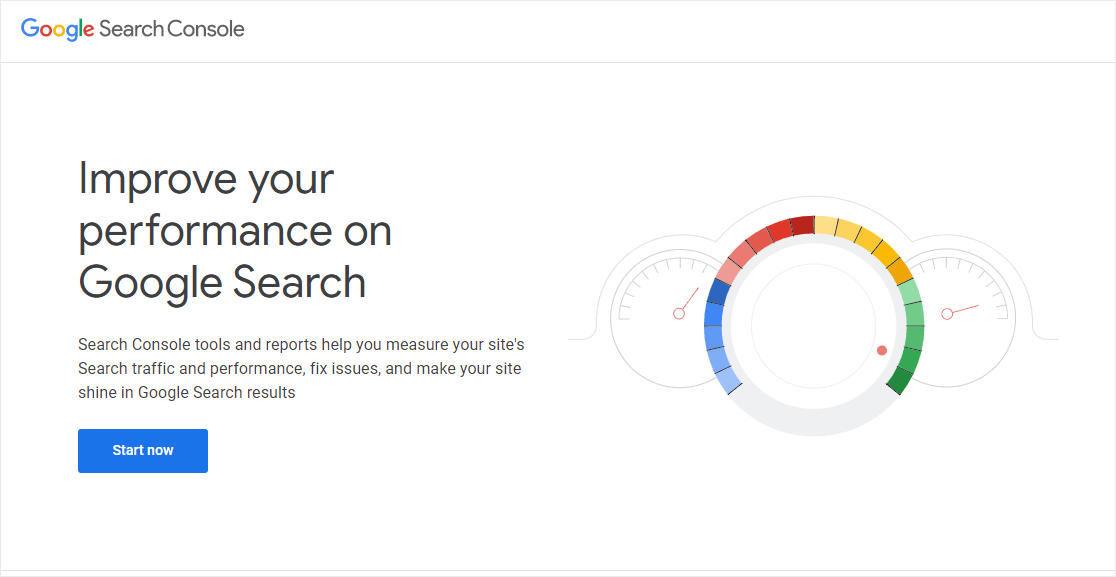 Google Search Console (GSE) is one of the best SEO tools you can use for free. It gives you detailed SEO performance data for your website and can even be used to discover keywords you're getting the most clicks from.
You can see your search engine result performance in terms of total clicks, impressions, clickthrough rate, and average position.
GSE also allows you to go as deep as you want when analyzing individual pages on your site. You can see the exact queries getting impressions and clicks and their average position on Google search results for your selected time period.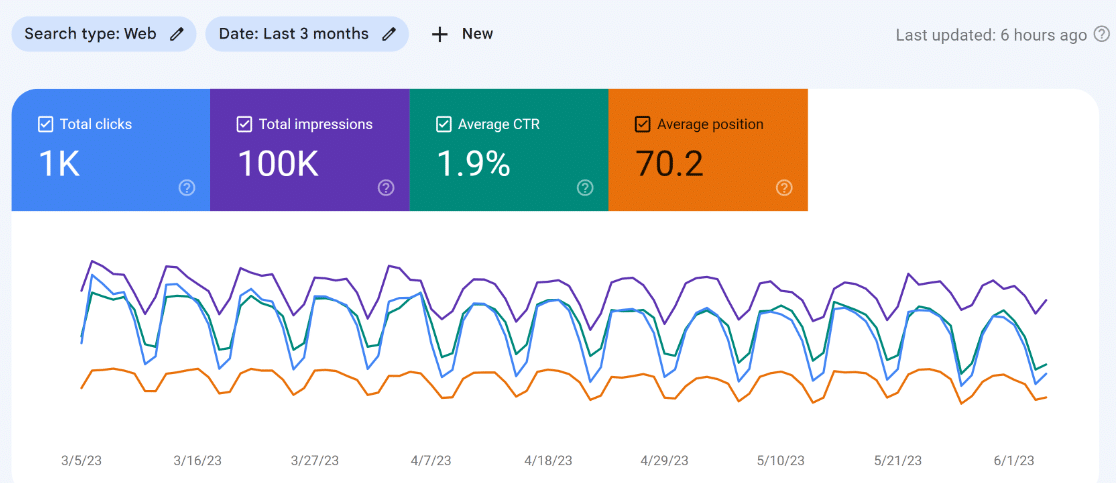 While Search Console isn't a WordPress plugin, you can integrate it with your website using plugins like AIOSEO or MonsterInsights to track your search result performance from your WordPress site.
Features:
Submit a sitemap and new content for indexing.
Helpful tools to come up with new blog post ideas.
It's insanely easy to connect your WordPress site with Google Search Console.
View your Search Console Report in your WordPress dashboard using MonsterInsights.
Alerts you when Google is unable to crawl and index pages on your WordPress site.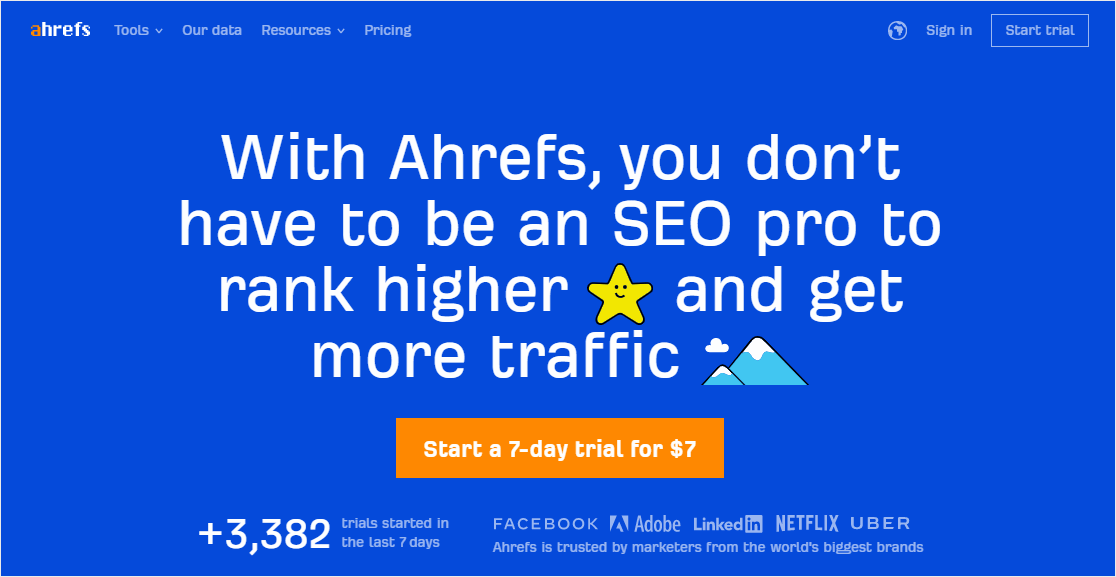 Ahrefs is a powerful SEO tool used by millions of SEO experts as well as beginners. It includes tons of features focused on different aspects of SEO from keyword research and competitor analysis to technical SEO audit and domain analysis.
This is another tool on this list that isn't a WordPress plugin, but it's massively helpful for all kinds of websites looking to step up their on-page and off-page optimization game.
Many of the features in Ahrefs are similar to SEMRush. For instance, it can show you the keywords a specific article is ranking for. It even shows if you have any featured snippets on SERPs for a given keyword.
Depsite having tons of advanced features, Ahrefs is fairly easy to use thanks to its well-designed interface.
As one of the to many tools that we rely on for our SEO strategy, we strongly recommend Ahrefs as a must-have tool for more advanced users operating within a competitive industry.
Features:
Detailed organic search reports.
Backlink research so you can see where people are linking to your site from across the web.
Shows you your top keywords and where they're positioned on the SERP.
Lets you check out competing pages so you can optimize better.
Tons of options for content and keyword research.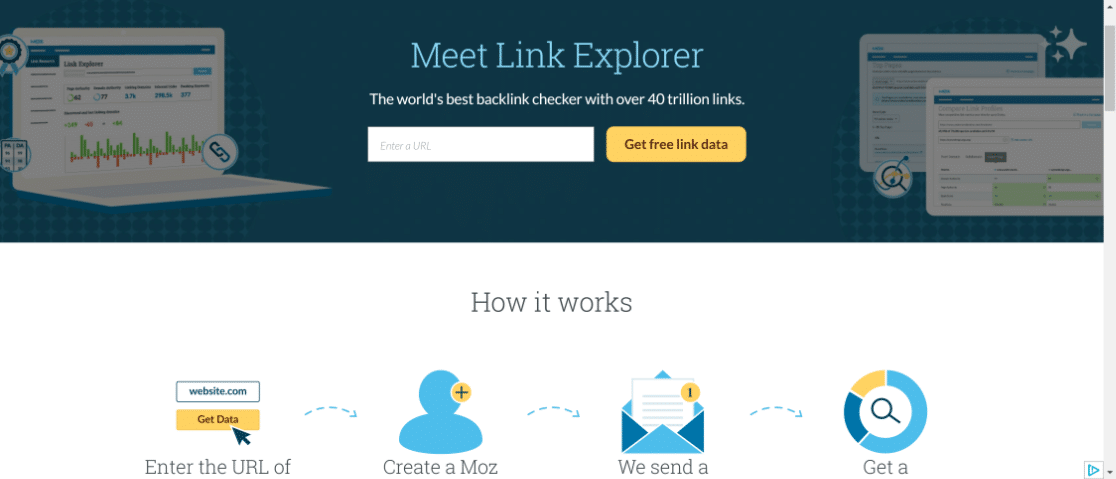 Moz is one of the best alternatives to Ahrefs and SEMRush as it's more affordable than these options. Although it's not as powerful as Ahrefs for scoping backlink opportunities, you can also achieve pretty much the same results with Moz most of the time.
Besides identifying backlinks for a domain, Moz also gives you spam score rating for domains. That means you can make sure you're targeting healthy domains with a low spam score to get the best SEO value for your backlinks.
Despite its limitations, Moz is a pretty useful tool and we recommend it for users looking for a less pricey option than Ahrefs.
Features:
Awesome link-building features.
SEO research and link analysis.
Uncover lost links + tools to help so you can make a plan to get them back.
Free version lets you search 10x/month.
Great graphs to help you see what's going on using data visualization

KeywordTool.io is a keyword research tool that lets you discover relevant keywords for a given topic. It displays the keyword volume, trend, competition, and average CPC for each keyword, enabling you to choose a suitable one for your site.

KeywordTools.io isn't limited to just Google. You can also use it to research keywords on other popular search engines including Amazon, Bing, YouTube, and more.
Features:
Type in a keyword and get content suggestions.
Uses Google's autocomplete tool to show you what people are really searching for.
Provides fresh and topical ideas since it's linked to Google's autocomplete, so you can provide content that's relevant.
Also gives you keyword suggestions from Bing, Amazon, YouTube, and others.
See search volume, CPC, and more with a paid plan.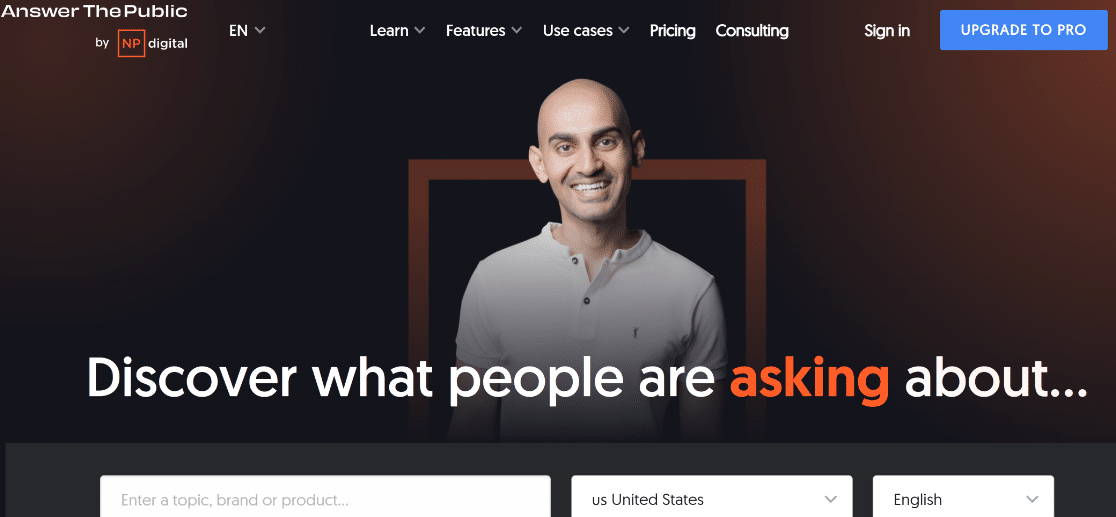 Answer the Public is a quirky website that you can use as an SEO tool for keyword research.It's particularly useful for discovering question keywords, FAQs, and Google's People Also Ask.

Incorporating FAQs and question keywords in your articles is a great way to answer common queries and fill in knowledge gaps within your article to improve the comprehensiveness of your blog posts.
Features:
Shows you search queries people use for specific keywords.
Displays results from search engines such as Google, Yahoo, and Bing.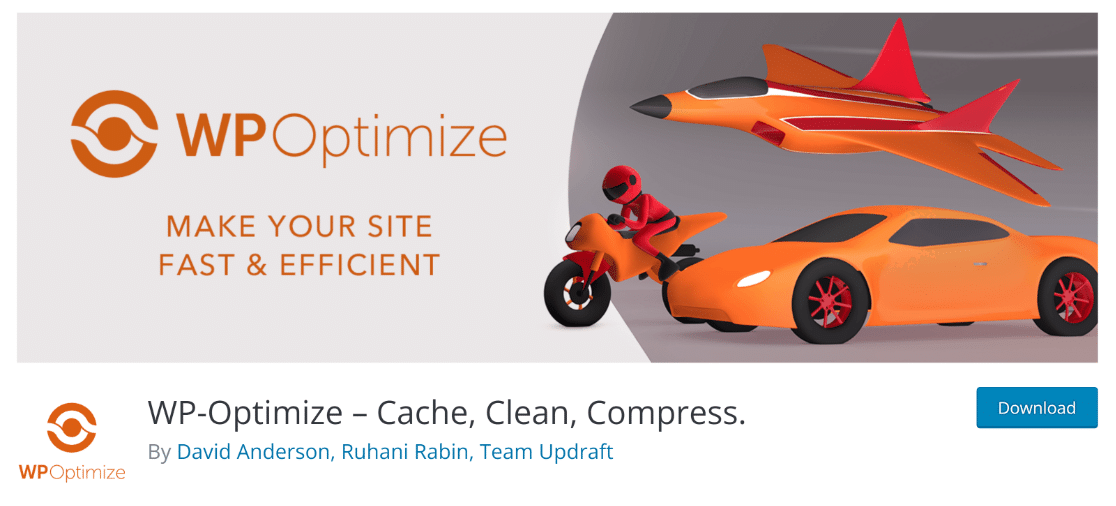 WP Optimize performs a simple but important function for WordPress websites – site speed optimization.
This plugin boosts your site speed in 3 ways. First, it cleans your database by removing unnecessary data (such as deleted comments, other trash items, and more).
Second, WP Optimize compresses your images to decrease your website's load time. Large image files can significantly slow down your website.
WP Optimize lets you adjust the compression level, so you can find the perfect balance to the quality of your images without sacrificing site speed.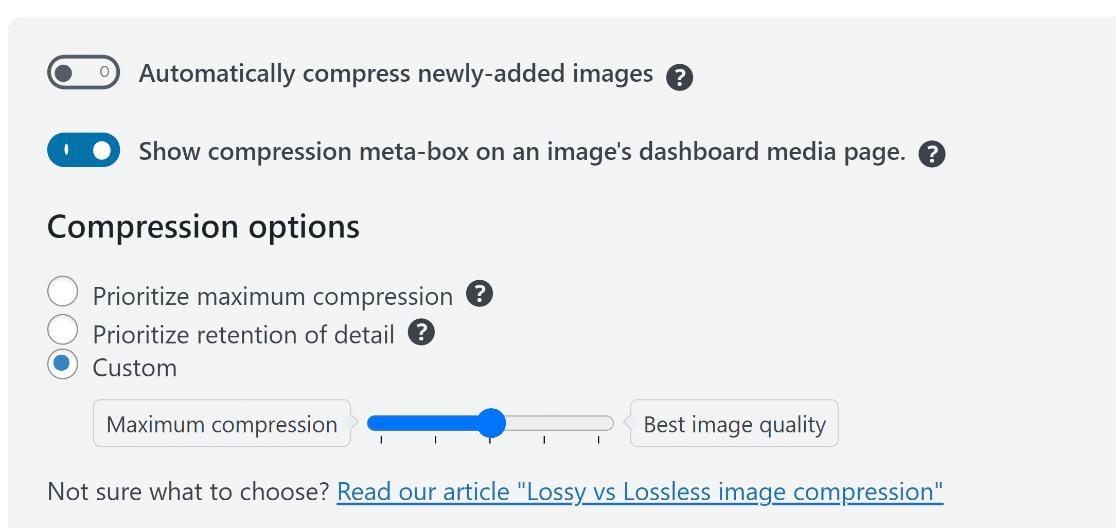 Lastly, WP Optimize uses site caching which makes the greatest difference to site speed by far.
Caching minimizes the burden on your server and uses cached files from frequently visited posts to load the page faster for your visitors.

What makes WP Optimize different from other caching plugins is that their testing results show noticeably better performance than other options.
Because site speed and user experience is a major ranking factor, we strongly recommend using WP Optimize to ensure you're following all the important SEO best practices.
Features:
Optimize your WP database to maintain fast site speeds
Autocompress uploaded images to enable faster load times
Cache your pages to reduce server load and
Which Is the Best WordPress SEO Plugin?
If you're still wondering what is the WordPress SEO plugin, here are our two cents:
Of all the SEO plugins on this list, we think All in One SEO (AIOSEO) is a must-have for any WordPress website. If you were to pick one, make it this one.
We feel strongly AIOSEO is the best WordPress SEO plugin because it lets you:
Extremely easy-to-use and trusted by millions of WordPress website owners.
Integrates beautifull WooCommerce, Search Console, SEMRush, and even ChatGPT to bring you the best results
The most comprehensive internal link reporting tool, right within your WordPress
Gives you a codeless way to add schema markup to improve chances of acquiring rich snippets in SERPs
…and so much more.
Plus, you can get started with AIOSEO today and get ready to watch your SEO rankings skyrocket.
FAQs
These are some of the most common questions we receive about choosing the best WordPress SEO plugin for your site.
Is There a Free SEO Plugin for WordPress?
Yes, there are several free WordPress SEO plugins you can choose. All in One SEO is one of the best free options. It gives you basic site score based on site analysis and the ability to set up your meta tags for each post. You even get on-page optimization suggestions in your WordPress editor to help create a well-optimized post.
There are also some other free options like Yoast SEO and Rank Math. While the best features of all of these plugins unlock in their premium versions, you still get basic features like on-page content and readability analysis for free.
Is WordPress Good or Bad for SEO?
WordPress is the best Content Management System (CMS) for SEO. This is because WordPress is fast and user-friendly, which makes it ideal for SEO.
WordPress has dedicated SEO plugins that allow you to easily optimize each page for the best organic results. With plugins like All in One SEO, it's incredibly easy to write SEO-friendly content, optimize your images, add schema markup to grab rich snippets, and track your SEO metrics all within the comfort of your WordPress dashboard (and without any complicated code!).
You can even connect your WordPress site with ChatGPT in order to get awesome title and meta description suggestions using All in One SEO. WordPress gives you the best degree of flexibility that you need to put together all SEO elements to dominate search engine results.
This is why the majority of the best performing websites in terms of SEO (including WPForms.com and WPBeginner.com) are  powered by WordPress.
Can You Have 2 SEO Plugins on WordPress?
We don't recommend using 2 SEO plugins on a single WordPress site. Using multiple SEO plugins can cause plugin conflicts to occur, which may prevent either plugin from working properly on your site.
You may also start seeing strange errors on your WordPress site because different plugins are trying to control the same parts of your WordPress site in their own ways. For this reason, you should avoid using more than 2 SEO plugins.
The best way to do that is by using a single comprehensive plugin that covers all aspects of on-page SEO, like All in One SEO, Yoast, or Rank Math.
Do Plugins Affect SEO?
Good quality plugins like All in One SEO and WPForms are extensively tested to ensure they don't affect your site speed, and in turn, your SEO signals at all. These plugins are only released after undergoing rigorous quality assurance.
However, there are some sketchy plugins out there that haven't undergone proper quality checks. These plugins can slow down your website, which can hurt your SEO and cause your rankings to decline.
We strongly urge you to read the reviews and check if the plugin has been tested with the latest version of WordPress before installing it.
Next, Explore More WordPress Plugins
The best thing about WordPress is the variety of excellent plugins it offers. If you want to get more out of your WordPress, make sure to check out other posts about our favorite WordPress plugins for different tasks:
Best Search Engine Ranking Checker Tools
Create Your WordPress Form Now
Ready to build your form? Get started today with the easiest WordPress form builder plugin. WPForms Pro includes lots of free templates and offers a 14-day money-back guarantee.
If this article helped you out, please follow us on Facebook and Twitter for more free WordPress tutorials and guides.