Are you looking for the best online form builders for your small business website?
Form builders have exploded in popularity because they are easy to use for anyone, so small business owners can build their own websites without paying a developer.
So in this post, we've listed some of the best online form creators and what makes each one stand out.
Quick Comparison of Best Online Form Builders
If you're short on time, here's a quick comparison of our favorite online form builders:
| Form Builder | Templates | Conversational Forms | Anti-Spam | Best Plan |
| --- | --- | --- | --- | --- |
| WPForms | 1000+ | ✅ | reCAPTCHA hCaptcha Turnstile Akismet Custom Captcha +more | $199.50/year |
| Formidable Forms | 225+ | ✅ | Honeypot Javascript Akismet reCAPTCHA hCaptcha +more | $199.50/year |
| Gravity Forms | 15+ | ✅ | Honeypot Akismet reCAPTCHA +more | $259/year |
| Ninja Forms | 17+ | ❌ | Honeypot reCAPTCHA Turnstile +more | $199/year |
| Zoho Forms | 45+ | ❌ | reCAPTCHA Custom Captcha | $50/month |
| Google Forms | 15+ | ❌ | None | Free |
| Jotform | 10k+ | ✅ | reCAPTCHA hCaptcha Custom Captcha | $39/month |
Want to learn more about these form builders? Read on below for our detailed reviews.
Best Online Form Builders for Websites
These web form builders offer top-notch features and easy-to-use interfaces: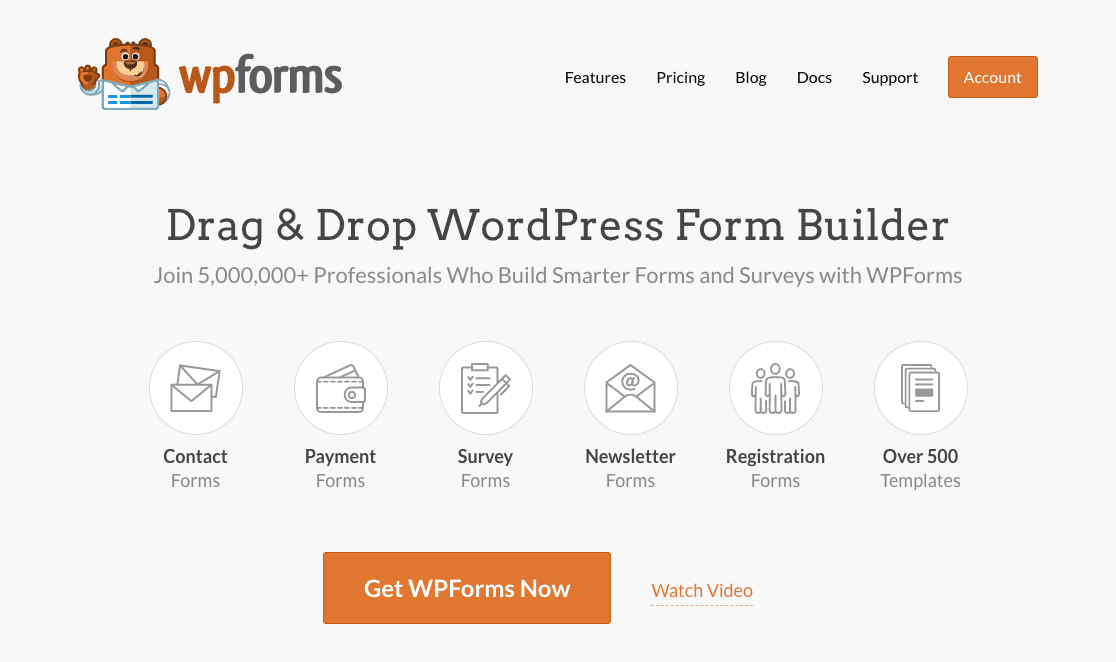 If you want a WordPress plugin that has easy-to-create forms and features that will bring you more business, WPForms is the way to go.
With 6+ million active installations and a rating of 4.9/5 stars on WordPress.org, WPForms is the best online form builder for WordPress if you're looking for the perfect combination of flexibility plus ease of use.
This form builder comes with a visual drag and drop interface. You can build a simple form or go as advanced as you like by simply dragging and dropping the fields you need in your form.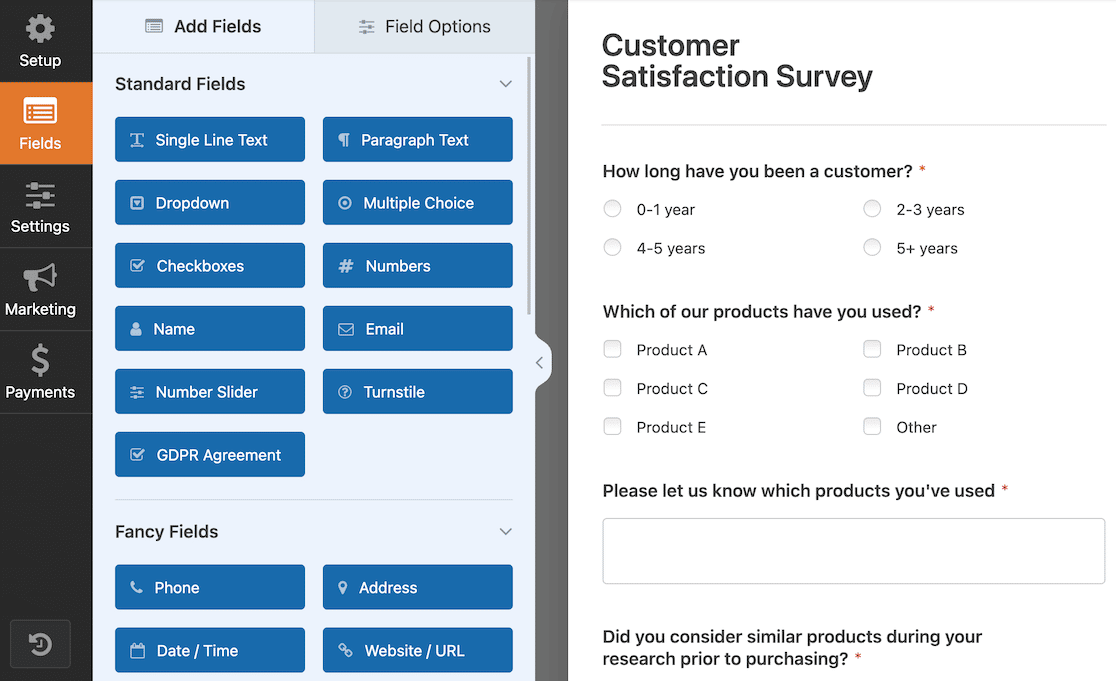 WPForms takes user convenience to the next level with its impressive library of  1000+ form templates. By using templates, you can save even more time and effortlessly launch the forms you need on your site.
WPForms includes a variety of advanced features designed to improve user experience and minimize form abandonment.
One of its many capabilities is that it lets you create multi-page forms to reduce fatigue as users fill out your forms and encourage them to finish them.

With WPForms, you can build order forms, create surveys to collect data, boost conversion rate by adding a progress bar, and so on.
You also get a wide range of addons and integrations to extend functionalities even more. For instance, the Lead Forms addon (available in WPForms Pro) lets you create highly interactive, multi-step lead forms.
The Lead Forms mode comes with its own styling options, allowing you to design visually striking forms that improve your lead generation and data collection.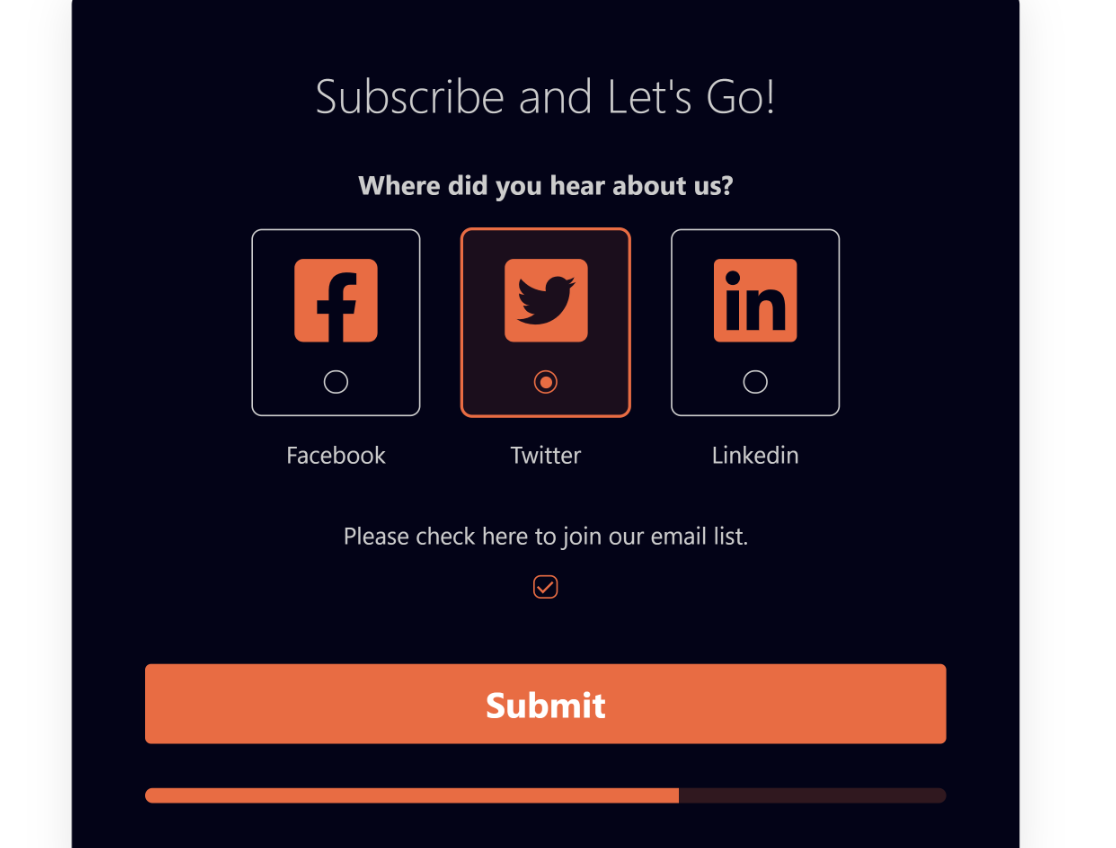 In fact, WPForms also has styling options for its standard forms accessible from the WordPress block editor. You can change the design and color of your fields, labels, and buttons without any CSS.

WPForms integrates with popular payment gateways, including Stripe (available in all plans including Lite), for collecting online payments. If you want more options like PayPal and Square, you can upgrade to Pro.
You can even run automation for repetitive lead management tasks by integrating your forms with marketing platforms like Constant Contact, HubSpot, and more.
WPForms even integrates with ChatGPT, giving you super useful capabilities like AI-generated notifications sent to users after form submissions.
Even the free version, WPForms Lite, comes with remarkable customization options for building contact forms and gives you a free trial of the plugin that allows unlimited forms. If you start with it, make sure to turn on the Lite Connect feature to save your entries so you can unlock them when you upgrade.
Apart from that, WPForms also includes:
Custom coupons for payment forms
User registration forms
Frontend post submissions
Save and resume
Conditional logic
Entry management in the WordPress dashboard
Surveys and polls
Don't forget: WPForms Pro also lets you make unlimited conversational forms.It's the best Typeform alternative on the market, enabling you maximize conversions with distraction-free forms.
Overall, WPForms is the most beginner-friendly online form builder and can be used by businesses both big and small for a variety of purposes.
Get the Best Online Form Builder Now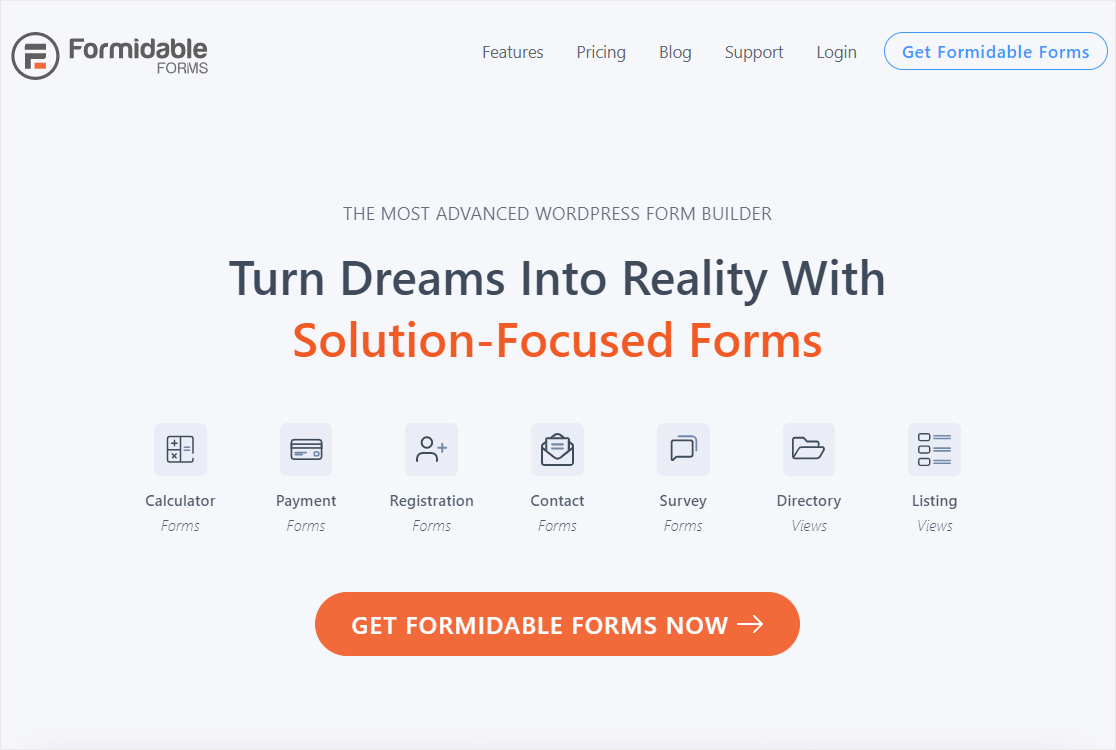 Formidable Forms is an advanced online form creator. Much like WPForms, this WordPress plugin lets power users make forms on websites with ease.
Formidable Forms lets you build forms with a user-friendly drag and drop builder. It's similar to WPForms in that you can simply insert fields to your form with your mouse and access hundreds of ready-made form templates.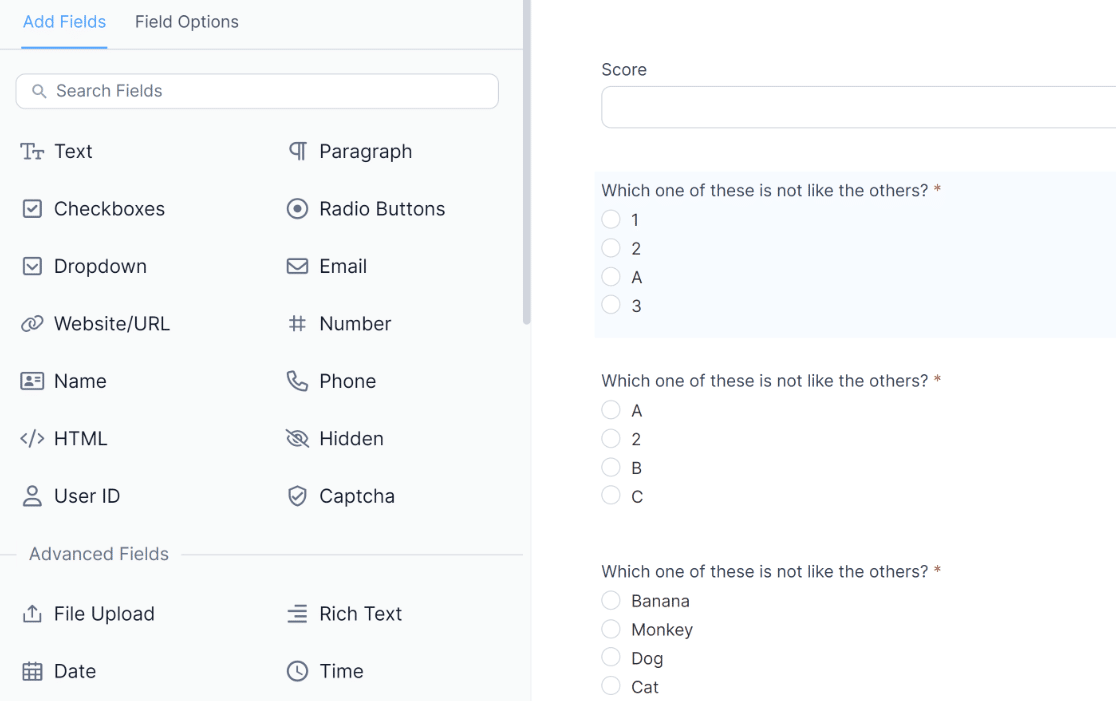 This form maker also lets you add calculation functionality to your forms. This is incredibly helpful if you want to add a mortgage calculator form, a BMI calculator form, or any other kind of form with calculation features.
We particularly like the form styling features in Formidable Forms. The styling options give you outstanding flexibility to customize any design aspect of your form.
You also get style themes that you can import with a single click to give your form a stylish appearance.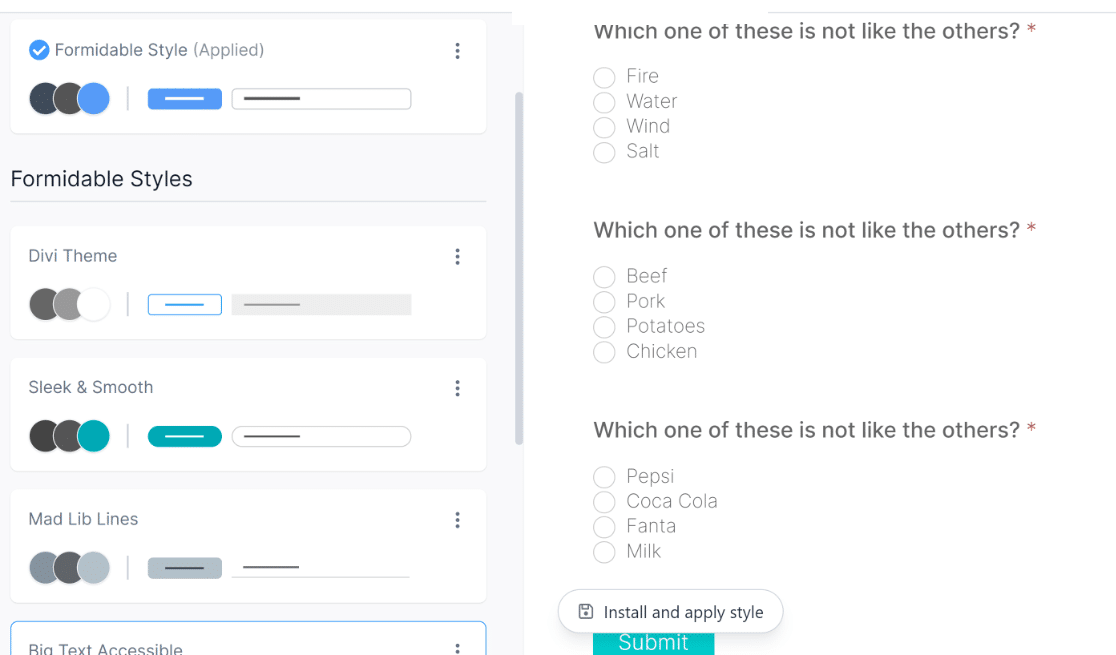 Not only that. We're also super impressed with the AI addon. This addon integrates ChatGPT right inside your forms so you can easily display AI generated responses based on user inputs on your form. That means you can use Formidable Forms as a ChatGPT plugin for your site.
Besides, ChatGPT also comes with conversational forms, polls and surveys, quizzes, and more. You also get payment integrations with Stripe and PayPal.
Drag-and-drop builder
Online calculator form templates
Customizable HTML
Automatically populated dynamic fields
Quizzes
Collects payments
White-labeled forms
If you're looking for an online form builder tool for WordPress, Formidable Forms is one of the best you can get.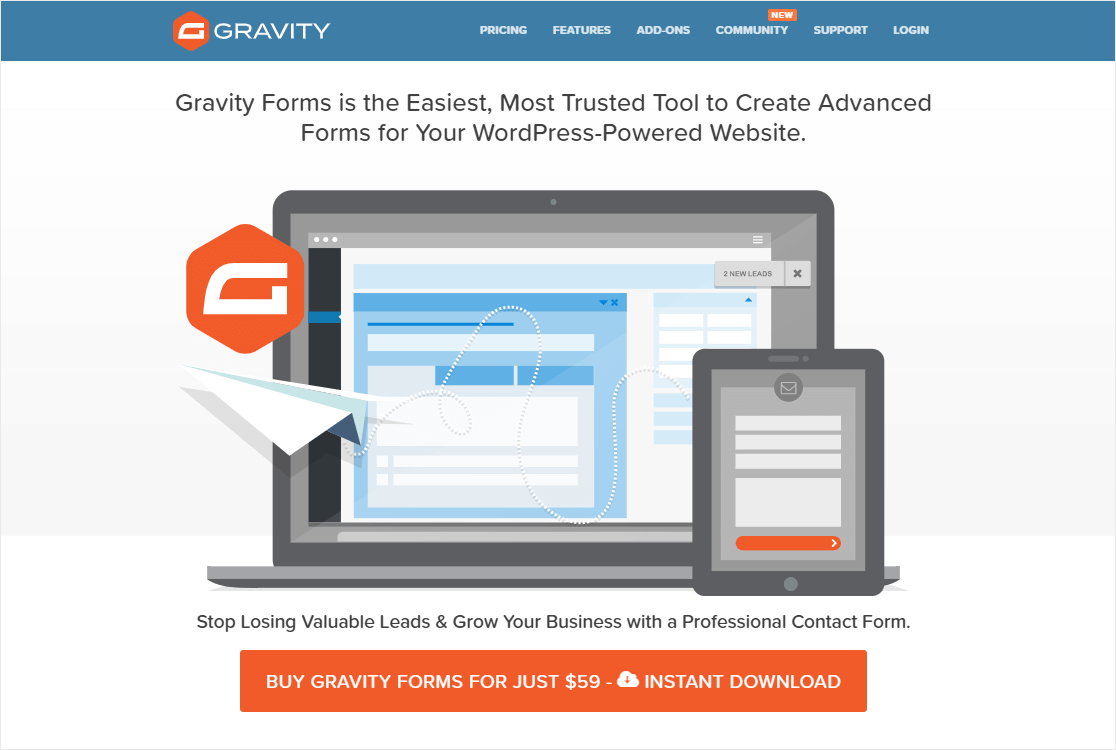 Gravity Forms is another user-friendly option, especially if you're looking to create forms to embed in your WordPress site.
It has an intuitive interface that looks like the WordPress block editor. Like other visual form builders on this list, you can build your forms using drag and drop actions within the interface.

In terms of templates, Gravity Forms doesn't offer you a lot of options having a thin library of 15+ templates.
The styling options in Gravity Forms are very similar to WPForms' no-code design options. You can customize the appearance of your form from the WordPress block editor, making edits to the labels, input, description, and buttons.

We really like how easy Gravity Forms makes it to create multi-column forms. All it takes is to simply drag a field next to another, and it will automatically be added to a new column.
On top of that, Gravity Forms comes with an excellent range of advanced features such as conditional logic, conversational forms, calculator fields, and more.
Features:
Save and continue
Conditional logic
File upload field
Visual drag-and-drop interface
Multi-page forms
Email notifications
Overall, Gravity Forms is a comprehensive online form builder with an extensive range of features for your WordPress site.
Check out our pro tips if you're having trouble with Gravity Forms not sending email.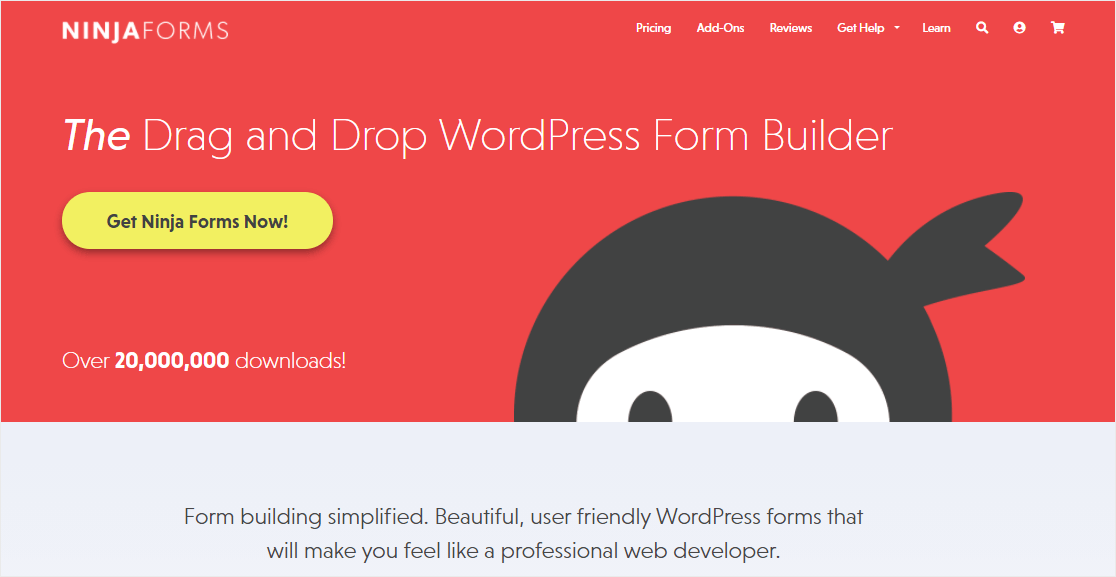 Ninja Forms is a flexible WordPress form plugin that covers a decent range of functionality.
The main thing we found challenging was comparing the license levels  and pricing since there are multiple ways to pay for the plugin, depending on the addons you want.
Features:
WYSIWYG form builder
Spam protection (limited)
Offers "Dev Mode" customization
Separately priced addons for integrations and payments
Do you want to know how Ninja Forms compares to WPForms? Check out our detailed Ninja Forms vs WPForms review.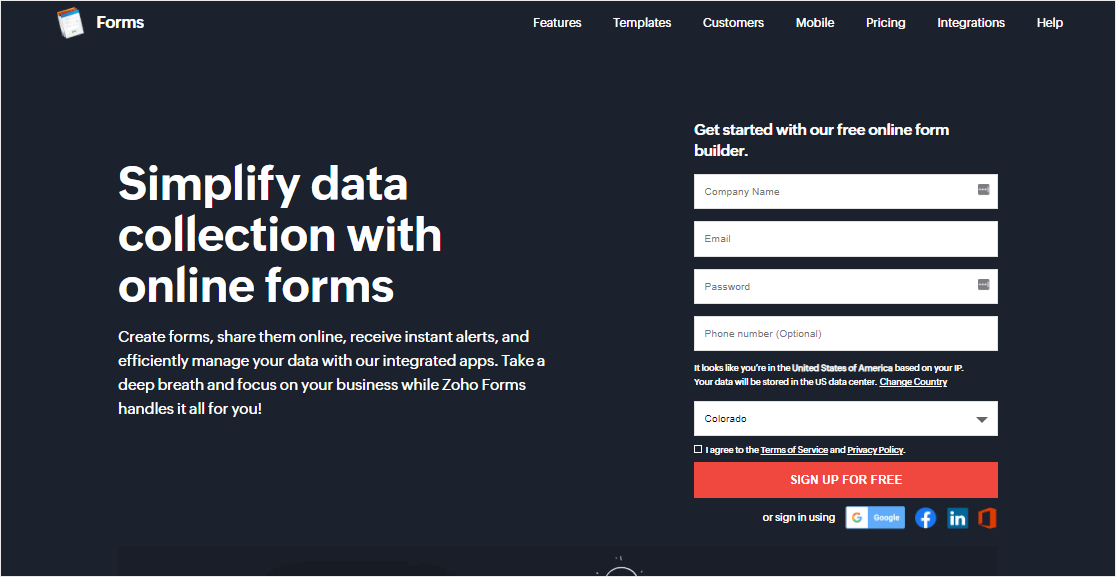 If your business already uses Zoho Apps, your site can tap into the power of Zoho Forms. This web form builder has a whole bunch of tools that can help you integrate their CRM software with your online forms.
Features:
Team collaboration tools
Embeddable forms
Ability to make CRM Zoho Forms in WordPress
Built-in security measures
Analytics
Integration with Zoho CRM
Option to assign team roles
Online surveys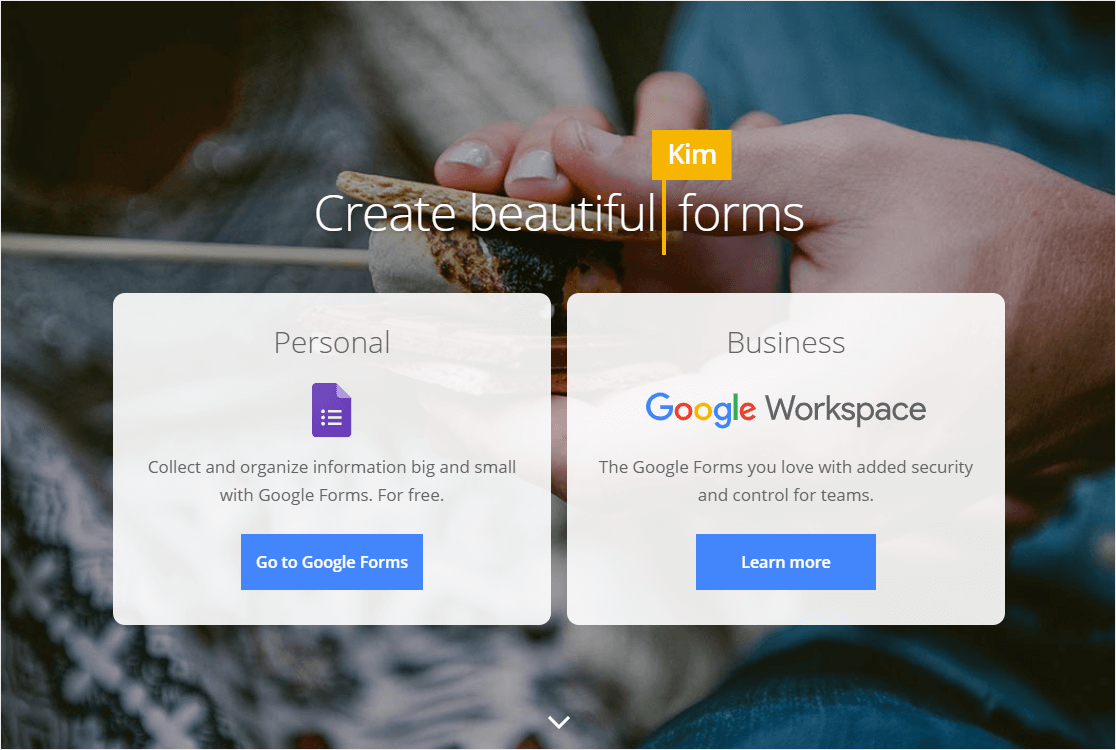 Google Forms is a free online form builder that lets you put together a quick form in a pinch. You can change things like the font and color scheme, plus you can add images to your forms.
It's important to note that this software is super basic and there are a lot of good Google Forms alternatives out there. We'd personally only use Google Forms for internal usage since it's difficult to embed a form in WordPress.
Features:
Drag-and-drop form builder
Page skip logic
Basic themes
Offline editing
Email reminders
Integration with Google Sheets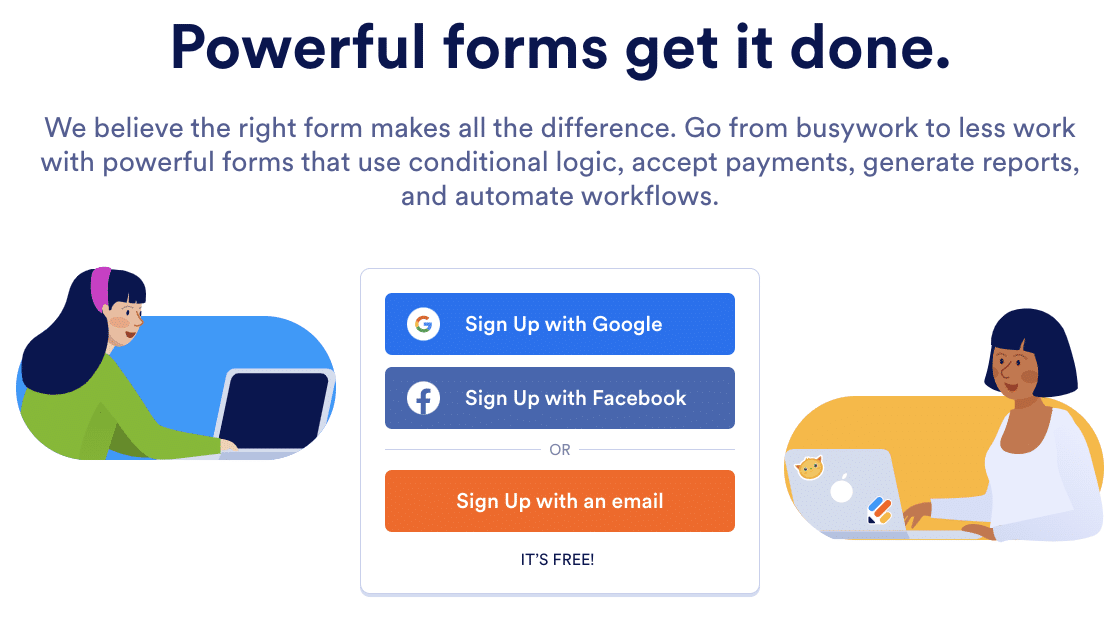 Starting a website is a lot of work, and Jotform can help connect your web forms to your email marketing services to make your workflows that much easier. It's a powerful online form builder that offers a massive library of 10,000+ form templates.
On top of that, Jotform has pretty much every feature you'd need to create advanced forms. It also features a drag and drop form builder to simplify your form-building process.
However, there are a couple of drawbacks to this tool as well. For one, Jotform is very pricey, making it unsuited for small businesses on a budget. It also imposes monthly submission limits, and you can only create a limited amount of forms depending on your plan.
In contrast, the WordPress-based form builders like WPForms and Formidable Forms have no restrictions in terms of how many forms you can build and submissions you can collect.
Features:
Easy-to-use form builder
HIPAA-compliant Forms
Free basic templates
Report builder
PDF forms
Many native integrations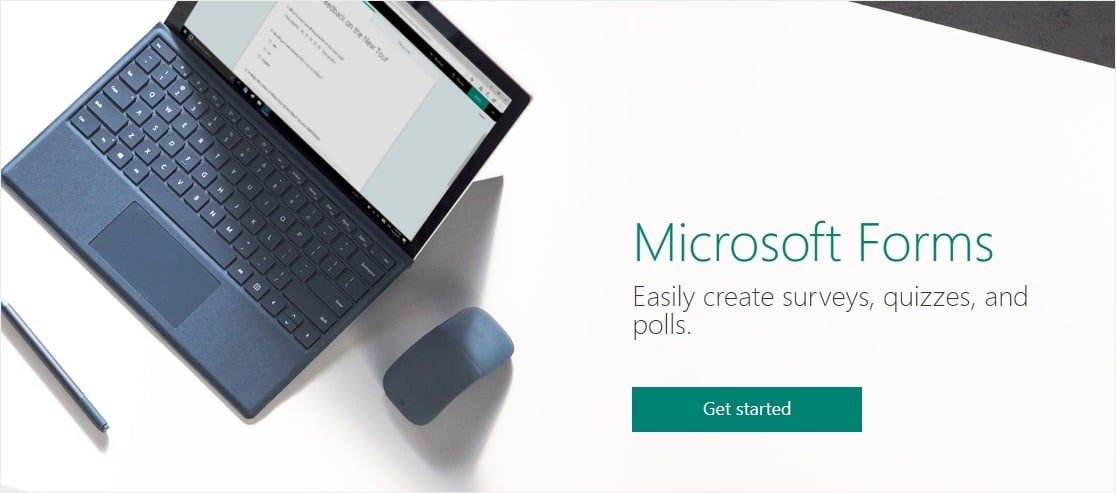 If you just need basic form field types and no frills, Microsoft Forms could be a good web form builder option for you. It's a straightforward and lightweight app that gives you access to things like quizzes, polls, and more.
Features:
Free for Microsoft 365 users
Syncs to Excel
Visual drag-and-drop builder
Outlook integration
Polls and surveys
Real-time results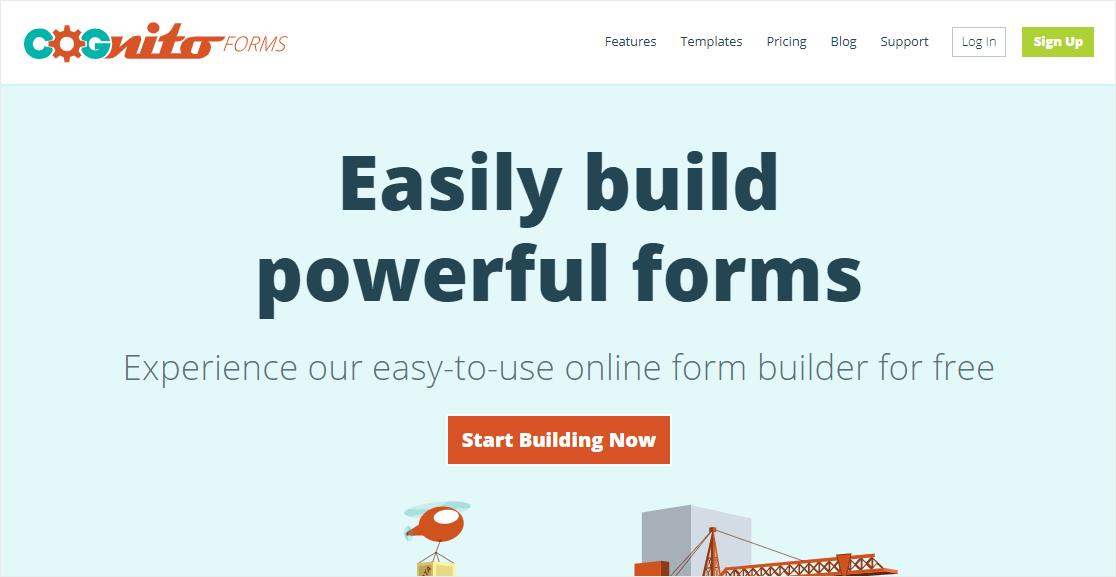 Cognito Forms is a useful app for creating Square payment forms. Plus, it has analytics and tracking that enable you to analyze conversion and engagement levels for your forms. However, to get the plan that includes this integration, you'll have to pay quite a bit.
Features:
Square payment processor integration
Calculating forms
Drag-and-drop builder
Conditional logic
Pre-built templates
Integration with Google Analytics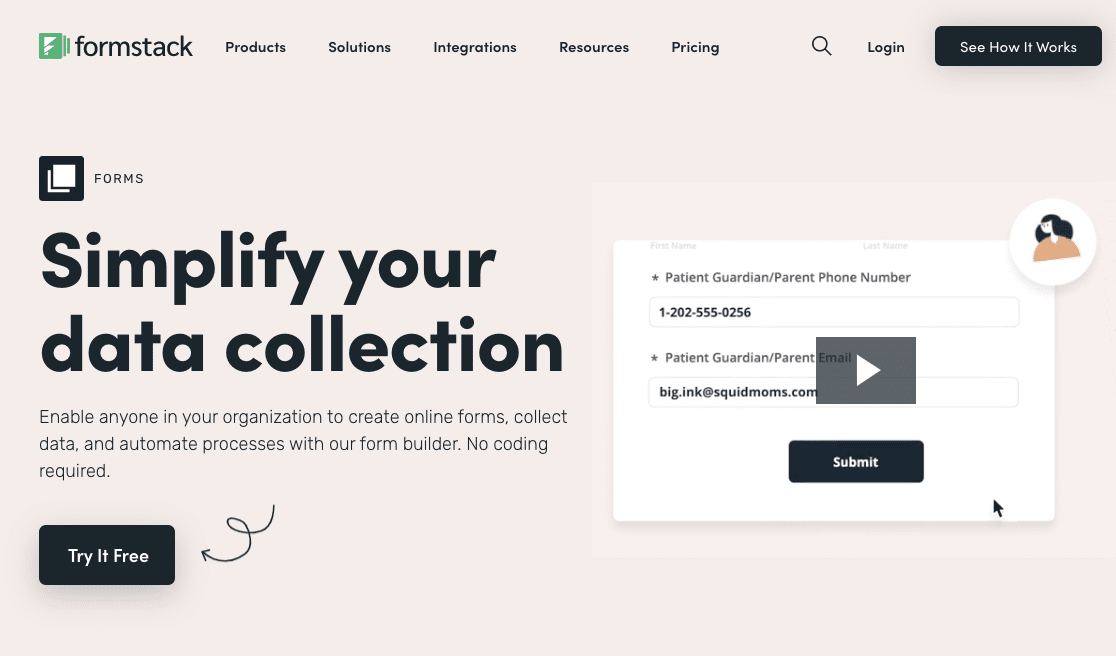 Formstack offers online tools for businesses in many different industries, including healthcare and higher education. One of its solutions is an online form creator. It gives you tons of forms for things like prescription refills or insurance quotes. You can easily collect your customers' data and improve your team's workflow.
This option is probably best if your business is already using Formstack's other tools, or if you want to invest in an all-in-one solution with a form creator.
Industry-specific form templates
100+ integrations
PCI and HIPPA compliant
Drag-and-drop builder
Conditional logic
Embeddable forms
Ability to send forms to users via email
Alternatives: Paperform is a decent alternative to Formstack.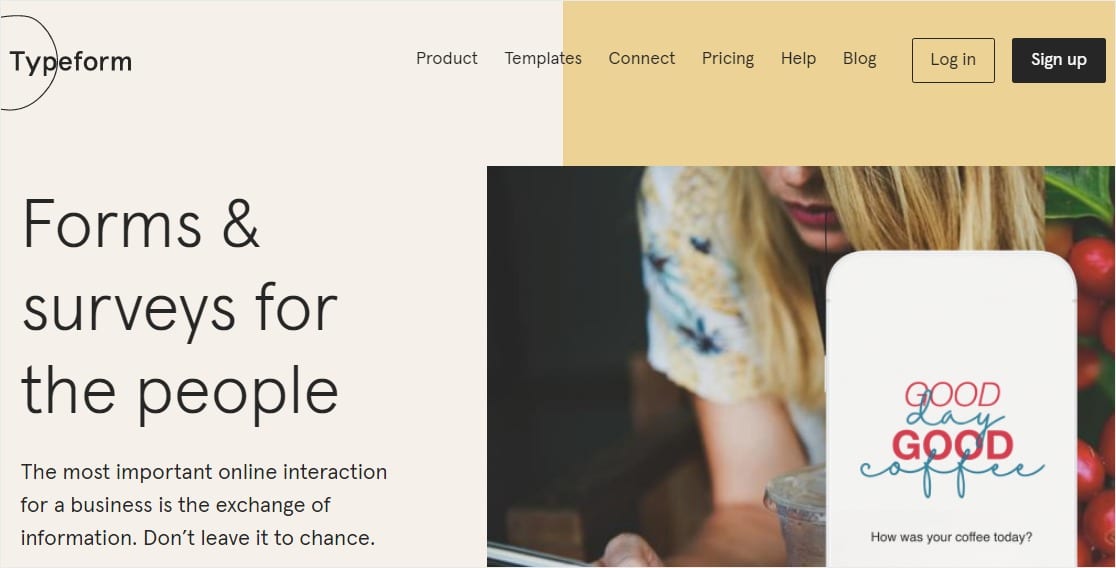 Typeform is a tool for creating visually striking and interactive online forms. The tool is known for its conversational layout which adds an engaging form design. Because it's expensive, it's best for marketing teams with big budgets.
Be sure to check out our article on the best Typeform alternatives for cheaper alternatives that offer similar features.
Features:
Trendy templates
Survey forms
Conditional logic
Mobile responsive
File upload capability
Conversational marketing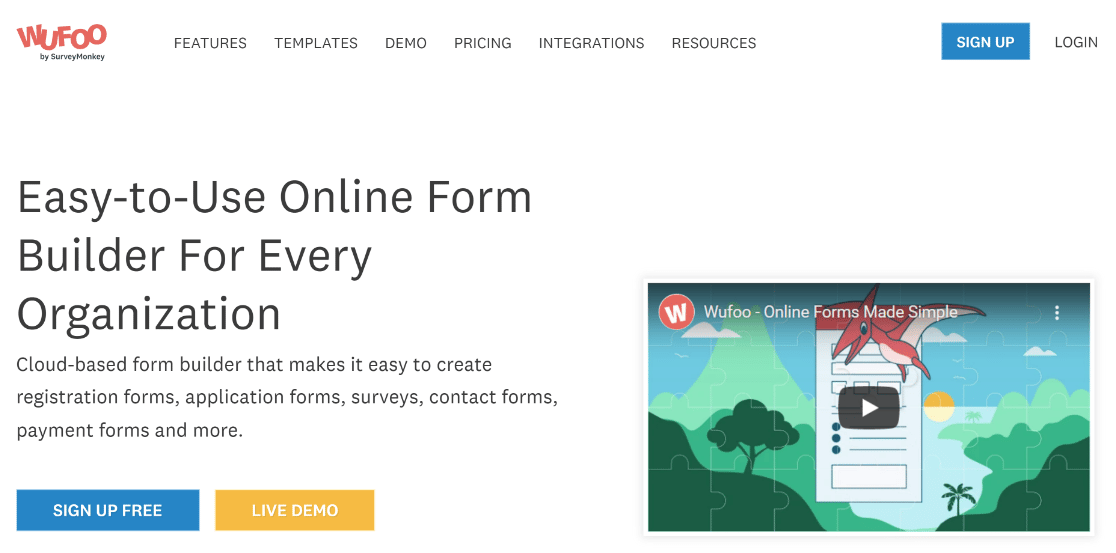 Wufoo forms is a well-known web form builder app. It gives you the ability to make forms for your website and collect entries from respondents easily.
Features:
Pre-designed templates for different types of forms
Cloud storage database
Payment integrations
Metrics reporting
Apply HTML and CSS for extra elements
Conditional logic with limits
Embed shortcodes
Social media integrations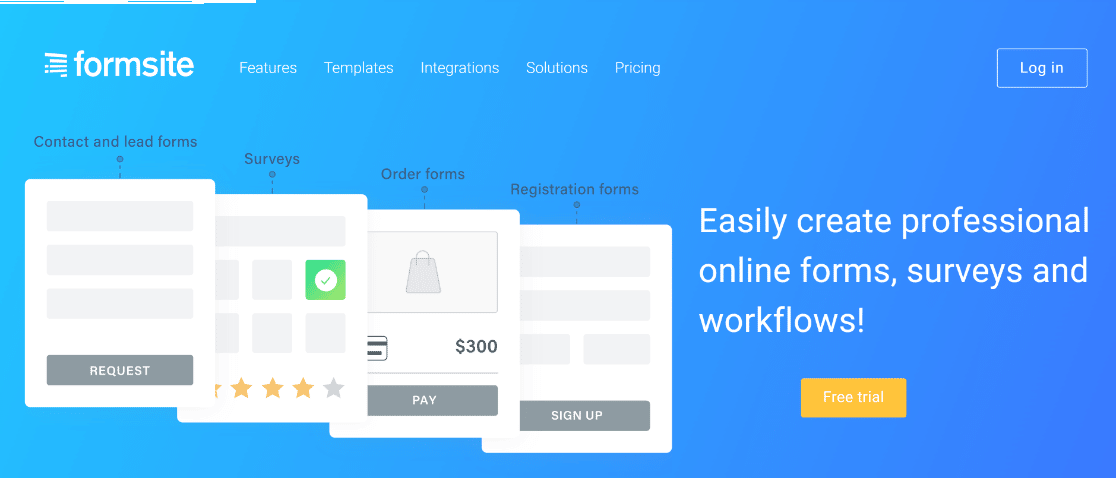 Formsite helps you create HTML forms and surveys. That way, you can build forms for things like online orders, registrations, customer feedback, and reservations.
Features:
Contact and lead forms
Drag-and-drop form editor
100+ customizable templates
40 question types
Secure form sharing
Real-time email notifications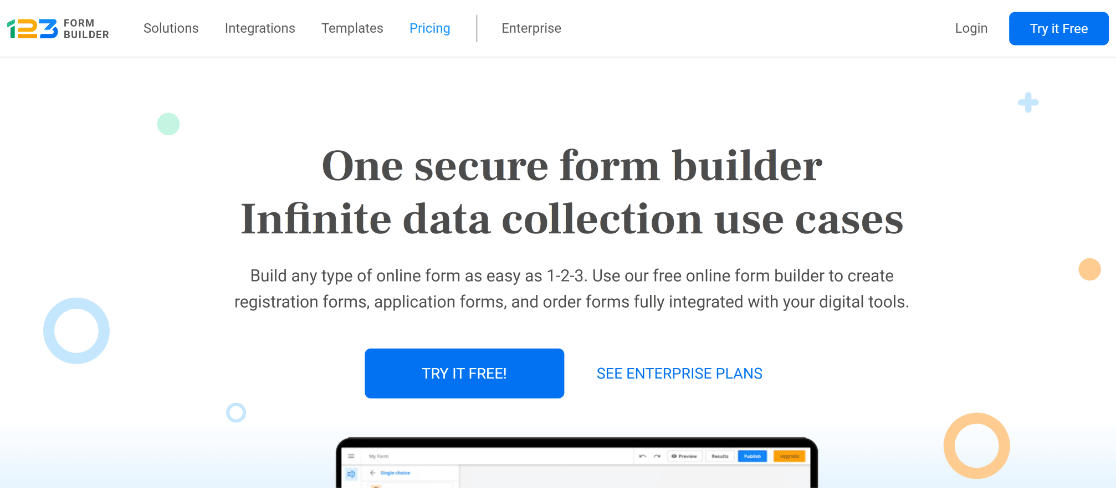 123FormBuilder is another well-known web form builder software. It lets you create and customize a form quickly if you need to. This builder will work well for you if you don't mind a super simple design with minimal features.
Features:
Drag-and-drop visual builder
Graphical reports with form data analytics
Web form templates
Dropbox and PayPal integrations
Surveys, quizzes, and polls
Which Online Form Builder Should I Choose?
We've tested all the options on this list to determine the best online form builder.
We can confidently say that the best online form builder software is WPForms.
This drag-and-drop form builder is a powerful tool with email marketing integrations (like HubSpot, Constant Contact, and more), the ability to accept payments, and so much more.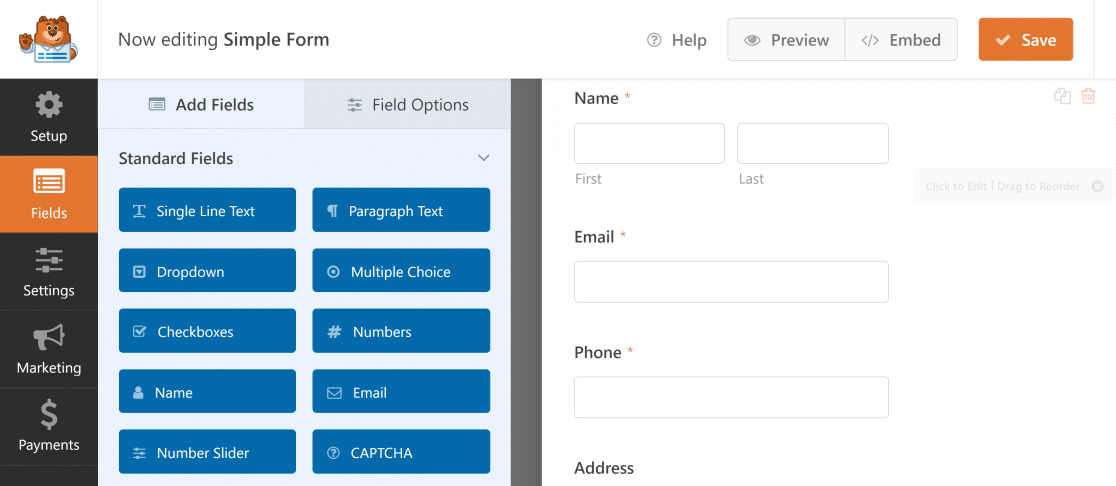 If your small business website needs forms, we've found that most sites benefit from the features and the affordability of WPForms Pro over the other online form builders on this list.
With WPForms Pro you have access to advanced form features that help you:
Increase sales: Collect payments securely with Stripe, Square, and PayPal to get more income streams from your website by accepting multiple payment types.
Get feedback: Create surveys and polls to understand what your customers think and serve them better.
Convert more leads: Get leads from abandoned forms and easily embed your forms in distraction-free landing pages.
Engage customers: Use Conversational Forms to impress potential leads and engage your customers by asking visitors one question at a time.
Save time: Use WPForms integrations to automatically send leads to platforms like HubSpot or Salesforce and save your entries in WordPress for easier management.
Keep forms secure:  Take advantage of many different spam protection options like custom captcha, hCaptcha, Cloudflare Turnstile, or Google reCAPTCHA v2 or v3.
Create surveys and reports: Use the unique reporting features in WPForms to create beautiful reports from your surveys and print your respondents' entries to PDF.
Event registration: A form builder that lets website owners and marketers sell tickets to events online.
These amazing features can help anyone of any skill level take their small business website to the next level.
Get the Best Online Form Builder Now
So there they are. We hope this list of the best online form builders helped you learn which one will work best for you and your small business.
FAQs
Here are a few frequently asked questions that we've received from some other readers searching for good online form builder options.
Is there a better option than Google Forms?
Yes, WPForms is a significantly better option than Google Forms. WPForms gives you tons of advanced features for creating, customizing, and automating your forms. Unlike Google Forms, you can use WPForms to create distraction-free conversational forms. Plus, you get access to over 1000+ pre-built templates, various anti-spam options, advanced form styling, and much more.
How do I create a simple online form?
You can create a simple online form using form builder tool like WPForms, Formidable Forms, or even Google Forms. Modern form builders are designed for simplicity, so you can create a form without knowing any code.
And if you use WPForms, you get tons of features for added convenience like form revisions, entry management within your WordPress dashboard, and integrations with popular marketing platforms and payment services.
What are the benefits of using a form builder?
The biggest benefit of using a form builder is ease. You don't need to know any coding, there are generally templates you can use to help you get started, and integrations make it easy to incorporate into your workflow.
Can I embed my forms into my WordPress site?
Embedding forms on your WordPress site is easy. Most form builders have WordPress plugins that generate shortcodes. All you need to do is copy and paste that code. Some even have widgets that you can use to embed forms even more easily.
Do form builders include analytics?
Most form builders include some kind of analytics to analyze form response data. Note, however, that how in-depth those analytics are can depend on the plan you pay for. Analytics on a free plan are going to be much more limited than what you'd get as a premium plan customer.
Are form builders secure when it comes to sensitive and personal data?
Always do your research to find out what kind of security measures a form builder takes. You'll find all of the reputable form builders use encryption, backups, GDPR compliance, and more to protect all form submission data.
Do form builders include spam protection?
Most reputable form builders include spam protection. Again, always research so you know for sure, especially as spam protection is occasionally a premium feature. Spam protection measures typically include CAPTCHA, IP blocking, custom questions, and more.
Next, Convert Leads With Conversational Forms
If you're still on the fence, check out this comparison of WPForms Lite vs Contact Form 7 to see all of the awesome features in the free version of WPForms.
If you're interested in seeing one of the coolest things WPForms can do, check out our post on how to build a Conversational Form on a WordPress website.
If you want to check out our other roundup articles featuring our favorite tools and plugins, take a look at the following:
Also, don't forget to check out these alternatives to Linktree if you want to level up your Instagram game.
So what are you waiting for? Get started with the world's best form builder today. Don't forget to follow us on Twitter and Facebook to get more useful tips and updates.