Do you want to know what the best Typeform alternatives are?
Typeform is an online tool that lets you create customized web forms, but it can be quite expensive for some small businesses.
Many business owners want a reasonably priced form builder that's easy to use and
We've put together a list of the best Typeform alternatives out there.
What to Look for in a Typeform Alternative
Typeform has great-looking form templates, but it's one of the most expensive form builders to use. Luckily, there are excellent alternatives out there that are cheaper than Typeform and offer most of the same functionalities.
Here are some things to look out for when researching for a Typeform substitute:
Easy to Use — Not all small business owners are also coders. Web forms are important, and you should be able to build them easily without needing a web development degree or using code in HTML like Typeform.
WordPress Specialization — You want your online forms to integrate easily with your website. And you should look for a WordPress form plugin that specializes in WordPress and has great reviews on WordPress.org that prove it. Typeform isn't a WordPress plugin.
Marketing Integrations — No matter which form builder you use, make sure it connects to your email marketing service.
Multiple Features — Some form builders specialize in only one thing. Typeform makes conversational forms. But a great form builder will offer many different helpful features for your website.
Affordable — Web forms are powerful. So, you shouldn't have to be a huge company to be able to get access to a form builder for your website.
Money-Back Guarantee — We believe that a good form builder offers you the chance to try it risk-free.
So now that you have a good idea of what features the best online form builder will have, let's take a look at the best Typeform alternatives and their features.
Best Typeform Alternatives
There's some heavy Typeform competition out there, which means that you have several great options other than Typeform. We've broken down the best alternatives to Typeform below.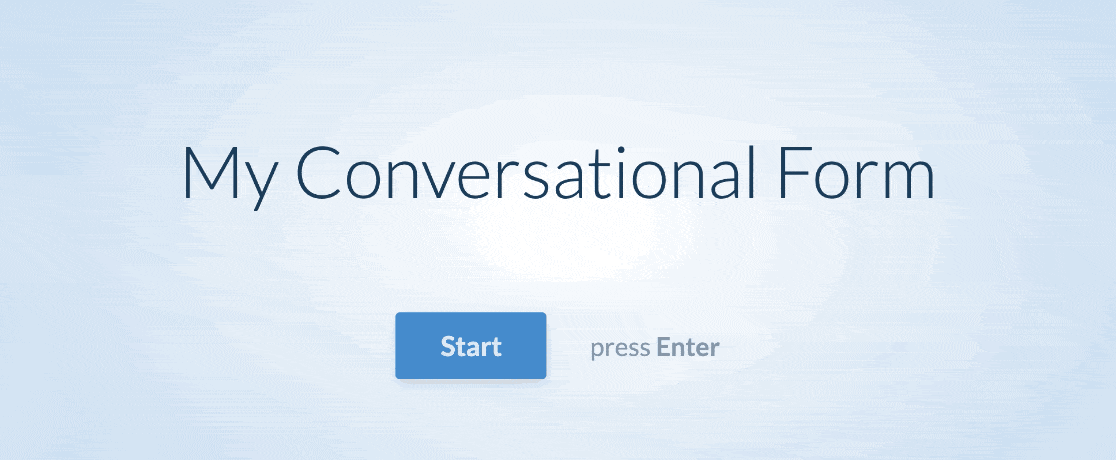 When it comes to the best WordPress form builder, there's really no competition. The WPForms plugin is the best of the Typeform competitors by a long shot.
WPForms' Conversational Forms addon lets you turn your forms into conversational-style forms. These forms display a beautiful, distraction-free layout, keeping respondents engaged by showing only one question at a time.
On top of that, you can use WPForms as a Typeform alternative because the Survey and Polls addon lets you create surveys with powerful survey reporting features. With a conversational survey form, you can let peope
One major drawback with Typeform is that its WordPress plugin only adds a Typeform block to your site so you can embed your forms. The Typeform WordPress integration offers no other useful functionality within WordPress.
In contrast, WPForms includes a complete form builder that lives within your WordPress environment. That means you can build a form with WPForms, change layout and styles, and make other edits all from the same form builder window.
But that's just the start of it. WPForms is extremely feature-rich without being intimidating for beginners to use.
Features:
Easy to Use — Form creation is simple for beginners with a drag-and-drop visual builder that lets you create forms in real-time.
Form Management — Keep track of where you've published your forms on your website, track changes made to your forms over time, organize forms with tags, and recover deleted forms with ease.
Layout Controls — Create multi-column forms using simple drag and drop controls.
Conversational Forms — Tap into the power of conversational marketing by giving your forms a 'human' feel.
Surveys Tools — Customizable online surveys and polls display data collection results in beautiful graphs for better data visualization.
Lead Forms — Build stylish forms that break up a large form into multiple pages to boost your lead generation. It's the key feature that makes WPForms better than chatbots in many situations.
Landing Pages — Use the Form Pages addon to create distraction-free landing pages.
Security — Fight spam with hCaptcha, reCAPTCHA, Cloudflare Turnstile, & custom Captcha.
Multiple Integrations — WPForms has integrations with the most popular email marketing providers, CRMs, and over 6,000 more platforms with Zapier for creating useful automations.
Payments — WPForms enables you to accept payments, even with the free version of the plugin. You can use Stripe (all licenses), Square (Pro), PayPal (Pro), or Authorize.Net (Elite) to build custom online order forms.
Form Notifications — Send email notifications to yourself or others.
Conditional Logic — Easily enable Conditional Logic to personalize your questions based on the user's other answers.
Form Templates  — WPForms offers 1,200+ form templates. This includes NPS survey forms, Likert survey forms, and even entertainment forms.
Open Source — It's a great option if you're trying to reduce SaaS bills.
Entry Exports— Export form entries in CSV or Excel format with a single click, or send them directly to Google Sheets.
Calculations —  Offers users the ability to calculate fields and product options in their forms or to create calculator forms.
Cost: Pricing for WPForms Pro starts at $199.50/year.
WPForms is far more affordable and has all the Typeform-style conversational features for just a fraction of the price. The same features on Typeform would cost you nearly $700/year.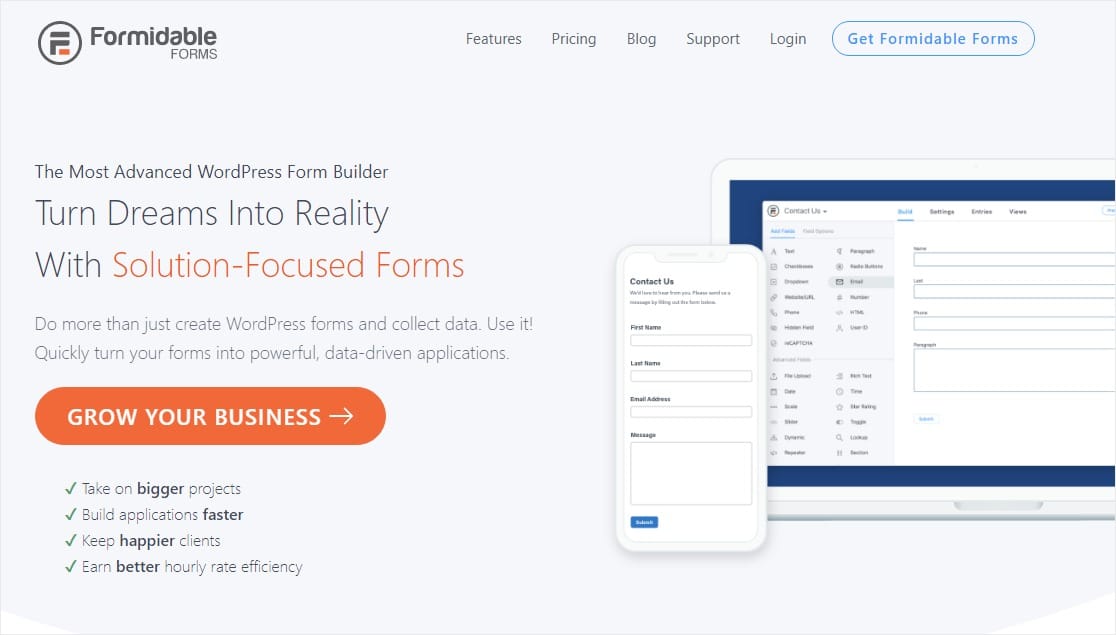 Formidable Forms is a good option if you're an experienced user trying to build technical forms on your website. It's a Typeform alternative that lets you do advanced things with your forms (like advanced calculations).
Features:
Visual Builder — A drag-and-drop builder helps you create advanced forms with real-time preview so you know what it looks like as you're building it.
Math Calculations — Offer users instant online estimates and calculate advanced product options.
Quiz Maker — Create forms with quizzes that display scores.
Conditional Logic — Skip questions or make ones appear based on answers.
Integrations — Connect your forms with popular 3rd party services.
Form Notifications — Send email notifications to yourself or others.
Free Plan — There's a free version of the plugin offered at WordPress.org, but you'll need to pay to access most features. Stripe payments are available for free tier users.
Cost: Pricing for Formidable Forms Business starts at $199.43/year.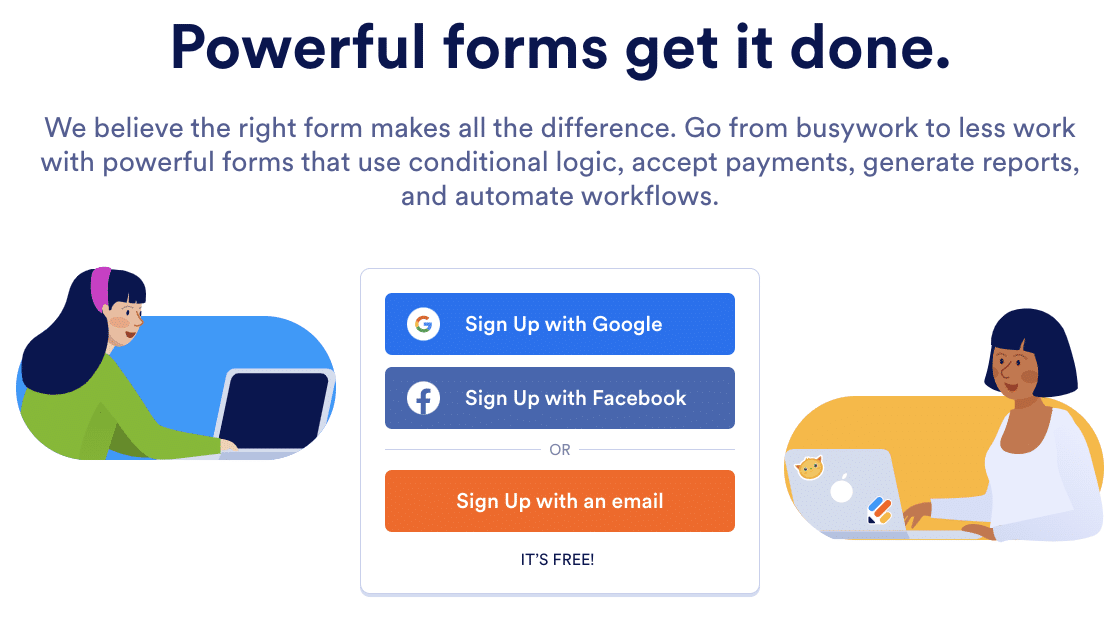 Jotform is similar to Typeform in that it's not a WordPress plugin, but you can embed your Jotform forms by copying and pasting a code snippet. Apart from that, it gives you lots of customization options and integrations for connecting marketing services. It's a strong Typeform competitor with tons of excellent features.
Features:
Form Builder — Easily create forms with the drag-and-drop builder.
Templates — Ready-made form templates based on specific goals.
3rd Party Integrations — Connect your site to email marketing tools, CRMs, project management apps, payment processors, and more.
Advanced Features — Let users add signatures, make math calculations, and even take photos to upload into your forms.
Form Themes — Choose from pre-made form themes to style your forms.
Share — Send your form to users via email or social media with a unique sharable form link.
Cost: You can use Jotform for free for up to 5 forms and 100 submissions/month. Paid plans start at $24/month.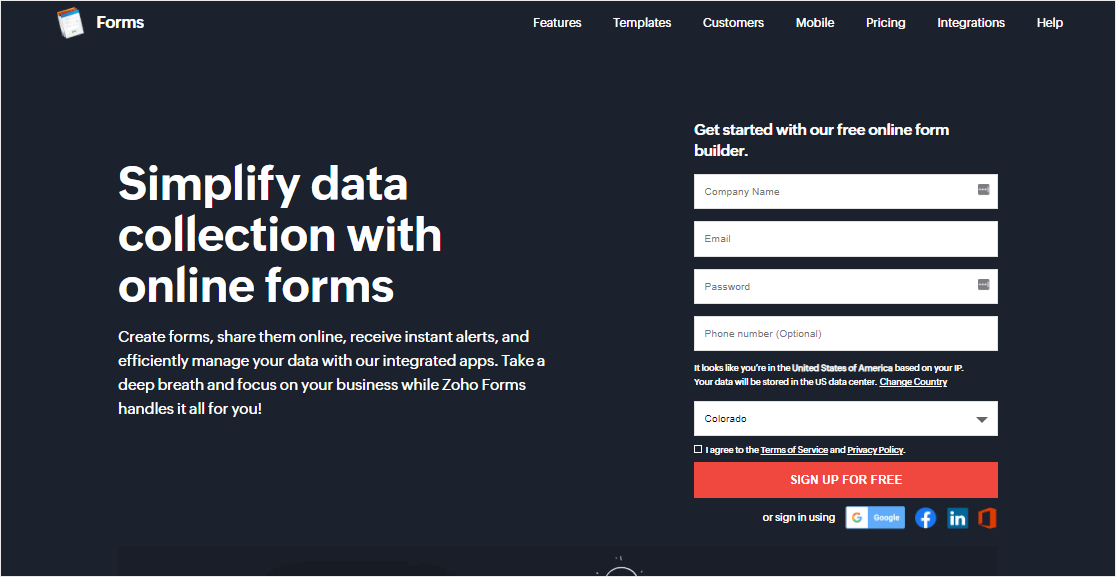 Zoho Forms can be a good pick to use as a Typeform alternative if your business is already using Zoho CRM. It integrates seamlessly since it's built by the same people.
Features:
Zoho CRM Compatible — Easy to start if you're already using Zoho CRM.
Collaboration Tools — There are lots of features you can use as a team.
Security — Built-in safety measures like assigning roles to help keep your forms secure.
Zoho Survey — Connect features in Zoho to online surveys.
Form Embedding — Embed your forms directly into your WordPress website.
Analytics — See how forms are performing and share it with others by exporting reports.
Customizations — Make your form design match your brand to look professional.
Cost: Pricing for Zoho Forms starts at $8/month per user.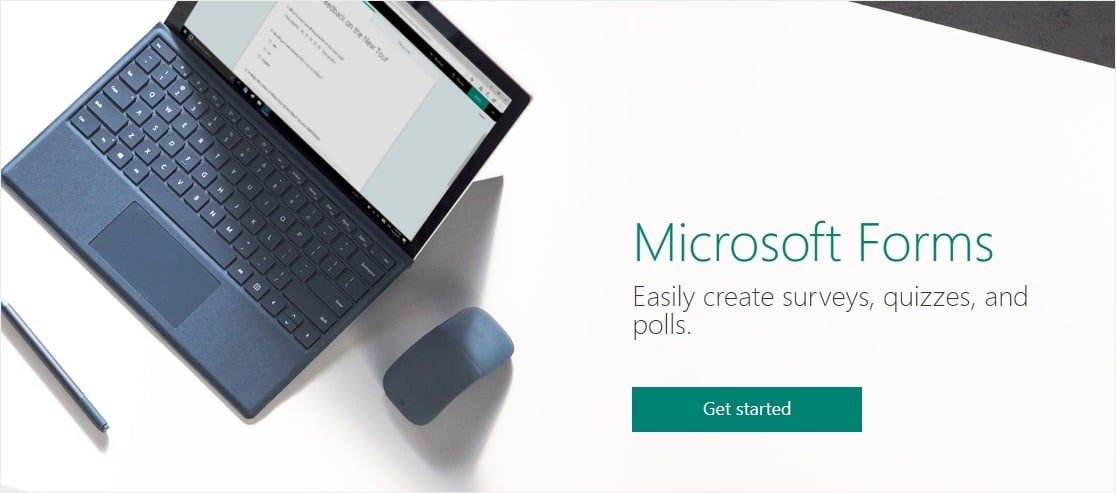 Microsoft Forms is an online form-building tool that's a good Typeform alternative if you want to use Excel instead of Google Sheets. It's Microsoft's version of Google Forms, but unfortunately, you can't let users upload files to your forms.
Features:
Visual Builder — The drag-and-drop builder makes creating forms super easy.
Online Surveys — Learn more about your audience by gathering data.
Excel Integration — Connect your web forms to Excel so you can see your data in a spreadsheet.
Outlook Integration — There's a Microsoft Office integration that lets you do things like sending your form notifications through email to people.
Cost: Microsoft Forms is free for anyone who has a Microsoft Office 365 license which starts at $9.99/month.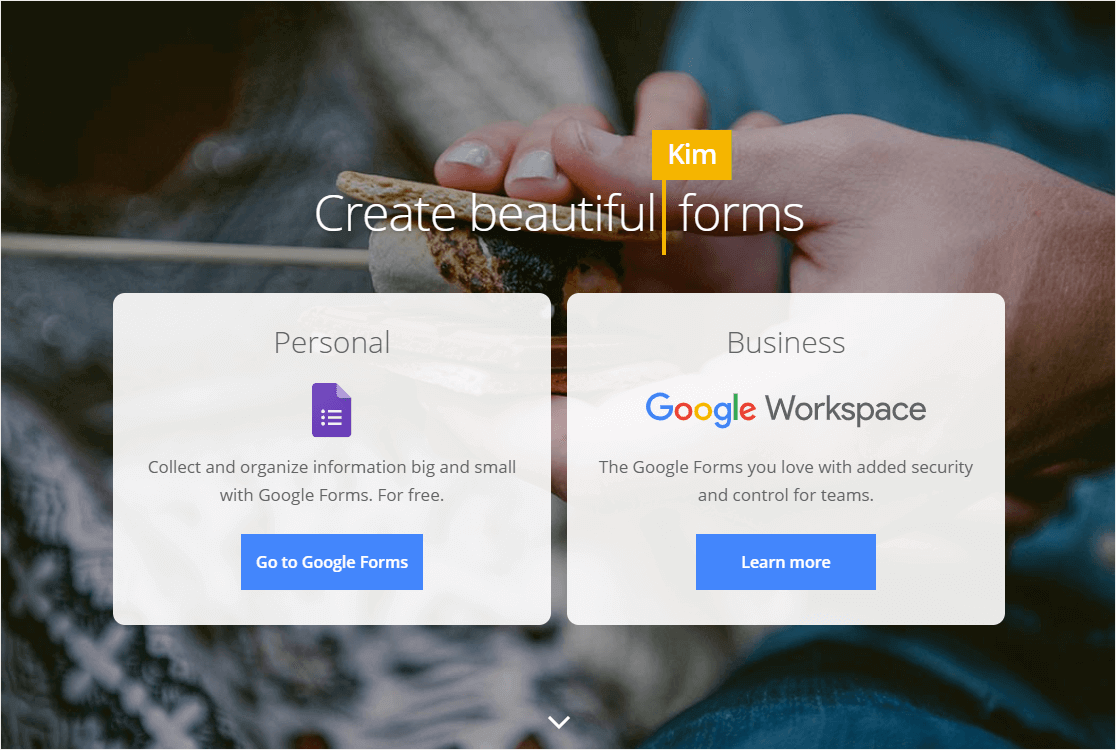 If you want to create simple forms, another good Typeform alternative is Google Forms. There's very little you can do with it beyond the basic form functions, but it's free and gets the job done. The drag and drop builder lets you make simple forms with some customizations.
However, for more advanced features, you may be better off with these Google Forms alternatives.
Features:
Easy to Use — The no-frills form builder.
Some Customization — Change color schemes and fonts.
Images — Lets you add pictures to your forms.
Multi-Step Forms —Break up long forms into more than one page.
Easy Organization — If you're using Google Sheets, it's easy to organize data.
Skip Logic — Jump to specific pages based on conditional answers.
 Embedding — You can embed the form into your WordPress website.
Notifications — Get email reminders.
Offline Mode — Access data when there's no internet connection.
Cost: Google Forms is free.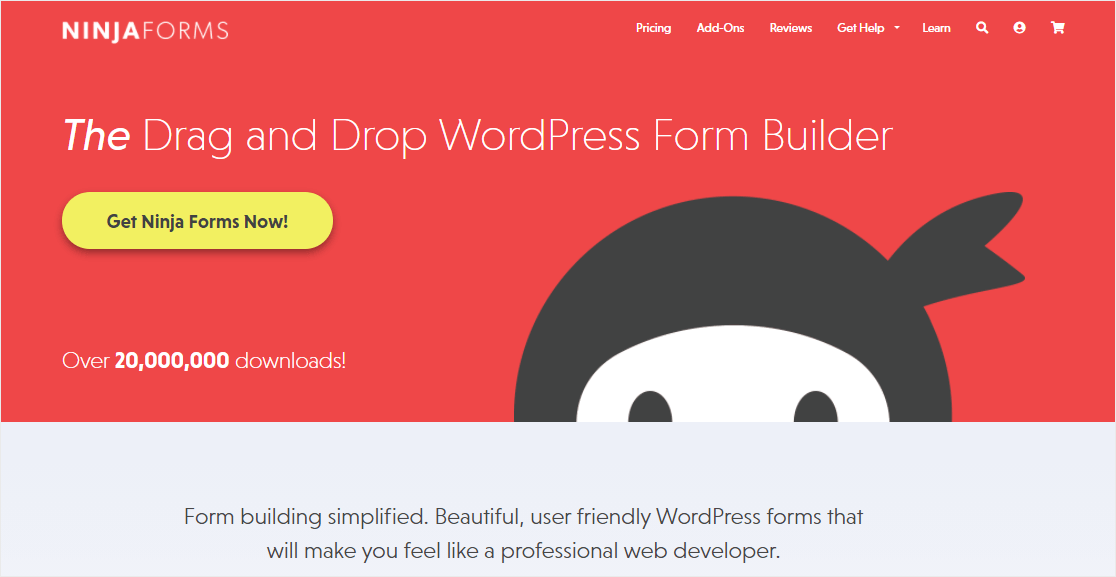 Ninja Forms is another Typeform alternative that uses a drag-and-drop builder. The visual builder has a clean interface and the ability to unhide other field options.
Features:
Import — Lets you import other Ninja Forms onto your site.
Visual Builder — Drag-and-drop tool to make forms.
A la Carte Prices — Some tools are offered in a 'build-your-own-plan' type of option.
Some Templates — 16 additional templates are available.
Previews — Offers a live form preview to see what you're building.
Captcha — Only supports Google reCAPTCHA v2.
Cost: Ninja Forms Professional is $99.50/year. For more detailed pricing information, check out our Ninja Forms vs WPForms review.

If you're using Square as your payment processor, Cognito Forms could work as a good Typeform alternative. It's important to note that it's pretty expensive for the level of plan you need to subscribe to if you want to accept payments online.
Features:
Online Payments — Lets you take Square and PayPal for payments online.
Conditional Logic — Make forms smarter by changing actions based on answers.
Pre-Built Templates — Get started quickly with form templates that are already made.
Easy to Use — Visual builder lets you drag and drop fields to build forms.
Math Calculations — Forms are able to do calculations.
Analytics Integration — Connect to Google Analytics so you can see how your forms are performing.
Cost: Pricing for Cognito Forms Team (which includes Square and PayPal) starts at $35/month.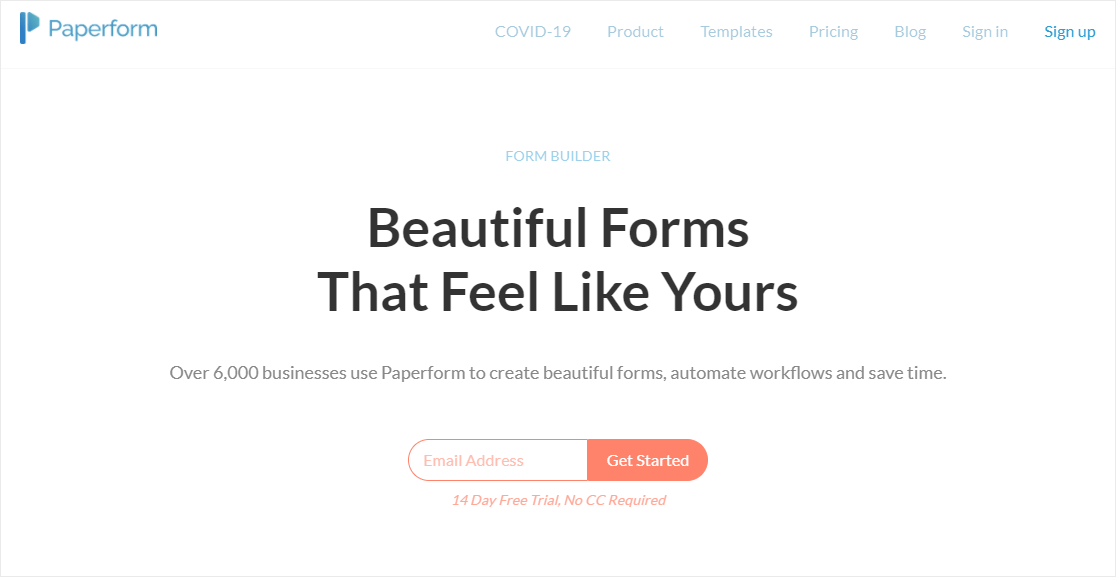 Paperform is another form builder option to try as an alternative to Typeform. It's relatively small, so there aren't a ton of features. However, there are some great templates to check out if you have a lot of forms you don't want to build from scratch.
Features:
Chat Support — Get answers to your questions within a few hours.
Templates — Designer form templates that are customizable.
Payment Integrations — Accepts Stripe, PayPal, Square, and Braintree.
Analytics — Analyze your forms and their performance.
Cost: Paperform pricing starts at $32.50/month for one user.
Best Typeform Alternatives Winner: WPForms
If you're looking for the top Typeform alternative, WPForms is the best option.
It's much more affordable than Typeform, and WPForms Pro comes with the Conversational Forms feature that lets you create beautiful contact forms.
The form builder is super easy to use: just drag and drop fields to add them to your forms.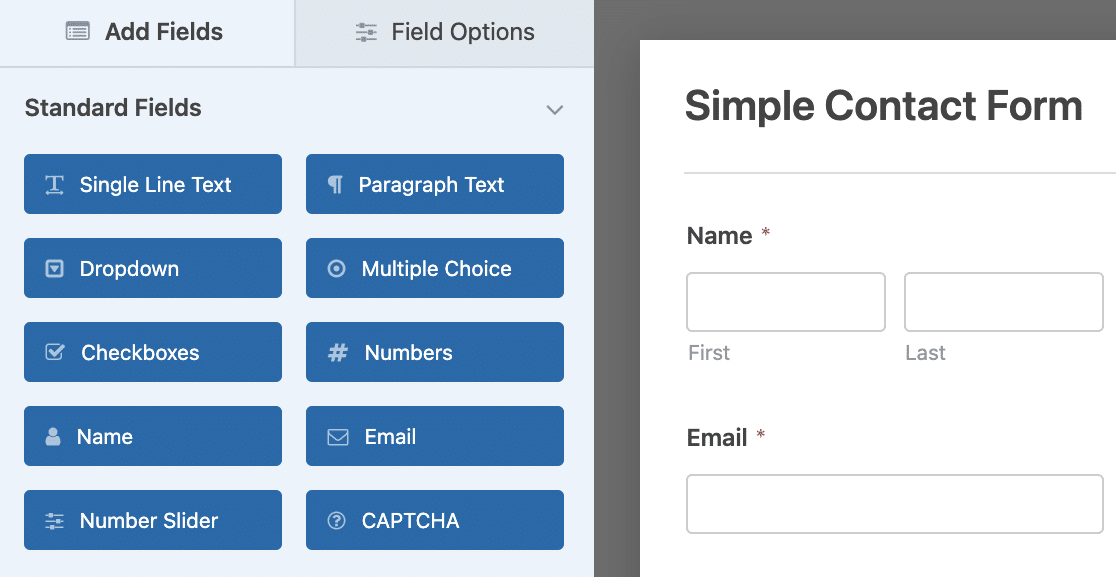 Plus, WPForms Pro lets you take payments online, so you can make more money from your website with simple order forms. It's easy to do because it integrates with Stripe, PayPal, Square, and more.
Also, the support offered by WPForms is top-notch. Their friendly team responds quickly to any questions you may have about your forms. This makes it even easier for beginners to make their own web forms explosively effective.
Create Your WordPress Form Now
And that's it! We hope this post helped you find a great Typeform alternative for your web forms. We think WPForms Pro is the clear winner.
Typeform Alternatives – FAQ
As you can imagine, we get a lot of questions about form builders. Here are some of the most common when it comes to finding a Typeform alternative.
What features should I look for in a Typeform alternative?
This differs based on your needs. In general, look for the ability to add conditional logic, as well as payment gateway availability, so you can accept payments on your forms. It's also a good idea to make sure the form builder integrates with all the tools you love to use.
What are the benefits of using a Typeform alternative?
The benefits of using a Typeform alternative could include enhanced features, more integrations, better pricing, more customization options, and the ability to create different kinds of forms. This will vary by your needs, so remember to do your research!
Why do I need a form builder plugin?
Form builder plugins do more than collect basic contact information. You can use them to create registrations, surveys, order forms, and more. You can also use them for lead generation. When you find the right plugin for you, it will greatly increase your site's functionality.
Can I integrate Typeform alternatives with other tools I use?
Most Typeform alternatives will let you integrate your favorite tools to help with email marketing, CRM, and project management. Look for an alternative that offers lots of integrations so it works seamlessly into your workflow.
What are the pros and cons of using a free form builder plugin?
The biggest pro is that it's free. For those who only need simple forms, this works fine. The biggest cons, however, are that you often have limited features, storage, or responses. You may not have integrations. It's best to evaluate your needs and research what might be your best.
Next, Improve Your Contact Form Placement
It's great you're doing research for your small business website. Be sure to check out our post on the best places to put a contact form on your website.
You might also want to learn about the best age verification plugins for WordPress if you want to impose age restrictions on your site content.
So, what are you waiting for? Get started with the most powerful Typeform alternative now. WPForms Pro offers beautiful conversational forms, plus there's a 14-day money-back guarantee, so there's nothing to lose.
And if you like this article, then please follow us on Facebook and Twitter for more updates from the blog.