How to Export WordPress Form Entries to CSV
by Courtney Robertson on Aug 15, 2016
Do you want to download the entries from your WordPress forms to a software-ready format? With WPForms, you can download these form submissions into a CSV spreadsheet. In this tutorial, we will show you how to export WordPress form entries to CSV.
What can you do with a CSV file?
A CSV file is useful for many different things. CSV, short for comma-separated values, is a file type that can be understood by spreadsheet programs such as Microsoft Excel or Google Sheets. Aside from reading the data in spreadsheet software, you can use it in other ways:
It can be imported into other form plugins.
You can add the contact information to your email marketing software.
Spreadsheet software can help you analyze the results of advanced form fields or surveys.
CSV files can be used to create mail-merges in word processing programs.
Getting Started:
The first thing you need to do is install and activate the WPForms plugin. Here's a step by step guide on how to install a WordPress plugin.
Once you have activated the plugin, let's go ahead and create a new form.
You can do this by going to WPForms » Add New.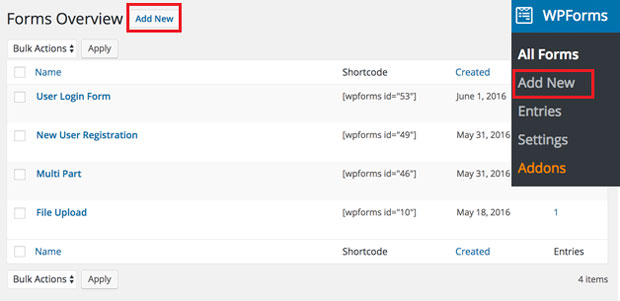 On the next screen, you need enter your form name and select from one of our pre-built form templates or start with a blank form.  For this tutorial, we will begin with a simple contact form.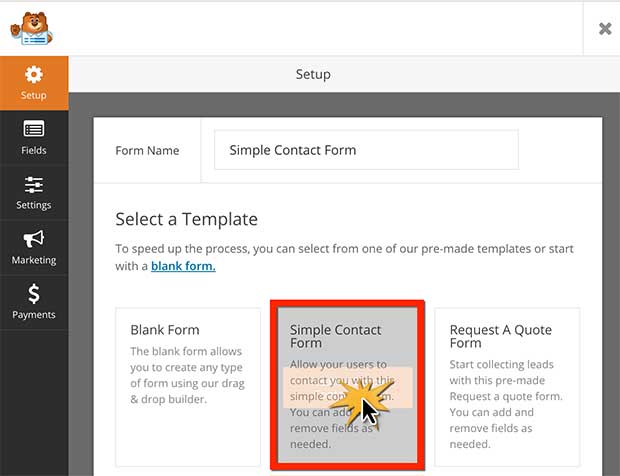 In the form builder, simply drag and drop the fields you want from the left column.
You can click on each field to customize the settings. To rearrange the fields, hover your mouse on the far right side and simply drag to reorder.
Once you are done customizing the field, click on the Save button to make sure that your changes are saved.
Add the Simple Contact Form in WordPress
WPForms allow you to add your forms in various locations from your blog posts, pages, and your sidebar (widget-ready areas).
First let's take a look at the most common post / page embed option. Start by creating a new post or page in WordPress and then click on the Add Form button there.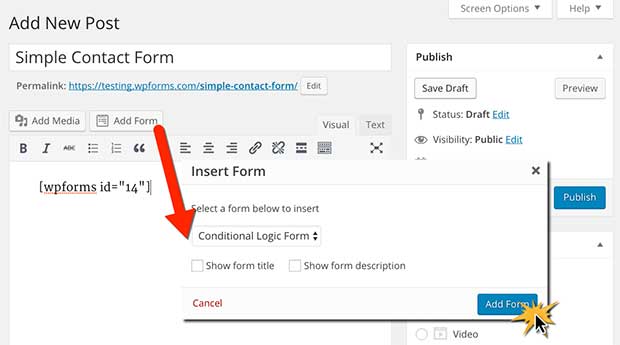 After that simply publish your page and view it.
Below is an example of our simple contact form: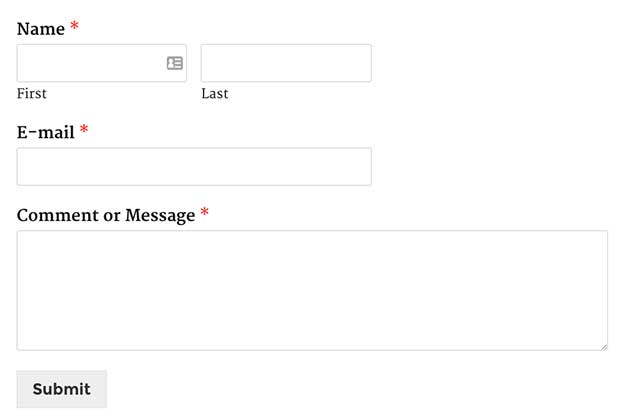 Export WordPress Form Entries as a CSV
After you have published your form and gathered some entries, you're ready to download these entries.  Begin by going to WPForms » Entries in your WordPress admin dashboard.
Next, in the top right corner select the form you want to download entries from then select Download Export (CSV) in the top area of the screen.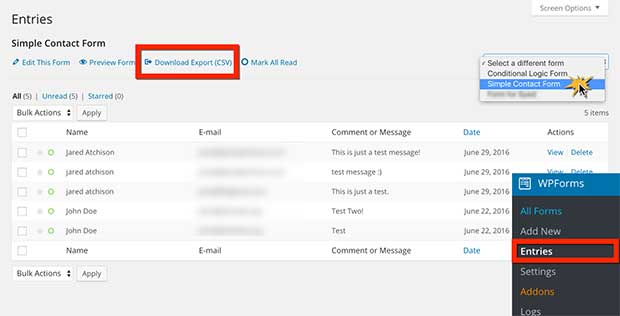 Now you can select where to save your CSV file on your computer.
That's it. You have successfully downloaded your WordPress form entries. We hope this article helped you export WordPress form Entries to CSV. You might also want to check out our guide on How to Create a File Upload Form in WordPress.
If you like this article, then please follow us on Facebook and Twitter for more free WordPress tutorials.