Do you want to export the entries from your WordPress forms? Downloading an export file of form entries is super useful, as this allows entries to be viewed in many other programs, such as Excel or Google Sheets.
In this article, we'll show you how to export form entries in WPForms.
---
Before getting started, be sure you've installed WPForms, verified your license key, and collected at least one entry.
Exporting Multiple Form Entries
To export multiple entries at once, you'll first need to go to WPForms » Tools and click on the Export tab.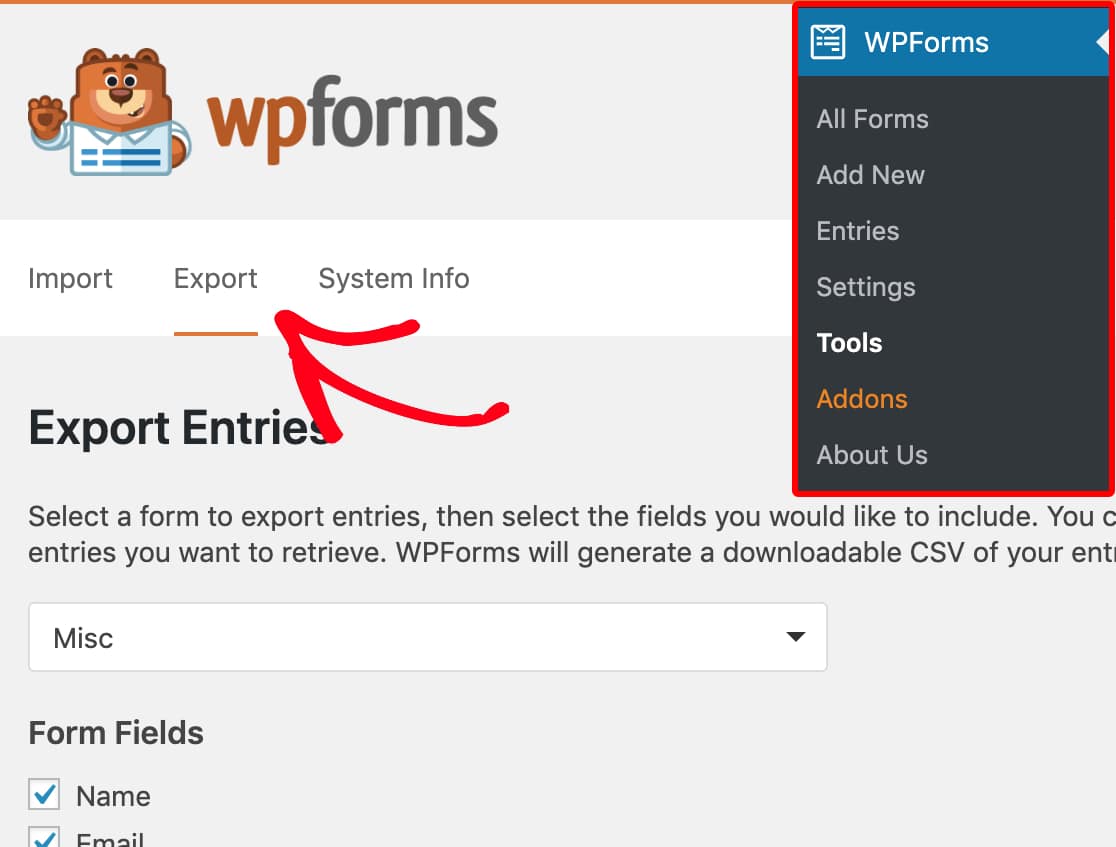 Once the Export tab is open, you'll see the Export Entries section right at the top. The export includes many options, discussed below in detail.
Form Name: Within the dropdown, select the name of the relevant form.
Form Fields: You can uncheck any box to exclude that field from your CSV export.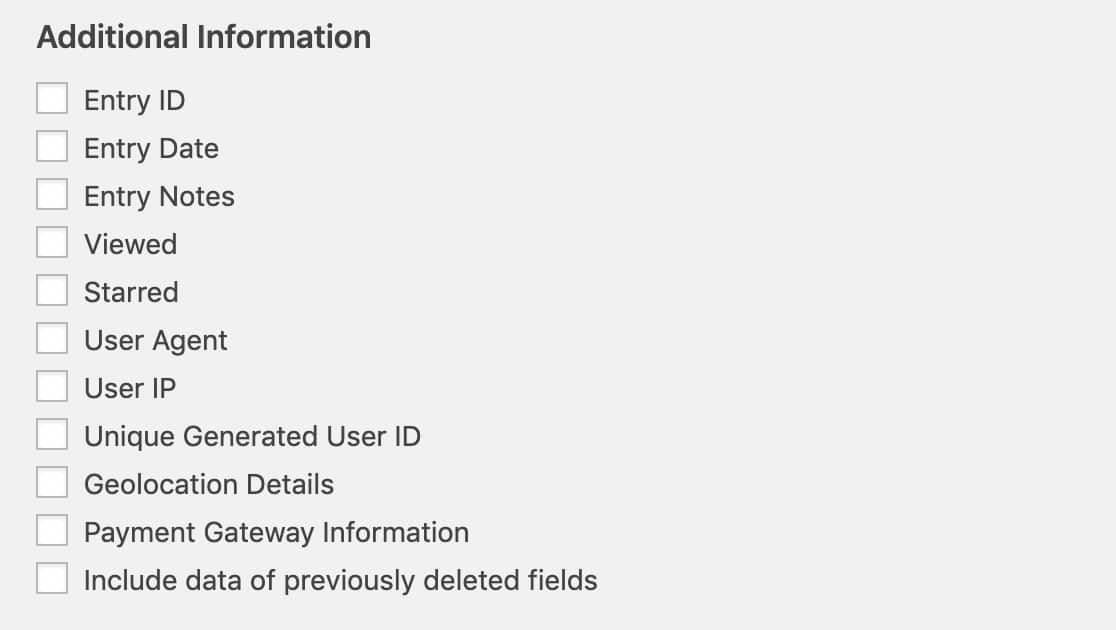 Additional Information: In addition to current form fields, you can choose to add many additional columns of data to your CSV export.

Entry ID: The unique number assigned to each entry
Entry Date: When the entry was submitted
Entry Notes: Details manually added to individual entries (more details)
Viewed: A status indicating whether the individual entry was opened in your WordPress admin area (unread entries are shown in the Entries page with a green circle)
Starred: A status indicating whether you manually starred an individual entry
User Agent: Details on the browser being used when the entry was submitted
User IP: The user's IP address
Unique Generated User ID: A unique, random value assigned to each user who submits a form (whether or not they are logged in).
Geolocation Details: (Only available if the Geolocation addon is installed and active) General location information for the user
Payment Gateway Information: (Only available if the Stripe and/or PayPal addons are installed and used in this form) Includes details such as payment gateway (Stripe/PayPal), payment total, currency, and transaction number
Include data of previously deleted fields: Values for fields that were deleted at some point in the form's history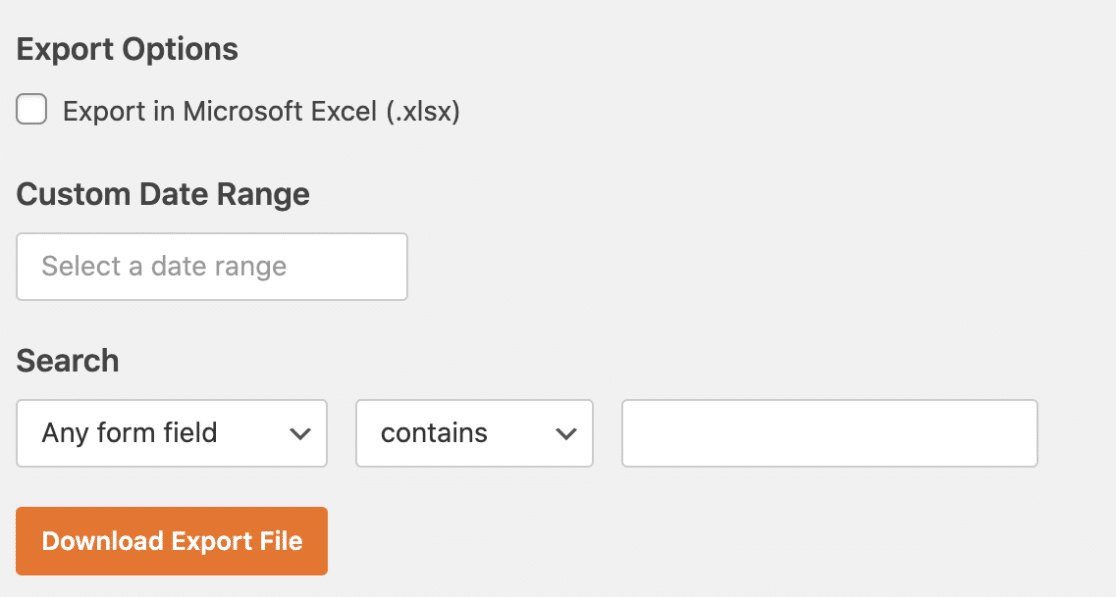 Export Options: Generate an export file using Microsoft Excel's .xlsx format.
Custom Date Range: Choose a start and end date to restrict the entries included in your export
Search: Export only entries that meet your search criteria
Once you've decided which details you'd like to include, you can go ahead and click the Download Export File button. The download should begin immediately.

Most browsers will, by default, save any downloaded files to your computer's Downloads folder.
Exporting a Single Entry
Sometimes, you may only want to export a single entry. To do this, you'll need to go to WPForms » Entries and select the name of the relevant form.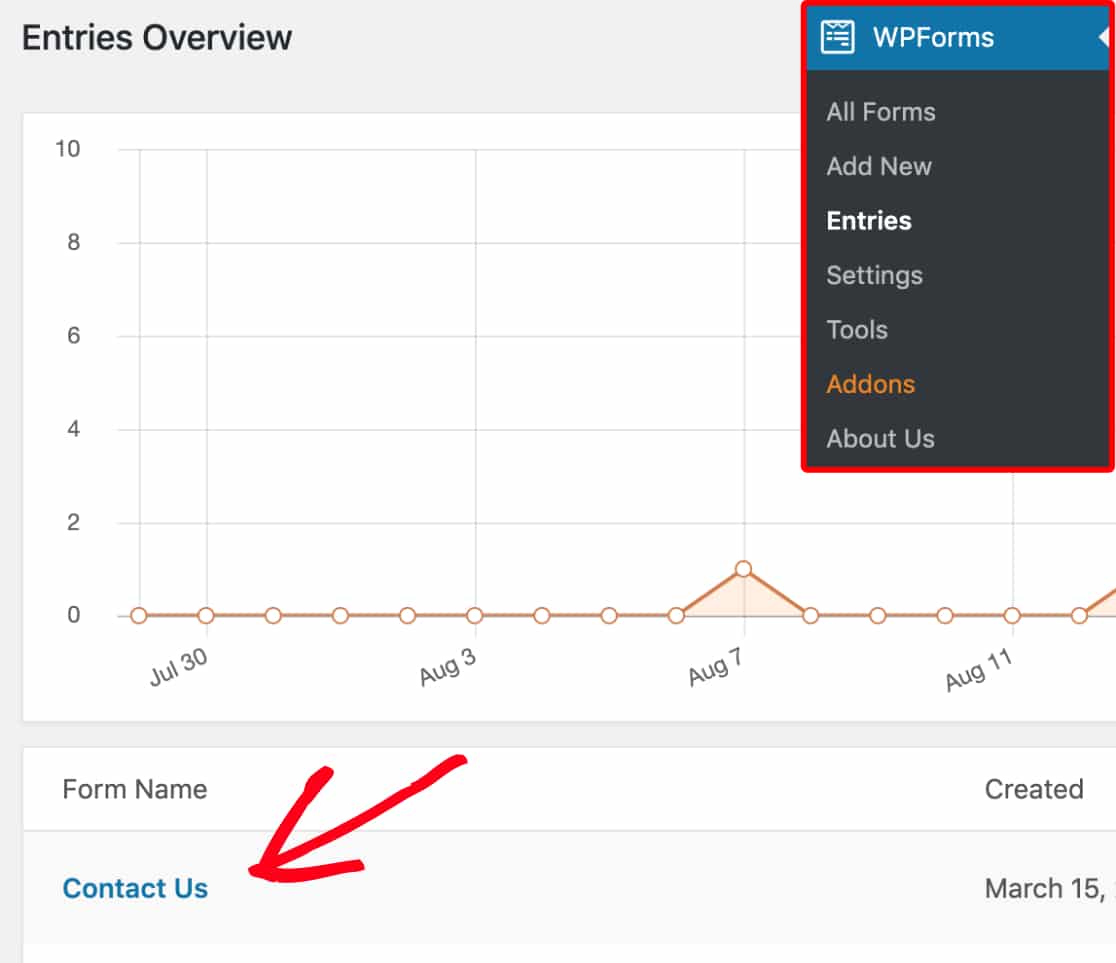 Then, you'll need to click the View link to open the specific entry's page.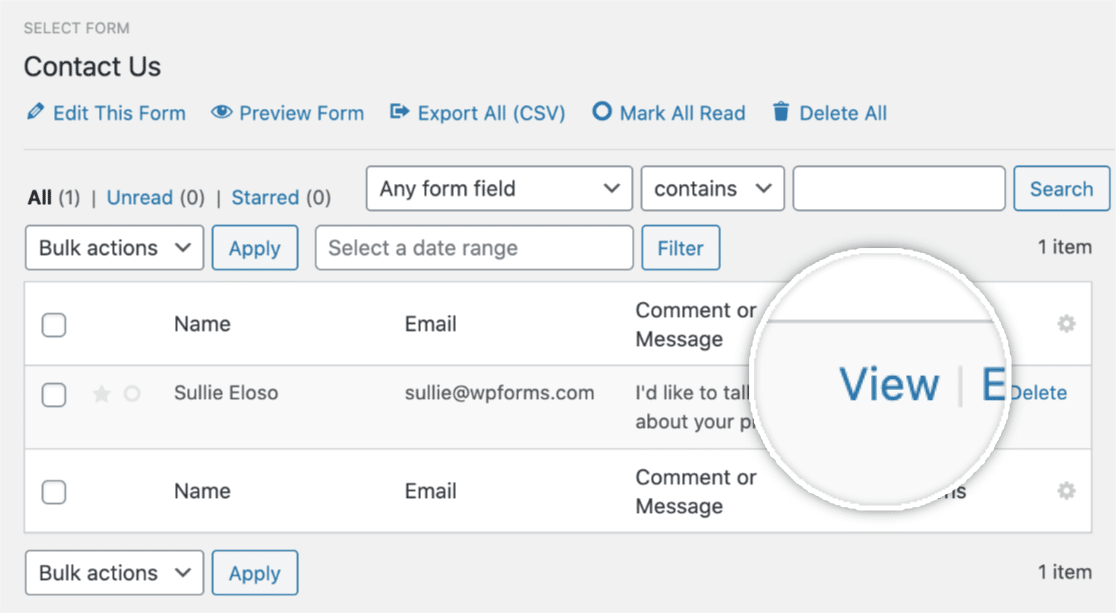 Within the right sidebar of the individual entry's page, you'll see a list of Actions you can apply to this entry. From this list, you can select Export (CSV) to download your entries in CSV form, or the Export (XLSX) option to download your entries in an Excel format.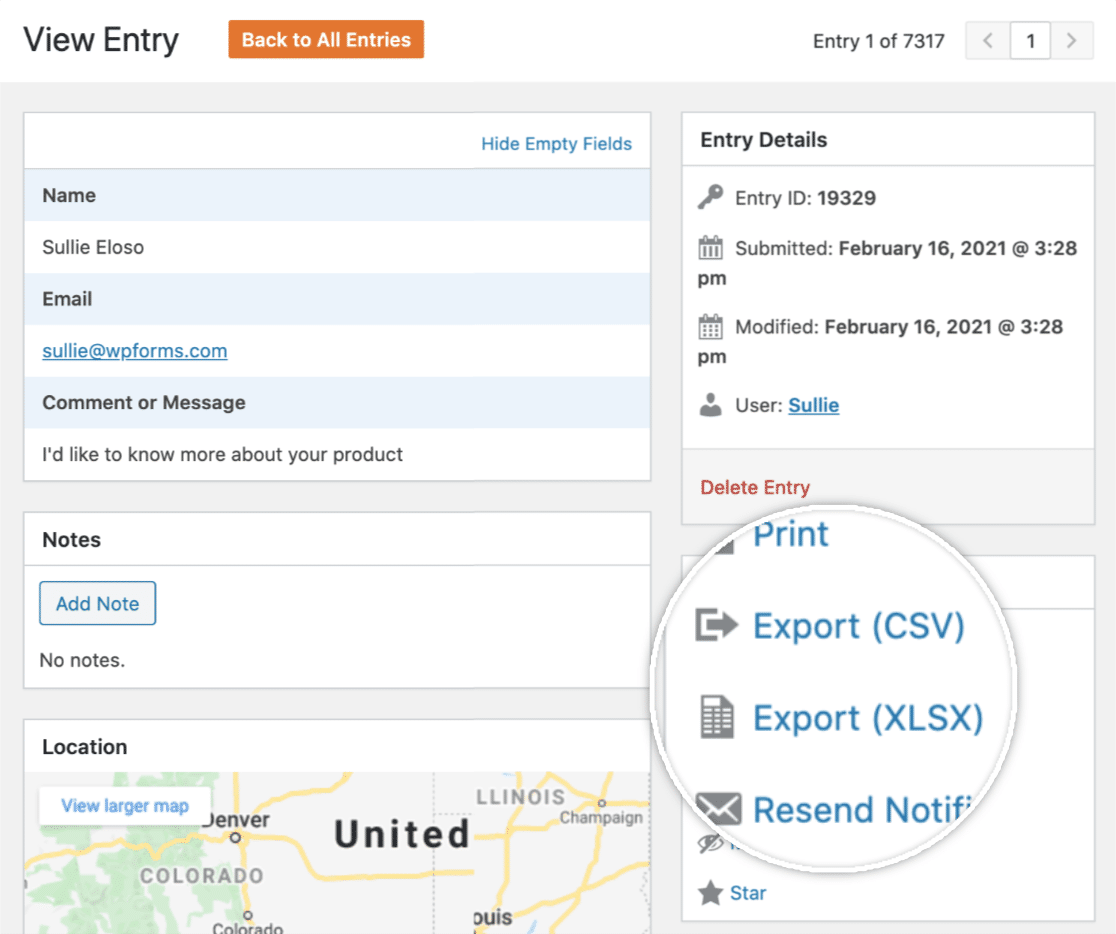 Once you click one of these export options, the download should begin immediately.
Frequently Asked Questions
Some of my export's characters come out garbled in the export. How can I fix this?
In most cases, this is caused by special characters within the entry being improperly encoded in the CSV file. To fix this, be sure to use the Microsoft Excel (.xlsx) option within the export settings to ensure the correct file encoding.
Or, if you'd prefer to stick with a CSV file, be sure to use UTF-8 encoding when opening your file in Excel.
Can I export my entries from WPForms Lite?
WPForms Lite currently does not have the feature to store or export entries, though you can set up form notification emails to send out form submissions to your preferred email address.
With any paid WPForms license, you will be able to store and export future entries (e.g., entries created after your license key has been verified).
That's it! We hope this tutorial helped you learn how to download exports for your WPForms entries.
Next, would you like to find out more about other tools available for form management? Be sure to check out our guide to form entries, where we've answered all the most common questions about form management options.