Documentation, Reference Materials and Tutorials for WPForms
How to Install and Use the Stripe Addon with WPForms
WPForms makes it super easy to add Stripe payment option in your WordPress form. In this article, we will show you how to install and use the Stripe addon with WPForms.
Based on the license you purchase, you will have access to specific addons that will help you extend the functionality of WPForms. If you do not have access to the Stripe addon for WPForms, then please see our guide on how to upgrade your WPForms license.
Stripe Addon is available for Pro and Ultimate license users.
We are assuming, that you have already installed WPForms on your WordPress site.
1. Login to your WordPress admin area and click on WPForms and then click on Addons.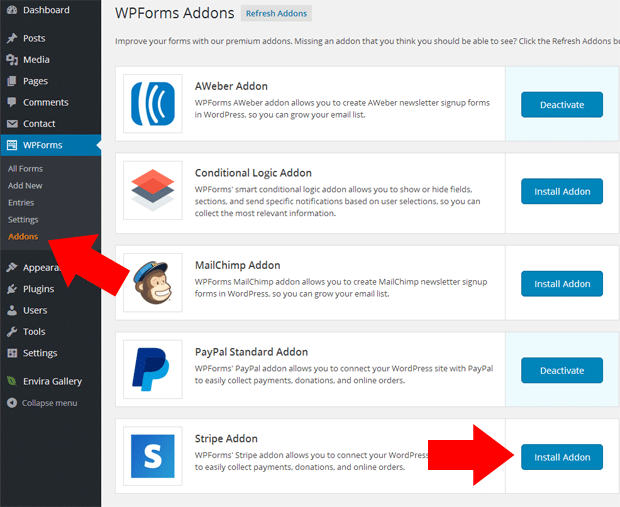 2. Click on the Install button next to Stripe addon.
This will download and install the Stripe addon.
3. You need to click on Activate in order to start using the Stripe Addon with WPForms.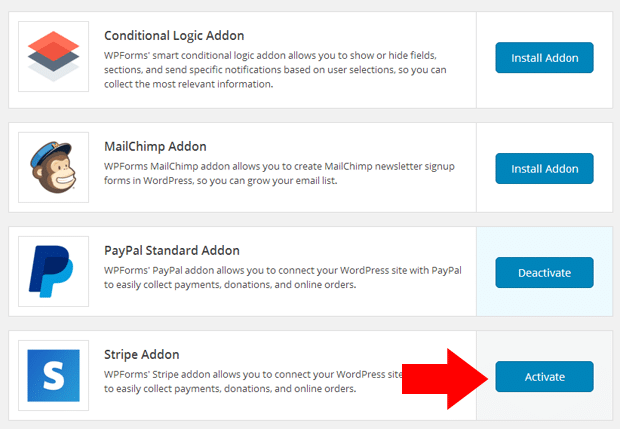 How to Use Stripe Addon with WPForms
First you need to click on the WPForms menu item in your WordPress admin menu and go to the Settings screen.
There you need to click on the Payment tab, so you can connect your WordPress site to your Stripe account.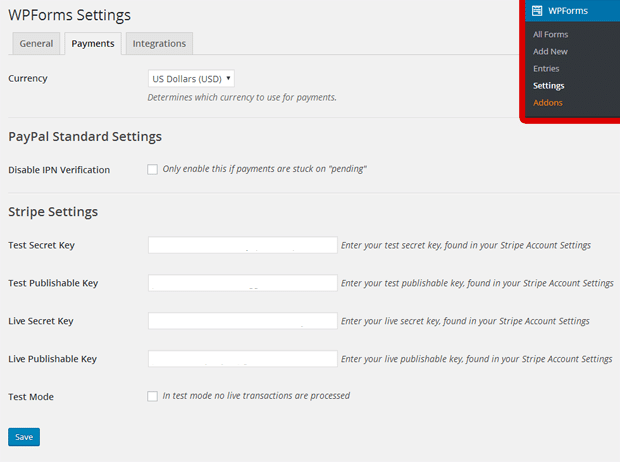 You will need to enter your Stripe test secret key, test publishable key, live secret key, and live publishable key. You can find these keys inside your Stripe account.
Login to your Stripe account and go to your Account Settings.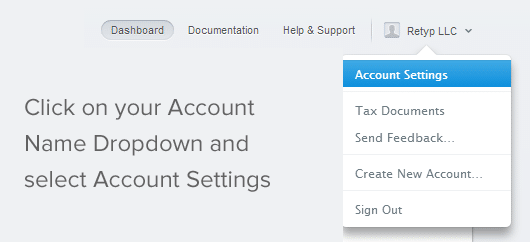 It will open a popup where you need to click on the API keys tab. There you will see the keys that you need to copy and paste in your WPForms Payments Settings page.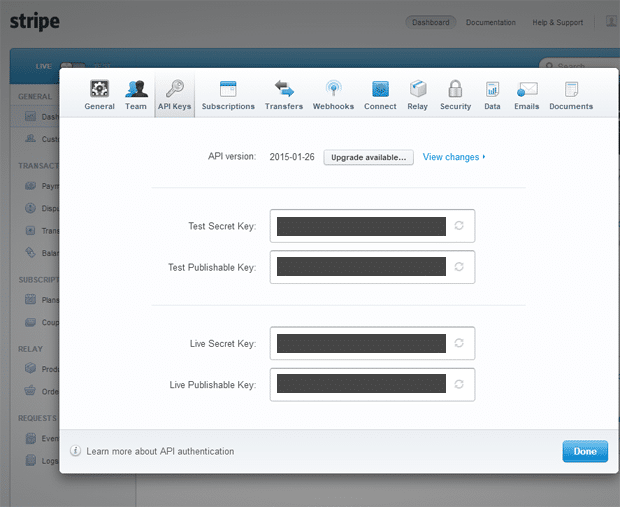 Once you have added those keys in your WPForms payment settings page, click on the Save button.
Now you're ready to create your first Stripe payment form in WordPress.
You can either edit a form where you to accept credit payments or create a new form.
If this is your first time creating a form with WPForms, then take a look at this article on creating your first form with WPForms.
In the form builder, click on the Payments tab and then click on Stripe. This will show you all the Stripe settings.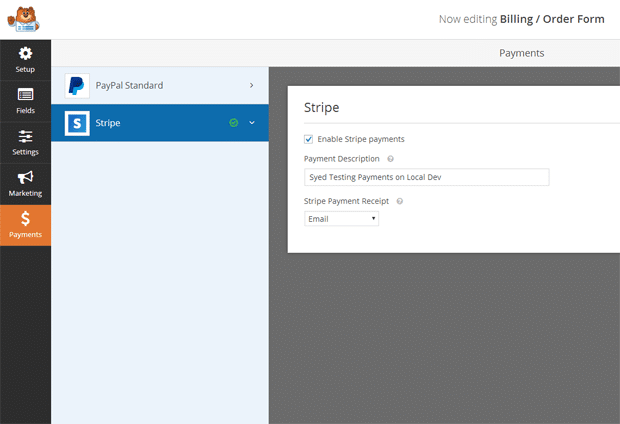 You need to enable Stripe payments, enter your payment description (for user's credit card statement) and where the payment receipt should go.
After that click on the Save settings and return to the Fields tab.
From the Payment fields, you need to add either a Single item or a multiple item, a total field, and the credit card field.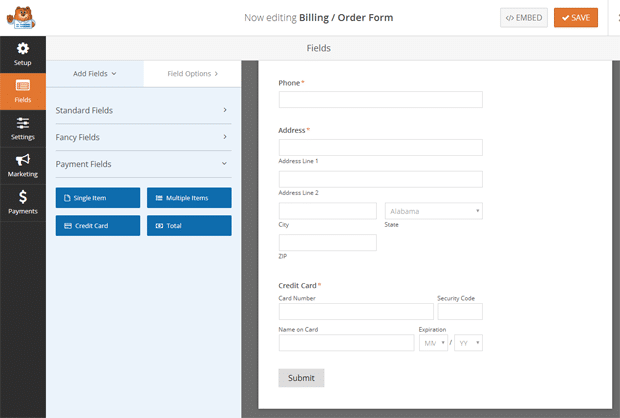 Once you are done with the form, simply click on the save button.
You can click on the Embed button to get the shortcode that you need to embed this form in your WordPress post or page.
It's important to note that when using Stripe, you must have SSL enabled on the page where you're adding the payment form. This allows you to securely collect credit card information on your site, and it is a requirement by Stripe. See this guide on how to add SSL and HTTPS in WordPress.
That's all, we hope this article helped you install and use the Stripe addon for WPForms.
Changelog
1.1.1 (2017-08-24)
Changed: Remove JS functionality adopted in core plugin
1.1.0 (2017-08-01)
Changed: Use settings API for WPForms v1.3.9.
1.0.9 (2017-06-13)
Changed: Improved performance when checking for credit card fields in the form builder
1.0.8 (2017-03-30)
Changed: Updated Stripe API PHP library
Changed: Improved Stripe class instance accessibility
1.0.7 (2017-01-17)
Changed: Check for charge object before firing transaction completed hook
1.0.6 (2016-12-08)
Added: Support for Dropdown Items payment field
Added: New action for completed transactions, wpforms_stripe_process_complete
Added: New filter stored credit card information, wpforms_stripe_creditcard_value
1.0.5 (2016-10-07)
Fixed: Javascript processing method to avoid conflicts with core duplicate submit prevention feature
1.0.4 (2016-08-25)
Added: Expanded support for additional currencies
Fixed: Localization issues/bugs
1.0.3 (2016-07-07)
Added: Conditional logic for payments
Changed: Improved error logging
1.0.2 (2016-06-23)
Changed: Prevent plugin from running if WPForms Pro is not activated
1.0.1 (2016-04-01)
Fixed: PHP notices with some configurations
1.0.0 (2016-03-28)