Documentation, Reference Materials and Tutorials for WPForms
How to Install and Use Form Abandonment With WPForms
WPForms makes it easy to gather leads by saving partial entries from your multi-page forms. In this article, we will show you how to install and use the Form Abandonment addon for WPForms.
---
Before we start, you'll have to have already installed WPForms on your WordPress site.
Then you can go ahead and install and activate the Form Abandonment addon on your site. For more details, see our step by step guide on  how to install addons in WPForms.
Saving Partial Entries From Your Forms
The first thing you'll need to do is create a form. For a complete step-by-step guide, see our tutorial on creating your first form.
You'll want to make sure that you ask for the user's name and email address and/or phone number at the beginning of your form, so that you can follow up with them even if they only complete the first few fields.
Then you'll need to enable Form Abandonment in your form settings.
To do that, navigate to Settings » Form Abandonment when editing your form. Then, make sure the Enable form abandonment lead capture option is checked.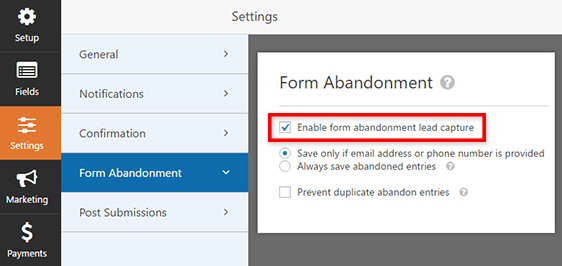 Below that, you can choose whether to save partial entries only if the user provides an email address or phone number, or save all abandoned entries even if there's no contact information.
By default, the first option is selected. We believe that partial entries are only useful if you have a way to contact the user. That's why we suggest asking for an email address and/or phone number at the beginning of your form.
Preventing Duplicate Entries
You'll also see an option to prevent duplicate abandon entries. By default, WPForms will save all partial entries even if the same user fills out your form multiple times.
For example, a user might start filling out your form, abandon it after filling out the first few fields, and then return later and start filling it out again. By default, both of those entries will be saved.
But if you would like to prevent those duplicate entries from being saved, you can check the option to Prevent duplicate abandon entries. When you check this option, WPForms will detect repeat visitors and only save their most recent form entry.
This option can save you a lot of time if you're getting a lot of repeat visitors to your forms.
Sending Notifications to Abandoning Users
The Form Abandonment addon also includes the option to send a notification only to users who abandoned your form without completing it.
To set up this notification, you can go to Settings » Notifications and add a new notification. See our tutorial on how to send multiple form notifications for a step-by-step guide.
Make sure to use a smart tag in the Send To Email Address field to send the notification to the user who fills out the form.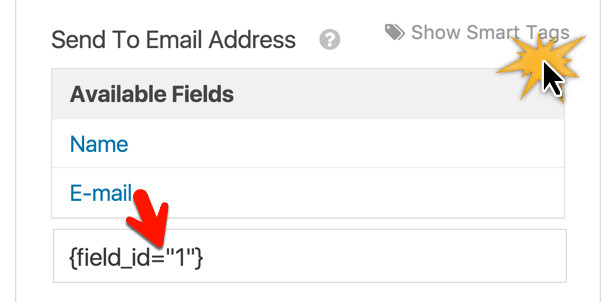 To make sure this notification only gets sent to abandoning users, scroll down to the bottom. Then check the box that says Enable for abandoned forms entries.

Now this notification will only be sent when a user abandons the form after sharing their email address.
That's it!
Once you are done, simply click on the save button and add your form on a page that you like.
Changelog
1.0.1 (2017-02-01)
Fixed: Incorrect version in updater which caused WordPress to think an update was available.
1.0.0 (2017-02-01)