How to Create Service Agreements in WordPress (With Digital Signatures)
by Lindsay Liedke on Dec 17, 2018
Do you want to create signed service agreement forms in WordPress? With WPForms, you can easily get a WordPress contract agreement signed without having to print, scan, or fax it.
In this article, we'll show you how to create service agreements in WordPress, complete with digital signatures.
Why Create Signed Service Agreements in WordPress?
Creating signed service agreements in WordPress is a win-win situation for both you and your clients.

Service agreements on your website:
Make it easy for clients to sign your contract. With WPForms, you can allow your clients to sign service agreements using their mouse or touch screen.
Are more convenient for you. You don't have to send emails back and forth to get a document signed.
Allow you to close deals faster. Since you can close more deals in a shorter period of time, your signed service agreement forms may lead to faster business growth.
Before You Create Your Service Agreement
When it comes to creating a service agreement, many small businesses shy away from consulting a lawyer. It is true that you can save on legal fees by doing a quick Google search and writing it up by yourself.
However, when you create a service agreement, you're making a huge business decision. A lawyer can assure you that the agreement is written the right way, so you can avoid legal issues down the line.
A typical service agreement will usually:
Specify the terms of service and payment
Ask for client details including physical address and phone number
Get the signature of your client
To get an idea of what a service agreement for your business might look like, you can look at a sample agreement. This sample service agreement for a small cleaning business may not relate directly to your business, but it gives you an idea of what your service agreement should include.
Now, let's take a look at how to create service agreements in WordPress with WPForms.
Step 1: Create Your Service Agreement Page
The first step in creating a service agreement on your WordPress site is to add a page with your agreement terms.
In this tutorial, we'll name our WordPress page "Service Agreement."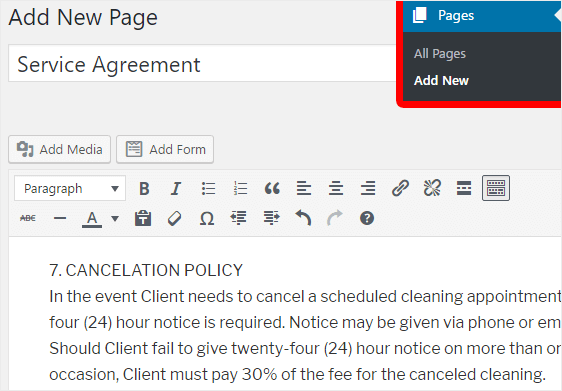 After adding your agreement text, save your page as a draft. You'll add your service agreement form before publishing it.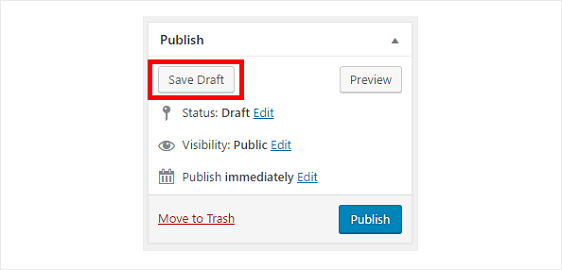 Step 2: Create Your Signature Form
Once you draft the service agreement page on your site, the next step is to add a signature form to it. By collecting a digital signature on your website, you won't need to send the contract back and forth to your clients to get it signed.
In order to accept digital signatures on your site, the first thing you'll need to do is install and activate the WPForms plugin. For more details, see this step by step guide on how to install a plugin in WordPress.
You'll also need to install the Signature addon so you can allow users to submit a digital signature in WordPress as a part of the agreement. You can learn how to install and use the Signature addon here.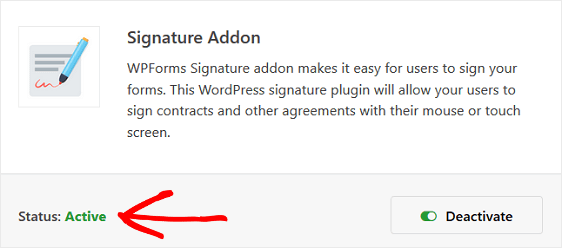 After installing the plugin and the Signature addon, you'll need to create a form.
You can see our tutorial on creating a simple contact form as a guide to get started.
In our example, we'll use the Blank Form template so that we can create a WordPress contract agreement form from scratch.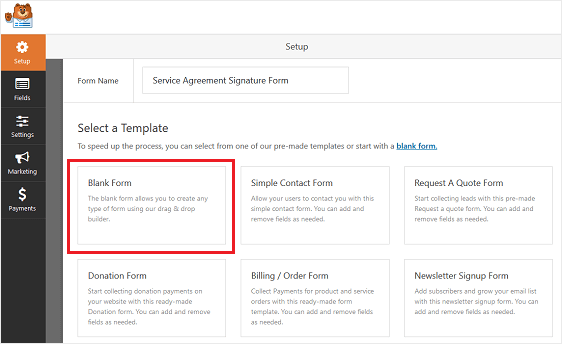 Once in the Form Editor, you'll find the Signature form field under the Fancy Fields section.
Click the button to add it to your form, or drag and drop it where you want to place the field.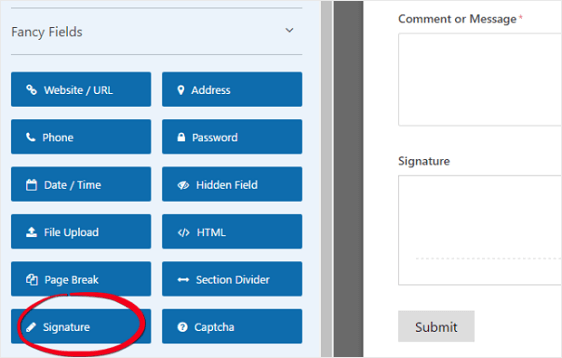 To make changes to the Signature form field, just click on it. At the very least, make sure to set the field as Required so users can't submit your form unless they add a signature.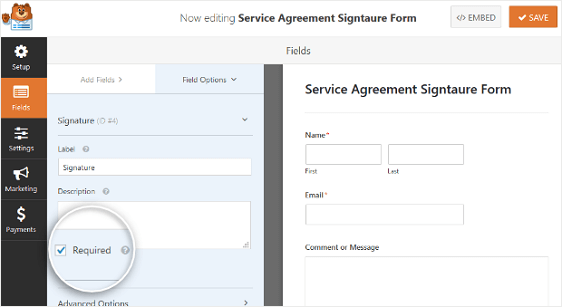 Click Save.
Step 3: Configure Your Form's Settings
Before you add your service agreement form to your Service Agreement page, you should configure its settings.
There are many settings to configure on a WordPress form:
General Settings: Here you can change things like your form's name, description, and submit button copy. You can also enable additional spam prevention features to keep your website secure from unwanted form submissions.
Form Confirmations: Form confirmations are messages that display to site visitors once they submit a service agreement form on your website. WPForms has three confirmation types to choose from: Message, Show Page, and Redirect. You can choose one or a combination.
Form Notifications: Notifications are a great way to send an email whenever a form is submitted on your website. A notification will automatically send to you once a form is submitted on your site. You can also send one to the site visitor that submitted the form and anyone else that needs to be notified of a form submission.
If you've added a subscribe checkbox to your service agreement form, you'll need to integrate it with your preferred email marketing provider.
WPForms offers the following email service provider integrations:
Click Save every time you make a change to any of your form's settings.
Now you're ready to add your service agreement form to your WordPress website.
Step 4: Publish Your WordPress Service Agreement
Once you create the service agreement form, you can add it to your Service Agreement page.
Go to the Service Agreement page you made earlier and click the Add Form button just above the text editor.
Next, select your service agreement form in the modal popup and click Add Form.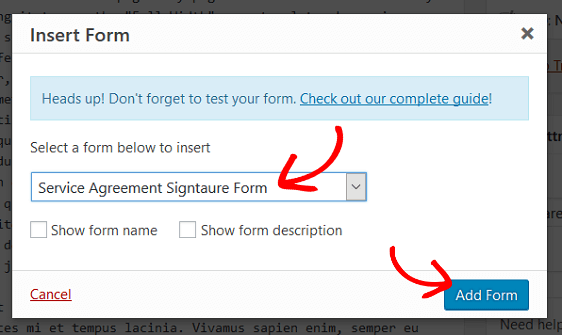 Then, publish your service agreement page so it will appear on your website.
And there you have it! You now know how to create service agreements in WordPress with digital signatures.
Want to save more time with WPForms? Try creating a job application form so you can quickly gather all the information you need to select the best candidate.
So, what are you waiting for? Get started with the most powerful WordPress forms plugin today.
And don't forget, if you like this article, then please follow us on Facebook and Twitter.