Do you want to set an automatic expiry date on a form in WordPress? Adding an expiration date to a form is useful if you need to set a deadline for responses.
In this article, we'll explain how to schedule a form to automatically open and close on your chosen dates.
We'll also explain how to limit the number of entries on your form. This is a neat feature that lets you automatically close your form when you reach the maximum number of entries.
Create a Form With an Expiry Date Now
Why Set an Expiration Date on a Form?
Setting an expiration date on a form lets you close the form when you reach a deadline for submissions.
This helps when you're collecting entries for anything that's time-limited, like:
For example, if you created a WordPress Podio integration for a webinar, you could close your WordPress form on the morning of the webinar automatically. That will stop any registrations being submitted through your webinar landing page at the very last minute.
Automatic form expiration saves you the hassle of remembering to manually remove forms on your deadline. And using WPForms, you can also set a start date for your form if you want to.
How to Add an Automatic Expiry Date on a Form
It's easy to set a time limit on a form in WordPress. We'll show you how to set it up in the steps below.
After that, we'll also show you how to automatically close a form when you hit a maximum number of entries. You can use these 2 methods together.
Step 1. Install the WPForms Plugin
To start, install and activate the WPForms plugin.
If you need help installing the plugin, jump over to this guide on how to install a plugin in WordPress.
Next, you'll want to install and activate the WPForms Form Locker addon.
To do this, go to WPForms » Addons and scroll down to Form Locker.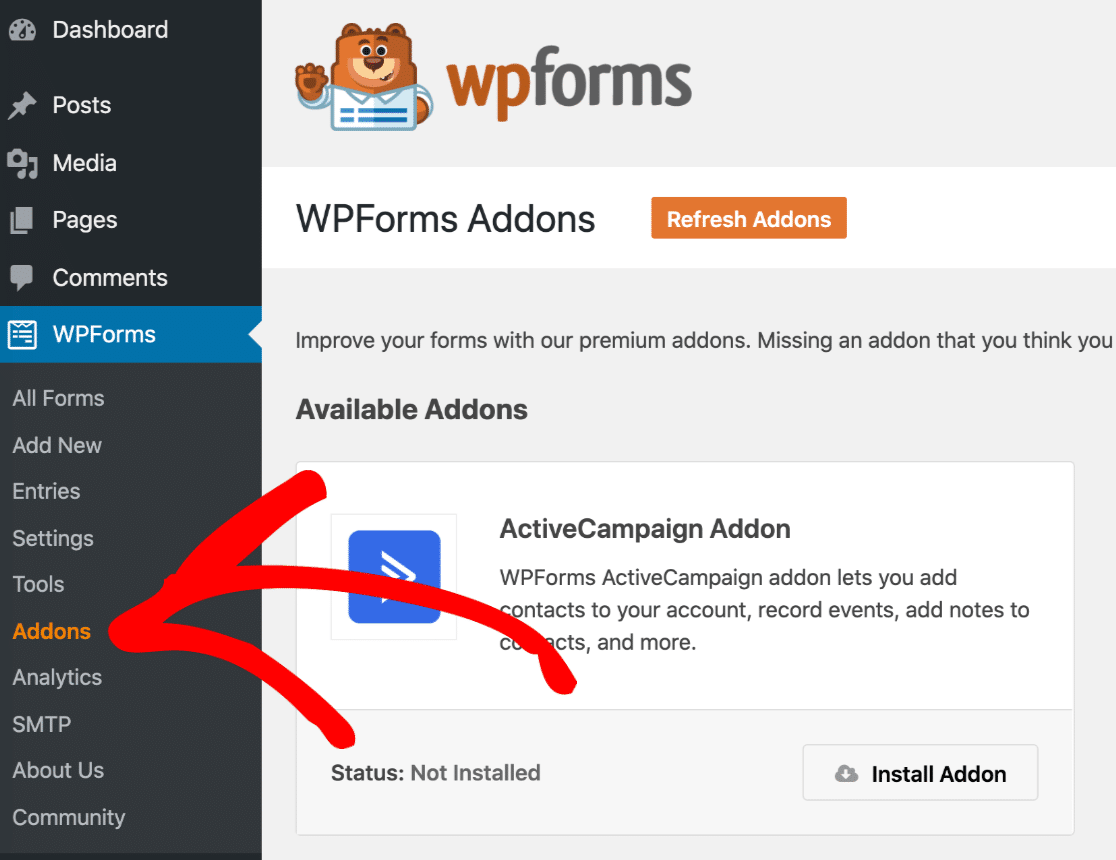 Click Install Addon, then click then Activate. You'll know that it's active when the switch here turns green:

WPForms Pro comes with 100+ form templates to help you get started. This makes the process a lot faster.
To add the templates, stay in WPForms » Addons and install the Form Templates addon.

Now you'll need to create a new form.
Step 2. Create Your WordPress Form
WPForms lets you set a time limit on any form on your WordPress site.
In this example, we'll create a new job application form. We're going to set a time limit on the form so that it automatically closes on the submission deadline.
From the WordPress dashboard, click WPForms » Add New. You can type in a name for your form at the top here: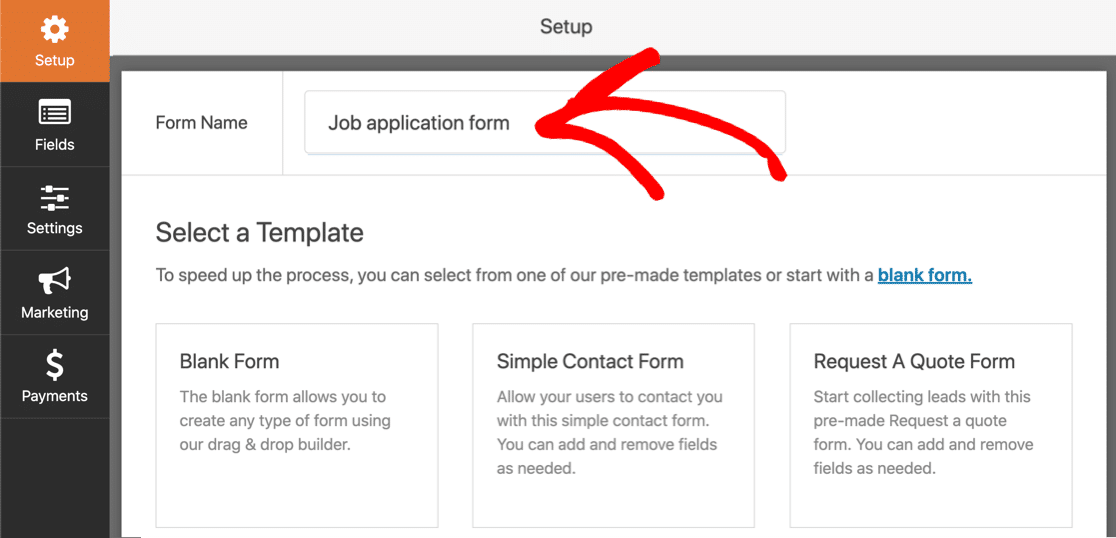 Next, you'll want to scroll down to the Additional Templates section and search for the Job Application Upload Form.
Go ahead and click on the template to open it in the form builder.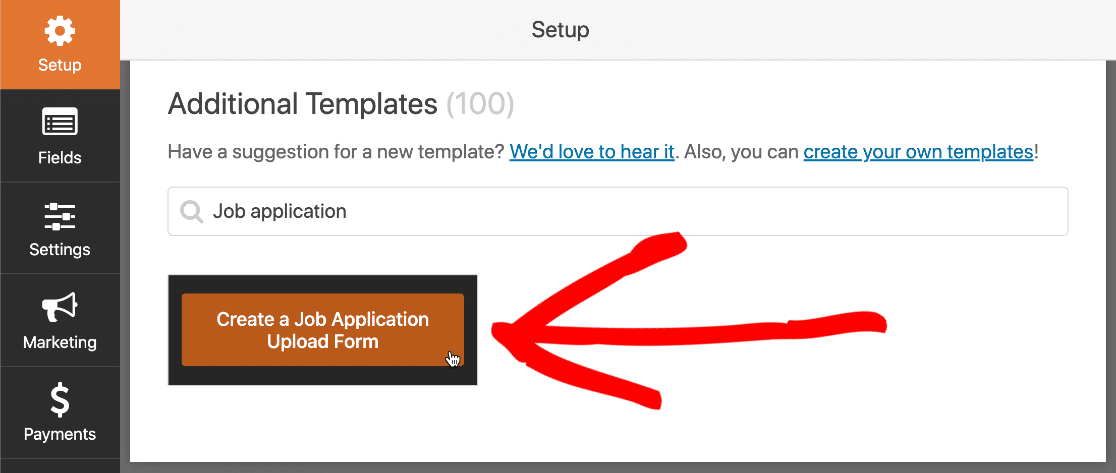 Now you can tweak the form template any way you like.
You can add additional fields to your form by dragging them from the left-hand panel to the right-hand panel.
Then, click on the field to make changes.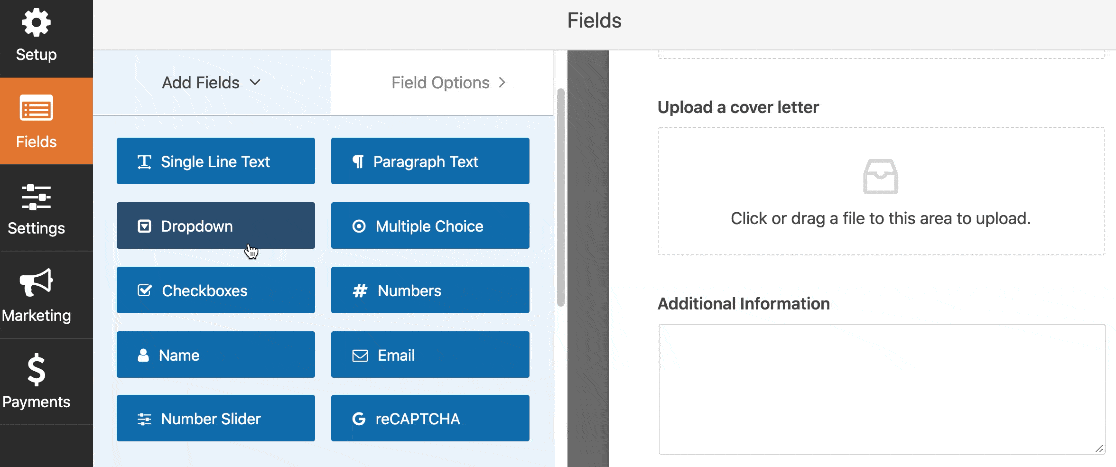 You can also click on a form field and drag it to a different place if you want to reorder the fields.
When your form looks the way you want it to, click Save at the top of the form builder window.
Step 3. Set an Expiry Date for Your Form
Now we're going to set the form expiration date. This will automatically set the deadline so that no form submissions can be sent after the date and time we choose.
On the left, click Settings. and then click Form Locker. Now click on the Enable scheduling checkbox under the Scheduling section.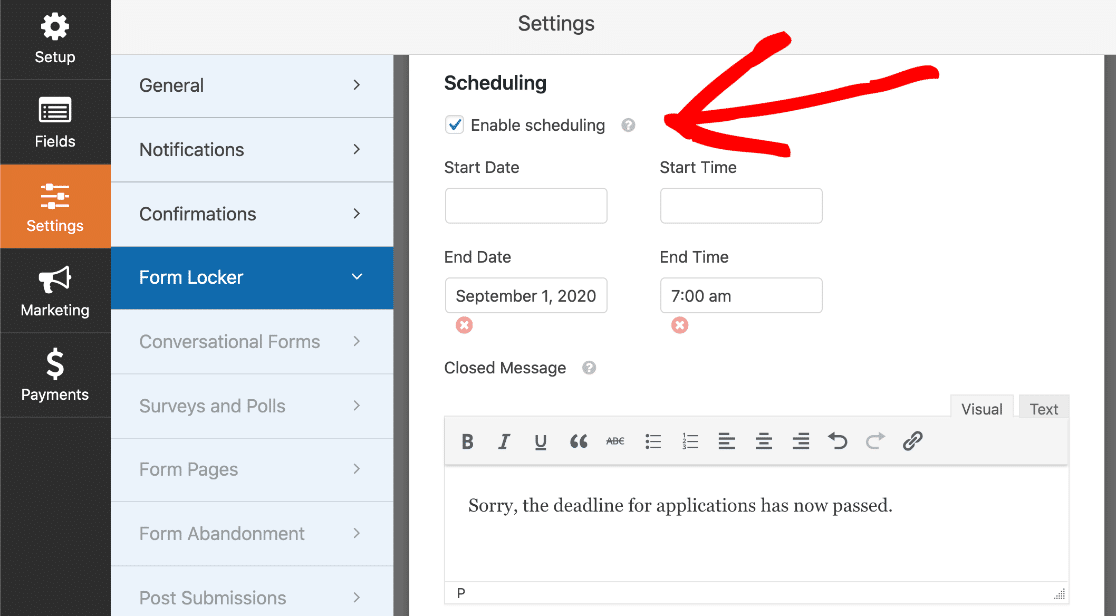 Here's how to use the scheduling settings:
Set the Start Date and Start Time to automatically open form submissions on the date you choose. You can click the red X icon to delete the time or date here.
Set the End Date and End Time to set an end date for form responses. You can also use the Red X here to delete the time or date.
Enter a Closed Message that will be displayed if someone visits the form while it's expired.
You can set just a Start Date and Time, or just an End Date and Time. You don't have to set both if you don't want to.
Keep in mind that the times here need to match the timezone in WordPress. This article on changing the date and time format in WordPress will show you how to check all of the time settings on your site.
Before you finish up, it's a good idea to click Notifications on the left to set up the email notifications. By default, WPForms will send you an email notification. You can click Add New Notification if you also want to send your visitor an email when they fill out your form.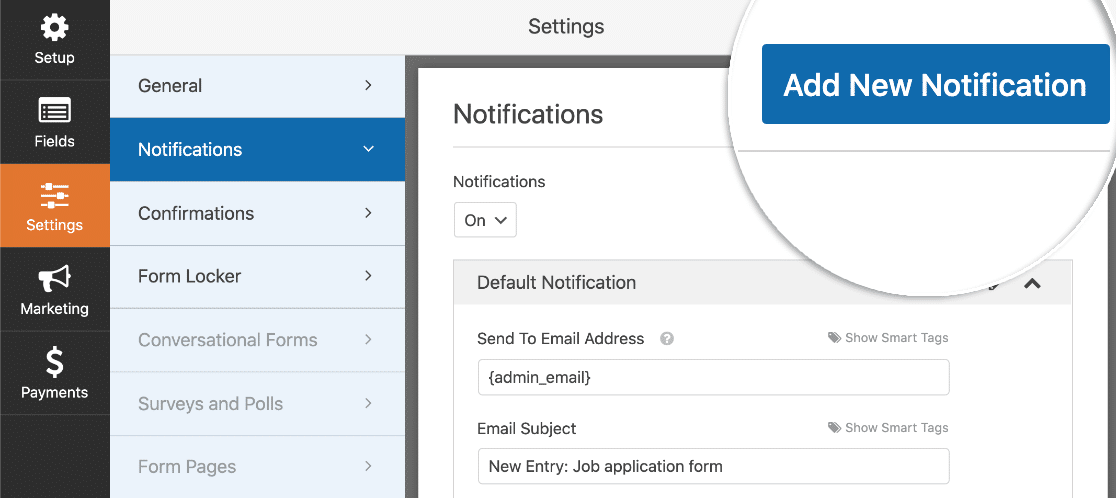 For help setting this up, check out this guide on how to create multiple form notifications in WordPress.
We're ready to save our settings here, so let's click Save.
Now we just need to publish the form. With WPForms, this part is super easy.
Step 4. Publish Your Form On Your Website
WPForms lets you add forms anywhere on your website. You can put forms in pages, posts, or in the sidebar.
In this example, we'll create a new WordPress page for our new form.
You don't need to use any code for this step.
Go ahead and click the Embed button at the top of the form builder window.

Now click Create New Page.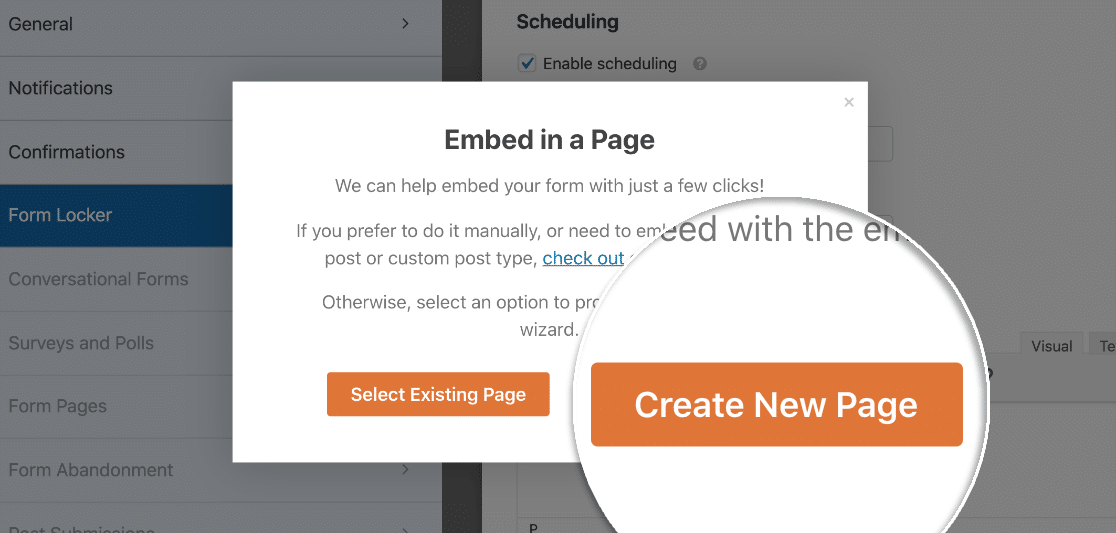 Name your page and click Let's Go.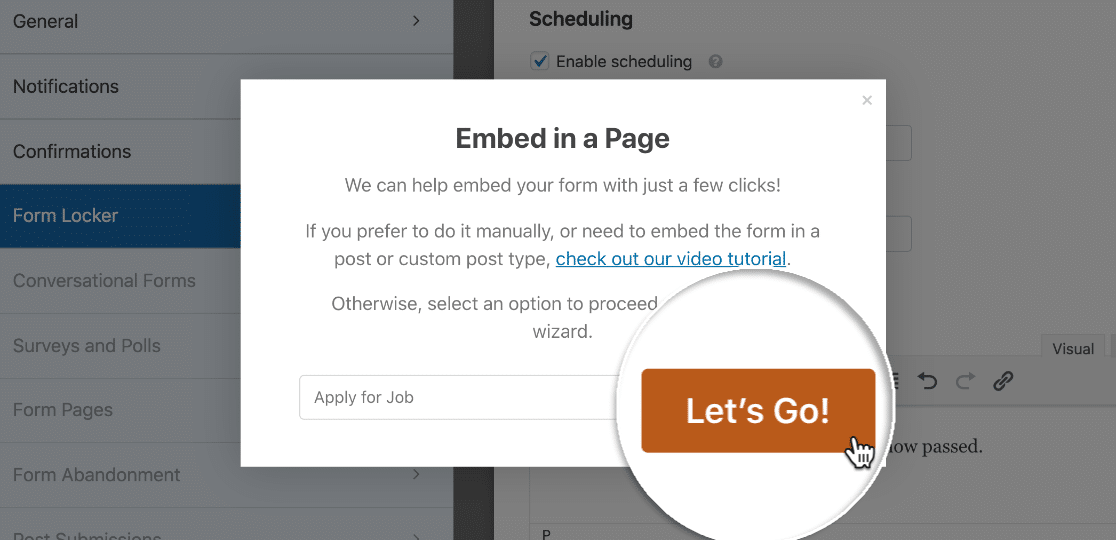 WPForms will automatically create a new page for your form. You'll see a preview of how the form will look when submissions are open.
To publish your form, click the blue Publish or Update button at the top of the block editor.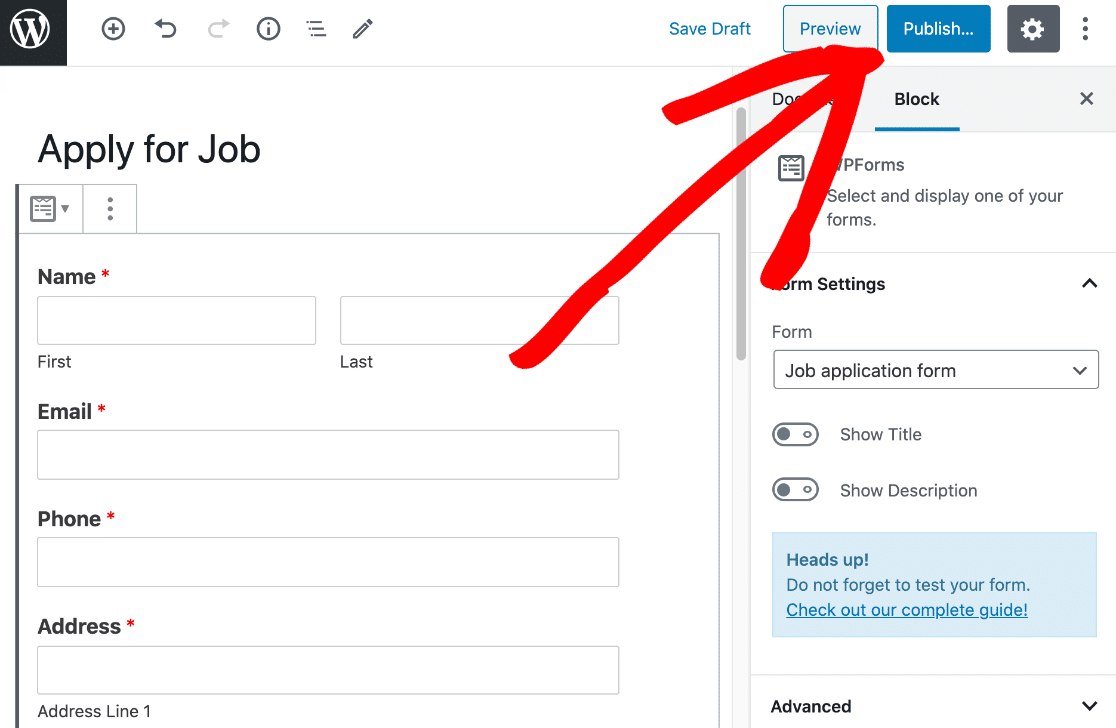 If you want to embed your form using a shortcode, you'll find it in the WPForms » Add New page. Find the name of your form and look to the right to grab the code.
Now that the Form Locker is active, your form will only be available after the Start Date, and before the End Date.
After the End Date, our form shows the closed message we set up earlier:

You can customize this message however you want. For example, you could add a link back to the main Jobs page on your website here too.
Step 5. Expire Your Form Based on the Number of Entries (Optional)
Do you want to limit the number of form entries that you receive? For example, if you're taking registrations for an event, you can close the form when the capacity has been reached.
You can do this using the Form Locker addon too.
Under Entry Limit, click the checkbox to set a maximum number of entries before the form expires: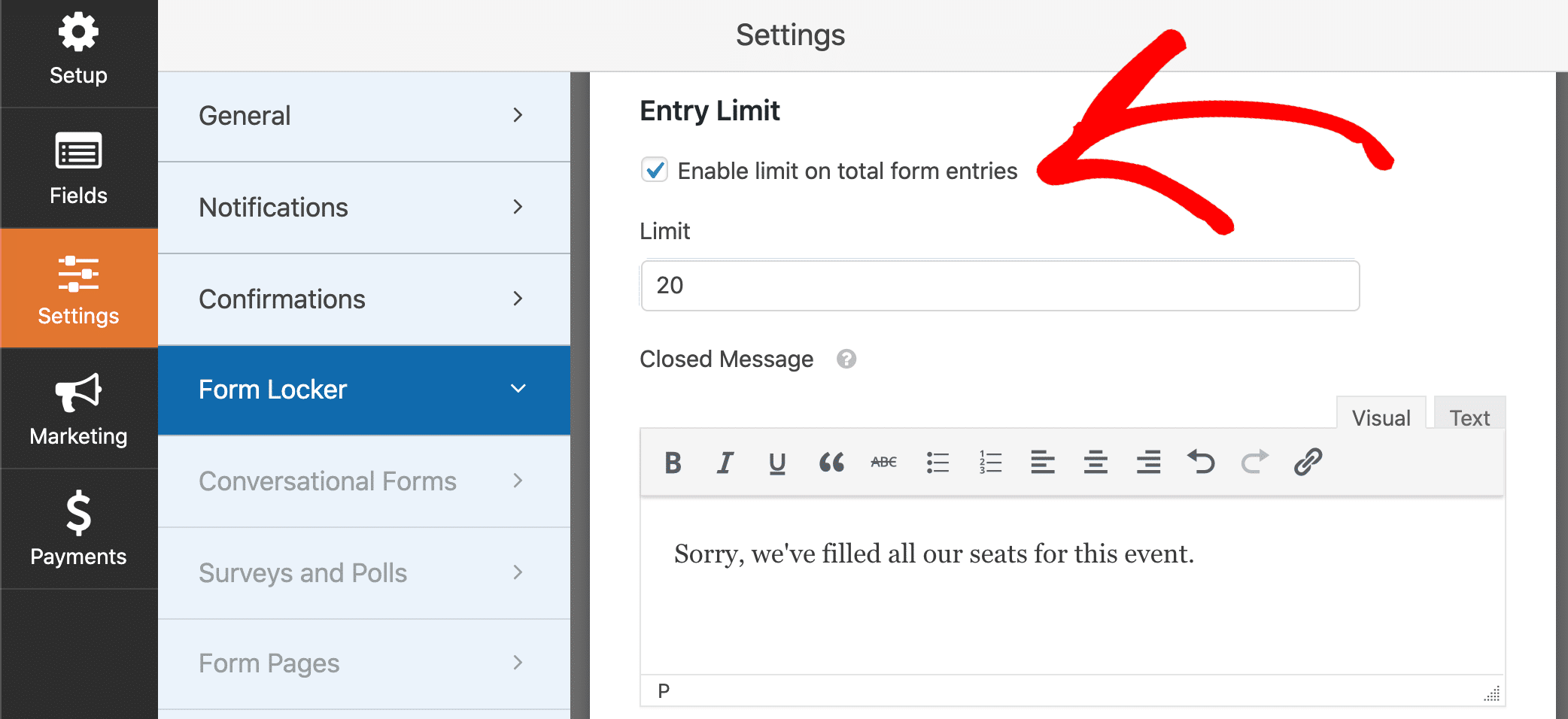 WPForms will automatically close your form when you hit the number of entries in the Limit field.
Once the maximum number is reached, anyone who visits your form will see the Closed Message you set up.

This method works with the form expiry date settings we already talked about. When you hit maximum capacity for your event, your form will close automatically, even if the expiry date is still in the future.
You can also use the Form Locker addon to:
This gives you lots of control over when your forms are available on your website.
Create a Form With an Expiry Date Now
Next Steps: Review Your Form Entries
Now that you've set up your form, you'll want to review your entries and download the file attachments.
WPForms lets you save your form data in the WordPress database. This makes it super easy to review all of your entries in 1 place.
Ready to set an expiry date on your form? Get started today with the easiest WordPress form builder plugin. WPForms Pro includes the Form Locker addon and offers a 14-day money-back guarantee.
If this article helped you out, please follow us on Facebook and Twitter for more free WordPress tutorials and guides.