How to Password Protect WordPress Forms (Step by Step)
by Shahzad Saeed on Aug 28, 2017
Do you want to prevent unwanted form submissions? The best way to prevent it is by making your WordPress form password protected. In this article, we'll show you how to password protect your WordPress forms.
Why Password Protect WordPress Forms?
Password protecting your form prevents unwanted form submissions. This way you can ensure that only the authorized people can access your WordPress form.
The easy way to password protect your form is to make an entire page password protected and publish the form on that page.
Let's take a look at a possible use case of protecting your form with a password.
Imagine that you're accepting guest post submissions on your blog using the Post Submissions addon. The Post Submissions addon allows you to accept user generated content like a blog post or any other forms of content from the front-end of your site without allowing them to log into your admin area.
When you allow everyone to access your post submissions form, chances are you'll receive many low-quality articles. By password protecting such a form, you can prevent unwanted guest post submissions.
That means you don't have to waste your time reviewing the content you don't need.
Now let's take a look at how to protect your form using a password.
Create and Publish a WordPress Form
The first thing you need to do is to install and activate the WPForms plugin on your site. For more details, see our step by step guide on how to install a WordPress plugin.
Then you need to have a form created. See our tutorial on how to create a post submission form.
Password Protect Your WordPress Forms
In your WordPress dashboard, go to the page where your form has been published. In the Publish box, edit the visibility of the page and choose Password protected.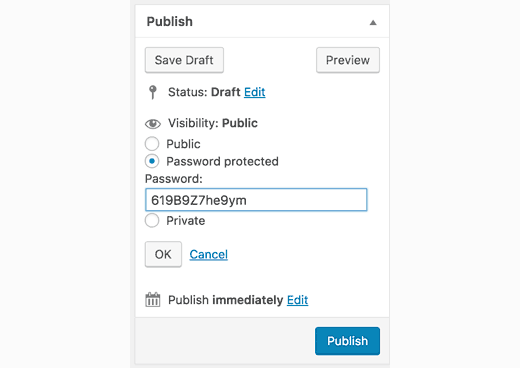 In the Password field, enter the password you want to set. Then click OK, and update the post.
Congrats!
You've just made your form password protected.
You can send this password to anyone whom you want to submit a post for your review. This way you can prevent any unwanted post submissions.
Hide the Page From Search Engines
To keep away unwanted users from accessing the page, you might also want to hide the page from search engines.
All you need to do is to find your robots.txt file and add the following code to it. Make sure to replace /your-page/ with your page URL in the code.

User-agent: *
Disallow: /your-page/

For more details, you can read how to hide a page from search engines.
Hide Your Post From Homepage
Now if you're embedding the form in a post, you might also want to hide it from your homepage while still allowing others to view it if they have the URL.
To hide the post from your homepage, you can use the plugin WP Hide Post. After activating the plugin, go to the post edit screen where you'll find a new meta box labeled 'Post Visibility'.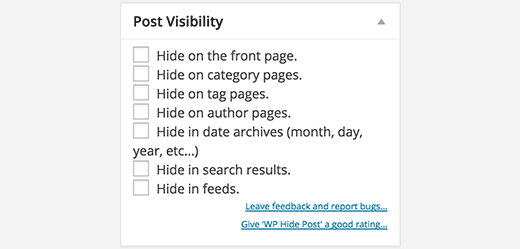 You can click the checkbox near Hide on the front page.
We hope this article helped you prevent unauthorized access to your WordPress forms.
If you're accepting guest posts on your blog, you can read these 4 tactics to attract more guest article submissions.
What are you waiting for? Get started with the most powerful WordPress forms plugin today.
If you like this article, then please follow us on Facebook and Twitter for more free WordPress tutorials.