Do you want to add a WordPress contact form to your website?
Using a contact form on your site is the easiest way for your customers can reach out to you. Plus, it lets you collect email addresses and leads so that you can grow your email list.
In this article, we'll show you how to create a WordPress contact form easily.
Create Your WordPress Contact Form Now
Why Create a WordPress Contact Form?
A contact form on your website provides an easy and secure way for your visitors to send queries, complaints, suggestions, or feedback.
Besides, adding a WordPress contact form to your site helps you with the following:
Communication — Contact forms are a great way to allow your readers to communicate with you quickly.
Security — You keep your email address safe from spammers. Since your contact form doesn't show your email address, spammers can't steal it and add it to junk mail lists.
Organization — With a contact form, you can connect to your email marketing service to make things even simpler by automating marketing or even connecting your form with Google Sheets to save entries in a spreadsheet.
Information — You control the information collected by adding only the fields you want site visitors to fill out on the form. This cuts down on the back and forth emails between you and a potential client.
Now that you know why you need a contact form, let's take a look at how to create a WordPress contact by taking the WPForms Challenge.
If you're using Elementor, you might want to check out this alternative guide to making an Elementor contact form with WPForms.
Create a WordPress Contact Form in Under 5 Minutes
To prove just how easy it is to use WPForms to make a contact form in WordPress, we've made the WPForms Challenge.
This fun Setup Wizard walks you through everything you need to do to create your first form. You have 5 minutes to complete it. But we think you'll have a finished form in even less time.
The WPForms Challenge is just for fun, and it only appears the first time you make a form.
How to Take the WPForms Challenge
The first thing you'll need to do is install and activate the WPForms plugin. For more details, see this step-by-step guide on how to install a plugin in WordPress.
Once activated, you'll see the WPForms Setup Wizard display the option to take the WPForms Challenge. By the time you're done with this challenge, you'll have your first form ready and will be able to create a contact us page in WordPress.
Click Start the WPForms Challenge to get started.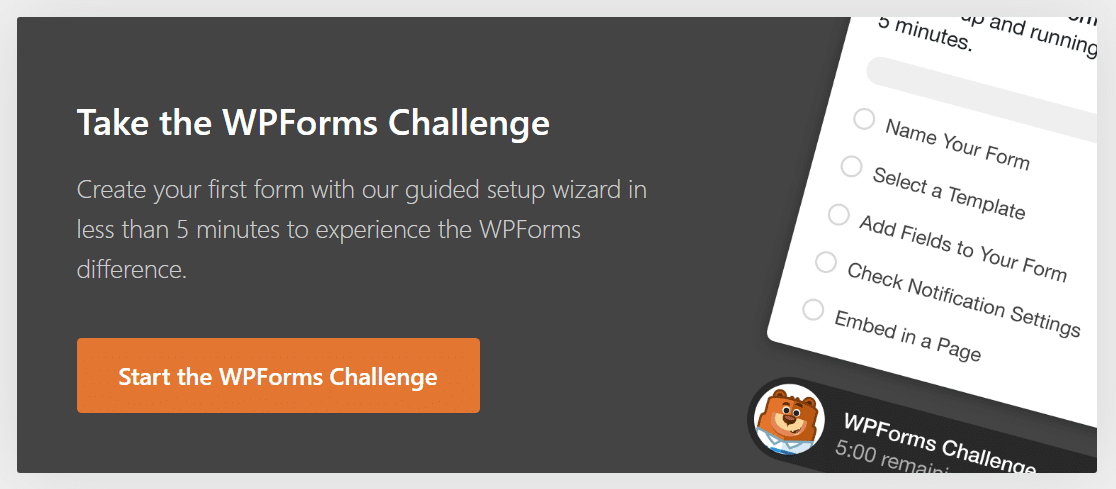 Step 1: Create Your First Contact Form in WordPress
After you click Start the WPForms Challenge, you'll be taken to the WPForms form builder. This is where you'll create your first form and configure all of its settings.
Click Let's Go to get started.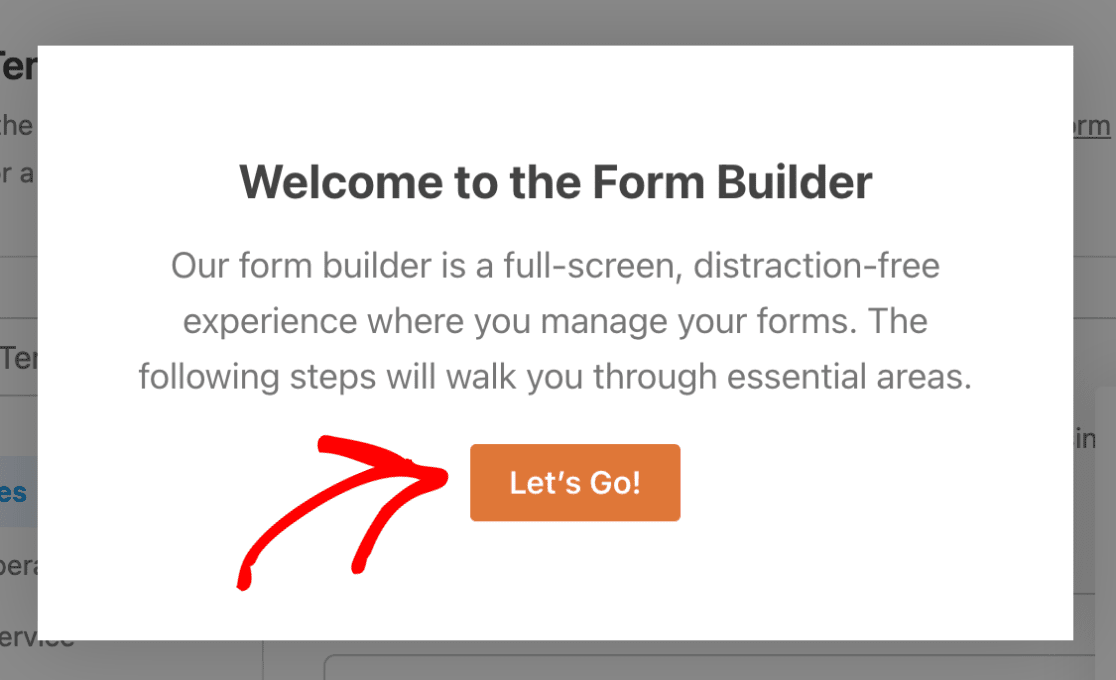 The first step in the challenge is to name your form. Type in a name here and click Done to move to the next step.

You'll see the timer counting down as you build the form.
Step 2: Customize Your Contact Form Fields
Next, it's time to select a pre-designed template or use the blank template if you prefer to build your form from scratch.  Since we're creating a contact form, we'll select the Simple Contact Form template.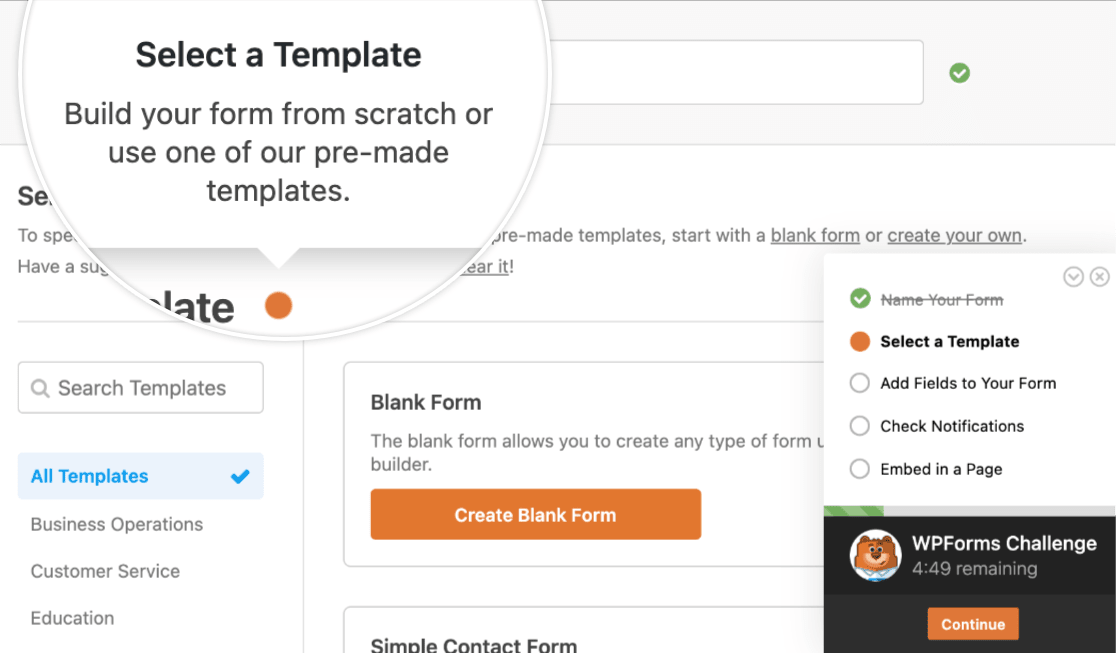 When you click on the template you want to use, you'll be taken to the part in the form builder that lets you add or remove form fields and customize the way they look and function.
Customizing contact forms in WordPress is really easy using the WPForms drag and drop form builder.
The popup message here tells you what to do next: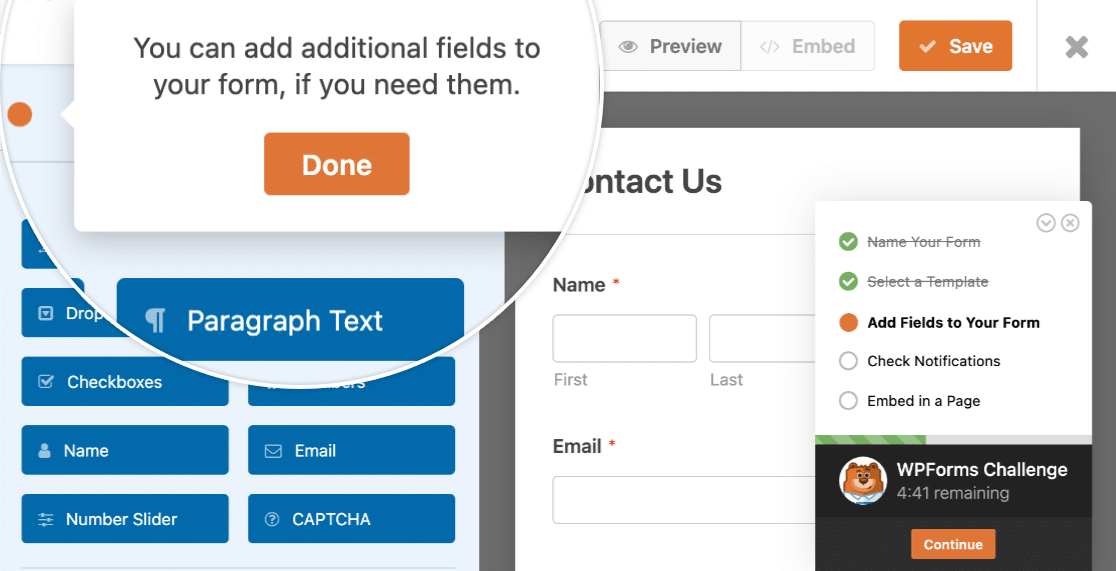 We strive to make form building as simple and beginner-friendly as possible. All of our templates have the basic form fields you'll need without having to add or remove any fields.
That said, we also strive to pack WPForms with powerful features so you can extend your form-building capabilities and customize your forms to meet your needs.
You can add additional fields to your contact form by dragging them from the left hand panel to the right hand panel.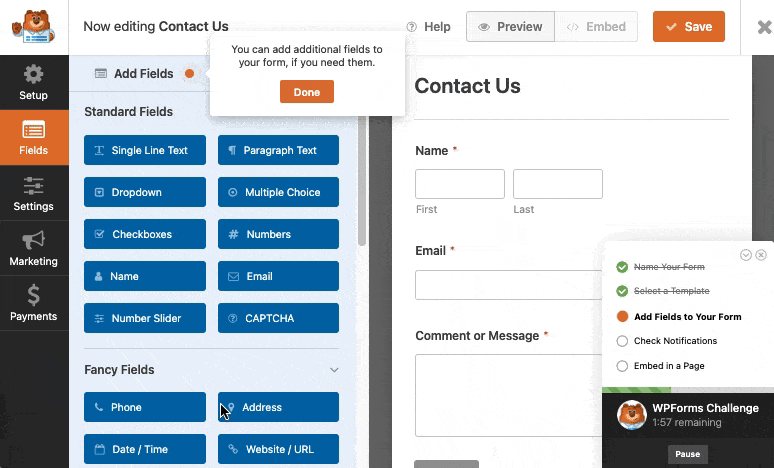 Then, click on the field to make any changes. You can also click on a form field and drag it to rearrange the order on your contact form.
Check out these contact us page examples to get some ideas for your own custom form.
Once you're finished customizing your form, click Done.
Step 3: Check Contact Form Notification Settings
The next step in the WPForms Challenge deals with your form's notification settings.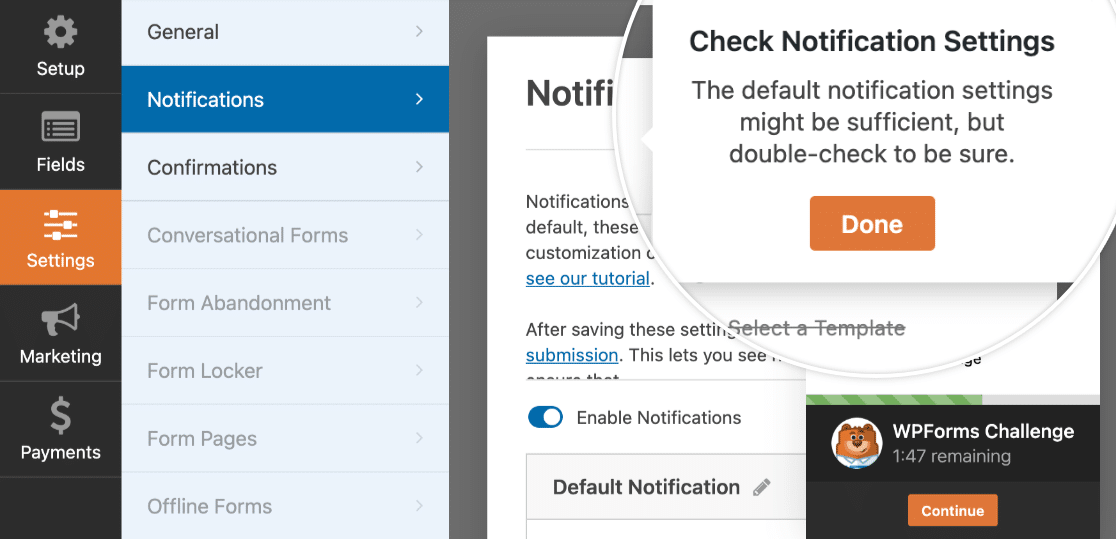 Notifications are a great way to send an email whenever a contact form is submitted on your website. In fact, unless you disable this feature, whenever someone submits a contact form on your site, you'll get a notification about it.
If you use Smart Tags, you can also send a notification to the site visitor when they submit a contact form, letting them know you received their form and will be in contact shortly. This assures site visitors their form has gone through properly.
For help with this step and learn more about WordPress contact form email settings, check out our documentation on how to set up form notifications in WordPress.
Adding to this, if you want to keep branding across your emails consistent, you can check out this guide on adding a custom header to your email template.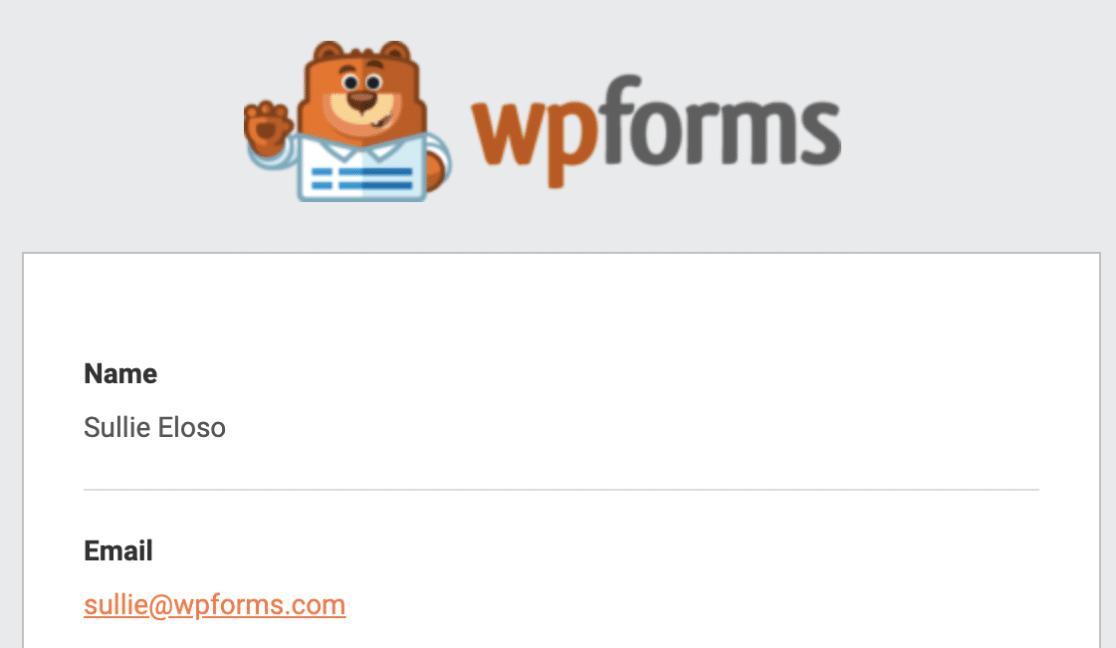 When your form's notifications are configured properly, click Done.
Step 4: Embed Your Simple Contact Form in a WordPress Page
You're now ready to create a contact us page in WordPress.
To start, click on the Embed button at the top.

You can click Select Existing Page, or Create New Page. Let's go ahead and create a new page here.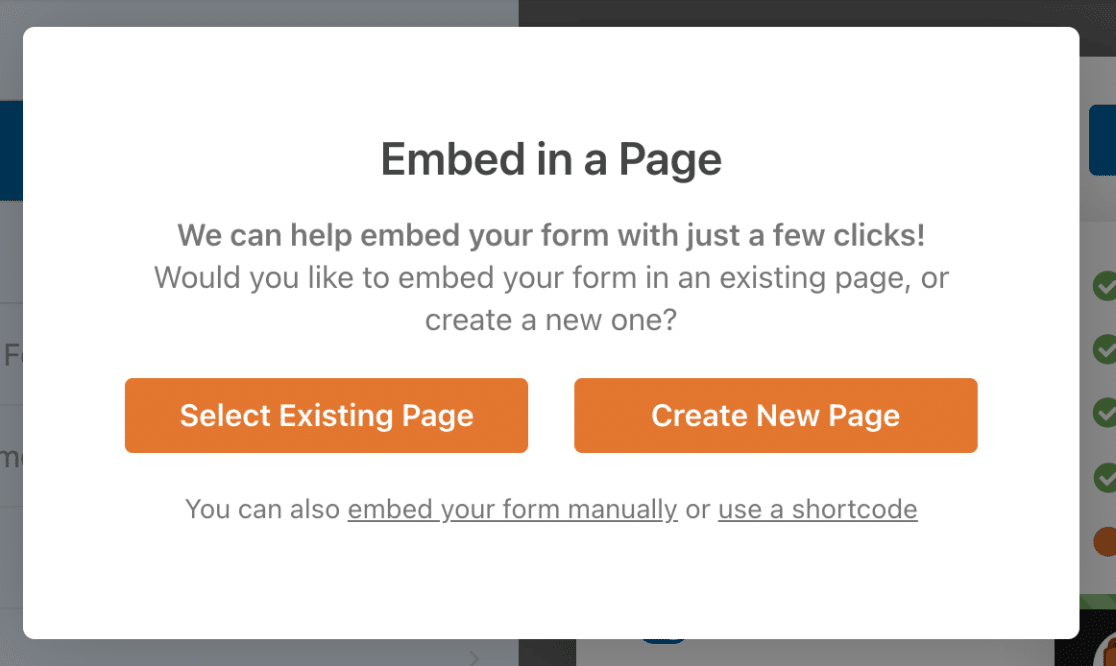 Now, you'll need to type in a name for your page. We called our page Contact: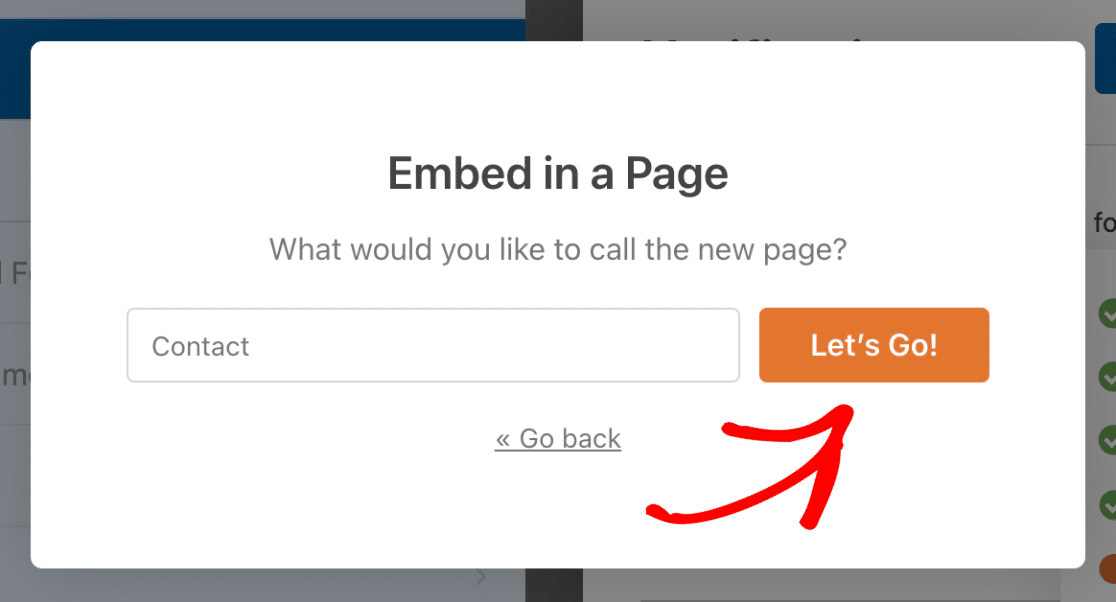 Now WPForms will place your form right on the page. Just don't forget, you'll need to click Publish for your form to go live on your site.
And you're done! You can see the time it took to create your form at the bottom-right: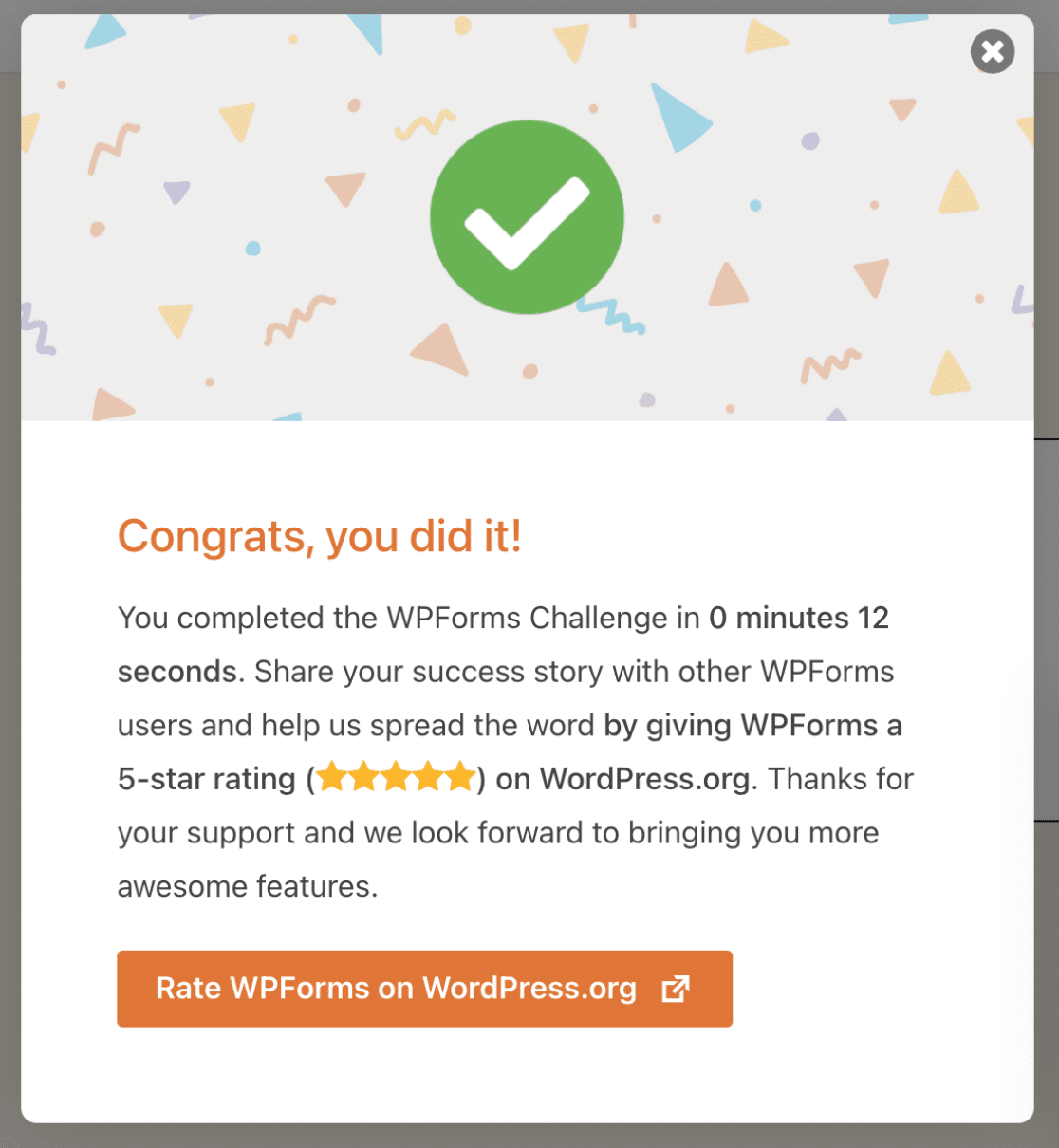 You can also embed your contact form in the sidebar of your site.
And there you have it! You now know how to create a simple WordPress contact form.
Next, Block Contact Form Spam
WPForms comes with a bunch of spam prevention tools to stop spam on your site. In fact, WPForms Lite itself is an excellent WordPress free contact form plugin with captcha options like reCAPTCHA v2 and v3.
If you want to create a longer form, think about creating a multi-step form in WordPress to prevent form fatigue and encourage people to finish filling your forms out.
You might also want to check out these clever web form hacks to unlock hidden customer data with the WPForms Hidden field.
Create Your WordPress Form Now
So, what are you waiting for? Get started with the most powerful WordPress forms plugin today.
And don't forget, if you like this article, then please follow us on Facebook and Twitter.