Documentation, Reference Materials and Tutorials for WPForms
Troubleshooting Email Notifications
WPForms makes it super easy to receive email notifications when users submit a form on your website. However, these notifications may not always be received. In this article, we will show you how to troubleshoot form notification in WPForms.
Current Versions
First start by checking the version of WPForms and WordPress that you are using. Your version may have a bug that has been resolved in an update. Upgrade to the most current versions.
Check for Conflicts
While WPForms uses best practices for WordPress, not all theme or plugin developers do.  Conflicts between plugins and themes working with WPForms may arise.
Theme Testing for Conflicts
Use one of the following default WordPress themes temporarily while reviewing of the problem resolves itself:
Twenty Twelve, Thirteen, Fourteen, Fifteen, Sixteen, or Seventeen
Then test email notifications
After this reactivate your preferred theme
Testing Plugins for Conflicts
Occasionally other plugins can be the source of conflict. To eliminate where the conflict is:
Disable ALL other plugins
Activate WPForms
Test that WPForms sends email notifications
Email Notification Settings
Review your notification configurations to prevent simple errors.  Go to the form » Settings » Notifications.  Look for things like:
Avoiding spaces – in the email address and between multiple addresses. This may cause the notification to fail.
Typos – every letter counts to find the correct inbox.
Check the Sender – having the same To and From address can trigger some email systems to believe that your message is spam, thus never reaching the inbox folder. You can set a unique Reply To address separately if you need to.
Enabled – check that the notification setting is enabled
Check Routing Conditions – check that conditions are met to trigger an email notification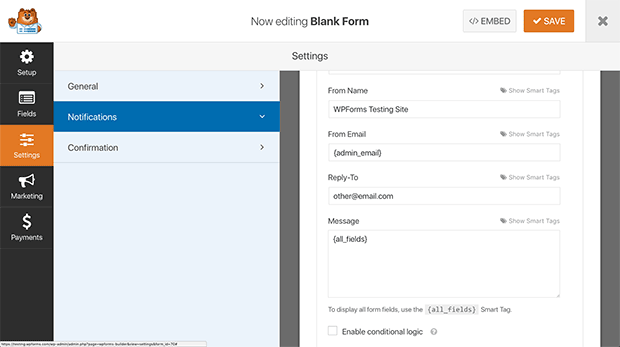 Use SMTP
By default, WordPress uses the PHP mail function to send emails generated by WordPress or any contact plugin like  WPForms.  The most common reason for not getting emails is that your WordPress hosting server is not configured to use PHP mail() function.
We recommend using SMTP to send emails in WordPress.  The industry standard for sending emails is SMTP (Simple Mail Transfer Protocol). Unlike PHP mail function, SMTP increases email deliverability by using proper authentication.
Web Hosting Support
If you are still unable to receive email notifications after testing everything else, contact your web/email hosting provider.  Ask them to review the server logs to see if any errors have been written.