How to Print Your WordPress Form Submissions to PDF
Last updated on Oct 26, 2017 by Shahzad Saeed
Do you want to save or print a WordPress form entry in PDF? WPForms allows you to natively export a form entry as PDF for better ability to print it. In this article, we'll show you how to export a WordPress form entry as PDF and print it.
Why Print a WordPress Form Entry?
For many users exporting their form entries as a PDF file is greatly helpful for better ability to print it. If you export an entry as PDF, you can even easily attach it within an email as a proof of the users' interaction with your website.
With WPForms, you can print a WordPress form entry in just a click. Let's walk you through a step-by-step guide on printing a WordPress form entry.
Create a WordPress Form
The first thing you need to do is to install and activate the WPForms plugin on your site. To get started, you can read how to install a WordPress plugin.
Then, you'll have to get a form created. You can see our tutorial on how to create a simple contact form.
Print a Form Entry
To print a form entry, go to WPForms » Entries. To see a list of form entries, make sure to select the right contact form. Click View to choose a form entry that you want to print as PDF.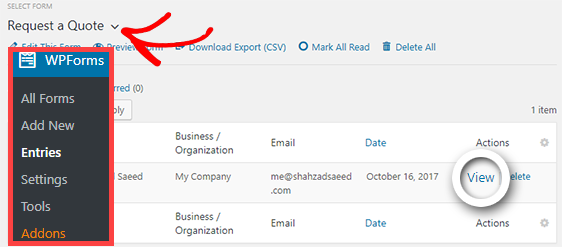 Now click Print in the Actions section at the right-hand side of your page.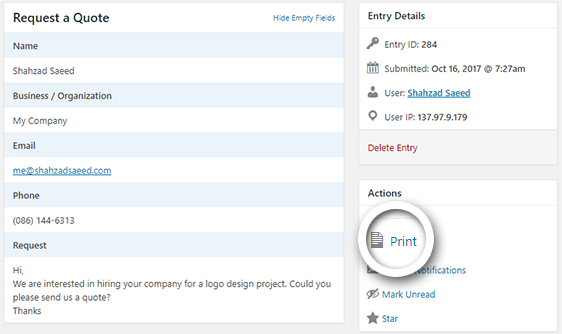 Clicking on it will direct you to a new cleaner page where you can view the form entry without any distraction. Then, click Print again.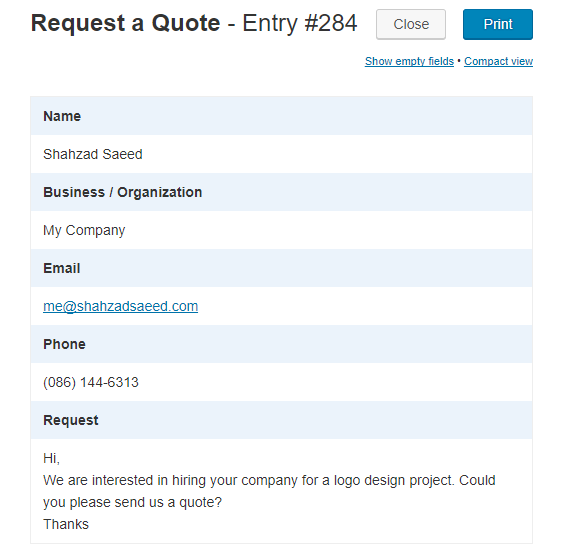 In Chrome, if your device is connected to a printer, you can print it or you'll be asked to save the form as PDF. Just click the blue Save button to continue.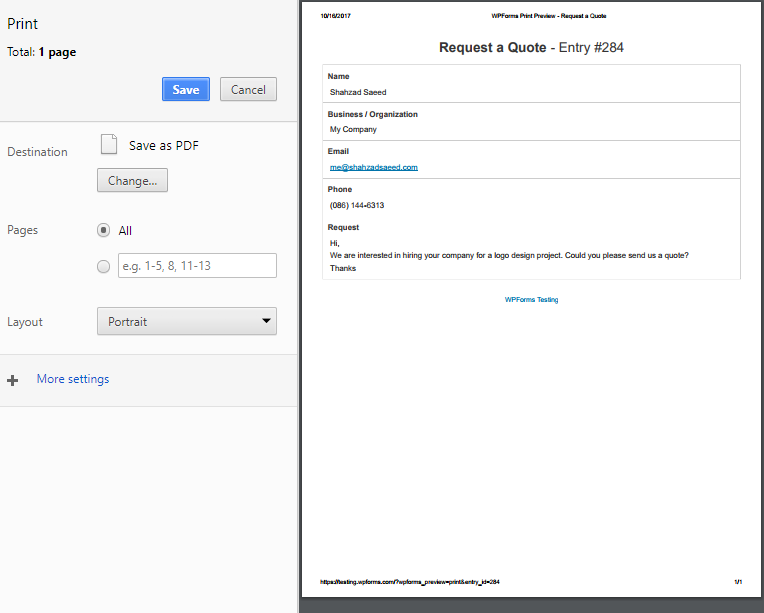 If you're using another browser, you can use a tool like PDFCreator to print directly to PDF.
That's it!
We hope this article helped you print your WordPress form submissions into PDF.
If you're accepting payments from your site for a service, you can learn how to enable optional payment on your form.
What are you waiting for? Get started with the most powerful WordPress forms plugin today.
If you like this article, then please follow us on Facebook and Twitter for more free WordPress tutorials.