Do you want to compare Ninja Forms vs WPForms? Choosing the right form builder for your site will help you get more leads from your website.
In this article, we'll put Ninja Forms vs WPForms head to head by comparing features, price, and ease of use.
Create Your WordPress Form Now
What Is a Form Builder?
A form builder lets you easily create web forms without code. You can customize your forms, publish them on your site, and get notifications upon submission.
Ninja Forms and WPForms are contact form plugins you can install on your WordPress site. Both let you publish forms on your pages, posts, and even in a sidebar widget.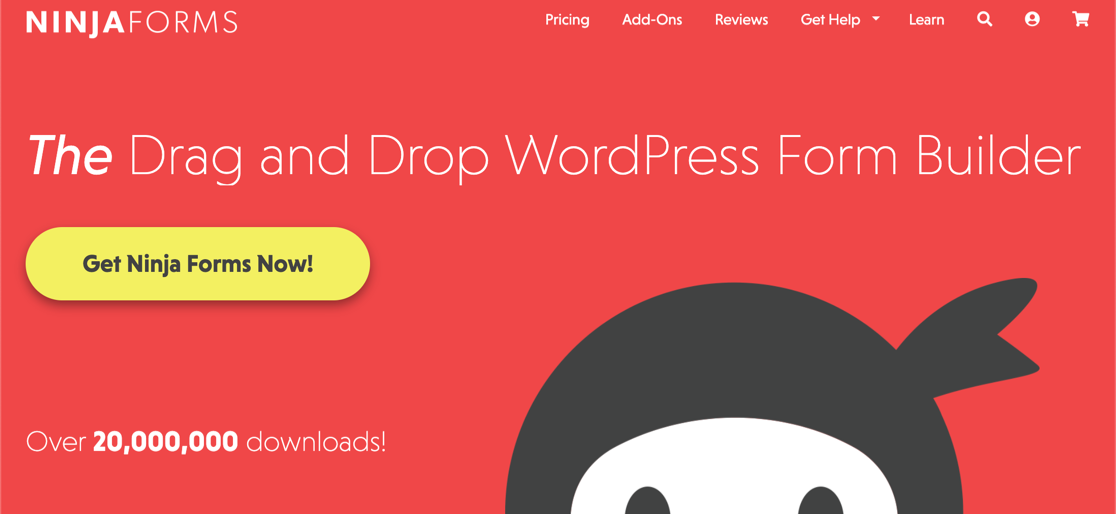 WPForms has a free version, WPForms Lite, and 4 paid versions.
It's one of the top 10 most popular WordPress plugins on WordPress.org.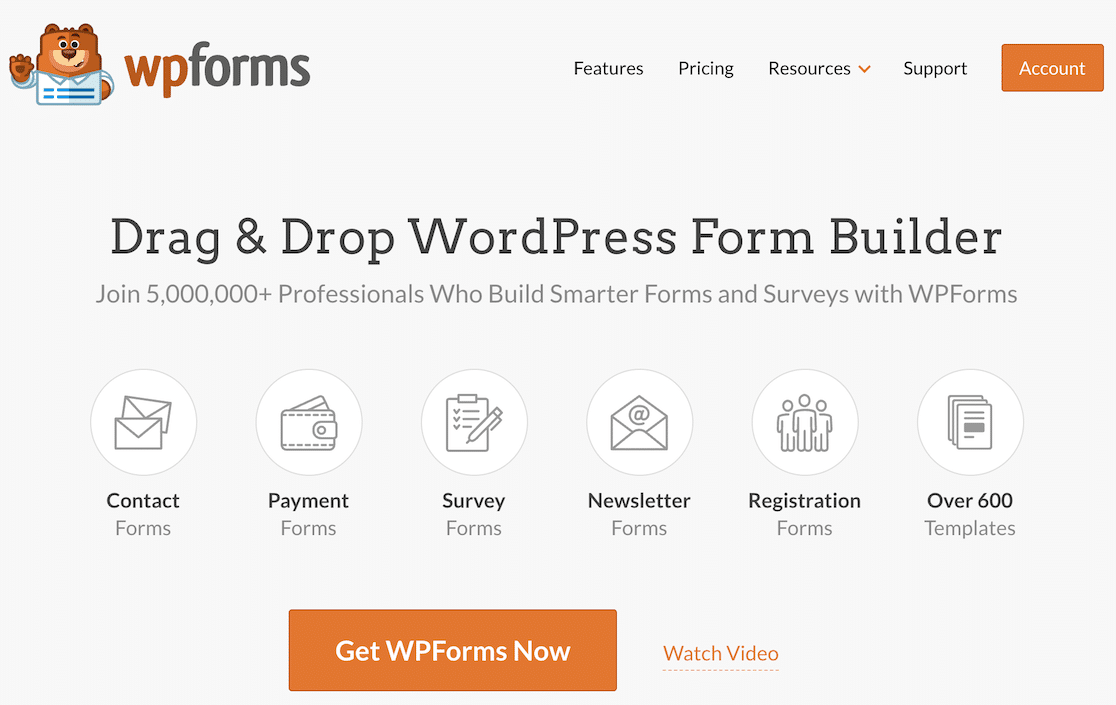 Are you wondering why you need a contact form? We're going to look at the pros and cons of Ninja Forms vs WPForms next.
Ninja Forms vs WPForms: Form Builders Compared
Let's look at how easy it is to use these 2 form builders. After that, we'll look at how much you'd need to spend to get more features in the premium versions of each plugin.
Are you a beginner? Let's look at how easy it is to get started with these form builder plugins.
Getting Started With Ninja Forms vs WPForms
When you first get started with a form builder plugin, you'll want to get your first form online as easily as possible.
WPForms and Ninja Forms have different ways of doing that.
With Ninja Forms, a simple contact form is created for you when you install the plugin.
To publish it, it looks like you can hit Publish at the top.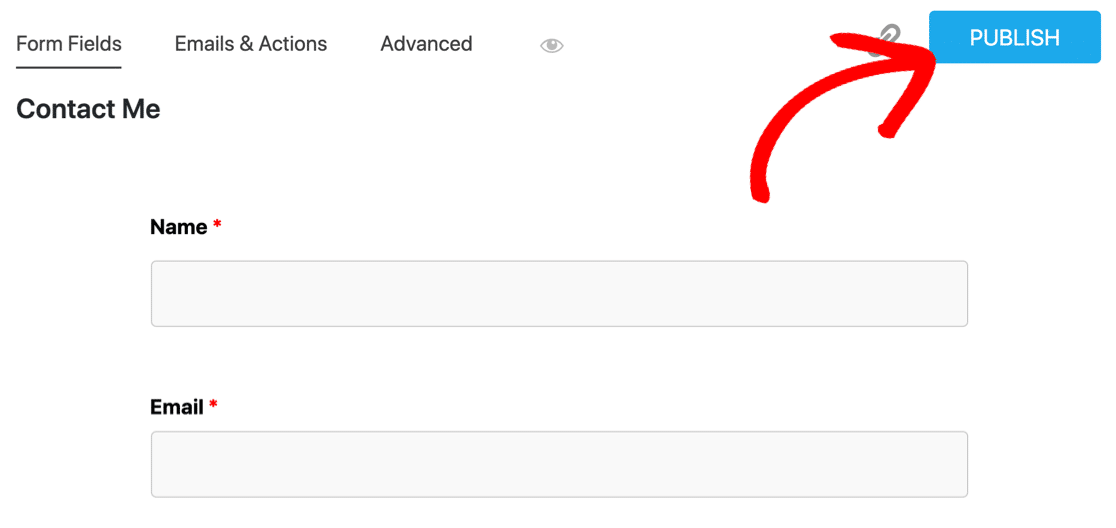 However, this doesn't publish your form in WordPress. To do that, you need to click around to find the shortcode, then find a place to put it on your site. So the Publish button is just there to save the form.
In WPForms, getting started is easier because there's a full wizard to help you find your way around. It's called the WPForms Challenge.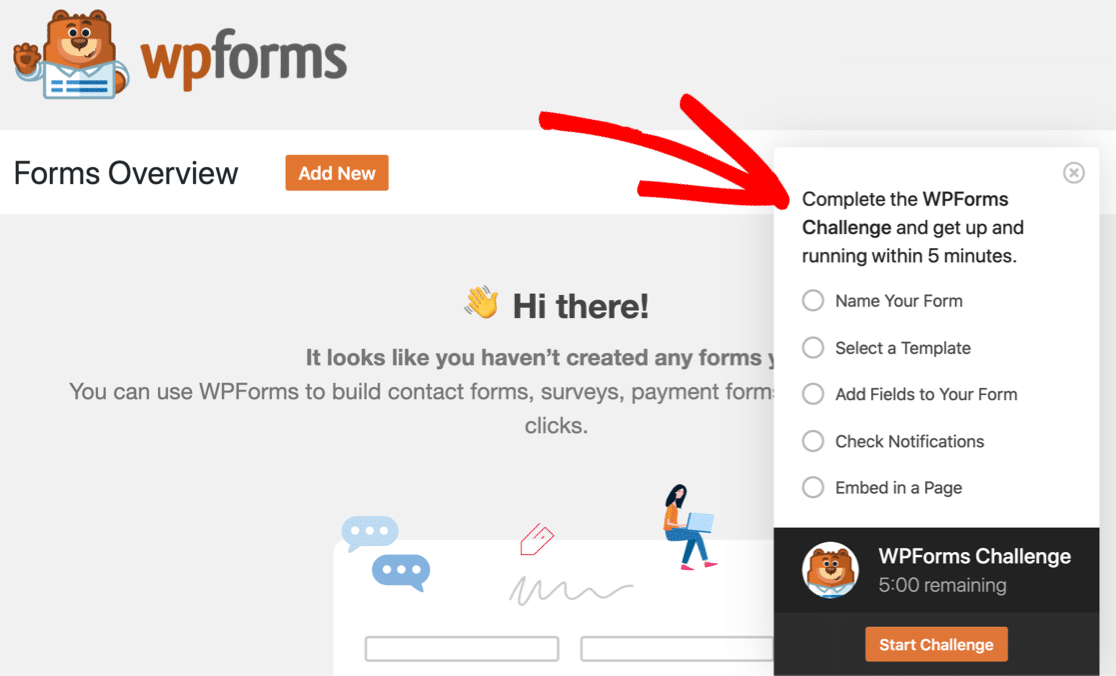 The WPForms Challenge is a fun way to create your contact form. It walks you through each step, and you'll see handy tooltips that signpost important parts of the drag-and-drop form builder.
This makes WPForms beginner-friendly. The Challenge slowly walks you through the process of making online forms.
At the bottom, there's a timer so you can see how quickly you completed the challenge. But don't worry: the timer's just for fun!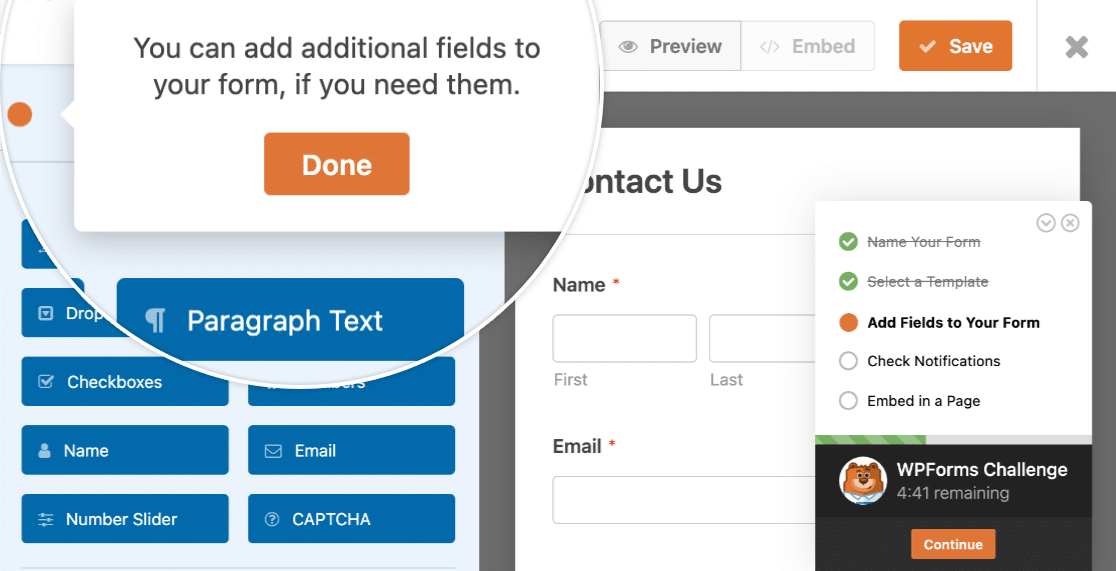 The WPForms Challenge allows 5 minutes for you to create your 1st form. But you'll probably step through it in well under a minute.
Using the Form Builder
WPForms always shows you the available fields on the left-hand side, and a preview of your form on the right. You can add fields quickly by dragging them onto your form.
This layout lets you see the entire user interface as you work.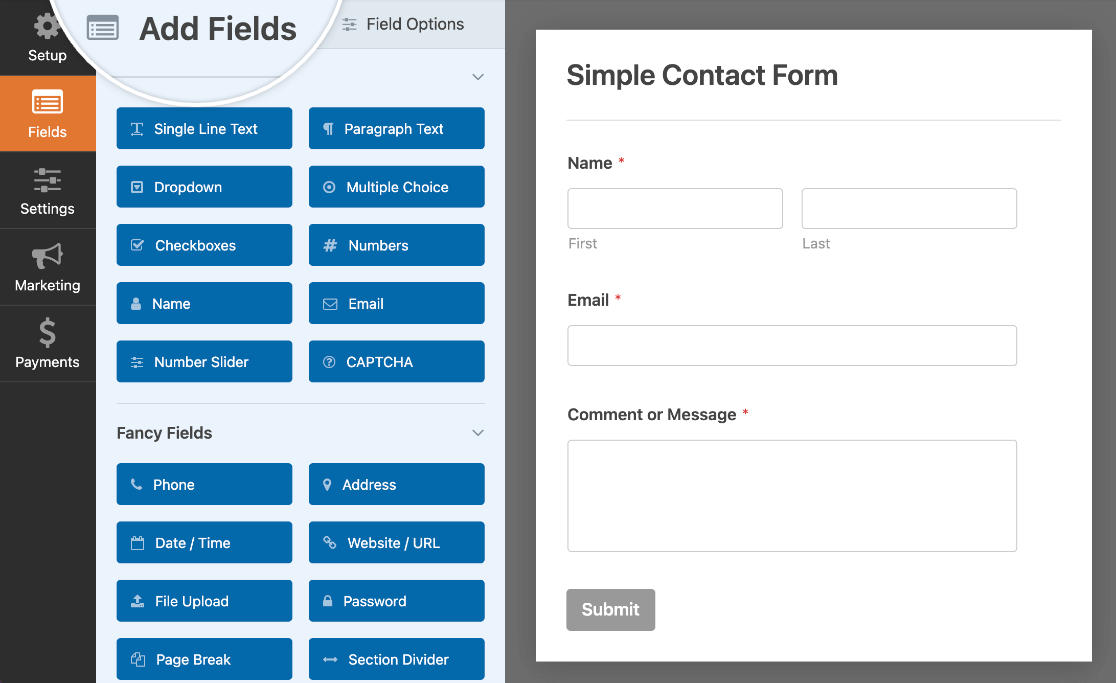 Ninja Forms is a little different. With this plugin, you have to click a plus icon each time you want to add a field.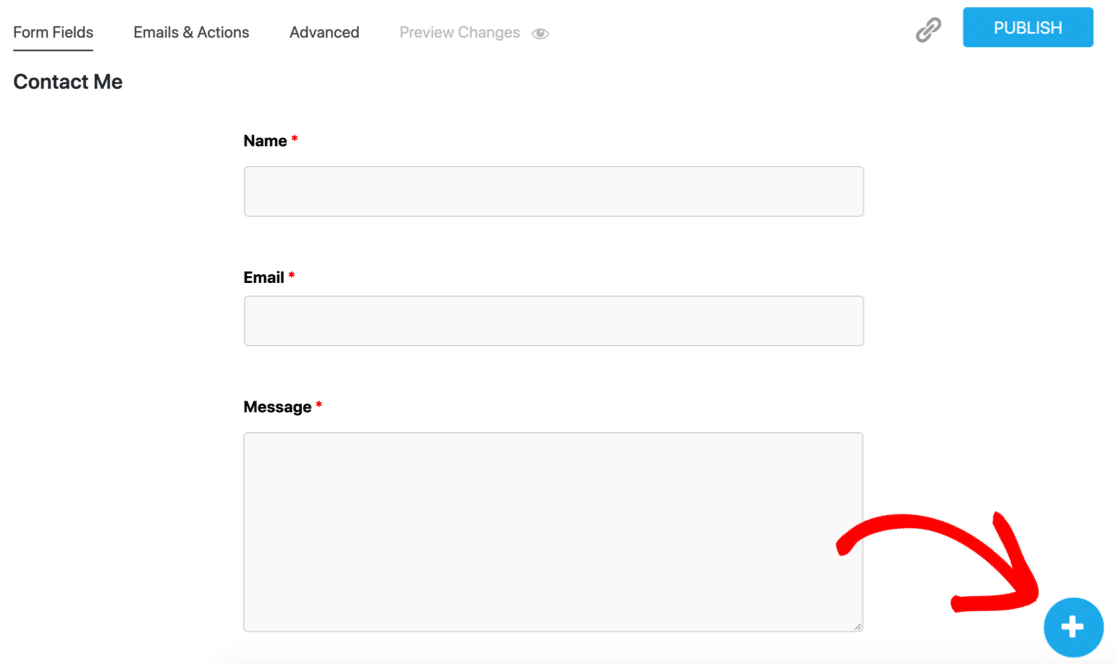 Then you can drag the field over from the right to the left.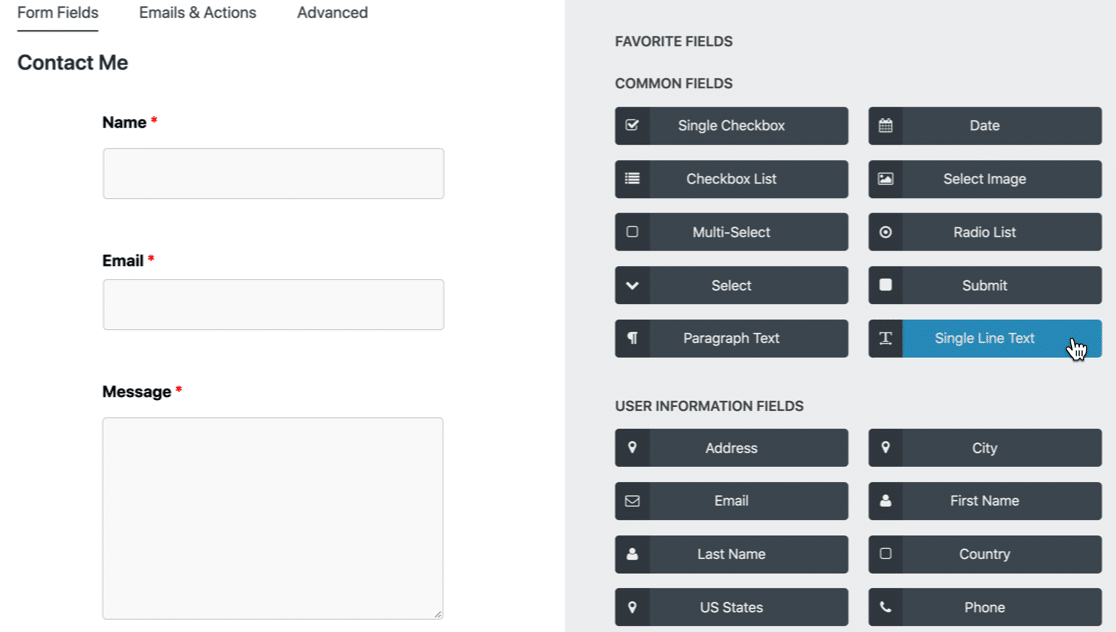 After that, you have to close the popup window.
As you work, you'll notice that WPForms needs fewer clicks. It always shows the form and the field settings side by side. You don't have to repeatedly open and close the field selection area as you work.
In fact, WPForms has the best design of all form builder plugins. Check out our Gravity Forms vs Ninja Forms review if you want to see the difference in how you actually make forms with these 3 plugins.
Form Builder Features and Addons
WPForms and Ninja Forms both have tons of features. To pick the best form builder for your site, you'll need to decide on a few basic things first.
Let's start with drilling down into what the form fields actually do.
Form Fields
Both of these form builders have all of the fields you need to build basic forms. To access more advanced fields, you might need to pay for a license.
To open up the settings for a field, you'll want to click on it. Both form builders handle this in a similar way.
For example, here are the settings for the Name field in WPForms. To open up these settings, we simply clicked on the field on the right.
The live preview makes it super easy to see the form and the settings at the same time.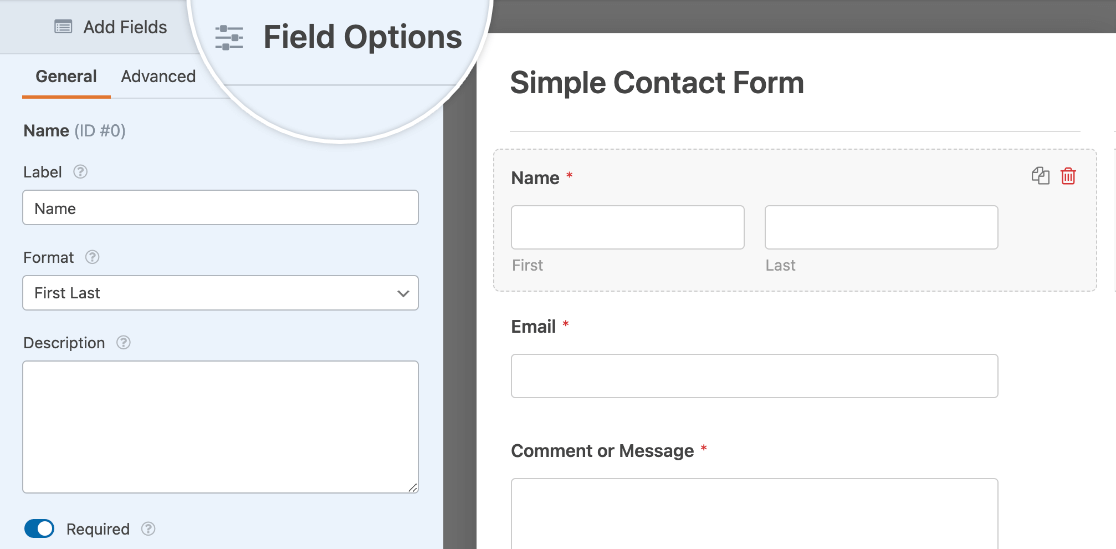 Did you notice that Ninja Forms only displays the basic settings for each form field?
To show all of the settings, you need to exit the form builder and turn on Developer Mode, or 'Dev Mode'.

Looking more closely, there are actually some big differences in the way basic fields work in both of these plugins.
For example, WPForms has a simple way to customize the address field on your forms. In contrast, the address field in Ninja Forms doesn't let you easily accept non-US addresses.
Here, you can see we tried to manually customize the States field by importing new rows. But the dialog actually disappears off the top of the screen, so it was tricky to work with.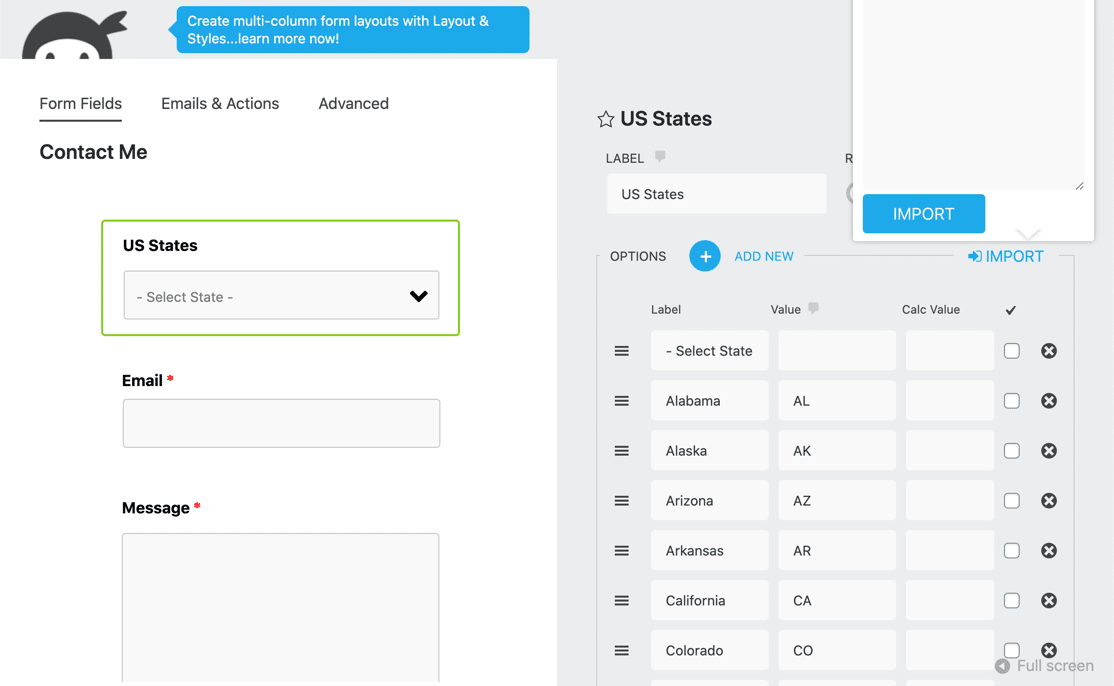 Next, take a look at the difference in the way the phone field works in each plugin.
In WPForms, you can use the smart phone field. It's awesome because it automatically detects the user's location. That way, every user sees a phone field in the right format for their country.
This geolocation feature is 100% automatic and even shows the correct flag.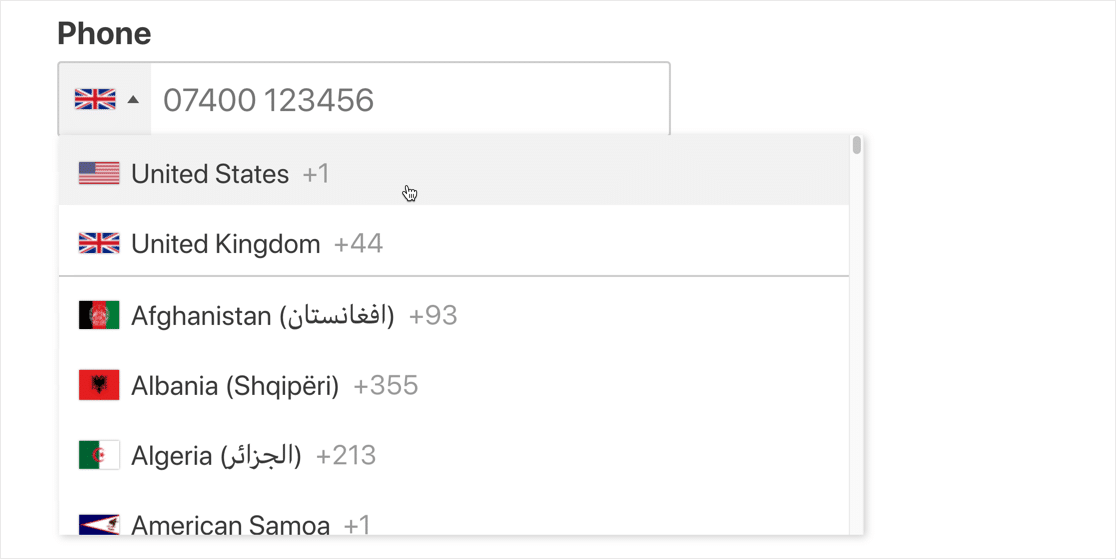 In Ninja Forms, the phone field is a lot more basic. By default, it doesn't have many settings. And even if you turn on Dev Mode, you can only choose a US format for the phone field.
Since the Date and Currency options would be useless for the phone field, the only other option is to create an input mask.
These features sound like tiny differences. But in reality, the impact can be huge. Tons of people have valid complaints about contact forms, so your goal should be to make all of your forms as smart and easy to use as possible.
User-friendly forms help you to get more leads from your WordPress site and result in less form abandonment.
Form Builder Features
Picking a form builder means matching the features to your business or nonprofit needs. Everyone's requirements are different, so comparing features will be partly down to personal choice.
Both form builders support key features like:
Drag-and-drop editing
Email notifications
Here are a few differences in the features in Ninja Forms vs WPForms.
Entry Storage
Ninja Forms has entry storage on all plans. It's a simple list in WordPress showing all of the form submissions.

From this screen in Ninja Forms, you can:
Edit entries
Export entries to CSV
Filter entries by keyword or date
Delete entries
You can't click on entries to open them up.
Now let's look at the same submission in WPForms with entry storage enabled:

There are a lot more options in WPForms. From this screen, you can:
View entries
Edit entries
Delete entries
Star entries
Mark entries read / unread
Filter entries according to specific fields
Remove filter criteria using the breadcrumbs
Edit or preview the form associated with the entry
In addition, WPForms also lets you view each entry on its own page. When you click on an entry to view it, a new screen opens up even more ways to work with your entries.
This is a great way to easily review entries from complex forms.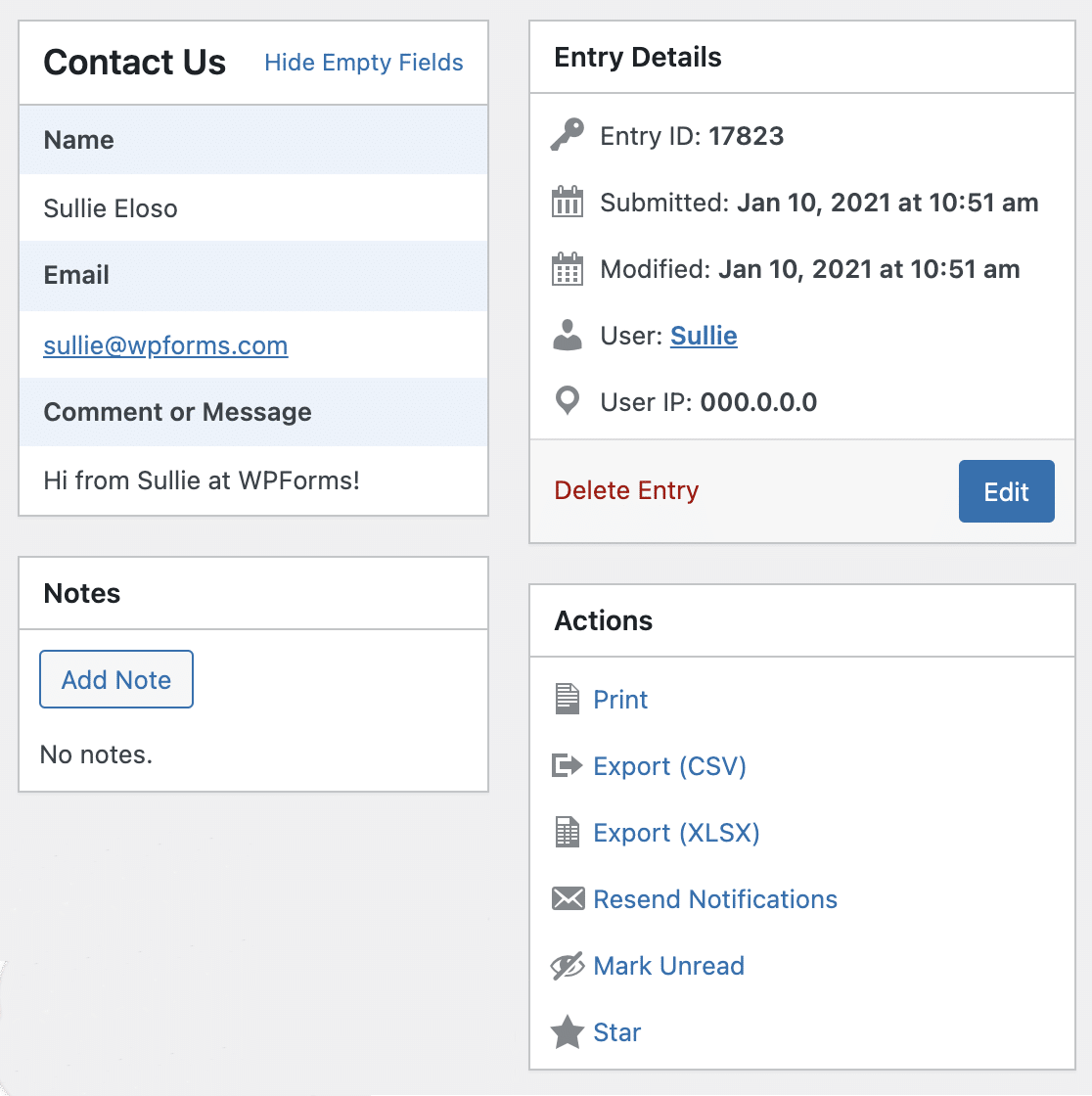 From here, you can easily read the entry as it was submitted instead of just seeing it in a list. It also lets you:
Resend the notification emails for the entry
Show or hide fields for an expanded or compact view
If you want to view your form entries in WordPress, WPForms gives you tons more control.
Form Templates
Starting out with a form template is a lot easier than making forms from scratch.
The Ninja Forms plugin comes with 16 templates (if you exclude the blank form).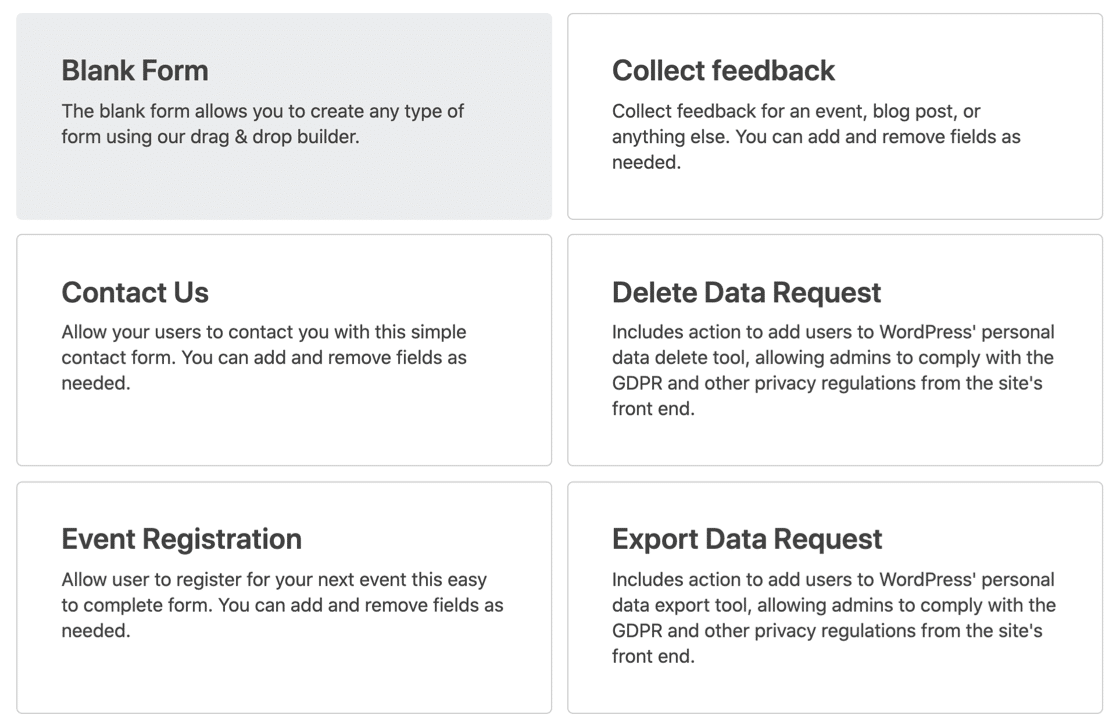 WPForms comes with over 600 pre-made templates.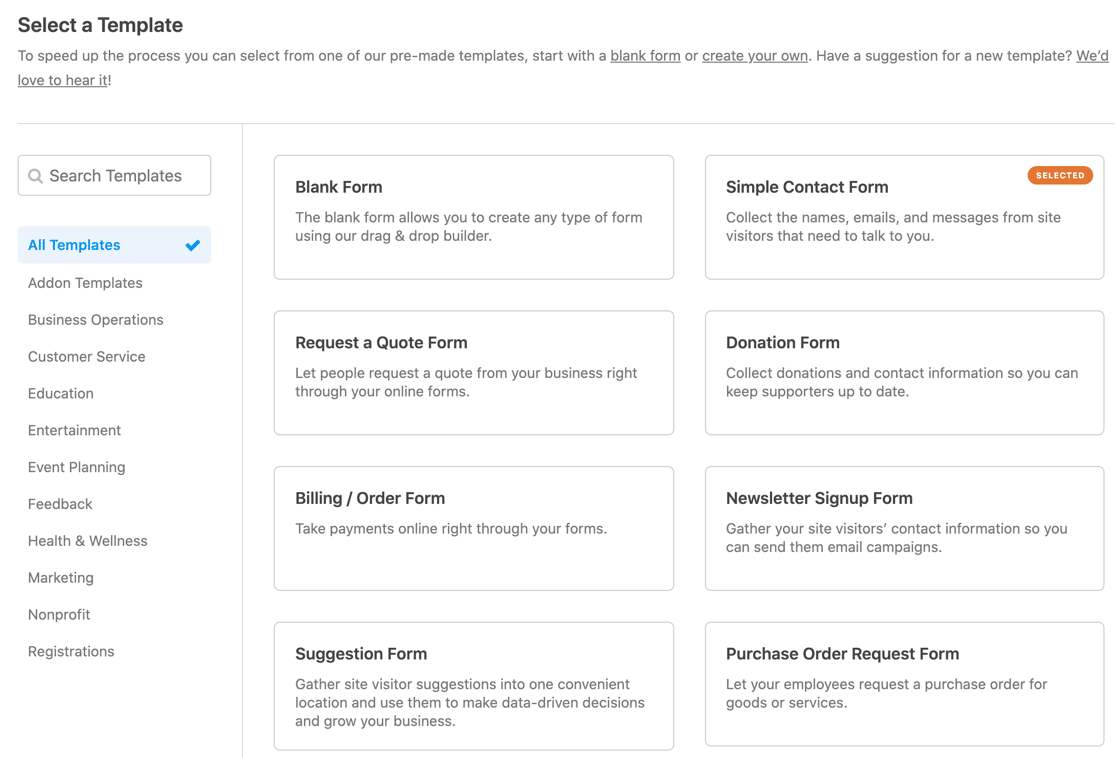 Both Ninja Foms and WPForms let you:
Duplicate forms
Import and export forms
However, Ninja Forms can only import forms created in Ninja Forms. But WPForms can import forms from 3 different form builder plugins:
WPForms
Contact Form 7
Ninja Forms
That makes it easy to move to WPForms if you already made forms in a different plugin and want to switch.
Surveys and Polls
Surveys are the main area where these 2 plugins are completely different.
Ninja Forms has no survey tools at all. But WPForms has a sophisticated Surveys and Polls addon.
If you've seen our comparison of SurveyMonkey vs Alchemer vs WPForms, you'll know that the WPForms survey tools are right up there with professional market research platforms.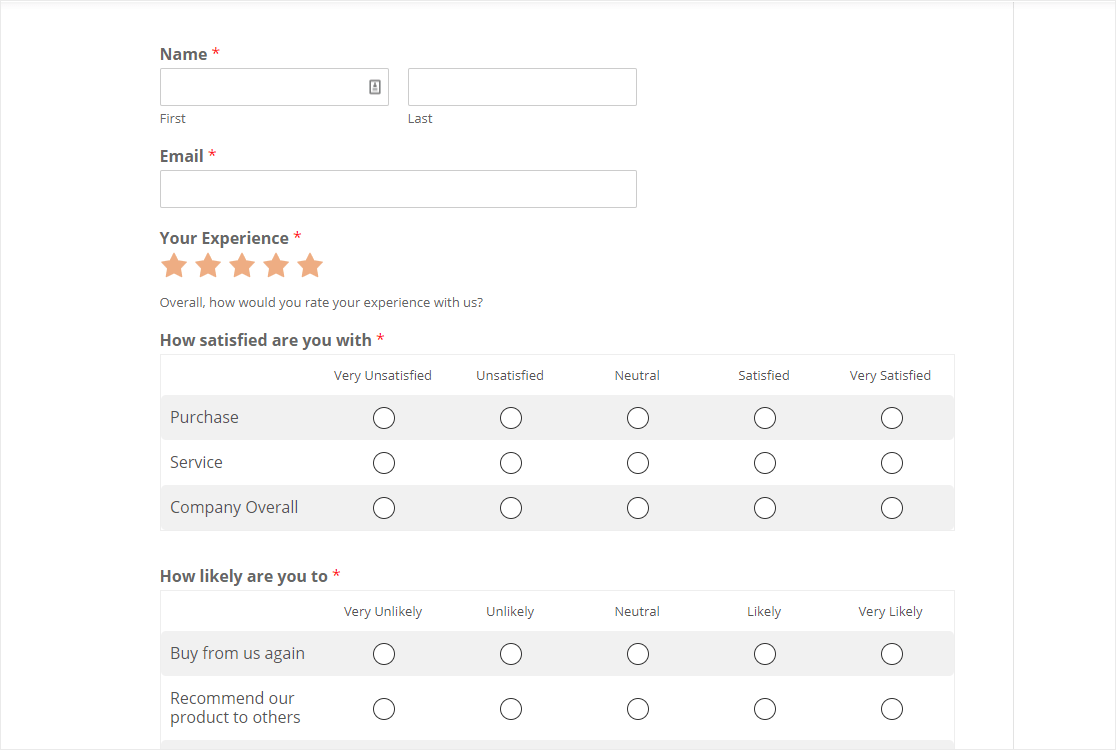 In WPForms you can use advanced survey fields like Likert scale questions and Net Promoter Scores.
And when your survey is done, you can create survey graphics and reports right in the WordPress dashboard.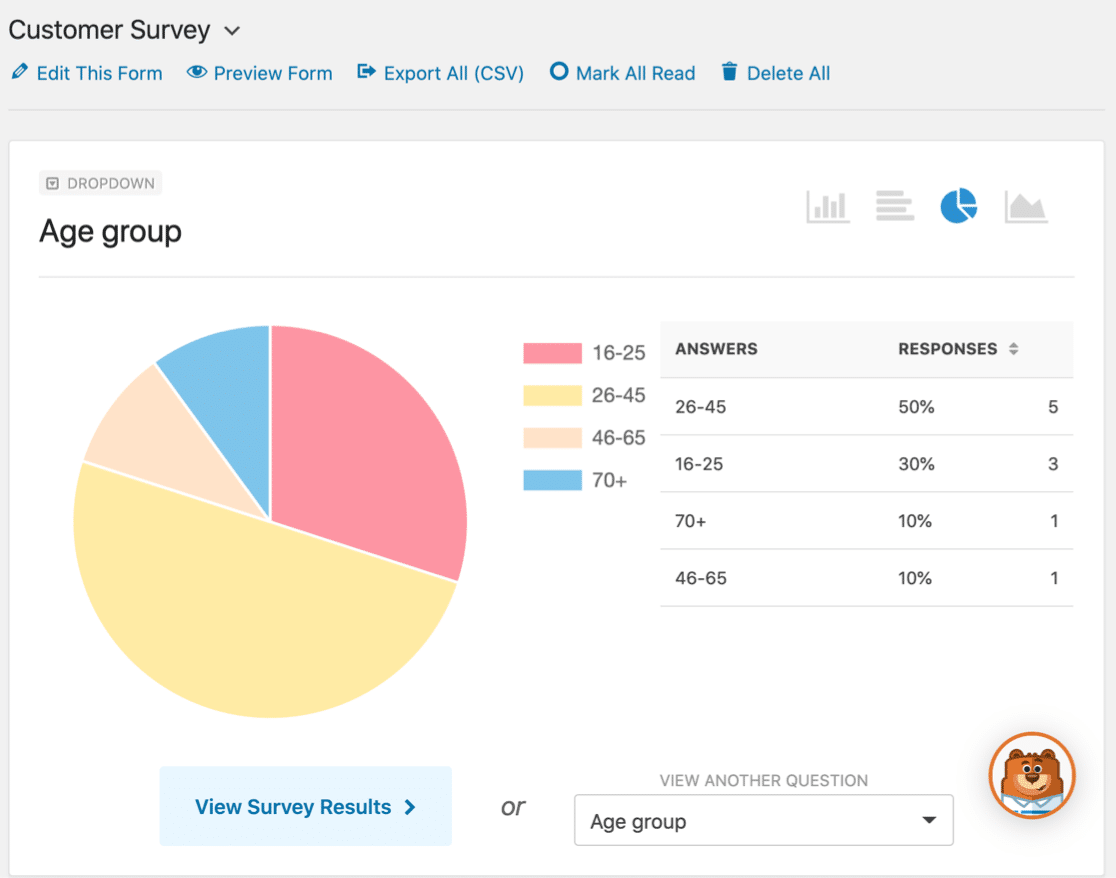 You can turn on these beautiful survey reports for any form you create, even if you didn't originally set it up as a survey. And you can also enable survey reporting after you get submissions.
This powerful survey addon makes WPForms unique among WordPress form builders. If you want 1 tool to make forms, surveys, polls, and more, then WPForms is worth it.
Integrations
To expand the features in your form builder, you'll need to install addons that integrate your WordPress site with 3rd party tools. This includes payment gateways and email marketing services, among others.
For example, both plugins have Salesforce integrations.
And they also have addons or integrations for: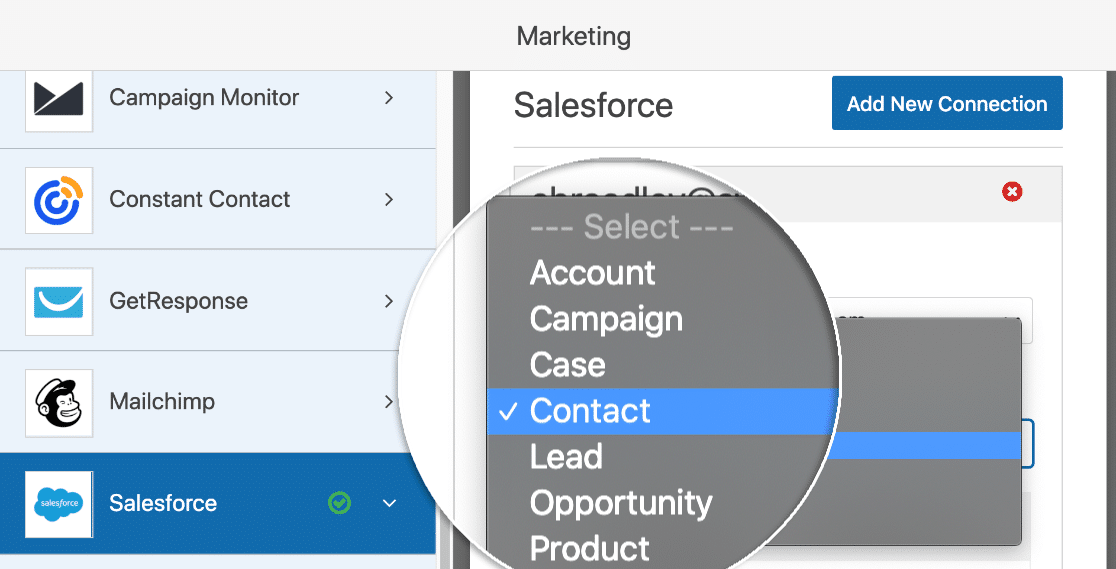 WPForms includes set integrations at each plan level.  For Ninja Forms, you can buy individual addons, or buy a license plus addons on top.
If the integration you need is missing, you might be able to use an automation plugin like Uncanny Automator.
Publishing Your Form From the Form Builder
When you've finished your form, you'll want to publish it on your website.
This is another area where Ninja Forms and WPForms are different.
To embed a form with Ninja Forms, you first need to Publish the form in the form builder. When the publish button turns gray, you can click the link icon.

Then you can grab the shortcode.

From there, you can exit to the WordPress dashboard. When you make a new page, you'll want to paste the shortcode into a shortcode block in the block editor.
In contrast, WPForms makes it a lot easier to embed forms on your website. The Embed button walks you through a wizard that automatically creates the page and adds the form to it.

You can still use a shortcode if you want that level of control. But using the wizard is super fast and makes it easy to get any form published in seconds.
There's also a dedicated WPForms block if you want to add a form to a post or page while you're editing it.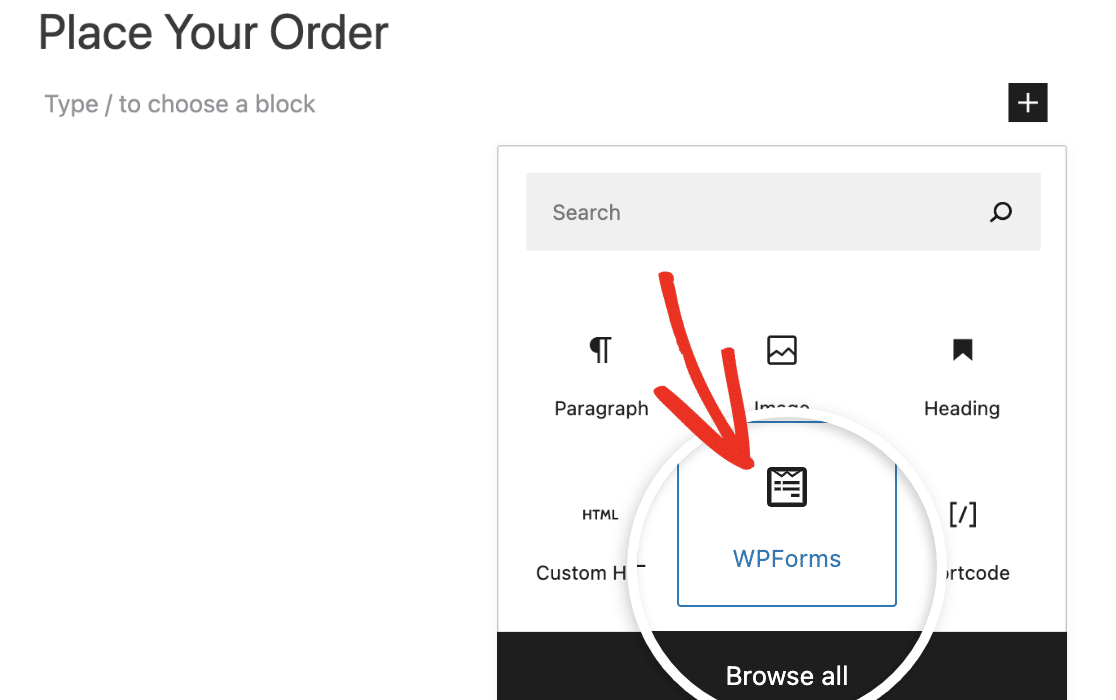 With so many different ways to publish your forms, WPForms makes it easy no matter what your workflow is. Plus, you can keep track of where you've embedded each form by viewing their locations in your WordPress dashboard.

Embedding Your Form in a Page Builder
Are you using a page builder to make your WordPress site?
This is an area where WPForms really stands out.
If you use Elementor or Divi,  you can embed your form right in the builder. You don't need to go back to the WordPress dashboard and pick up a shortcode.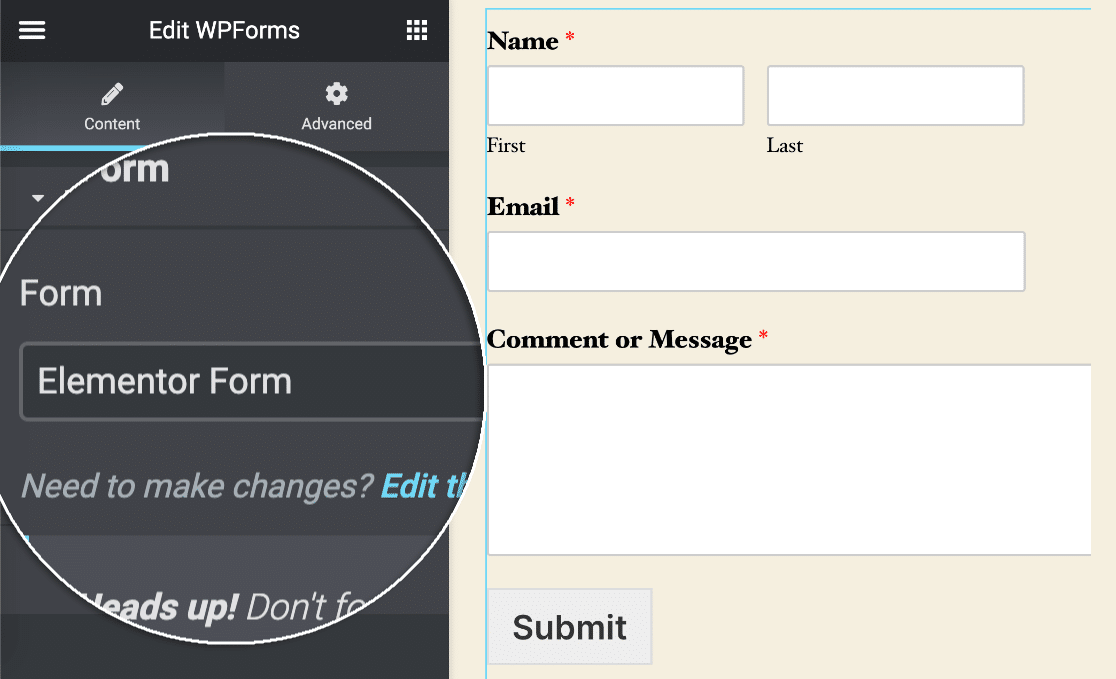 To see how easy this is, check out our guides to making an Elementor contact form and embedding a form using the WPForms Divi module.
With Ninja Forms, you'd need to use a shortcode to embed your form in these page builders. It works, but it's just a little bit slower.
Advanced Form Publishing
Did you know that WPForms also lets you publish conversational forms?
Conversational forms are forms that show the visitor 1 question at a time.
WPForms gives you the option of publishing any form as a conversational form without writing any code. This makes WPForms an awesome Typeform alternative.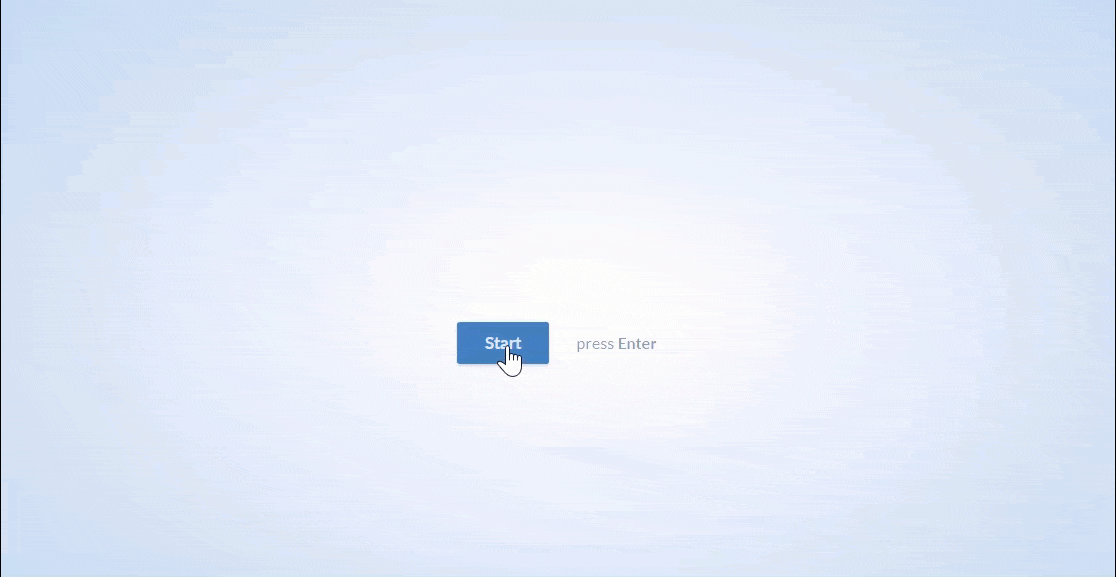 And in WPForms, you can also publish any form on its own distraction-free landing page.
This is a great feature if you want to maximize conversions for your important landing pages or webinar signup forms. All you have to do is type a slug and pick your color scheme.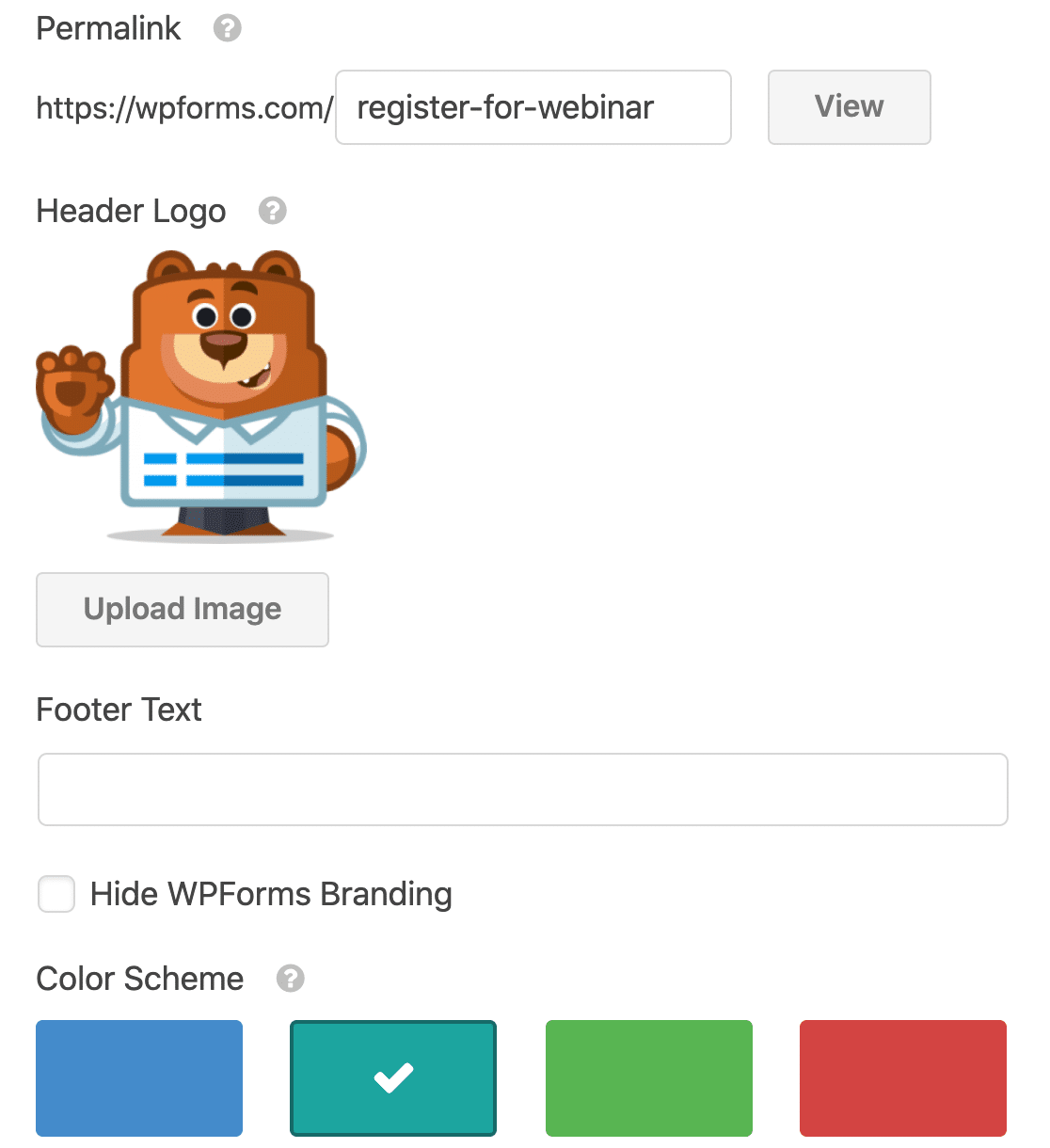 Ninja Forms doesn't support conversational forms, and it doesn't let you make form landing pages. So we can confidently say that WPForms is the best Typeform alternative on the market.
Paid Plans and Pricing Compared
As your site grows, you'll probably think of ways to use different types of WordPress forms.
That's when it makes sense to upgrade to a paid form builder plugin.
Deciding on a plan can be confusing. We'll try to break down the important facts about these 2 plugins and all of the plans they have.
Free Ninja Forms vs WPForms Lite
When you're just starting out, you'll want to start with the free version of your form builder to try it out.
The free version of WPForms is called WPForms Lite. It's in the top 10 most popular WordPress plugins with 5+ million active users. To compare, there are currently 1+ million active users of the free Ninja Forms plugin.
The Ninja Forms free plugin has received 1,100+ 5-star ratings at the time of writing, and WPForms has received 12,000+ 5-star ratings.

For more details about the free version of WPForms, read this article on WPForms Lite vs Contact Form 7.
Ninja Forms Pricing
Ninja Forms offers 2 different ways to buy the plugin. The first is to buy an annual license.
Here's the pricing per year.
| Ninja Forms Plan | Sites | Key Addons | Price/ yr |
| --- | --- | --- | --- |
| Personal | 1 | Conditional logic, file uploads, multi step forms, Mailchimp, PayPal, +more | $99 |
| Professional | 20 | Registration forms, user submitted posts, Zapier, Stripe, +more | $199 |
| Agency | Unlimited | All addons | $499 |
If you want addons that are outside your plan, you can buy them individually.
But you can also buy addons without a plan.
It gets a little tricky when you need a specific combination of addons since you'll need to sit down and work out the cheapest way to buy them all.
Here are some example prices for Ninja Forms addons to give you a flavor of how this might increase the annual cost.
| Ninja Forms Addon | 1 site | 5 sites | 20 sites | Included in plan? |
| --- | --- | --- | --- | --- |
| Conditional logic | $49 | $72 | $99 | Personal, Professional, Agency |
| Multi-step forms | $49 | $72 | $99 | Personal, Professional, Agency |
| File upload fields | $49 | $72 | $99 | Personal, Professional, Agency |
| Export to Excel | $18 | $28 | $46 | Agency |
| PayPal | $49 | $79 | $129 | Personal, Professional, Agency |
| Stripe | $49 | $79 | $129 | Professional, Agency |
| Constant Contact | $18 | $28 | $46 | Personal, Professional, Agency |
| User submitted posts | $39 | $62 | $99 | Professional, Agency |
If you just need a simple form builder and you want 1 specific addon, it makes sense just to add it to the free version of Ninja Forms. But buying individual addons can be super expensive as your site grows. This is the main reason that Ninja Forms tends to more pricey than WPForms.
As we mentioned up top, the pricing is tricky and depends exactly how you plan your addons, memberships, sites, and discounts.
WPForms Pricing
Now let's take a look at WPForms pricing.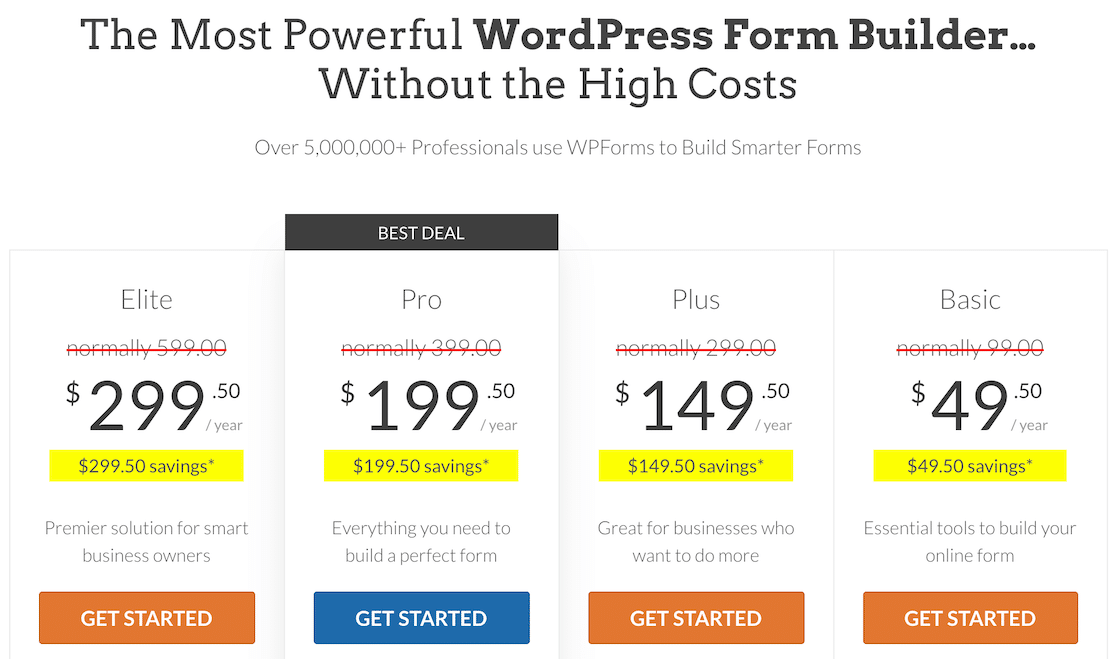 With WPForms, you'll just need to figure out which features you want and buy the plan each year.
You'll only pay 1 price, and there are no hidden costs for addons.
Here's a cut-down version of the feature list.
| Plan | Sites | Key Features & Addons | Price/ yr |
| --- | --- | --- | --- |
| Basic | 1 | Advanced fields, form entry storage, multi-step forms, file upload fields, Constant Contact, conditional logic, basic templates, +more | $99 |
| Plus | 3 | Mailchimp, AWeber, GetResponse, Campaign Monitor, Brevo (formerly Sendinblue), Drip, MailerLite +more | $299 |
| Pro | 5 | PayPal, Stripe, Square, landing pages, conversational forms, surveys and polls, user journey, form abandonment, geolocation, Zapier, user-submitted posts, 100+ extra templates, +more | $399 |
| Elite | Unlimited | All addons and features, including ActiveCampaign, Salesforce, Authorize.net, webhooks, and client management. | $599 |
Not sure which plan to go for? You can start out with a low-cost plan because WPForms makes it easy to upgrade right in your online account.
Finally, WPForms also offers a 14-day money-back guarantee. So if your plan isn't a good fit, you can get your money back. You don't even need to give a reason for the refund.

Also, WPForms has an easy importer for forms made in Ninja Forms. So if you start out with Ninja Forms and decide it's not right for you, moving to WPForms is easy.
Ninja Forms vs WPForms Support
Finally, let's take a look at the support you'll get from Ninja Forms vs WPForms.
Support for Free Versions
First, the free versions. Both of these plugins offer support for free users through WordPress forums.
At the time of writing this review:
Ninja Forms had resolved 28 out of 37 support threads (75.7%)
WPForms had resolved 92 out of 100 support threads (92%)
WPForms responds to Lite users in 1-3 working days.
Ninja Forms customers can also use their ticket system to get help. The response time is the same as WPForms Lite at up to 3 working days.
Support for Paid Versions
If you pay for either of these plugins, you can access ticket support as well. Both Ninja Forms and WPForms say that paying customers will get a response within 1 working day.
Both plugins also have documentation for all of the features and addons. In addition, WPForms also has:
Developer Documentation: This provides advanced code snippets and details for developers who want to extend the functionality
WPForms VIP Circle: A private Facebook group for WPForms users. Anyone can join the group to get advice on using the plugin and customizing their forms.
Having all of these different support options makes it easy to get help whenever you need it.
Ninja Forms vs WPForms: Which is Best?
By now, you should have a good idea of how these 2 WordPress form builder plugins work. You've seen a ton of features, and we also looked in detail at some of the individual field types you can use.
So if you're looking for the best form builder on the market, get WPForms.
If you're just starting out, the form builder is super easy to use. WPForms lets you create tons of different forms, like:
Basic contact forms
Email marketing signup forms
File upload forms
Payment forms
But on top of that, it has tons of advanced features like:
Advanced entry management
Conversational forms
Survey and poll reporting
Landing page forms
hCaptcha, Cloudflare Turnstile, & reCAPTCHA v3
And more
So you can use your form builder to actually make money online and reduce admin.
All of these advanced tools make WPForms a great investment. In any business or nonprofit, it's valuable to have so many different tools that integrate directly with your WordPress site.
Get WPForms Pro today and try it out for yourself. We know you'll love exploring all of the awesome features!
FAQ – Ninja Forms vs WPForms
We get a lot of questions about how our product compares to Ninja Forms. Here are some of our most frequently asked questions.
Between WPForms and Ninja Forms, which is more developer-friendly?
WPForms is more developer-friendly with its developer API and webhooks customization.
Does WPForms or Ninja Forms offer better spam protection?
Both platforms offer good spam protection. Ninja Forms' spam protection is built in, while WPForms offers Google reCAPTCHA, hCaptcha, Custom Captcha, and  Cloudflare, in addition to its built-in support.
Is Ninja Forms free to use?
Ninja Forms has a limited free plan that you can use to get started. You will need to upgrade to a paid plan to access the premium features.
How often is Ninja Forms updated compared to WPForms?
On average, Ninja Forms is updated monthly while WPForms is updated every 2-3 weeks.
Does WPForms offer a free version?
Yes, WPForms has a free version that's perfect for getting used to the platform. Like Ninja Forms, you will need to upgrade to a paid version to access premium features and addons.
Next, See What Else You Can Do With WPForms
We looked at tons of features in the WPForms plugin. Want to see what else you can do?
Check out our guides on:
And if you're looking for a comparison that also includes Gravity Forms, check out Gravity Forms vs Ninja Forms vs WPForms.
Create Your WordPress Form Now
Ready to build your first form? Get started today with the best WordPress form builder plugin. WPForms Pro includes 600+ form templates for your WordPress website and offers a 14-day money-back guarantee.
If this article helped you out, please follow us on our social media channels. Check out Facebook and Twitter for more free WordPress tutorials and guides.