Are you looking for the best WordPress geolocation plugins?
Geolocation can help you learn more about your visitors by tracking where they're viewing your site from or where their businesses are located. You can also geotarget visitors to show or hide content based on their location.
There are a few geotargeting plugins for WordPress that enable you to see the location information of your visitors right from your WordPress dashboard.
In this article, we'll look at the best geolocation and geotargeting plugins for WordPress.
Create Your WordPress Geolocation Form Now
Best WordPress Geolocation Plugins
1. WPForms – Best for Address Autocomplete
WPForms is the best form builder for WordPress, and it doubles as a geolocation plugin. It lets you easily make different types of WordPress forms for your site using a drag and drop builder.
The Geolocation addon for WPForms lets you add 2 awesome geolocation features to your forms: address autocomplete and address auto-detection.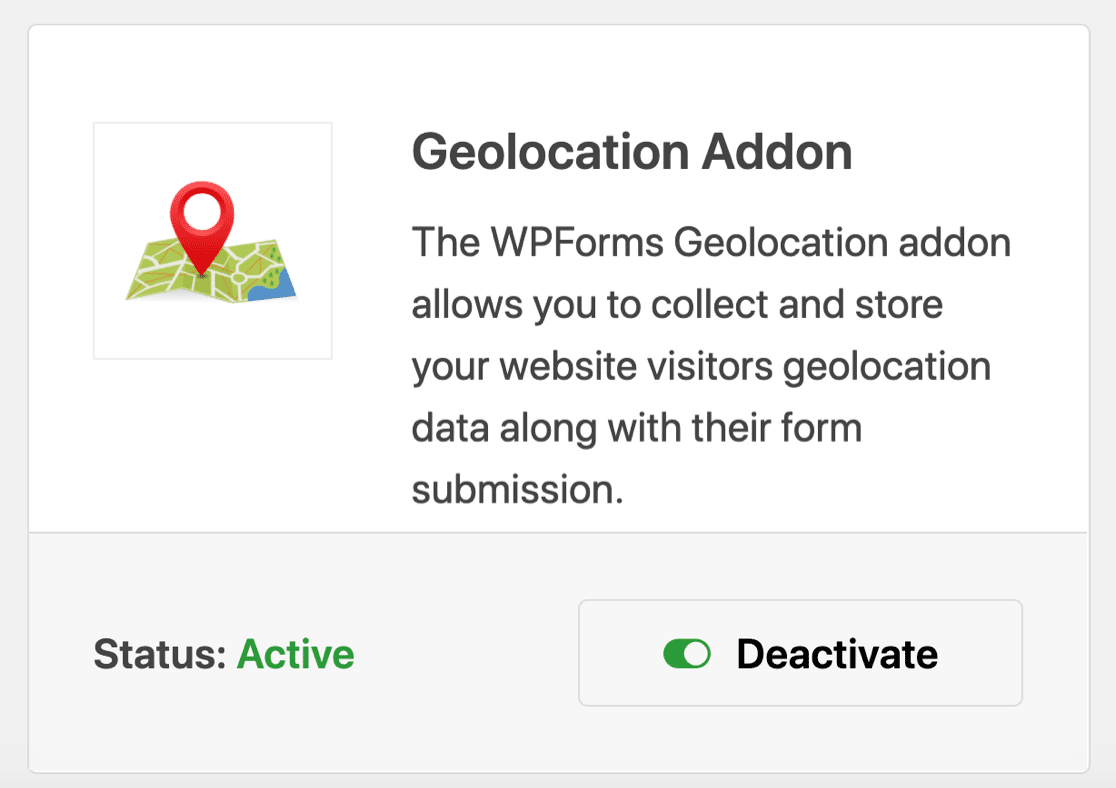 WPForms allows you to create an autocomplete address form and lets visitors find their locations using autocomplete. As they type, the geolocation map will automatically move to their location.
They can also pick a point on the map to change the address in the field.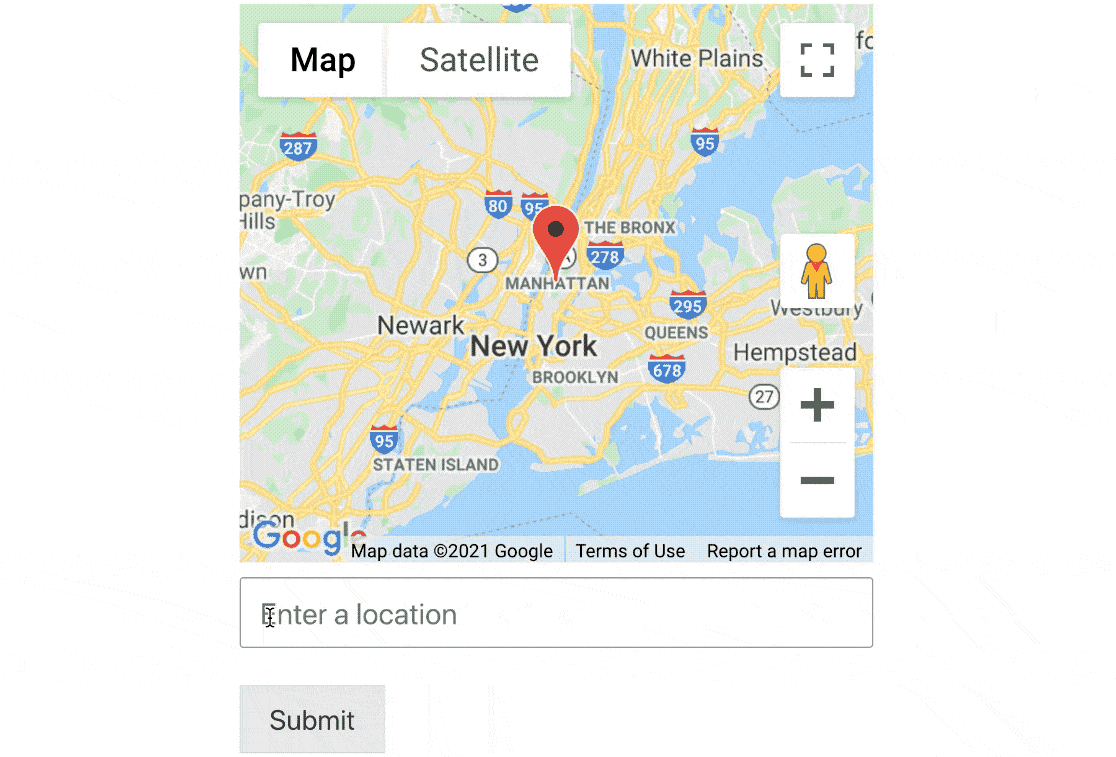 The address autocomplete feature works with the Google Maps API or the Mapbox Search API. It can help you to make forms easier to fill in, so you reduce form abandonment.
Learn more about creating a contact form with a map in WordPress.
WPForms also doubles as a tool for WordPress geotargeting. It lets you capture the location of everyone who submits a form on your site.
You can see their location on a Google map when you view their form entry in the WordPress dashboard.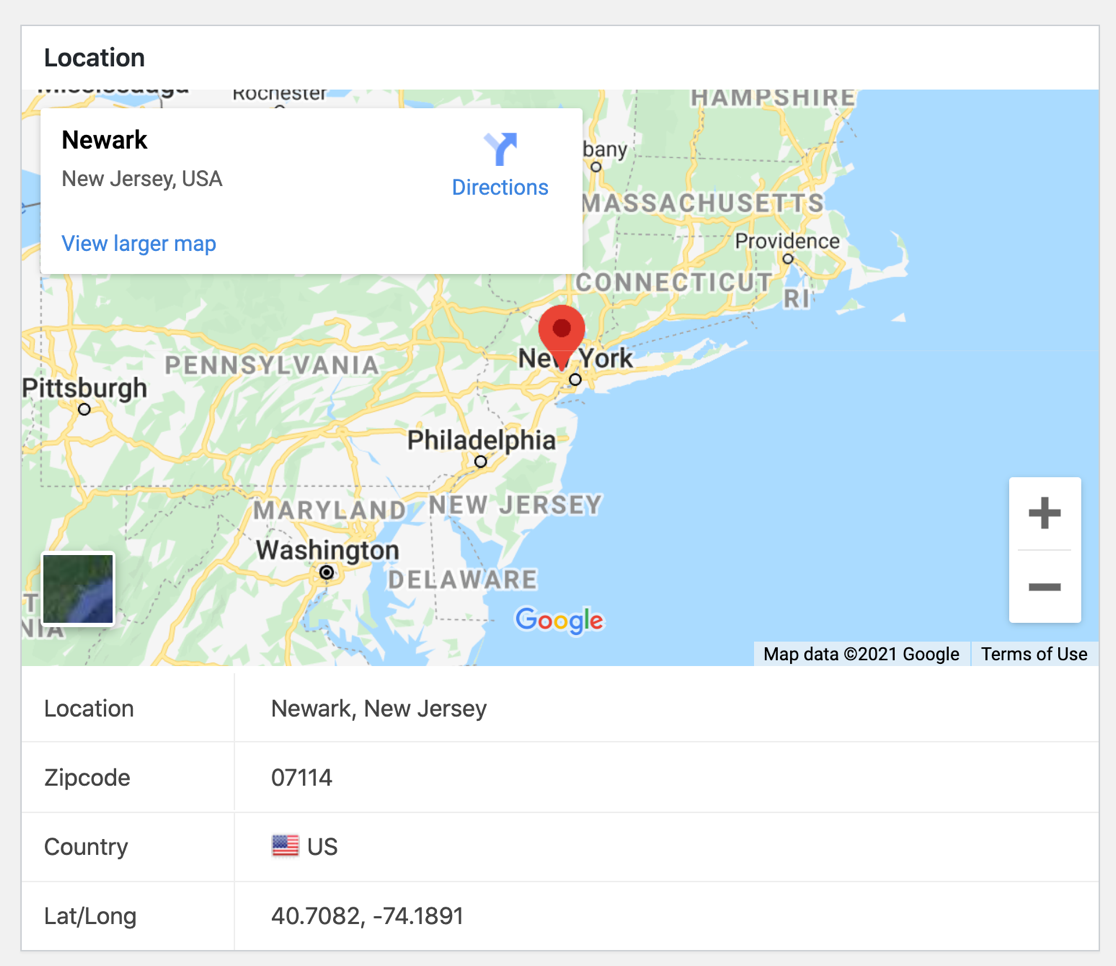 WPForms also captures some really useful user metadata for every entry. You can even use it as a WordPress IP location plugin because it captures the IP address of every user submitting your forms along with their geolocation (if you have the addon enabled).
Ready to add a map to your form? WPForms Pro has tons more awesome features like:
File upload forms
Payment forms
Pricing: WPForms Pro includes geolocation and address autocomplete and costs $199.50/yr.
Create Your WordPress Geolocation Form Now
2. MonsterInsights – Best for Regional Analytics
MonsterInsights is the best analytics plugin for WordPress.
It lets you easily connect your WordPress site to Google Analytics so you can easily see how your website is performing.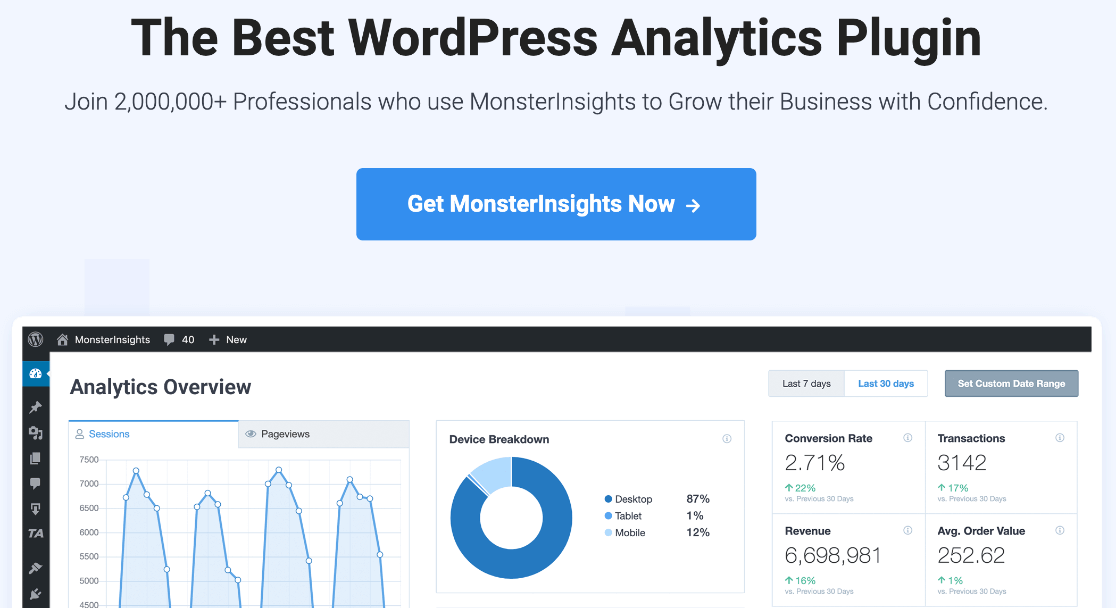 If you're a beginner, MonsterInsights is awesome because it makes analytics data easy to understand. And it also shows reports right in the WordPress dashboard, so everything you need to know is instantly accessible.
For example, you can easily use geolocation to easily see where your visitors are: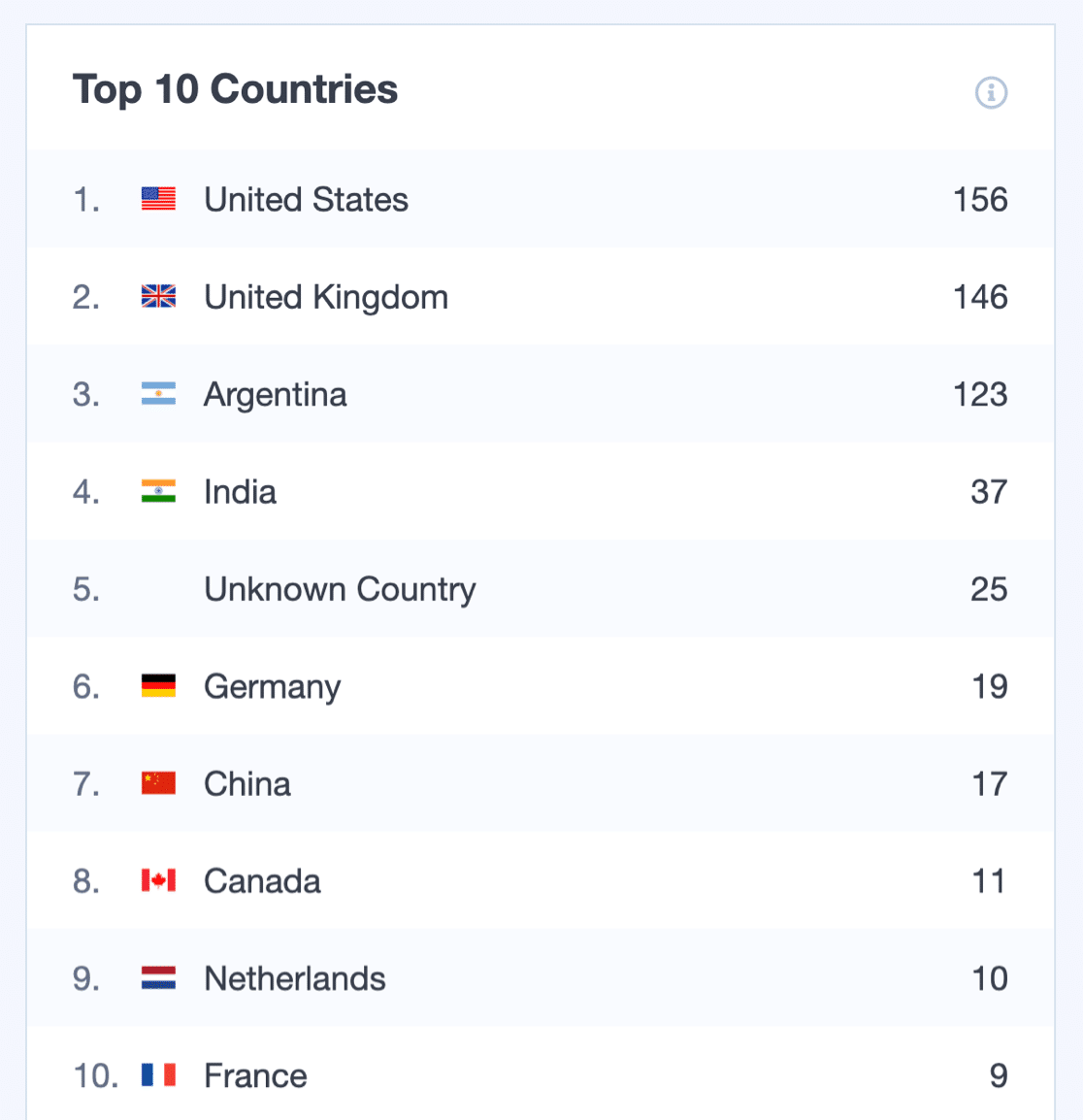 You can get even more geolocation data from the Audience Demographics report. It shows you the exact demographics of your website users. This is a great piece of information for geotargeting and can help inform your optimizing decisions for different demographics.
If you've ever spent tons of time trying to understand the data in Google Analytics, you'll love how easy it is to find information quickly in MonsterInsights.
Don't forget: MonsterInsights is a fully GDPR compliant plugin. It has an EU Compliance addon that makes it easy to disable specific trackers to comply with privacy laws.
You'll also get:
Detailed event tracking
eCommerce reports for WooCommerce, MemberPress, and Easy Digital Downloads
Author popularity tracking
Real-time traffic view
SEO score tracking
Custom dimensions
WordPress dashboard reporting
AMP compatible tracking
Search Console data
Headline analyzer tool
Check out all of these features in our expert MonsterInsights review.
Pricing: There's a free version of MonsterInsights. The paid version starts at $199/ yr.
3. TrustPulse – Best for Social Proof by Location
TrustPulse is an awesome social proof tool. You can use it with WordPress to display real user activity in popups.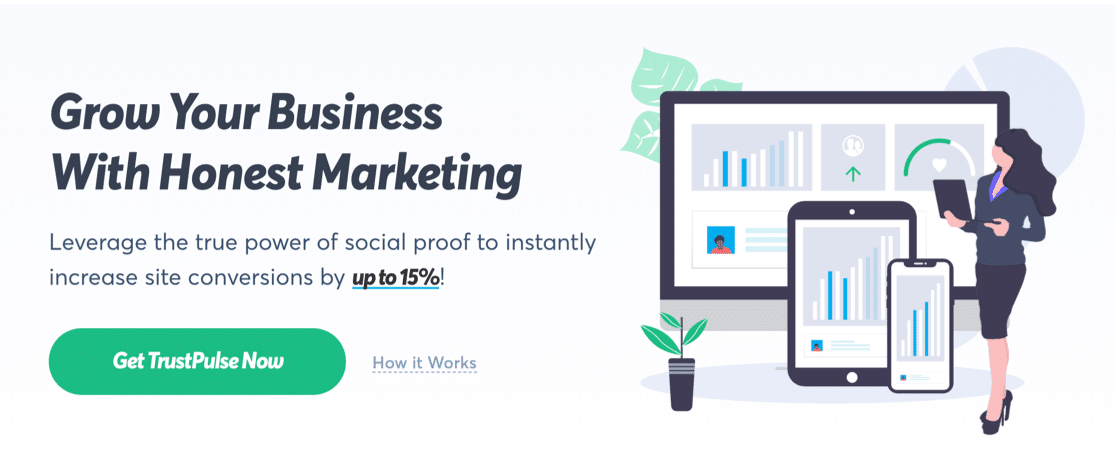 You can use TrustPulse to track conversions, like your WooCommerce sales. When it detects a purchase, it'll show your new visitors details of the purchase or activity.
And TrustPulse uses geolocation to put a geolocation map right on the popup.

The location and map on the popup are important to build trust and make your site look relevant to people close by.
Showing your visitors social proof popups helps to show them they can trust you. When people see that other customers are buying from you, they're more likely to take action and make a purchase themselves.
Features:
5-minute setup
Automatic conversion tracking
Customizable popups
Smart targeting
FOMO notifications showing real traffic
Conversion rate analytics
Compatible with WooCommerce, Shopify, WordPress, and more.
Pricing: There's a free 14-day trial for TrustPulse. The Basic plan costs $9/mo for up to 2,500 sessions.
Geotargeting Pro lets you show content to users based on their location. It's designed for affiliate sites and stores that need to show different versions of their site to different users.

You can use shortcodes to display content based on location, right down to individual cities. It lets you dynamically customize your WordPress template files, content, sidebars, and menus.
Geotargeting Pro also lets you also show or hide products in WooCommerce and Easy Digital Downloads based on the visitor's location.
Features:
IP and GPS location detection
Make your own region-based shortcodes
Group cities or countries into custom regions
Geolocation redirects
Geolocation content blocks
Location-sensitive links
Detects IP through Sucuri and Cloudflare
Works with caching plugins via AJAX
Compatible with local databases like Maxmind Geolite2 and GeoIP2, IP2Location, Kinsta GeoIP, and WP Engine GeoIP
Pricing: Geotargeting Pro costs from $9/mo for 10,000 requests on unlimited sites. There's a 14-day free trial.
5. Geolocation – Best for Geotagging
The Geolocation plugin lets you geotag posts and pages in WordPress. You can use it to add a location or address to any piece of content. The plugin can also show a map with a pin on each post.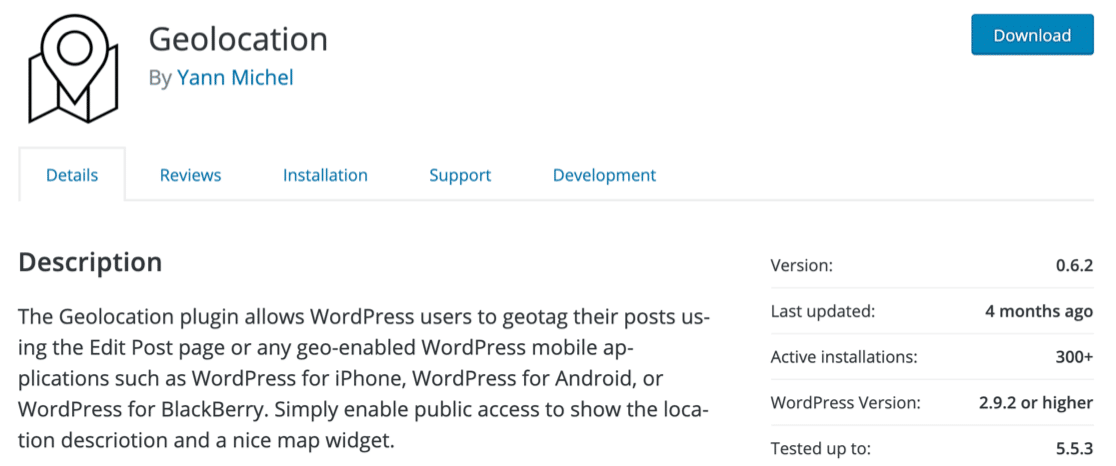 When composing posts, you can show the address at the top or bottom of your post, or set up a custom location. The visitor can hover over the location to see a popup map.
Features:
Use shortcodes to show maps
Show multiple locations for 1 post or page
Show locations for multiple posts on 1 map
Works with Google Maps API
Pricing: The Geolocation plugin is free.
6. CF Geo – Best for Currency Conversions
If you're looking for a geolocation plugin for currency conversion, CF Geo could be the right choice for your site. It lets you detect visitors' locations and customize the content and pricing they see.

You can show content to your visitors based on their location, which can really help if you're an affiliate marketer and you want to show location-sensitive links.
You can also use this plugin to attach geographical data and maps to posts, or block visitors from specific locations from accessing your site.
Features:
Create banners
Show Google Maps
Geotag your posts and pages
Block locations
Shortcode compatible
Cloudflare compatible
WooCommerce integration
Pricing: There's a free version. If you need more functionality, the paid version starts at $10/mo for 1 site.
If you want to restrict access to your site based on location, the iQ Block Country lets you do that easily. Use it to restrict access to specific posts or pages by automatically detecting the visitor's IP address.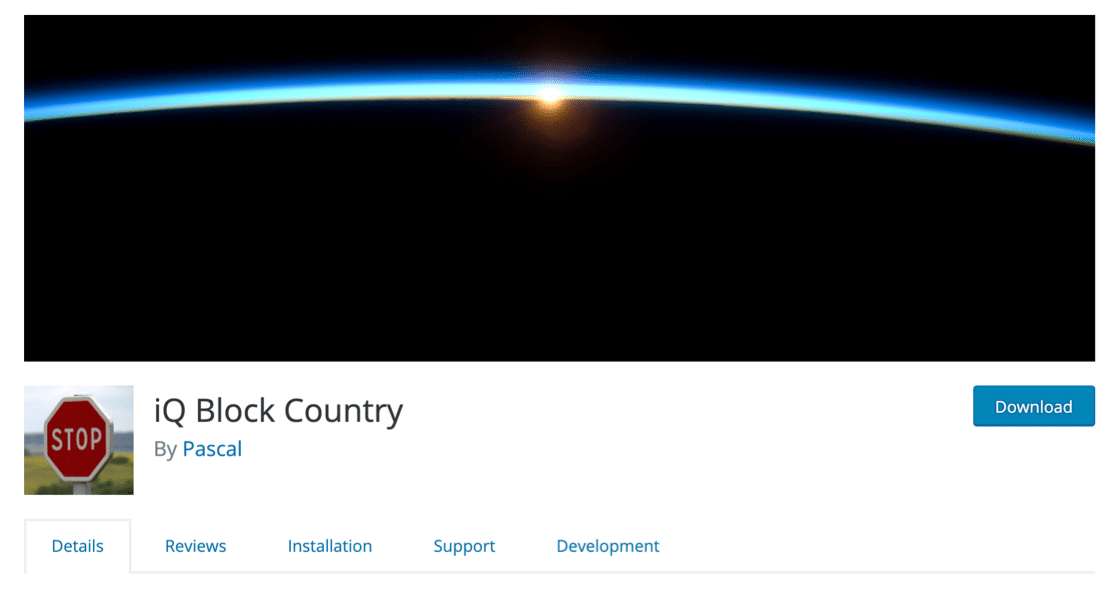 You can also lock the entire WordPress admin area to different countries and IP addresses, or block everyone except for your own IP. Blocking IPs can also help to combat contact form spam in WordPress if you're getting repeated entries from bots.
When used in this way, it's a useful WordPress security plugin.
Features:
Restrict posts, categories, and pages by a user's location
IP blocklist/ allowlist
Customizable block message
Block page geo redirect
Restrict access to the WordPress admin with geolocation information
Uses MaxMind GeoLite or GeoIP database
User tracking
GDPR compliant
Pricing: iQ Block Country is free.
8. GEO My WP – Best for Community Geotagging
GEO My WP is a powerful WordPress plugin that lets you geotag different parts of your website. It's designed for community sites, dating sites, business directories, and any other site that's location-dependent.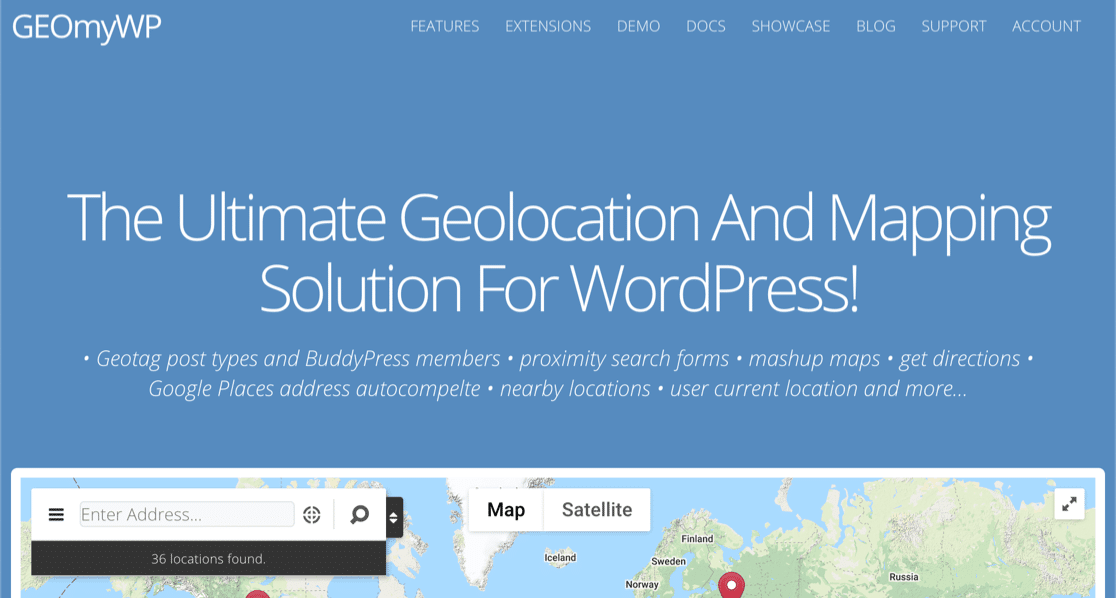 You can use GEO My WP to tag any post type on your site. You can show maps, and your visitors can search for posts based on the location or distance.
GEO My WP is BuddyPress compatible too, so you can allow your BuddyPress members to use proximity search to find people close by.
Features:
Geotag any post, page, or custom post types
Browser and IP geographic location
Display custom maps using shortcodes
Address autocomplete feature
Supports directory listings
Let visitors search for posts based on specific location or distance
Powered by Google Maps API and OpenStreetMap
BuddyPress location for users and groups
WP Job Manager compatible
Unlimited usage
Compatible with all WordPress themes
Pricing: There's a free version of Geo My WP. Extensions. Addons are priced separately.
Simple Location is another neat plugin for storing geolocation data in WordPress. It lets you add coordinates to any post, comment, user, or file.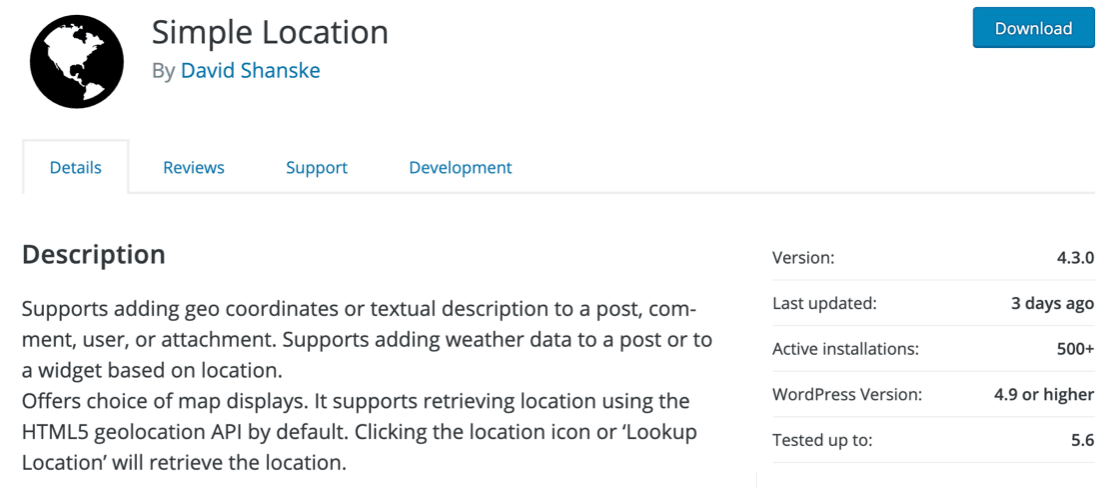 The coolest feature is the ability to save geolocation data from uploaded photos. It can also show weather data on your posts. This makes Simple Location an awesome plugin if you have a travel blog or you want to add check-in locations when you post new content.
WordPress has its own way of storing location data called Geodata. Simple Location uses this to store your location info so it can be accessed by other plugins.
Features:
Add locations and maps to posts
Show weather information
WordPress Geodata compatible
Hide location for WordPress users who aren't logged in
Supports HTML5 geolocation
Supports custom map providers
Pricing: Simple Location is free.
Custom Content by Country generates Amazon affiliate links based on the visitor's location. You can use this plugin to make money on your blog by always showing visitors the correct Amazon affiliate links for their location.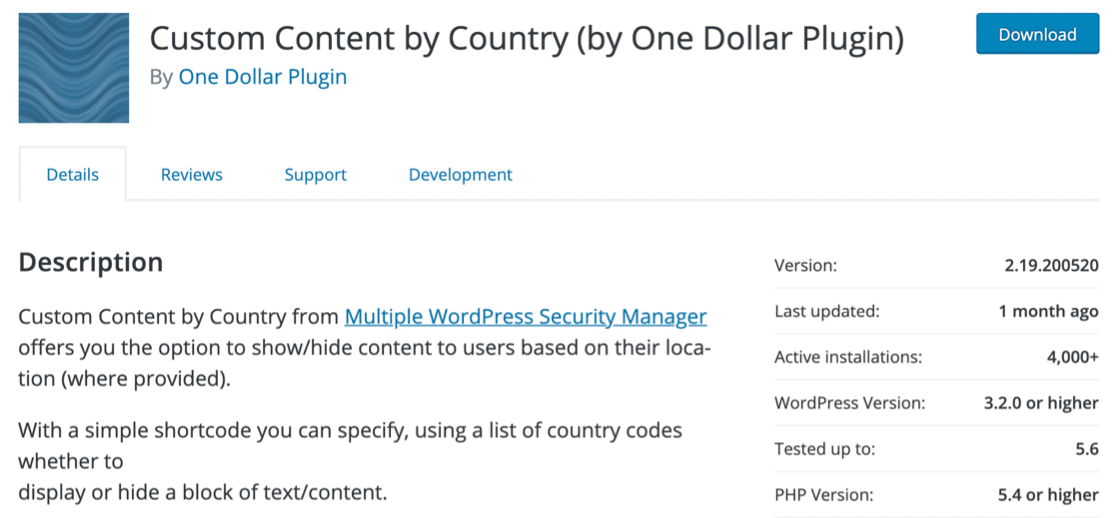 The plugin can also show or hide blocks of text with a geolocation shortcode. That means it's a lot more versatile than other Geotargeting WordPress and geolocation plugins that can only control full posts or pages, and it lets you display different content dynamically by location.
The plugin also has shortcodes to dynamically show the visitor's country name or IP address on the page.
Show or hide text using a shortcode
Cloudflare compatible
IP2Nation compatible
W3 Total Cache compatible
Pricing: Custom Content by Country is free.
11. CloudGuard – Best for Access Management by Location
CloudGuard lets you hide your WordPress admin area from users in specific countries. It uses the free Cloudflare geolocation service to detect the visitor's location, so it doesn't place any additional load on your server. The plugin will redirect users from blocked countries who try to log in.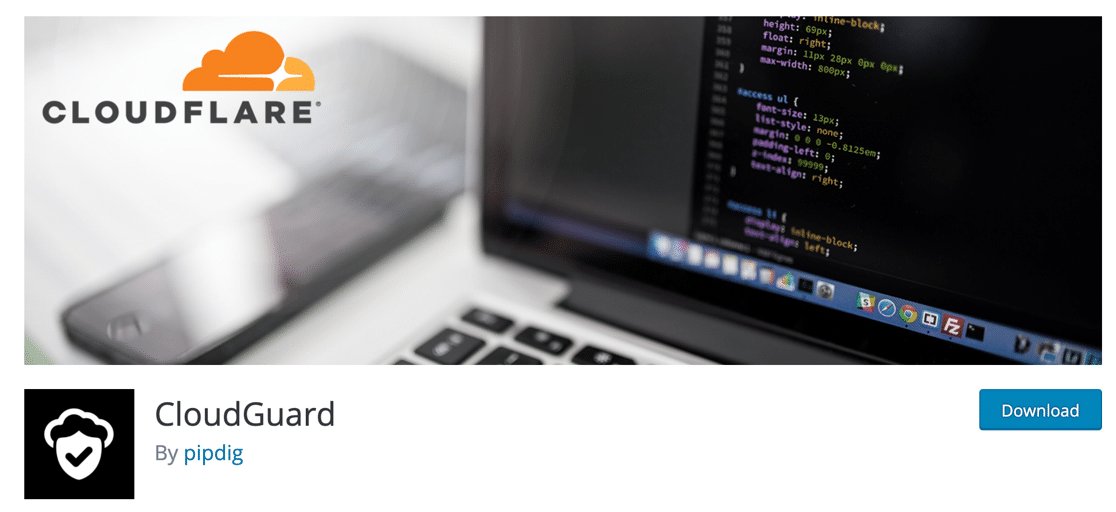 Additionally, CloudGuard tracks all of the attempts to access the dashboard. You can see all of the attempted visits on a map and track who's trying to access your login page.
Features:
Secure your WordPress login using geolocation
Monitor login attempts
Block logins or redirect login attempts
Free Cloudflare account required
Pricing: CloudGuard is free.
And there you have it! Now, you have a better idea of your options when it comes to finding the best WordPress geolocation plugins for your site.
FAQs on Best WordPress Geotrageting Plugins
Here are some commonly asked questions about geolocation plugins for WordPress:
What are the benefits of using geolocation features in WordPress?
In WordPress, you can use geolocation plugins for 3 main purposes:
Location tracking: These plugins track the visitor's location and save it in WordPress. This is super helpful if you want to know where a visitor is from without asking them to manually type in their address.
Content blocking: Some geotargeting plugins let you show or hide parts of your site according to your visitor's location. This can be helpful for affiliate sites that need to show visitors different links. Some plugins even allow you to block access to your entire site based on the visitor's IP location or GPS coordinates.
Content tagging: These plugins allow you to add location tags to your posts, pages, and even your users. This lets you display posts using map pins, or lets your users find other people close by. You could use these plugins to make a journal that automatically captures where you are when you create each post.
How accurate is geotargeting?
On a country level, geotargeting is extremely accurate and can be determined with up to 95-99% accuracy. The accuracy declines for regions and ranges between 55-80%. City-level targeting is the least accurate at 50-75%.
Can geolocation plugins affect my website's performance?
No, the geolocation features of top-quality plugins like WPForms and MonsterInsights won't have any negative impact on your website performance. However, it's important to avoid using obscure plugins that haven't been tested well enough and with a small number of installations. These may not offer the best performance.
Next, Easily Get More Info on Your Visitors
Now you have a WordPress geolocation map plugin, you'll probably want to find out exactly what those visitors do after they land on your site.
To unlock this hidden tracking info, you can install the User Journey addon in WPForms and track the customer journey through your site.
Also, we recommend checking out our comparison of the best online form builders for WordPress. And if you're confused between Ninja Forms vs WPForms, make sure to check out our detailed comparison between the two plugins.
Create Your WordPress Geolocation Form Now
Ready to build your form? Get started today with the easiest WordPress form builder plugin. WPForms Pro includes lots of free templates and offers a 14-day money-back guarantee.
If this article helped you out, please follow us on Facebook and X for more free WordPress tutorials and guides.