Are you looking for a straightforward and honest MonsterInsights review?  Since you're here, it's safe to assume that you've heard a lot of buzz about this plugin.
So, is MonsterInsights any good? Is it actually the best Google Analytics plugin for WordPress? Well, it's time to find out!
In this article, we'll take a close look at MonsterInsights and all of its features to see if it really is the best way to connect your WordPress site to Google Analytics.
What Is MonsterInsights?
Before diving into our MonsterInsights review, here's the scoop on the plugin for those of you who are just hearing about it for the first time.
Of course, if you already know about the plugin and are wondering if it is the right choice for you, use our handy table of contents to jump into our review.
MonsterInsights is the best Google Analytics plugin, with over 3 million active installations and 2,600+ great reviews on the WordPress.org plugin site.
It makes the overall experience of using Google Analytics very easy and is packed with powerful features that help track visitors' behavior.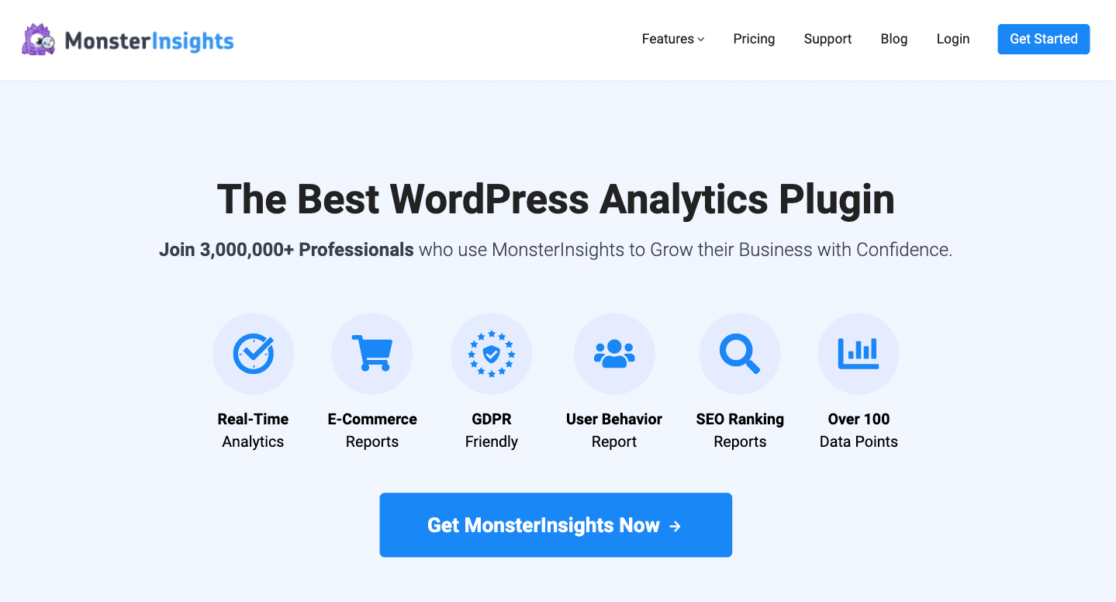 If you're not an analytics expert, it's easy to get stuck configuring the GA4 dashboard or getting useful insights from the raw data.
That's where MonsterInsights comes in, basically setting everything up for you with meaningful dashboard reports that gather all your vital data in one place.
The dashboard reports are user-friendly, and they present data in a way that anyone can quickly understand how their website is performing.
Ready to learn more about the numerous features of MonsterInsights and how it helps businesses grow? Let's jump into our detailed MonsterInsights review.
MonsterInsights Review
Using MonsterInsights, you can quickly connect your WordPress site to Google Analytics, allowing you to monitor traffic and site performance in an instant.
It automatically sets up event tracking and allows you to analyze active sessions, page views, bounce rate,  and conversions.
You can also keep tabs on our sales, conversions, and popular products from the dashboard for a detailed overview of your sales funnel.
Below are the most powerful features of the MonsterInsights plugin and what you can do with them on your website.
1. Set up Google Analytics Without Coding
Usually, you'll have to enter a tracking code on your site. This requires messing around with the website code, which could be tricky if you're not a developer.
However, MonsterInsights makes it super simple to set up Google Analytics on your WordPress website. There's no need to hire a developer or edit code.
All you have to do is follow the setup wizard, as it guides you every step of the way and adds the Google Analytics tracking code.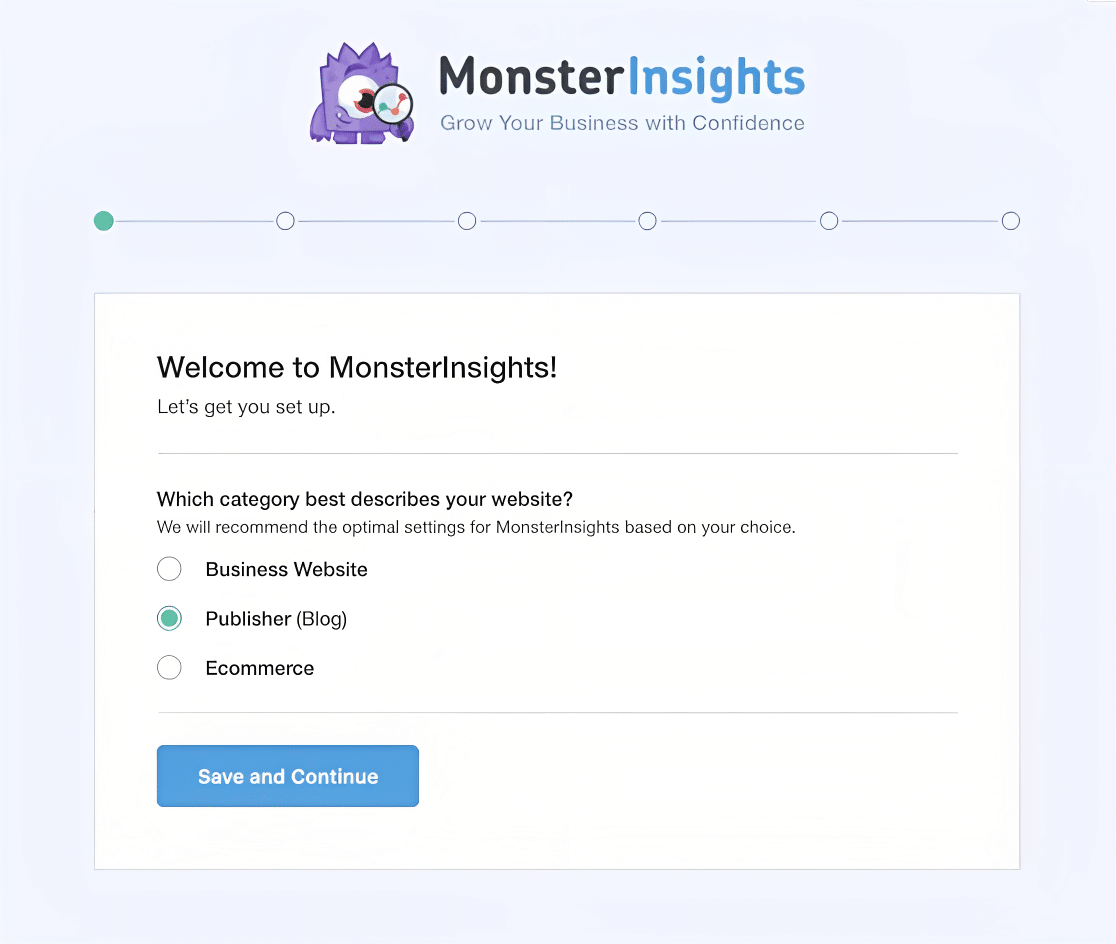 2. View Reports in the WordPress Admin Area
Another benefit of using MonsterInsights is that it shows your important Analytics reports inside the WordPress admin area.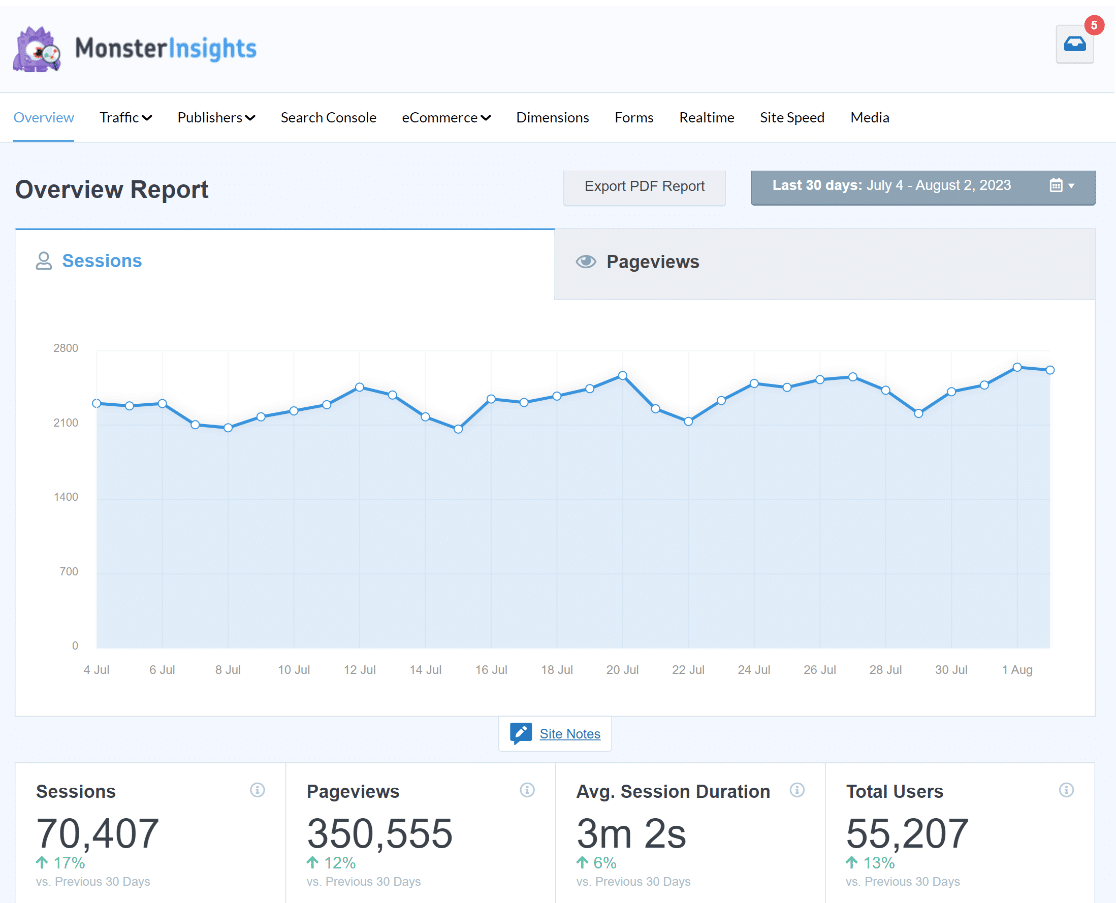 You won't have to leave your website or worry about finding your way around Google Analytics to get the data you need.
MonsterInsights dashboard reports are designed to be user-friendly and show the data that matters for your business.
3. Track Form Conversions
With the MonsterInsights Forms addon, you can track all types of WordPress forms, including contact forms, registration forms, surveys, polls, lead generation forms, and more.
The addon automatically tracks form conversions and shows you a detailed report with vital stats about each form's performance. For instance, you can see the total impressions, conversions, and conversion rate for your forms.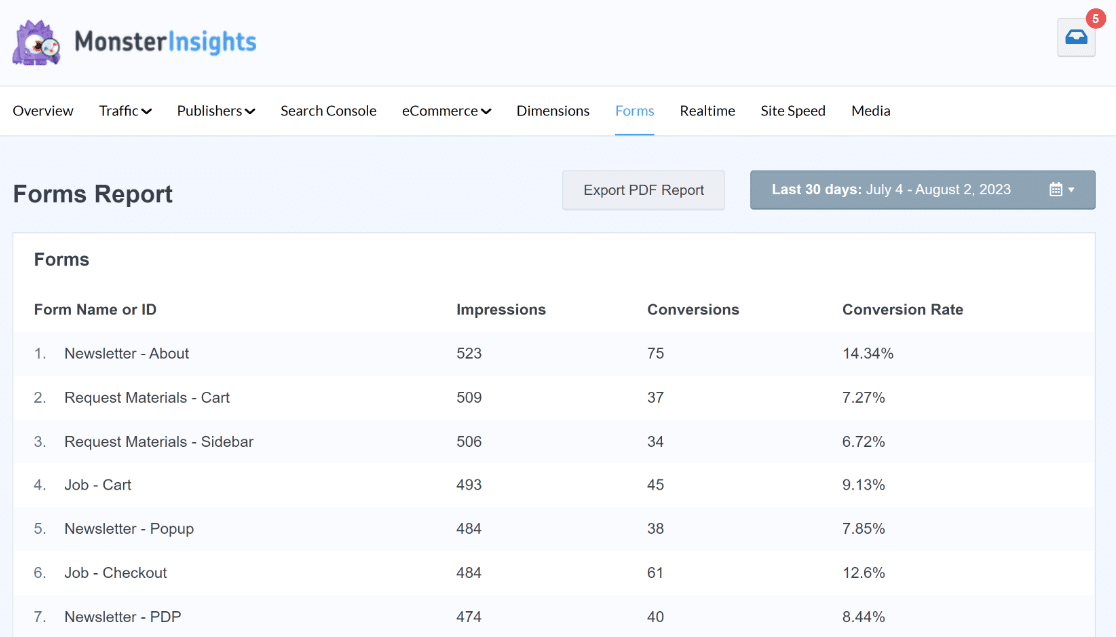 And the best part, MonsterInsights easily integrates with WPForms. It will automatically detect your WPForms plugin and start tracking all your forms without any additional configuration.
4. Enable Enhanced eCommerce Tracking
Do you have an online store and want to know how it's performing? If yes, MonsterInsights can help you enable Enhanced eCommerce and track its performance thanks to its eCommerce addon.
It's one of the best WooCommerce plugins available. In just a few clicks, you can find out about your top products, top conversion sources, time to purchase, session to purchase, and other stats.
These include data on how much revenue your store made, its conversion rate, the number of transactions, and average order value for a complete report of the sales generated by your WordPress site.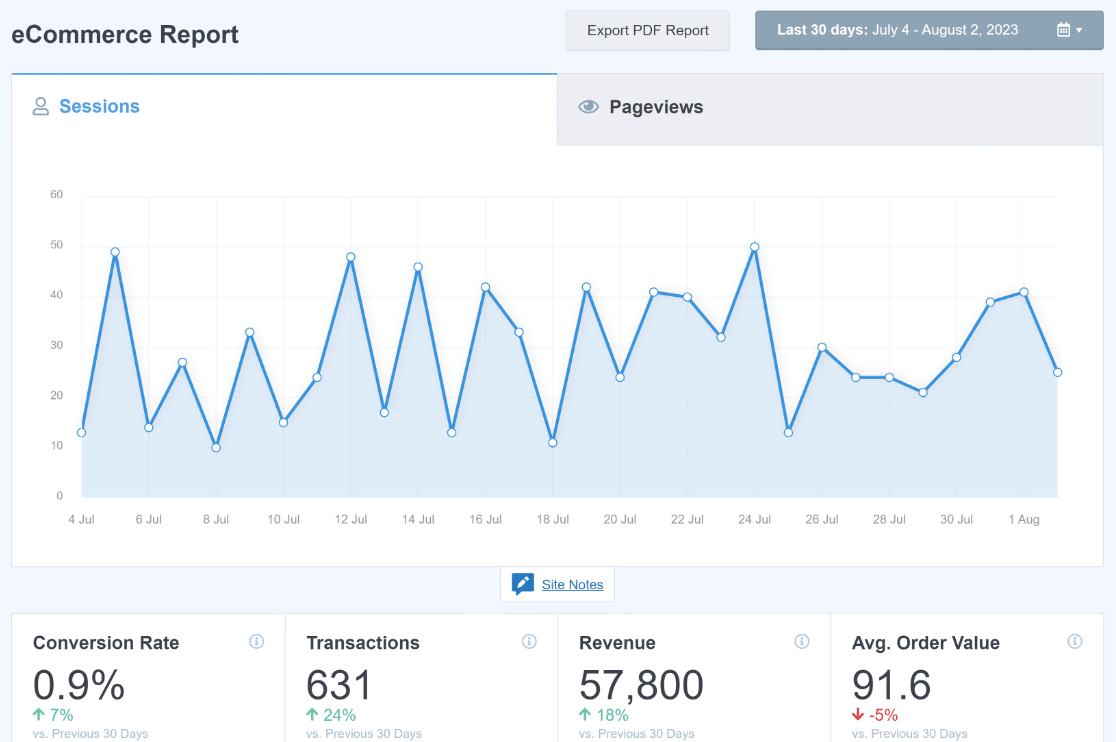 The MonsterInsights eCommerce addon automatically detects WooCommerce, Easy Digital Downloads, MemberPress, and LifterLMS. This makes it super easy to use Google Analytics on WooCommerce.
5. See How Far People Scroll on Your Pages
Wondering how far down people scroll on your blog posts or landing pages? By tracking scroll depth, you can better understand your visitors' behavior and how they interact with your website.
With MonsterInsights, Google Analytics events will automatically be triggered when users scroll a page by 25%, 50%, 75%, and 100%. It will then show the average scroll depth in its Publishers report inside the WordPress admin area.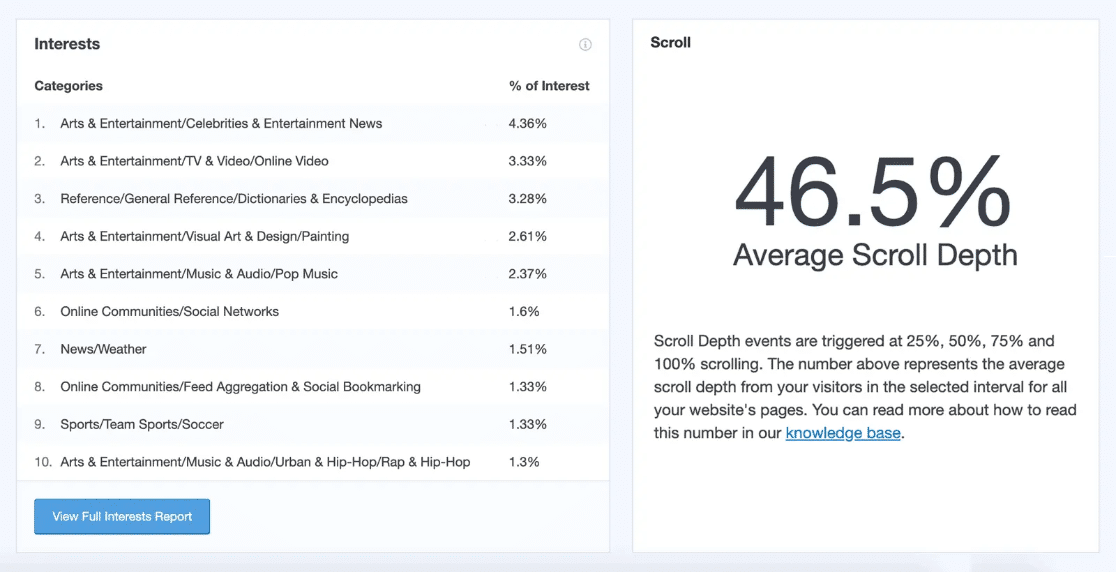 You can use the data from scroll tracking to place call-to-action (CTA) buttons in the right place and boost clicks. Besides that, you can also show popups based on how far people scroll a page to grow your email list.
6. Uncover the Most Popular Affiliate Links
One of the most helpful features you'll find in this MonsterInsights review has to be the affiliate link tracking tool.
Do you have affiliate links on your WordPress website, or are you an affiliate marketer? If yes, then you should be tracking each link and see how they're performing.
And with MonsterInsights, you get affiliate link tracking right out of the box. There is no additional setup required or the need to edit the tracking code.
All you have to do is enter the path and label for your affiliate link, and MonsterInsights will start tracking them in Google Analytics.
To see how many clicks each affiliate link gets, simply view the Publishers report and identify your most popular links.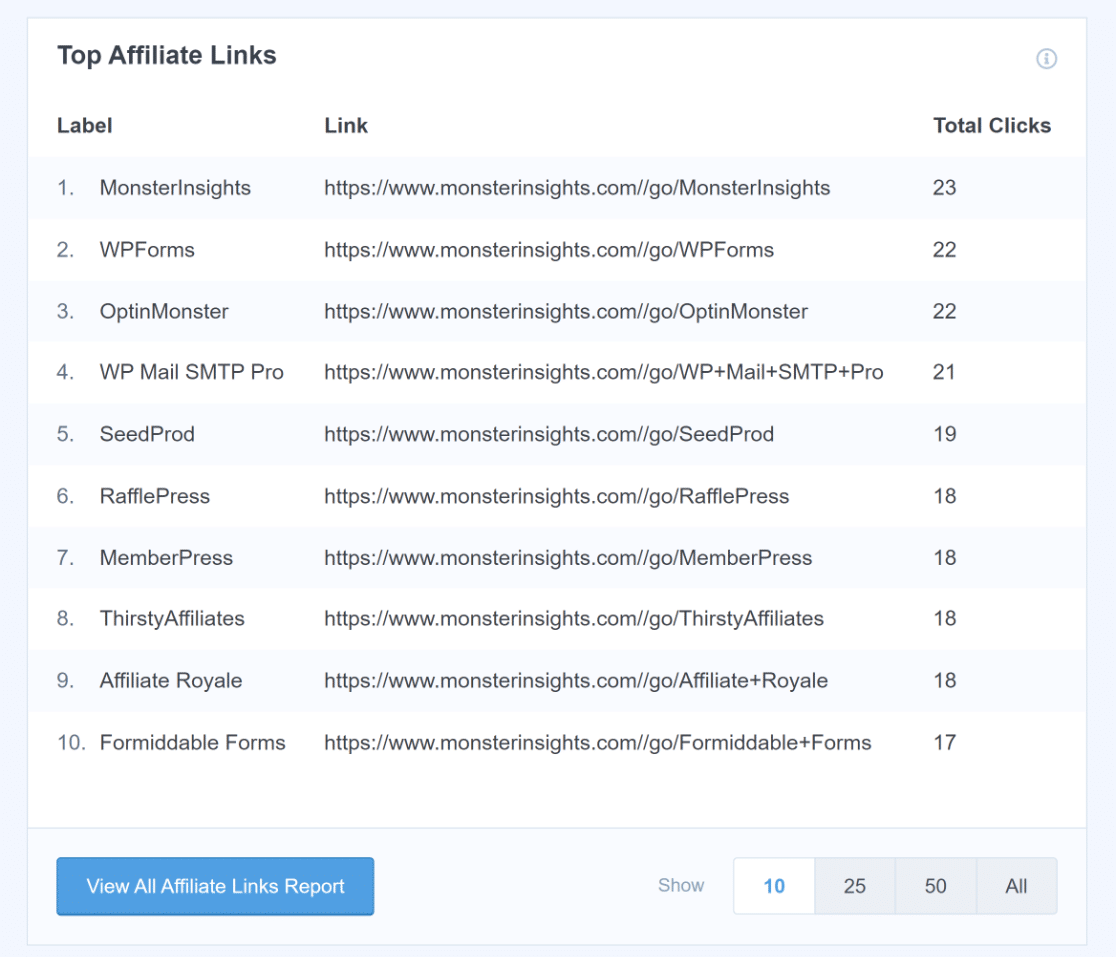 7. Track File Downloads on Your Site
Another advanced tracking feature MonsterInsights offers out of the box is file download tracking.
It will automatically track different file downloads on your website and show you which files get the most downloads.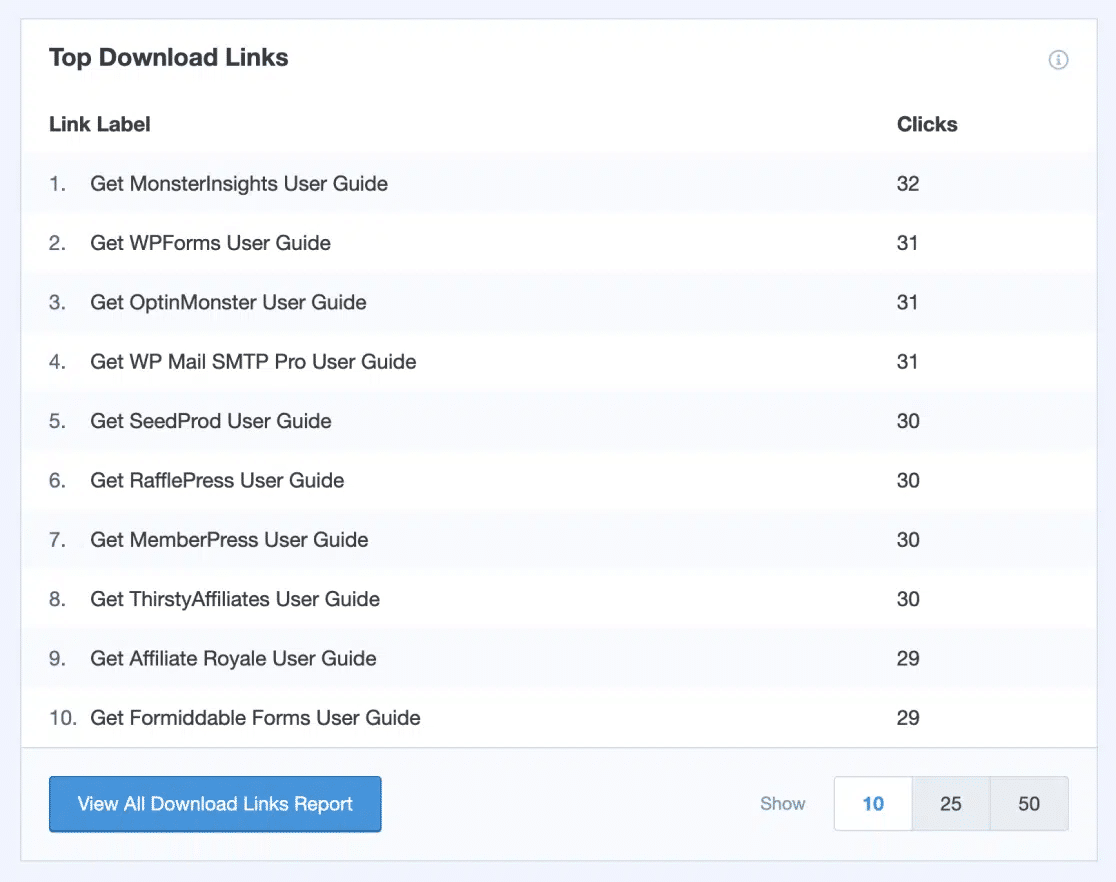 For example, if you're offering content such as ebooks, PDFs, spreadsheets, videos, and other downloadable content, then with MonsterInsights, you can identify the most popular file format and create similar content.
This helps build an email list, increase user engagement, and give you an opportunity to repurpose your blog posts.
8. Discover More Insights Using Custom Dimensions
Did you know you can set up additional tracking in Google Analytics through custom dimensions?
Custom dimensions help you track different metrics and stats that Analytics doesn't track by default. But setting them up can be tricky for new users.
The MonsterInsights Dimensions addon removes this pain point and makes it easy to set up dimensions.
For instance, you get to track the most popular categories, tags, authors, focus keyphrases, SEO scores, publishing times, and more.

9. Ensure Google Analytics Complies With GDPR
Does your website get visitors from Europe? If yes, then you'll need to comply with General Data Protection Regulation (GDPR).
It's a data protection law that requires consent from users before Google Analytics can collect and process their data.
And if companies fail to comply with this regulation, they could face penalties of up to 4% of annual revenue or 20 million euros (whichever is higher).
Thankfully, MonsterInsights is 100% GDPR compliant. It ensures Google Analytics meets GDPR requirements through its EU Compliance addon.
The plugin automates the process of anonymizing and disabling personal data tracking on your site with a click of a button.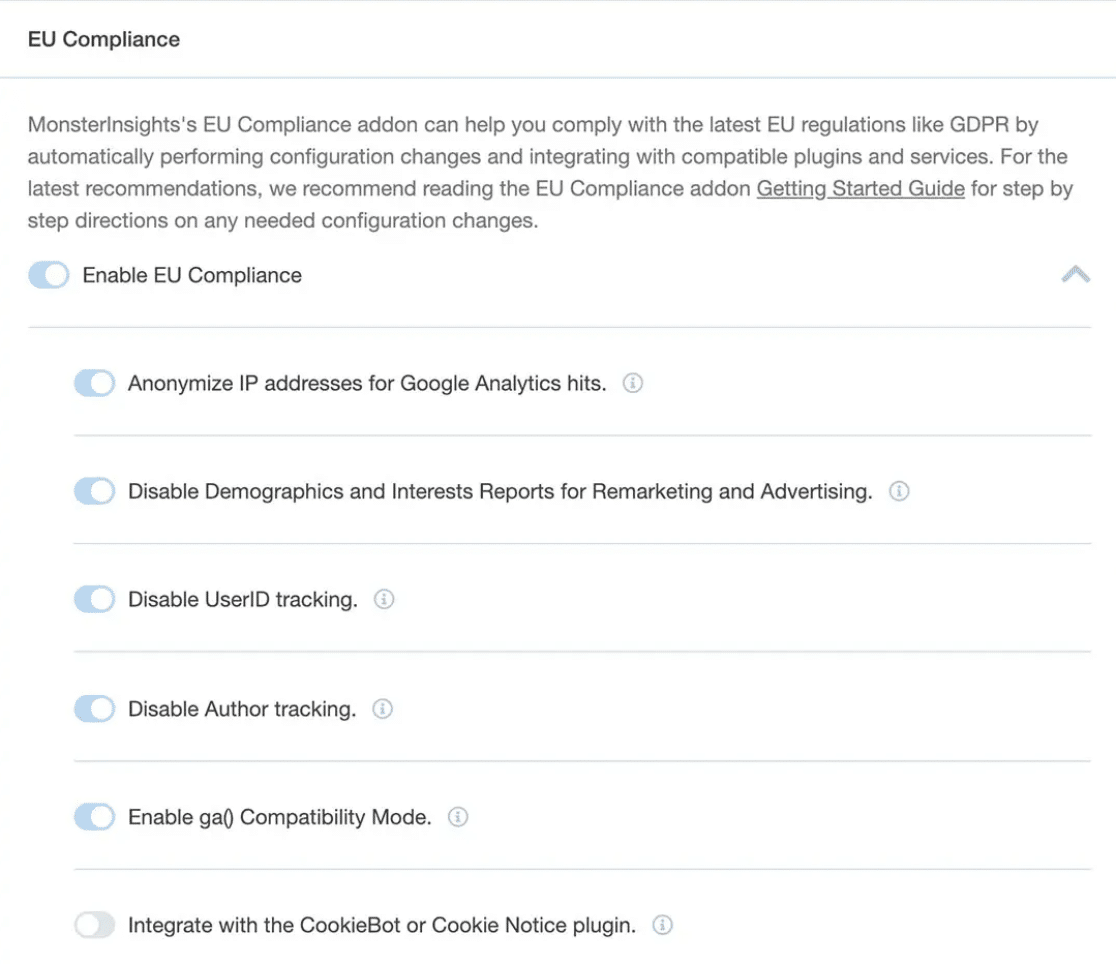 Plus, it easily integrates with other GDPR plugins like Cookie Notice and helps you get your user's consent before tracking their information in Google Analytics.
11. Track High Traffic Sources
If you want to understand your website's audience better, you should track where they come from.
MonsterInsights helps you track your traffic sources and displays them inside your WordPress dashboard reports.
For instance, it helps in finding the countries from where you get the most traffic. Let's say a lot of visitors are from India.
Using this data, you can create region-specific content and targeted marketing messages and set up campaigns that will only show to people from specific regions.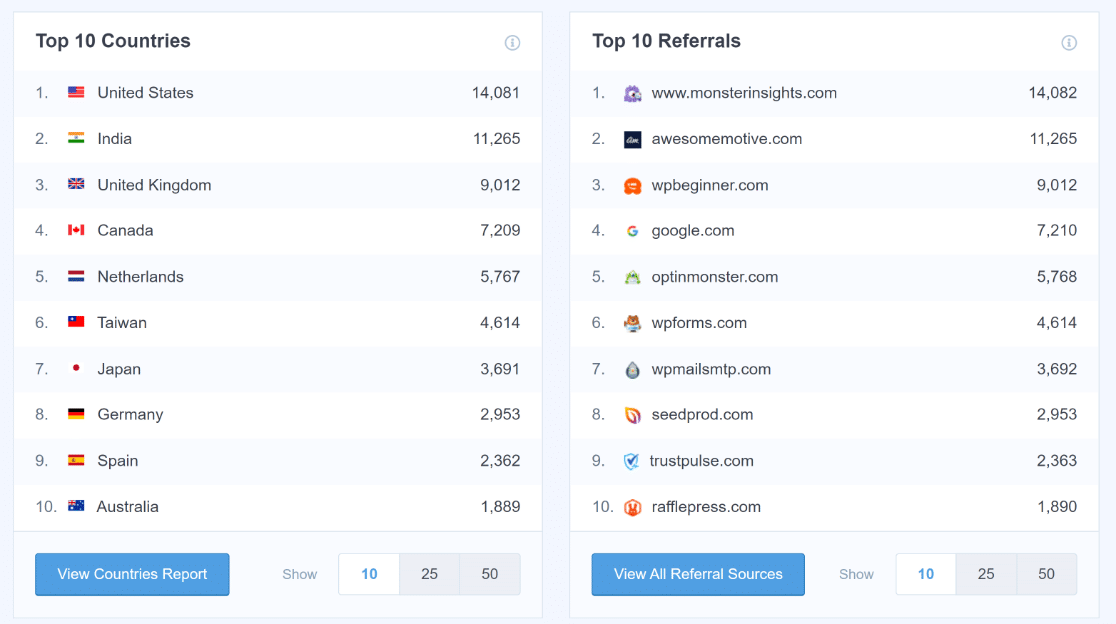 Aside from that, MonsterInsights shows your top referral sources. These are sites that have linked to your content on their site.
When a user clicks on the hyperlink, they're counted under referrals. Finding your top referrals helps uncover new opportunities to get backlinks, submit guest posts, and create partnerships.
11. Create Engaging Headlines
Do you want to optimize your posts' headlines for search engine optimization (SEO) so they get more clicks?
With the MonsterInsights Headline Analyzer, it's easier than ever to create engaging titles and improve them right in the WordPress editor.
The tool rates the headlines on a scale of 1 to 100 and then provides suggestions for making them more enticing.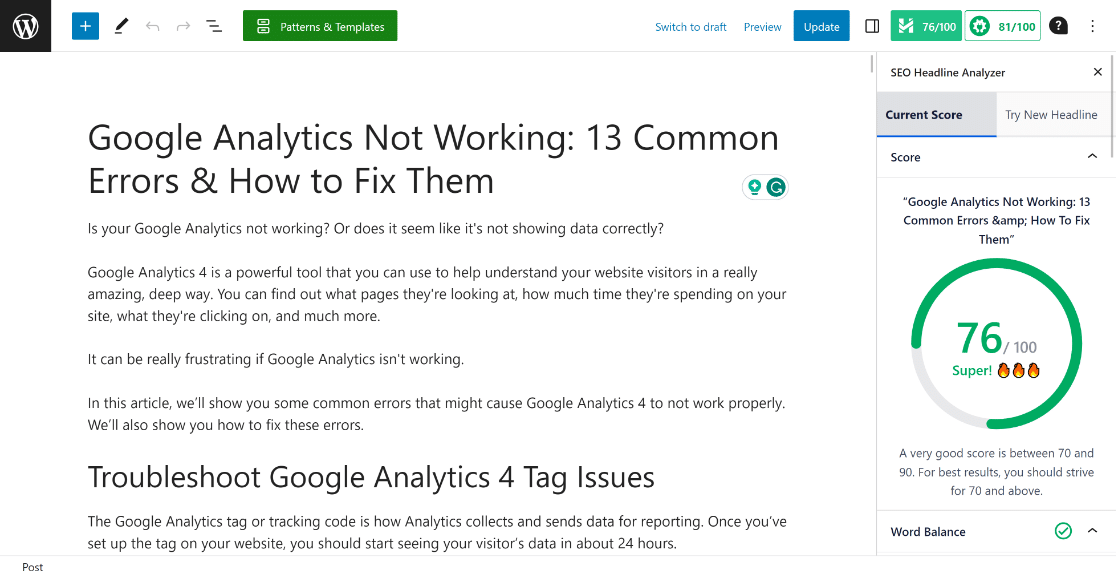 It checks for word balance and looks for:
Word Balance
Common Words
Uncommon Words
Emotion Words
Power Words
Sentiment
Character Count
Word Count
If you use any of these words, it improves the copy of your title, makes them more impactful, and increases the chances of getting more click-throughs.
Along with that, the headline analyzer also ensures your titles are within the character limit for search engines by showing a character count and word count.
If you write lengthy titles beyond the allowed limit, they'll get cut off at the end. As a result, people won't be able to read the full text and might not click on your link since they don't know what the post is about.
But with the tool, you don't have to worry about exceeding the limits.
12. Display Your Best Content With Popular Posts
Another benefit MonsterInsights provides is that it lets you display your best content or top products anywhere on your website.
With the Popular Post feature, you can increase engagement and help visitors discover new articles and products instantly. By keeping people on your site, you have a higher chance of getting more conversions.

MonsterInsights lets you show posts and products in the sidebar, within the content, or at the end of a post. There are multiple styles to choose from, and you can easily customize the design and layout.
It also lets you choose how you'd like to determine the popular posts and products. You can sort posts based on comments, share count (you'll need to connect with a SharedCount account), or manually select posts to display in the popular post widget.
And if you have a Post Type custom dimension set up, then MonsterInsights will automatically show you the top 5 posts from the last 30 days from Google Analytics.
Now, are you looking for a way to share your analytics reports with other team members or clients without having to give access to Google Analytics? MonsterInsights offers multiple options for easily sharing reports.
For starters, you can use its Email Summaries option and set up weekly reports that are sent directly to an email inbox.
Simply add up to 5 email addresses to whom you'd like to send the report. It's excellent keeping your clients informed about their site's performance.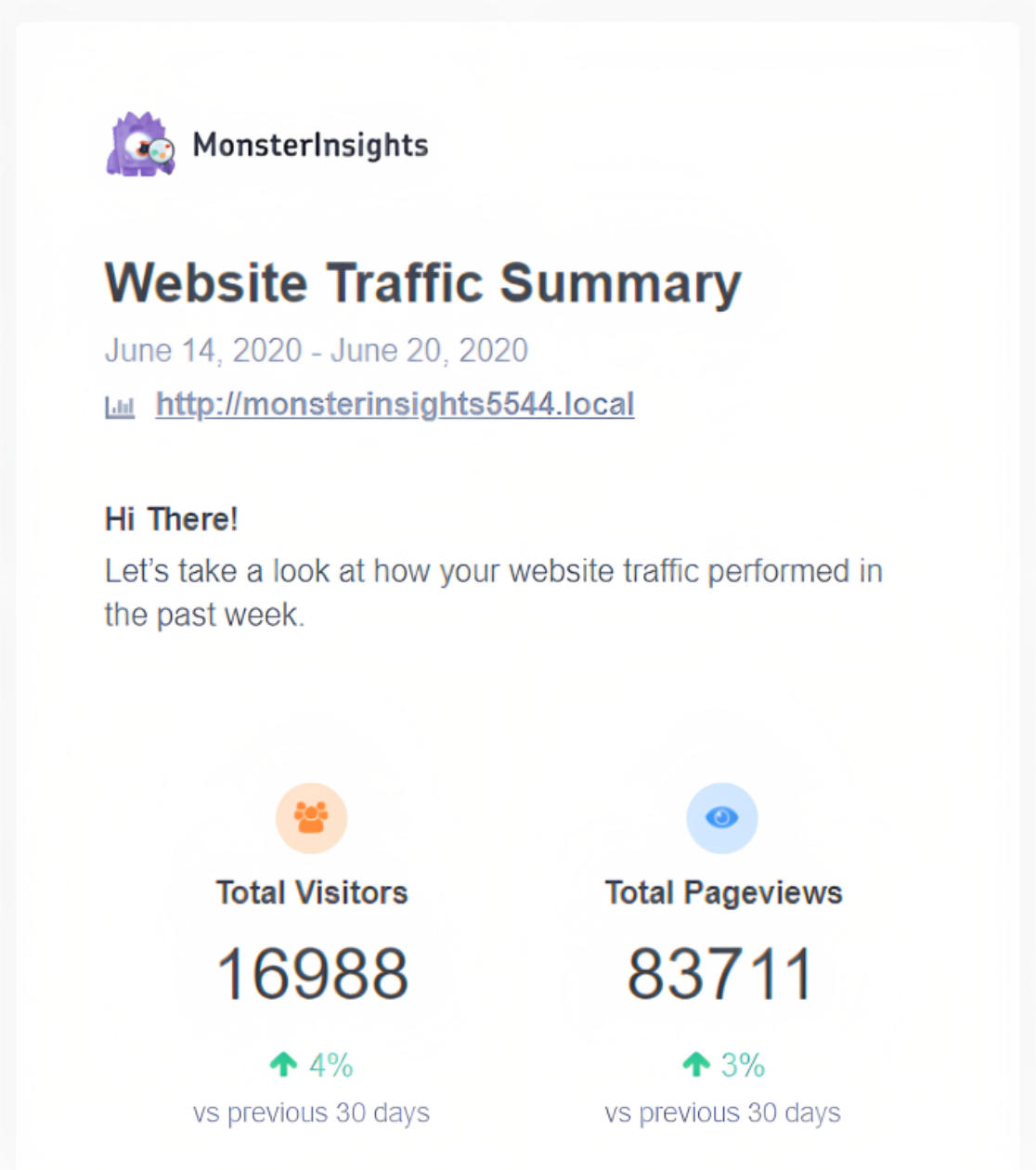 Another option that MonsterInsights provides for sharing reports is by exporting them as PDF files.
To share any MonsterInsights report (except real-time report), just click on the Export PDF Report option and you'll get neatly formatted reports.
14. Get Notifications With Contextual Insights
Besides sharing reports, you can also learn how to use the data in MonsterInsights reports through Contextual Insights.
These are notifications that you'll see inside the plugin that help uncover trends or critical information about your visitors.
You can use the suggestions in this data to grow your business. Also, you'll get notifications for setting up additional tracking to get more insights about your audience.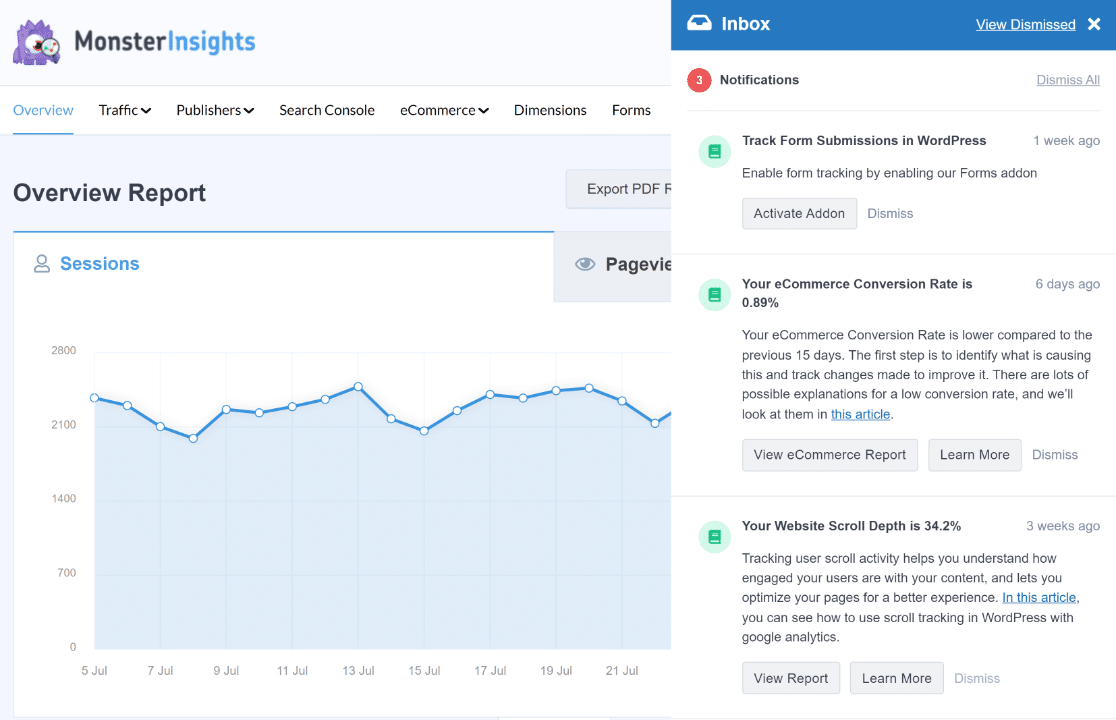 15. Supports Many Useful Integrations
You might think software integrations only get the tech heads excited, but they're there to make the software easier to use.
When it comes to discussing MonsterInsights, a lot of articles breeze past its integrations, but we reckon it's essential info for small businesses.
MonsterInsights offers an array of impressive integrations designed to let you smoothly track and report various types of data, all without dabbling in code.
It supports nearly every critical plugin you need to operate a WordPress website, such as:
WooCommerce
Easy Digital Downloads
LifterLMS
WPForms
Pretty Links' Shortlinks
Memberpress
Thirsty Affiliates
GiveWP
Restrict Content Pro
And more! Plus, MonsterInsights even supports integrations for Facebook Instant Articles, Google AdSense, Google News Articles, and Google Optimize to take care of advanced tracking and A/B testing.
Get Started With MonsterInsights
And there you have it! You now know how MonsterInsights can help you grow your business and why it's the best Google Analytics WordPress plugin.
To get started, MonsterInsights offers pricing plans for all types of businesses. And with each plan, you get a 14-day money-back guarantee.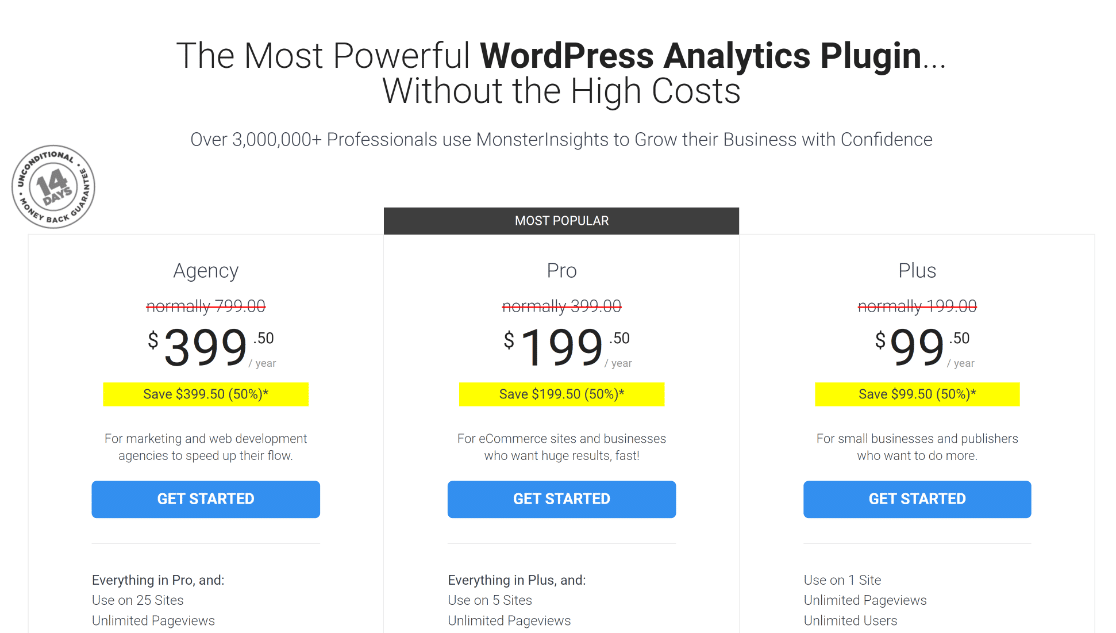 There's also a free/lite version, which you can download from WordPress.org. So what are you waiting for? Give MonsterInsights a try today!
FAQs about MonsterInsights
Since MonsterInsights is a widely used Google Analytics plugin, many of our readers are interested in learning more about it. Here are some popular queries and their answers.
Is MonsterInsights worth it?
Yes, MonsterInsights is worth it for most WordPress sites looking to improve their SEO and analytics. It provides detailed insights, works seamlessly with popular plugins, and has a solid reputation.
Is MonsterInsights free?
No, MonsterInsights is not free. It has a free lite version with basic analytics, but advanced features require upgrading to the paid plans, which start at $99.50 per year.
Does MonsterInsights work with Elementor?
Yes, MonsterInsights has full integration with the Elementor page builder. You can use it to track Elementor performance and optimize your layouts.
How much does MonsterInsights cost?
MonsterInsights starts at $99.50/year for the Plus plan. The Pro plan is $199.50/year, and the Agency plan is $399.50/year, with each tier adding more advanced features.
Is MonsterInsights better than Google Analytics?
MonsterInsights is better than just using Google Analytics alone because it makes GA implementation easy and enhances functionality specifically for WordPress sites. The integration allows deeper analysis.
Can MonsterInsights track conversions?
Yes, MonsterInsights has conversion tracking to see your goals completed, eCommerce transactions made, and contact form submissions. You can connect forms and payment platforms.
Does MonsterInsights slow down your site?
No, MonsterInsights is well-optimized and won't slow down your site when properly configured. It's lighter than many other analytics plugins. Just enable only the features you need.
How do I install MonsterInsights?
MonsterInsights can be installed directly from the WordPress plugin repository. Just search for it, click install, and activate. The setup wizard will guide you through further configuration.
Does MonsterInsights work with WooCommerce?
Yes, MonsterInsights has deep integration with WooCommerce. It can track key eCommerce metrics and even supports Enhanced eCommerce tracking.
Is MonsterInsights the Best WordPress Google Analytics Plugin?
MonsterInsights is indeed the best WordPress analytics plugin. It's full-featured, user-friendly, and integrates with Google Analytics for powerful insights.
Next, Check Out More Reviews for Popular WordPress Plugins
What makes WordPress so great is the abundance of valuable plugins that it provides. Read our other comprehensive reviews about the popular plugins for different use cases to get more out of WordPress.
Meanwhile, if you want to create a form from your website that integrates smoothly with MonsterInsights, you might want to look at WPForms!
Create Your WordPress Form Now
Ready to build your form? Get started today with the most straightforward WordPress form builder plugin. WPForms Pro includes lots of free templates and offers a 14-day money-back guarantee.
If this article helped you out, please follow us on Facebook and Twitter for more free WordPress tutorials and guides.