How to Combat Order Form Abandonment and Increase Your Sales
Last updated on Nov 6, 2017 by Shahzad Saeed
Are you frustrated with the increasing amount of order form abandonment on your site? Form abandonment is one of the biggest challenges you need to tackle to boost sales and revenue. In this article, we'll show you 4 ways to combat order form abandonment on your site.
1. Capture Partial Entries on Order Form
The easiest way to combat order form abandonment is to install WPForms Form Abandonment addon on your site. With our Form Abandonment addon, you can capture partial form entries and follow up with those interested prospects, even if they don't complete the entire form or hit "submit."
For example, if your prospects enter their name and email address on your order form, you can follow up with them and encourage them to complete the checkout.
2. Send Retargeting Emails
Retargeting emails are personalized messages targeting abandoned customers that convince them to complete the order. After capturing partial entries, you can send retargeting emails to remind your customers about abandonment. When done right, retargeting emails are proven to reduce order form abandonment significantly.
Some ways to convince your customers to complete the order are:
Use a template: To save time, try crafting an email by using a prebuilt template and check if that helps to reduce order form abandonment.
Create a sense of urgency: Creating a sense of urgency is one of the best ways to entice customers to complete the order. It can be easily done if you're selling a physical product where shipping is required. For example, you can create a sense of urgency by telling your customers that the product is almost out of stock. But this tactic won't apply if you're selling digital products on your site.
However, there are a ton of words you can use to imply urgency in your retargeting email, even if you're selling a digital product. Some of them are:
limited time
hurry
rush
deadline
last chance
offer expires
one day only
don't delay
act now
final
3. Use Exit Intent
Using an exit intent popup is another great strategy to combat order form abandonment. With an exit intent popup, you can target abandoning visitors into customers by prompting them with a customized campaign at the precise moment they are about to leave your site.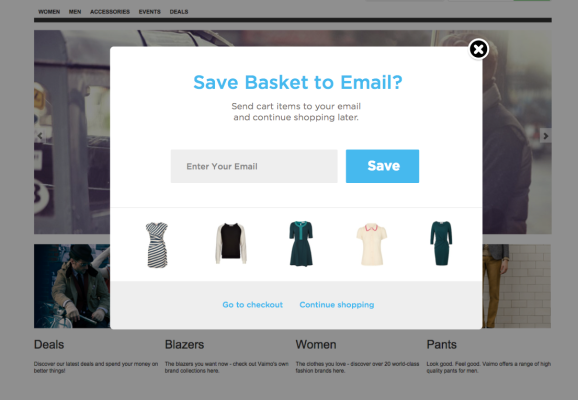 You can use OptinMonster to create multiple types of optin forms including the exit intent popup that are optimized for highest conversion rates.
WPForms allows you to easily connect your contact forms with OptinMonster. You can read our tutorial on creating a contact form popup in WordPress.
4. A/B Test Your Forms
Are you blindly following conversion best practices to combat order form abandonment?
Sticking to the best practices won't always produce positive results. Since every website is unique, you need to test what resonates best with your audience.
There are many WordPress plugins out there that let you easily conduct split tests on your forms. Unfortunately, most A/B testing plugins are costly. If you don't have the budget or team resources to afford an enterprise level A/B testing solution, you might want to use Google Optimize.
Google Optimize is a free A/B testing and personalization product by Google that lets you easily conduct experiments on your order forms and other elements on your site to see what works best with your audience.
Best of all, Google Optimize is built on top of Google Analytics, so you can start using Optimize by capitalizing on Analytics data to conduct A/B tests.
Before you can start conducting experiments with Google Optimize, you need to properly set it up on your site. Using the MonsterInsights plugin is the easiest way to set up Google Optimize on your WordPress site. With MonsterInsights, you can quickly set up Google Analytics on your site with just a few clicks.
To set up Google Optimize, all you need to do is to install their Google Optimize addon. You can read how to set up Google Optimize using MonsterInsights.
We hope this article helped you combat order form abandonment on your site. To boost form submissions, you might want to read the following articles.
What are you waiting for? Get started with the most powerful WordPress forms plugin today.
If you like this article, then please follow us on Facebook and Twitter for more free WordPress tutorials.