Documentation, Reference Materials and Tutorials for WPForms
How to Create Multi Page Forms in WPForms
Multi page forms allow you to break down a form into pages. This provides you with the opportunity to break down lengthy forms into different sections, and so make them more interactive and improve user experience. In this article, we will show you how to easily create multi page forms with WPForms.
Video Tutorial
If you prefer written instructions, continue reading below.
1. First, you need to log into the WordPress admin area and create a new WPForm or edit an existing form.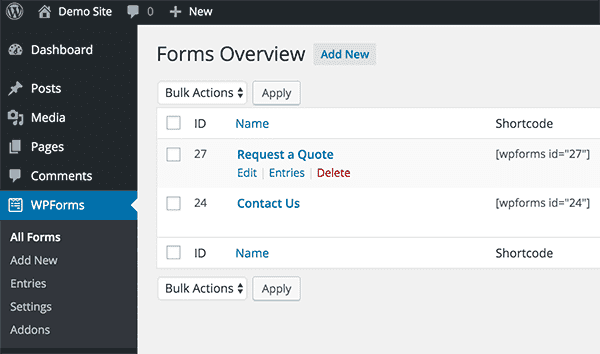 2. This will open the Form Builder. If you are creating a new form, then you will need to provide your form with a title and choose a template. In this example, we'll use the Request a Quote template.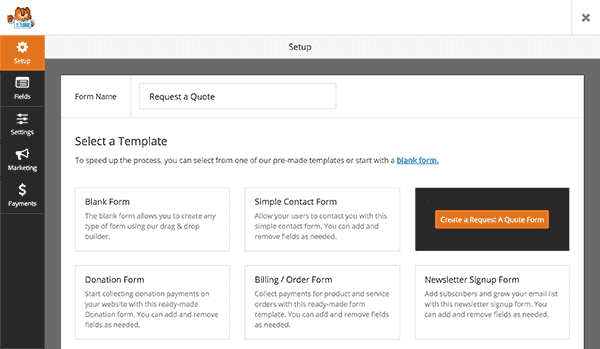 3. To add a page break to your form, click on the Page Break button in the Add Fields panel.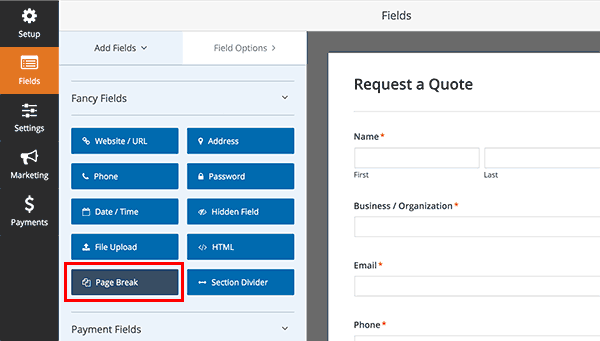 4. The page break field will split your form into pages.
If you click on the Page Break in your form, the Field Options screen will open. On each Page Break, you can edit the Page Title and change the Next button text.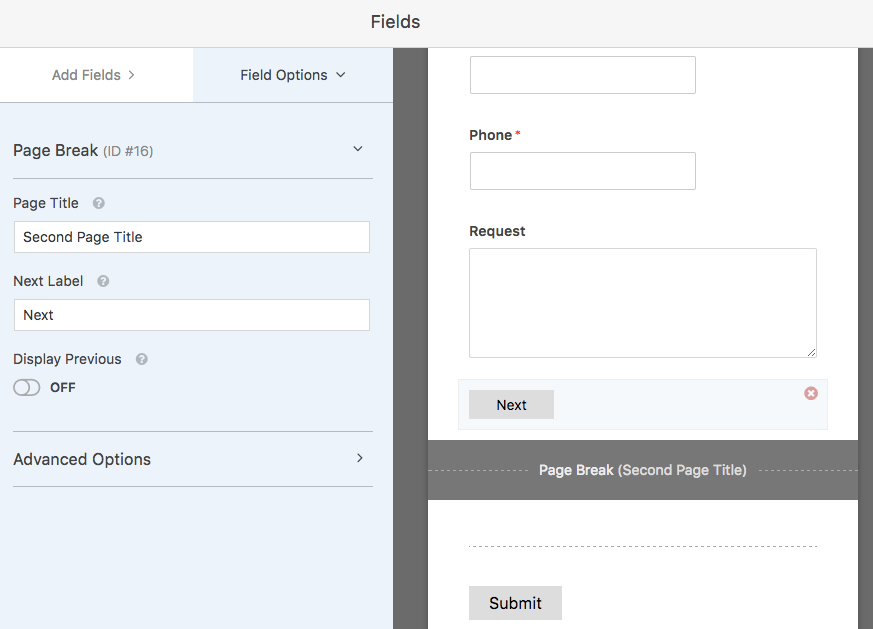 On the Field Options screen, you can also decide whether you would like to display a Previous button. These buttons are hidden by default for optimal conversions but can be enabled on a page by page basis. To do this, just click on the toggle under Display Previous.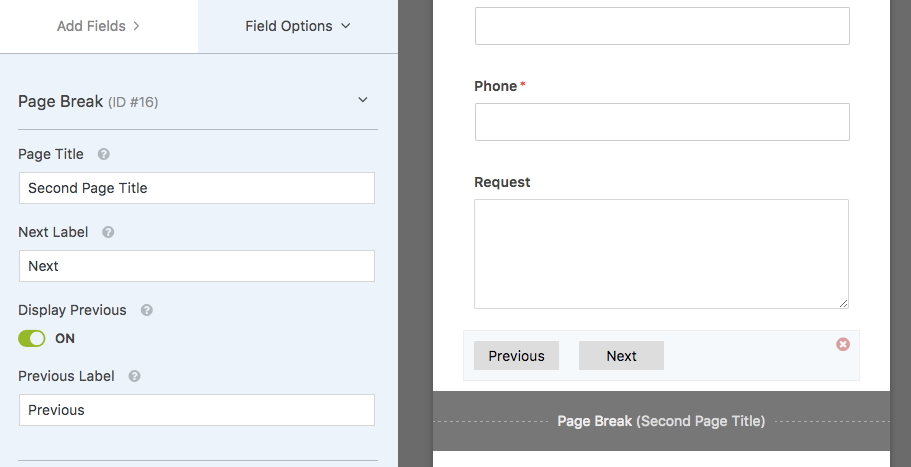 Toggling Display Previous on will display a previous button on that page, as well as the option to change the text for that button.
You can choose to display a Previous button on any page, including the very last page of your form. To add a Previous button to the form's last page, scroll to the last Page Break on your form and click on the dotted line right below it. You will then be able to toggle the Display Previous option and change the button text.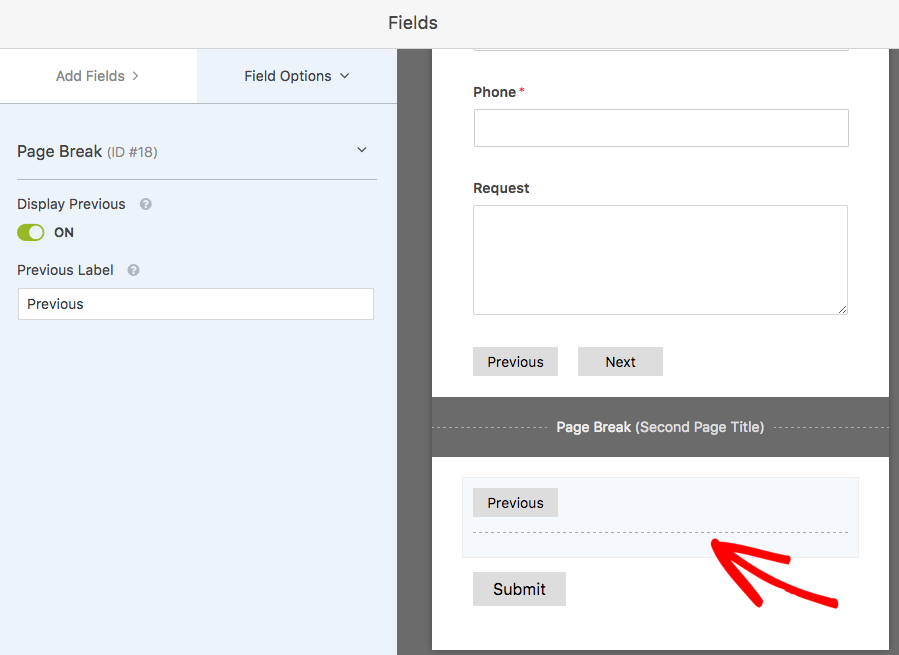 To move any Page Break to a different part of your form, simply drag it wherever you would like.
Now that you've added a Page Break, you may also notice that Page Break options have become available at the very top of your form. Now you can click First Page to select a Progress Indicator type and color, as well as set a title for your form's first page.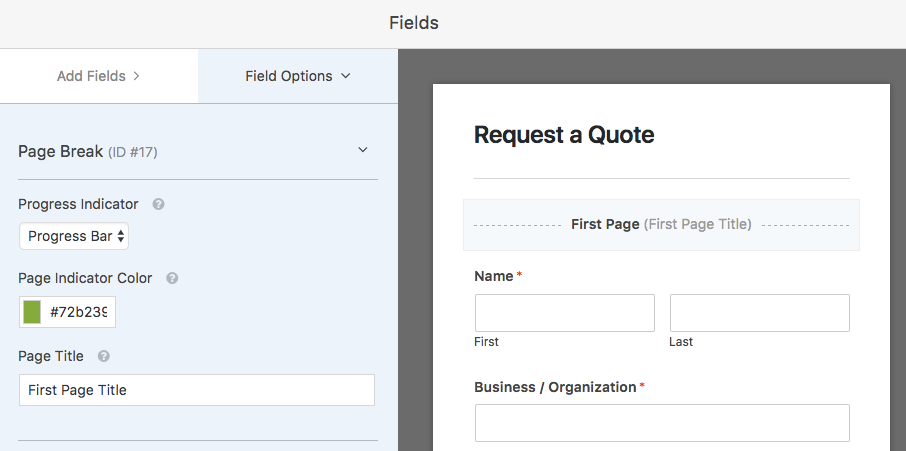 A Progress Indicator shows a user how many pages are in your form and which page they are currently on. In the Progress Indicator dropdown you can hide this feature or select from three formats: Progress Bar, Circles, or Connector.
Progress Bar:

Circles:

Connector:

5. WPForms allows you to add as many page breaks to your form as you need.
That's it! We hope this article helped you learn how to create a multi page form with WPForms.