The Simplest Way to Sell Digital Products on Your WordPress Site
Last updated on Mar 29, 2017 by Shahzad Saeed
Are you looking to sell digital products on WordPress? Selling digital products is one of the best ways to create a steady stream of passive income. In this post, we'll show you how to sell digital products, the easy way.
How to Sell Digital Goods on WordPress
With the WPForms plugin, you can instantly transform your WordPress site into a money making machine by selling digital products on your own site.
To process the online orders and collect payments, in addition to WPForms plugin, you'll need to install PayPal Standard addon or Stripe addon.
Here's a step by step guide on how to install a WordPress plugin.
In this tutorial, we'll be using PayPal Standard addon. The steps are almost the same even if you're choosing Stripe Addon for your site.
After adding your preferred payments addon to your site, go to WPForms » Add New. Now you'll be asked to select a form template. In this case, let's select the template Billing/Order Form.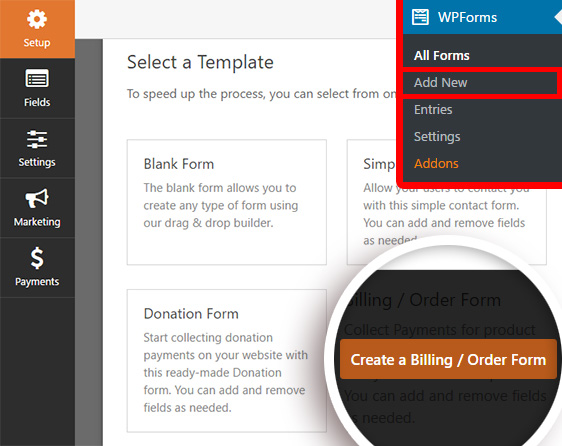 You can always add or remove any fields on your form and customize it as per your needs.
When creating a payment form, do keep in mind that reducing the number of form fields is proven to bring in more conversion.
So let's remove fields like Address, Phone and Comment or Message from this form. Hopefully, this will encourage more visitors to make a purchase on your site.

Now you can see that the form has only a few necessary fields.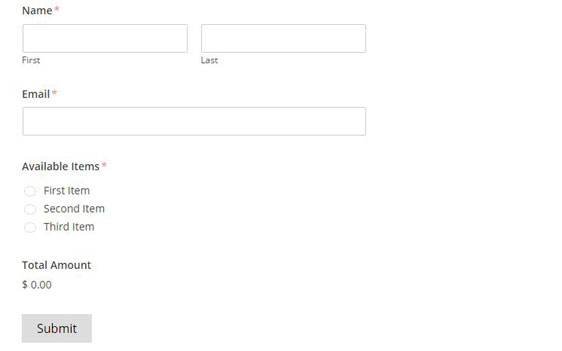 You may need to customize the Available Items field to add the names of your items and set the prices for your products. To customize Available Items field, you just need to click on it.

Then, in the left panel, you can customize the items' name and prices. That way, your customers can purchase the right product that best suits their needs.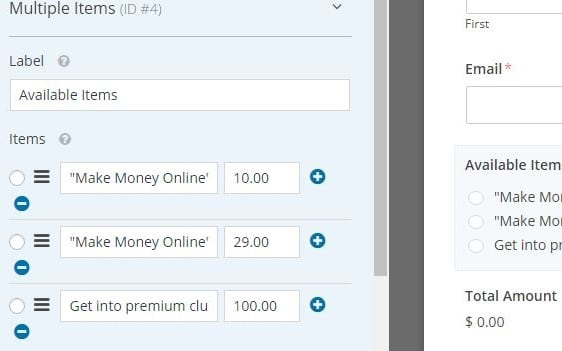 Alternatively, you can show your products in a drop down field. In that case, you can remove the Available Items and replace it with Dropdown Items field, which you can find under the Payment Fields option.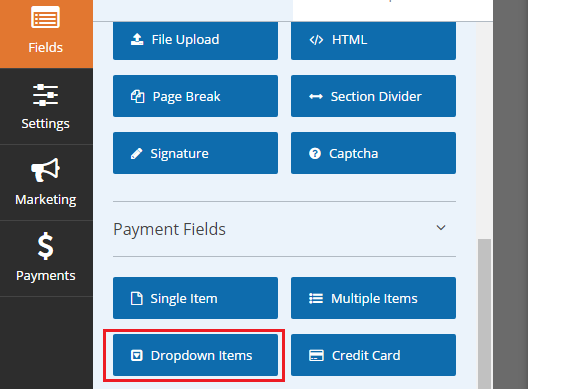 If you're selling only a single item, you may need to choose the Single Items field instead.
Configuring The Payments Settings
In order to configure the payments settings, you'll need to click on Payments menu in WPForms builder. Then, click the payment addon that you've installed earlier.
In our example, let's click PayPal Standard Addon.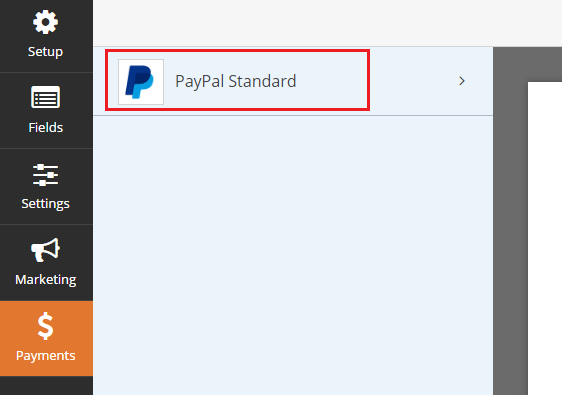 In the right panel, now you'll be asked to configure the PayPal payment settings. To configure, you can follow the steps listed below.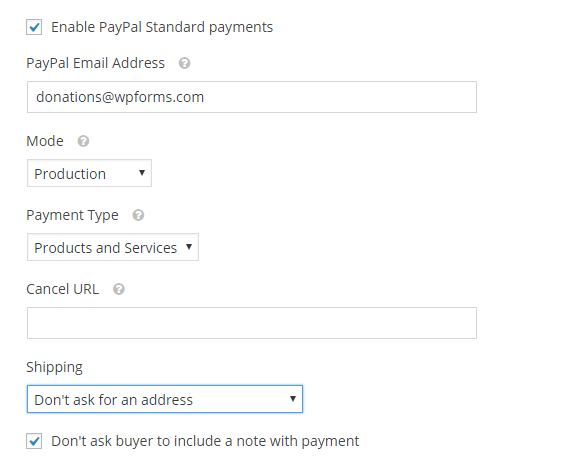 Make sure to click the checkbox next to Enable PayPal Standard payments.
Enter your PayPal Email Address to send payments to.
Under the Payment type, select Products and Services.
If you want to test how the form works, you may choose Test/Sandbox under the Mode option. Test mode will not accept any financial transfers. After you test the form, you can change the setting to Production.
Cancel URL is an optional choice. By specifying it, you can redirect the users to it when they don't complete the checkout process.
Since shipping is not required to sell digital products, you may select Don't ask for an address under the Shipping option.
Once the configuration is set up, click Save button at the top right. Then click X button to go back to your WordPress dashboard.

Delivering Digital Products to Your Customers
Now that we've configured the payments settings, the next step is to deliver the digital goods to your customers.
To deliver the product to your customers after the payment is being processed, you can:
Publishing the Order Form
Now you're ready to publish your order form in WordPress!
In the WordPress dashboard, go to the landing page where you'd like to sell your digital product.
On the post editor, click the Add Form button just above the text editor.

You'll now see Insert Form popup box. From the dropdown menu, select the Billing/Order Form you just created.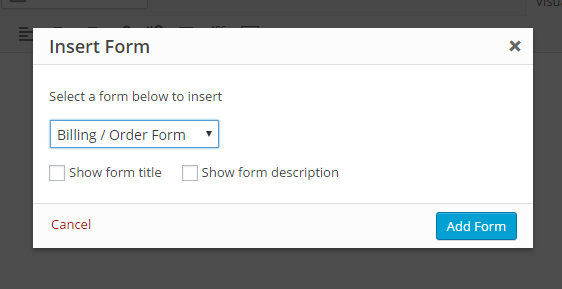 Congrats! You just published the order form on your landing page. Now you can sell digital products on WordPress.
Selling Digital Products- What's Next
With WPForms, there are endless possibilities to grow your online business. Let's take a look at a few more things you can do with the WPForms plugin:
We hope this article helped you to sell digital products on your WordPress site.
Want to make more sales? Check out our guide on research-based tips to improve your form conversions.
What are you waiting for? Get started with the most powerful WordPress forms plugin today.
If you like this article, then please follow us on Facebook and Twitter for more free WordPress tutorials.