How to Add an Image to a WordPress Form to Increase Engagement
Last updated on Mar 23, 2017 by Courtney Robertson
Do you want to use multimedia to get more people to fill out your website forms? Graphics are a great way to grab your audience's attention and get them engaged with your website. In this tutorial, we'll show you how to add an image to a WordPress form so you can get more responses.
The Captivating Power of Graphics
Getting your website visitors to completely fill out your form is crucial. It doesn't do you any good if they quit halfway through.
When your form is interesting, visitors are more likely to fill out it out entirely.  You can keep them engaged by using images that:
Summarize information with screenshots that make it easy to understand
Include call-to-action graphics that draw attention
Convey professionalism by keeping your form consistent with your site design
Match your brand by including your logo and company styles
With a well-designed form, you'll see an increase in responses.  Let's get started adding an image to a form.
Get Started Creating a Form in WordPress
First you need to install and activate the WPForms plugin. Here's a step by step guide on how to install a WordPress plugin.
Also, you'll need to have a form created. To do so, you can see our tutorial on How to Create a Simple Contact Form as an example to get started.
Adding an Image to a Post or Page
Next, you will upload the image to WordPress.
We'll need to generate a bit of code to add to your form. The easiest way to do this is to create a temporary draft of a post, and add an image to it. We can delete the post right after we get the code we need.
Here's how to do it:
Create a post
Upload and insert an image
Switch to the Text tab
Copy the code of the image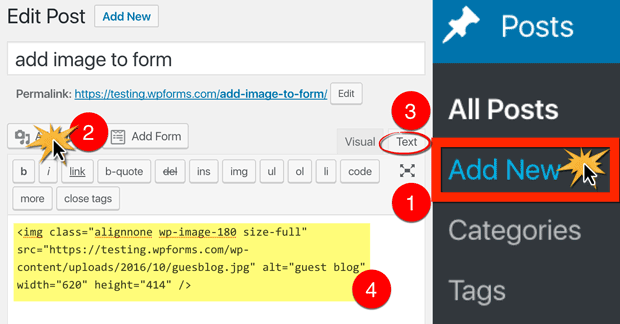 For more help uploading an image to WordPress, see How to Add a New Post in WordPress and Utilize all the Features.
Adding an Image to a WordPress Form
Now that you've got the code for your image, go back to your form.  At the top of the form, add an HTML field.
Click on the field within the right side preview panel. Then on the left side within Field Options, paste your code from your temporary draft post.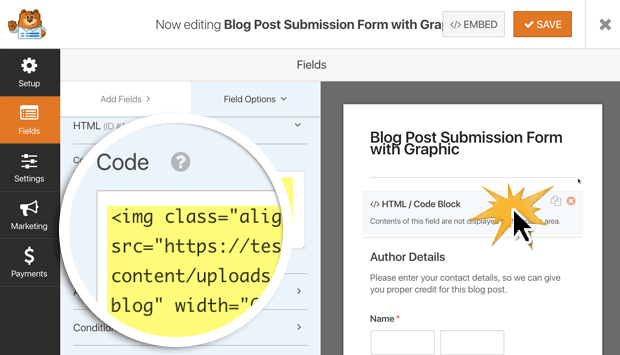 Publishing Your Form With a Graphic
Lastly, to add a form to a WordPress post or page, you first have to create or edit a post/page.
On the post editor, you will see the Add Form button just above the text editor. Clicking on the button will bring up a popup. Select the form you created from the drop down menu and then click on Add Form button.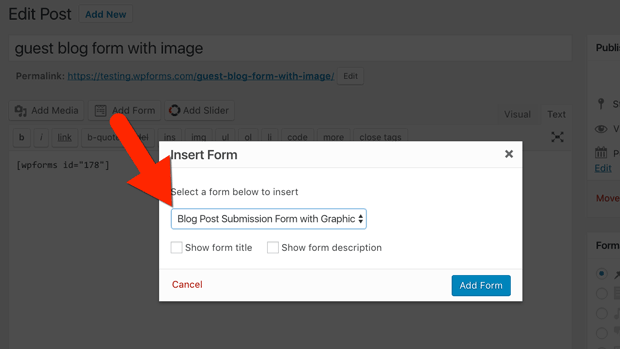 Finally, you can view your form containing a graphic image live on your site. Here is our published form: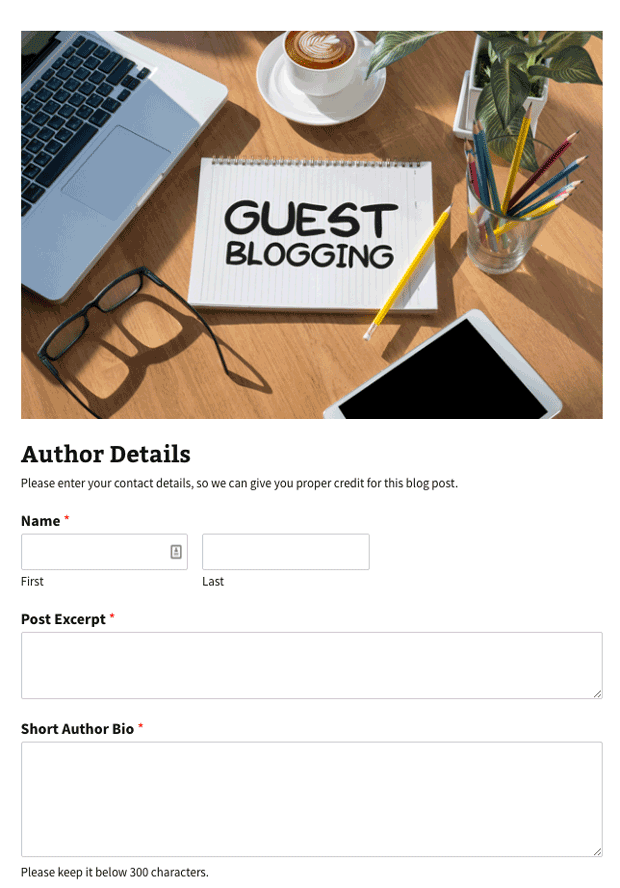 That's it! We hope this tutorial helped you add an image to a WordPress form — and will help get you more responses by increasing your audience's engagement.
Looking for more ways to get more form responses? You might also want to check out our guide on how to create a contact form popup in WordPress.
What are you waiting for? Get started with the most powerful WordPress forms plugin today.
If you like this article, then please follow us on Facebook and Twitter for more free WordPress tutorials.