How to Allow Users to Submit Images to Your WordPress Site
Last updated on Mar 15, 2017 by Courtney Robertson
Do you need a way to allow your website visitors to upload an image to your site, without giving them access to log in? Using a simple form makes this easy for your users. In this tutorial, we'll show you how to allow users to submit images to your WordPress site using WPForms.
Why Allow Users to Upload an Image?
You might wonder when it makes sense to allow your website visitors to upload files to your site.
Here are just a few ways they can use an image upload form:
Submitting a profile photo
Adding images to their guest blog post submissions
Gathering testimonials of your products
…and you can probably think of quite a few more!
Having an image upload form saves you time, since you don't have to upload the images on their behalf. It also helps to keep your site secure, because you don't have to give all those users access to log in to your site in order to upload the images.
Create an Image Upload Form
The first thing you need to do is install and activate the WPForms plugin. Here's a step by step guide on how to install a WordPress plugin.
Also, you'll need to have a form created. See our tutorial on How to Create a Simple Contact Form as an example to get started.
Then, you'll need to add a File Upload field to your form. You can drag and drop this field to your desired location.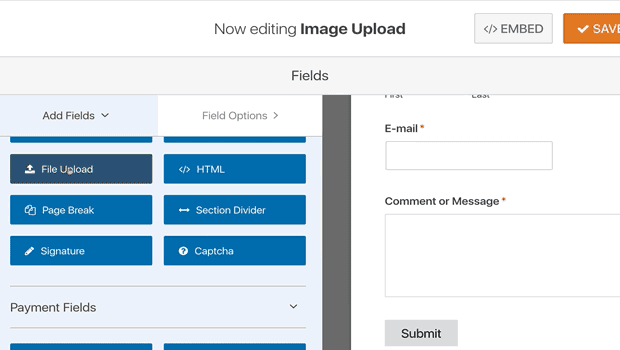 Next, click on this field in the right hand preview panel.

While here, you can rename the field if you want. By default, the uploaded images will save to your WordPress media library, so you can access them from the Media » Library menu in your WordPress dashboard.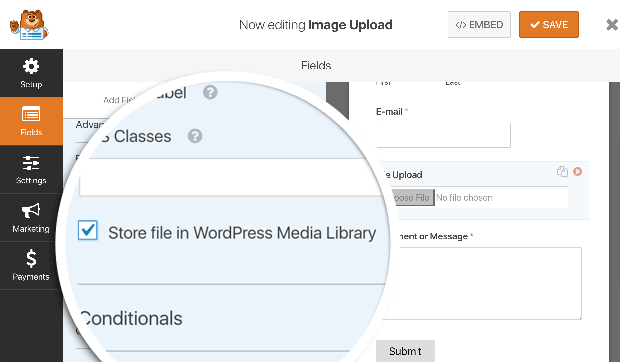 Publishing Your Image Upload Form
Now you're ready to publish your survey form on your site!
To add a form to a WordPress post or page, you first have to create or edit a post/page.
On the post editor, you will see the Add Form button just above the text editor. Clicking on the button will bring up a popup.
Select the form you created from the drop down menu and then click on Add Form button.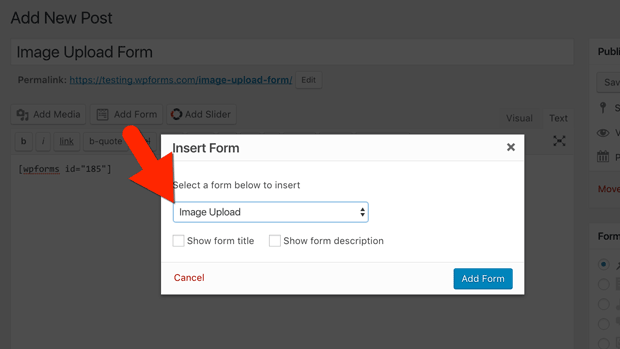 Finally, you can view your published form and give it a test by uploading an image.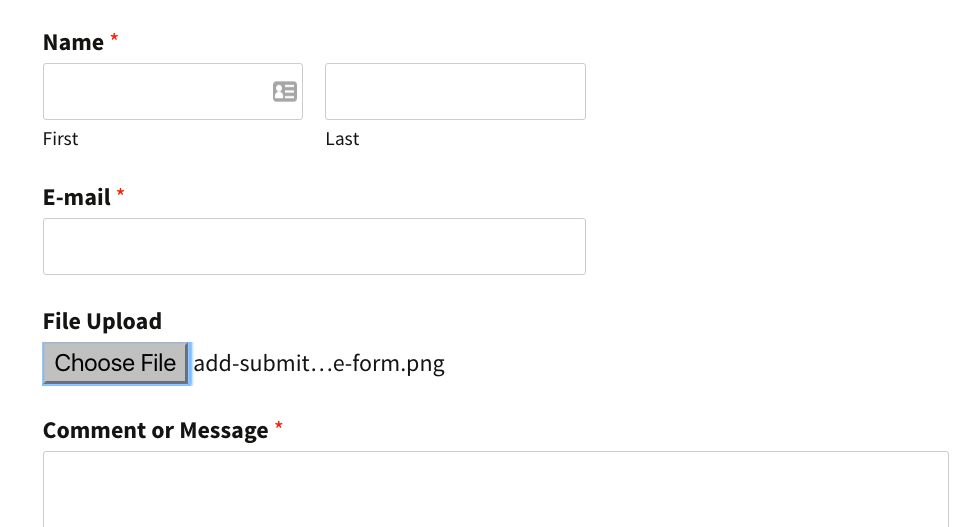 That's it!  We hope this article helped you allow users to submit images to your WordPress site.
Want your users to be able to submit a whole blog post, instead of just an image? Check out our guide on how to allow users to submit blog posts.
Don't have WPForms yet? What are you waiting for? Get started with the most powerful WordPress forms plugin today.
If you like this article, then please follow us on Facebook and Twitter for more free WordPress tutorials.