Would you like to let your users create a WordPress post by submitting a form? With the Post Submissions addon for WPForms, you can easily accept guest post submissions, user submitted events, and more.
In this article, we will show you how to install and use the Post Submissions addon for WPForms.
---
1. Creating a Post Submissions Form
Before we get started, be sure to install the WPForms plugin on your WordPress site.
Once WPForms is installed and activated, the next step is to install the Post Submissions addon.
Now that the Post Submissions addon has been installed to your site, we need to create a form that will accept new posts. For this example, we'll create a new form, however you can modify an existing form to accept post submissions if you'd prefer.
To create a new form, go to WPForms » All Forms in your site's WordPress menu. From there, click the Add New button to add a new form.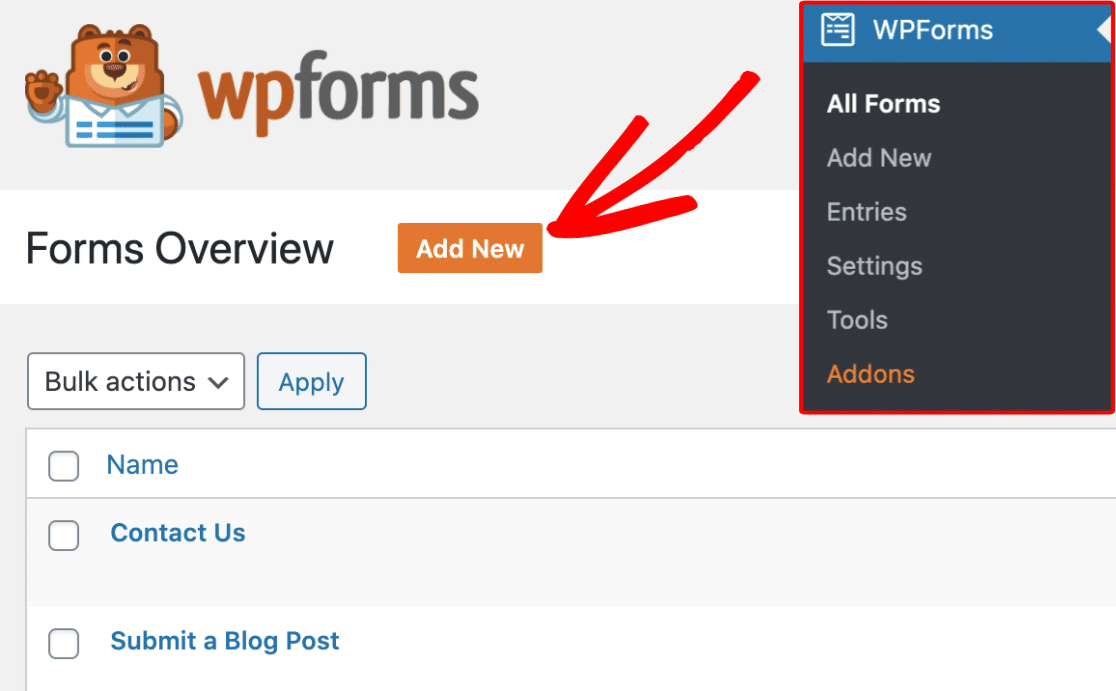 From the templates list, we'll select Blog Post Submission Form. This template will already include all the fields we need to create a standard WordPress blog post.

After choosing the template, the form builder will open. By default, this template will include the following fields:
Author Details

Name
Email
Short Author Bio

Create a Blog Post

Post Title
Post Content
Featured Image
Post Excerpt
Category
You can change these fields however you'd like, delete fields, or add new fields depending on what information you'd like included in the blog post.
2. Customizing Post Submissions Settings
When you feel your form is ready, click on Settings in left form builder menu and then select the Post Submissions tab.
To enable the creation of posts, make sure that the Post Submissions dropdown is set to On.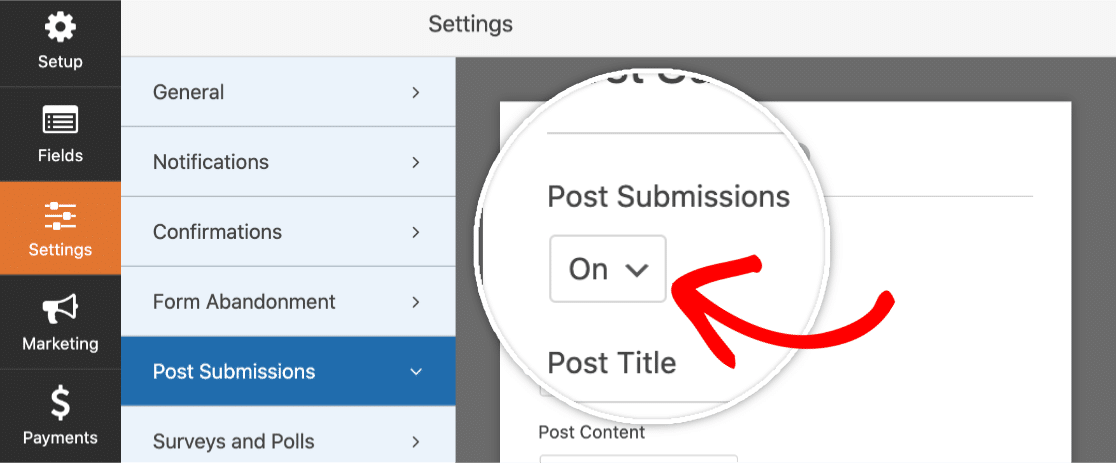 If you're using the default Blog Submissions Form template, the settings on this page will already be completed for you. Whether using the template or a custom form, though, it's a good idea to check through these settings.
Here are the available Post Submissions settings and a description of each:
Post Title: The title of the blog post
Post Content: The main body of the post
Post Excerpt: Used by many themes when displaying a list of posts (more details)
Post Featured Image: Used in many themes to visually represent a post (more details)
Post Type: Options will include Posts or Pages by default, but any custom post types will be available also (more details)
Post Status: Choose whether submitted posts get published right away or wait for your review. Options are Draft, Pending Review, Private, or Published (more details)
Post Author: Choose a user to assign as the author. If the user is registered to your site, the Current User option will assign them as the author.
Allowing Users to Select a Post Category
By default, the Post Submissions template will include a Dropdown field named Category.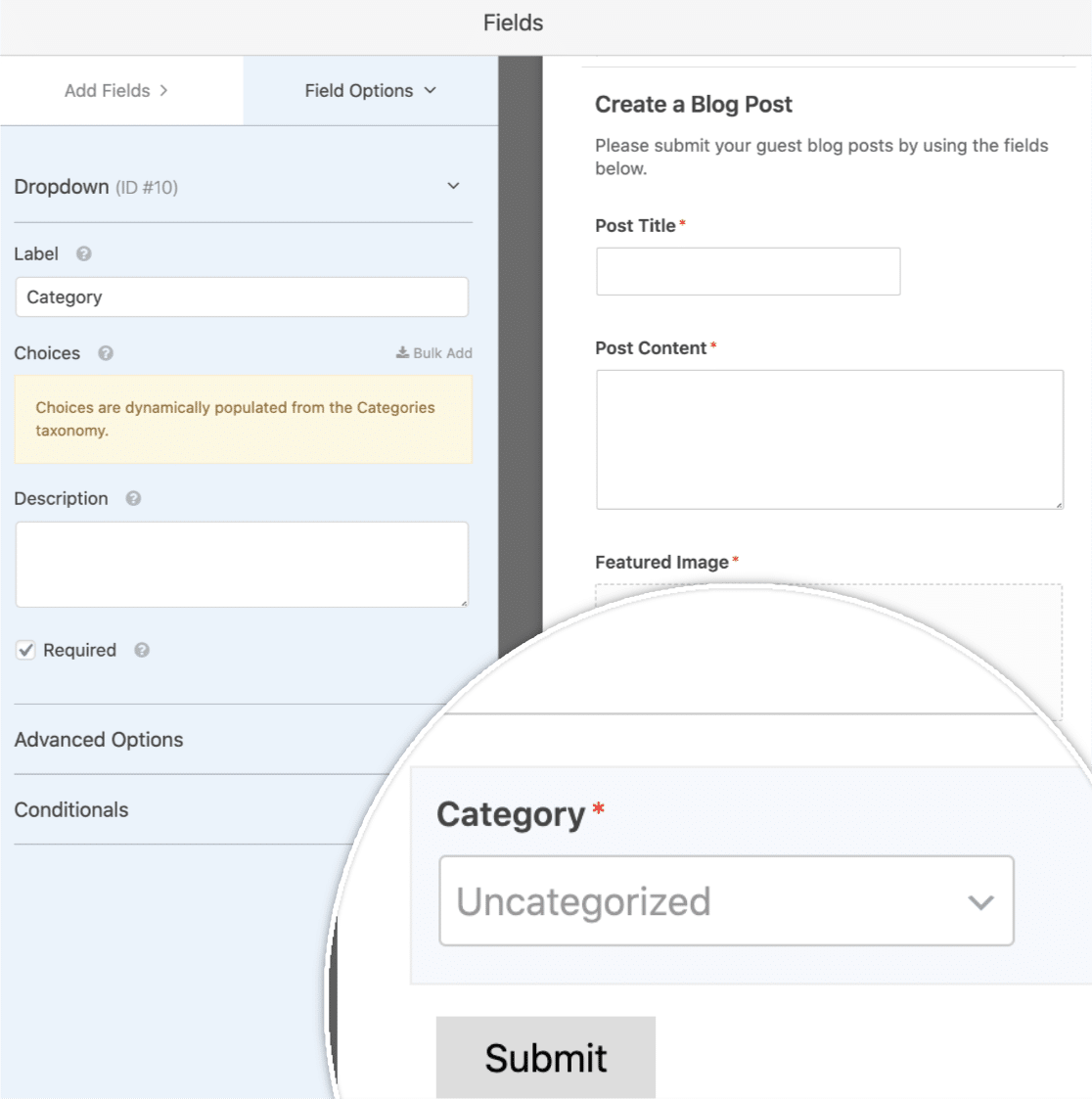 This will include a list of all Post Categories on your site. However, you can also add this list to a different template or swap the Dropdown field out for a Checkboxes or Multiple Choice field.
To do this, first be sure to add the field type you'd like to use to your form. Then, click on this field to open its Field Options panel and open the Advanced Options section.
Towards the bottom of this section, you should see a dropdown labeled Dynamic Choices. This will need to be set to Taxonomy for post submissions. Then, under Dynamic Taxonomy Source, select Categories.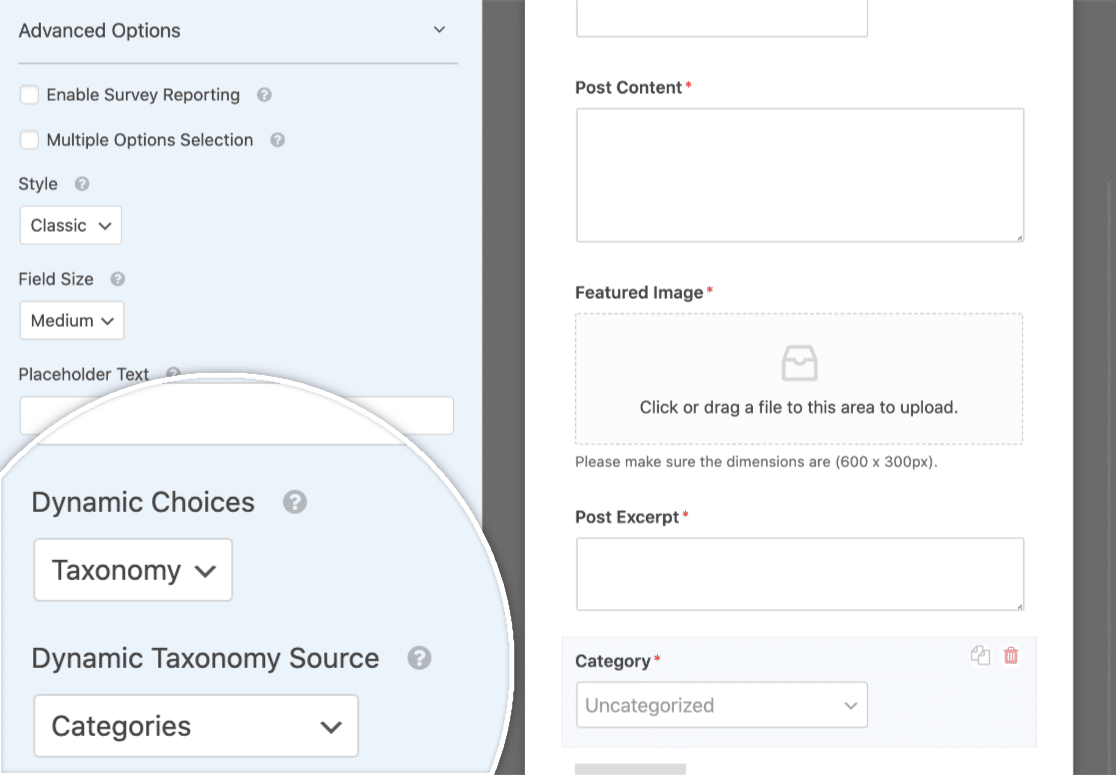 That's it! You can now easily allow your users to add posts to your WordPress site.
Next, would you like to collect payment for before you allow guests to submit a post? Be sure to check out our tutorials on adding Stripe or PayPal payments to your forms for all the details.