How to Create a File Upload Form in WordPress
by Courtney Robertson on Jun 8, 2016
Do you want to allow users to add file attachments to your contact form? Giving users the ability to upload a file in your WordPress forms can make it easier for you to collect the information you need. In this article, we will show you how to add file upload to your WordPress forms.
If you don't like the video, or need more instructions, then please continue reading.
When Do You Need File Upload Forms
There are a lot of uses cases where you may want to allow users to upload a file through your contact form.
Some potential use cases are:
And I'm sure you can find tons of other use cases as well.
Whether you want users to upload a .doc file, .xls or .csv file, an image file, a PDF file, or even an audio / movie file, we'll show you how you can add a file upload form that accepts both small and large files.
Note: For WordPress security reasons, the file types that can be uploaded are limited. Here's how to allow additional file upload types.
Adding a File Upload Form in WordPress
The first thing you need to do is install and activate the WPForms plugin. Here's a step by step guide on how to install a WordPress plugin.
Once you have activated the plugin, let's go ahead and create a new form.
You can do this by going to WPForms » Add New.
On the next screen, you need enter your form name and select from one of our pre-built form templates or start with a blank form.  For this tutorial, we will begin with a blank form.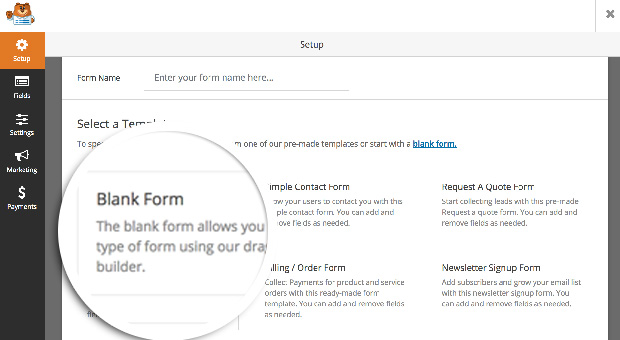 In the form builder, simply drag & drop the fields you want from the left column.
We have chosen the Name, Email, Paragraph Text, and File Upload field. You can click on each field to customize the settings.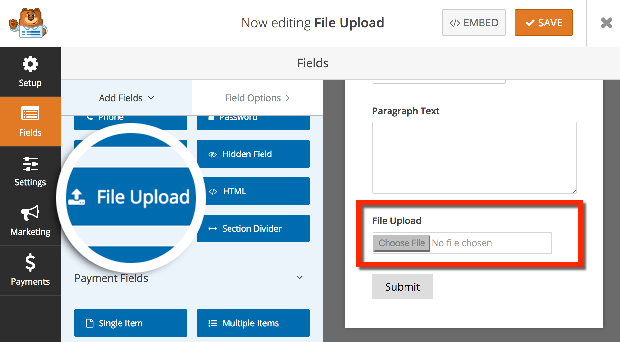 To rearrange the fields, hover your mouse on the far right side and simply drag to reorder.

Once you are done customizing the field, click on the Save button to make sure that your changes are saved.
After this, you need to configure the form notification and confirmation settings.
File Upload Form Settings
You can configure the form settings by click on the Settings tab.
You'll see the General Settings as well as Notification and Confirmation settings.
The general settings area is fairly self-explanatory, so we will skip to the notification settings.
When you click on the Notifications tab, you can modify the email notification that you will get when a user submits a form. The default settings sends the site admin an email every time someone submits a form. You can customize the settings as needed.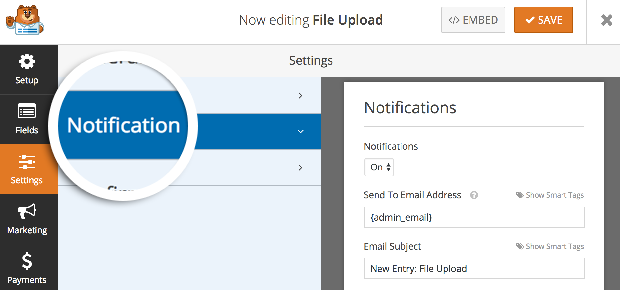 Next is the Confirmation setting. This is what the user sees after they submit their form.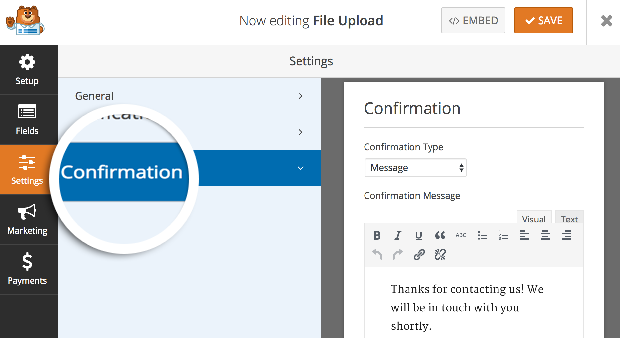 You have the option to show them a thank you message, redirect them to a WordPress page, or redirect them to a completely different page.
How to Embed a File Upload Form
WPForms give you two different ways to embed your file upload form into your site.
When you're done editing the form, click on the Embed button on the top right. It will show you a shortcode along with a video. You need to copy the shortcode provided.
After that go the Post or Page that you want to add the form to and simply paste the shortcode.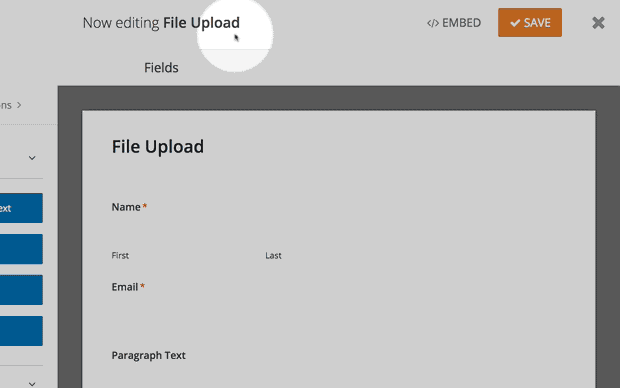 The second option is to click Add Form within the Post or Page editor. This will result in the shortcode inside the post as well.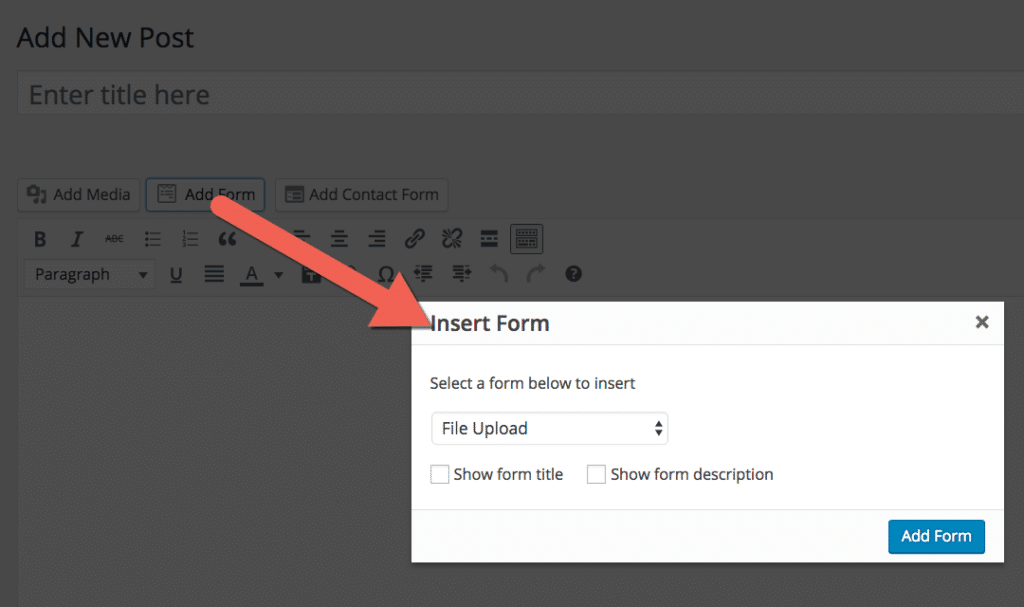 Simply publish the page to see your form live on the website.
Here's what our form looked like on the default WordPress theme.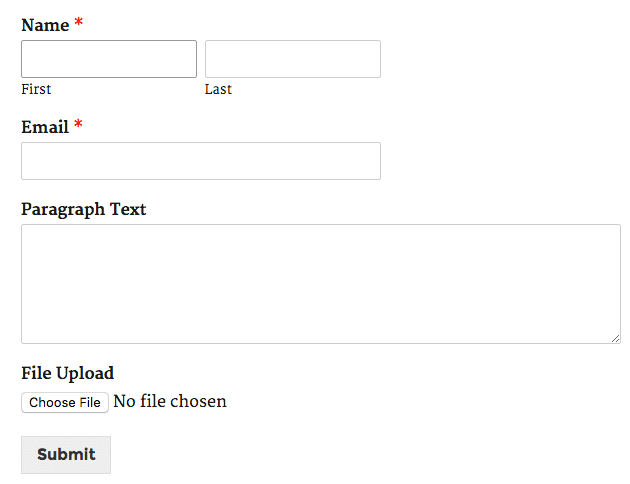 View the Uploaded Files in Form Entries
WPForms stores each form submission as an entry. To view the uploaded documents, you need to go to WPForms » Entries. From there select "View" to see the form entry.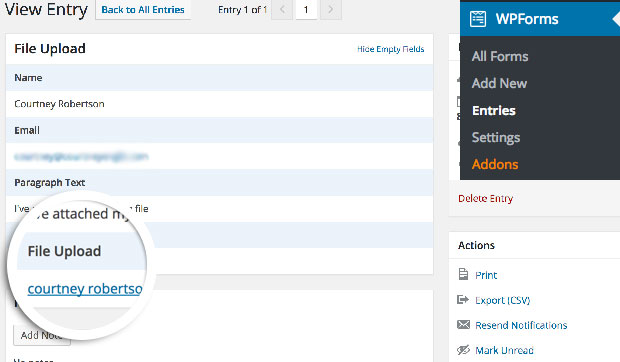 Now you can right click to save the uploaded document or click to view it in your browser. Using our Zapier addon, you could even automatically save all uploads to Google Drive, Dropbox, or other cloud storage services.
That's all. We hope this article has helped you learn how to create a file upload form in WordPress. What are you waiting for? Get started with the most powerful WordPress forms plugin today.
If you like this article, then please follow us on Facebook and Twitter for more free WordPress tutorials.