How to Create a File Upload Widget in WordPress
Last updated on Dec 22, 2017 by Roshan Perera
Are you looking for a way to allow your website visitors to send you files directly from your website? If you have a website that accepts user-submitted content or files such as job applications, having a file upload widget in your sidebar will definitely come in handy. In this tutorial, we'll show you how to create a file upload widget using WPForms.
If you have WPForms installed on your WordPress site, you can easily create a file upload form and then use it as a widget on your sidebar. Let's find out how you can create that widget on your WordPress site.
When To Use A File Upload Widget
Why create a file upload widget in the first place? Well, the main reason to use an upload widget in your sidebar is that it makes uploading files much easier for your users. This way, they don't have to load a separate page to view your form or send files as email attachments.
It will especially be useful if you're managing a website that involves user uploads, such as a graphic design blog that features freebies from designers or a web design blog that showcase WordPress themes. Having an upload widget on your sidebar will allow users to quickly upload their files for your review.
You can also use the widget to accept guest post submissions or job applications. There are just so many ways you can use a file upload widget on a website.
How To Create A File Upload Form
Before creating the file upload widget, you'll need to have the form created. You can then embed it in your widget. We'll walk you through the process step by step.
Follow the instruction in the video to create an upload form with basic contact form fields like Name, Email, and Message.
If you prefer reading, follow the steps below to create a unique file upload form. For the sake of this tutorial, we'll show you how to create an upload form for a website theme marketplace or a blog.
Before you get started, you'll need to install and activate the WPForms plugin on your site.
Step 1: Go to WPForms » Add New. And choose the Blank Form template.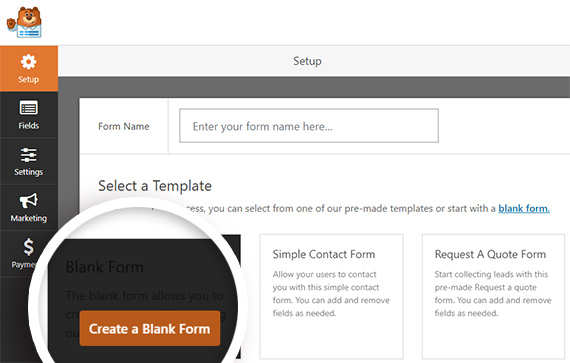 Alternatively, if you have the Form Templates Pack addon, you can scroll down and select the File Upload Form template.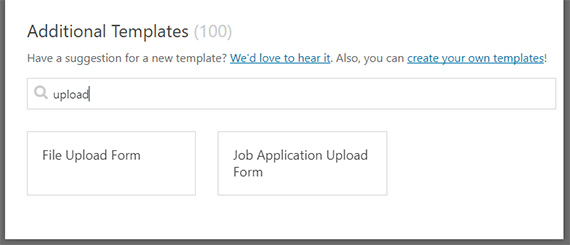 Step 2: Design the form by dragging and dropping fields onto the editor. To edit a field, click on it.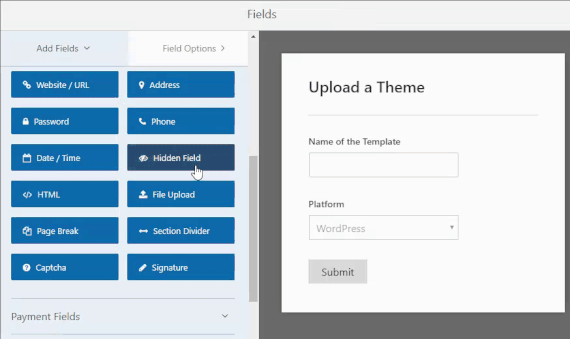 Step 3: Finally, click Save to save the changes.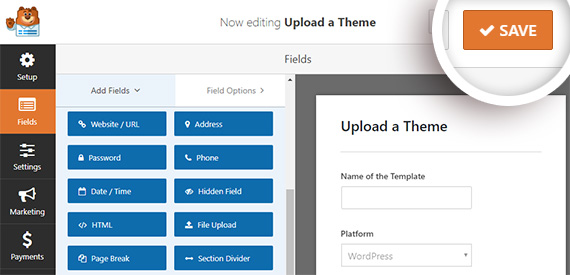 Step 4: Switch to the Settings page to customize the General settings, Notifications, and Confirmation message for your form.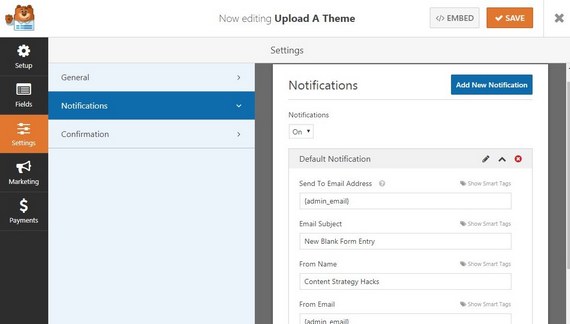 Step 5: Click Save again to complete the form.
Of course, this is just an example form. There are many types of form fields you can add to a form to make them more effective. For example, You can add checkboxes, dropdown menus, and even add credit card processing to accept payments.
You can also customize the fields and rearrange them to your liking using the drag and drop builder.
Turn The Upload Form Into A Widget
Now let's see how to turn the file upload form into a widget and show it on your sidebar. This step is actually very easy.
Step 1: Go to Appearance » Widgets.
Step 2: Find the WPForms widget and drag it onto our sidebar.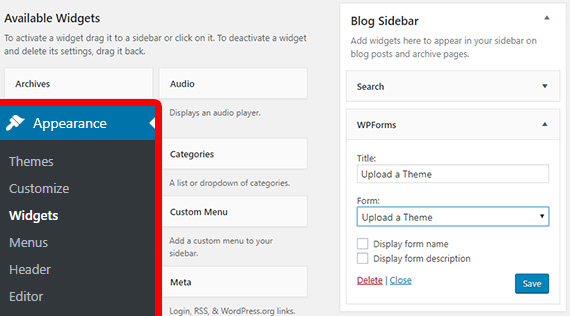 Step 3: Select the file upload form you've just created from the forms list and click Save.
Go to your website and you should now be able to see a file upload form on your website sidebar.
Over To You
Your file upload widget is now ready for action!
Your visitors can now easily send you important files through the widget without having to attach them to emails.
WPForms is more than just a contact form plugin. It's full of many great possibilities. Get WPForms for your own website and see what kind of innovative ways can come up with to use the plugin to your advantage.
Was this tutorial helpful? Then please follow us on Facebook and Twitter for more free WordPress tutorials and updates.