How to Create a Request a Quote Form in WordPress
by Courtney Robertson on Jun 23, 2016
Do you run a services business? Want to give your website visitors an easy way to request a quote from you? In this article, we will show you how to create a request a quote form in WordPress.
Benefits of a Smart Request a Quote Form
Often businesses display their phone numbers so customers can call and request a quote. While this method works for large businesses, it presents several challenges for small business owners.
Limited Availability – If you're an owner operator, then you may not be available to answer the phone all the time.
Lack of Details – Sometimes you need specific details to prepare a quote, requiring multiple phone calls back and forth.
No Records – Unless you use a CRM, it's hard to keep records of communications and you end up losing money on lost sales.
That's why smart business owners use a request a quote form to automate processes and grow their business.
With a request a quote form, you can get specific information, use smart logic to tailor the form based on user's needs, and automatically integrate your form with an email marketing service to close more deals as well as improve customer retention.
Let's take a look at how to create a request a quote form in WordPress with a plugin.
Request a Quote Form in WordPress
First thing you need to do is install and activate the WPForms plugin. For more details, see this step by step guide on how to install a plugin in WordPress.
To get started, you need go to WPForms » Add New to create a new form.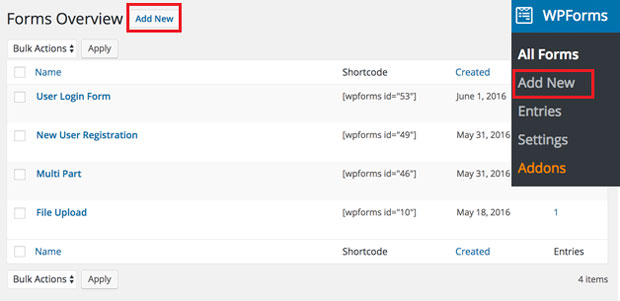 Next, you need to name your form and select the Request a Quote form template on the setup screen.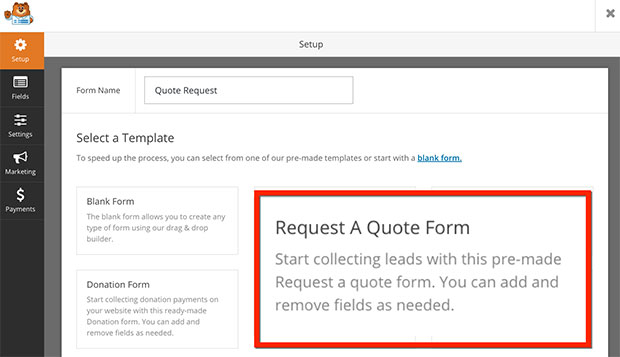 WPForms will instantly create a request a quote form for you.
You can add additional fields by dragging them from the left column to the form. You can customize each field by clicking on it as well as rearrange their order.

For the sake of this example, we will create a request a quote form for a landscaping business.
Customizing Your Request a Quote Form
WPForms allow you to gather all the information you need to create a custom quote for your customers.
For a landscaping business, we need to add a checkbox for the services the user is interested in such as mowing, lawn treatment, mulching, etc.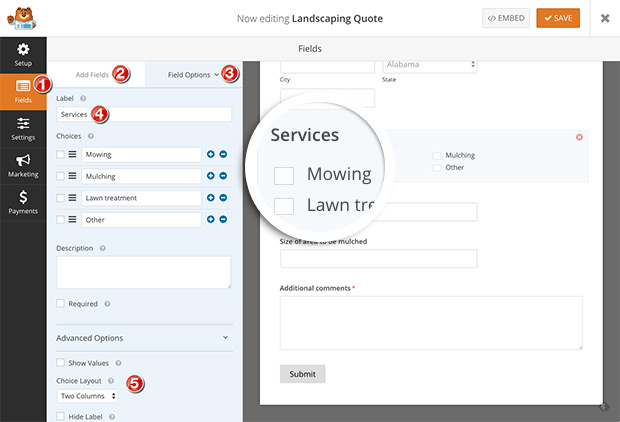 You can add a checkbox field by following these steps:
From the WPForms Settings, go to Fields.
Add the field "checkboxes"
Click on the checkboxes field in the preview panel and select "Field Options"
Label your field and add the choices
Within the Advanced Options, you can choose to split your checkboxes into several columns
Now for some people, this is all what they need. If that's you, then simply save your form and skip to the add your form step.
If you want to reduce the size of your form, then you can enable smart conditional logic.
Adding Smart Logic to Your Form
WPForms smart logic allows you to show or hide form fields based on what the user selects. This is extremely helpful when you need additional information to prepare the best estimate.
For example, in the landscaping company's case, they would need to know the size of the lawn area in order to provide the best quote.
Let's go ahead and add a Single Line Text field to your form. For this example, we will call the field "Size of lawn area," but you can set the label based on your needs.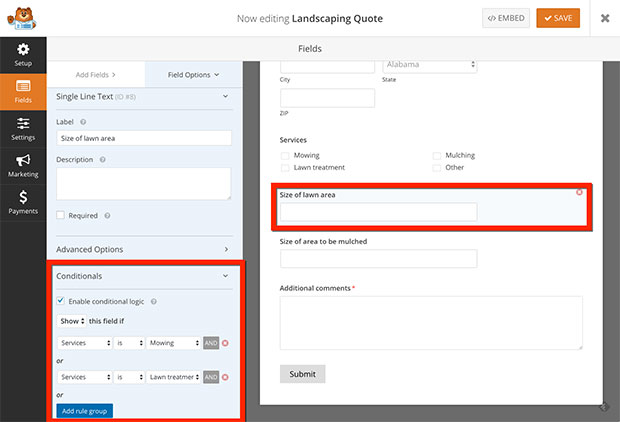 After that go to the Advanced Options » Conditionals under field options. You need to check the box to enable conditional logic.
From here, you can choose to show this field if it meets your requirements.  In our example, we have chosen to display field if the user has selected the mowing or lawn treatment services.
You can select the criteria and add as many criteria as you need.
Save your form when you have finished customizing the information you need to create a quote.
Add the Request a Quote Form in WordPress
WPForms allow you to add your forms in various locations from your blog posts, pages, and your sidebar (widget-ready areas).
First let's take a look at the most common post / page embed option. Start by creating a new post or page in WordPress and then click on the Add Form button there.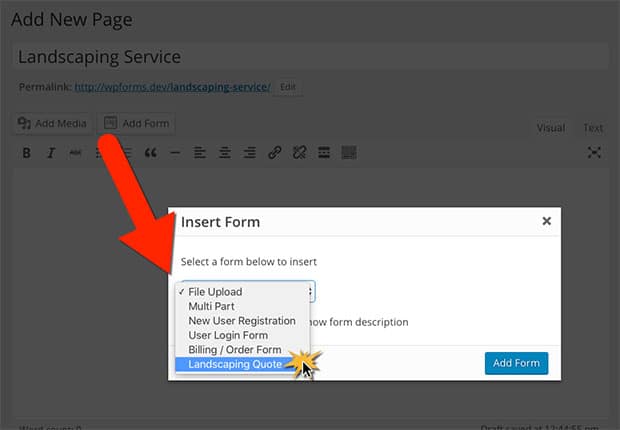 Next, you need to select your request a quote form in the modal popup and click Add Form.
After that simply publish your page and view it.
Below is an example of our request a quote form: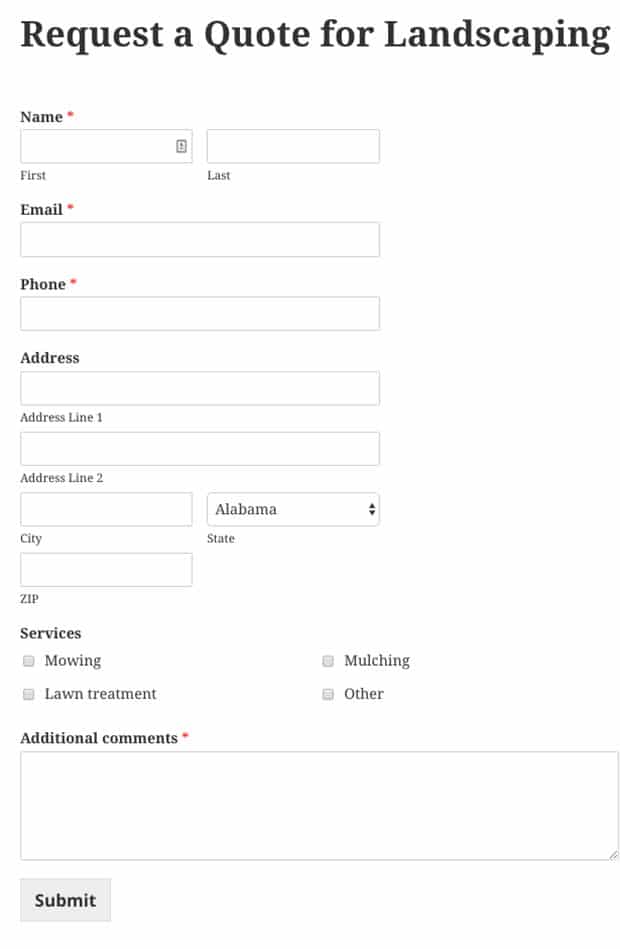 You can also add your form into a sidebar widget on your site by going to Appearance » Widgets and dragging the WPForms widget to your desired location. In the form widget, simply select your request a quote form and save the widget.
Building Customer Retention
You can combine the request for quote forms with our email marketing addons like MailChimp, AWeber and GetResponse. This allows you to automatically add all potential customers to your email marketing list. You can even add them into various marketing automation sequences from there to improve your conversions. Here's how to add an email subscription checkbox to your forms.
That's all. We hope this article helped you create a Request a Quote form in WordPress. What are you waiting for? Get started with the most powerful WordPress forms plugin today.
If you like this article, then please follow us on Facebook and Twitter for more free WordPress tutorials.