Are you looking for some online fundraising ideas to raise money for your nonprofit organization? Getting involved in online nonprofit fundraising not only taps into a whole new audience base, but offers your organization a fresh new approach to raising money for your cause.
In this article, we'll share with you some of the top online fundraising ideas so you can gather some inspiration for your next fundraising event.
Top Online Fundraising Ideas for Nonprofit Organizations
Check out this list of online fundraising ideas for nonprofit organizations to help inspire some ideas for your website.
1. Online Donation Forms
One of the most traditional ways of starting a fundraiser online for nonprofits is to use a donation form.
Take for example, Mozilla. They rely on donations made through their donation form to support their cause of keeping the web open and free.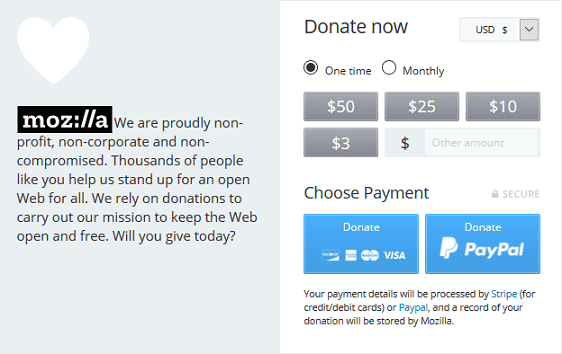 You can collect donations online using the WPForms plugin and any of the various payment integrations available, including PayPal, Square, Authorize.Net, or Stripe.
You can set the donation amounts to an amount that suits your followers or audience, or even follow the example of Buy Me a Coffee and request microdonations of a few dollars or less.
Plus, you'll know your online donation form is mobile friendly so all site visitors can easily access your donation form and support your cause.
Check out our easy-to-follow tutorial on how to create a nonprofit donation form in WordPress and start collecting money for your organization right now.
And if you want to accept recurring donations like Mozilla does in the example above, you can!
Our Stripe integration supports recurring payments, so anyone wanting to donate to your organization on a regular basis can do so without having to fill out your online donation form several times. You can also use other top payment processors for nonprofits, but Stripe is the only payment gateway available in all license levels of WPForms.
You can look here for some inspiring donation page examples and helpful tips so you can create a donation page that will encourage supporters to take action.
Want to make sure your donation forms are converting, and people are donating to your cause?
The easiest way to track WordPress form conversions is by using MonsterInsights.
MonsterInsights is the best Google Analytics plugin on the market today. It gives you the ability to easily set up Google Analytics on your website and track form views, submissions, and conversions using the Forms addon.
2. Crowdfunding
Donation-based crowdfunding is one of the most popular ways nonprofit organizations raise money. This is because crowdfunding takes advantage of already established networks of family, friends, supporters, coworkers, and peers to bring in large donations.
You can easily make an online pledge form that's perfect for crowdfunding. You can add reward tiers and accept pledges, then follow up afterwards to collect the funds.
Crowdfunding is effective for a number of reasons:
Crowdfunding platforms have the potential to reach a large audience, including those outside your established network.
You have the opportunity to engage with supporters on the platform itself, as well as interact with people who visit your website and social media accounts from your crowdfunding page.
Your campaign is easy to market across many channels such as your website, email campaigns, and even on social media.
It's efficient for streamlining your online fundraising efforts into one convenient location where you can share updates, collect donations, and interact with supporters.
If you still aren't sure what crowdfunding is all about, take a look at the well-known GoFundMe campaigns.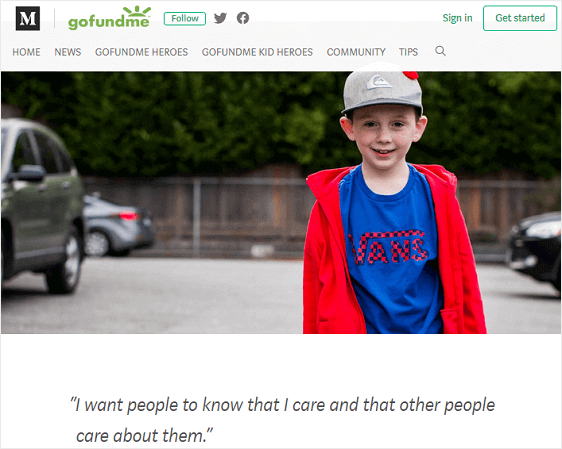 GoFundMe is a perfect example of a donation-based crowdfunding platform that nonprofits use to raise money.
You can easily add a description of your cause, posts status updates and allow comments, collect donations, and add imagery to complement your story. You can even include a link back to your organization's website so people can learn more about what you do.
3. Peer-to-Peer Fundraising Websites
This method of online fundraising uses the support of people who donate on your behalf. For instance, you might run a campaign that lasts a fixed amount of time and has an overall fundraising goal. Each participant then sets their own mini goal and attempts to raise enough money to meet or surpass their goal.
Another type includes personal challenges, such as No Shave November, which involves people not shaving for a month to raise money for cancer research.
Lastly, there are the activity-based peer-to-peer fundraising campaigns that center around activities such as walking, cycling, swimming, or running. One great example of this is the Susan G. Komen Race for the Cure.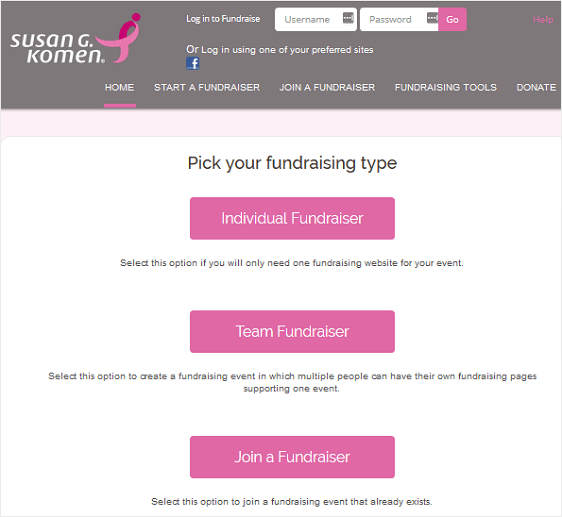 Activity-based peer-to-peer fundraising is highly popular, tends to have a lot of active participation, and brings in a lot of online donations.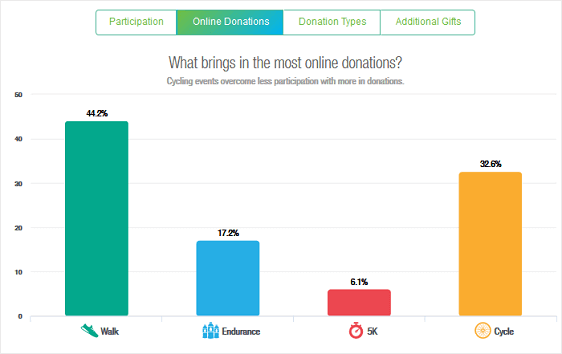 It is also thought that 1 in 4 email campaigns for peer-to-peer fundraisers result in donations, as opposed to 1 in 1,250 emails sent by nonprofit organizations.
Activity-based fundraisers usually work like this:
You, the nonprofit organization, set a timeline and plan a peer-to-peer event.
You then reach out to loyal supporters and ask them if they want to participate in the peer-to-peer event.
If supporters want to participate, they create their own way of fundraising by either setting up their own donation page or utilizing your resources, such as your organization's website.
Participants then reach out to those they know, asking for donations on behalf of your organization.
Supporters of the participants donate through the peer-to-peer fundraising webpage.
You then collect donations, acknowledge participants and donors, and host the event.
The great thing about WPForms is that it includes plenty of form templates that can help you with your activity-based fundraiser:
The basic Fundraiser Registration form for any type of fundraiser you want to host
A Race Registration form, which can easily be customized to accommodate any fundraising activity
The Online Event Registration form can accompany your activity-based fundraiser and generate more funds for your organization
In addition, you can always create a volunteer application form to staff your upcoming charity events so those participating in your activity-based fundraiser have a great experience.
Then they'll have nothing but stellar things to say when you add an online survey to your site to see how people felt about your event and whether there are improvements needed for next time.
Lastly, if you need help organizing your event and volunteers, connect your WordPress forms to your Google Calendar using our Zapier addon and have all the information you need calendared automatically so you never miss a beat.
4. Fundraising Emails
One unique way to take advantage of your growing email list is to send out email campaigns asking for donations.
If you want to take it even further and personalize your emails, you might even consider segmenting your mailing lists so that only subscribers that show an interest in your cause are targeted in your email marketing efforts.
If you don't like the idea of sending out regular email campaigns asking for money, consider doing a one-day email blast.
Choose a day that holds some importance to your organization, and to commemorate that day, send out an email asking subscribers for donations. Make sure to include a personal story, add some visual elements, and include a clear call to action that expresses urgency.
Feeding America does a good job of adding all of these elements to their email campaigns.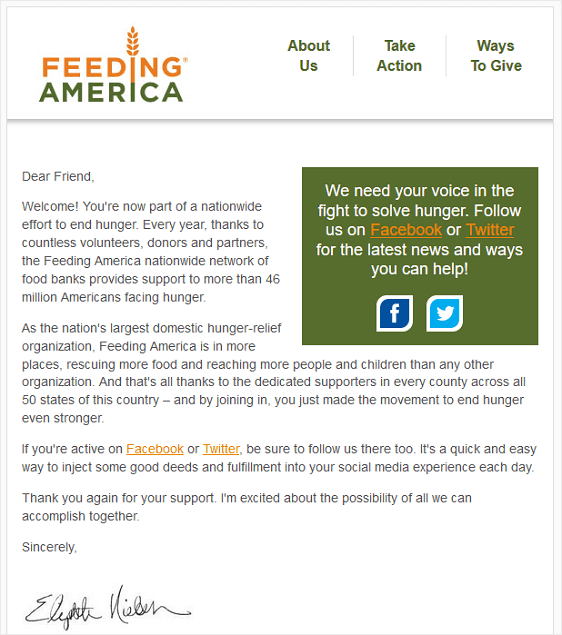 Most importantly, they have clear CTA buttons that take you to different parts of their website. The one labeled Take Action links right to the site's donation page, where you can easily make a donation.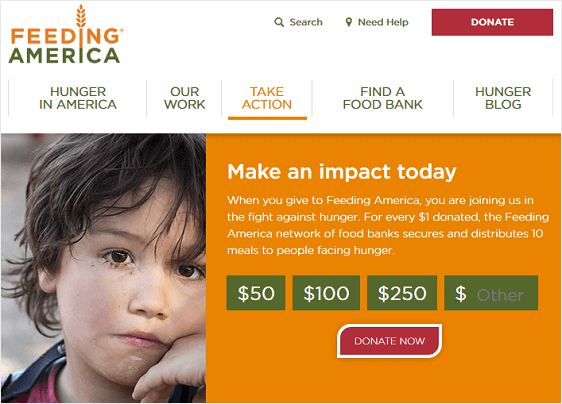 If you have strong ties with a major corporation or donor that supports your cause, you might want to ask if they'll match any donations you receive from your email blast. This way those who donate feel their money is getting put to even better use because it's doubling in size.
For help with getting more sponsors to support your cause, make sure to create a sponsorship request form in WordPress with WPForms and add it to your website so those who are interested can sign up with ease.
And if you're using Salesforce for Nonprofits, you'll want to check out these Salesforce integrations. They make it easier to send form data from WordPress to Salesforce.
In the end, the reason email fundraising is so effective is twofold. First, you can reach a large number of people at one time, assuming you have a big email list. Second, it makes donating on behalf of your organization very simple for supporters.
Are you ready to start email campaigning to raise funds for your organization? Check out this roundup of the best email marketing services and get started today.
5. T-Shirt Fundraising
A fun way of raising money for your cause is to sell t-shirts. After all, t-shirts are a popular item that anyone can use. That's why it's one of the top fundraising ideas for nonprofit organizations.
Just look at Givida Activewear. They sell women's clothing in support of ending world hunger.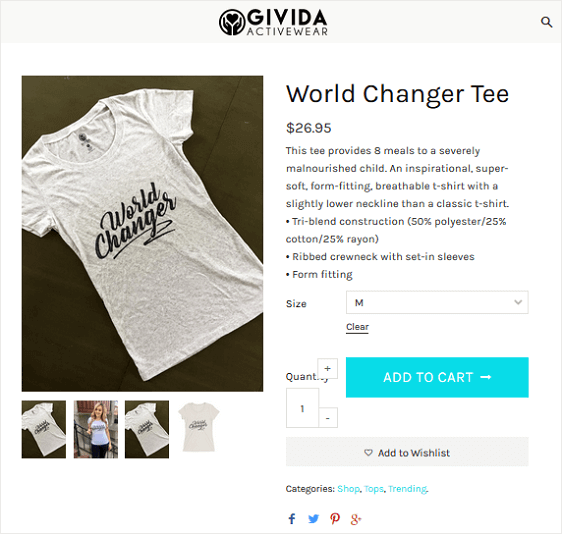 Doubling as marketing materials for your nonprofit's brand, t-shirts are an inexpensive way for people to donate, even on your very own website. And, it just so happens that WPForms has a way for you to create a t-shirt order form right in WordPress.
Just make sure you follow some of these helpful tips when creating your online form:
Overall, make sure to give people a sense that they are donating to a good cause, and not just padding your bottom line.
People are more likely to donate when they feel you are sincere. Plus, feeling like they are a part of something good will make people more excited to wear their newly purchased t-shirts and spread the word about your cause.
6. Facebook Fundraising
Not using your social media networks as a way to raise funds for your nonprofit is a mistake, given the power of social media.
And, if you're using WPForms on your website for your site's donation form, you can easily connect your Facebook platform to WPForms using the Zapier addon to share posts from your site directly to Facebook.
The great thing about Facebook is that it's popular, which means your organization will be widely seen. And by adding a simple "Donate" button, like the America Red Cross has done, you can easily collect the funds needed to keep your organization running.

Plus, you can use your social media reach to direct people back to your nonprofit website to get updates on what is happening with your organization, subscribe to your newsletter, and even make donations through your donation form. The possibilities are endless.
7. Donation Matching
If you have a Rolodex of willing sponsors, leverage their wealth and run a donation matching drive to double your earnings.
People love to know the money they're donating is being put to good use. Even more so, people love to donate knowing that someone supporting the same cause as them will match the amount they donate.
In fact, millennials are known for wanting to donate to a charity because they know their gift will be matched. No matter how small the donation, they want to know their money is helping the issues they support and achieving tangible results.
Take, for instance, Grey2K, a nonprofit trying to put an end to greyhound racing: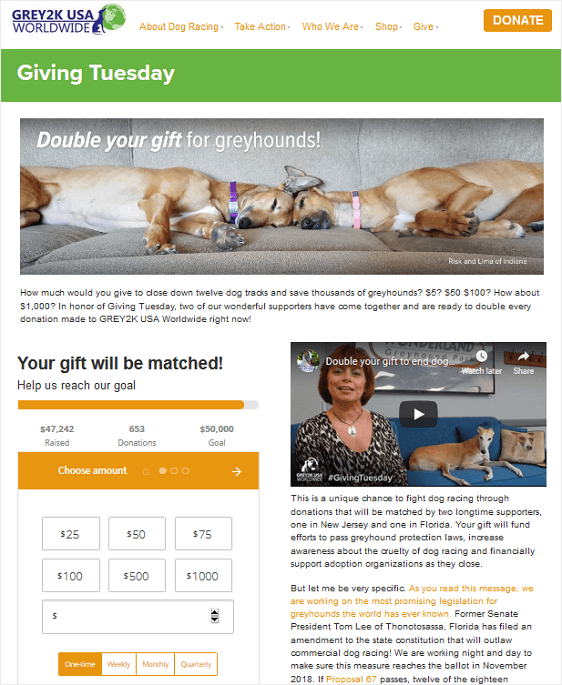 Using two of their supporters, Grey2K has agreed to match any amount given, which doubles their collected funds and further helps support their cause.
8. Pinterest Boards
Women make 64% of all donations. And, since 81% of Pinterest users are women, it makes sense to target that social media platform to raise money.
Use infographics, images, and quotes to grab people's attention as they scroll through Pinterest looking for ideas. But don't forget to add a button on your pin that links right back to your website's online donation form so people can donate right then and there.
The Nature Conservancy does a good job of grabbing people's attention with a large quote on their Pinterest board. They also have a button linking right to their website, which leads people to information about their cause and links to their donation page.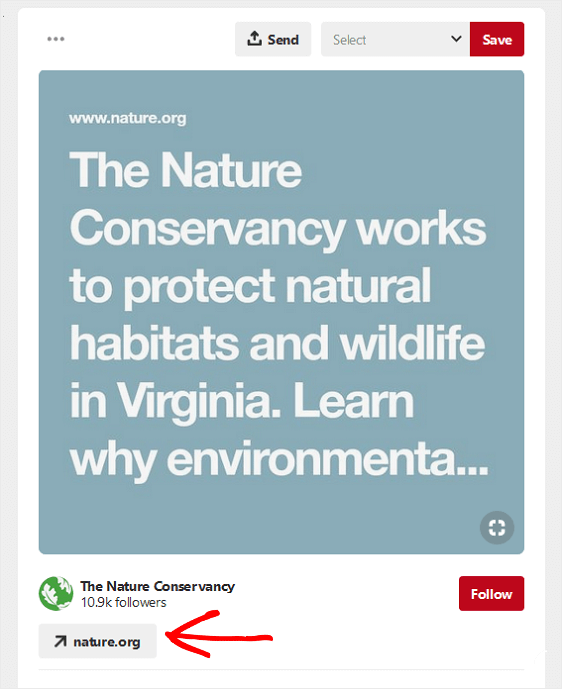 This strategy is just another way to reach a wider audience and raise more funds for a worthy cause, and it can work for you too.
9. Run a Contest
Not only does WPForms have a contest form template that makes setting up and running contests a cinch, but it also has various form permissions and access controls so you can make sure only those you want to submit your forms can.
With the Form Locker addon, you can customize your contest forms in the following ways:
Of course, you may not want to limit your contest form so you can raise as much money as possible. However, it's nice to know these features are available just in case to keep things under control.
If you want to give away a large prize in exchange for generous donations, talk to local businesses and see if they'll donate something of value, just like Brown County United Way has done in the past.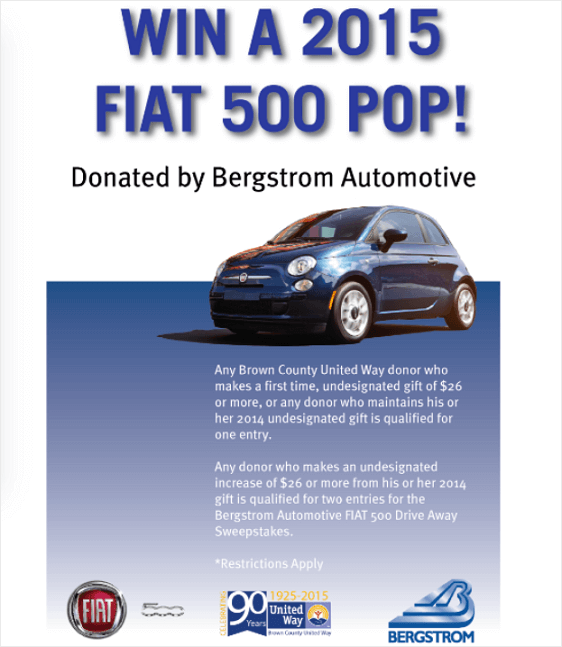 Then, in order for people to be eligible to win, they must donate a minimum amount to enter.
Next, Increase Conversions for Your Donation Form
And there you have it! We hope this roundup of online fundraising ideas for nonprofit organizations gives you the inspiration needed to start raising money for your cause so you can meet your online fundraising goals.
If you liked this article, you might want to read about how to boost donation form conversions before you start your online fundraising campaign. And if you're just starting out, read up on how much you can expect your website to really cost.
So, what are you waiting for? Get started with the most powerful WordPress forms plugin today.
And don't forget, if you like this article, then please follow us on Facebook and Twitter.