Do you collect online donations through your nonprofit website?
Collecting donations on your nonprofit website is crucial, as it provides a convenient and secure way for supporters to contribute to your cause. It ensures a steady stream of funding, enabling you to carry out your mission and make a positive impact.
Plus, it helps you build a community of engaged donors who share your passion and can become long-term supporters.
In this article, we'll show you how to creatively customize the form that accepts donations on your site, and we'll cover what to say to receive suggested donation amounts.
What Are the Best Phrases to Ask for Donations?
Time to break out the thesaurus! Instead of using the terms "donate" or "donors" when asking for donations, try to use alternative wording.
Consider including phrasing with the words "help" or "support," for example. You might even refer to the donations themselves as "contributions." However, you still need to be direct with your donors. Make sure that they know they are making a charitable payment on your site.
First, Create Your Donation Form
If you've already created donation forms and are actively receiving contributions, that's great! You can simply edit your forms to set your suggested amounts.
But, if you don't have one made yet, then you'll need to create the donation form where you'll receive the donation payments. Or, simply grab one of our many donation form templates that have the fields pre-loaded on the form to get you started.
Luckily, each method we cover in this article is possible to recreate with WPForms Lite. You can even collect the donation payments directly through your form with the Stripe credit card field–no upgraded license is needed.
5 Ways to Set Suggested Donation Amounts (+Wording Examples)
Now that you have your donation form ready for customization, here are 5 methods to try on your form to start receiving the donation amounts you suggest to your donor base.
1. Suggest an Amount Directly on the Form
One way to suggest a donation amount for your users is to customize the form's wording in the field editor itself, while also having the desired amount already set.
By allowing for a custom amount, your donor doesn't have to make the decision of how much to donate, and can simply complete the form and make their payment.
To recreate this field on your form, drag over a Single Item field from the Payment fields on the left-hand side of your form builder and drop it on your form.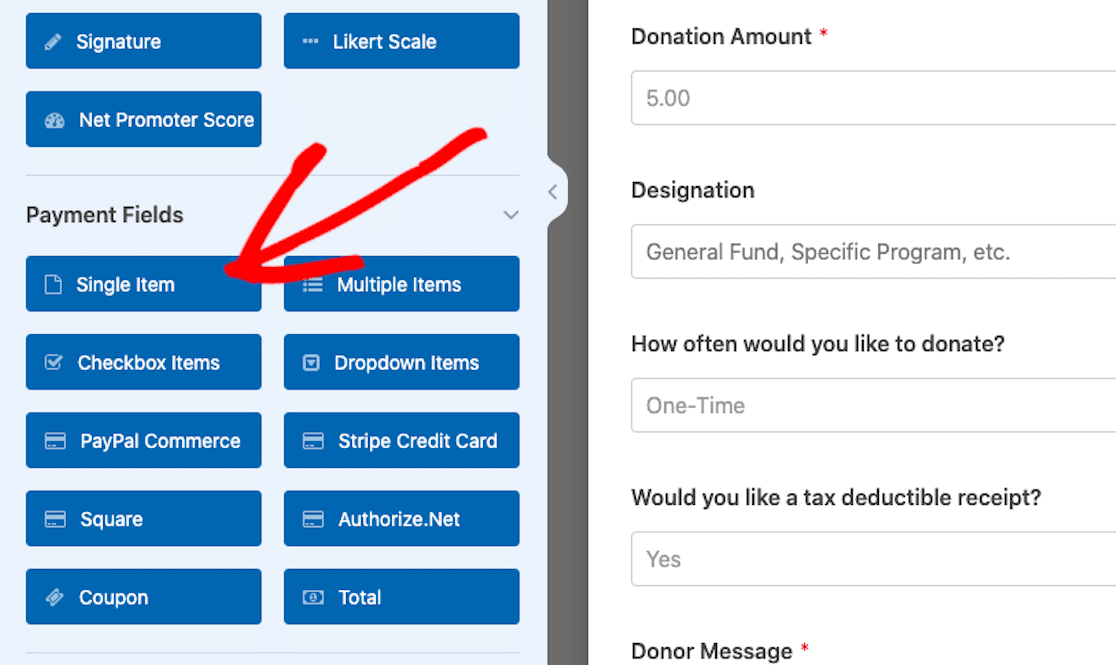 Next, click on field to access the settings. Navigate to the Label to edit the wording of this field.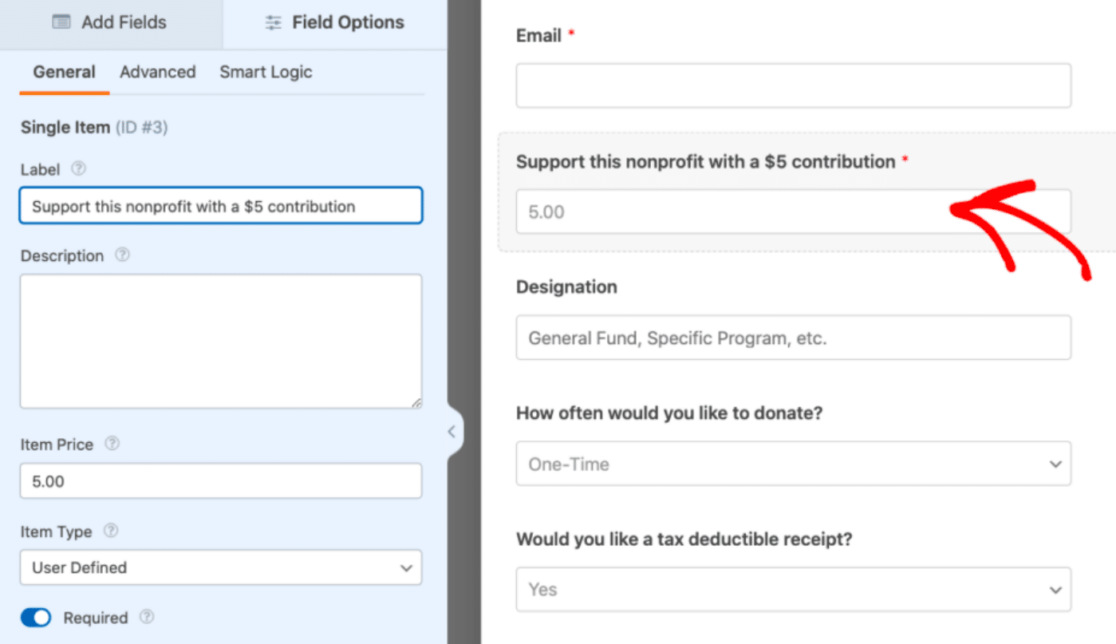 Notice how, on our donation form above, we utilize language that leaves out words like "donate" or "donation." Our prompt reads, "Support this nonprofit with a $5 contribution."
Then, set the Item Price to the amount you want to collect. Be sure that the amount you set here is the same donation amount that you're suggesting in the field label's wording.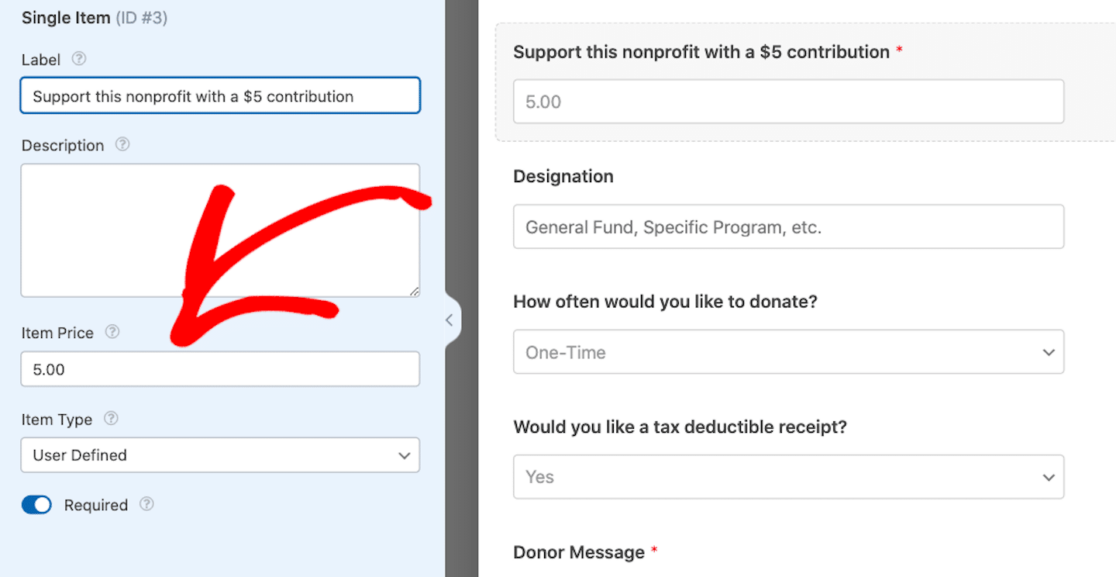 Now, your donor just has to finish the form–or they may be ready to pay after this step on your own donation form–and submit their payment.
And as we mentioned, you don't need a paid license to collect your donation. Simply drag the Stripe credit card field onto your form, and you're good to go.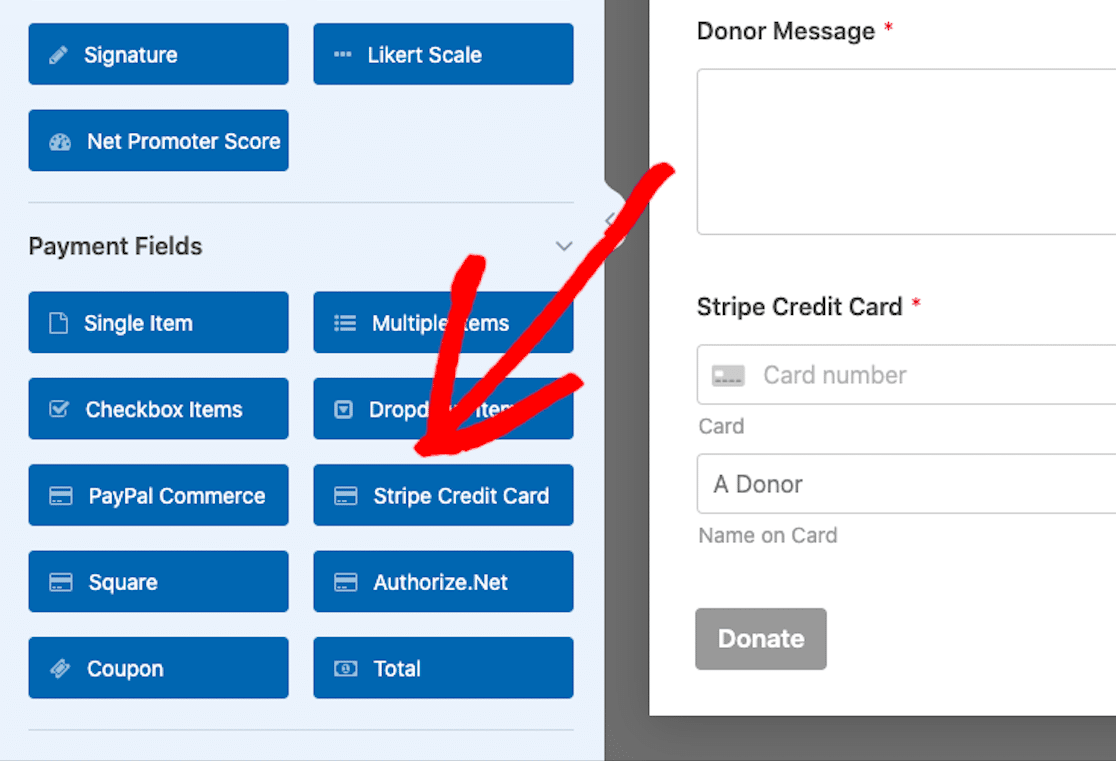 2. Set a One-Time Suggested Amount
Another way to set a suggested donation on your form is to have the form already set on a one-time amount.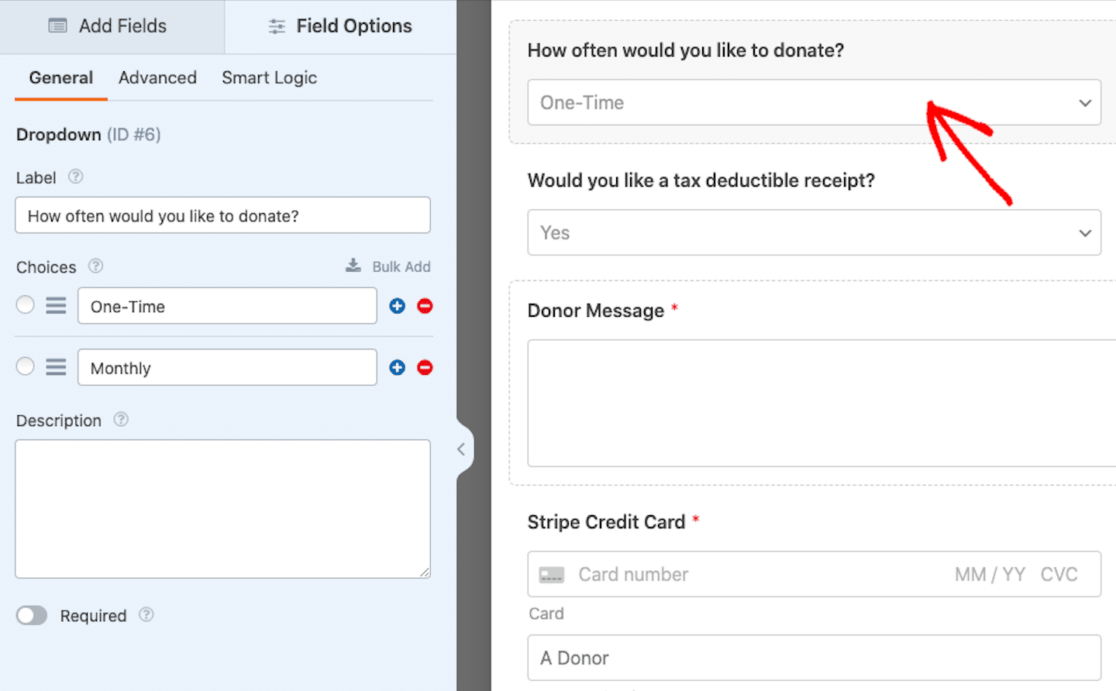 This way, you've already done the work for your donor, so that all they have to do is make a few clicks to donate.
You can also edit the one-time setting through your Stripe options in the Payments tab. You'll want to ensure that the Subscriptions option isn't toggled in your Stripe settings.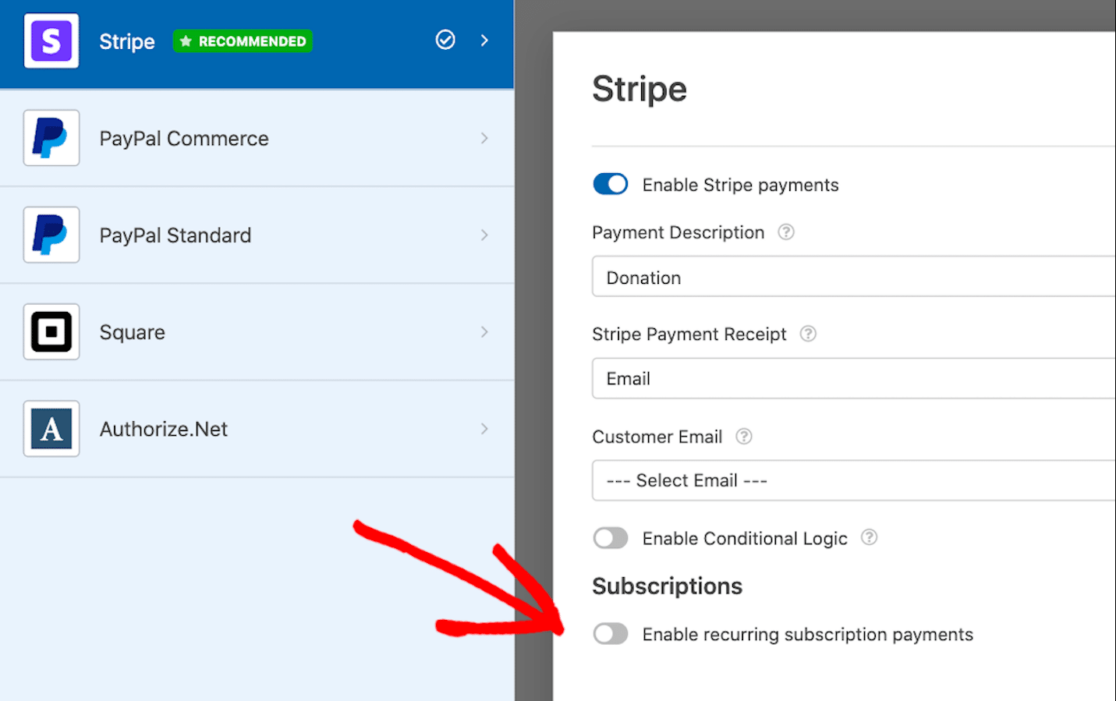 In fact, it's a good idea to double-check your Stripe settings anyway, to make sure that your donor is making just a one-time payment with this donation, instead of a recurring payment. We'll talk about this more in the next method.
And, as we mentioned in our first method, by setting up your form this way, you've taken the guesswork and decision-making out of donating to your cause. This is especially helpful for new donors, and something that can really elevate the donor experience.
If you've applied the first and second methods we've covered here–suggesting a monetary contribution set as a one-time payment–then you've just made it incredibly easy for your supporters to make a quick donation to your site.
3. Set a Recurring Suggested Amount
Now, you'll toggle that subscription option we just touched on in the previous method in order to set a recurring donation amount.
So, to recap here, you're working within the Stripe settings in the Payments tab of your form builder. And if you want to suggest that your donor make a recurring contribution, you'll want to Enable recurring subscription payments under the Stripe Subscriptions settings.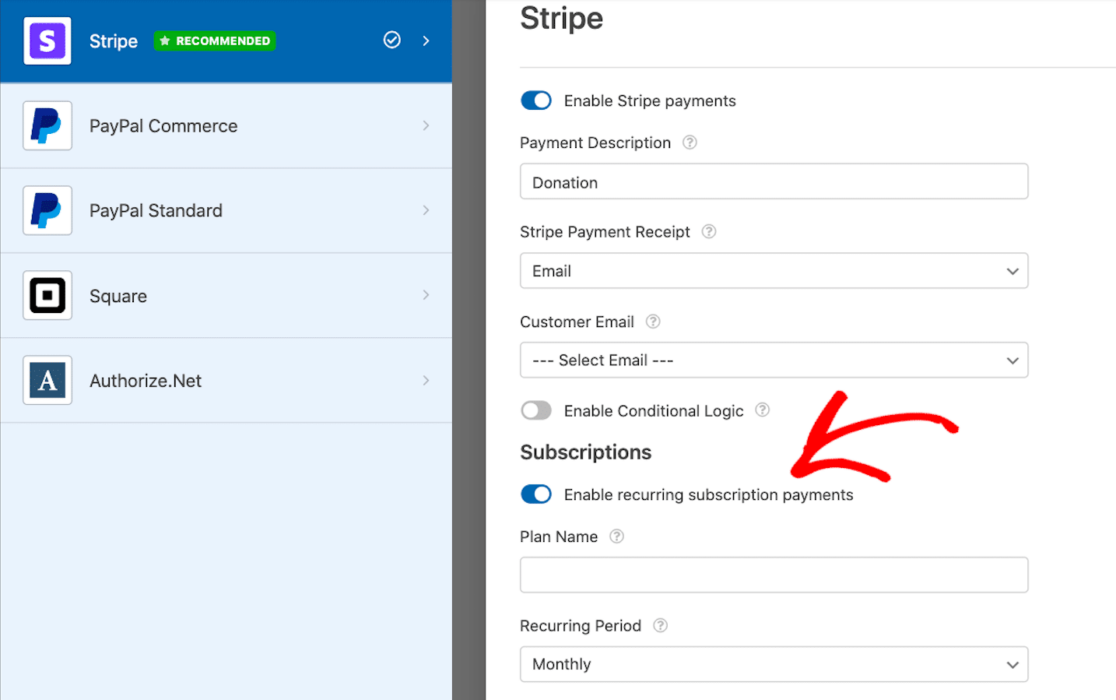 Additionally, be sure to offer the same recurring payment option on the field that your donor will see.
So, this recurring option should be provided alongside the one-time payment choice in the field where your donor chooses how often they'd like to donate.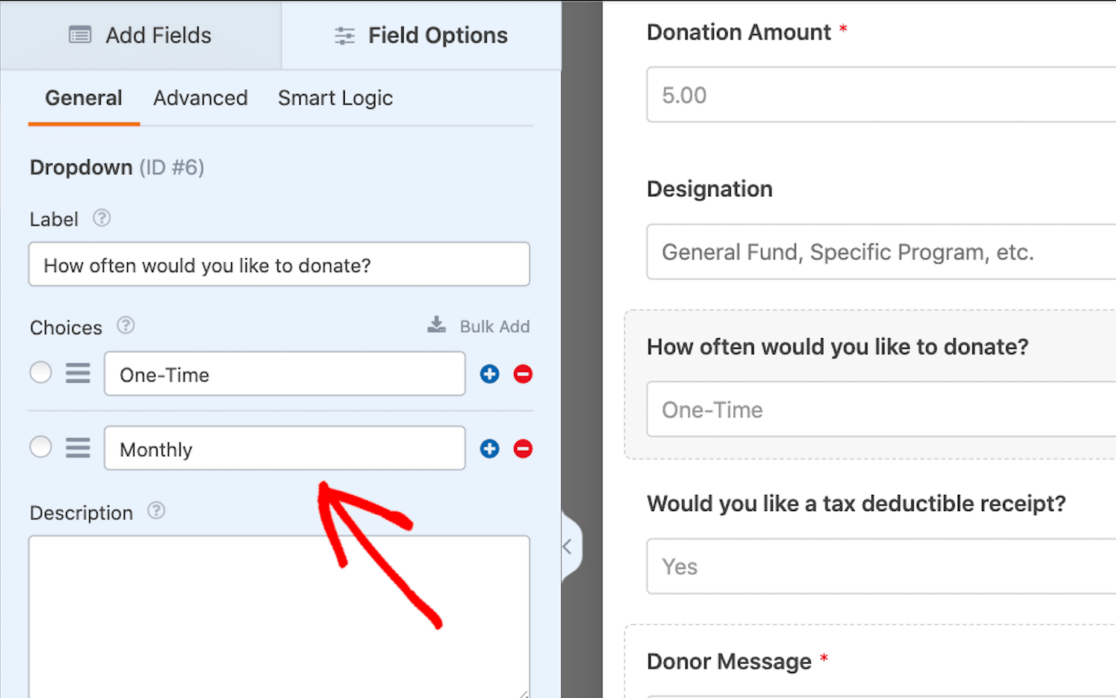 Now, you're all set to receive recurring donations from this supporter.
And if you've already applied the previous methods to your forms, you've totally streamlined a recurring giving program for your donors to participate in. You could even incorporate different giving levels as part of your online fundraising.
4. Place the Preferred Amount in Second Position
This next method to try on your donation form uses a bit of behaviorism on the potential donor to make it easier for them to commit to making a contribution.
So, to employ this method, you'll want to put your desired or suggested donation amount in the second position within a group of payment choices.
On our donation form below, it is the second item in our Multiple Items field.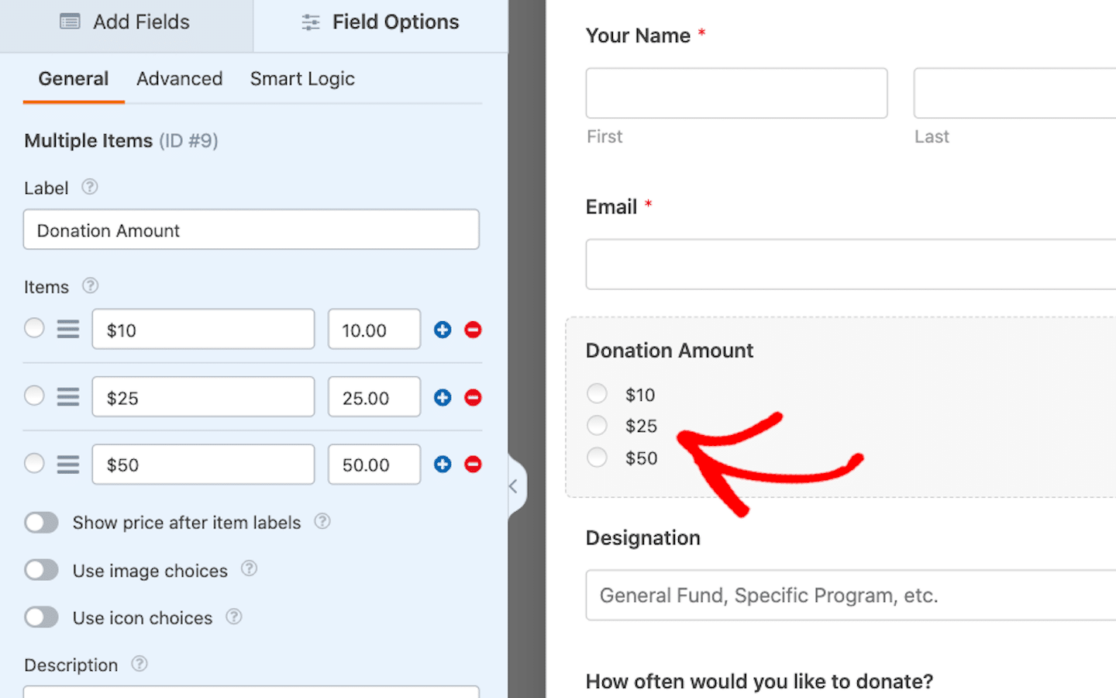 But why? Donation pages often place the preferred donation amount as the second option to encourage donors to give more generously, leveraging the psychology of avoiding appearing stingy.
This strategy parallels the common retail practice of positioning desired products as the second cheapest option to boost sales.
So, since it works, it's probably worth trying on your own donation forms.
5. Let the User Make a Higher Donation
Our last method for suggesting donation amounts lets your form user choose their own gift amount.
To do this with the WPForms form builder, drag over the Single Item field from the Payments Fields on your form.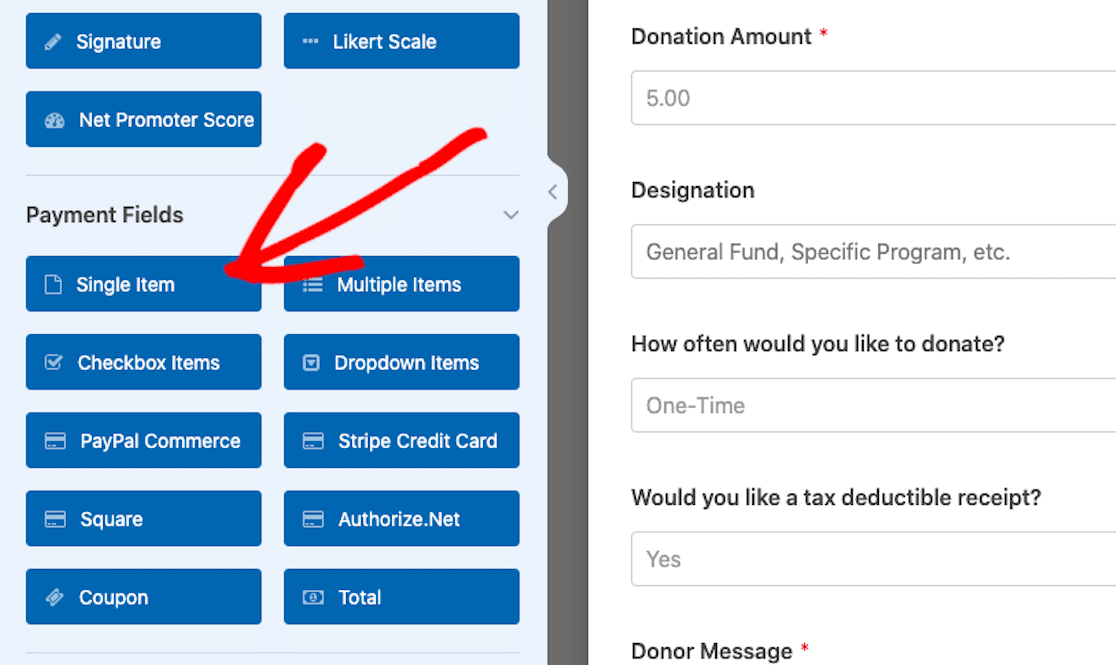 Then, click on the field to open up its settings.
Here, be sure that under Item Type you've selected User Defined. This way, your form user can enter the amount they want to be charged to their credit card. They may even make a donation of a higher amount than suggested.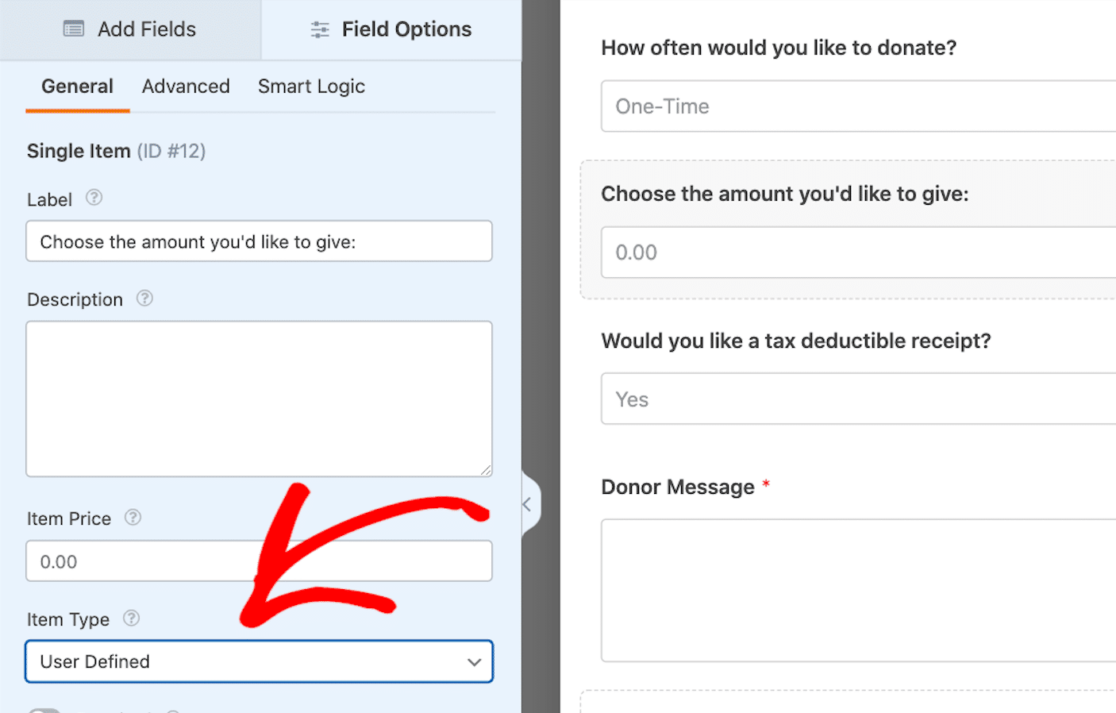 So, what's the psychology behind this one?
Suggested donation amounts are effective in increasing contributions, but it's essential not to overlook those who prefer to donate a different amount.
Without an option to enter a custom donation, potential donors might abandon your donation page.
And there you have it! If you employ these methods on your donation page, you're sure to collect the donation amounts that you want and that you suggest.
Next, Elevate Your Donation Page
Now that you know how to confidently suggest donation amounts on your online donation forms, it's time to apply some creativity to your donation page. Check out our full write-up to find out how to elevate your site's donation page.
Ready to build your form? Get started today with the easiest WordPress form builder plugin. WPForms Pro includes lots of free templates and offers a 14-day money-back guarantee.
If this article helped you out, please follow us on Facebook and Twitter for more free WordPress tutorials and guides.