Are you trying to collect charity donations online?
The internet is an excellent place for fundraising conveniently and at scale. However, it's vital to use the right tools and platforms to support your charity collection activities.
In this post, we'll recommend the best ways to collect charity donations online for your nonprofit organization.
How Do I Ask for Donations Online?
When asking for donations online, it's important to be specific in your reasons why people should donate to your charity. You can include information about your current situation and how collecting donations can help make a noticeable difference.
It's also highly recommended to share the story behind your cause compellingly using images and text. With the right kind of messaging, you can encourage more and more people to donate and make your charity cause a success.
Best Ways to Collect Charity Donations Online
We've tested a bunch of online fundraising tools and plugins that offer the best features. Here are our top recommended ones:
WPForms is a beginner-friendly form builder for WordPress. It includes over form templates, including an online donation form template.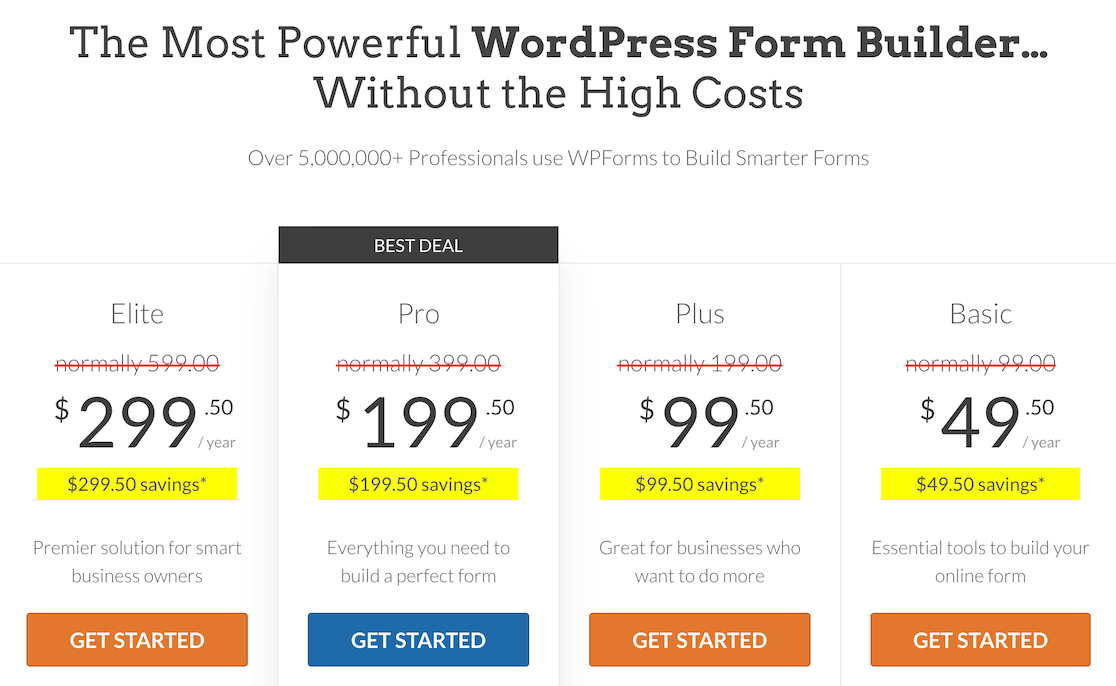 It's not always ideal to use a full-fledged fundraising platform if you're a small charity or just running a one-off charity event.
You can instead simplify the donation process considerably by creating a payment form configured to accept one-time donations or recurring ones.
WPForms is designed exactly for this purpose. While it's not a standalone donation management solution, it's a comprehensive form builder that gets the job done for simpler charity causes using forms.
Getting started with WPForms is quick and easy. Once you've selected an appropriate template from its huge form template library, you're free to customize any part of it until you're satisfied.
For instance, you can use different payment processors to collect donations online safely using PayPal, Stripe, Square, and Authorize.net.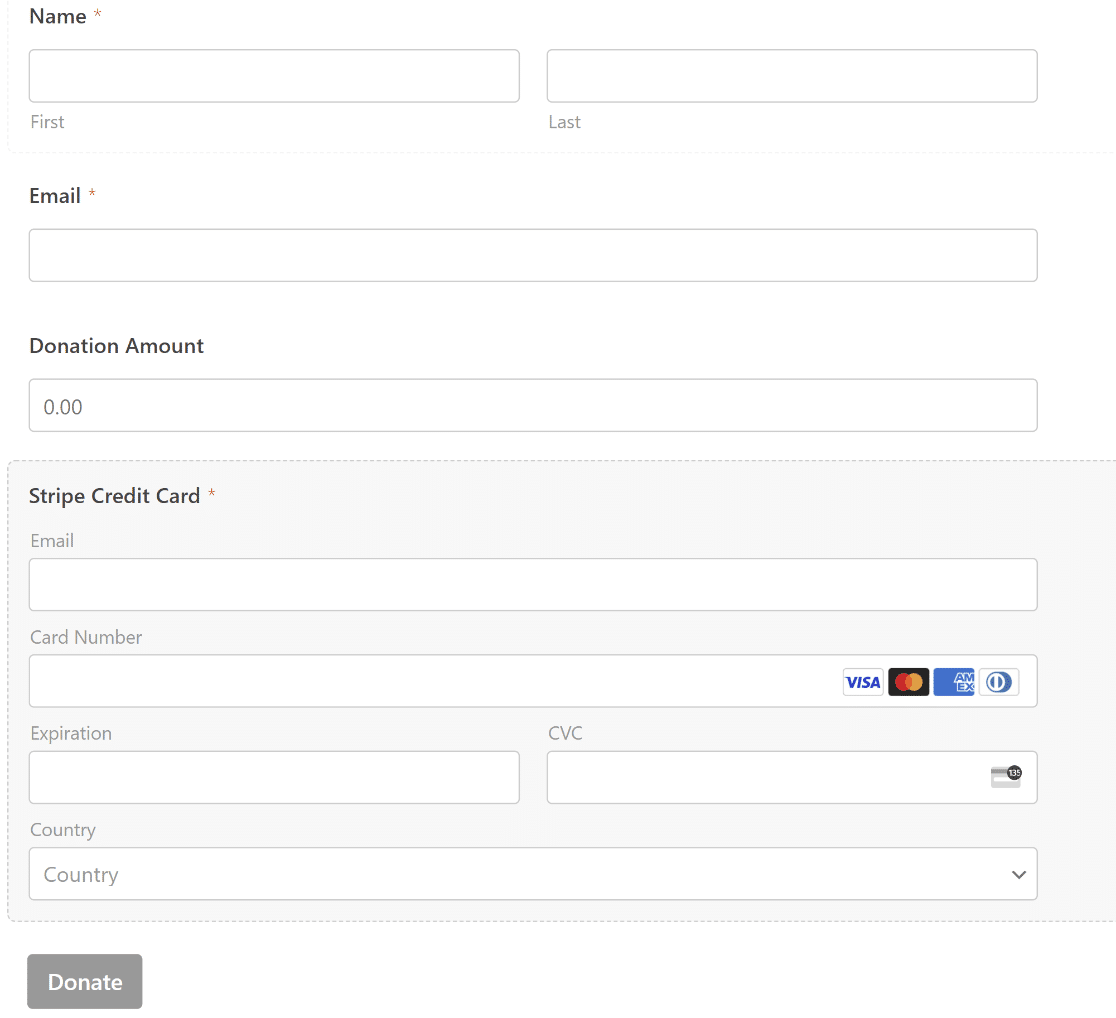 The Stripe credit card field offers various payment methods, including Apple Pay and Google Pay.
And guess what? Stripe integration in WPForms is available for all license levels, including Lite, with fairly low transaction fees.
Plus, with Stripe, your donors can complete their donations on-site. This creates a faster checkout experience – and a satisfactory user experience is excellent for boosting conversions for your charitable donation form!
In addition, WPForms lets you design your donation form with complete flexibility. Using the Content field, you can add images and text to help potential donors connect with your cause.
A donation page with an interactive form like this can greatly increase your chances of collecting charity donations from the maximum number of people.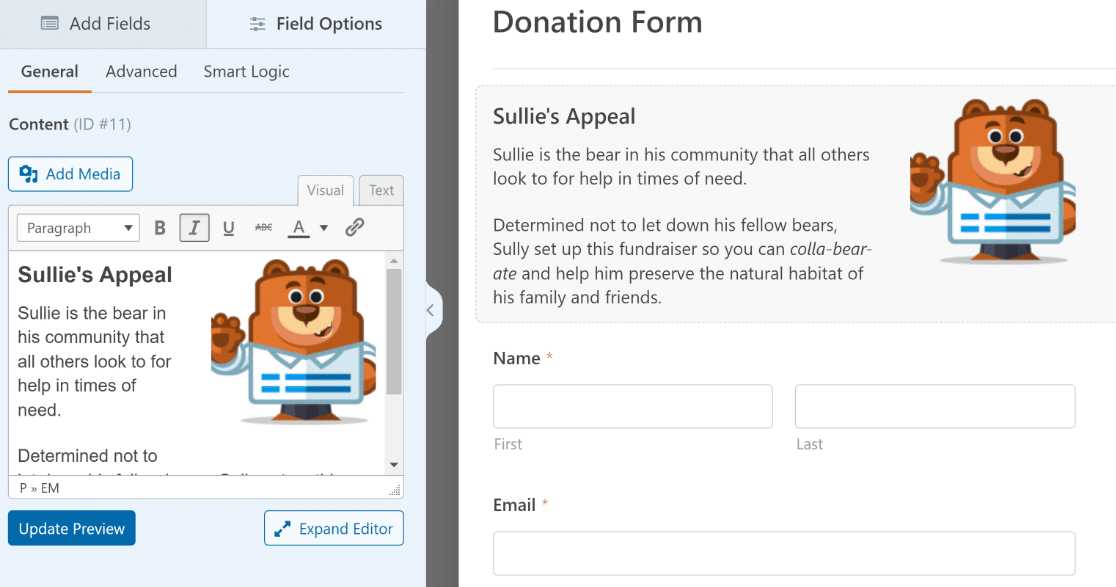 And that's not all. WPForms comes with various spam protection tools as well as third-party integrations with popular captcha services and Akismet. This lets you protect your charity from spammers and fake donors effectively.
Apart from fundraising, WPForms is also an excellent tool for building different types of forms, including contact forms, feedback forms, Likert scale surveys, and more!
The best part is that WPForms offers a special discount for nonprofits with 75% off WPForms Pro. So if you own a WordPress site and are looking for a simple yet powerful solution for accepting donations online, WPForms is the best option available.
Pricing: WPForms Pro starts at $99 per year if you're eligible for our nonprofit discount. 
WP Charitable is a powerful donation plugin for WordPress. If you want to add the full range of advanced donation management functionality to your WordPress site, WP Charitable is the way to go.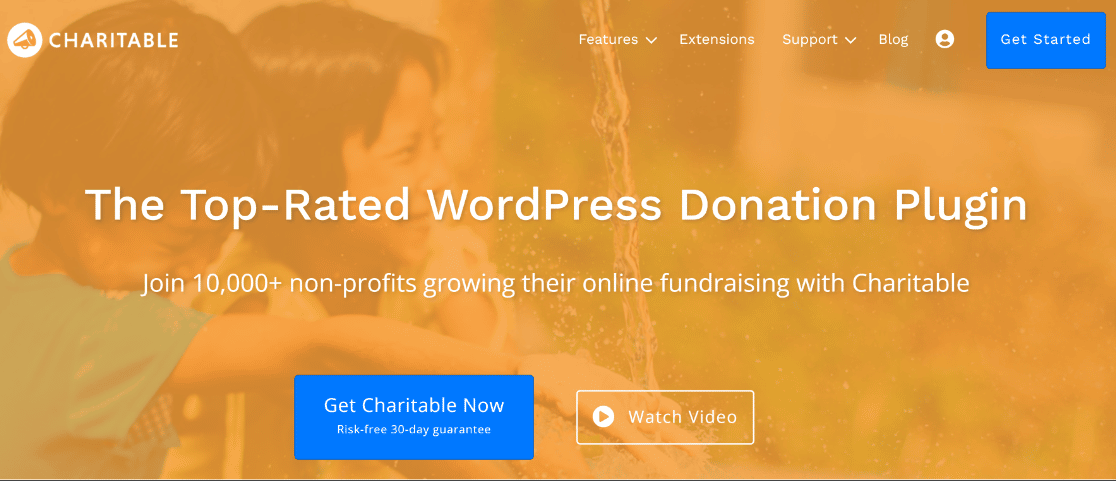 Using this plugin, you can add charity campaigns to your WordPress site with minimal effort. The record of every donation is stored on your WordPress backend, making it easy to track your fundraising goals over time.
We tested just how easy it is to create a charity campaign and add it to WordPress using WP Charitable. We were able to put together this dummy campaign for this lovely bear, and it took us less than 5 minutes to do this (yes, we measured the time).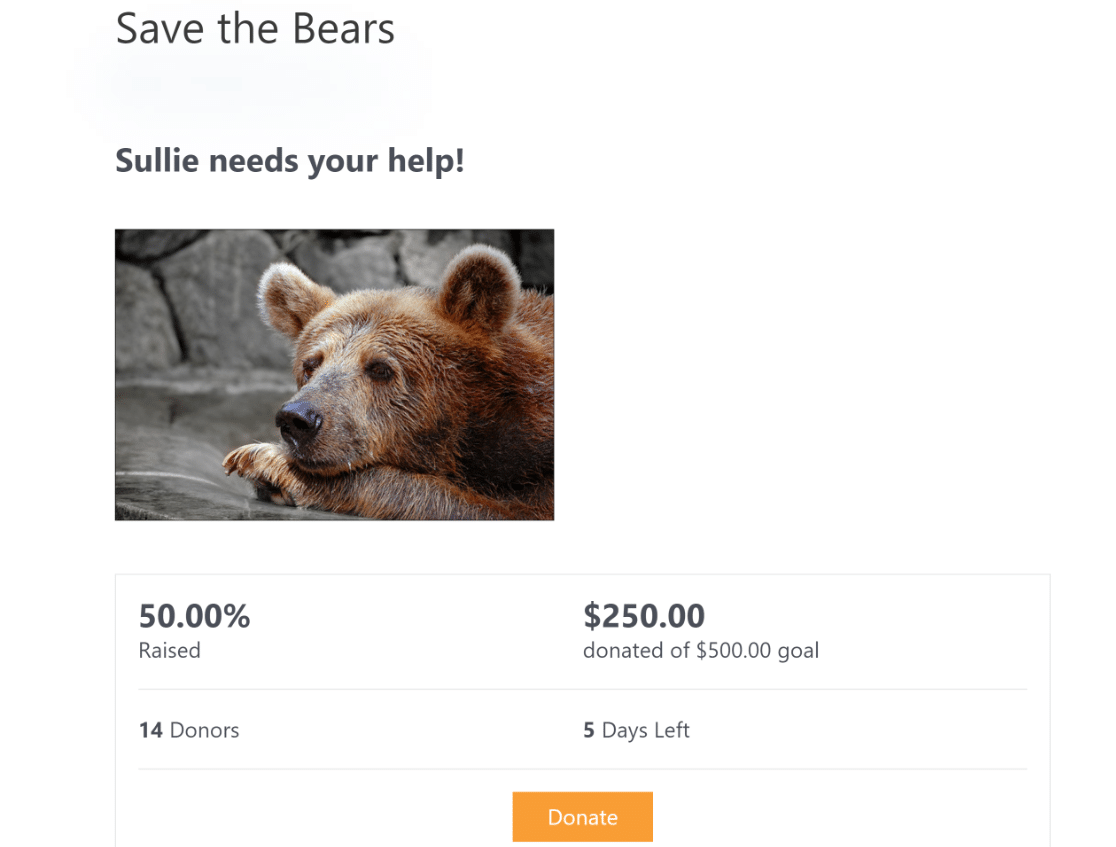 The plugin integrates with PayPal, Stripe, Authorize, and several other popular online payment gateways, so you can offer donors multiple payment options to choose from. Officially, WP Charitable recommends Stripe because it lets you collect payments directly on your site without being redirected to a separate page.
It also supports offline payment processing using cheques and bank transfers.
The paid version of WP Charitable unlocks advanced features like anonymous donations, annual receipts, crowdfunding, and more.
The only small drawback is that the donation forms are only minimally customizable. So if you want fully customized donation forms, WPForms is a better option.
However, the most important benefit of WP Charitable is that it allows you to retain full control over your charity cause by hosting fundraising campaigns on your own site. You won't need to rely on a third-party platform to accept donations again!
Pricing: WP Charitable offers many essential donation features for free, but you can upgrade to unlock additional features at $99 per year.
WP Simple Pay brings advanced Stripe payment features to your WordPress site. Whether you want to collect payments for orders or accept charity, WP Simple Pay works right out of the box for both purposes.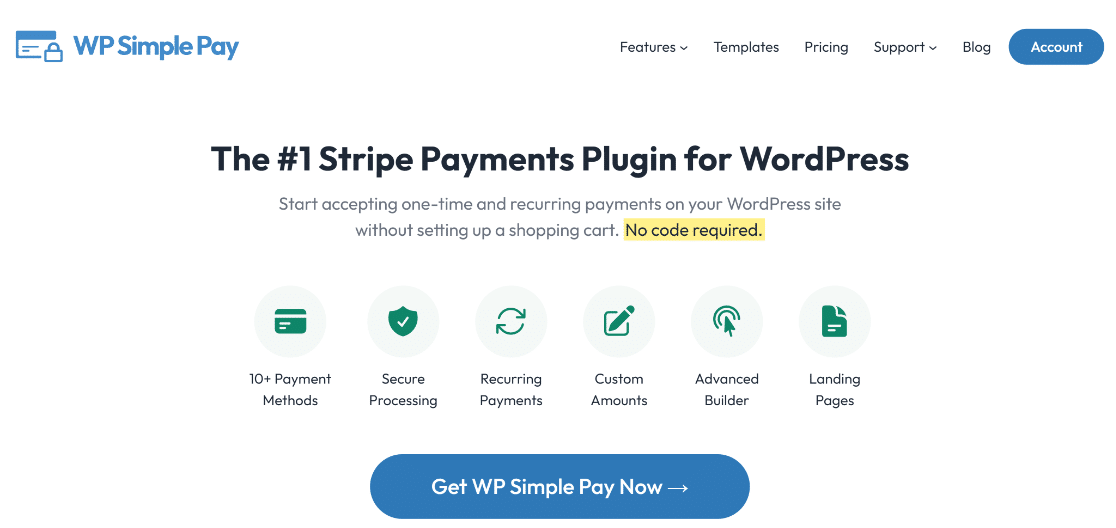 To help you get started immediately, the plugin includes pre-built donation form templates. And with the Pro version, you can customize forms to build neat-looking forms that are a pleasure to fill out for your donors.
WP Simple Pay integrates natively with Stripe. It uses Stripe to its full potential by offering various payment options, including credit cards, direct bank deposits, and more. It even supports "buy now, pay later" services like Klarna and AfterPay.
Although the free version only allows off-site checkout with Stripe, you can enable on-site payments with WP Simple Pay Pro. This way, your donors can contribute to your charity while staying on your site, boosting the chances of more people completing donations.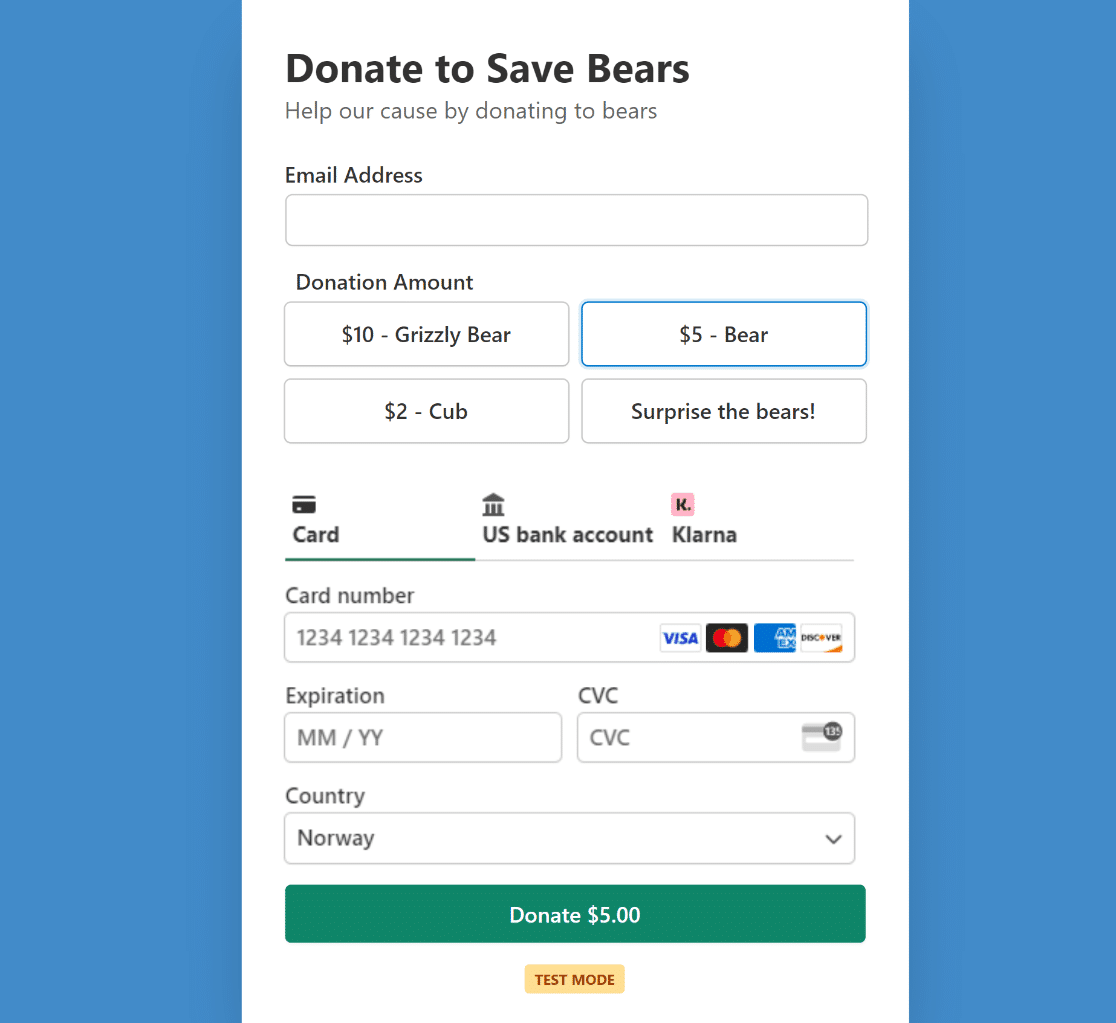 For on-site donation forms, you can also create stylish overlay forms that pop up once the donate button is pressed. We were also glad to see that WP Simple Pay includes anti-spam captcha options to prevent fraud donations.
WP Simple Pay maintains a record of all the donations you've collected over your selected period of time. Using these reports, you can easily keep track of your donations and monitor the success of your charity cause.
Note that WP Simple Pay's functionality is mainly limited to creating payment or donation forms. As a result, it lacks the more advanced features like conditional logic and fancy fields that you'll find in dedicated form builders like WPForms.
Pricing: WP Simple Pay paid plans start at $49.50 per year.
Formidable Forms is another powerful form builder plugin for WordPress. It shares many similarities with WPForms in terms of form-building features.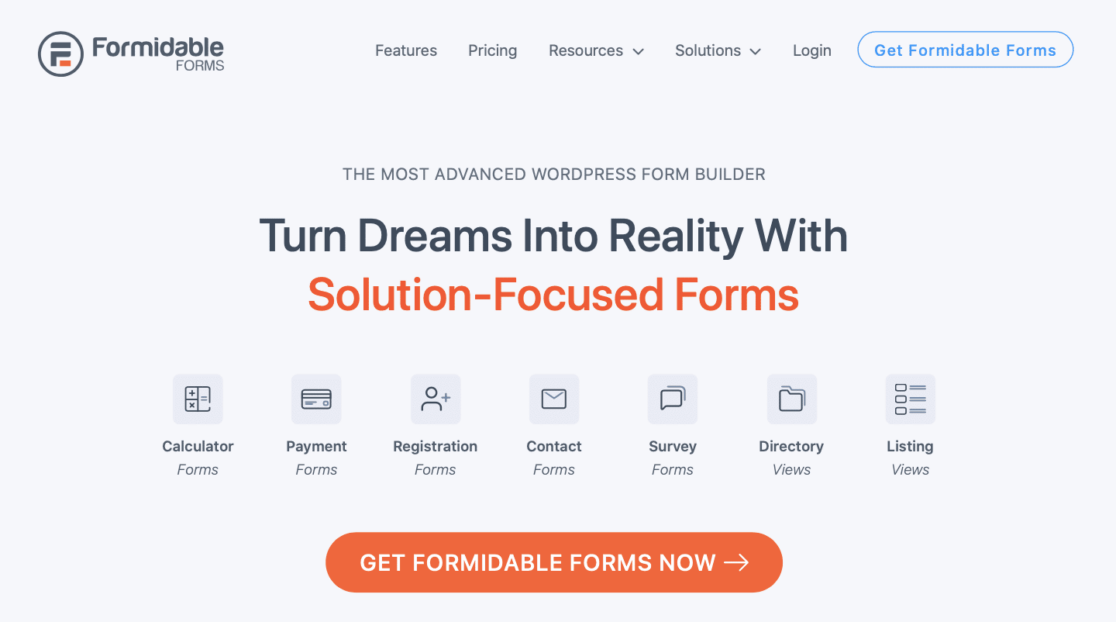 Like WPForms, Formidable Forms has many pre-built templates, including a charitable donation form. The templates are fully customizable, so you can easily add or remove fields as you see fit.
Formidable Forms integrates with popular payment gateways like PayPal, Stripe, and Authorize.net to process donation payments. These payment processors guarantee a secure checkout experience, enabling donors to pay you safely.
The plugin has several anti-spam methods to stop spambots from abusing your online charity. The supported spam prevention options include the honeypot field and third-party services like Akismet and reCAPTCHA.
Overall, Formidable Forms is a very useful plugin for creating donation forms and addressing other form-building needs.
However, you'll need to use HTML if you want to add media or text to offer donors a glimpse of the story behind your charity cause. WPForms is an easier alternative thanks to its easy no-code Content field, larger template library, and advanced spam prevention tools.
Pricing: Formidable Forms paid plans start at $39.50 per year.
GiveWP is one of our top favorite plugins for charity organizations.
When you first install GiveWP, it leads you to a setup wizard which creates a beautiful donation form for you in just a few steps. It also offers greater form styling flexibility than WP Charitable or WP Simple Pay. You can change fonts, colors, and other style elements of your charity collection form.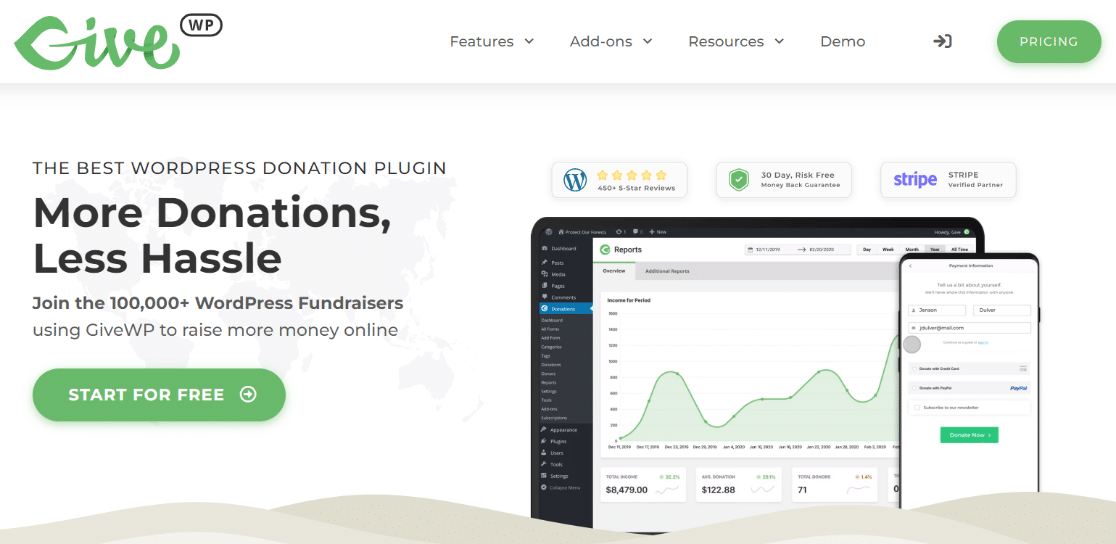 However, adding custom fields to your forms is quite complicated unless you upgrade to higher level paid plans. The free and basic plans don't include a drag and drop interface for adding form fields.
Instead, you can only enable or disable each field by configuring form field settings from the backend, which is not very convenient.
That said, GiveWP stands out because it supports modern-looking multi-page donation forms that are visually appealing. Your donors will love filling out the visually striking online charity forms powered by GiveWP.
It also supports anonymous donations in the free as well as paid versions of the plugin.
The plugin integrates with PayPal, Stripe, and Authorize.net for processing donations online securely. It also supports offline donations like WP Charitable.
Once you start collecting charity, you can easily view payment statistics in your WordPress dashboard to track the performance of your donation campaigns.
Overall, GiveWP is an excellent plugin that offers a variety of useful charity collection features for free. If you can ignore its limited form field customizations, it's one of the best charity plugins you can find for WordPress.
You can see our WPForms vs GiveWP comparison for more information.
Pricing: GiveWP offers essential donation features for free, but paid options unlock additional features starting at $149 per year.
GoFundMe is one of the most popular online fundraising platforms. Unlike the options we've recommended above, GoFundMe works independently of your site as a separate donation platform entirely.
The major benefit of GoFundMe is that it doesn't charge any platform fee to host your fundraiser. Though it deducts a percentage from each donation you receive, the cost is fairly competitive.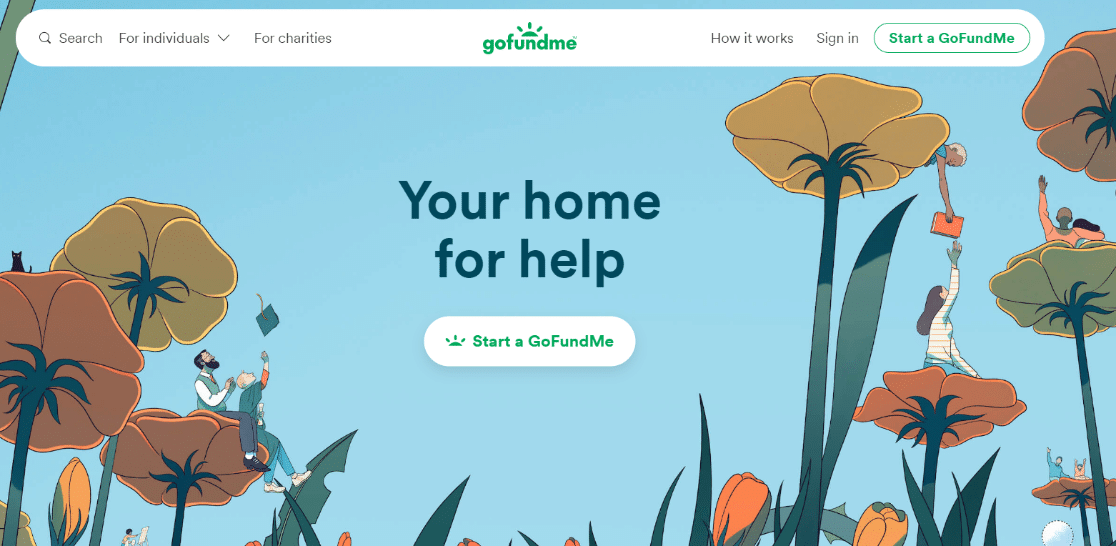 Other than that, GoFundMe also offers the convenience of a mobile app. With the app, you can create and manage fundraisers while also allowing donors to donate through it and also share your campaign on social media with a single click.
These features make GoFundMe an appealing option for online charities.
But there are several downsides as well. For one, GoFundMe is a third-party platform, so your fundraiser is essentially hosted outside of your official website.
Collecting charities from your official site gives donors the complete assurance that they're paying directly to your cause. As such, your donors are likely to trust you more when you host a charity on your own website with full transparency.
On top of that, the verification process on GoFundMe can cause delays when it's time to withdraw the charity you've received. With your own website, you retain complete ownership of all proceeds as they're directly connected with your selected payment gateways.
Nonetheless, GoFundMe is a good option in situations where the charity organizer doesn't own a site of their own.
Accept Donations With PayPal is a basic plugin that lets you add a PayPal donate button to your site for free.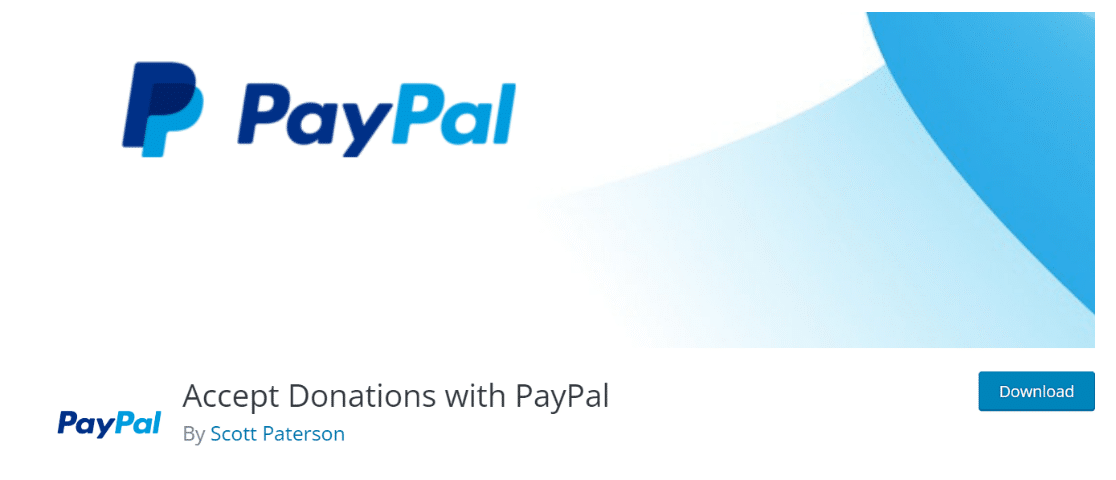 It doesn't have any of the advanced features that options like WPForms, GiveWP, and others on our list offer. But this plugin is great if you're looking to add just a bare donate button and connect it with your PayPal account for charity collections.
Along with a donate button, it adds a dropdown that lets donors select the amount they want to donate via PayPal. You can also change your donate button style using several pre-made templates, which is a nice feature to have.
The plugin also has a Pro version that enables you to set up recurring donations. But it costs the same as WPForms, so it's not quite worth it.
But if you want a simple free plugin that does only one job (adding a donate button to your page), then Accept Donations With PayPal is worth a try.
Pricing: It's a freemium plugin, though the paid version only adds recurring donations and extra donation amount dropdowns.
Which Plugin Is the Best Way to Collect Charity Online?
If you need to add different kinds of forms to your site along with a charity collection form, then WPForms offers the most value.
With just one plugin, you can create stylish contact forms, generate leads with powerful lead forms, run surveys, while also fundraising for your cause. Formidable Forms is a decent alternative but its heavily reliant on code for customizing some aspects of form design.
If you want a full-featured fundraiser plugin, then WP Charitable is a great choice. GiveWP is a powerful alternative to WP Charitable due to its better customization and reporting features, but it can be far too expensive for charity organizations and nonprofits.
WP Simple Pay is recommended if you want a broad range of payment forms, including but not limited to donation forms. It's great for building sleek payment forms and collecting donations via Stripe.
GoFundMe is a good choice if you don't have a website to host your charity fundraiser on. It also features a convenient mobile app to facilitate donor management activities on the go.
And there you have it. You're now familiar with the best ways to collect charity donations online. Just pick a solution that works best for you from this list and make a difference with your fundraiser.
Next, Generate Leads With Affiliates
For many businesses, affiliates have played an instrumental role in expanding audiences and helping business growth. If you want to boost your lead generation capabilities, see our guide to leveraging affiliate marketing to convert more leads.
Create Your WordPress Form Now
Ready to build your form? Get started today with the easiest WordPress form builder plugin. WPForms Pro includes lots of free templates and offers a 14-day money-back guarantee.
If this article helped you out, please follow us on Facebook and Twitter for more free WordPress tutorials and guides.