Are you a nonprofit that wants to grow its website?
WPForms is one of the most popular WordPress plugins out there, and many nonprofits use it to skyrocket their online success.
We want to make sure you're getting everything out of the plugin that's possible. So, in this post, we'll show you exactly how nonprofits can use WPForms to help their organization's website.
Claim Your WPForms Nonprofit Discount Now
How Nonprofits Can Use WPForms
There are a lot of fantastic ways you can use WPForms to grow your nonprofit online.
You may already know what WPForms is, but if you're a nonprofit, we want to show you exactly what to do with the plugin to grow your organization and revenue.
Oh, and before we jump in, we wanted to mention that a good nonprofit WordPress theme can help drive website visitors to your online donation forms. And then, you can easily use some tactics to boost donation form conversions since your theme will be nonprofit-friendly.
So now let's dive in and check out everything nonprofits can use WPForms for on their website to help boost income, donations, volunteer recruitment efforts, and more.
How Nonprofits Can Use WPForms to Grow Their Website
1. Get WPForms At a Special Nonprofit Discount
It's important to us that small businesses and nonprofits of all sizes and budgets have access to the plugin because we know how effective and powerful it can be on a website.
Because we believe in putting people first, we offer a WPForms nonprofit discount to qualified nonprofits.
Nonprofits can use our WPForms Pro license at a 75% discount, while the Elite license is available for use at 66% off. You'll need to fill out a nonprofit application form first — which takes just a few minutes — to get started.
Once you've claimed your nonprofit discount, you can start growing your nonprofit organization in various ways as we've outlined below.
Claim Your WPForms Nonprofit Discount Now
2. Collect Donations Online
It's important for nonprofits to have a donation form on their website. Lots of people visit websites looking to donate, and you want to make sure they can do just that.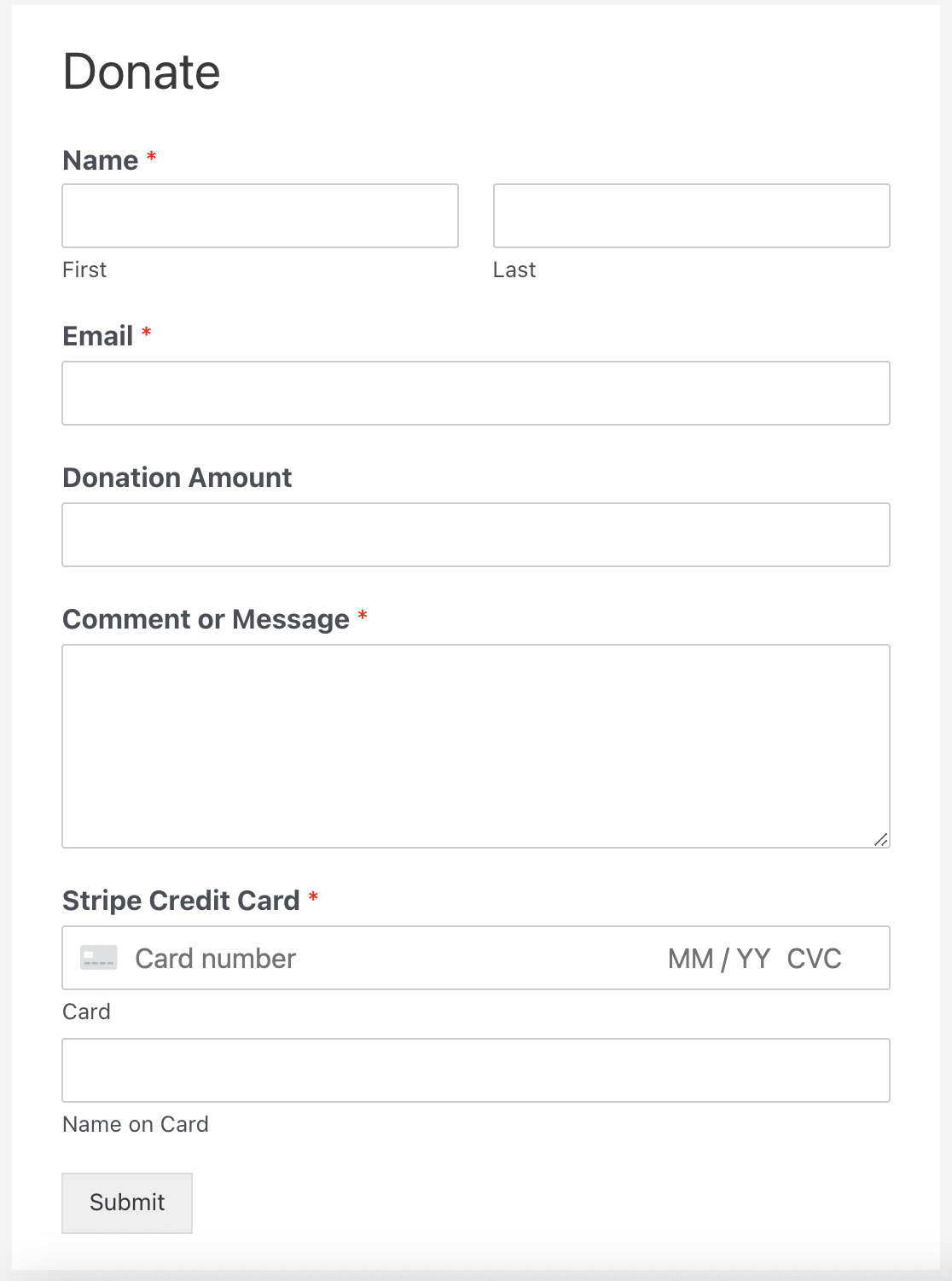 With WPForms, it's incredibly painless to set this up. Then, you can customize every single thing on this form to make it perfect for your nonprofit's website.
If you'd like to build your form from scratch, check out our step-by-step tutorial on how to create a nonprofit donation form in WordPress (the easy way).
3. Get Specific Data From Donors vs. Volunteers
A fantastic and popular way to use WPForms is to enable Smart Conditional Logic on your nonprofit forms.
This lets you find out who's filling out your form while they're doing it. And then, ask them the right details based on what they're interested in.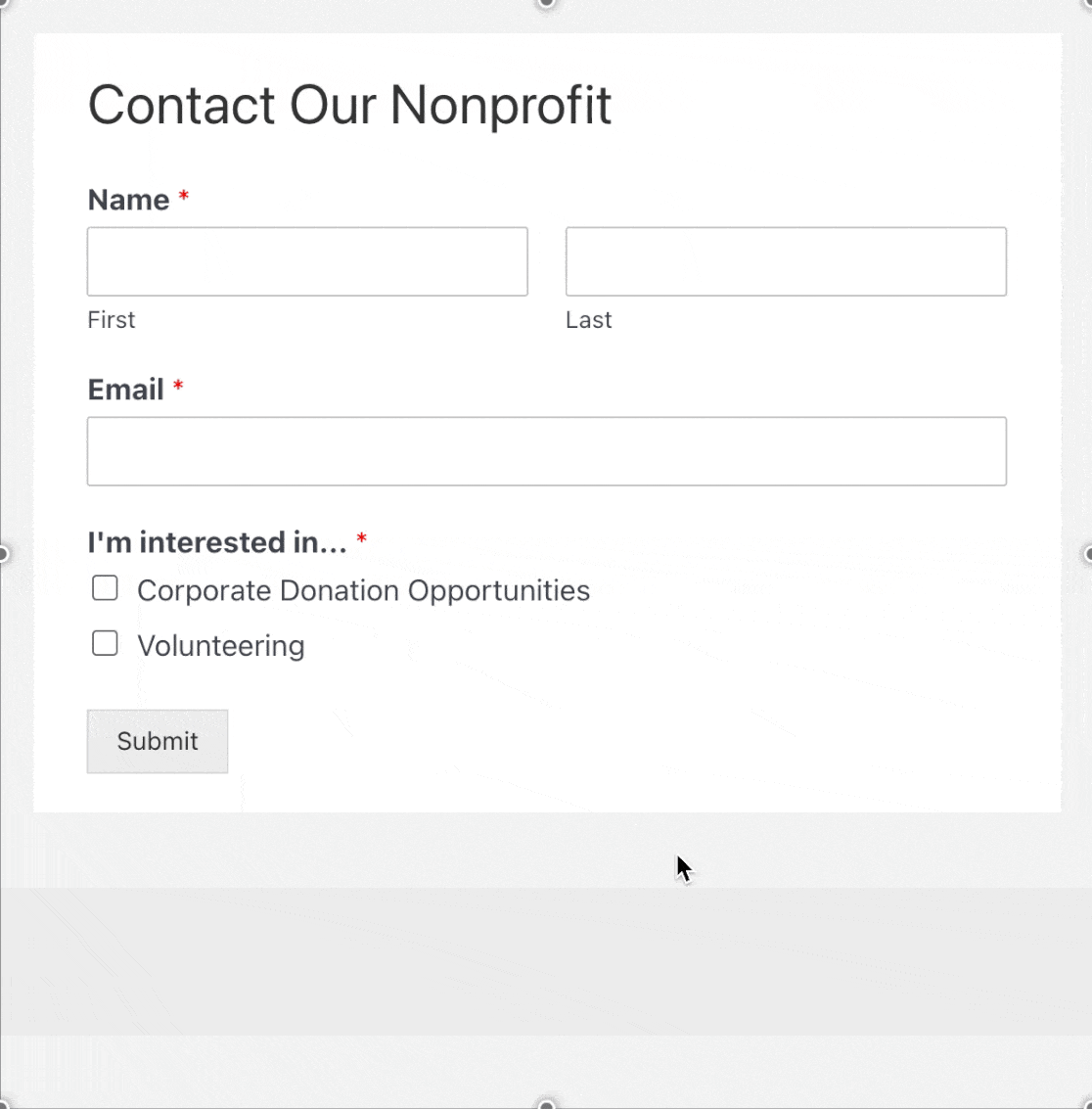 This is just one example of how this can be used for nonprofits. Smart Conditional Logic is a fantastic tool because:
It's super easy to set up.
It gets you extra data on the same form.
It keeps your form short by not clogging it up with unnecessary fields.
With conditional logic, you can show your form users only the fields that are important to them, depending on who they are. Pretty smart, right?
4. Fundraise Online With an Order Form
Nonprofits can quickly boost fundraising efforts online by selling products or services on their websites. This can be done by building an order form that connects to a preferred payment processor. WPForms Pro lets you use Stripe, Square, or PayPal.
For instance, a page on your nonprofit website could have a T-shirt order form that accepts credit card payments with Stripe.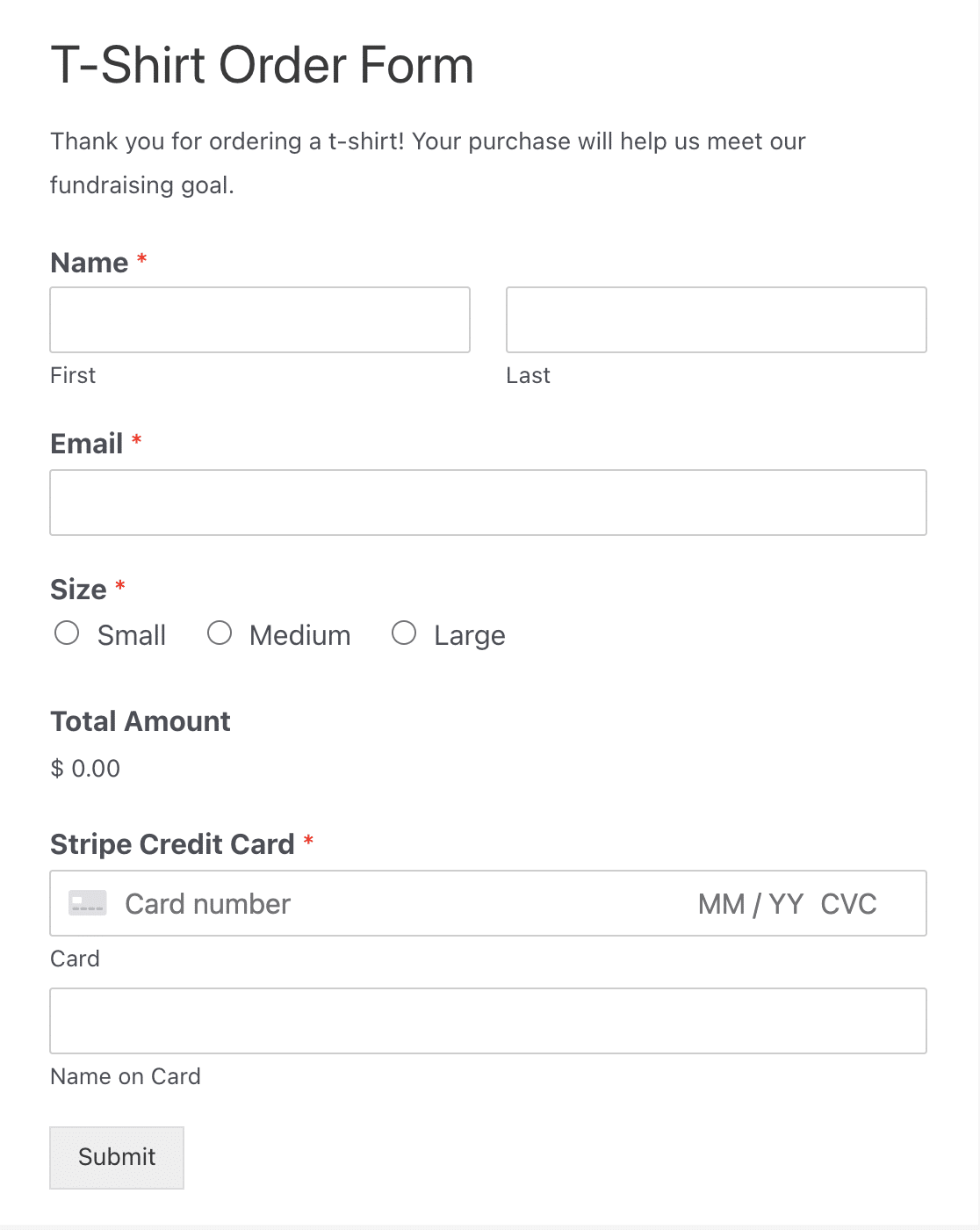 We recommend Stripe vs PayPal for nonprofits, and we'll chat about why next.
5. Set up Monthly Recurring Donations With Stripe or PayPal
An important part of raising money for your nonprofit is inviting donors to sign up to donate monthly. You can do this by enabling recurring payments in the payment settings of your donation form, using either Stripe or PayPal.
Using WPForms, it's wickedly easy to set up recurring payments with Stripe right through your forms. That way, you can watch the donations pour in month after month.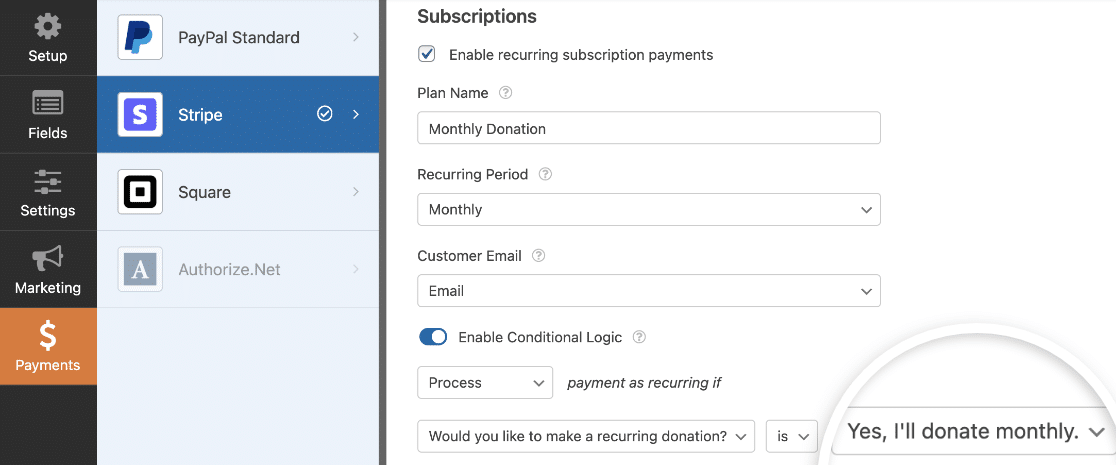 You can do the same thing using the PayPal Commerce addon.

This is another great example of Smart Conditional Logic in action. Combined with Stripe or PayPal recurring payments, your nonprofit forms are about to be much more powerful.
6. Let Volunteers Access Your Website
Many volunteers are technologically savvy and willing to help you work on your website. They can even do this from home if you give them access.
You can give specific trusted people access to your WPForms so they can help set up forms, edit them, and look at entries to reach out to possible donors or other volunteers.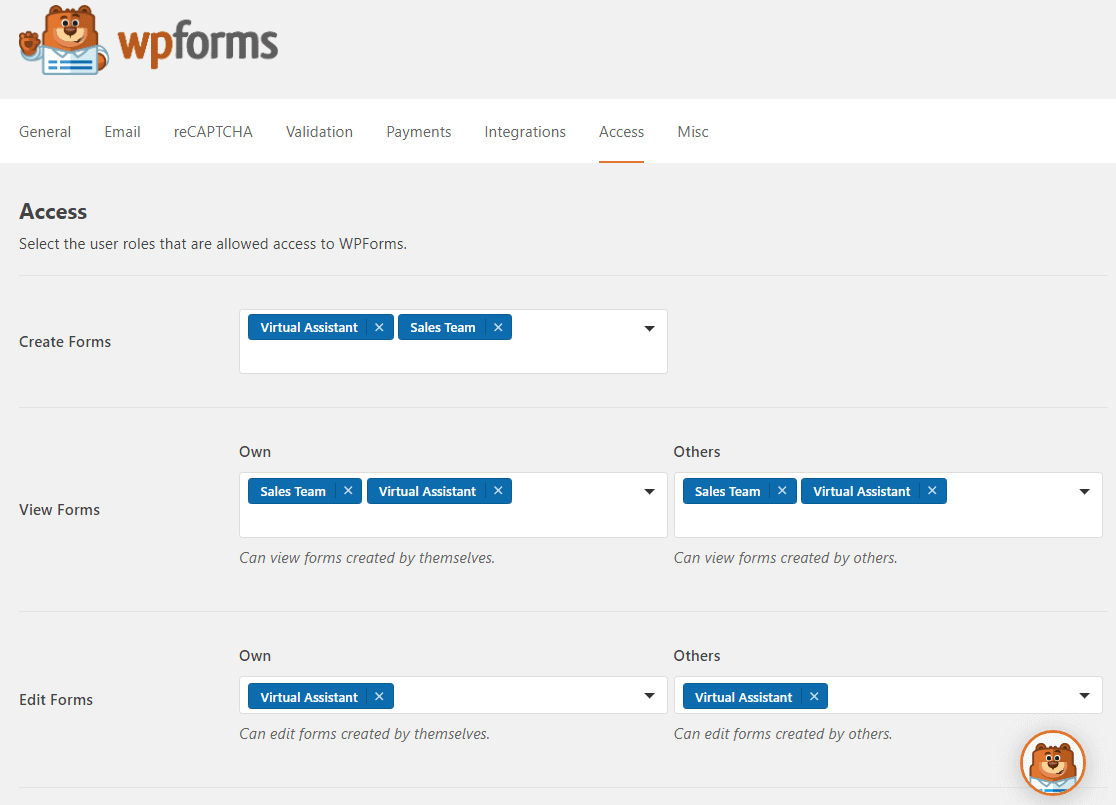 This can all be done using the Access Controls feature, and we always suggest to nonprofits who ask us about features that this is a great one to use.
7. Uncover What Leads People to Donate
The User Journey addon is a game-changing feature that can help your nonprofit boost donations pretty easily (and it's super cool, too).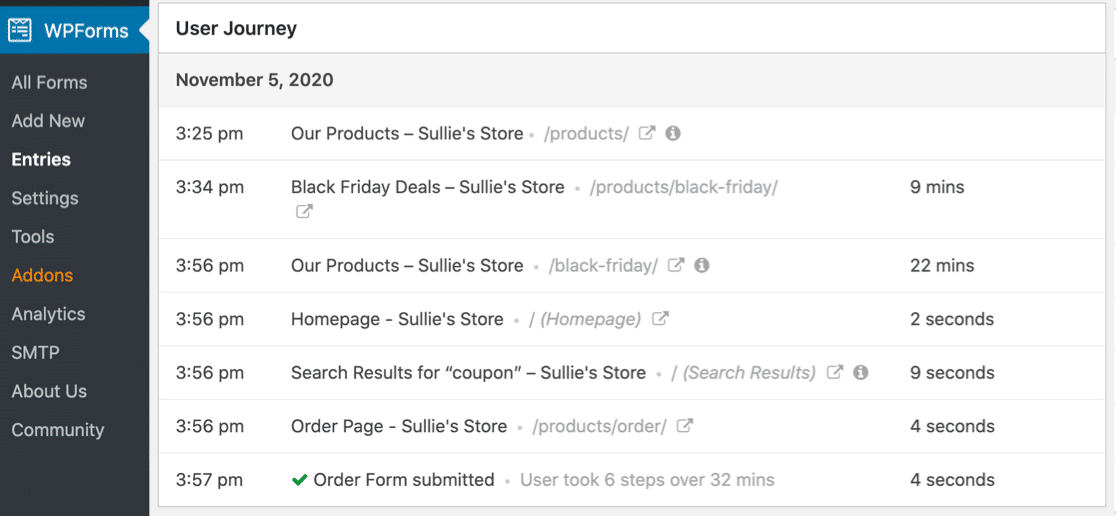 It can do this by showing you where people were on your website before they filled out your donation form.
Notice lots of users coming from a specific blog post on your site? This is a great way to learn what kind of content drives your audience to take action so that you can make more of it.
8. Recruit Volunteers With a Pre-built Form
WPForms includes a variety of prebuilt nonprofit form templates. If you're pressed for time, you can quickly create a form using a template that suits your needs the best.
If your organization is accepting volunteers, you can create a volunteer form in WordPress using one of the templates.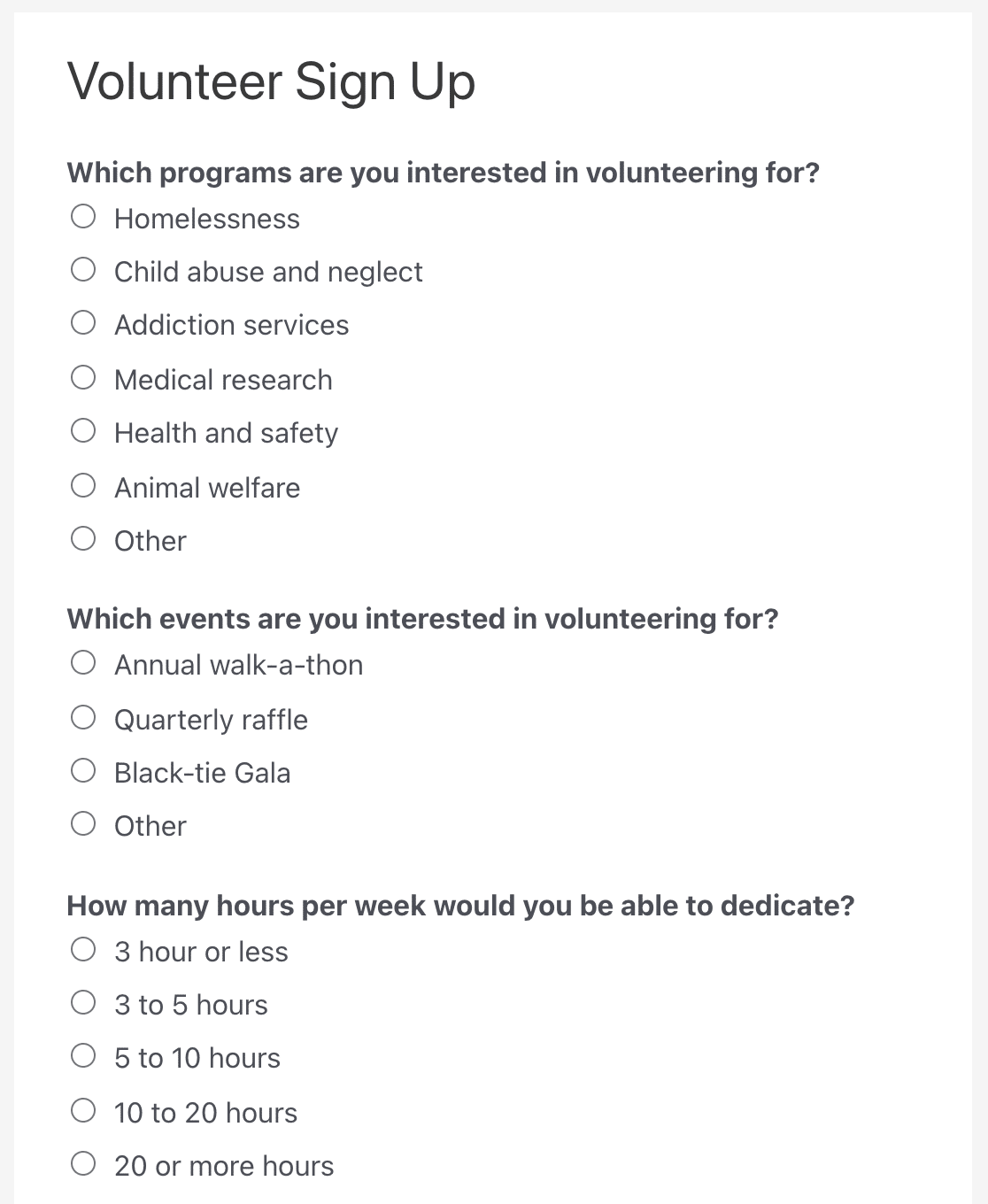 This can help recruit people who can help your organization. Other useful WPForms Pro templates for nonprofits include:
Order forms
Donation forms
Alumni Donation Form template for schools
General Donation Form template
Newsletter signup forms
Basic contact forms
…and more.
All of these are completely customizable, too. So you can make it exactly as you want it, but never have to build a form from scratch.
9. Collect Visitor Info to Grow Your Email List
You can easily collect potential donors' info with a simple form, so you can capture website visitors' details before they leave and never return (70% won't, on average).
This can be done with a newsletter signup form.
And here are some tips on how to get people to fill it out:
Offer them a gift in exchange for their email address, like a free PDF or workbook (this is called a lead magnet).
Place your singup form inside a popup.
Add a newsletter signup checkbox to any form.
Here's an example of that signup checkbox below: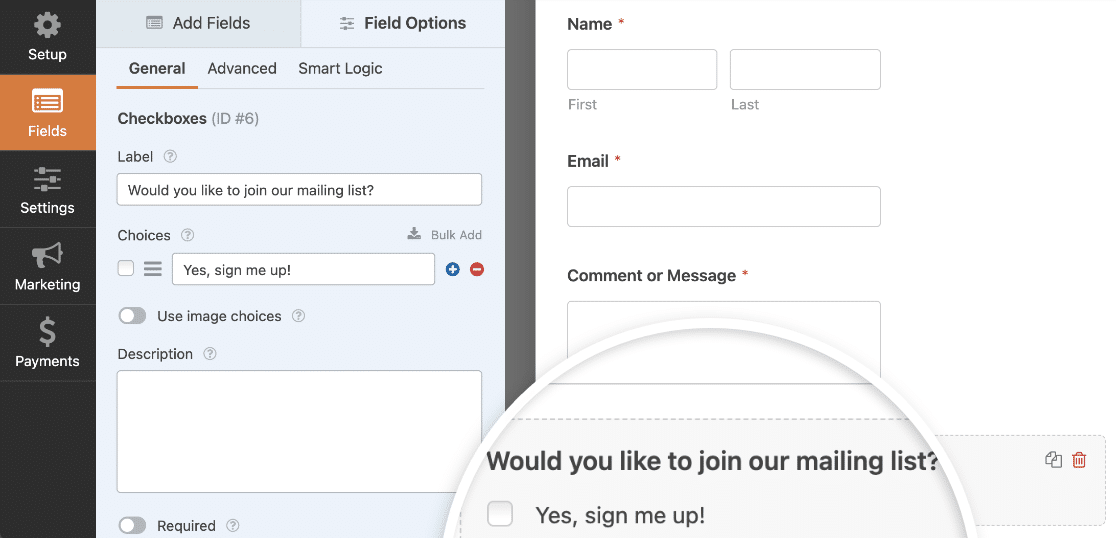 See how easy it is to offer anyone reaching out to you the chance to also join your newsletter, right before they hit submit?
You'll be surprised how many additional email subscribers you can get by adding this simple feature to your basic contact forms (or any other form on your site, for that matter).
10. Sell Charity Event Tickets on Your Website
Something really cool that we think nonprofits can benefit from is the fact that you can handle event registration and ticket sales all on your website by using the event registration form template.
Simply open the online event registration form template, connect your payment provider, publish it to your site, and you'll be selling tickets and raising funds online in no time.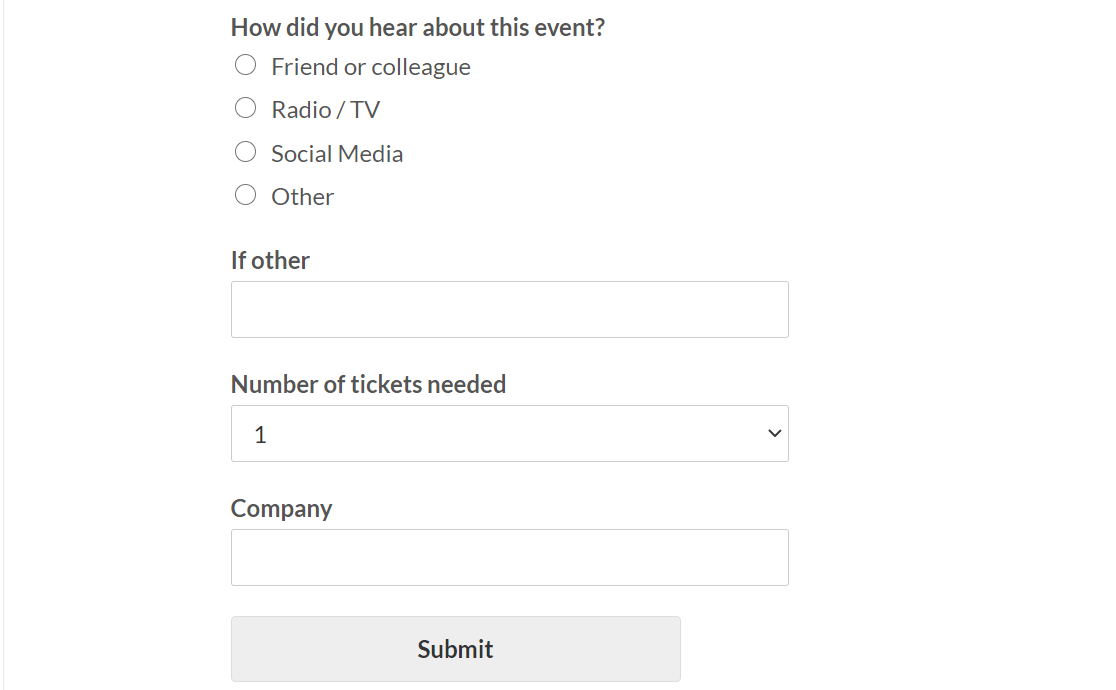 Not only does this form tell people about the event, but it's also got a spot to connect your payment provider to so you can entice people to buy tickets right from the form.
And you'll be able to track attendees easily because their contact information will be stored in your dashboard, making your event management simpler and more organized.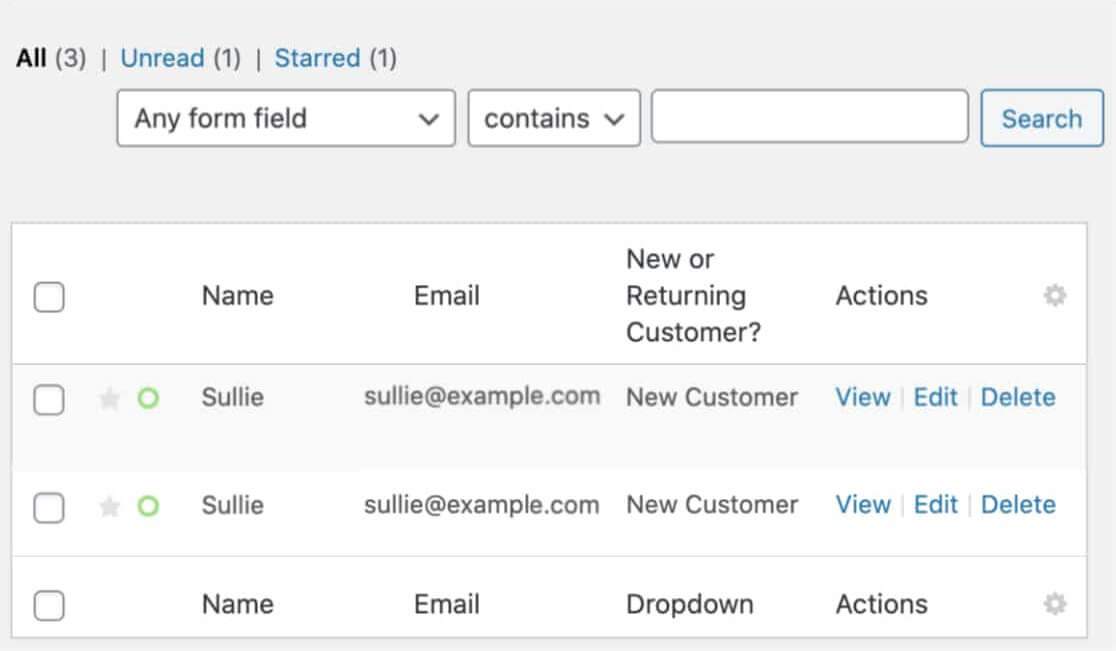 And the simpler managing your website is, the more time and energy you'll have to really focus on your nonprofit's growth.
11. Collect Images of Volunteers for Name Tags
By adding a file upload field to your form, you can gather pictures of your volunteers right when they sign up for an event.

This way, you can easily create a badge or nametag for them to display when volunteering at an event. You could print this for them and have it waiting for them, and save money by asking them to bring their own lanyard to hang it from.
12. Survey Donors and Participants
If you're a nonprofit that hasn't activated the Survey and Polls addon, now's a great time to do it.
It's one of our most powerful features because you can uncover tons of info from your users with multiple types of surveys or polls.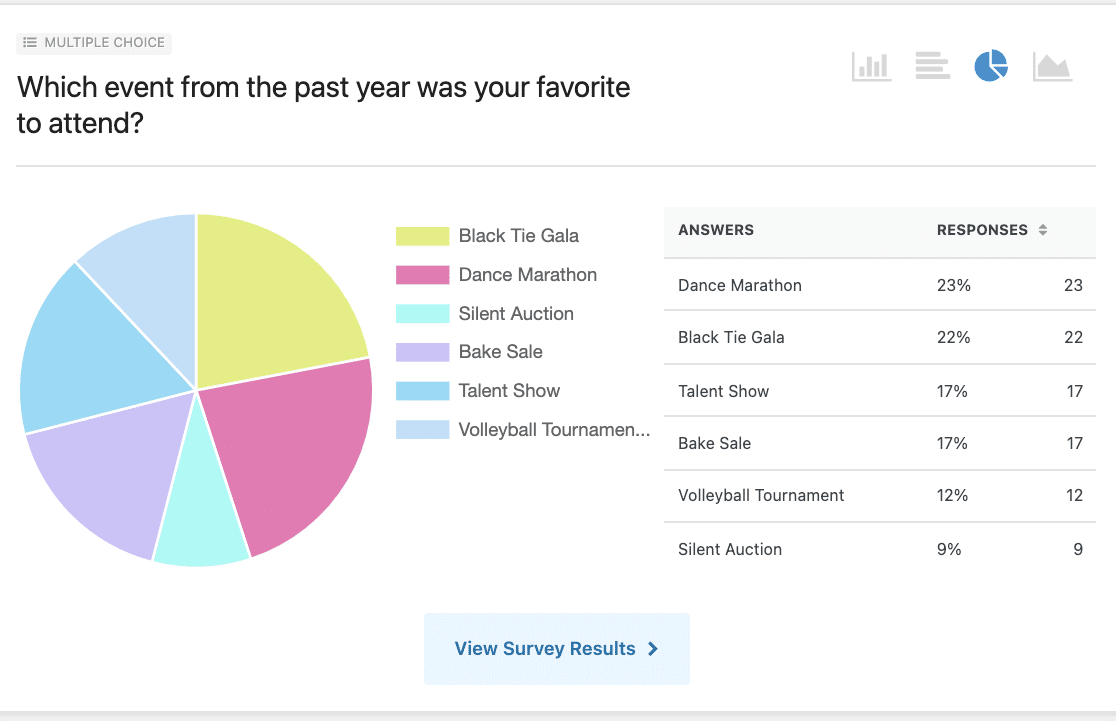 Here are just some of the ways nonprofits can use WPForms surveys:
Ask donors what kinds of future events they'd like to attend.
Ask event participants what went great and what you could do better next time.
Learn details about your website visitors to find out what your demographic is and target that group of people with marketing about your fundraisers.
Find out if donors have good relationships with businesses that could donate items for silent auctions.
The possibilities are pretty mind-blowing as far as what you can do with surveys and polls. You'll also want to make sure to check out your WordPress dashboard to see your survey results displayed in a gorgeous and customizable graph.
That's where you can export your data and present it to the nonprofit board at your meetings, so they know you're super organized.
And that's it! We hope this guide gave you some great ideas on how to use WPForms for your nonprofit
Claim Your WPForms Nonprofit Discount Now
Next, Add a Payment Field to Your Forms
Want to super-charge the success of your online donations and take your nonprofit's income through the roof? One simple tactic to try is adding a payment field to collect donations right in your contact forms.
As you collect donations, you'll want an efficient way of tracking them. Here's how to set up automated donation tracking using the WPForms Google Sheets integration.
And if you're looking for a dedicated donation management solution, WP Charitable would be a great choice. Checkout our WP Charitable review to learn more!
Create Your WordPress Form Now
If you found this article useful, make sure to follow us on Facebook and Twitter for more from the blog.