Are you a nonprofit that wants to grow its website?
With the WPForms nonprofit discount, it's easier than ever to get set up with the tools you need to do good in the world. We have form templates for nonprofits, plus a range of payment gateways to accept donations.
In this post, we'll show you how nonprofits can use WPForms to grow their organization's website.
What Forms Go On a Nonprofit Website?
If you're wondering what kinds of forms your nonprofit website needs, think beyond the contact form.
For example, you might also need forms to collect donations, sell fundraiser tickets, or allow volunteers to sign up to staff events. Those are just a few ways you can use forms to improve your nonprofit website.
How Nonprofits Can Use WPForms to Grow Their Websites
Now let's look at some ways you can use WPForms to grow your nonprofit website.
1. Get the WPForms Nonprofit Discount

Because we believe in putting people first, we offer a nonprofit discount to qualified organizations. We don't want cost to be the thing that prevents you from using our form builder to do good in the world.
First, you'll need to fill out the application on the WPForms nonprofit discount page.
There are two licenses available through the nonprofit discount. WPForms Pro license is available at a 75% discount, while the Elite license is available at 66% off. Choose the one that makes the most sense for your nonprofit's goals and what you want to achieve with your forms.
Once you hear back on your application, you can download and install WPForms on your WordPress website. Need some help with that? Check out this installation guide for WordPress plugins.
2. Collect Donations Online
After you've installed the WPForms plugin on your site, there's a good chance you want to get started with collecting online donations.
Including a donation form on your nonprofit website is a no-brainer. After all, you want to make it easy for people to support your cause.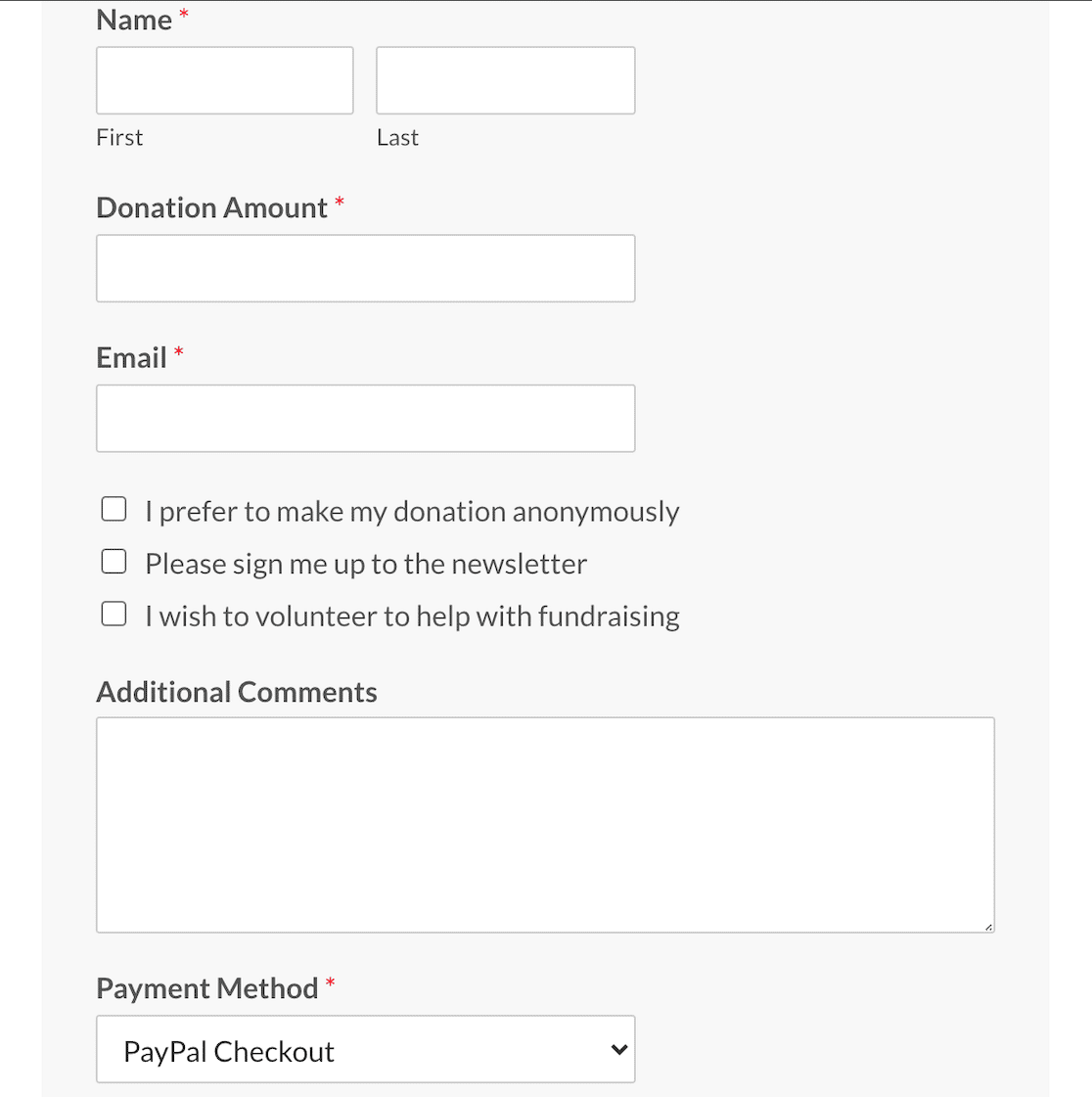 A good place to start with this is the general donation form template. You can embed it on your site and use as-is or customize it to suit your needs. It uses PayPal as the payment gateway, but users can also opt to pay by credit card.
Need a Template? 
Here are some other WPForms nonprofit templates you can use on your site.
3. Always Ask the Right Questions
Another smart way to use WPForms is to enable conditional logic on your nonprofit forms.
Let's take a contact form, for example. People likely have different reasons for reaching out to you. If you set up conditional logic on your forms and let them select their interests or reasons for reaching out, you can make sure visitors only see the information that's most relevant to them.
Using conditional logic, volunteers won't see questions about donations, and donors won't see questions intended for volunteers. You're always asking the right questions.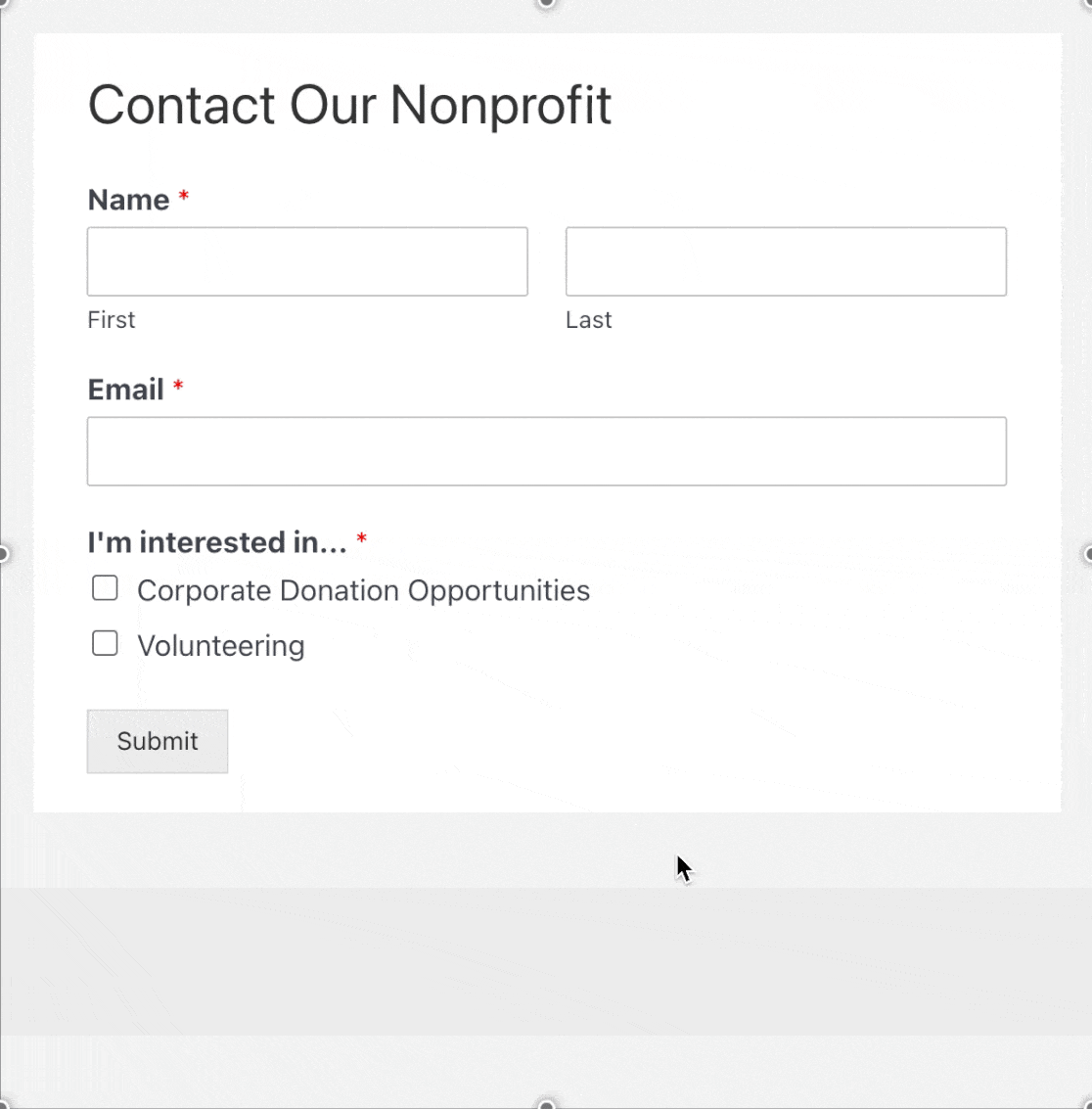 The select a recipient contact form template also uses conditional logic to direct contact form submissions to their intended recipient.
4. Use an Order Form for Online Fundraising
Nonprofits can quickly boost fundraising efforts online by selling products or services on their websites. This can be done by building an order form that connects to a preferred payment processor.
You can collect payments with Stripe in all versions of WPForms (including free) or get the Pro license to access additional payment gateways like  Square, PayPal, or Authorize.net.
Maybe your organization is holding a fundraiser to sell t-shirts. You can embed the t-shirt order form template on your site to accept orders and payments.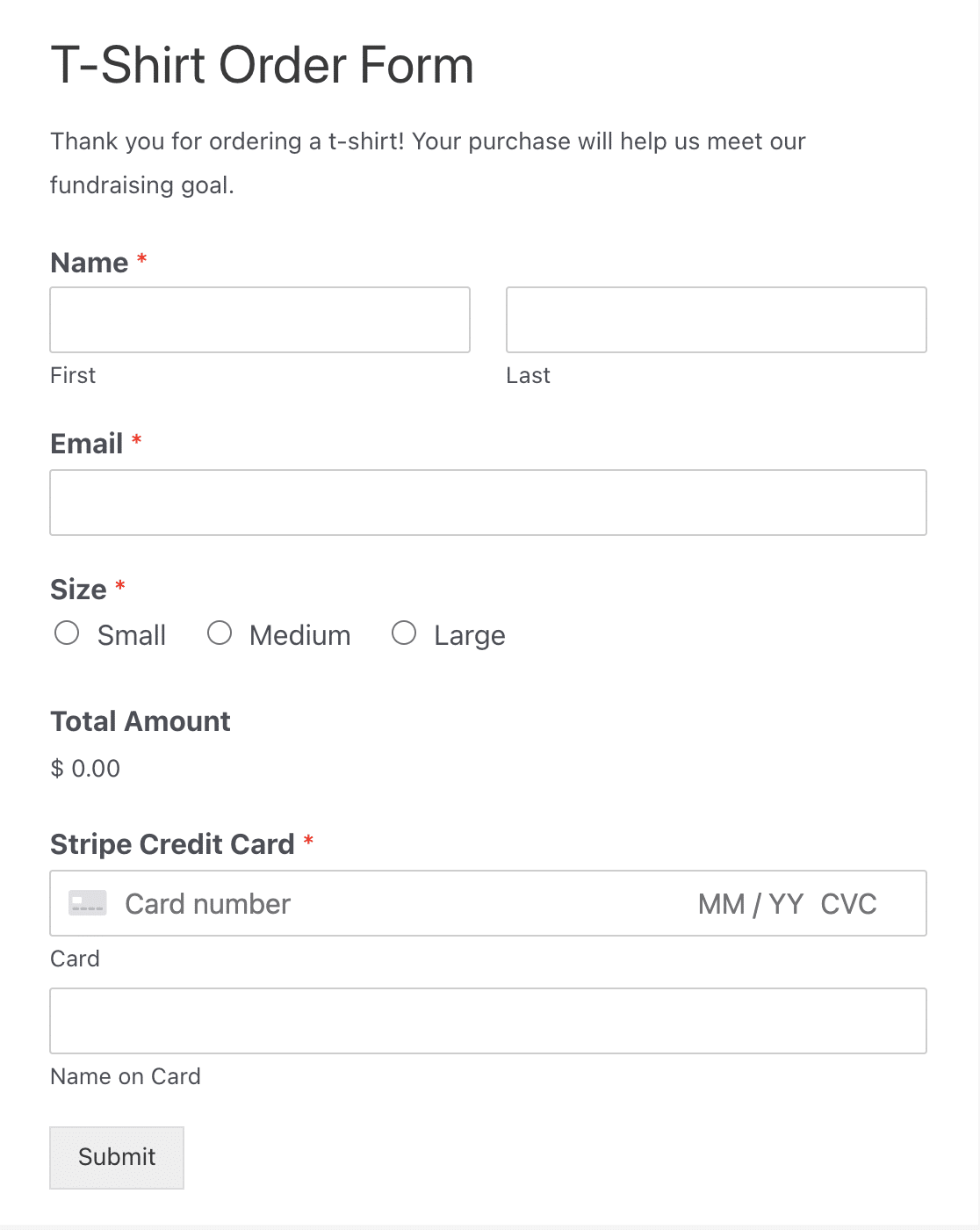 Need some ideas? 
There are many ways to raise funds online for a good cause. Here are some other templates that might help you with sales-driven fundraisers.
Remember, all of our forms can be customized to suit your needs.
5. Set up Monthly Recurring Donations With Stripe or PayPal
Monthly donations can play a significant role in fundraising. You can enable recurring payments with Stripe or PayPal in the payment settings of your donation form.
It's super easy to set up recurring payments with Stripe in WPForms. Stripe is one of the best nonprofit payment processors, and you can easily set it up in WPForms.
After that, click on the Payments settings in the left sidebar. Click on Stripe and then adjust the toggle switch to enable Stripe payments.

You can do the same thing using the PayPal Commerce addon but remember that the PayPal integration is only available in Pro and above plans.

Enabling monthly donations often makes it easier for donors to contribute because they feel they can do it in smaller increments rather than in one lump sum.
Take a look at our tips on how to boost recurring donations for your nonprofit for some ideas for encouraging donors to sign up for monthly donations.
6. Let Volunteers Help With Your Website
It's not uncommon to find bootstrapped nonprofit organizations that rely on volunteer skills. If this is you, know that WPForms lets you grant access to volunteers so they can help build forms and manage entries.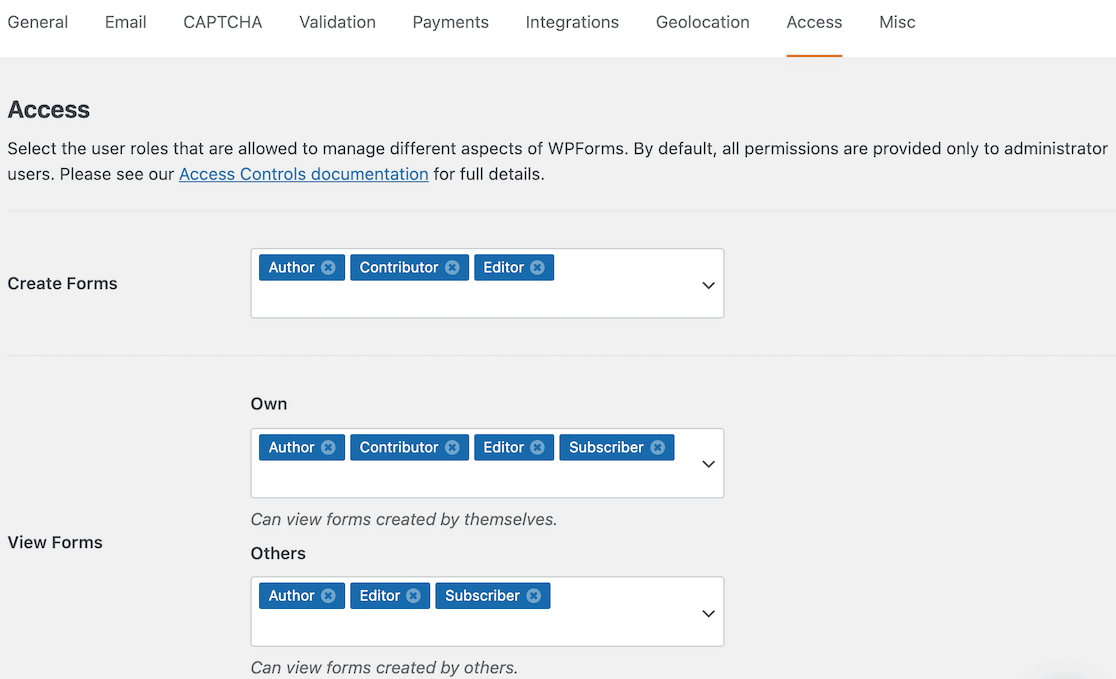 To get started with this feature, access your WPForms settings and click on Access at the top. You'll see the access options appear. Adjust your Access Controls to your liking.
Use this feature to let volunteers help with your website and form management so you have more time for other tasks.
7. Find What Leads People to Donate
The User Journey addon is a game-changing feature that can help your nonprofit boost donations pretty easily (and it's super cool, too).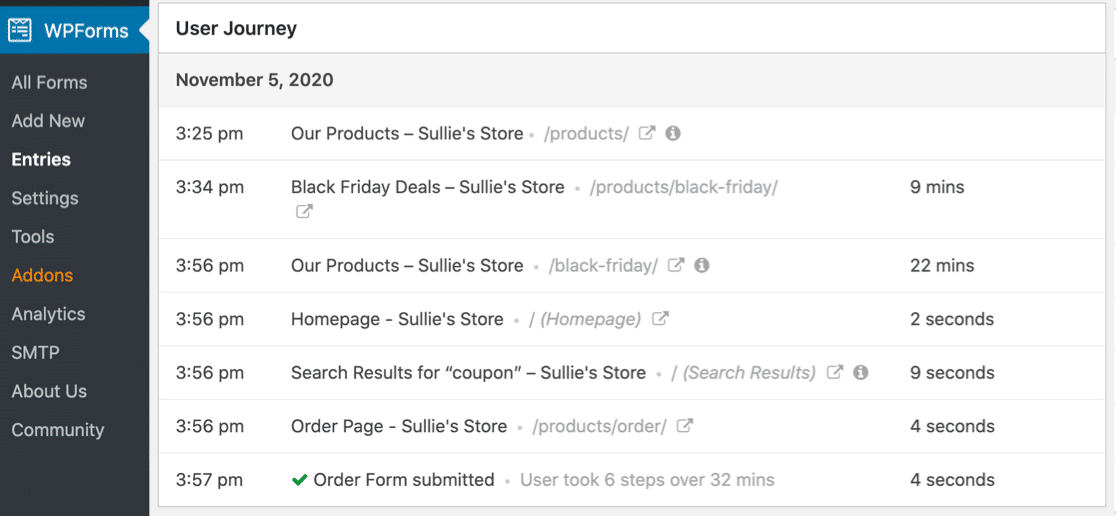 It can do this by showing you where people were on your website before they filled out your donation form.
Notice lots of users coming from a specific blog post on your site? This is a great way to learn what kind of content drives your audience to take action so that you can make more of it. You can also make sure that specific content is optimized for maximum conversions.
8. Recruit Volunteers With a Form Template
WPForms includes a variety of prebuilt nonprofit form templates, so it's easy to let volunteers sign up for service projects.
If your organization is open to volunteers, you can create a volunteer form in WordPress using one of the templates.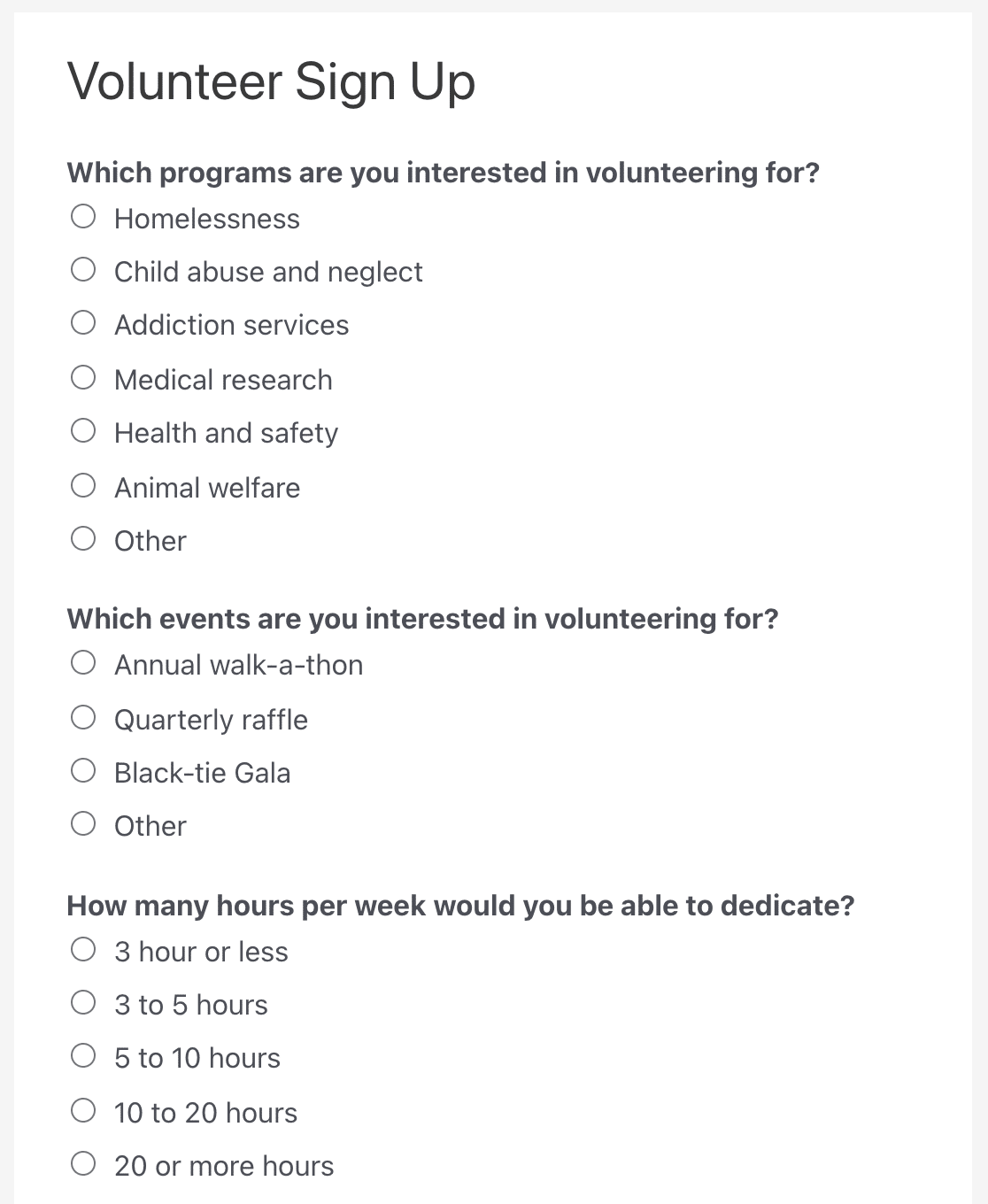 There's a secondary benefit to recruiting volunteers online. You can find someone to help your organization, but you might also find people who want to volunteer with you out in the community.
Need more templates? 
In addition to the Volunteer Recruitment Form Template shown above, check out these other volunteer templates on WPForms.
And again, don't forget that all our form templates are 100% customizable.
9. Collect Visitor Info to Grow Your Email List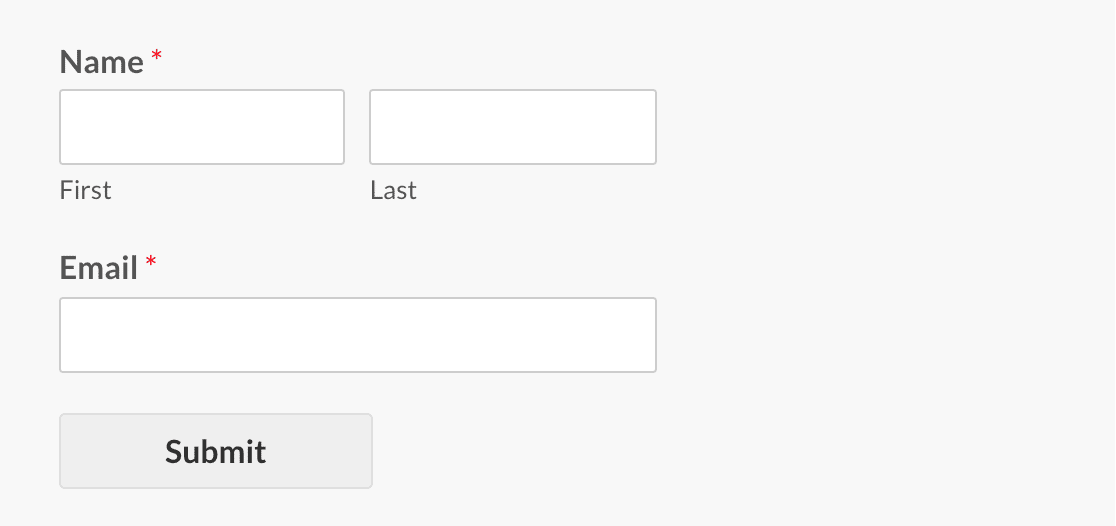 Not everyone is ready or able to donate at the first touch. But if you stay top of mind, you increase your odds of getting donations later.
To do this, use a signup form template, such as our newsletter signup form, to collect visitor information and build your email list.
Here are some tips on how to get people to fill it out:
Here's an example of that signup checkbox below: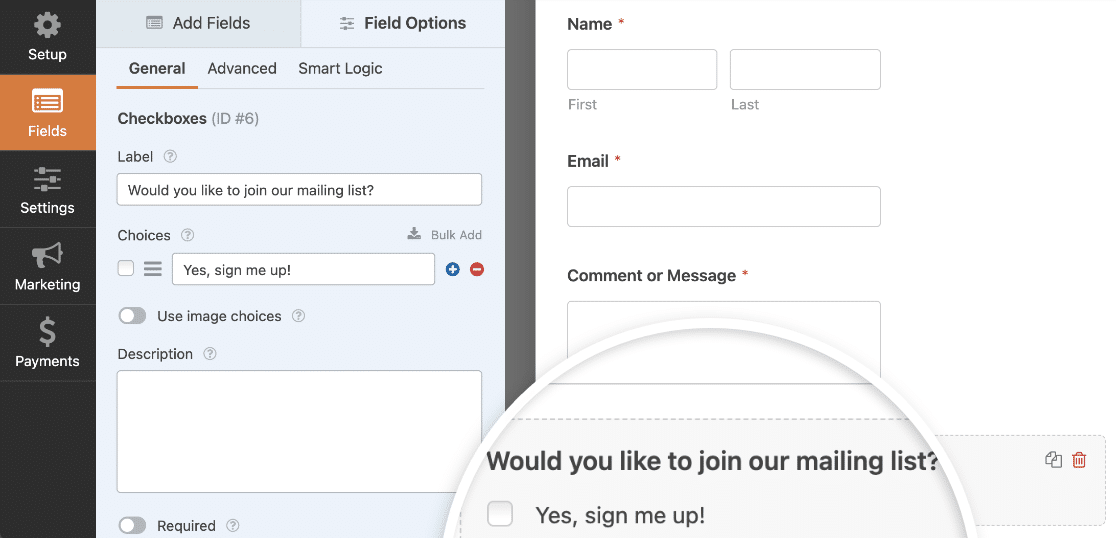 See how easy it is to offer anyone reaching out to you the chance to also join your newsletter right before they hit submit?
Once users are on your email list, they'll receive your communication to see the good work your nonprofit is doing. This can prompt subscribers to become donors by making their own charitable contributions.
10. Sell Charity Event Tickets on Your Website
Need an easy way to manage event registrations and ticket sales for your charity event? WPForms can help with that too. Take a look at our online event registration form template.
This template is ready for you to use as-is or to customize to suit your purposes. All you need to do is select a payment gateway, publish it to your site, and you'll be selling tickets and raising funds in no time.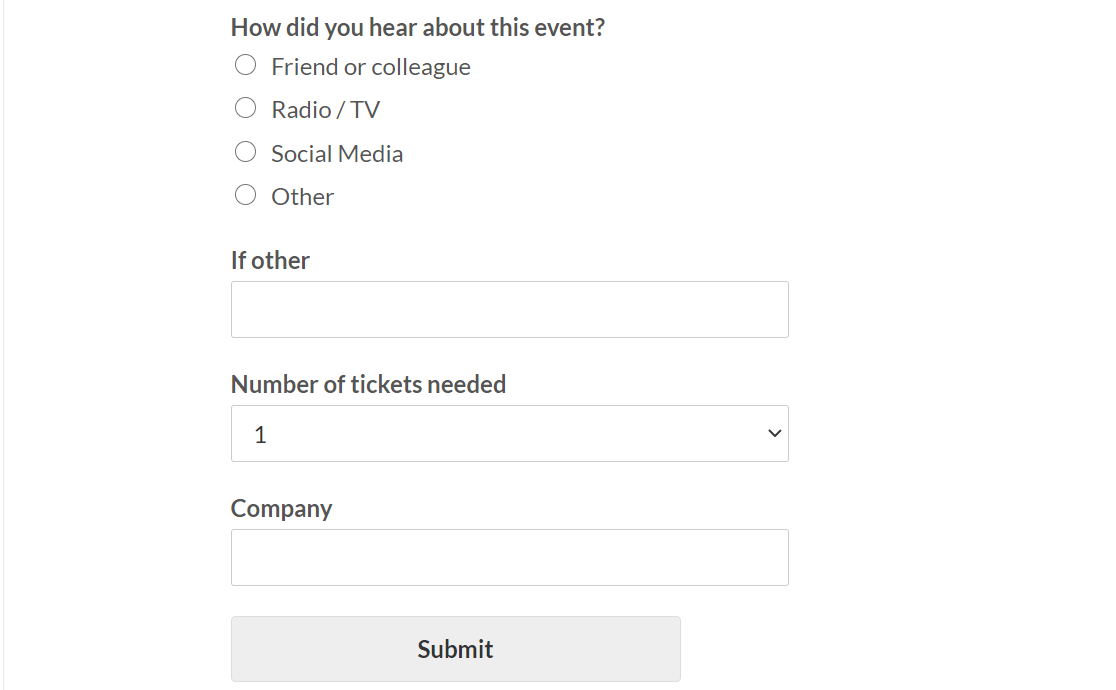 It's a one-stop shop, which makes it as easy for the buyer as it is for you, the seller.
You can track attendees easily because their contact information will be stored in your dashboard, making your event management simpler and more organized.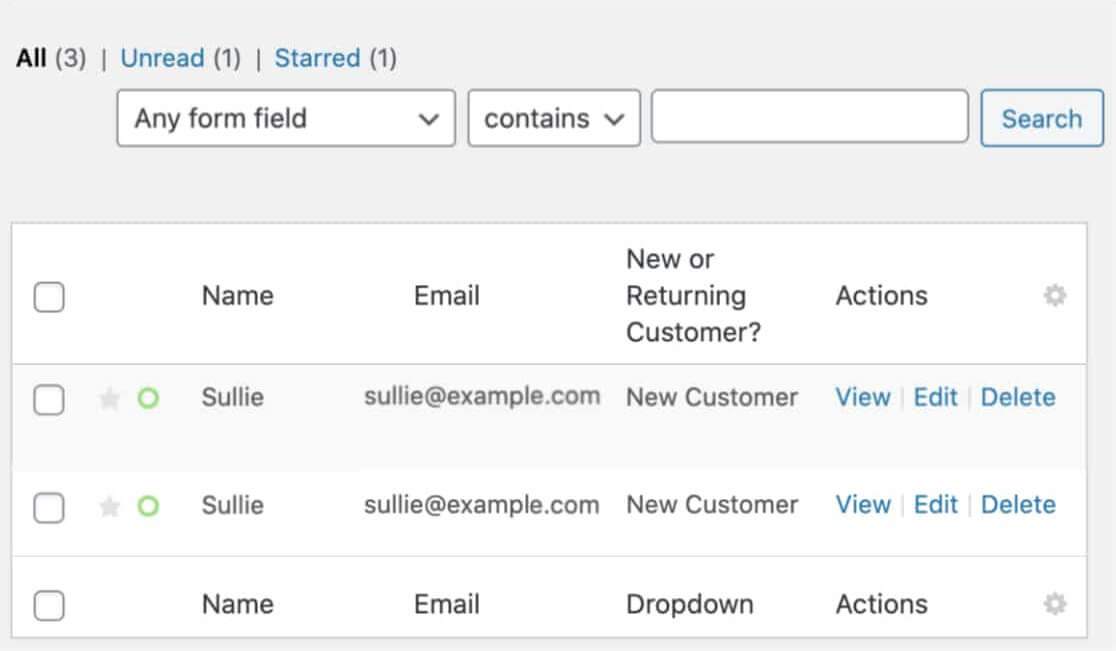 Need some other event ideas? 
Check out these registration templates for more inspiration.
11. Collect Images of Volunteers for Name Tags
By adding a file upload field to your form, you can gather pictures of your volunteers right when they sign up for an event.

Using a volunteer's image on their name tag can be a good security measure, especially if you're volunteering in places like hospitals or nursing facilities. It helps to ensure that the volunteer is who they say they are.
Looking for more template ideas to keep everyone safe?
Try these:
12. Survey Donors and Participants
If you're a nonprofit that hasn't activated the Survey and Polls addon, now's a great time to do it.
It's one of our most powerful features because you can uncover tons of info from your users with surveys or polls.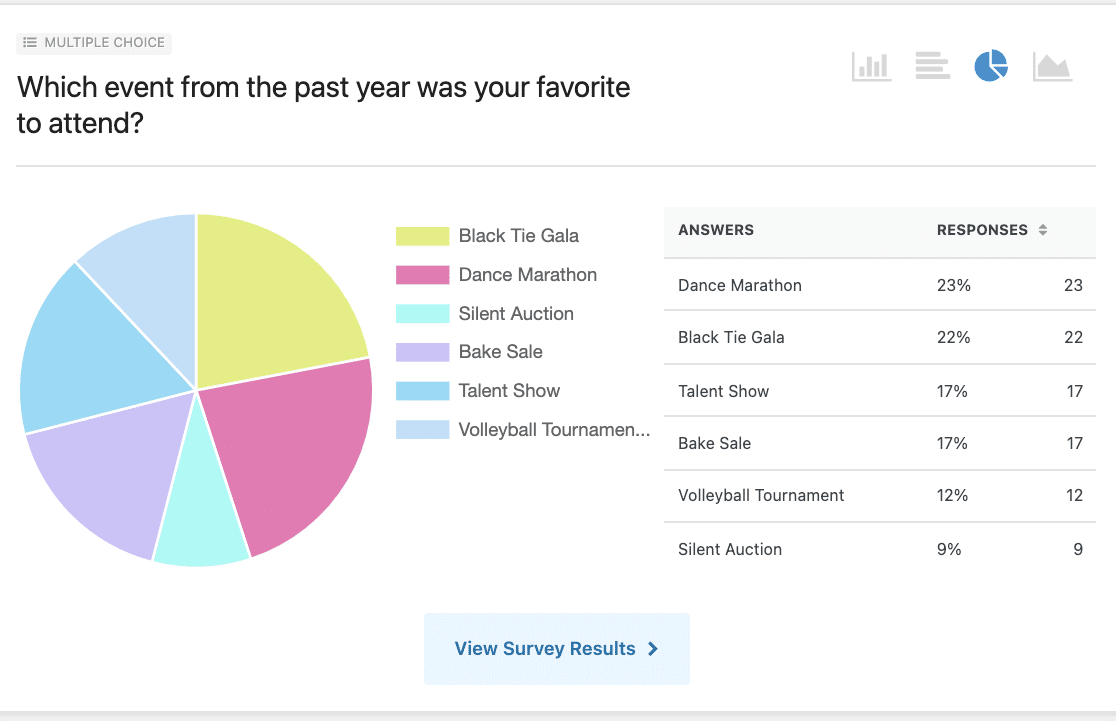 Here are just some of the ways nonprofits can use WPForms surveys:
Gather feedback about events
Ask what kinds of future events they'd like to attend
Learn more about your followers' demographics
Find out if people are interested in volunteering, donating items, or sponsoring events
You can view your survey results in graphic form, which makes it easy to see at a glance for reporting purposes.
And that's it! Now you're ready to raise funds and organize volunteers, all with the most powerful drag-and-drop form builder, WPForms.
Claim Your WPForms Nonprofit Discount Now
Next, Make Your Website Even Better With Nonprofit Themes
Now you know how to use WPForms to increase functionality on your nonprofit website. The next step is to find the best WordPress themes for nonprofits so you can really take your website to the next level.
As you collect donations, you'll want an efficient tracking method. Here's how to set up automated donation tracking using the WPForms Google Sheets integration.
And if you're looking for a dedicated donation management solution, WP Charitable would be a great choice. Check out our WP Charitable review to learn more!
Create Your WordPress Form Now
Ready to build your form? Get started today with the easiest WordPress form builder plugin. WPForms Pro includes lots of free templates and offers a 14-day money-back guarantee.
If this article helped you out, please follow us on Facebook and Twitter for more free WordPress tutorials and guides.