Looking for ways to get people to donate money to your charity?
Whether you're struggling to meet its online fundraising goals or doing great with donations, you could always use help to improve your online donation forms.
Chances are your donation form isn't fully optimized to boost conversion.
So in this post, we've listed the best ways to boost donation form conversion so you can get donors to give you money for your nonprofit.
Tips to Get People to Donate Money
Wondering how to get donations online through your forms? Try these tried and true tricks.
1. Setup Recurring Donations
If someone is set up to give you a donation every month, it's much easier to use a form that accepts automatic recurring donations.
You can do this using the Stripe or PayPal Commerce addons with WPForms. Both let you take donations right through your online forms.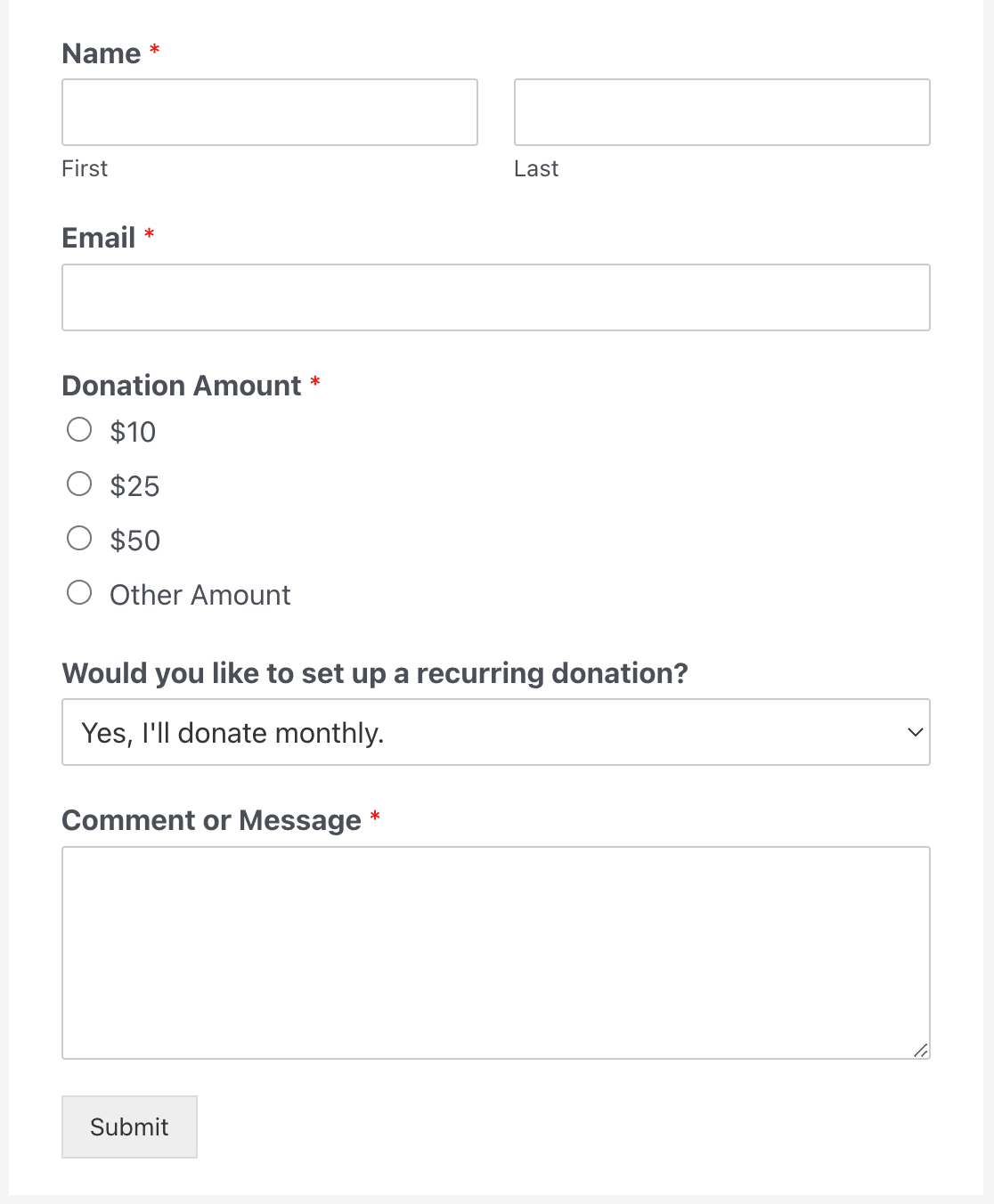 Because Stripe is available on all plans (including free), it's the most accessible way to set up recurring donations on your site.
You can see the steps for creating a form that accepts recurring credit card payments and watch the donations pour in month after month.
In the Pro plan, you can also get the Stripe Pro addon that unlocks Conditional Logic for payments to make your nonprofit's website much more powerful.
2. Suggest Different Donation Amounts
Suggesting different donation amounts effectively drives more conversions on your WordPress nonprofit theme website and gets people to donate money.
Sure, your donors can give whatever amount they wish. But, many first-time donors often find it difficult to decide how much they should give.
We don't want them to have uncertainty that causes them to leave the page without making a donation, causing your form abandonment rate to skyrocket (and your nonprofit to lose out on necessary money).
So by suggesting different donation amounts, you're actually helping them to choose the correct donation amount easily. They may even be encouraged to donate more than they would have if left to enter an amount.
Psychologically they'll likely assume this is the average amount donated and may be driven to donate more money to you.
In the WPForms plugin, you can suggest different donation amounts by adding payment fields to your donation form, like the Multiple Items or Dropdown Items field.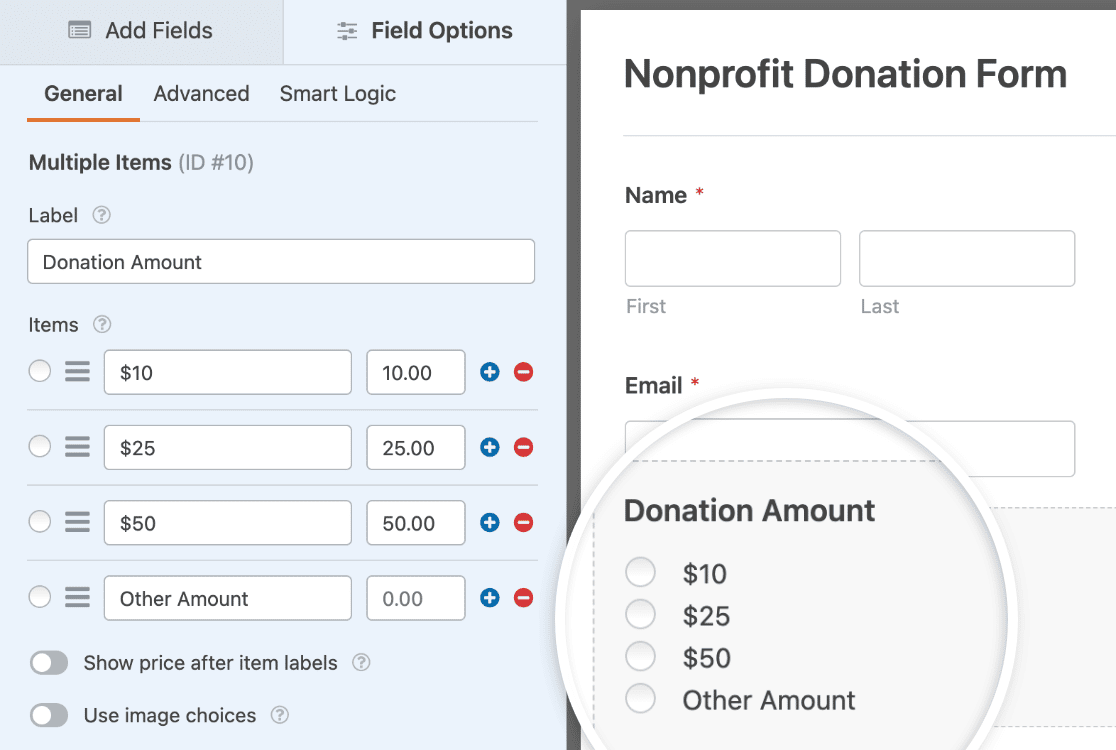 Keep in mind that overwhelming your donors with too many options can make decision-making difficult and could hurt conversions. Make sure to give only a few choices, so your donors can easily choose the right amount to donate.
To get people to donate money online, it's also best to accept multiple payment types. Many donors will prefer to use a credit card, while many others may prefer PayPal.
WPForms integrates with PayPal, Stripe, or Authorize.Net (Elite plan), and you can set up your form to allow donors to choose the payment method they prefer.
3. Explain How You Spend Donation Funds
According to a Nielsen study, donors want to see how the charity spends its funds before making a donation. Unfortunately, only 4% of nonprofit websites explain how they use donations.
So make sure you let people know how you'll use the money they're giving you to help encourage them to complete the donation form.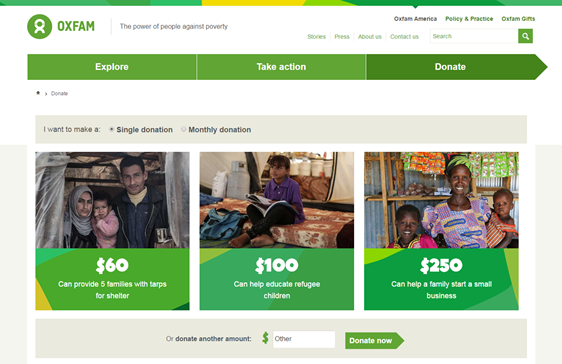 So don't be vague. Instead, try and get specific with your donors. You can break it down with a pre-determined amount too.
Like in this donation page example shown above, they've listed that:
$60 can provide 5 families with tarps for shelter
$100 can help educate refugee children
$250 can help a family start a small business
By providing these details, this nonprofit encourages donors to visualize the impact their funds could have. This way, it can motivate people to give you more money.
4. Keep It Simple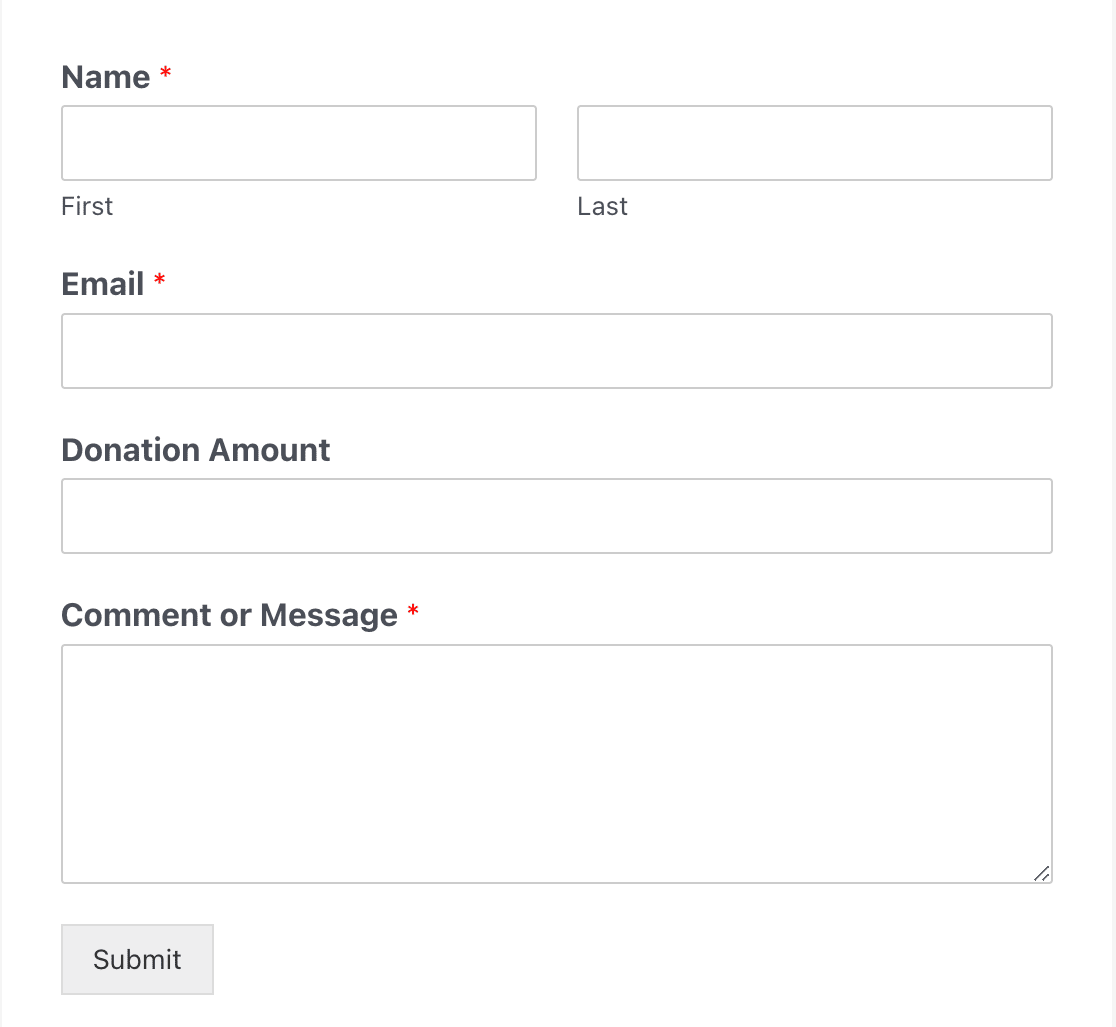 A long donation form with too many form fields to fill out can turn potential donors away and isn't a great idea to get people to donate money online. Nobody wants to endlessly scroll down a page and provide tons of unnecessary details.
So, if your donation form is long and complicated, try to remove some of those fields and questions and only ask for the details you really need.
For example, the WPForms Donation Form template comes with just a few form fields asking the most important questions. You can add and remove any fields that you want to in the form builder.
You can also create a multi-page form to improve the user experience. A multi-page form splits long forms into multiple short pages of easy steps.
By using multi-page forms you can easily boost your donation form conversions, especially if your donation form has more than 3 fields.
Here's how to create a multi-page form with WPForms.
5. Encourage Donors to Share
Surprisingly, many nonprofits don't use social media to its full potential.
But these days, you absolutely should take advantage of social media to get people to donate money to your nonprofit organization. A great way to do this? Add sharing buttons to WordPress and put them on your forms.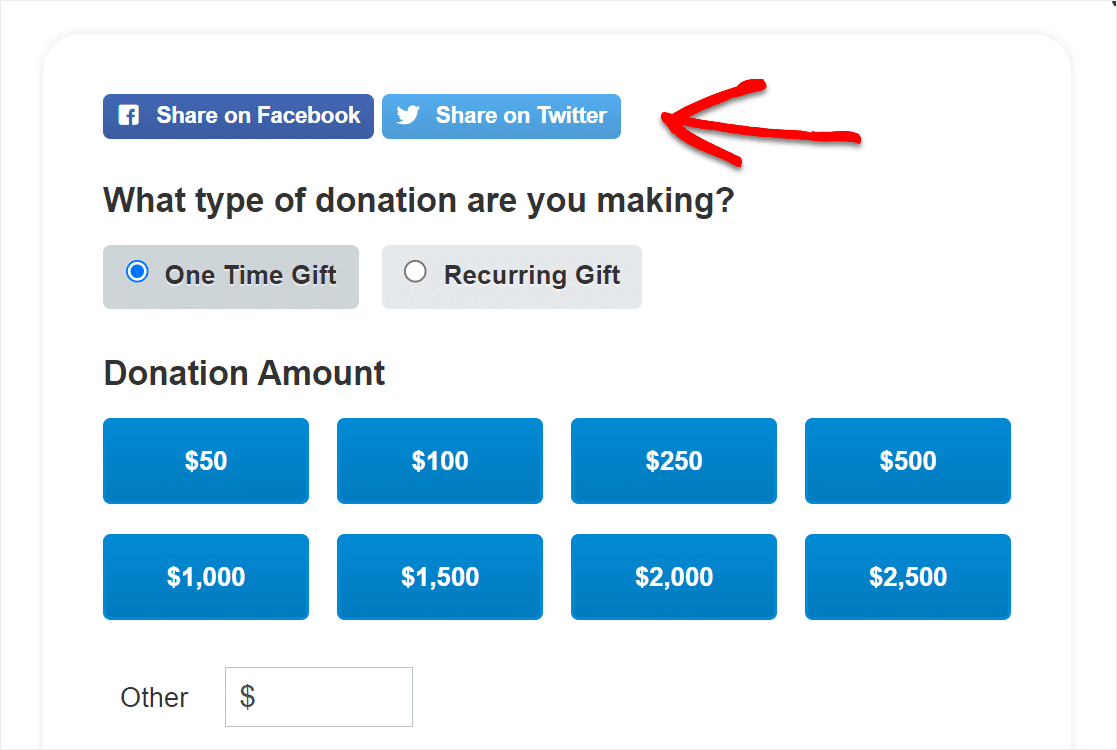 This can help encourage donors or even potential donors to share your donation form on social media so their coworkers, family, and friends can learn about your nonprofit, too.
If they also have to option to share it with their network after donated, studies show that each share could bring in an additional 18% of the donation they just made.
One of the main benefits of this strategy is that it encourages other like-minded people in their network to think of making a donation.
You can replicate this idea in WPForms by making a donation confirmation page on your website and then adding social sharing buttons to that page. With WPForms, you can easily redirect users to a confirmation page after submitting the form.
6. Ask Donors to Subscribe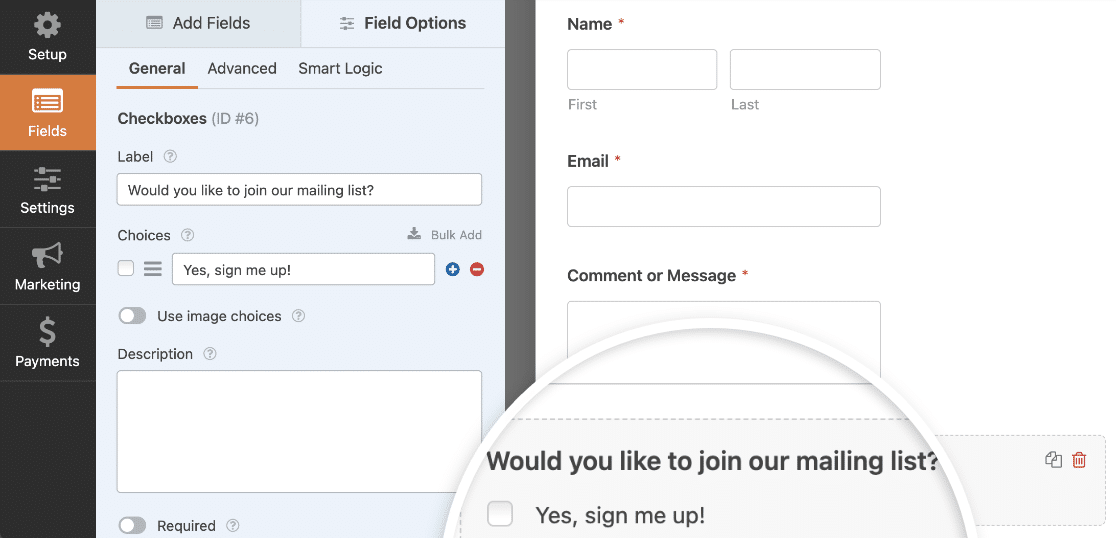 Did you know that it's easier to get donations from people who have already contributed to your cause than to go and look for new donors to give money to you?
Building a growing email list of donors is a wildly important task for your nonprofit. Your email list will let you easily get in touch with your donors and stay in their minds so they remember to donate again.
To build your list, all you need to do is to connect your donation form with your email marketing tool and add a subscription checkbox to your form. This way, you can automatically add your donors to your email list.
WPForms allows you to connect your donation forms with all the most powerful email marketing tools, such as:
..and more.
7. Test Different Versions of Your Form
A/B testing is a type of optimization testing that looks at one version of your form against another version, to see which one gives the best results.
A/B testing is a surefire method to skyrocket the conversion rate of your donation form. By A/B testing different things on your form you can analyze what works best on your site when it comes to boosting conversions.
Some things you can consider A/B testing on your form include:
Form field
Button text
Placeholder text
You can see some best practice examples in our article on landing page forms.
To do an A/B test, you'll simply need to duplicate your donation form and customize the elements that you want to test.
In WPForms, you can duplicate a form for A/B testing with just a single click.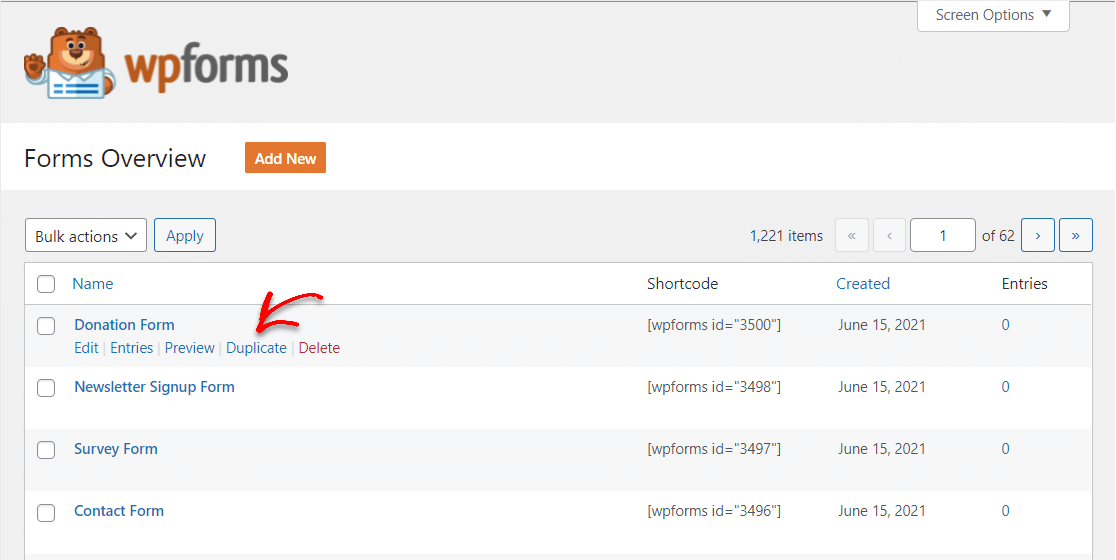 For more details, you can read our guide on duplicating WordPress forms.
Alternatively, you could create an online pledge form without a payment field and see which one converts better.
For some ideas on how to get started with A/B testing, check out these best practices for A/B testing your website forms.
8. Protect Your Donor's Information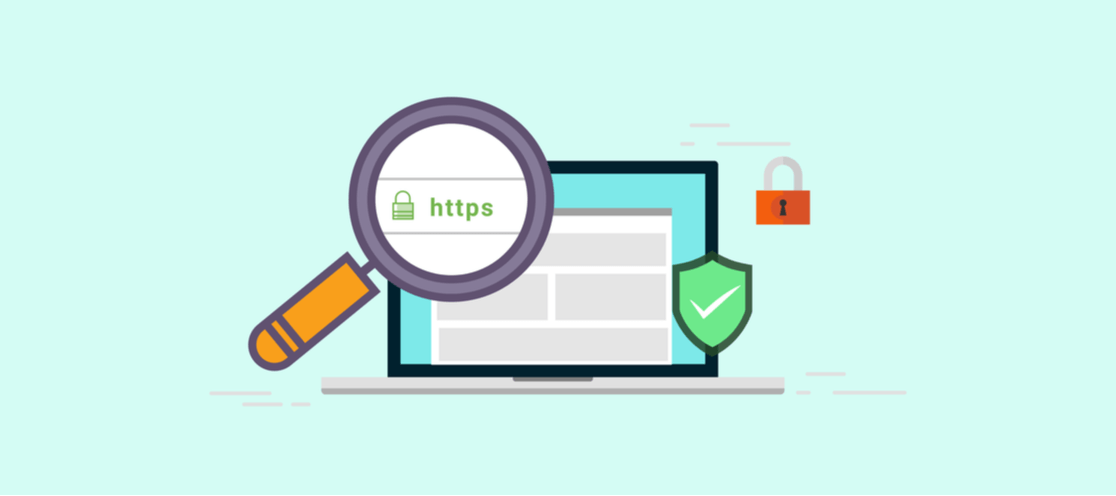 By accepting donations on your site, you're encouraging your visitors to share sensitive data like credit card information with you.
You might already know that adding SSL to your site is an important task to make sure that your donation form is secure. SSL is an industry-standard security measure that creates an encrypted link between each visitor's browser and your website.
Aside from assuring your site's security, adding SSL will also help you to increase conversions when you accept donations online.
How does SSL boost conversions?
After you install the SSL certificate on your site, your website address will begin with HTTPS instead of just HTTP. In addition, they can also see your site is secure in the address bar.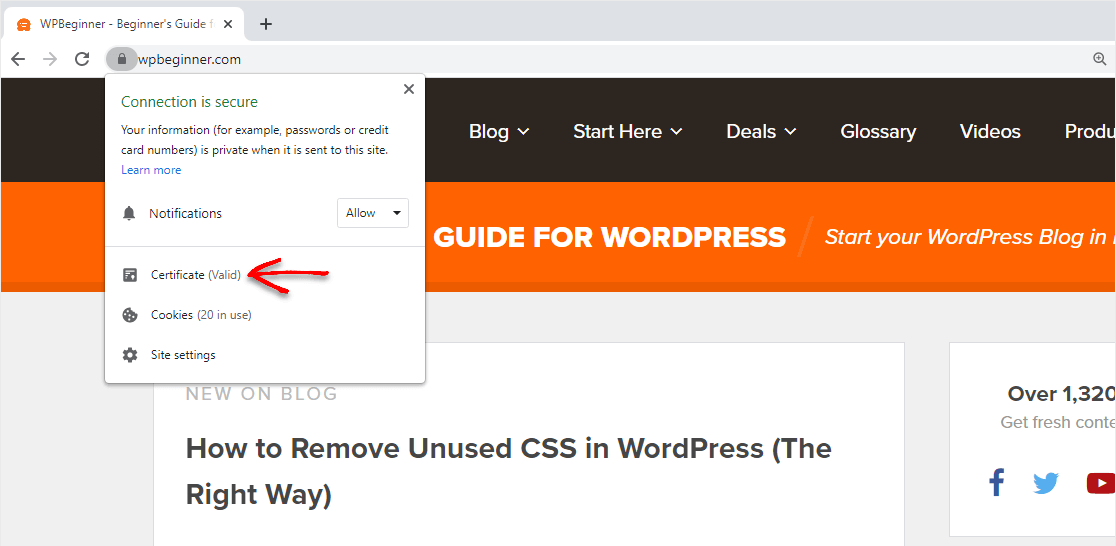 According to studies, half of your donors look for these security indicators before they make donations. They're concerned about their data being stolen and misused online.
By adding SSL to your site, you tell donors that their data will be kept private and secure. This can help to boost conversions when you accept donations online.
For more details on getting started with SSL, check out this guide on how to add SSL to your WordPress site.
WPForms also includes captcha options to keep your WordPress forms secure, including custom captcha, Google reCAPTCHA, and hCaptcha.
Get People to Donate Money Using WPForms
That's it! We hope this article helped you to learn some great tips to skyrocket your donation form conversions to get people to donate money.
Ready to make your own? There are tons of ways nonprofits can use WPForms.
WPForms Pro can help you build donation forms that get people to donate money by giving you access to the following:
Deep Discount for Nonprofits: If you're a qualified nonprofit, WPForms offers a huge discount of 75% off WPForms Pro.
User Journey Addon: This lets you see which pages donors visit before taking action on your forms, so you can make informed decisions and tweak your forms for more conversions.
Recurring Donations: Make more money from your forms with the Stripe addon that lets you set people up for recurring donations.
Email Marketing Integration: Connect your donation form to your favorite email marketing service to grow your donor list.
Conditional Logic: Make your forms hide and show fields based on previous selections. This helps keep them concise and organized while you segment your list.
Multi-step Forms: Make long forms feel shorter by using breadcrumbs that break them up into multiple pages for better conversion rates.
Stripe, Square, and PayPal: Build order forms in minutes with Stripe, Square, and PayPal integrations. You can access Stripe or PayPal's powerful recurring payment features for monthly donations. But if you want to collect one-time donations, you can go for the Square integration.
…and so much more.
And don't forget to track your form conversions in Google Analytics so you can easily see which ones perform best and help get people to donate money to your nonprofit.
Looking for more form conversion tips? Check out our great list of research-based tips to improve your contact form conversions. (These work for donation forms, too!)
So what are you waiting for? Get started with the most powerful WordPress forms plugin today.
If you like this article, please follow us on Facebook and Twitter for more free WordPress tutorials.